It may seem that pyramid solitaire is a complicated and confusing game. Yet, if you understand its rules, you can get rid of the whole pyramid in just a few minutes. You can do it by finding a pair of cards that add up to 13. Sounds a lot easier, doesn't it?
This game is perfect for those who already have experience playing classical solitaire and want to try something new. Thus, we recommend to all fans of this genre try one or more of these best pyramid solitaire games for Android & iOS.
Pyramid Solitaire Saga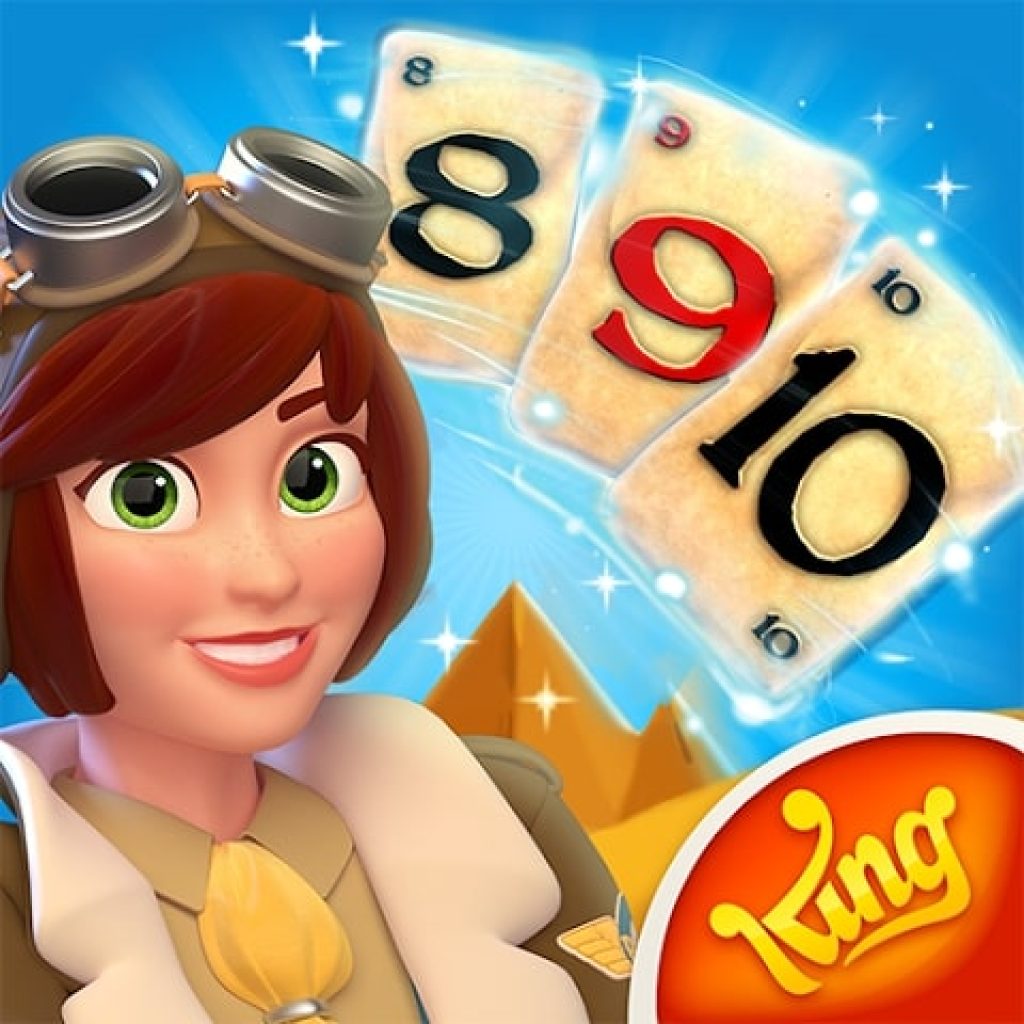 A great adventure game for everyone. Gather your courage to discover all the mysteries of the ancient world with the Pyramid Solitaire Saga.
This game will require attention and skill. Your companions to the solution will be tireless travelers Helena and Kingsley. Use maps to get useful clues. Scarab beetles lurk beneath the suggested cards.
To get a clue, you must remove one card. This will only work if the cards are in order in the deck. The clue becomes yours if the cards lie in descending or ascending order. Each bug hides a secret, without which it will be difficult to continue the journey.
There are many rounds in the game. The complexity increases gradually, so the game does not get boring for a long time. Travel around the world and discover new places and countries.
Pyramid Solitaire Saga supports both single-player and multiplayer modes. Compete with your friends to see who will get the most points. This game does not require payment. There are power-ups and extra lives inside that can be purchased at will.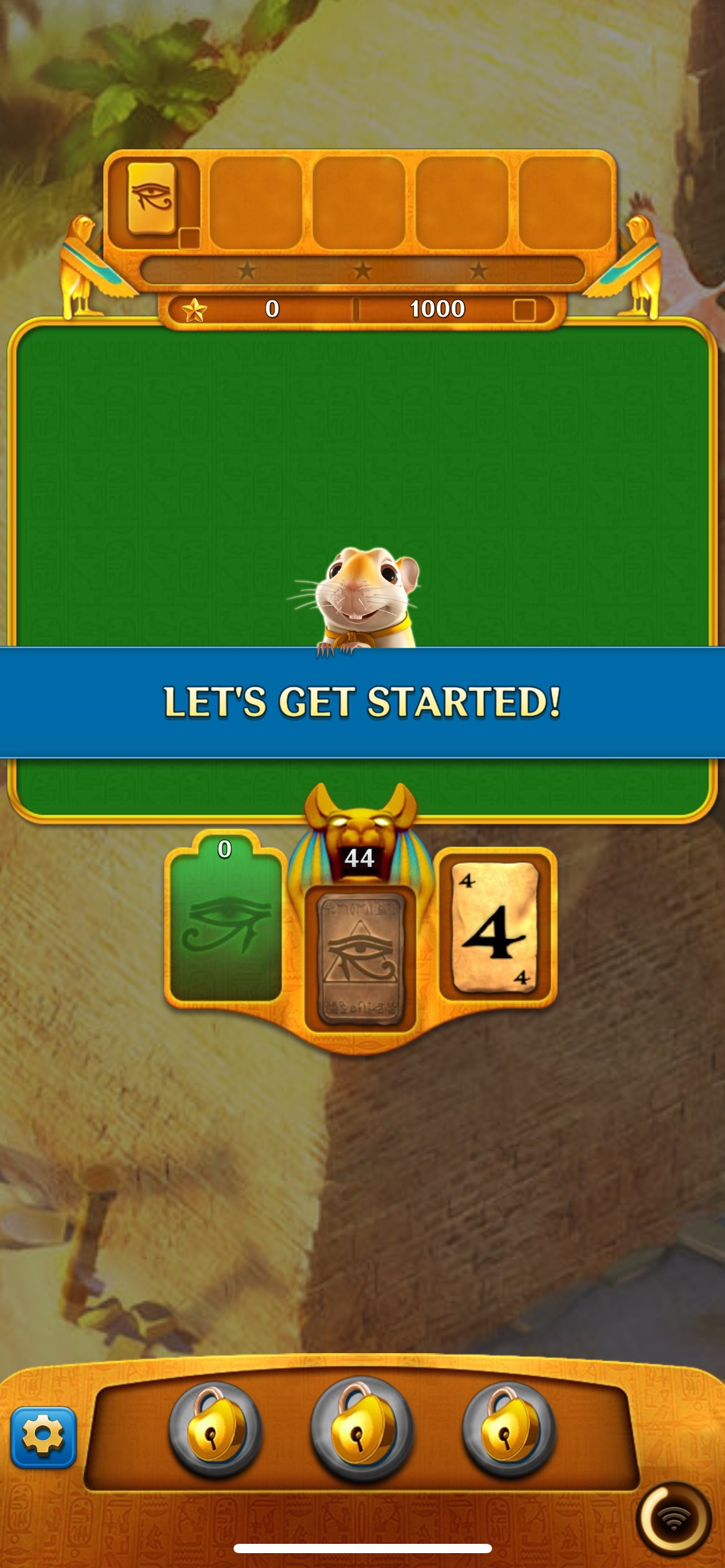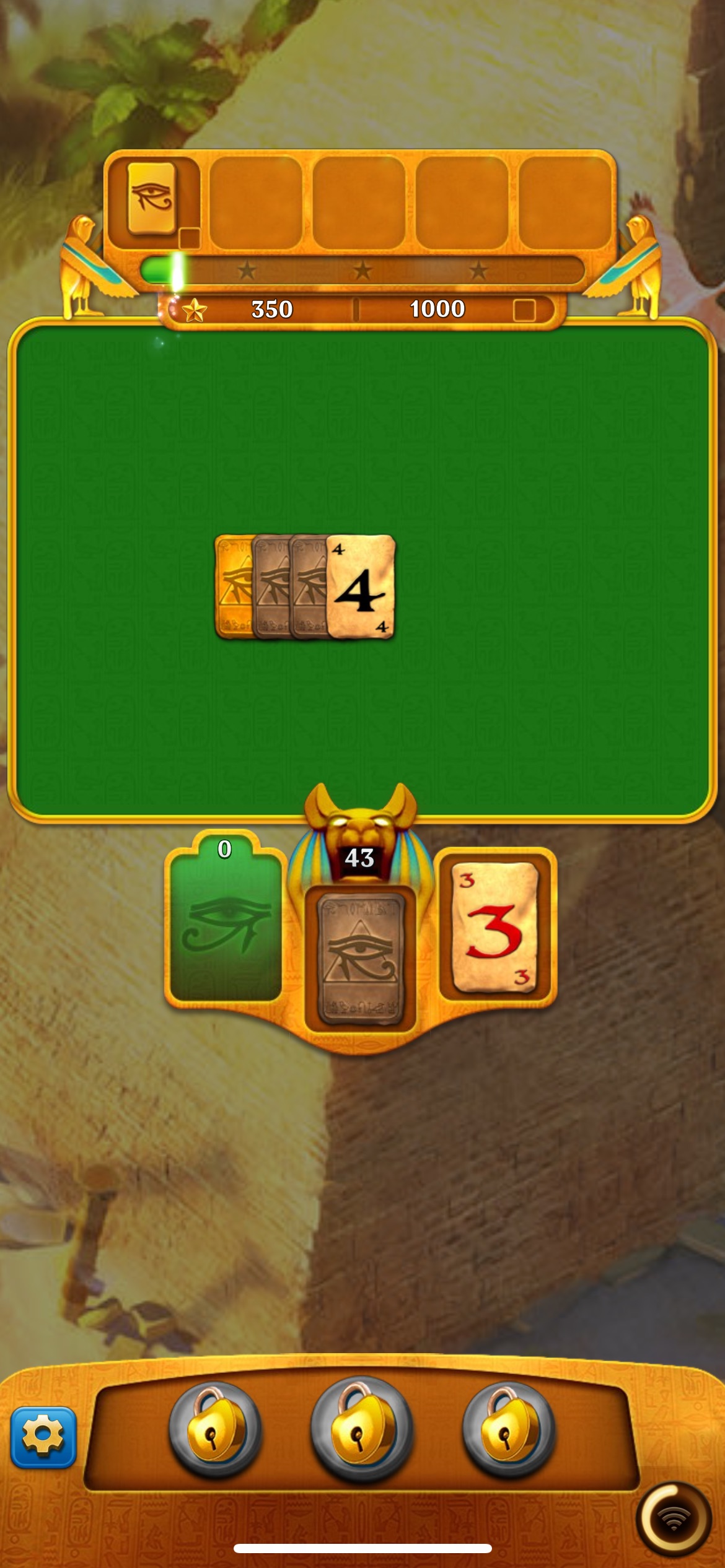 The treasures of the whole world are hidden in front of you. You only need to get the right card combination, wake up the scarab and learn its secret faster than other participants.


You may also like: 4 Best Blitz Card Game Apps for Android & iOS
Pyramid Solitaire – Card Games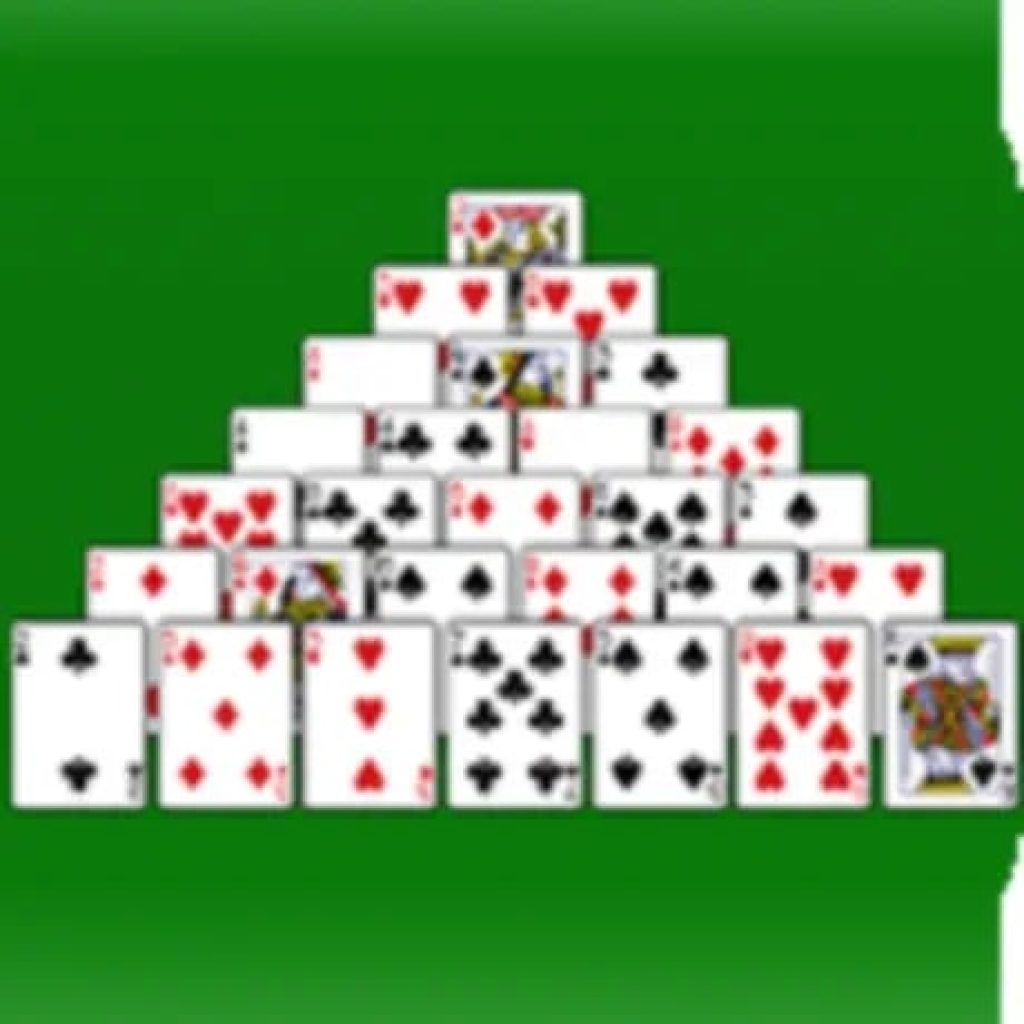 Pyramid Solitaire will appeal to all lovers of solitaire. The virtual card game corresponds to the usual rules but has its own features. In addition to the usual set of combinations, you will have to solve complex puzzles and riddles.
Such an approach will complicate your task and add emotion. Excellent gameplay along with modern animation will help you distract from routine tasks and get away from the card world. Relax, solve problems, and go higher.
The usual flow of the game is not all that MobilityWare offers users. Complete daily tasks to receive bonuses and surprises. Increase your capital several times over with extra rounds.
With each round, the tasks become more and more difficult, but with the help of logic, they can be solved, albeit not on the first try. Even if you fail to pass the level, you can always take another tip or hint.
The game is constantly updated, so every time you get the opportunity to try your luck again. You can play Pyramid Solitaire for free and without an internet connection. Yet, you need to be online to play with your opponents.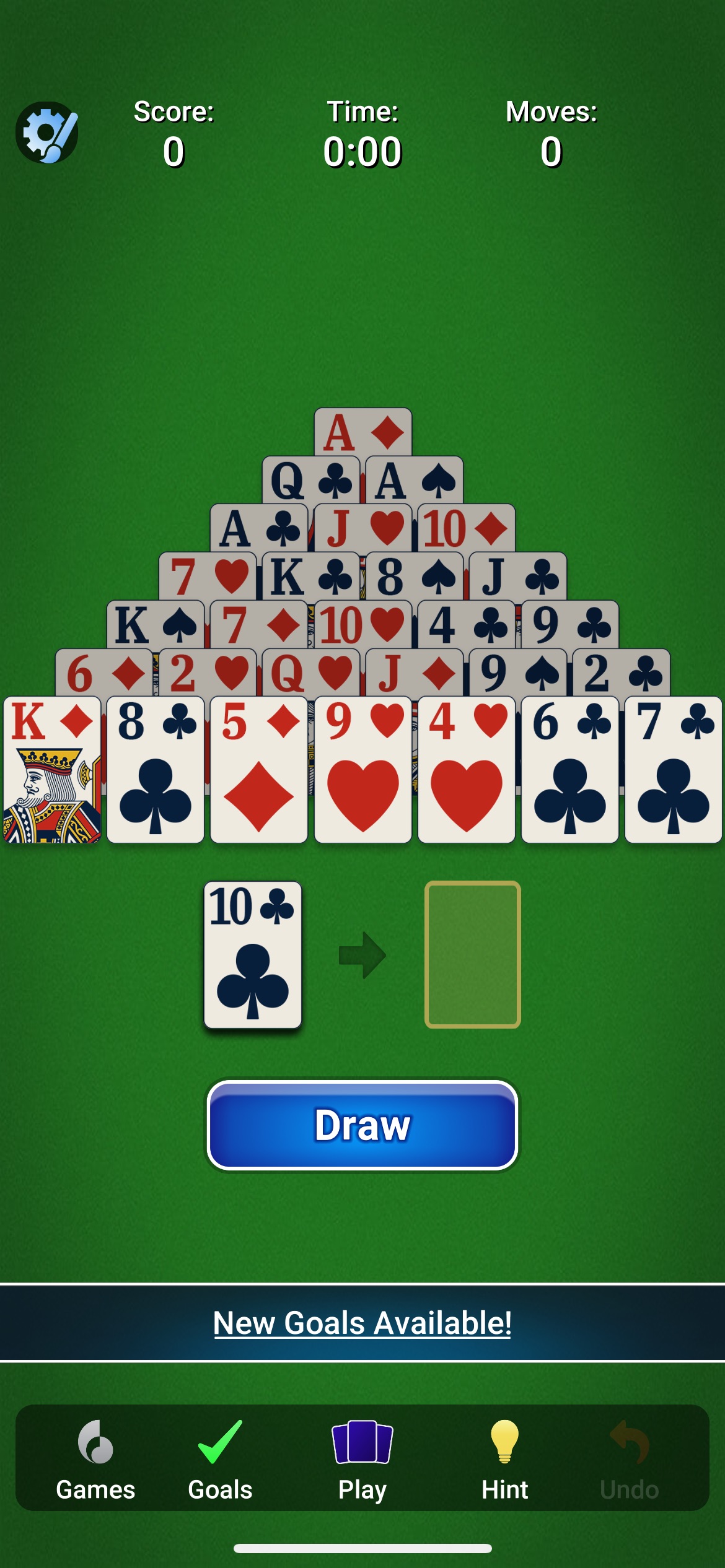 This game allows you to keep your mind and logic in tension. The bright animations lift your spirits and give rest after a hard day. Try the new virtual solitaire from MobilityWare.


Pyramid Solitaire – Egypt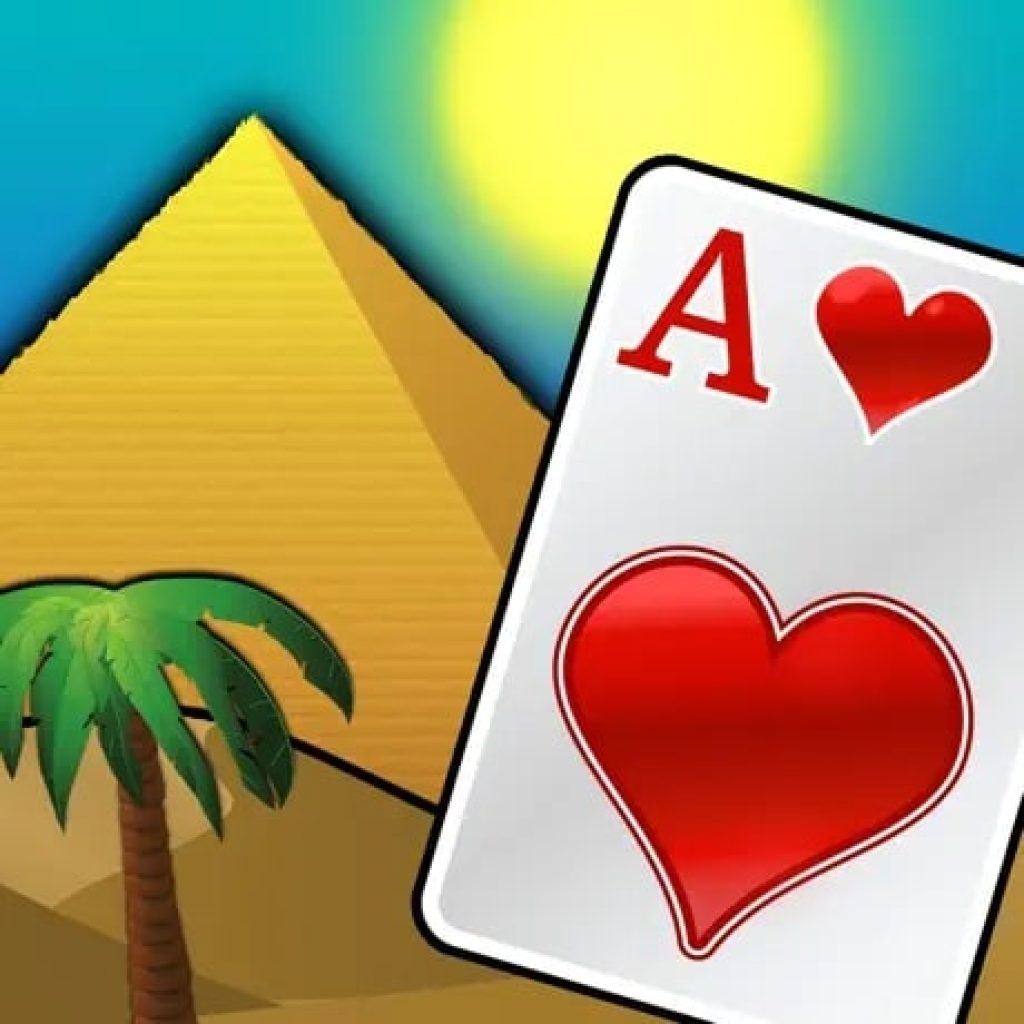 Gamers around the world love games on ancient Egyptian themes. Pyramid Solitaire – Egypt combines the classic card game and fairytale views of Egypt. Be warned: this game is sure to fascinate you for many hours.
The rules are as simple as possible: to win you need to collect winning combinations before your opponents. Drag and drop cards with a single click.
Here everything is as simple and clear as possible, so you do not have to be distracted by complicated settings. Ordinary solitaire quickly gets boring, but there is something else in this app.
The atmosphere of hot Egypt many years ago, and pleasant music accompaniment will help relieve fatigue and switch. Thanks to the same action and gorgeous views on your phone you will easily calm down after a hard day's work.
Just download the game to your phone and tablet, sit back, and immerse yourself in an interesting game with your head. To make the game dynamic, compare your results with other players in the standings. Have a real competition on the couch.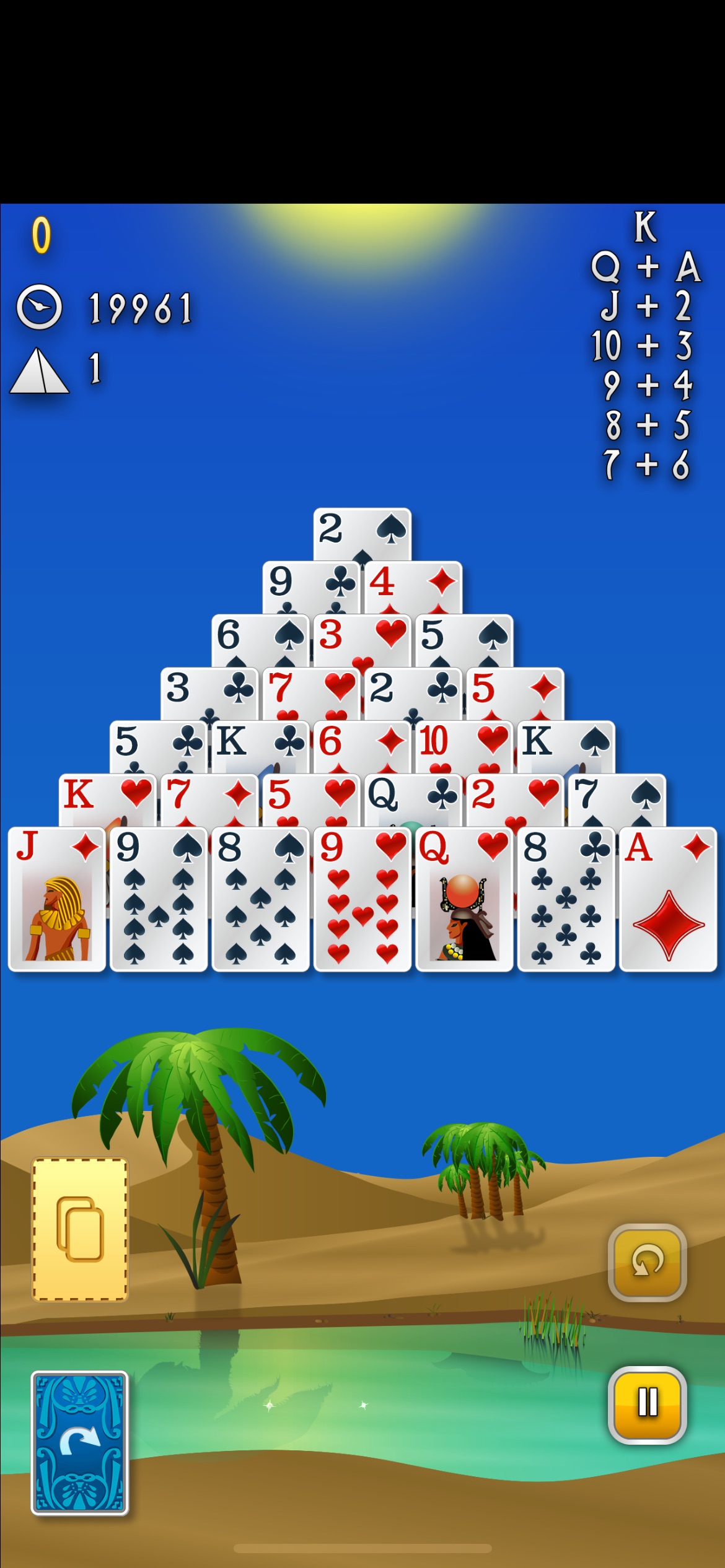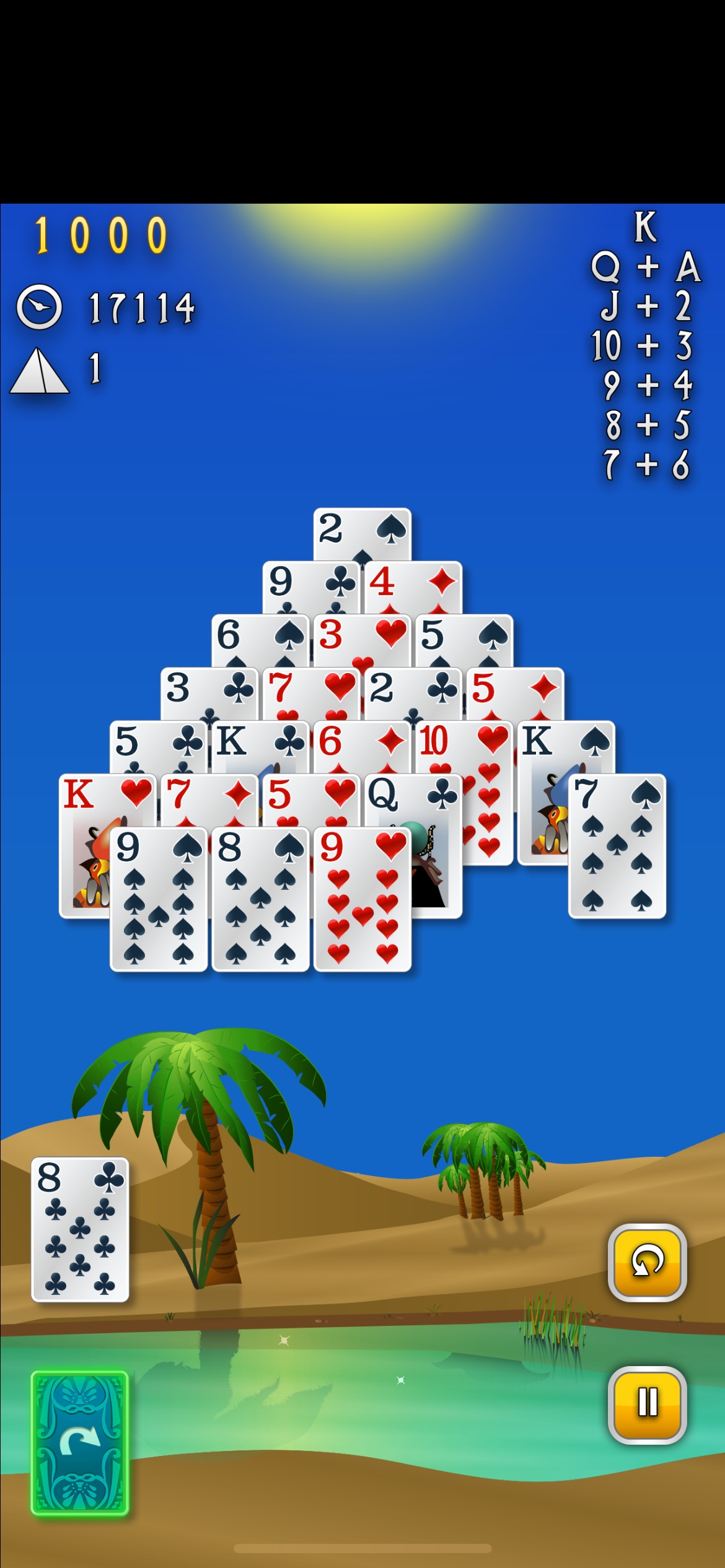 This game unites generations and allows for true relaxation. The app has already been downloaded more than 100 thousand times and has received rave reviews from players of all ages. Don't miss your chance to become a pharaoh of Egypt.


Pyramid Solitaire by nerByte GmbH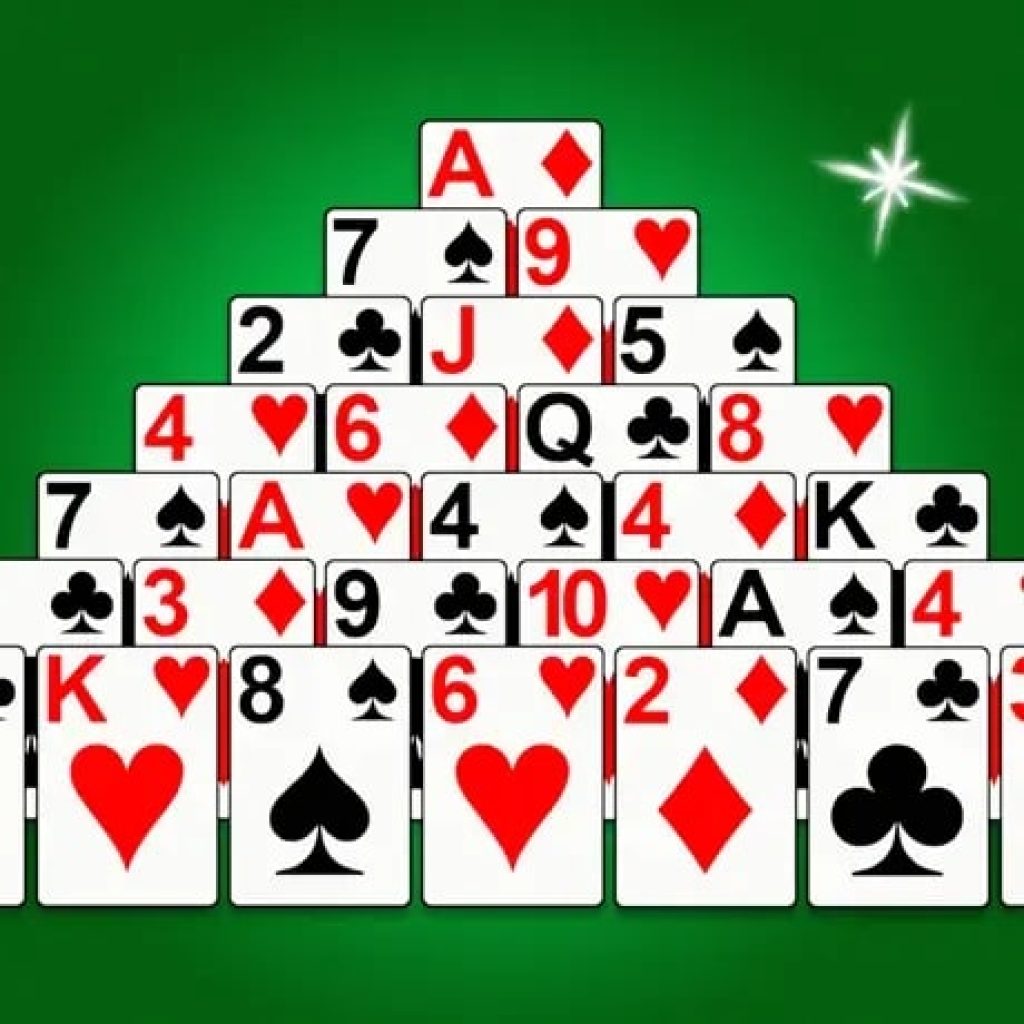 A classic card game without the complexity and extra challenges. Pyramid Solitaire will be a great addition to your collection of mobile games on iPhone. Your task is to find 2 cards side by side, the sum of which is 13.
The simplest rules, convenient format, and no distracting options. If you like silence and a measured rhythm, this game will claim to be a favorite.
There are 52 cards in the deck. The pyramid consists of 7 different rows. One game can take anywhere from 4 to 20 minutes. Incorporate logic to speed up the process and get even more points.
To make the card game more difficult, you can switch to Tripeaks mode. Here you'll see three pyramids on the screen at once, and they demand your attention. If you consider yourself a real professional, try your hand here.
The whole game takes place against a traditional background: a solid green, wooden, tropical island. Use the automatic hint at a difficult moment. Feel how you become more relaxed with each card deal.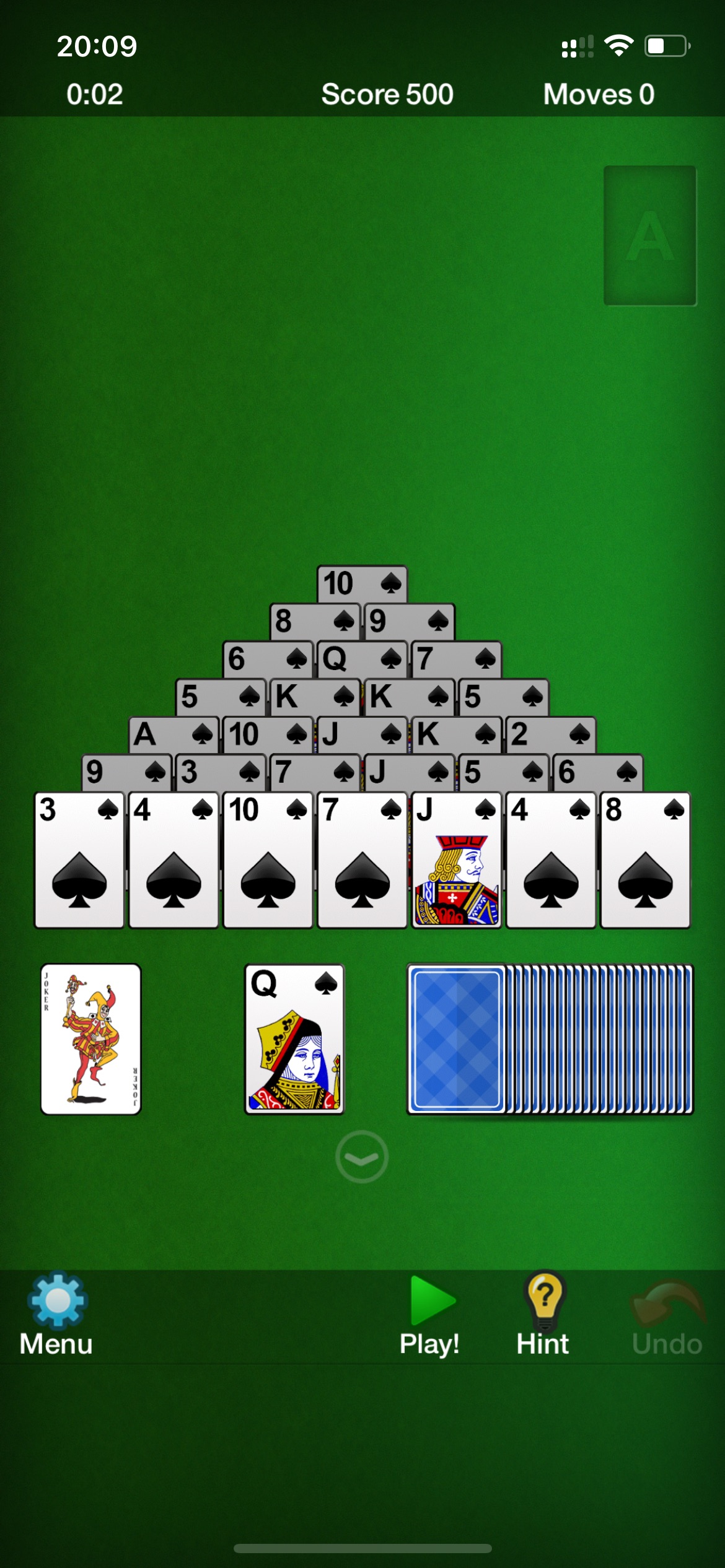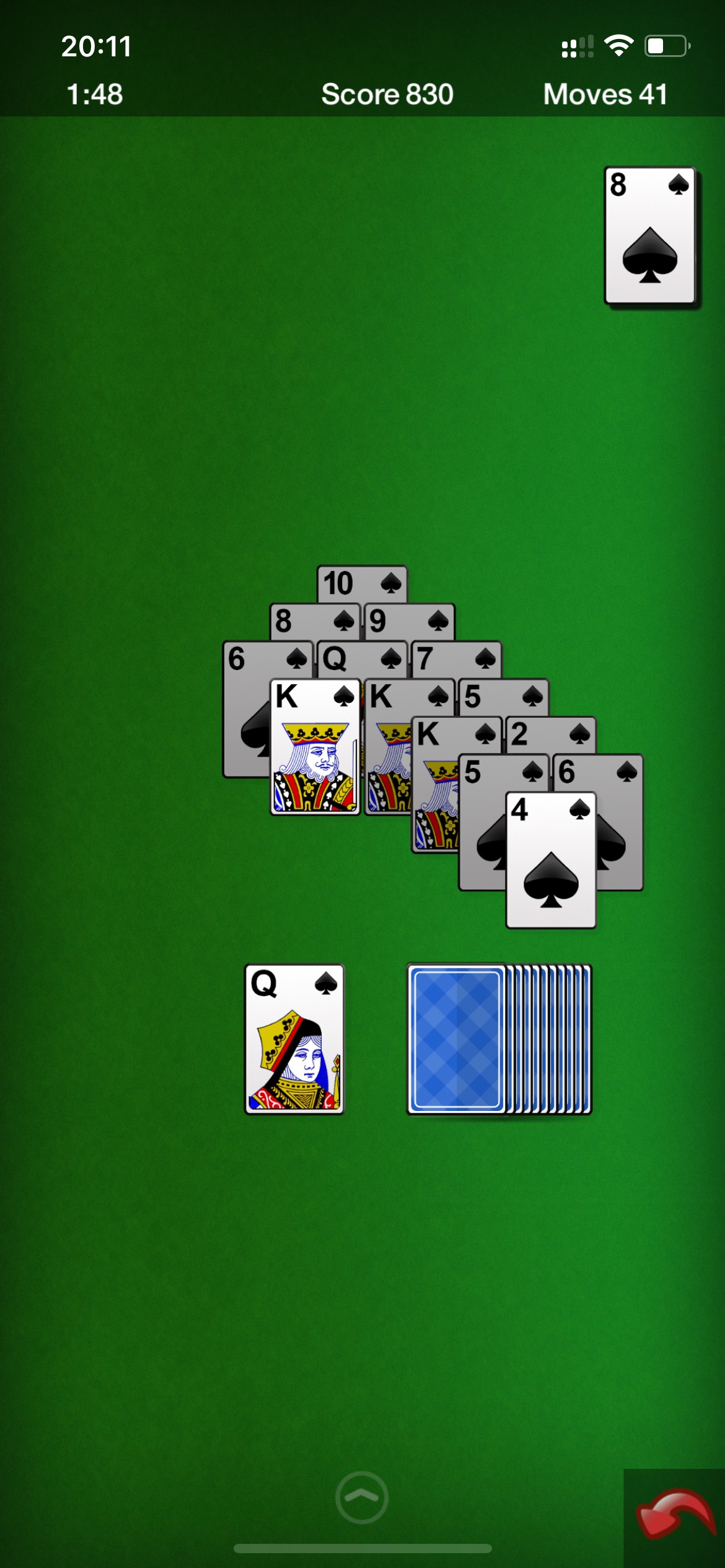 Familiar sights and repetition are good for the nervous system. It's a great way to relax after work and spend the evening in pleasant solitude.

You may also like: 7 Best Meme Card Game Apps for Android & iOS
Pyramid Solitaire – Farm Trip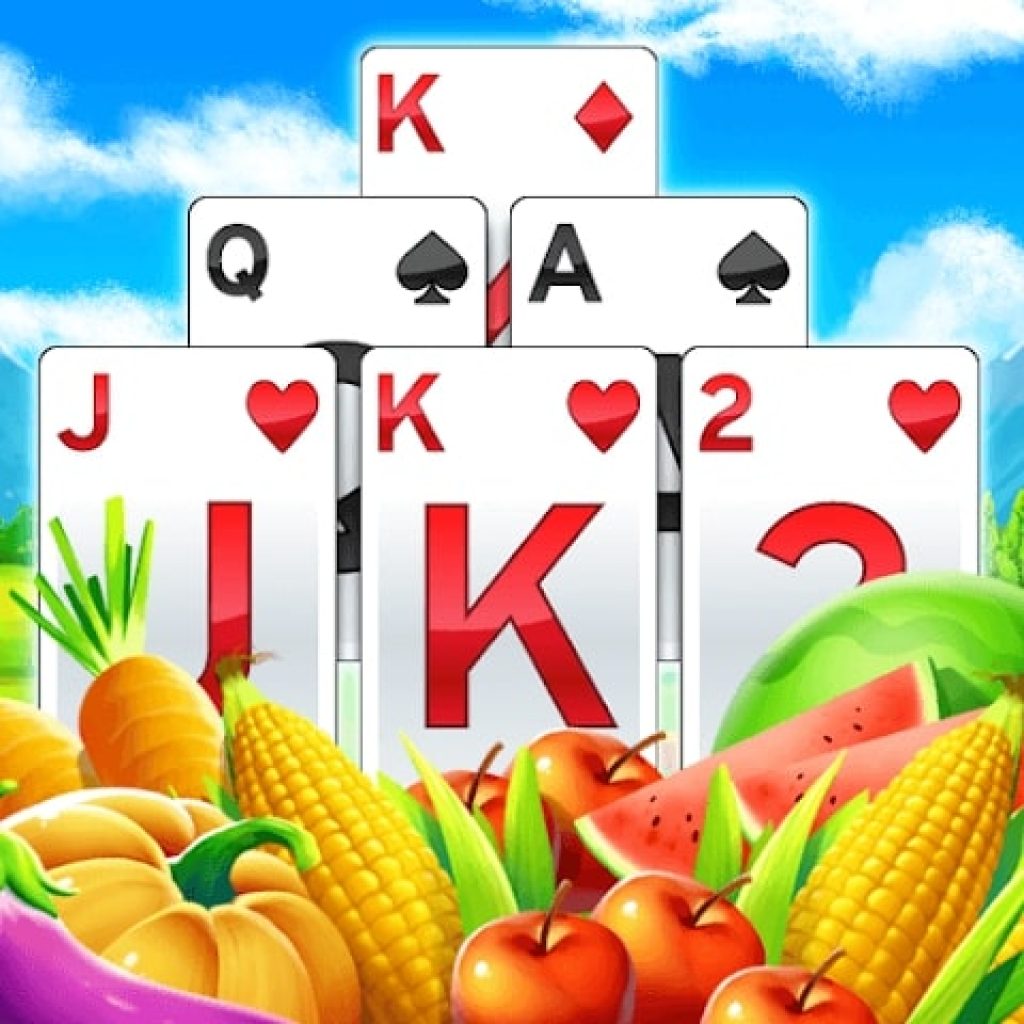 In the mobile game Pyramid Solitaire – Farm Trip unusual adventures and unforgettable emotions await you. Here the fun is flowing like a river, while the brain is being trained.
The game requires a logical approach and reflection, so the players will not get bored for a long time. To advance further, you must show focus. Look for two cards that total the number 13.
At first glance, this seems easy. Yet, the higher the level, the more extra challenges you face. For example, you need to choose a certain order and get bonuses.
Your card successes have a positive effect on your farm work. Each win helps you plant crops, harvest them, and prepare the land for the next time. Harvested crops can be sold and get even more coins into your account. Keep control of the entire farm, get a big crop, and become a successful landowner.
Pyramid Solitaire – Farm Trip offers you a familiar game in a new role. Enjoy the beautiful views of the farm garden, increase your winnings, and turn them into coins.
To increase your winnings you are offered more challenging game conditions. For example, you need to complete the game with cards of the same suit or at least one color.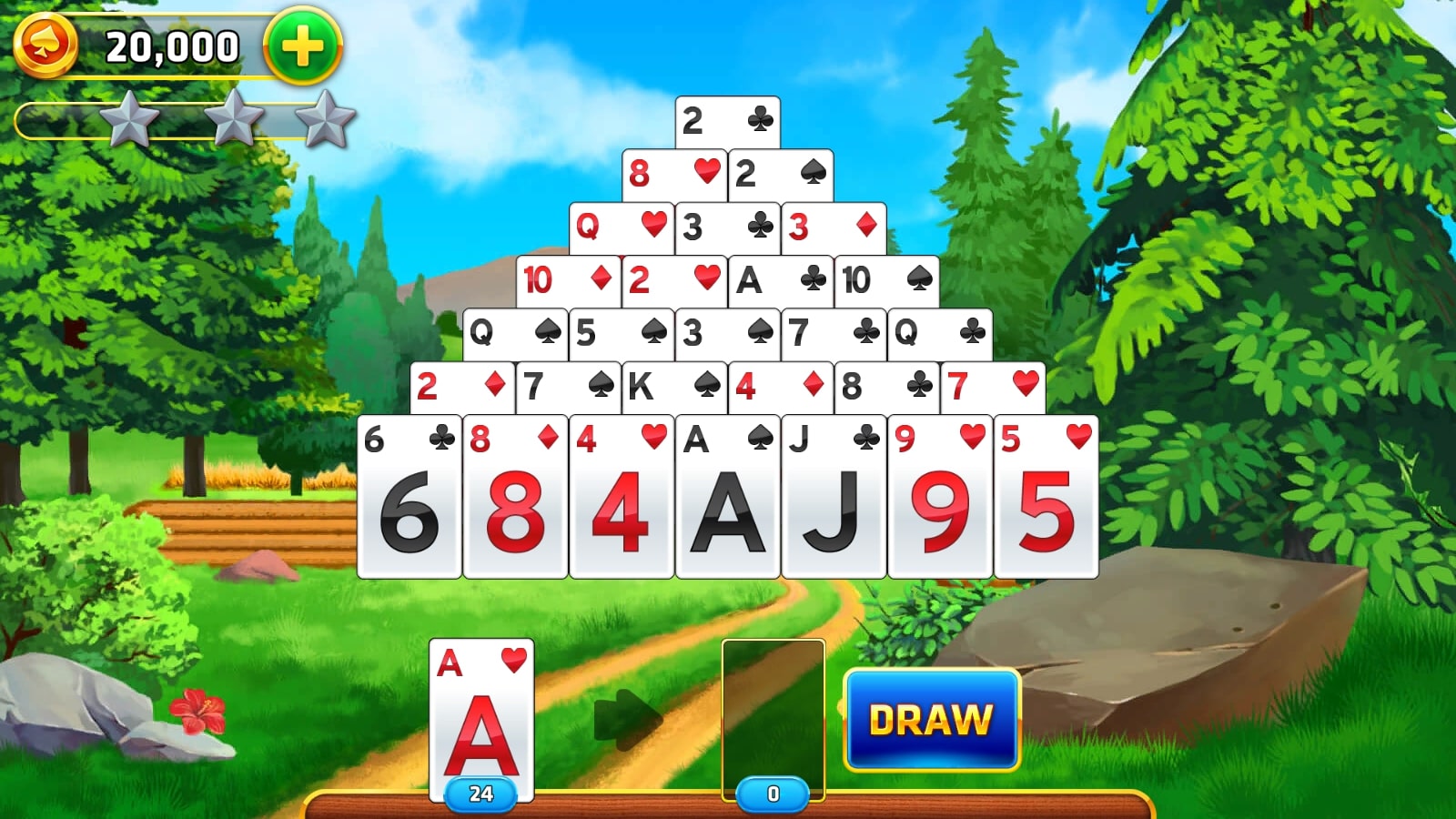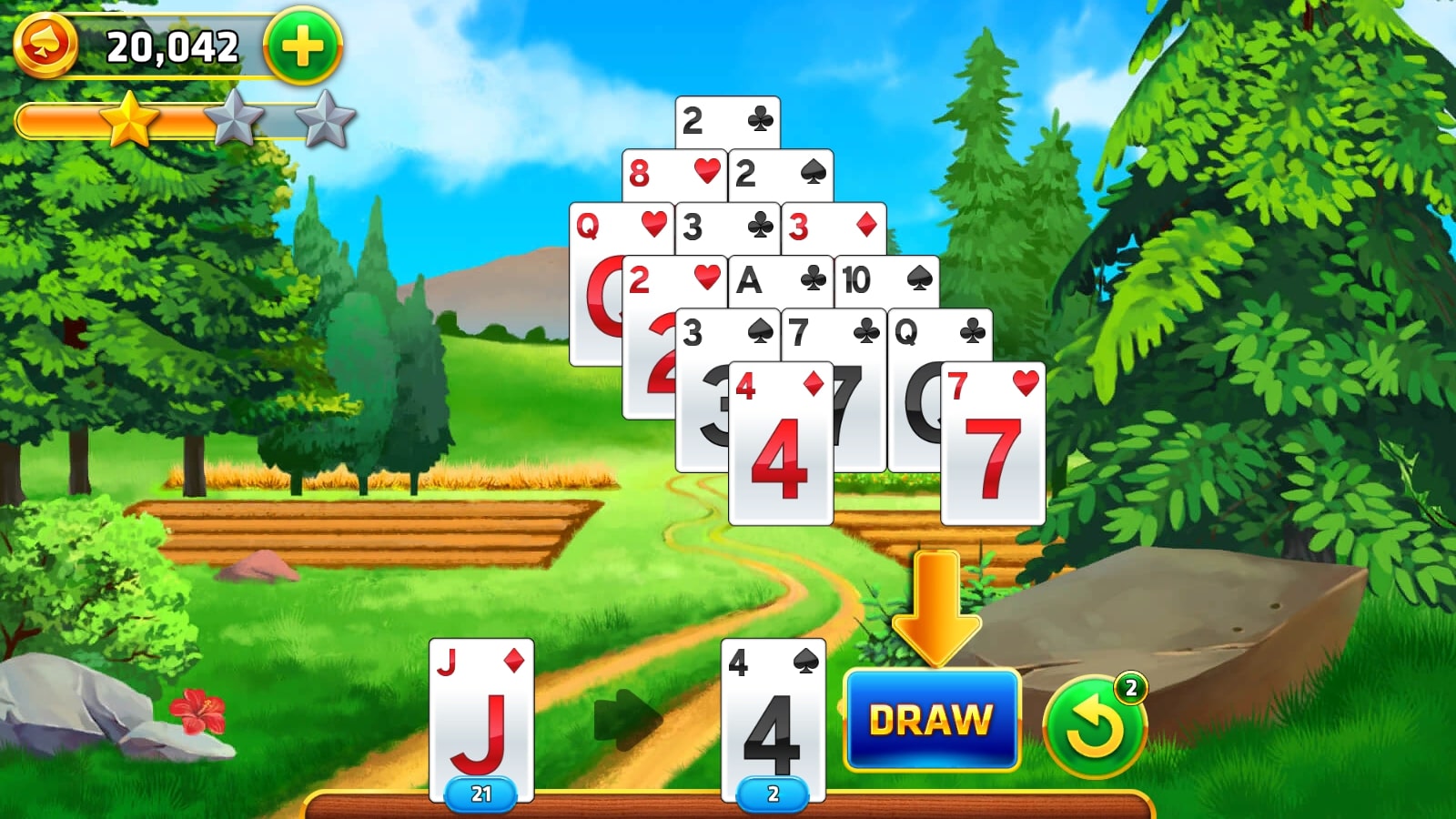 This helps you stay collected throughout the game. This is a simple game that can be played anywhere and without an internet connection.

Pyramid Solitaire by BlueSea Solitaire Games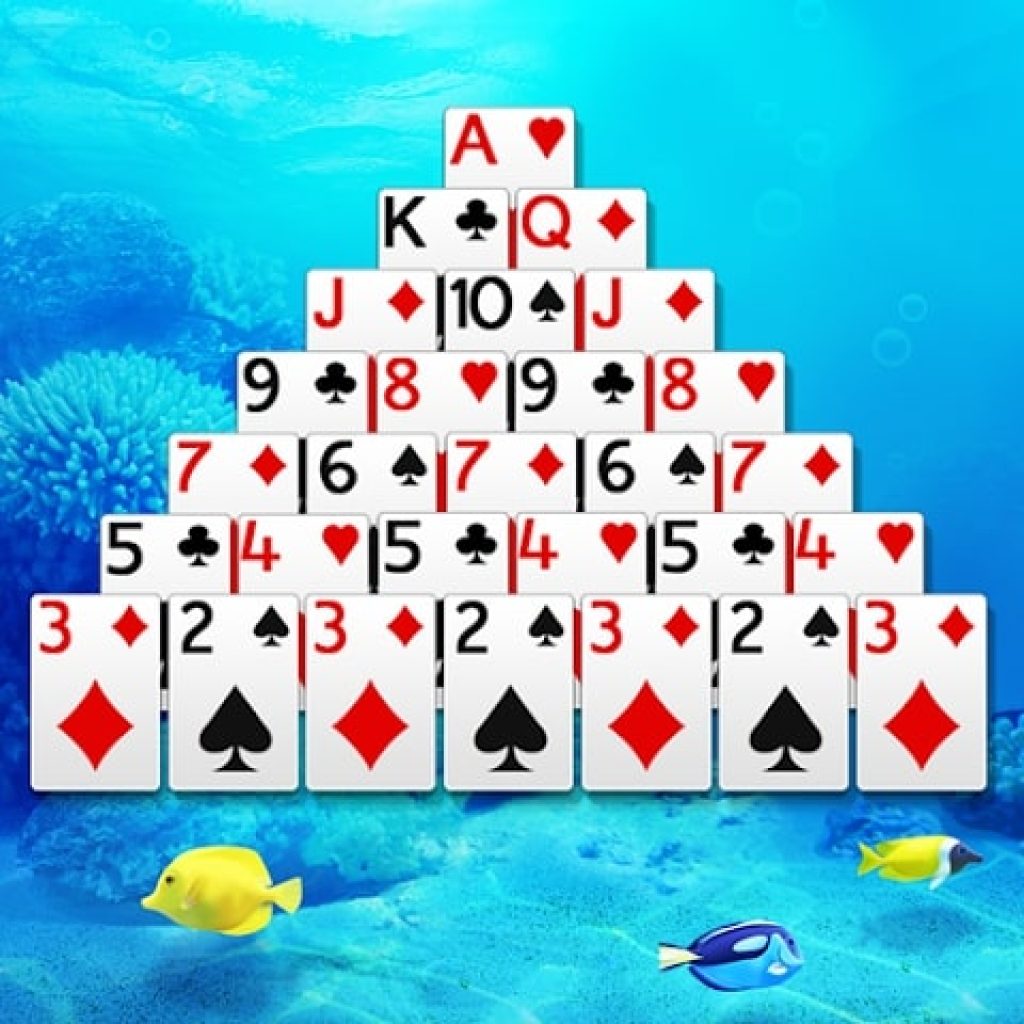 Don't miss your chance to play solitaire in the depths of the sea.
Your audience will be the inhabitants of the sea depths: fish, corals, and algae. Or maybe you prefer autumn with its bright colors and leisurely flow of time? Or would you prefer snowy plains?
Choose the background and screen saver for each game in the Pyramid Solitaire game. Here you can fully devote yourself to your favorite business – collecting cards that are equal to the number 13.
Relax thanks to the monotonous soothing actions, win tournaments and competitions. Use the background as a rest for your eyes and switch to other activities.
The game is simple and completely free. The usual rules apply here: you need to find 2 cards that make 13. Remove such cards in order until the whole deck is in wagering.
Despite the fact that the essence of the game is uncomplicated, it is not boring. This is due to the bright landscapes in the background and the daily tasks that keep even professional players in tune.
Get into the game on the way home from work, on the couch after a day of work, or as a break between classes. During difficult periods, ask for hints that will help you find the right solution.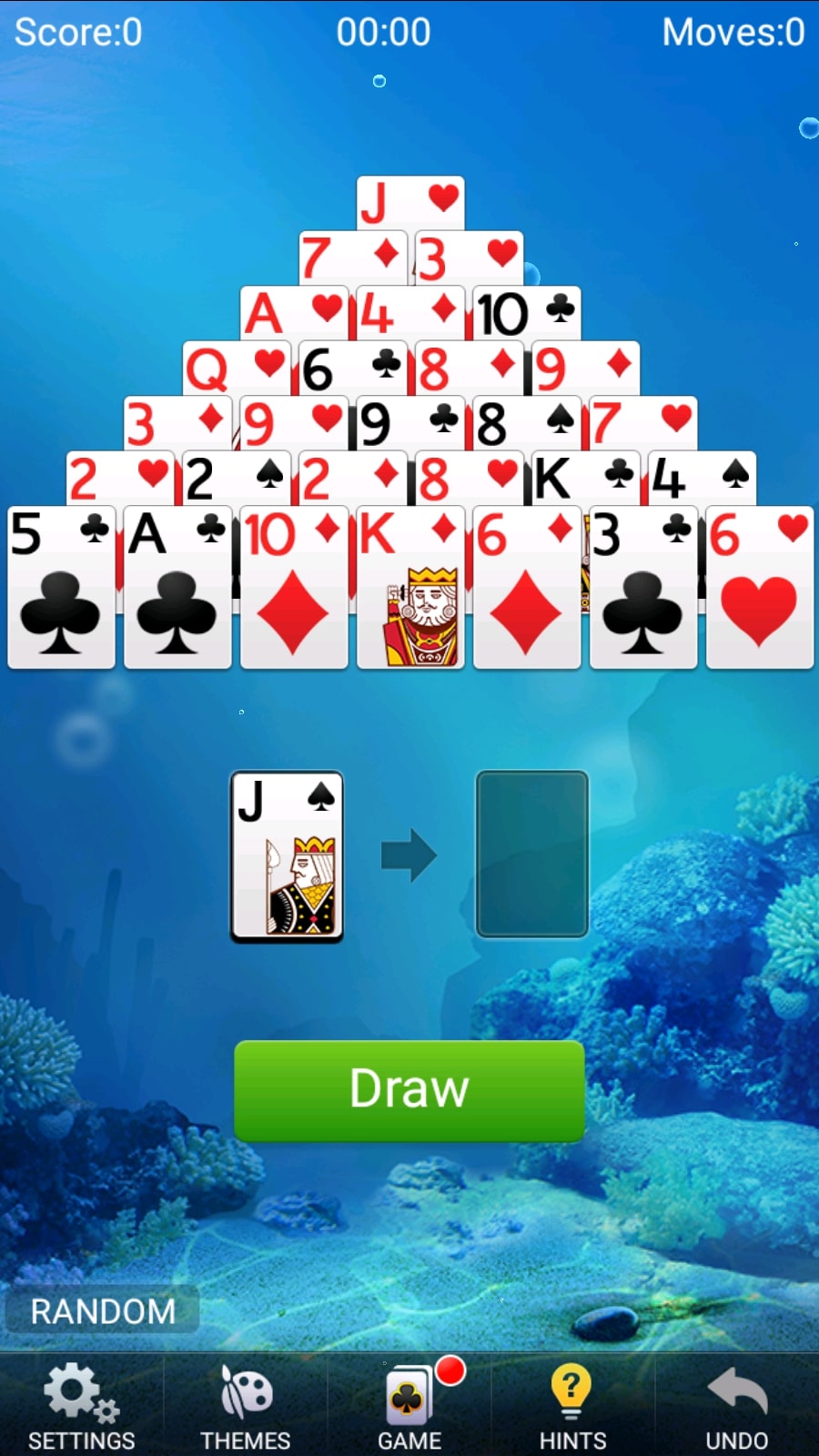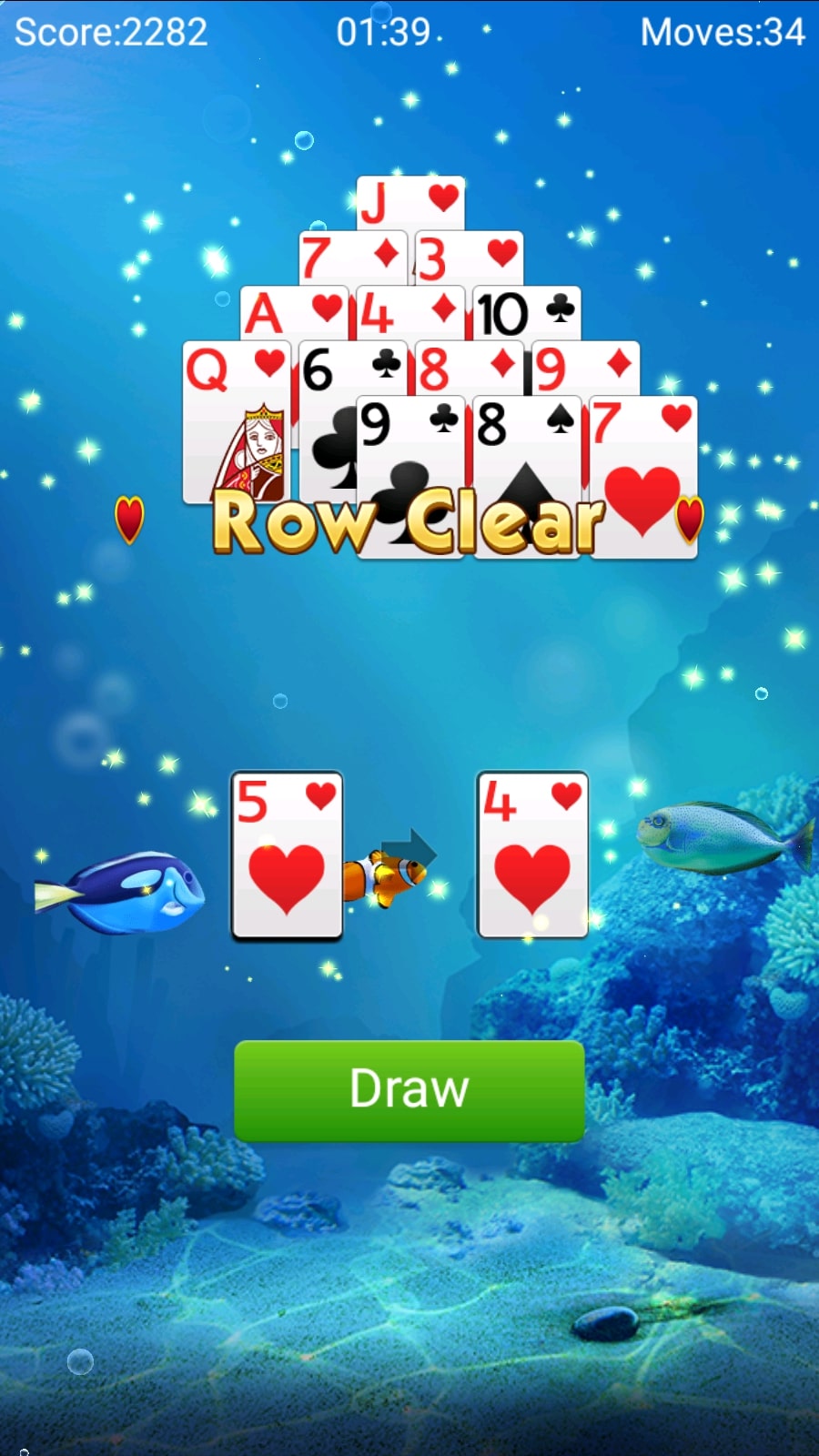 The autosave option will help not to lose achievements. For the convenience of users, there is an option "undo the previous action". With Pyramid Solitaire a comfortable and interesting pastime is provided for you.

You may also like: 11 Best Adult Party Card Games for Android & iOS
Solitaire – Pyramid Kingdom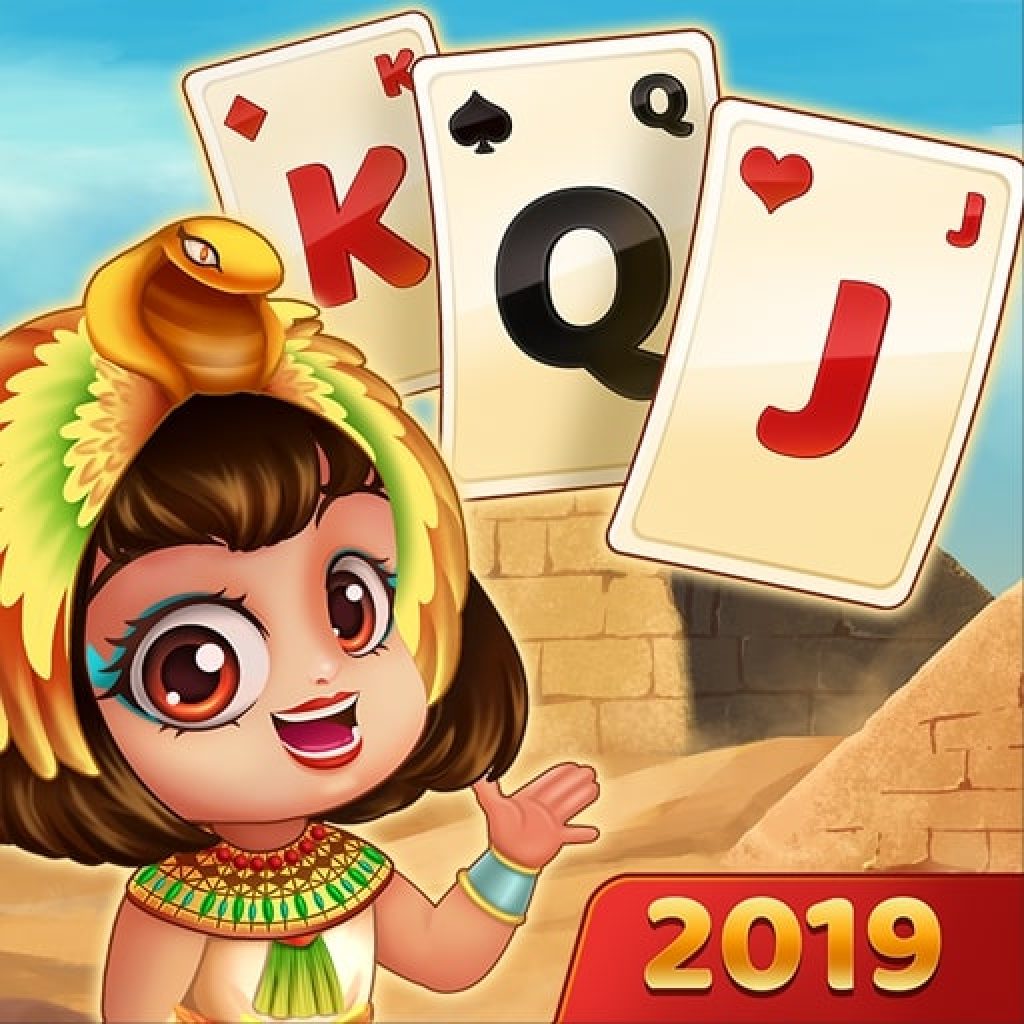 With the Kingdom Pyramid, you definitely do not have to get bored. Become one of the discoverers who go on a mysterious expedition today. On the way, you are waiting for original tasks, complex quests, and logical riddles.
This game is based on the classic solitaire game but favorably differs from the original. Creative heroes, bright pictures, and unusual musical accompaniment.
A pleasant atmosphere of mystery and friendship allows you to relax and take a break from everyday tasks. Welcome to the unusual world, which is hidden from prying eyes.
Here you will not just have to combine cards. It is necessary to go a long way, on which you will encounter difficult quests. A popular game in abundance contains mini-games and allows you to double the number of points scored in a single touch.
You will encounter unusual landscapes and mysterious locations about which you knew only from books. For maximum interest, the developers added special cards that play the role of jokers. They have huge possibilities: shuffle the deck, overpay selected cards, and remove extra ones from the pyramid.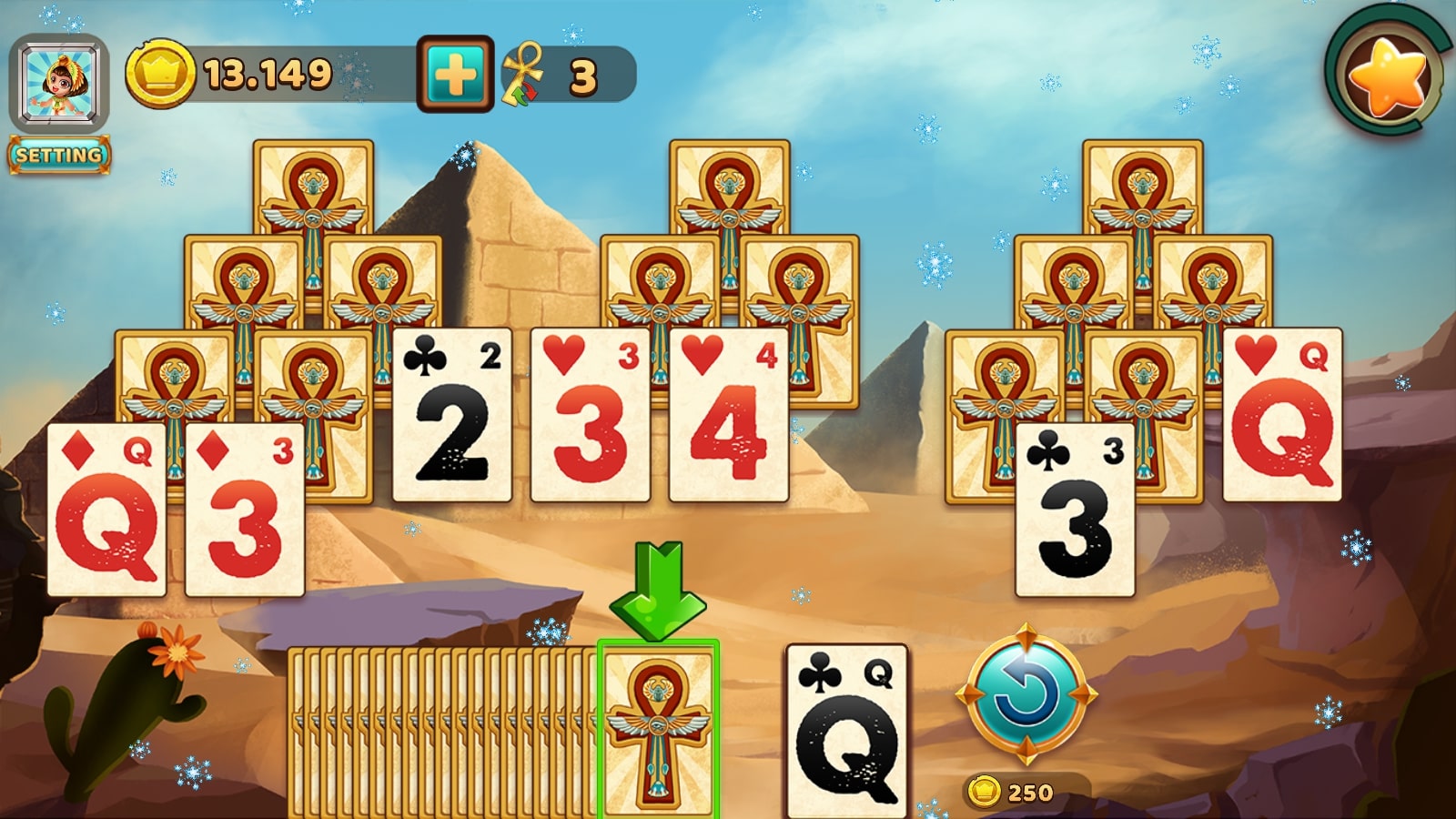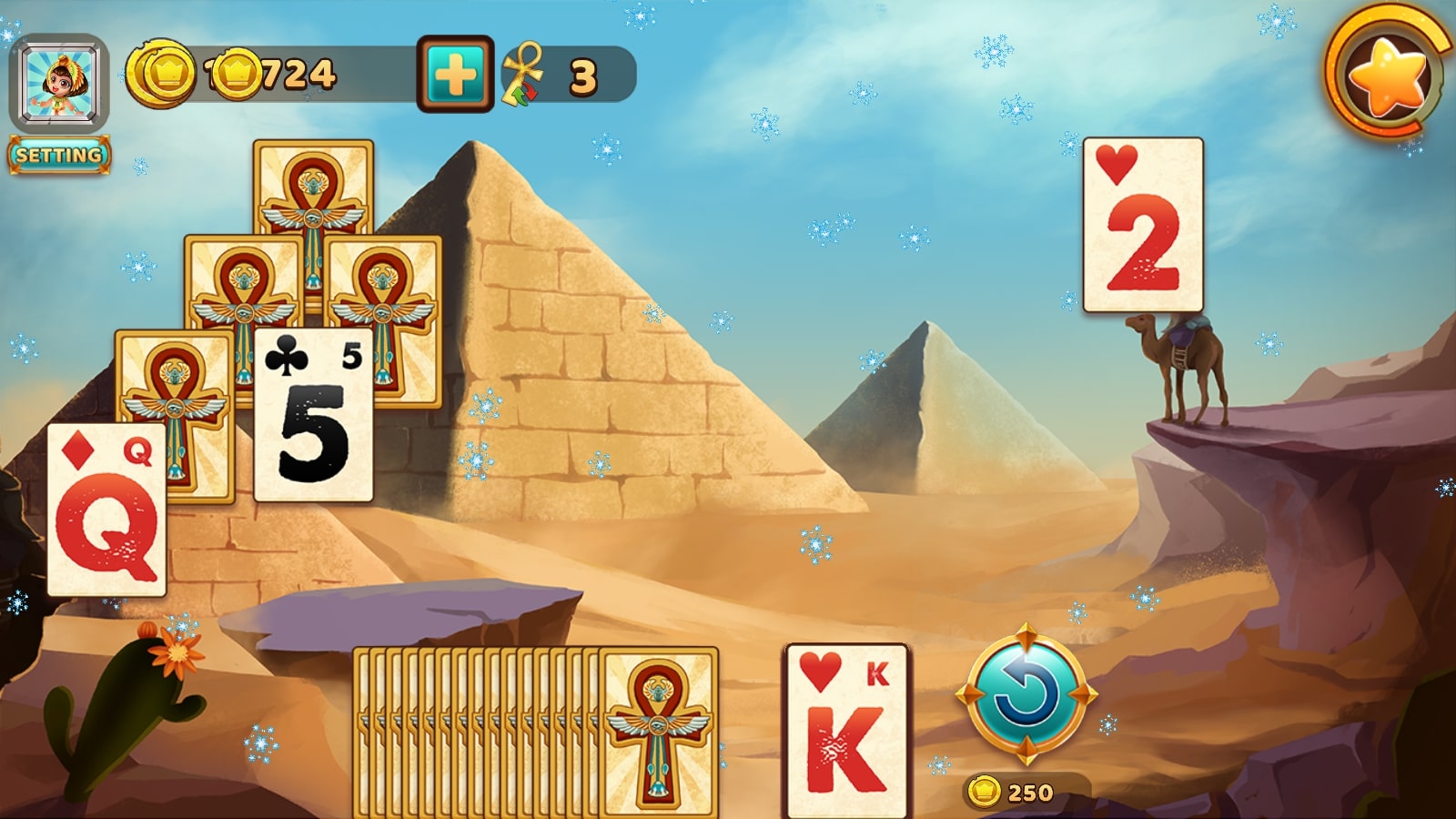 Over 300 different game rooms, each one unique. If you are not afraid of difficulties and love solitaire, be sure to try the Kingdom Pyramid mobile game.