Now all our communication has evolved into social networks, we exchange information via text messages. Yet, this method of communication does not allow us to fully convey our moods and emotions, which upsets many users.
However, to solve this problem were invented emojis, which perfectly cope with their task. There are a huge number of them, so in search of the most suitable can quickly get lost. This problem becomes especially acute for anime fans, as it is quite problematic to find emojis on this topic.
To avoid this, we have reviewed these best anime emoji apps for Android & iOS. Among them, you will definitely find the service that will help you show your emotions in an unusual way.
If you want to expand your communication creativity then use these best animoji apps.
Kaomoji ☆ Japanese Emoticons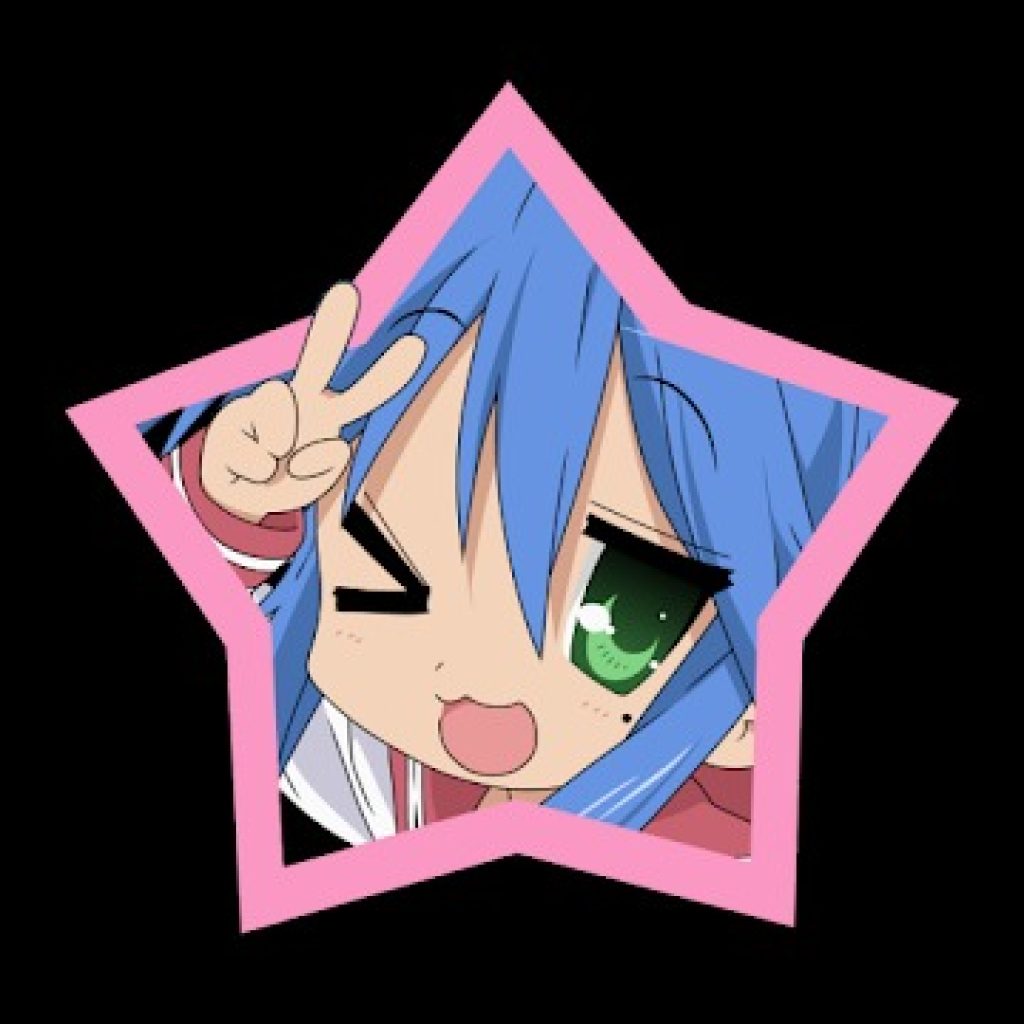 Kaomoji is an app with Japanese emojis. The program includes many different emojis that are widespread around the world.
These interesting emoticons will be able to convey your mood and emotions in general. You won't have to look at the images from the side, everything is arranged in a convenient order.
Kaomoji has a huge collection of such images, which is divided into subgroups so that the search for the desired emoticon was quick.
Besides, it is easy to save the emoticons you like in the clipboard, so that you don't have to look for them later. So you can save and use them in all text messages.
Moreover, you can create your own album with beautiful images. If necessary, any unsuccessful smiley can be removed from the collection by pressing a single button.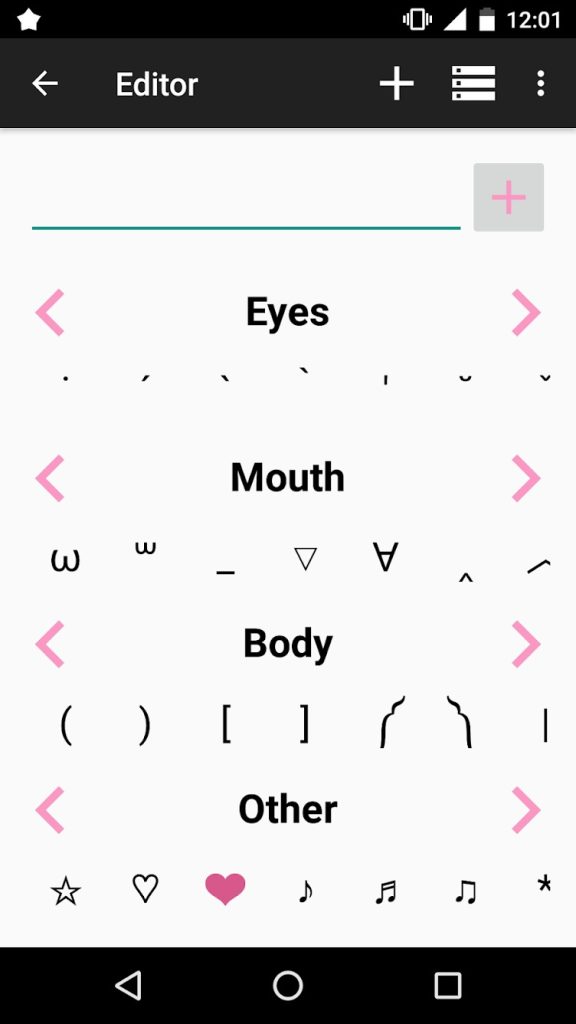 The app is multifunctional. Here, everyone will find emoticons to their preferences. It's worth noting that your language will be detected by the system, it's great! Download Kaomoji and it will be your best app!


You may also like: 15 Best Apps to Cartoon Yourself (Android & iOS)
+100000 Anime Stickers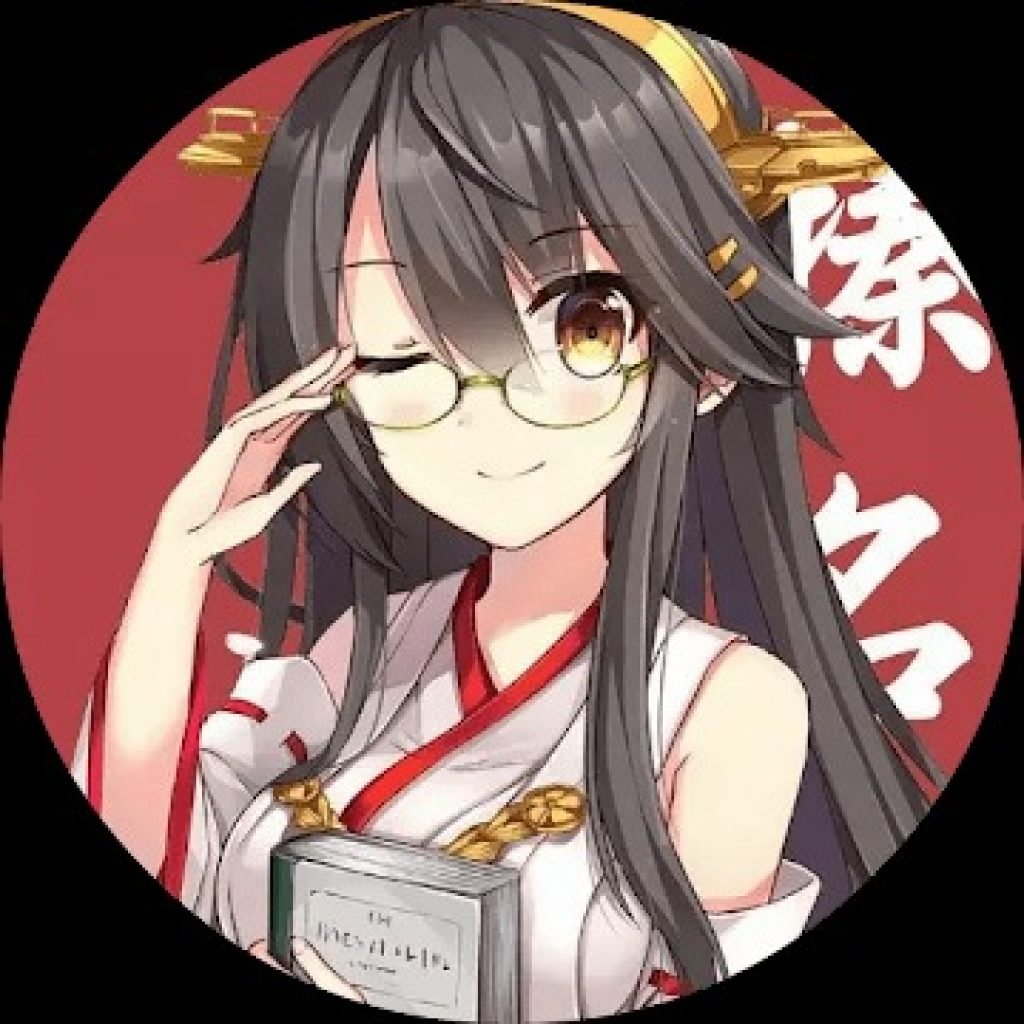 +100000 Anime Stickers is a program that has all the anime stickers for the WhatsApp app. These stickers are taken from various books with anime and cartoon characters.
You will be able to send such wonderful images to everyone with whom you correspond. It's worth noting that the stickers are often updated by season, so you can always send the sticker that will really be relevant.
What's more, there are male and female images. You will also be able to create your own stickers. Add unusual stickers to your statuses. Save the best images to your favorites.
The app has a dark and light mode. Share your stickers with family and friends. Explore the entire arsenal of stickers in a huge library.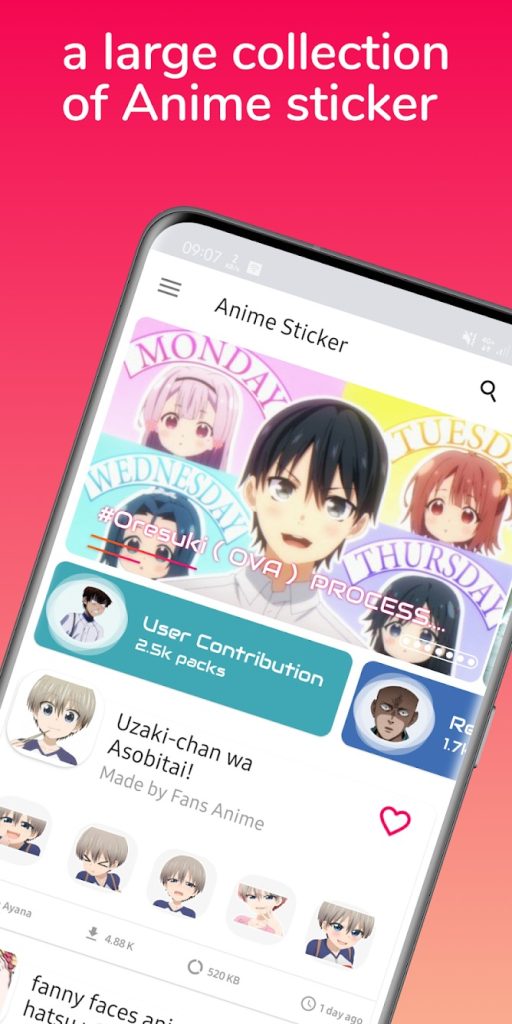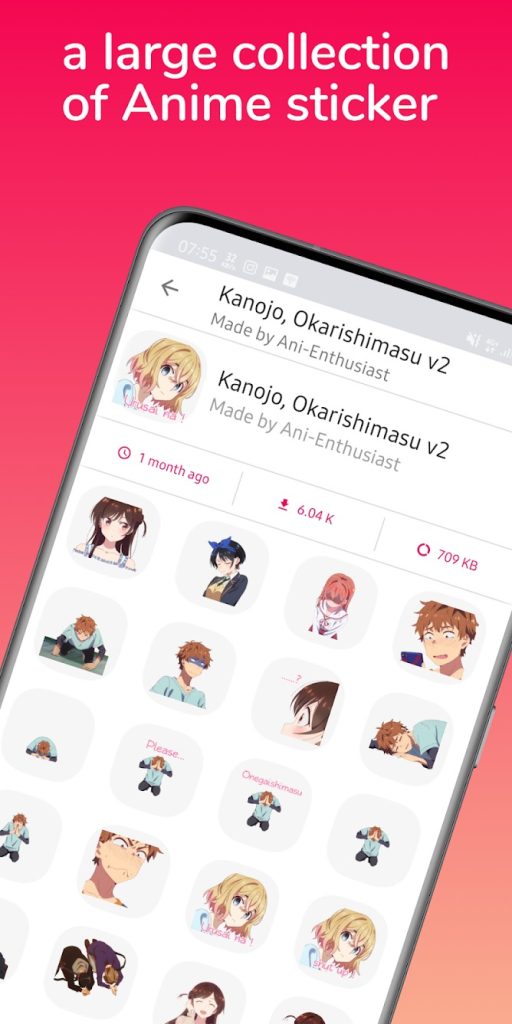 You will see stickers with fruits, various memes, and stickers with wishes. Make the most of these images and have fun communicating!

Anime Stickers for WhatsApp by Wallyapps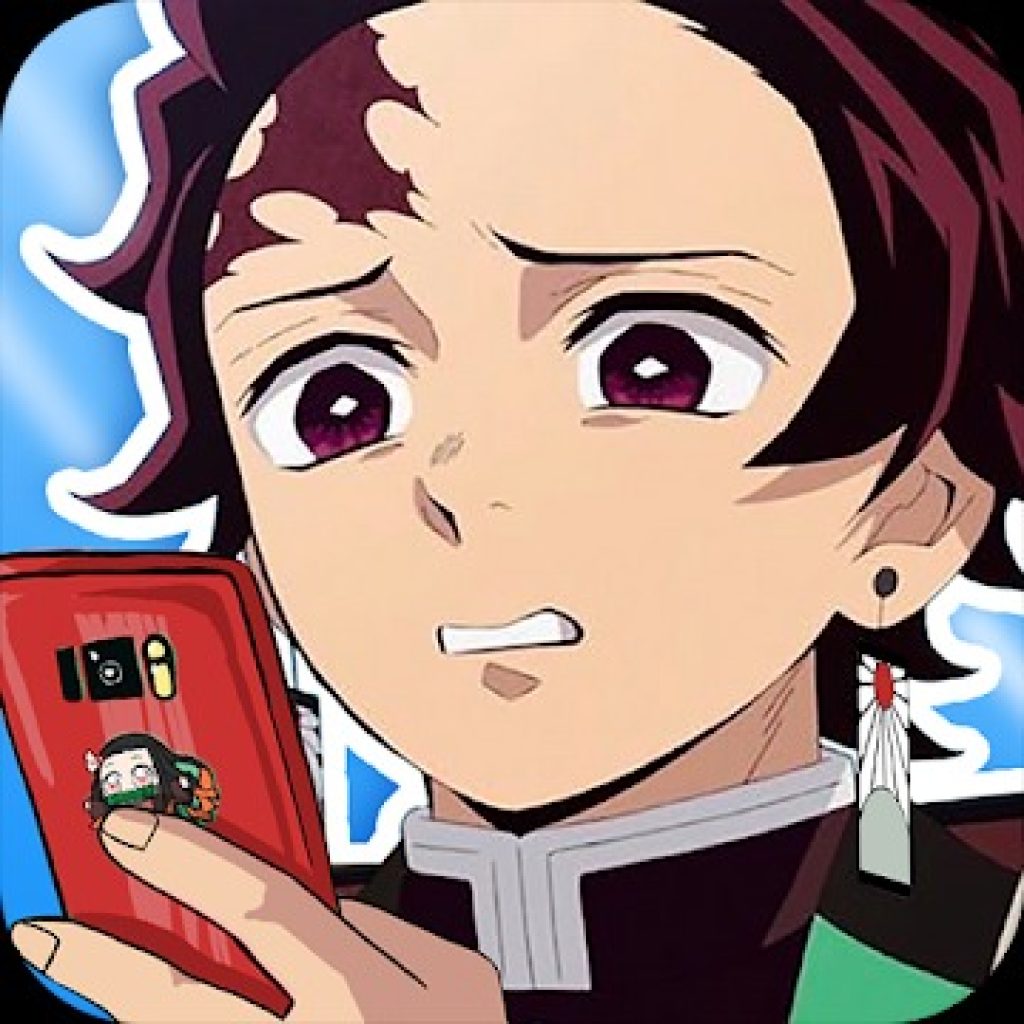 Anime Stickers for WhatsApp is an app with lots of stickers from anime books. Do you want to refill your stickers? Are you tired of sending the same images? Then this program is for you, especially if you're an anime fan.
Here you will find any stickers that reflect your emotions. Choose your favorite characters and send them in a messenger correspondence.
Stop texting with monotonous text, dilute your communication with these stickers. Laugh and get angry by expressing everything with stickers. Add the best images and use them in every correspondence with the person.
There are many awkward faces, Naruto stickers, and many other images. All the stickers are of high quality and the graphics are top-notch. Moreover, you will be able to add a whole set of stickers to yourself at once.
The program has a great interface, new pictures are added every time. Besides, here there is no problem to create your own stickers with your favorite characters.
It is worth paying attention to the fact that if you delete Anime Stickers, all the stickers will disappear from your smartphone.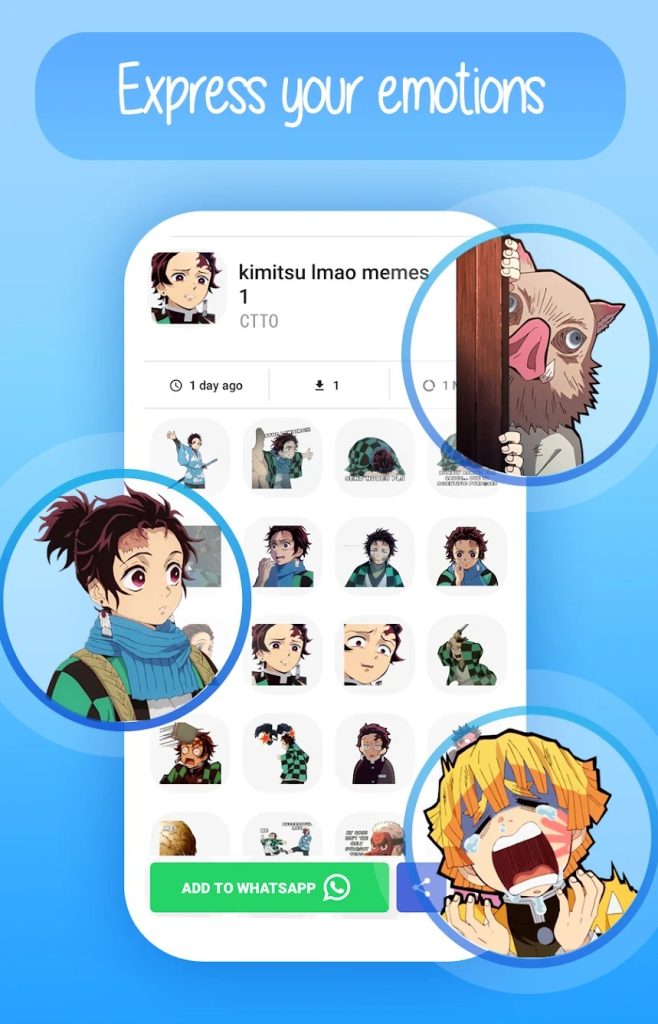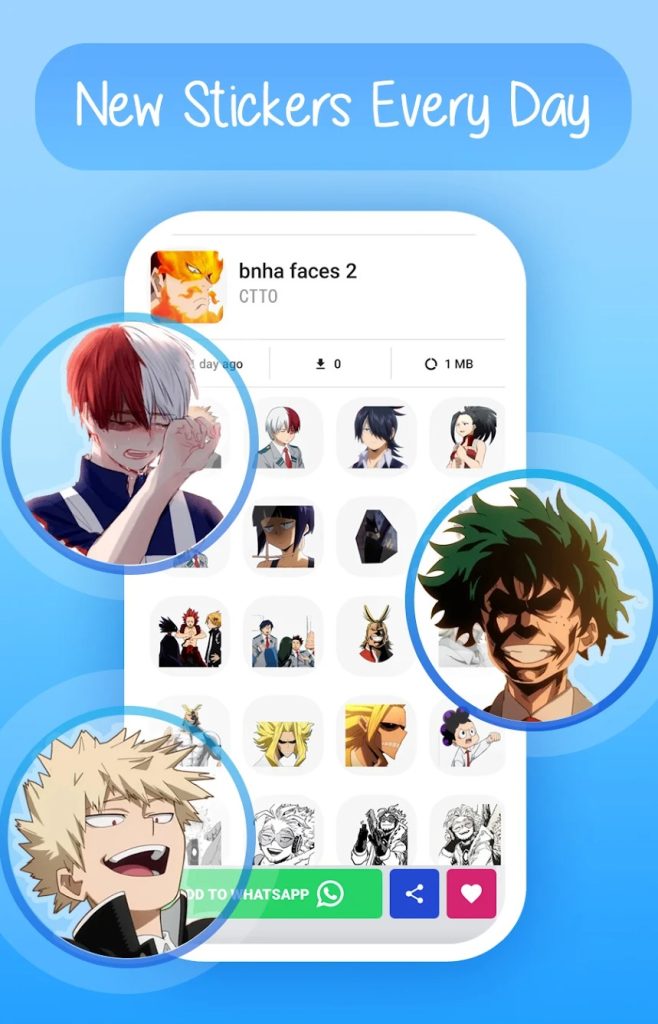 The program is official and confidentially protected. Download such an app and recommend it to your friends.

Keyboard – Anime Keyboard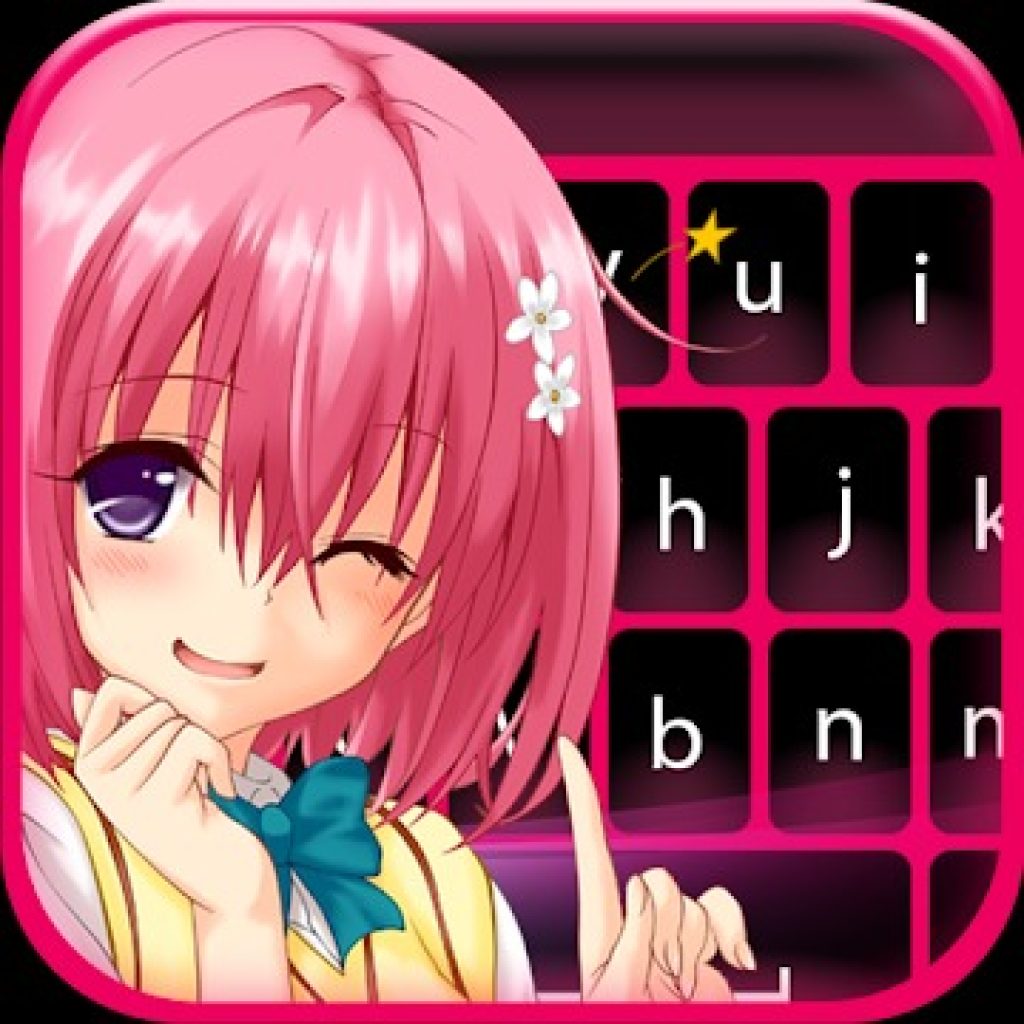 Keyboard – Anime Keyboard is a program that allows you to use an anime keyboard. If you want to change the keyboard on your smartphone, with this app you can do it easily.
Apply such stickers in communication and enjoy. You will be able to use the keyboard in absolutely different social networks and messengers. Set it up the way you like, and choose your favorite characters.
Every time you type, admire your staged creation, please your eyes! This is the best app for choosing themes on your keyboard. What's more, make a comfortable font for typing. Use a keyboard like this wherever you go.
Keyboard – Anime Keyboard has many interesting features. In addition to the fact that you can choose bright pictures for the keyboard, you will also enter words in a special way and stickers will appear for you.
There are a huge number of stickers available. The keyboard works fast, it reacts to all presses. It is worth noting that here, you can also choose colorful anime wallpaper from the proposed, or put your picture. The keyboard can always be changed by pressing a few buttons.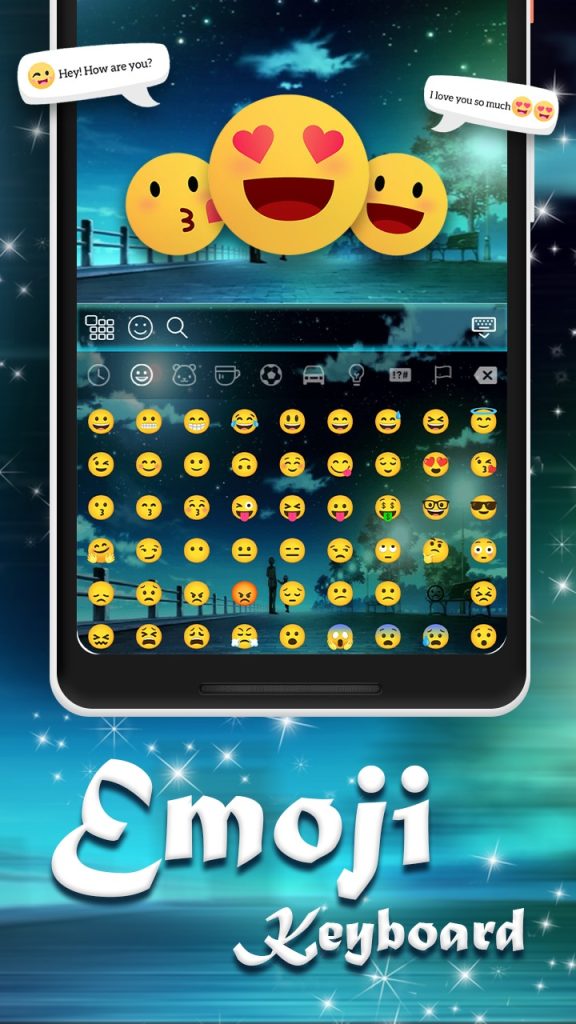 Users like the app, the interface is easy, and the graphics do not fail. Call your friends here, and let your correspondence becomes richer!

You may also like: 9 Best Apps like Bitmoji for Android & iOS
Anime Stickers for Whatsapp by WallForApps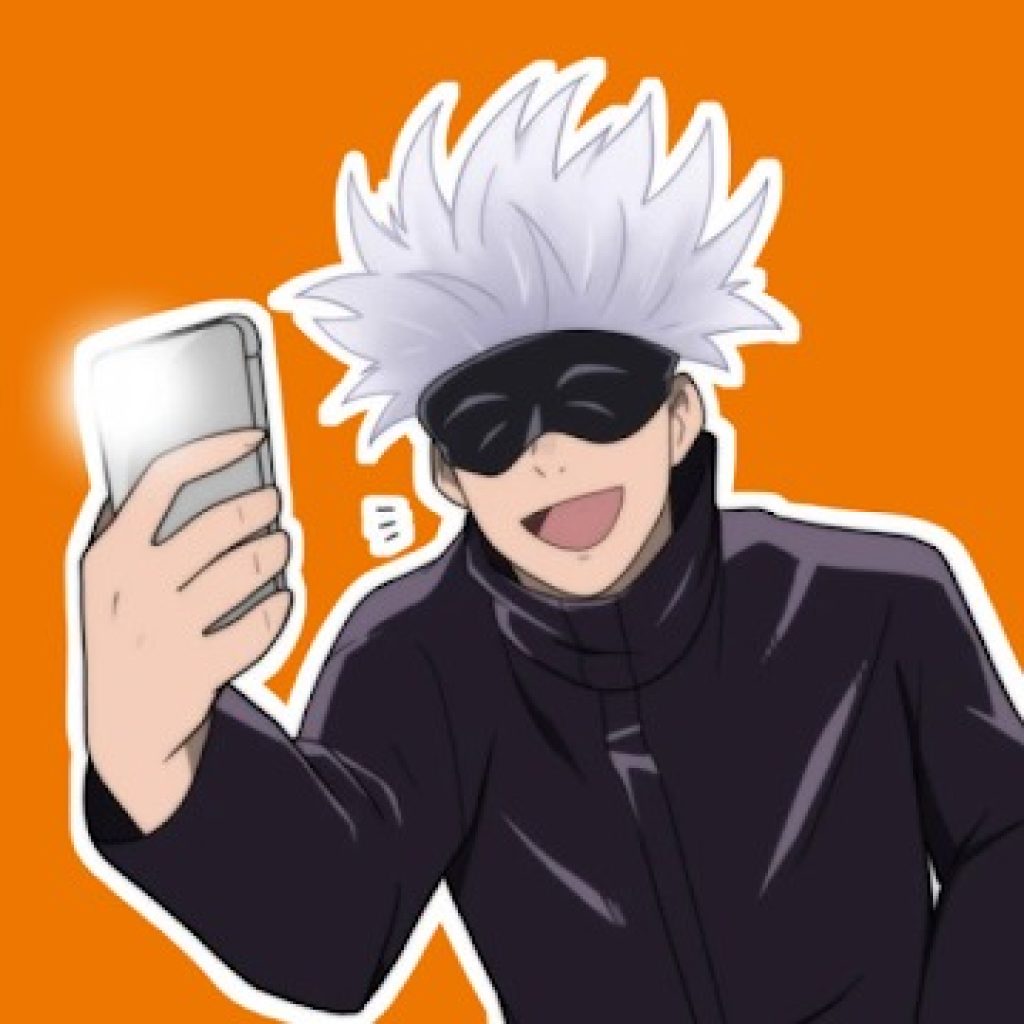 Anime Stickers for WhatsApp is a program with anime stickers. Are you a fan of watching anime? Then you will surely love these stickers!
You will be able to choose absolutely any stickers and use them in communication to express your emotions. Here are awesome stickers, which are of the highest quality.
Moreover, it is worth noting that you will even be able to make a whole album with your favorite characters in the images. This is so great!
Let your WhatsApp messenger come to life, and post funny stickers to your page! The stickers are taken from many anime books. They are often updated and get new colors. Here are stickers with Naruto, stickers with nature, and images with different memorable passages from books.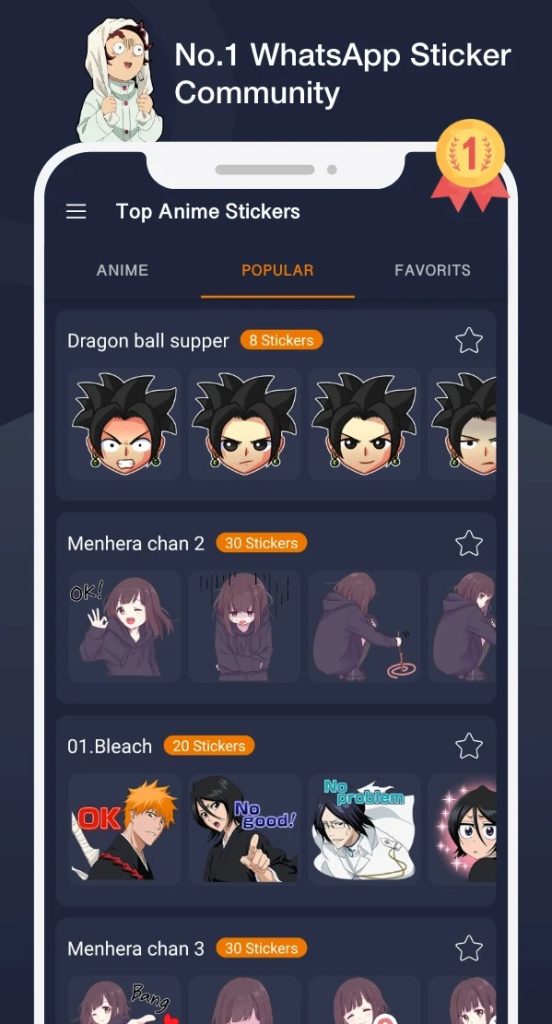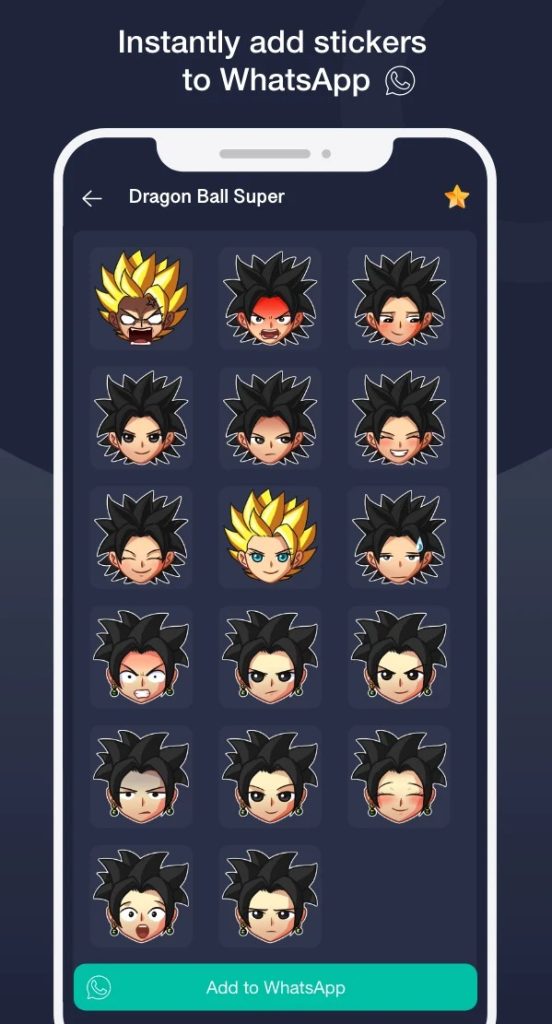 The program is designed for fans of anime. Invite your acquaintances and add all such stickers for non-boring communication!

Easy Moji
Easy Moji is an app with different kinds of stickers with anime characters. There are also normal anime characters.
With these symbols and stickers, you can send your feelings to the person you are talking to. If you are worried, you can send a sad or crying sticker of your favorite character from a book or cartoon.
At any time, you can go to your saved stickers and send your friend any of them. Let communication in correspondence become brighter! Choose from presented pictures of nice characters or vice versa, depending on the emotions you want to share.
From any of your correspondence, you will be able to quickly copy the image and send it to someone else. The Japanese have a lot of these stickers. As people in Japan love to draw, there are a huge number of post-its accordingly.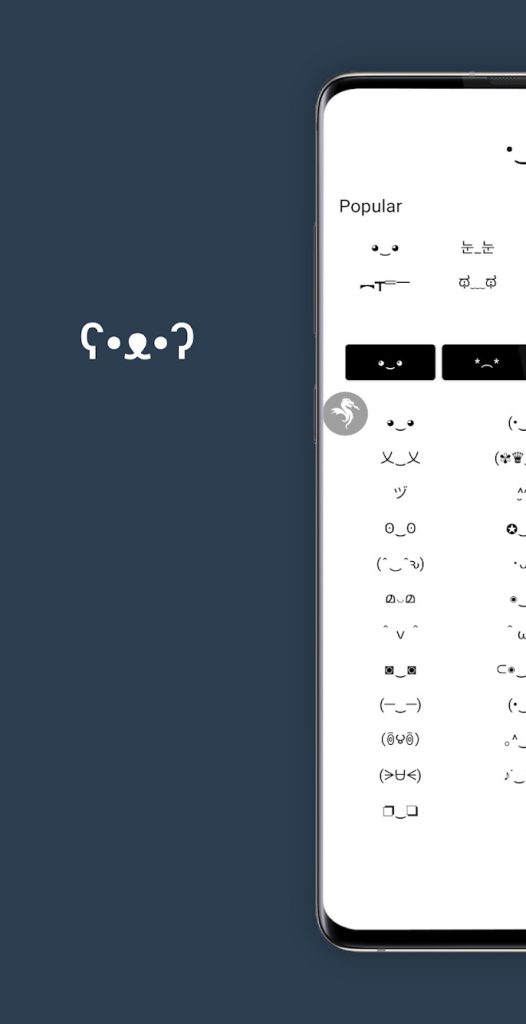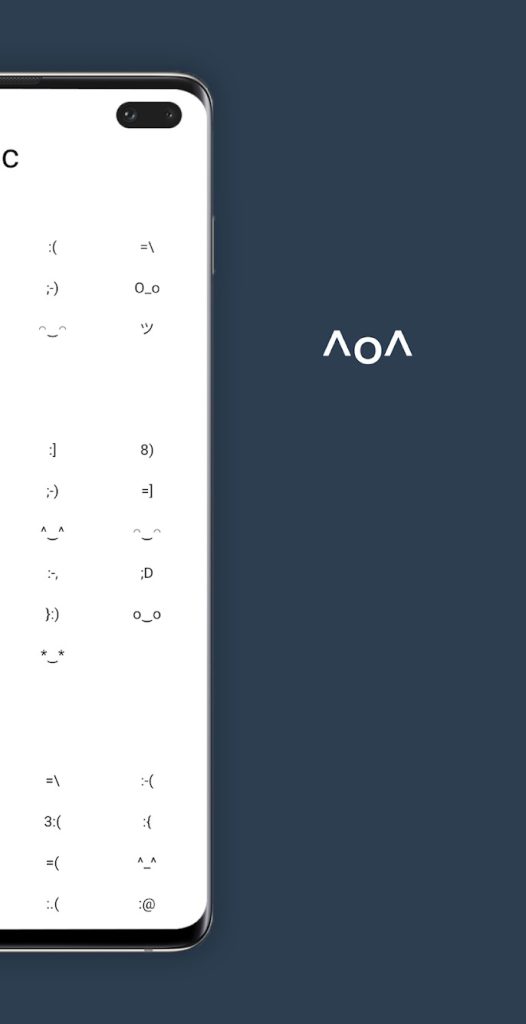 The app Easy Moji is simple and easy to use. Get your friends interested in marvelous and unique stickers!

You may also like: 8 Best Cartoon Avatar Creator Apps for Android & iOS
Anime Stickers for WhatsApp by Intechgensys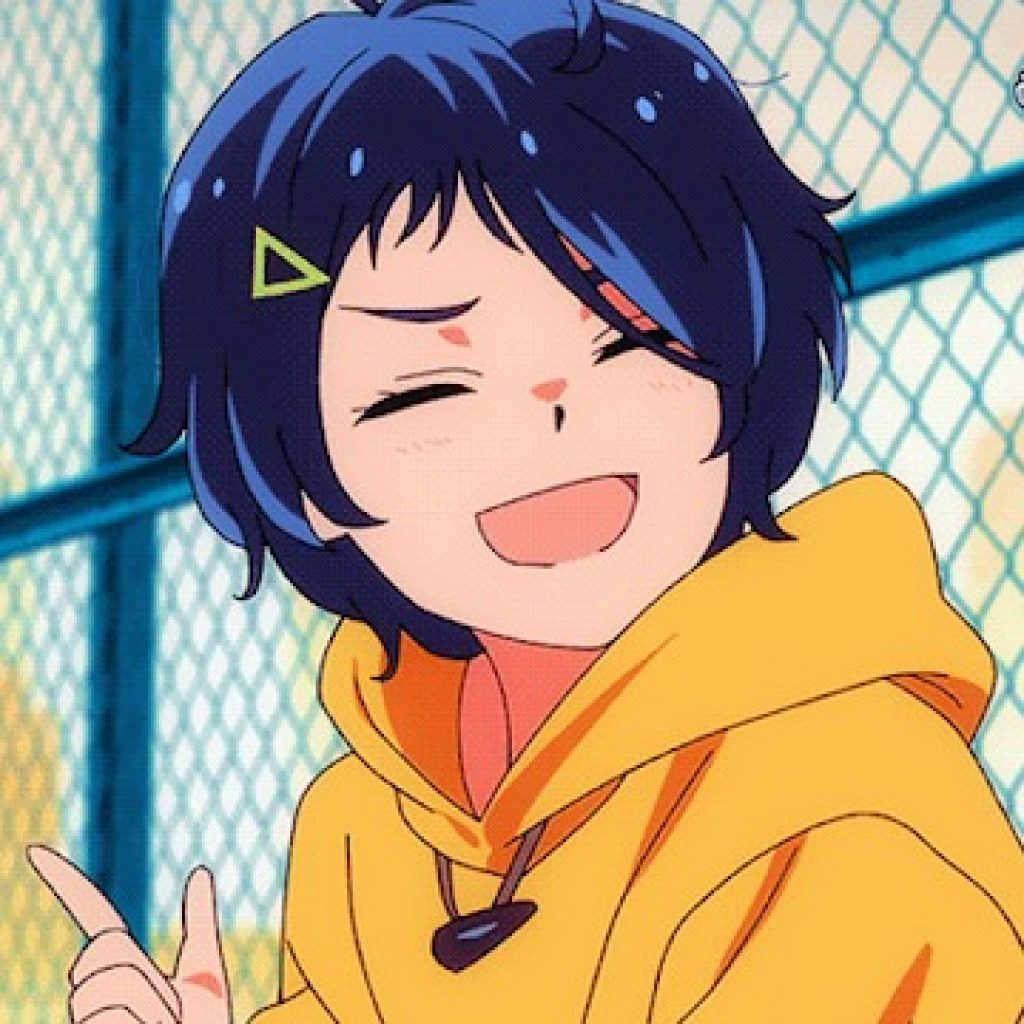 Anime Stickers for WhatsApp is a program with a large album of stickers with anime characters. There are a lot of them for every taste.
You will find your favorite characters among these images. Download the color collection and start sending them to your friends in your WhatsApp correspondence.
Express your feelings through these stickers. Diversify your tense communication with text and wonderful pictures. If you're a fan of anime, you'll love Anime Stickers and remember them for a long time.
Here the resolution is excellent, the graphics are on top. To send the desired sticker, go to a specific category and click on the image. Add the best ones to your favorites.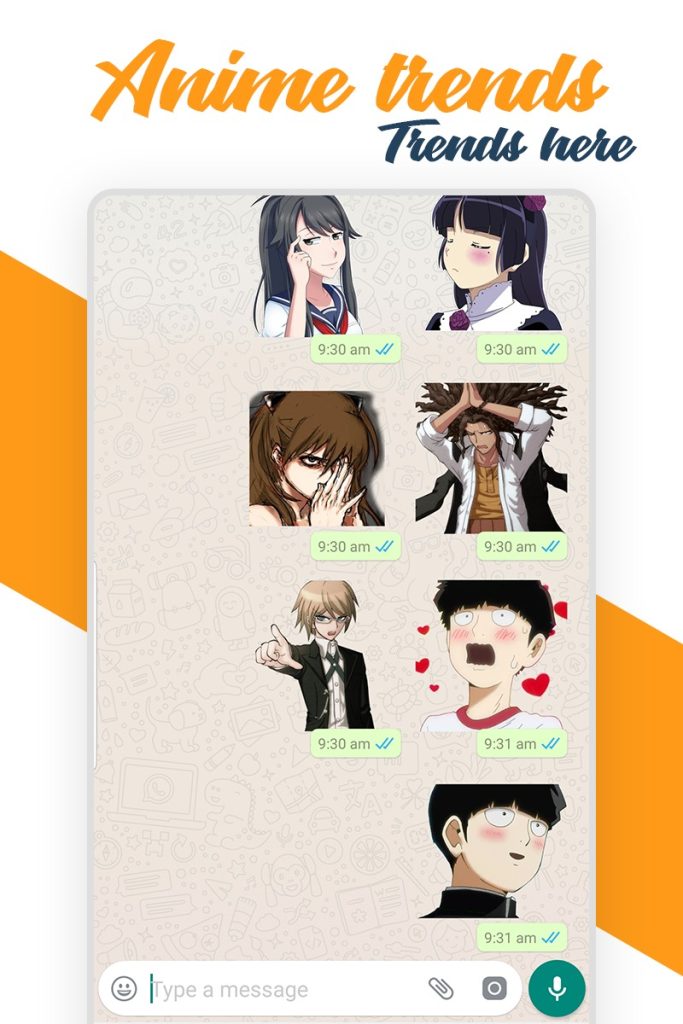 Transfer the stickers to your smartphone keyboard, it's pretty quick to do. All your emojis will be in the corner of the keyboard, use the colorful image whenever you want. The app is fully protected.