Everyone knows that there are hundreds or many more excellent different kinds of video editors on the web. But despite this, some people still have a hard time finding great video editors, with improved functions and various features.
In this case, don't get lost, because we have already prepared all the most advanced applications with outstanding capabilities. Meet the best apps to caption videos!
P.S. in addition to this collection of apps, we recommend you check the best apps to write text on videos.
PowerDirector
The application that tops our list is PowerDirector. A great video editor with advanced tools for editing your videos without losing quality.
The application is quite popular and enjoys only good and relatively positive reviews among web users, and this is not surprising, because the application is not only easy to use but also there are no bugs. So, let's do a detailed review.
The app is full of useful and creative effects, filters, and templates. Each of these tools can be found in the handy bottom toolbar. And you can also edit the quality of the video and its sound in the app.
Among the tools, you can find the function of adding music or various special effects, and you can also add subtitles to your video.
Using the application you can create a creative video with various transitions and effects from an ordinary video. What's more convenient, you can change the background of your video, and add different stickers and animated titles if you want.
As we mentioned above, users of the app can edit their finished videos using several features of the app, or try out ready-made templates for the videos.
Subtitles can be added to videos using the text function, and the same text can be changed in font, color, size, and so on. To create perfect transitions, you can use several video segments and stitch them together and apply effects.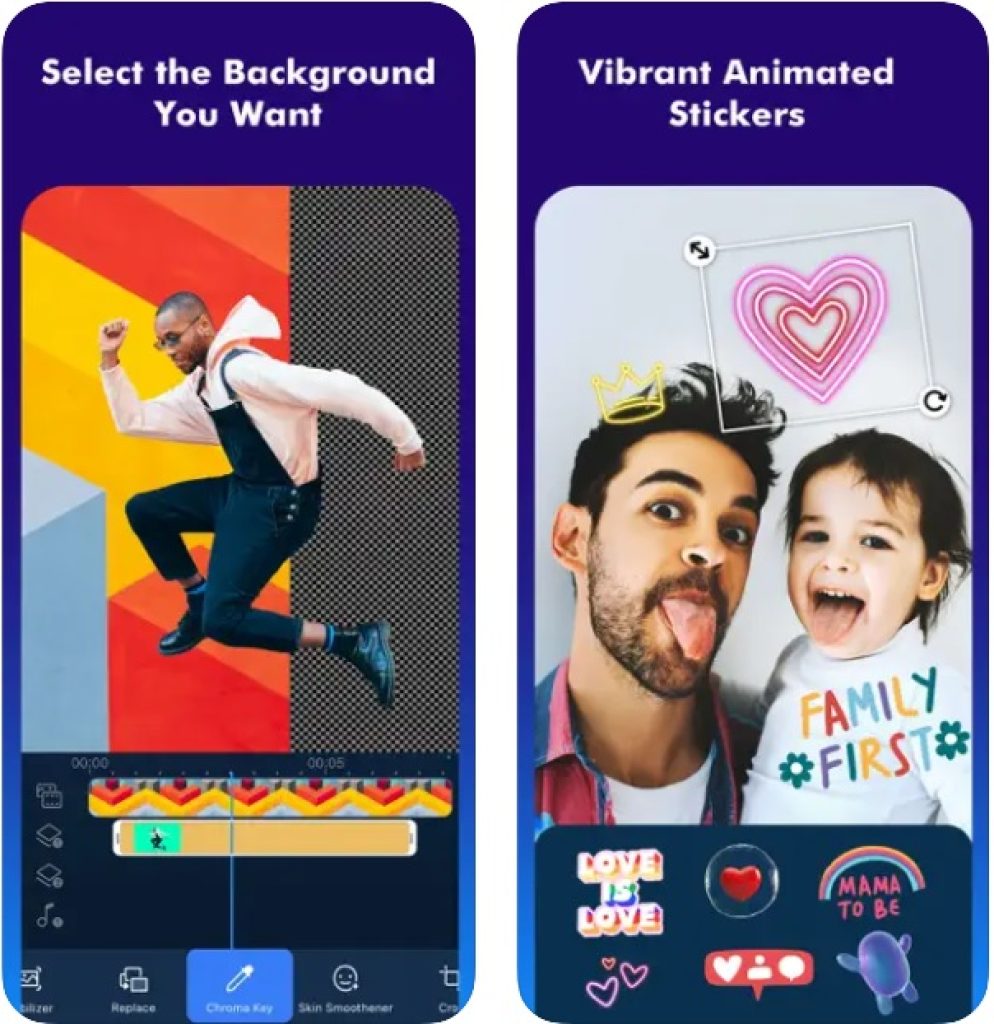 You may also like: 15 Best apps to combine videos (Android & iOS)
MixCaptions
This app is great for bloggers and those who frequently use video platforms to create unique content.
Viewers can't always watch videos with sound due to different situations, in this case adding subtitles to videos is a great solution to this problem. This way videos can be viewed even despite all kinds of situations.
The app only aims to add subtitles and various other texts to videos and to edit these texts. You will be given the size of your video, i.e. length and width, to start editing.
In the list you can choose any size from the usual size, ending with a video for an Instagram story. Once you've decided on the size, choose a text and font style, you can add a background to the text so it's easy to spot on the video.
After all the editing, users can download the finished video and save it to the gallery or share it on social networks. Overall, the app is easy to use and not difficult to work with.
Maybe it doesn't have those special effects or tools for overlaying transitions and other things, but in general, purely for adding subtitles to videos, you can use it.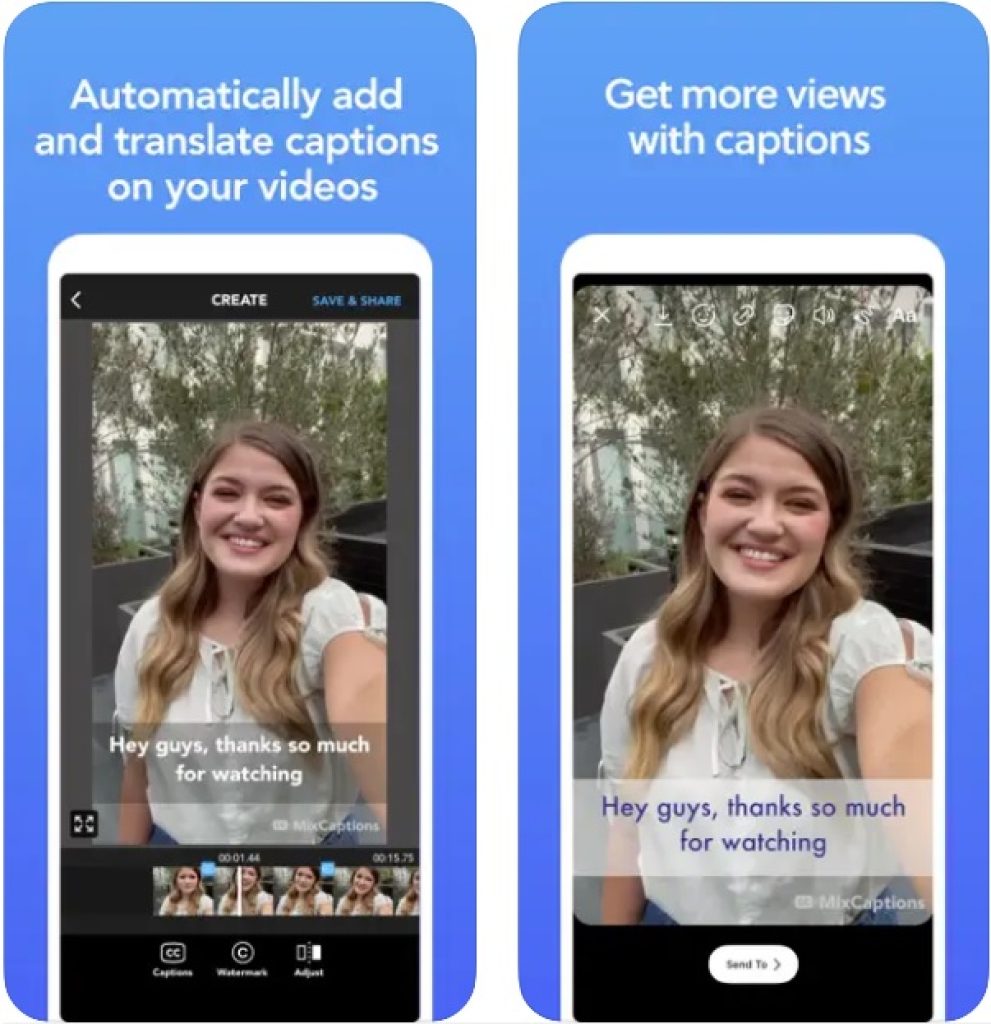 VCUS – Video&Vlog editor
A video editing application that is a bit like Power director in its functionality and tools. With the app, you can achieve great quality videos and perfectly edited content for your video platforms. If you learn how to use some of the tricks in the application, you can use it to achieve professional video editing.
So, the first thing you can do in video editors is that with their help you can edit the finished video, merge or adjust filters and effects and the like. It's the same in this app.
You can choose any filter for the video, and you can also choose a light natural makeup effect. For creativity, you can use exclusive audio tracks, or you can add different texts and transitions.
To make your video exclusive and a little bit different from others you can create creative work in the editor, or if you don't want to think much and just need to make a good video, you can choose from ready-made templates your favorite one.
Adding text to your video also helps you add subtitles to your video, you can change the text by font, colors, and others.

Impresso: Video design studio
This is an application where everyone can try themselves as an editor of editing. The application is almost no different from the previous one, but it also has its distinctive features.
On this application you can change the font style to be more creative, for example, you can choose the glitch effect, the curved shape of the text, and so on.
Here you can also find various ready-made video templates that users can use at their discretion. Also, these templates are great for social networks such as TikTok or Instagram, and the like. Another cool thing about the application is that you can easily remove the background and replace it with a separate one.
Subtitles in this app are easy to add, it can be done by adding text. This process does not take much time, especially this process can be made more fun by trying various animated text styles. In any case, you can add subtitles to this application as well.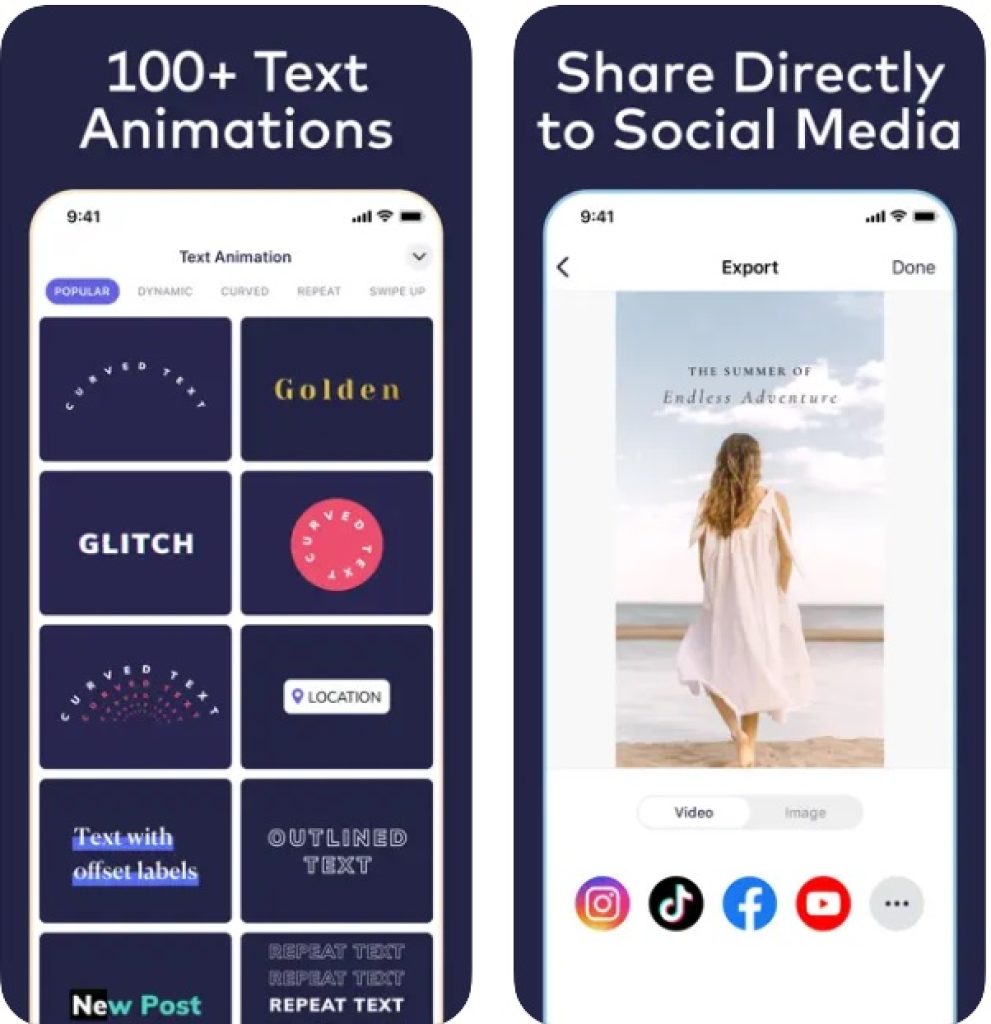 Subtitled Pro
And here is another best and most useful app for users. The app will easily assign subtitles to the desired minutes and time cycles. This application can be used not only to recognize English but other languages as well. The text in it is very easy to edit so you just choose the desired minute and add the text.
For subtitle editing, this app is simply a must-have and the truest. Users can also paste or copy copied text. If they mess up somewhere, they can revert the action with a single click. While editing, the audio track will be visible on the screen, giving users easy access to edit this or that part of the audio.
Right in the app, you can make translations of existing subtitles for editing. So you no longer have to go from one app to another. You can export your finished video in several formats with excellent quality. And the application also allows you to edit different kinds of audio files.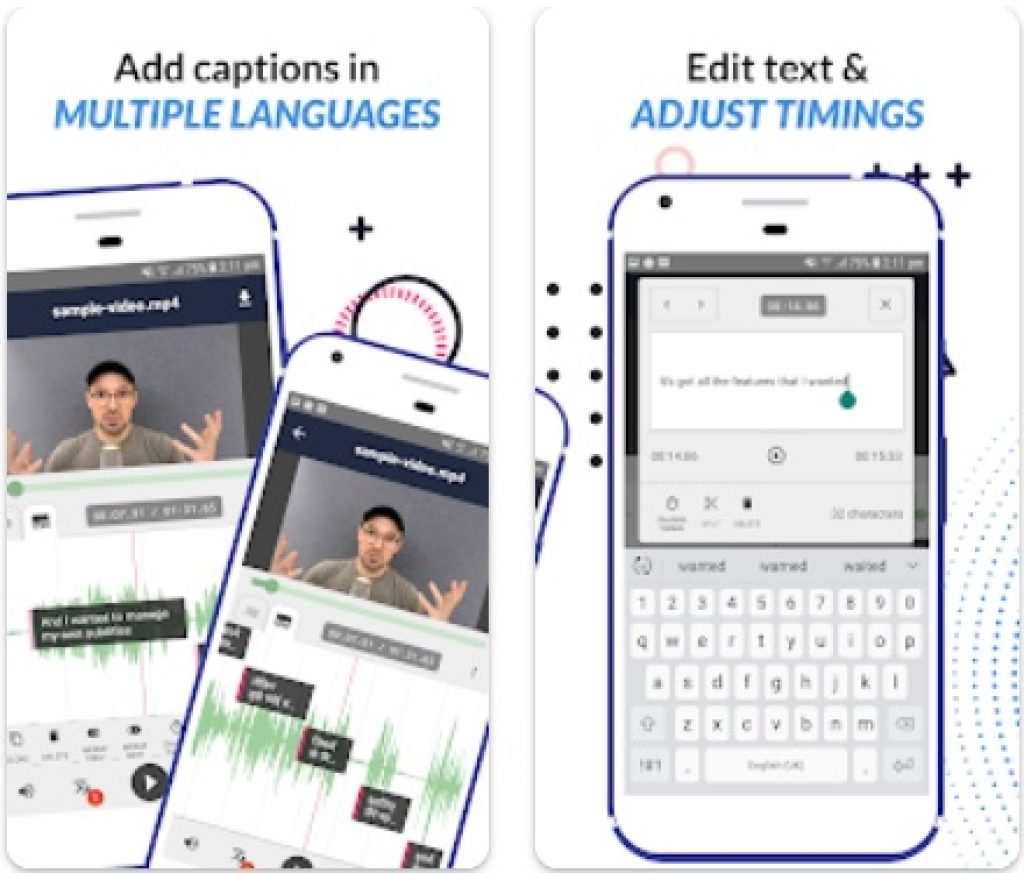 Kaptioned
Application for automatic distribution of subtitles to videos. Not only can you edit texts, i.e. subtitles and their types and styles, but you can also edit videos in the app.
Speaking of styles and types of text, you can apply different effects to the type of text and its reflection. Of fonts, you can find from the simplest to the most specific.
During video editing, you can use a palette of hundreds of colors to design your text. You can also make a watermark using the app. It's no different from any other app, so it's good in its way.
And at the end, to improve the visibility of the subtitles, you can add a background to it and fill it with any colors from the palette.
One significant benefit of the app is that you can add subtitles in two languages simultaneously. The app's automated feature will help you easily recognize speech from the video to create subtitles for the video, and it's your job to edit it in the right places.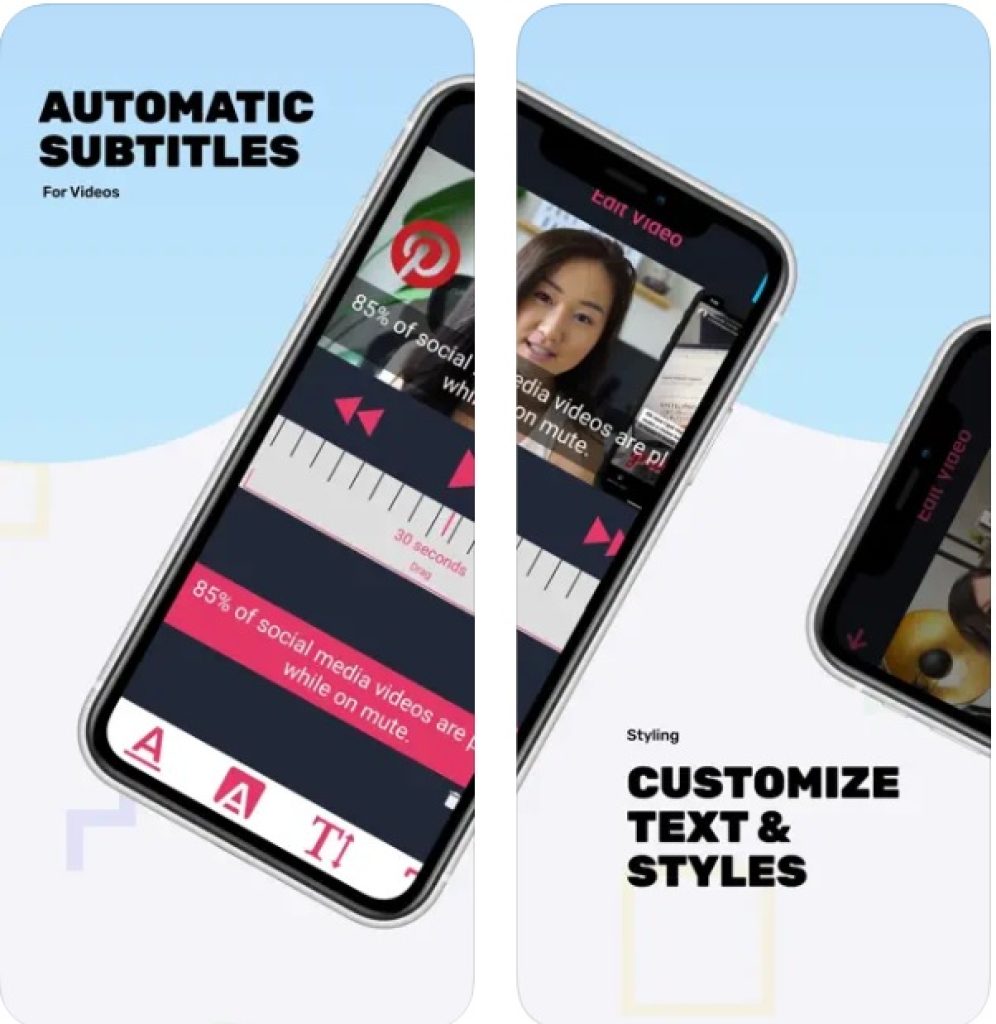 You may also like: 11 Best Apps to Add Music to Video (Android & iOS)
Veme.ly: Video subtitles
A great app for creating creatively edited videos for social media. You can easily edit it and use ready-made templates for inspiration. You need great and catchy user-generated content to create content.
And for bloggers and others involved in a similar field, video materials need to be top-notch. To edit your videos, don't hesitate to choose this app.
You can select SRT files for editing subtitles. You can add different texts with no problems in one click, and you can also easily change their style, and add different effects to the video. In the list of editing tools, you can find the Trim function. You can use it to trim your video to the format you want.
You can share edited video materials with your audience in a few steps. Finished projects are saved in the gallery as well as in the app, which means you can edit them at any other time.
To find the style you want, you can scroll through the list of ready-made templates and save the ideas you like. And as you have already realized, the templates you like can be used for your videos. The app is also full of different effects, filters, icons, and stickers for styling.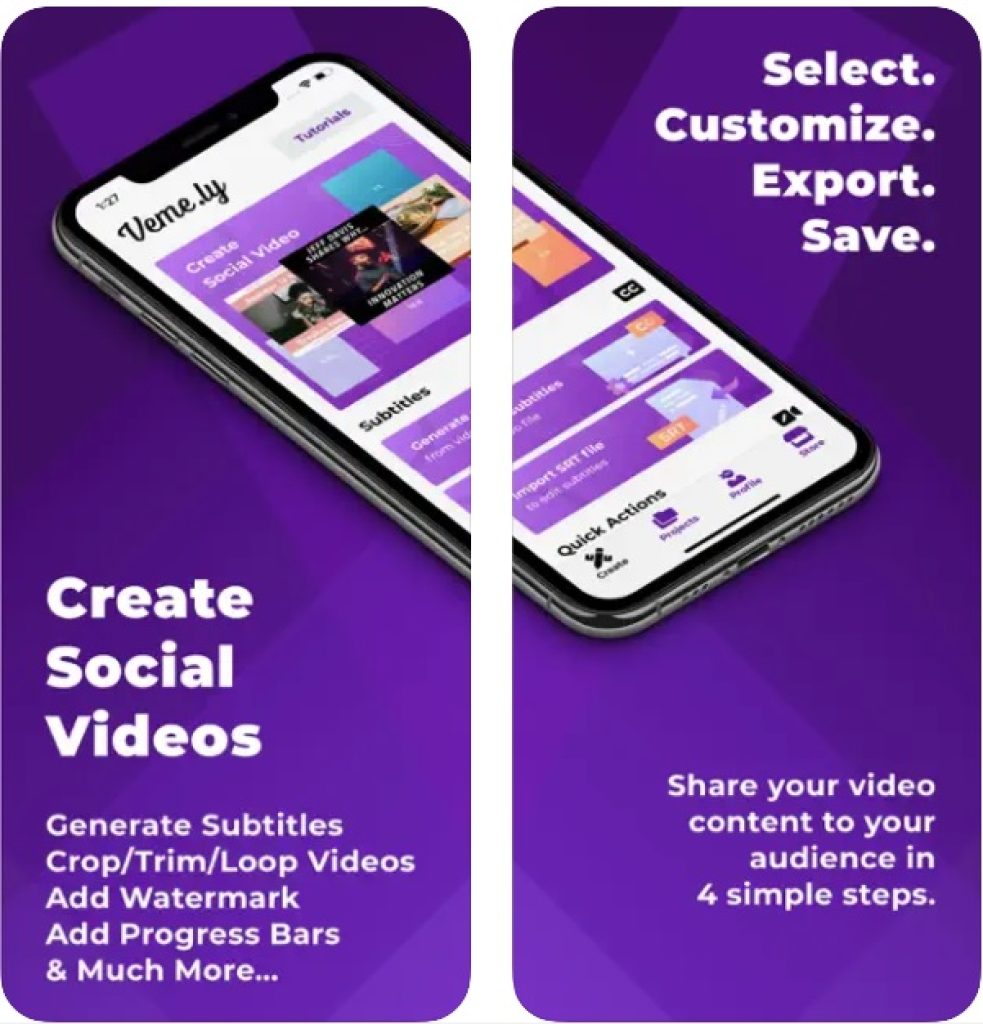 AutoCap
The name already speaks for itself, that in it you can easily get automatic subtitles to videos. The editor is popular among users and has quite normal ratings from them. To get started with this application, we thought it would be a good idea to take a look at it and understand what's what and how to work with it.
Let's start the review and see what's interesting here and how you can use it for your future projects.
The first and most crucial thing in the application is the function of voice recognition and identification of incomprehensible or unclear words. In this case, you will see a screen with editing tools, you will need to write and edit words that need it.
In it, you can choose a video from one minute to as many as ten minutes, but it already depends on whether you are subscribed to the premium services of the application. During editing, the video quality is not lost and is preserved.
This application is not a full-fledged video editor, it can only be used to process subtitles for videos. The application interface is quite complex, but it is easy to understand what works and how.
Although new users will still have questions, so you need to carefully examine them. The final works can be saved in several formats, as well as immediately share on social networks.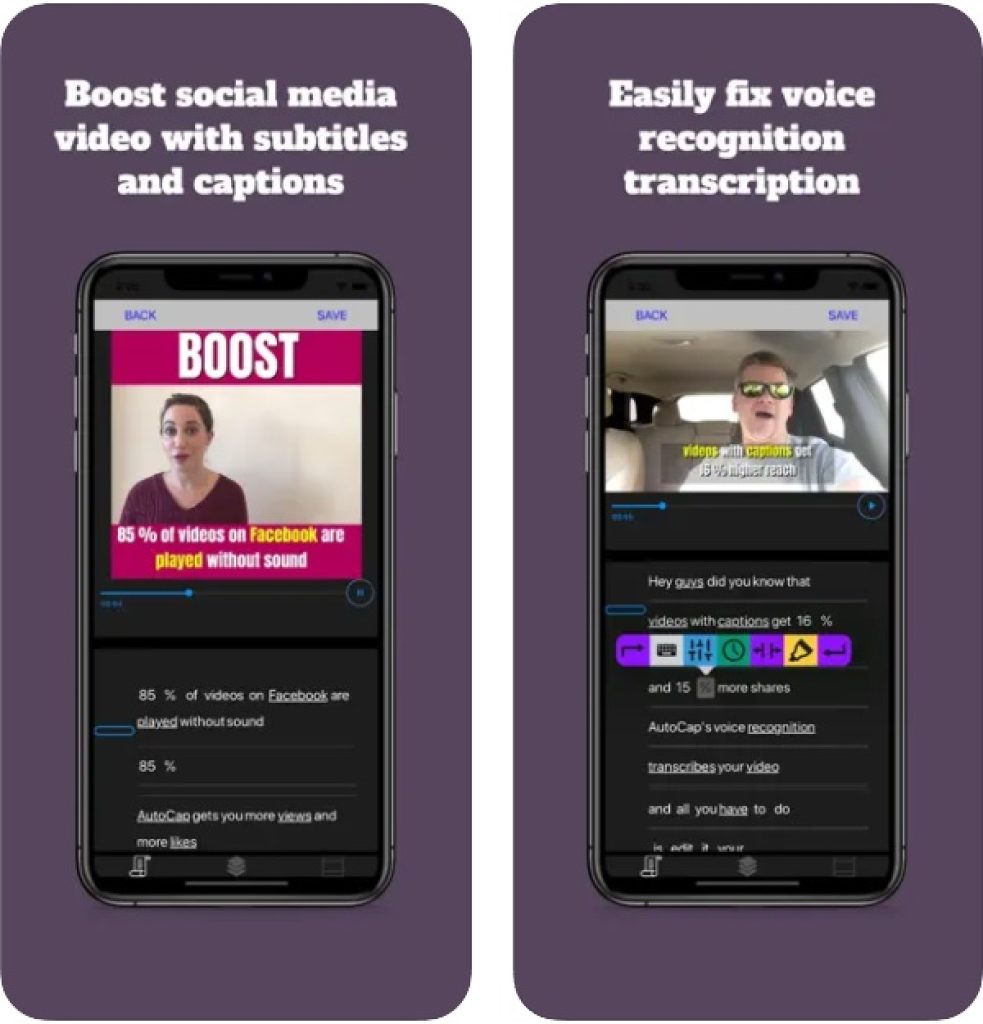 Liro
Another light and intuitive application for adding subtitles to your videos. There are various types of applications for adding subtitles and different texts to videos, but this differs from them in that here the titles can be made visible to the eyes.
That is, you can make the design for your text unique so that it can be reflected in the video and be easy to read. Also, to make it easy to start adding subtitles, you first need to select the language on the video.
According to statistics, more than eighty percent of network users watch videos in silent mode. And adding captions there will help users understand what your video is about, and can also attract the attention of the audience.
After adding the desired caption, it can be easily changed by design and font. It's full of fonts, and lots of color palettes.
Well, the application has quite a lot of useful functions and tools for working with video files. And also the application supports more than seventy-five languages of the world to add captions to videos.

Story wave
Another powerful application for editing videos, adding labels, applying filters, creating great transitions, and so on. This application allows you to easily turn an ordinary boring video into a fascinating video that will immediately catch the attention of other users.
In the application tools, you can find functions such as adding music, and labels, changing by type and format, as well as more than a hundred filters and special effects for editing.
For editing, you can select an existing video, or create a new video or slideshow from a photo. Each frame from the video can be cropped or made changes without deleting the frame.
You can add effects, different filters, and powerful transitions to your video. Unsuccessful frames or moments can also be cropped or replaced with their photos by adding. Texts can be added in different designs and styles, everything depends on you and your imagination.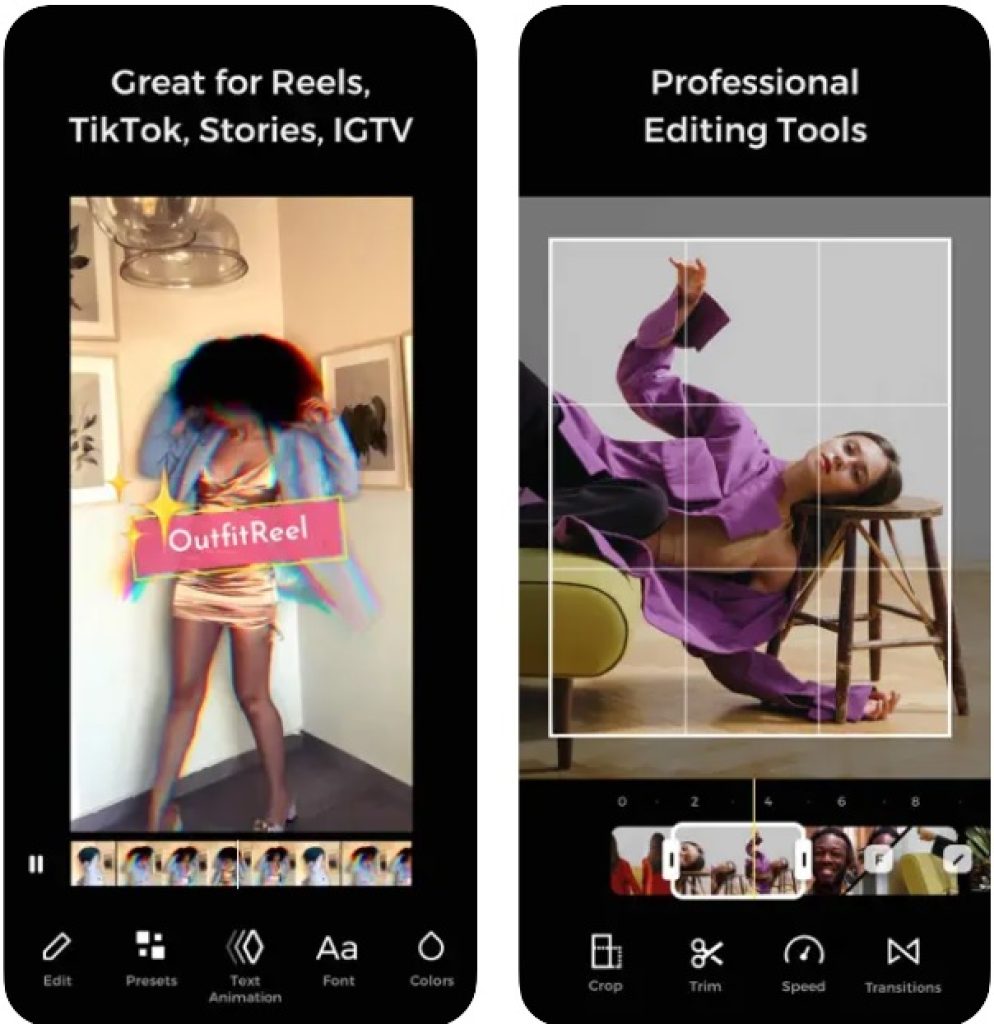 You may also like: 5 Best Apps To Remove Filters From TikTok Videos (Android & iOS)
Focodesign
The latest application on our list is not only a video editor, you can also edit photos in it. This application allows you to change photos and video files, and add different filters and effects to them. You can also use other application tools such as background remover.
While editing the video, users can add texts and captions to the video to describe what the video will be about. Text styles are different and everyone can find the styles and fonts they need. The app has a community of users where everyone can find inspiration and look for new ideas.
In all other respects, each user will find his drawbacks and benefits. Our task was to find great apps for you with nice and worthwhile editing features. Evaluating and finding the applications you like is another matter. We think that the application is pretty cool and quite passable.