Workers in the field of needlework, and particularly seamstresses, certainly know quite a few sewing techniques and styles. One of these techniques is quilting. Here we have selected the best quilting design apps for your inspiration and design ideas for quirting.
And in case you want to sell you creation after you finish, then we definitely recommend you to check out the article about the apps to sell handmade items.
You may also like: 12 Best apps to sell handmade items on Android & IOS
Quilting Tutorials by MSQC
Our list of top apps is topped by Quilting Tutorials by MSQC, for its atypical features and excellent functionality.
As usual, we start our review with the interface of the application, in our case, it is quite straightforward. The app is famous because it's full of video tutorials to guide seamstresses to new ways of finding new ideas for their designs.
A thousand tutorial videos by Jenny Doan can be found in the app. The videos are recorded for absolutely all users. That is, they are intended for both beginners and experts in sewing.
For beginners, it is a great opportunity to learn about this sewing technique and learn how to create a variety of designs yourself. Also under the video, you can always find its description as well as a transcription of the video.
It is worth noting that this app is not only with instructional videos, but also a platform for selling needlework materials. As in any online store, you can place an order here, and if you are lucky you can get a few percent discounts. The app is trading from thirty percent off to a hundred percent off every day.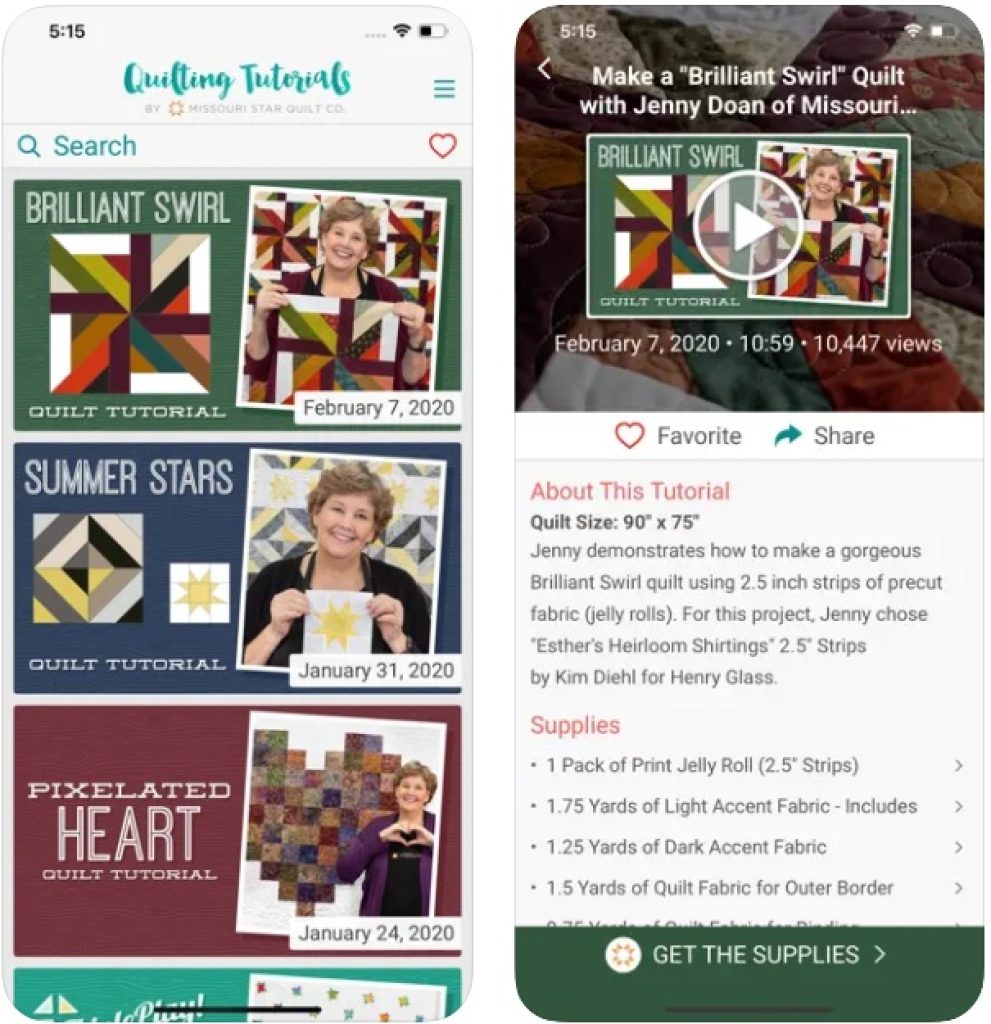 You may also like: 7 Best sewing apps for Android & iOS
Quiltography : Quilt Design Made Simple
Another handy and quilting app. This app has several positive aspects, including functionality, tools, support, and more.
The first and most significant distinction from the previous app is that this app gives you access to a photo album. That is, you can use this app to sew any quilting technique by looking at pictures from our gallery.
You can also find your calculator here, which gives you the ability to measure the length or width of your design. Here in the menu, you can also find ready-made templates, from which you can create your design.
On each block, you can look at the dimensions and what materials should be used. In the main menu, you will notice several boxes, such as "My staff" and "Fabric".
In the first one, you can find your designs and which templates you have browsed. You can also add your quilting ideas and designs to this list. You can send your designs to others and share them on other social networks.


Quilt Wizard
Looking at the cover of the app, you might think it's an app for kids or something for gaming. But in fact, it's a cool quilting design app. The app isn't that great, you can use it purely for online design, and to do a rough overview of the material. Now we'll describe the pros and cons of the app.
In the «Designer Wall» menu, you can choose textiles, material, size, blocks, and other important aspects of needlework. For online design, you can choose colors from palettes here. It is also possible to save your finished design for the gallery.
And now let's tell you what the downsides of the application are. The first is its limited functionality. That is, there are no useful features in this app, such as video tutorials or online ordering of other accessories.
And also here the sketches are given only as drawings and not in 3D format. The program should be seen as a graphic tool for needleworkers, where you can draw designs.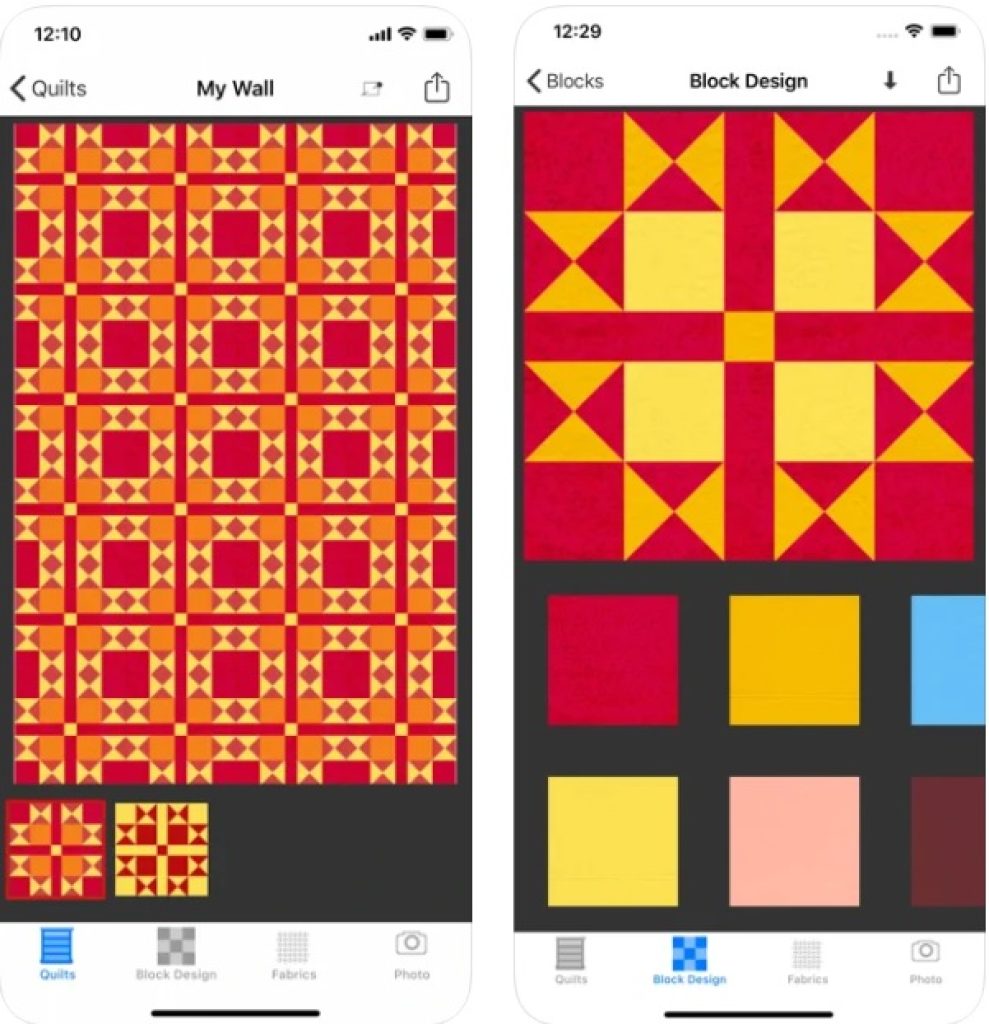 QuiltSandwich
The application is quite useful, several features will be useful and just in time during the design. The main drawback of the app is that in the app itself you will not be able to create layouts and designs for quilting.
It is worth noting some bugs that appear during the use of the application. Most often, or in extreme cases, the app can be used as an online quilting calculator.
The app has a calculator with great features and functions, where you can calculate the difference, measure materials, correct and find out extra measures, and so on. There's also a ruler tool, and on top, there's a description of your work, that is, size data.
A valuable function of the app, here you can see how the colors of the selected material will balance with each other. You can select several colors from the palette at the same time and see how they look and whether the colors match each other.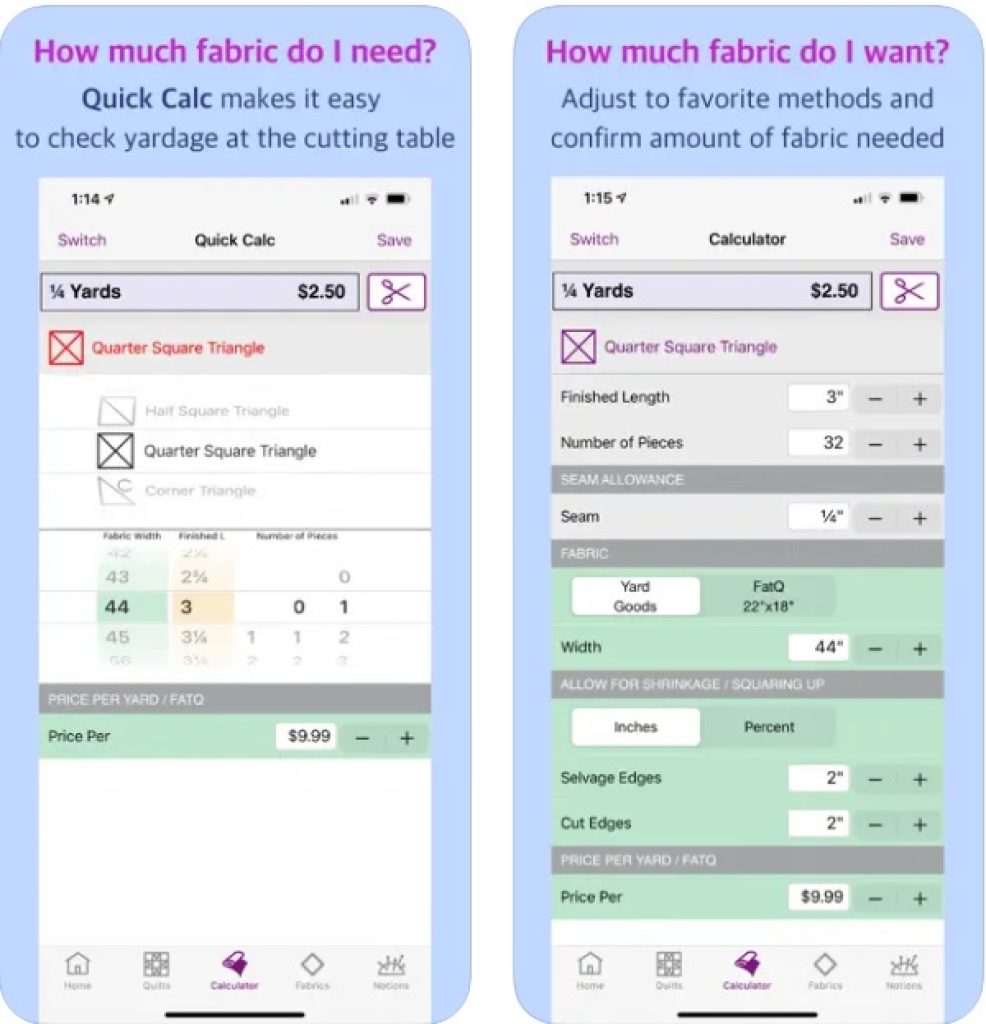 Quilt Cat
A great app for online quilting illustration and design. Convenient interface and several features for your unique design.
The app, although not much, has great editing options for your ideas. You will have the ability to draw and create your quilting designs.
Your actions during design editing can be filtered. There are various filters; you can add your favorite patterns, or choose from all the others on the list. With ready-made geometric shapes, you can create one pattern, and you can change their colors to your preference.
And also the size of these very figures you can control if something does not like you can change or cut them.
All created quilting designs are saved in the app automatically, and you can find your old designs in this list. The view of the patterns also changes in appearance, i.e. they can be unfolded or flipped.
In general, the application is very useful for online design editing, without unnecessary bugs, and with easy functionality. If you don't care about other distinctions and features, you can download them without hesitation.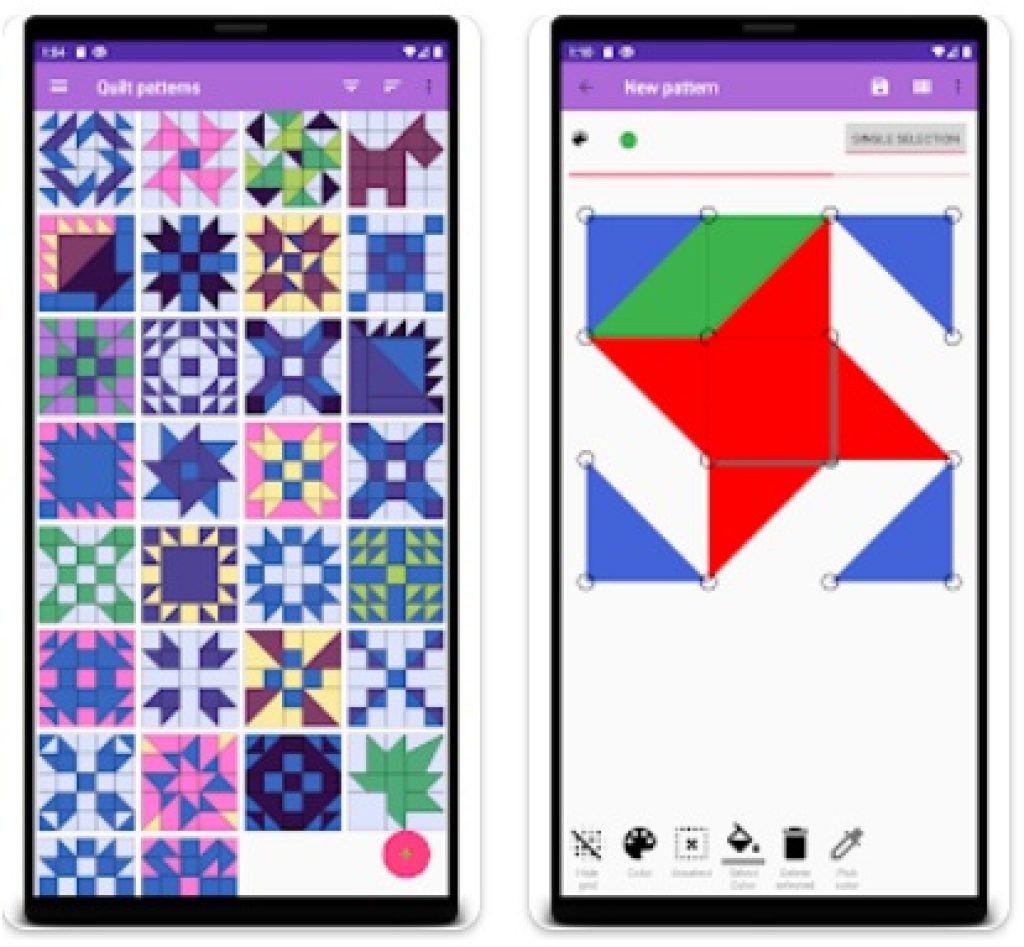 You may also like: 20 Best Calculator apps for iPhone & Android
Procreate
So of course, our list didn't leave out this cool thing like Procreate. Surely many users have heard of this cool app for creating sketches, illustrations, and other graphic ideas.
The app has all the tools you need for an artist and designer, and it's also an essential app for needleworkers who plan to create quilting designs. Now, let's find out what features it has and how it is useful for seamstresses.
To get started and before you start sketching your design, you will first need to open a new canvas. Its size and position can also be changed to your liking.
Next, you'll find different kinds of brushes and pencils in the tools, as well as many color palettes. You will have the opportunity to draw your design or add an existing photo from the gallery.
You can use the app to create different patterns or lines in your existing design. In the end, when the design is ready, you can simply save it and use it as you know it.
You can also create quilting from ready-made geometric shapes, and use the app just for your ideas for the illustration.


Quiltspace
The app is a community where all needleworkers come together to share ideas and inspire each other. You need to sign up for the app using Facebook, Twitter, or email.
The disadvantage of the application is that here you can't draw your designs, you only have the opportunity to share ready-made patterns with other users.
You can use this app exclusively to find ideas and inspiration in the community. Share your quilting designs and works, and save your favorite works to use as a guide in the future.
The application is easy to use, because of its clear and easy-to-understand interface. It's simple to navigate from page to page within the app.
An ordinary application with a few cool options and a user-friendly interface. This allows the app to be used by various audiences with a wide range of age restrictions.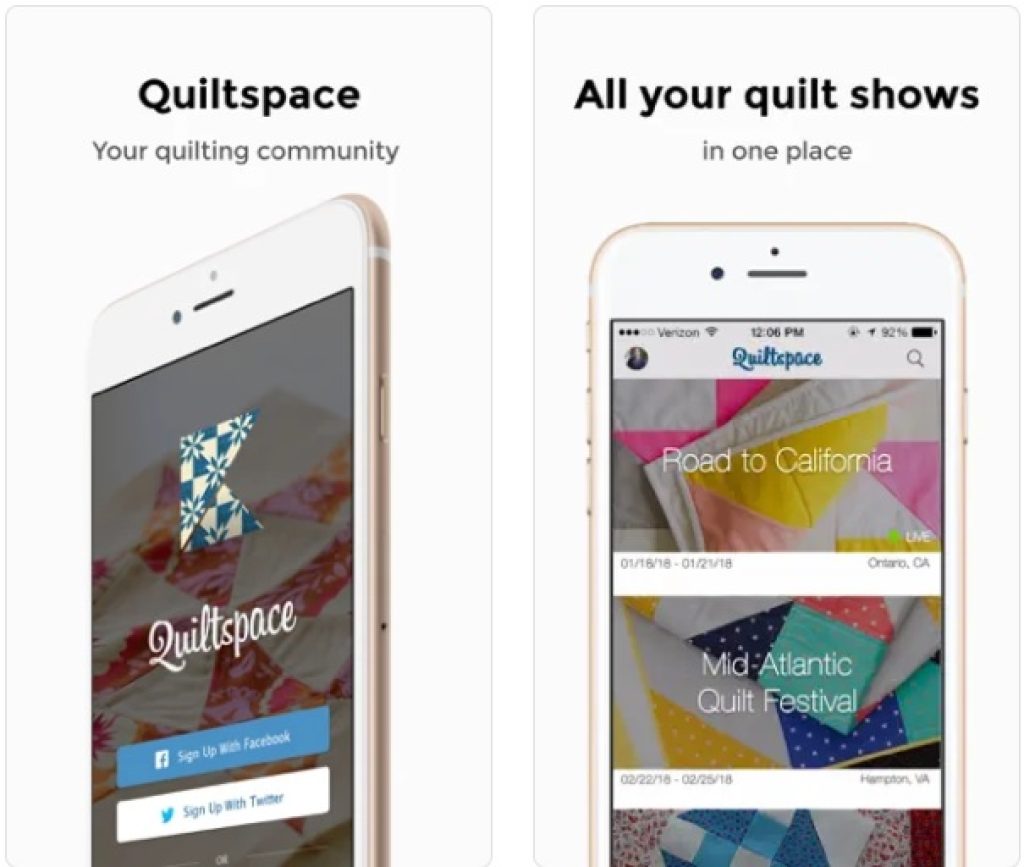 Quilting Calculators
During quilting design, you will need the help of a measurement calculator, and you have probably thought at least once during the work, it would be cool if I already knew all the dimensions without having to count them on a calculator. Now you can do all that in one click in the Quilting Calculators app.
There are different options available in the app to measure the size of materials and designs, which is very convenient because you don't have to add and multiply everything. The app itself will do this work for you. For your convenience, you can change the length measures in yards or meters.
The app would have been even more cool and interesting if they had added other options. As it is, with only calculator data, the app is unlikely to be popular with users. But it's only a matter of time because a pocket calculator for quilting measures is a new thing.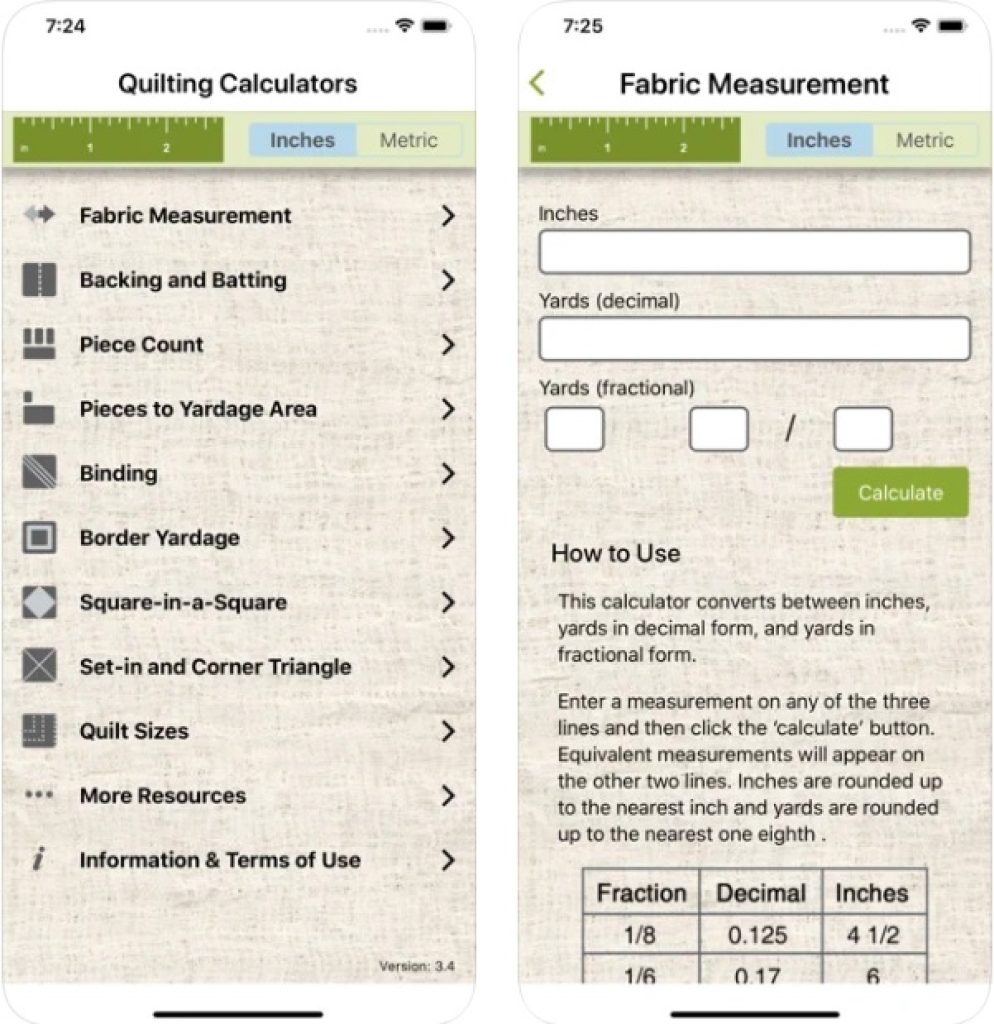 Stash star fabric
To diversify our list, we've added interesting apps like this one here. As you can see for yourself, the app is for organizing and creating textiles and their designs for your work. This is one of the places where you can find inspiration for your work.
The first thing you see when you open the app is the main screen with different fabric styles. You can use these textiles as a template for your quilting. To do this you have to click on the textile you like, and then a new screen will open with a textile description.
The application is quite simple and does not have particularly exceptional differences from other applications on the list. The main drawback of the app is its cover, which may make some people think it is a boring game app.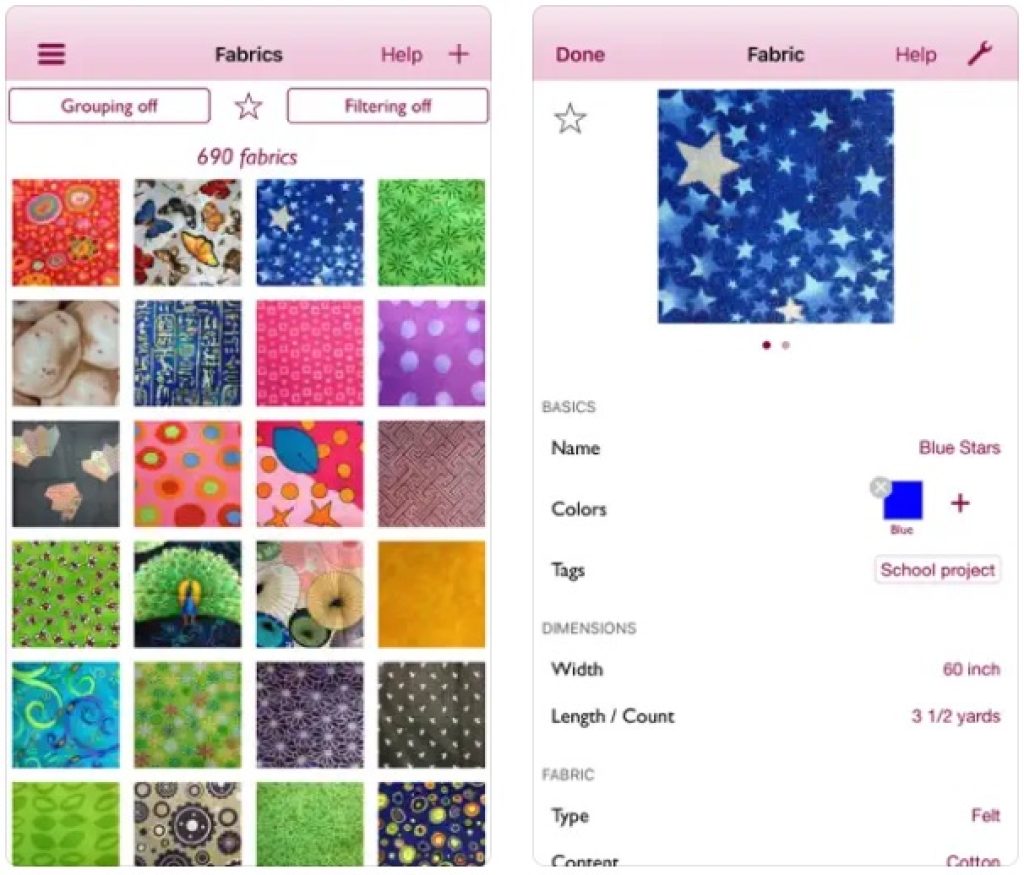 Quitler2: Quilt app
The app is useful and will be interesting for beginners because here all your steps are recorded tutorials. The design app allows you to create a variety of interesting and creative designs. The app can be used as a graphic app because you can find ready-made shapes and create quilting.
The advantage of the app is that it can be used as training material. Because in the app you can find training material in a format that is convenient for learning. We think it's a cool feature because you don't have to search for youtube videos.
To edit your design you can use photos from completely different places. You have the option of resizing them on the canvas for precise detail. You may save all your finished designs in one place and find them without difficulty.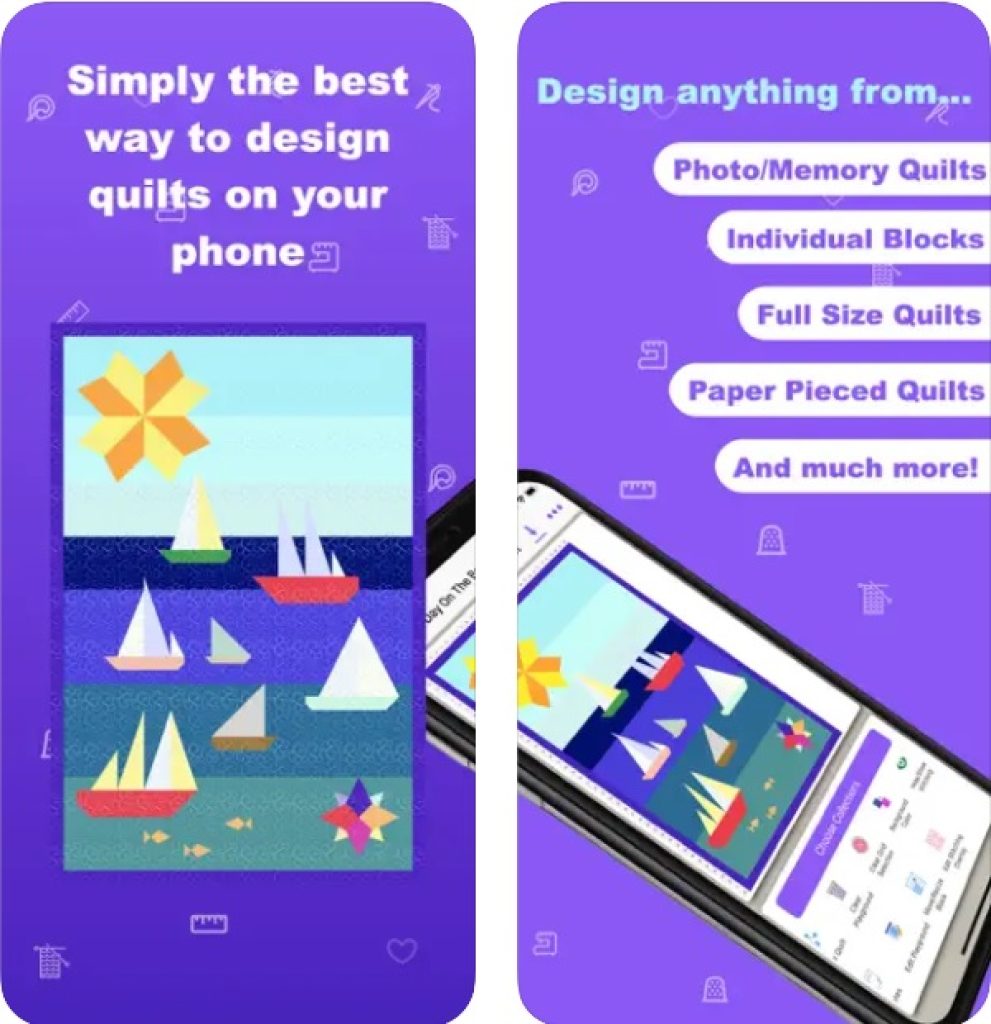 You may also like: 25 Best Home Design Apps for Android & iOS
Quilter – Quilt Designer
Although the app is not that popular, it is also in some ways a useful app for quilters. The functions of the application are quite simple and not as extensive as in similar applications. Still, we decided to do a review on it as well.
To create new designs, you will need to choose from a list of figures or icons and symbols that will complement your design. They are conveniently arranged in alphabetical order on the main screen.
At the top, there is a search box where you can type the name of the figure or symbol you want. Once you choose, you are presented with a canvas where you can create your marvel.
The created finished design can be saved in a photographic film. A drawback of the application is that it is not possible to determine the size of your figures for quirting, but you may see how the colors will be combined on your textiles.