The most important goal of any smartphone game is to kill time. You can go to work for a long time, sit on a break and rest, wait for your turn and even just lie in bed in the evening – you can have some fun with the help of games or similar apps, for example, these best coloring book apps for adults.
Bubble Shooter games are a great option to kill time, with no restrictions on age or gender. They are suitable for both adults and children.
Bubble Shooters do not differ unusual interface or thematic quests – all the control and the process of the game is incredibly simple and time-consuming. Any game you find in this genre is combined with all the rest of its plot and ways to destroy balls.
Your points, respectively, depends on the number of destroyed parts. We decided to find representatives of the best games in the genre of bubble shooting, so you can immediately choose a good option. We present to Your attention 11 Free Bubble Shooter Game Apps for Android & iOS.
Bubble Shooter by Bubble Shooter
Bubble Shooter – is the most popular game of this genre, which will drag you for a long time. All you need to do in the game is to combine 3 different colors and blow up the bubbles constantly, without stopping.
You can play Bubble Shooter in the classic mode, passing through level after level – you may even think that there are countless of them and you just never get to the end. This game will be a way for you to relax and distract, while the game can be played by both adults and children.
You can compete with your friends or family, passing through different levels and getting the most stars for their achievements. In addition to the stars, in the Bubble Shooter, you also get a reward in the form of coins.
Then you can spend them on amplifiers and bonuses, which will help you in a difficult moment of any level. For the most sophisticated players, Bubble Shooter offers a puzzle mode, where you can train your brain and further develop the logic.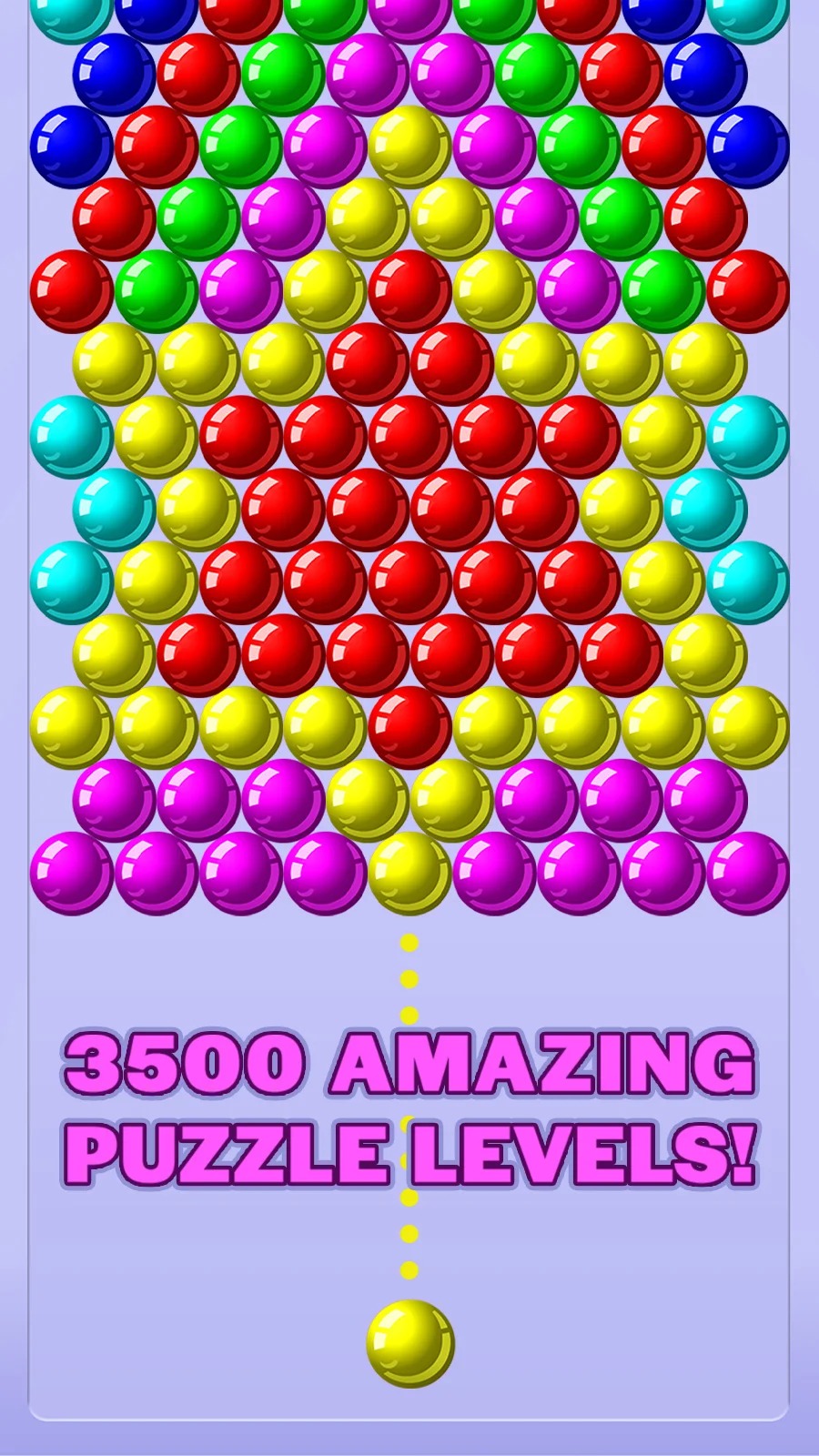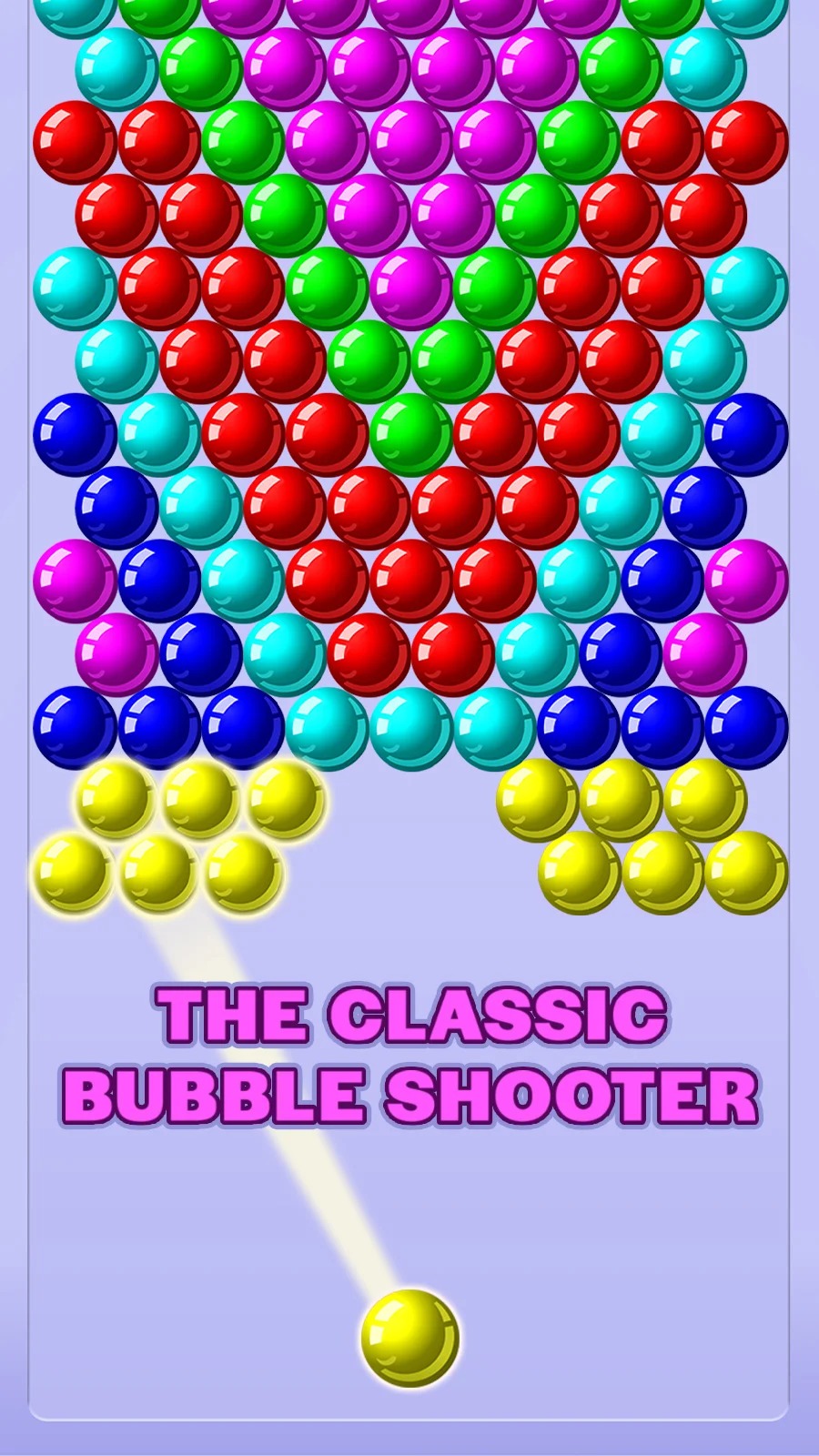 You may also like: 10 Best Flower Matching Games for Android & iOS
Angry Birds POP Bubble Shooter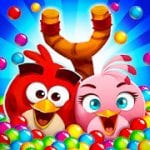 Many games have already been made with Angry Birds. These birds have won the love of the audience for a long time, and you could watch the process of growth of their popularity.
Angry Birds POP Bubble Shooter is a game in the classic ball genre, where your characters will be famous birds. You can master the game itself and the control process in a couple of minutes, but if necessary there are also training levels.
In total, there are more than a thousand different levels, during which you just will not have time to get bored.
If you suddenly get too bored, start using the available amplifiers. You can get them in your daily tasks, or if you will regularly enter the game. Guest characters in the form of birds can give you the opportunity for special explosions and special tools.
In order to start large explosions, you will need to blow up several bubbles in a row. As in all Angry Birds games, here you have to save your chicks and chase away the pigs. Will you be able to do that?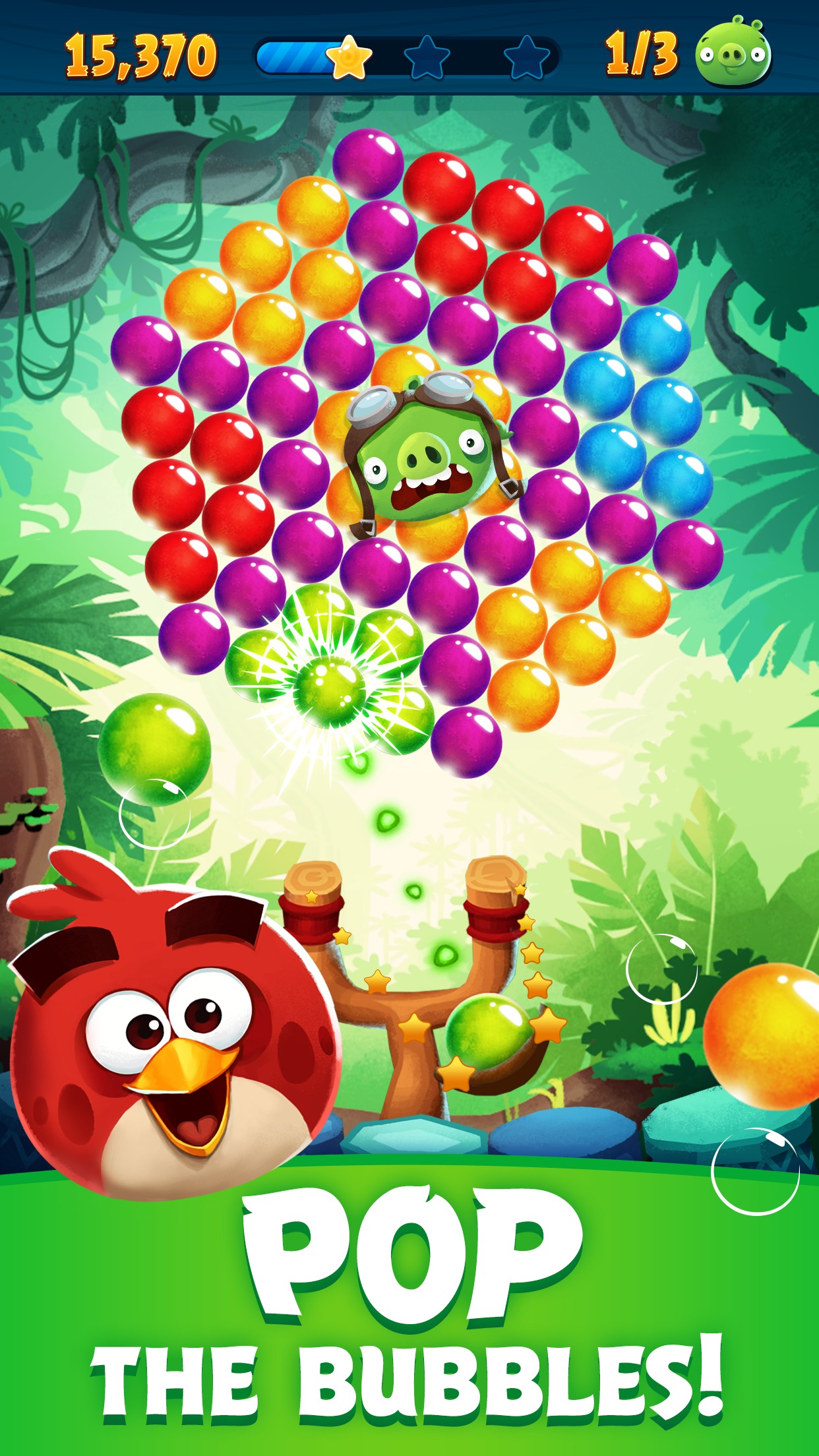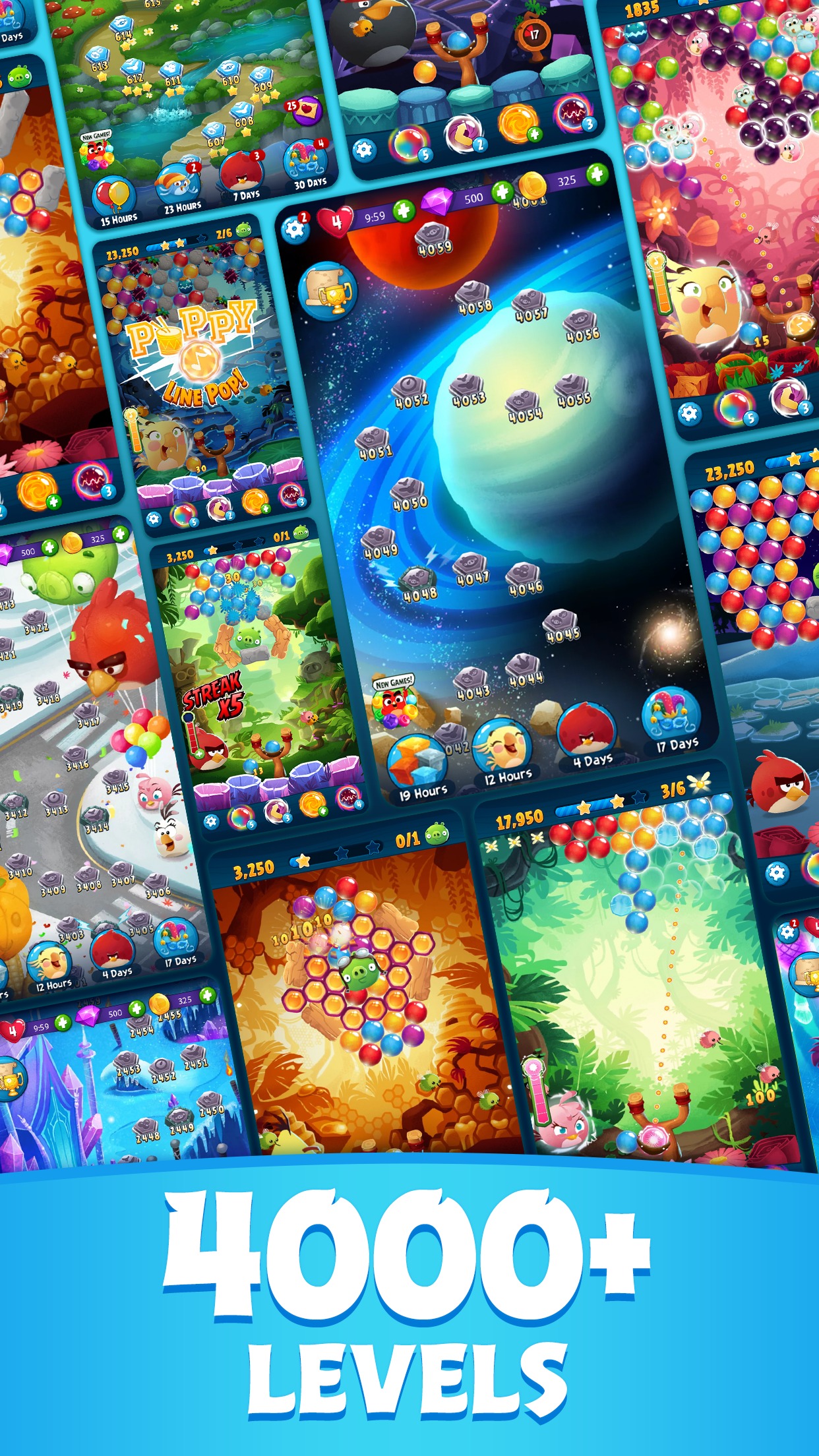 Bubble Witch 2 Saga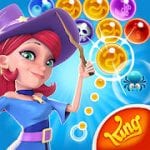 Saga is a collection of games of different genres, the purpose of which is to kill your free time and have some fun. Bubble Witch 2 Saga is another product of the team, in which you have to help the witch and her cats.
Your goal is to burst as many bubbles as possible, which flood their game world and save them. By winning the levels, you will liberate their land a little bit and get the highest scores.
As you can understand, Bubble Witch 2 Saga is a sequel to the first part of the game. Here you can find more different and interesting levels, which are updated and added every 2 weeks. Therefore, as the game progresses, they will not end, because the developers have taken care of it.
If you play Bubble Witch 2 Saga from several devices, you can easily synchronize them with each other and save game progress on any of the devices. Especially because the special items and awards will also be available to you everywhere.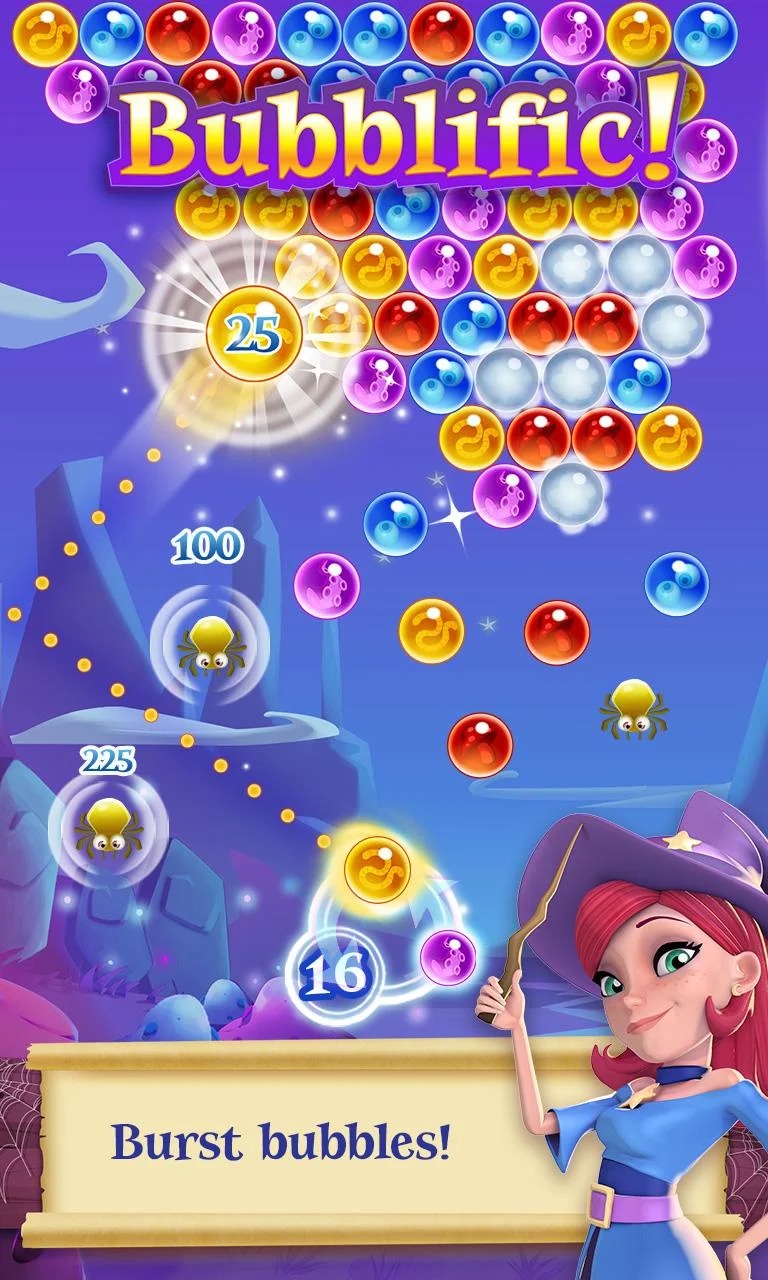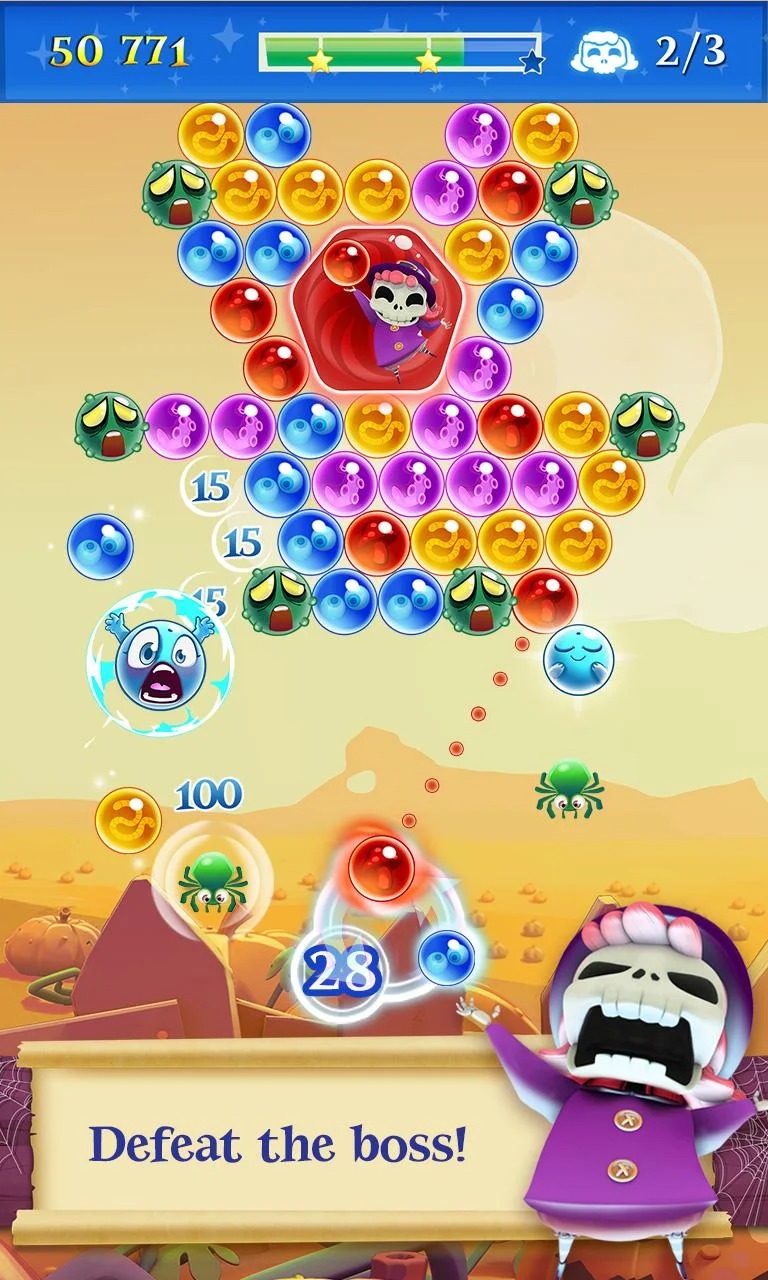 Bubble Explode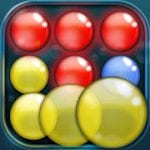 Exploding bubbles can be not only fun but also interesting. In Bubble Explode you have to include your attention and logic so that you can successfully complete the levels one after another.
But if suddenly you get bored or the levels become too monotonous for you, the developers have prepared a surprise for you. In Bubble Explode there are different game modes, such as Classic, Chill Out, Turn by Turn, and others. You will certainly not get bored if you decide to try each of them separately.
You may like the game not only because of its idea and good implementation. If the graphics with colored balls seem too standard to you, you can replace it with a more authentic one.
In the Bubble Explode settings, there is a black and white skin in which the balls will differ from each other only by the pictures on them. In this case, you will need to be more careful, because now it is much easier to get confused.
We recommend that you try all modes and features of Bubble Explode, so you can determine which one is perfect for you.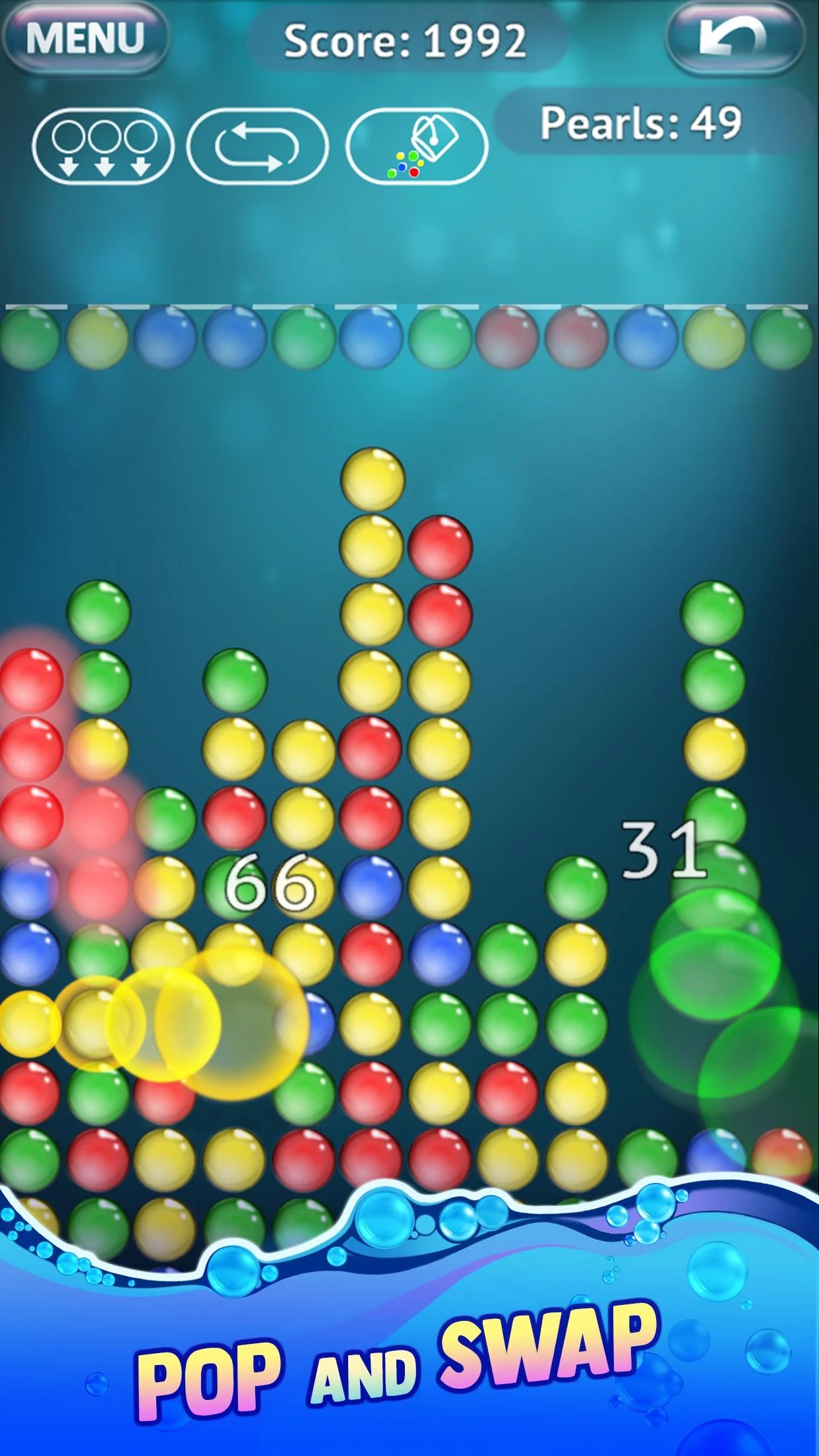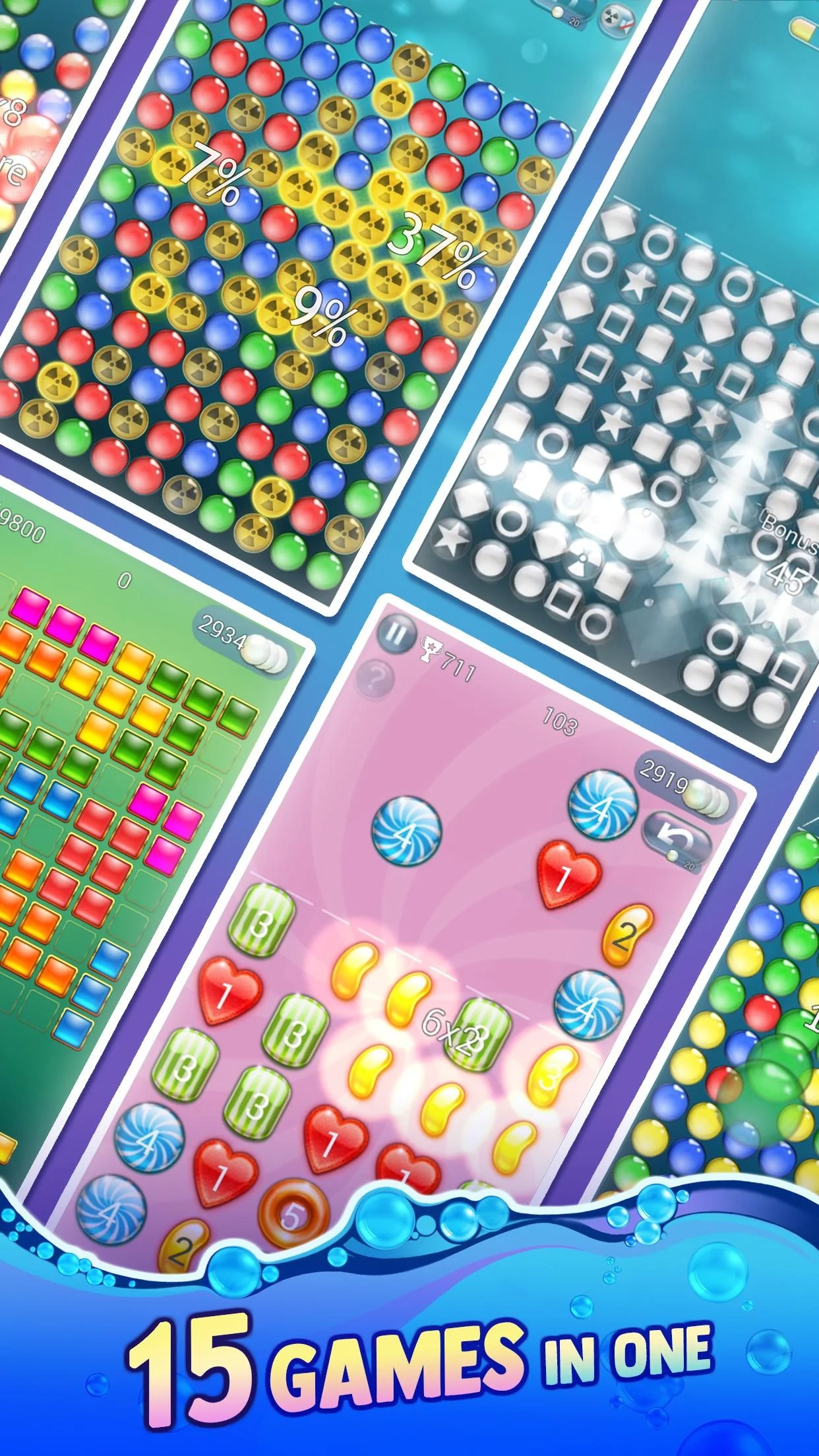 Bubble Pop Dream: Bubble Shoot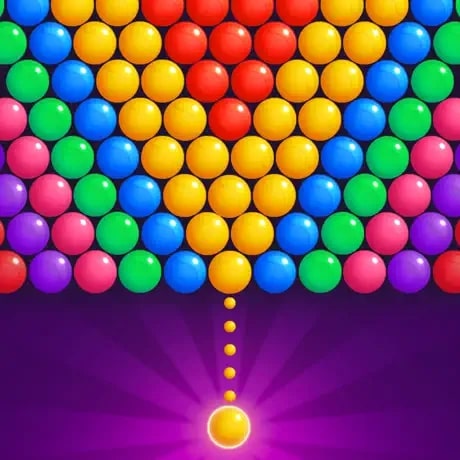 Bubble Pop Dream is an exciting mobile arcade game that allows you to relax and enjoy destroying balls on the playing field. The game has bright graphics and a variety of difficulty levels that change as you pass them. Here you need to take all the balls from the field with the help of a special cannon.
You can choose the color it will launch, and shoot the balls to collect combinations of three or more identical objects. When successfully connected, the balloons disappear, bringing extra points and scores.
The app also offers a large number of interesting and useful boosters that can help during the levels. Some boosters increase the power of your shot, others allow you to destroy several balls with one shot or gain extra lives. Amplifiers can be purchased in the in-game store for points earned during the game.
Here you will have to destroy different figures, which depends on the difficulty of the level and the number of points for its passage. The app is free and works without an internet connection.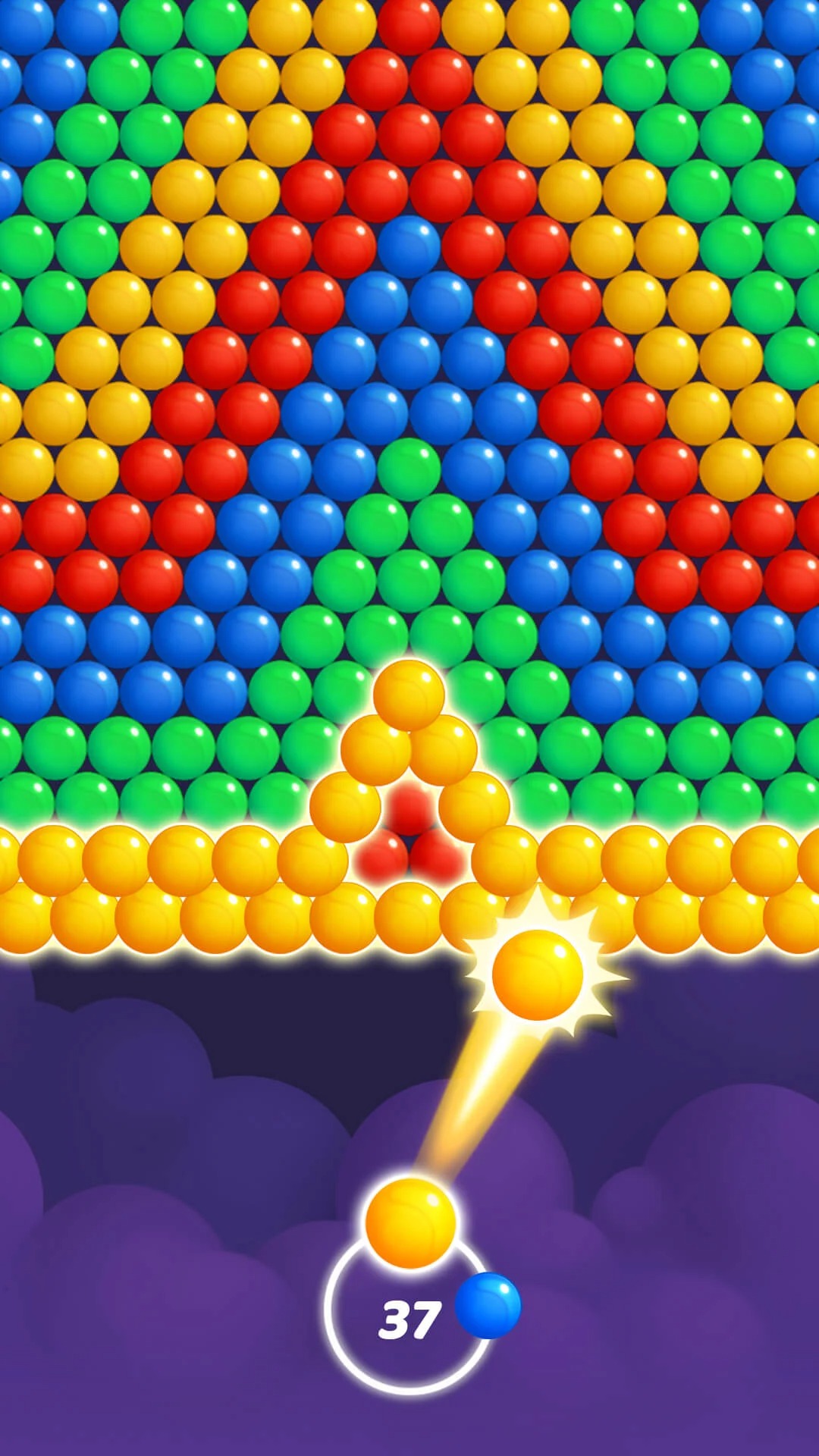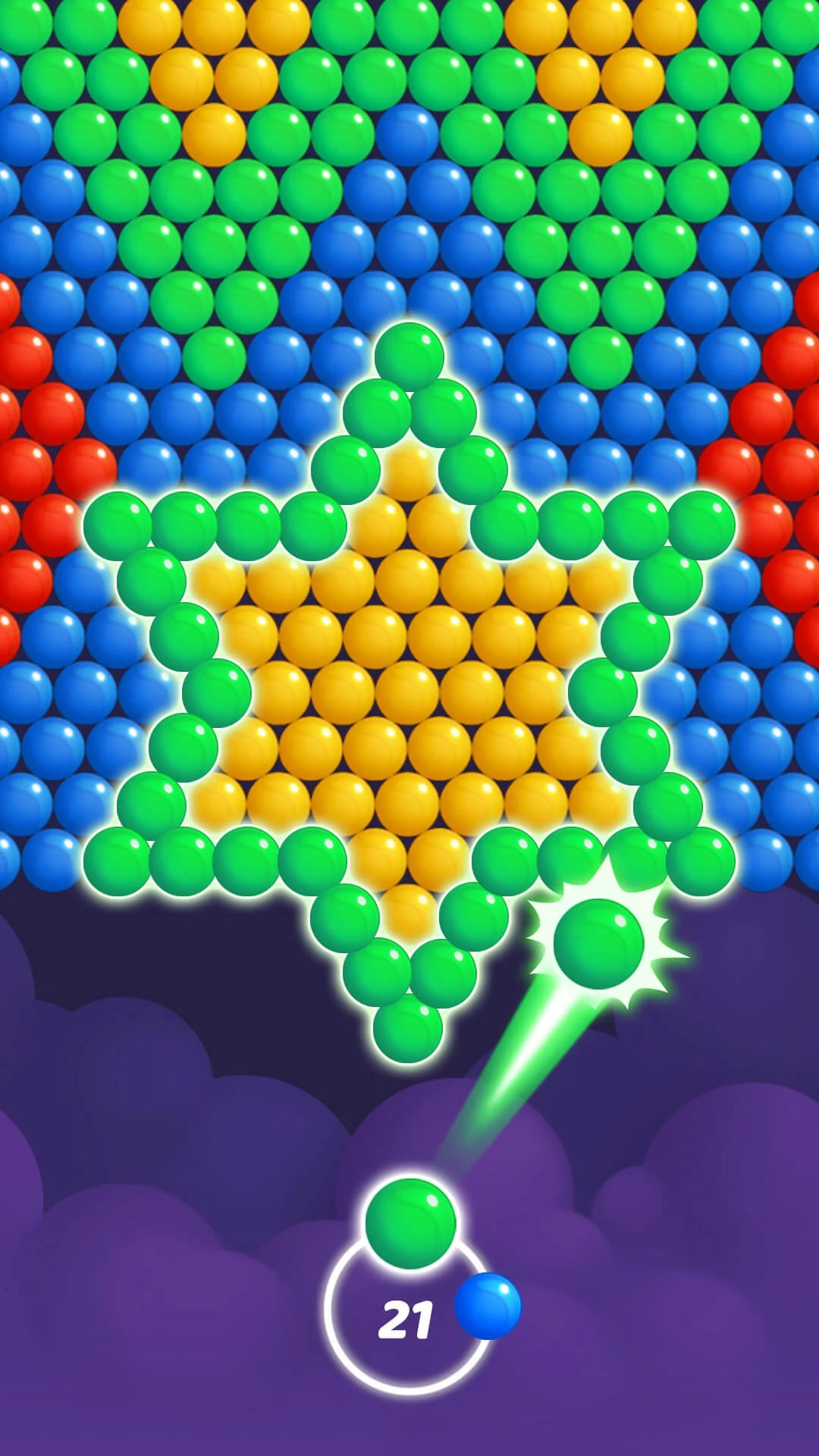 Bubble Shooter Legend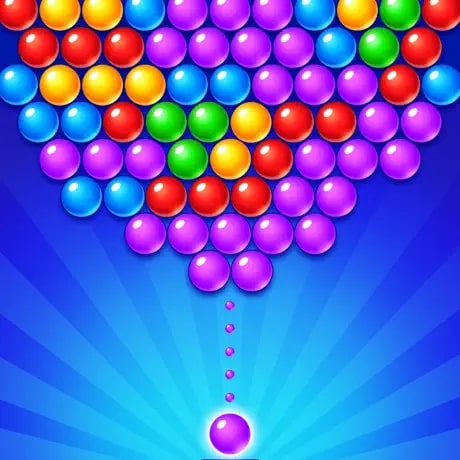 Bubble Shooter Legend is an addictive mobile game in which players have to shoot colored balls to create combinations of several colors and clear the entire playing field. To achieve this, you must shoot balls of different colors into groups of three or more identical balls.
When balls of the same color touch, they explode and you get points. The app offers many levels with different difficulties and challenges. Each level has a unique limit on the number of moves or time limit.
If you cannot clear the playing field in the limited number of moves, the level will not be completed and you will have to start over. There are different types of power-ups and upgrades in the game that will help in completing missions and objectives.
One type of power-up are special orb that can blow up all the objects around them. Enhancements can include increased shot power, more moves available, and other useful features. The app works even without an internet connection.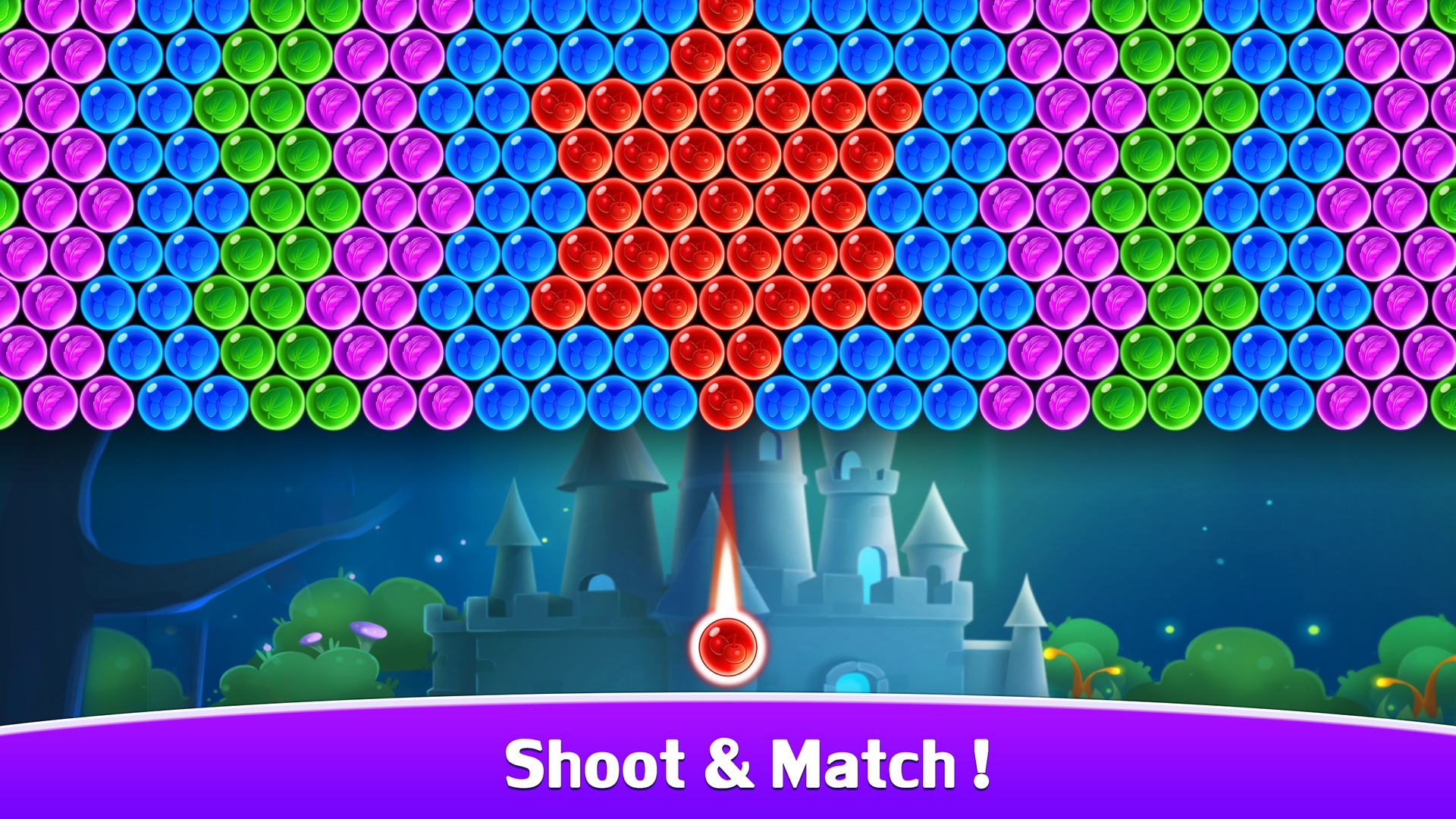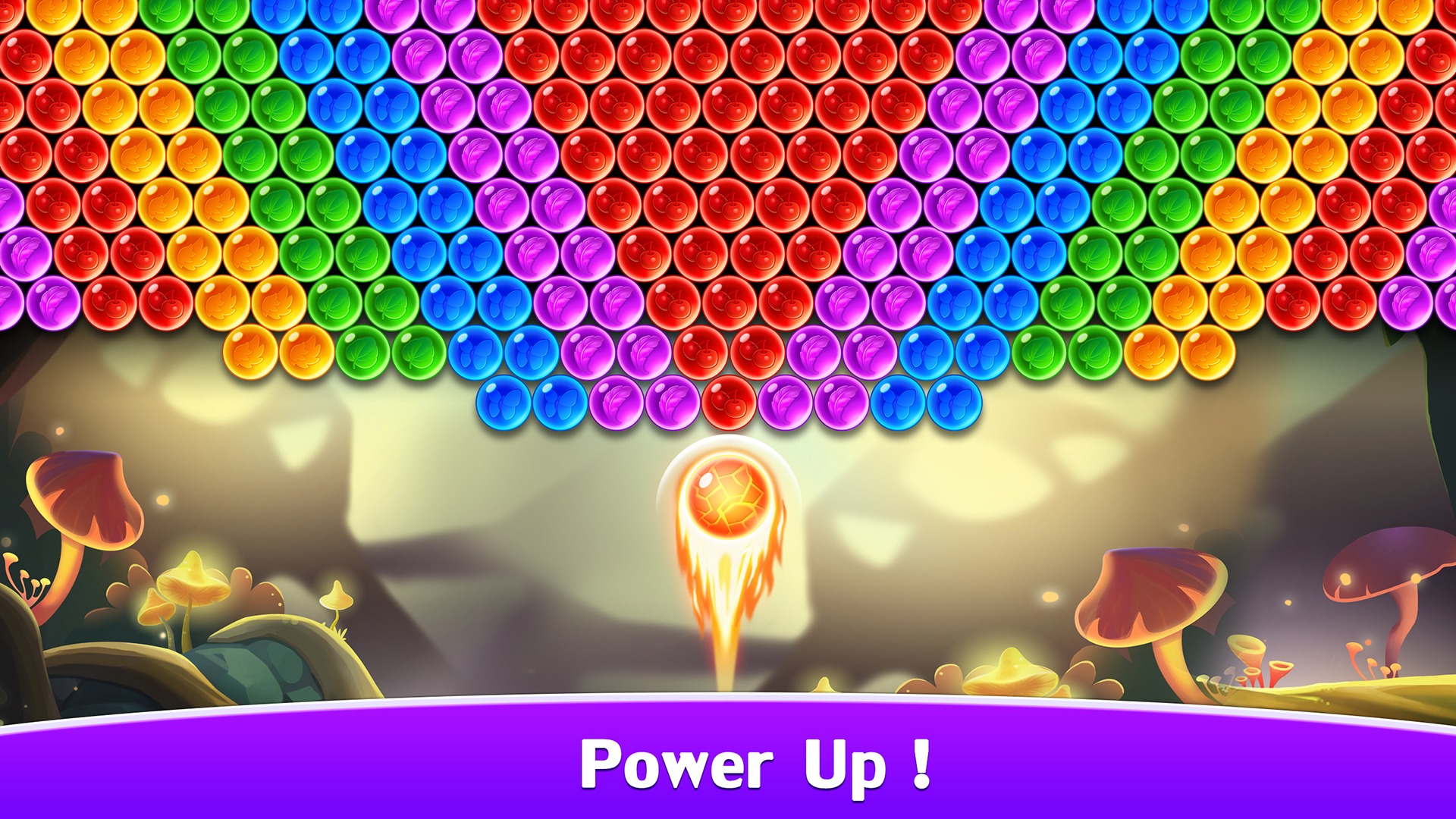 You may also like: 11 Best ball jumping game apps for Android & iOS
Bubble Bird Rescue by Ezjoy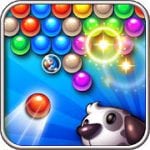 Do you like arcade games? Then it is likely that you will like Bubble Bird Rescue. This is a classic arcade game, which is made with bright graphics and simple gameplay.
It is impossible to find something amazing here – this is a simple game in the genre of Bubble Shooter, where you will shoot and destroy the bubbles.
With a successful game and the right decisions during the destruction of colored balls you can get big and sweet bonuses that will bring you awards and a big score.
Bubble Bird Rescue gives you a little helper in the game – this is a cute puppy. He will be always near the player. For this reason, Bubble Bird Rescue can be most liked by children or teenagers, because the beasts please all people.
Also, you should not miss that the game has excellent graphics and third party items. For example, here are constantly flying birds – sometimes it even seems that right now it will sit on your hand. Still, fans will appreciate the free levels – each of them is unique and represents an interesting puzzle game.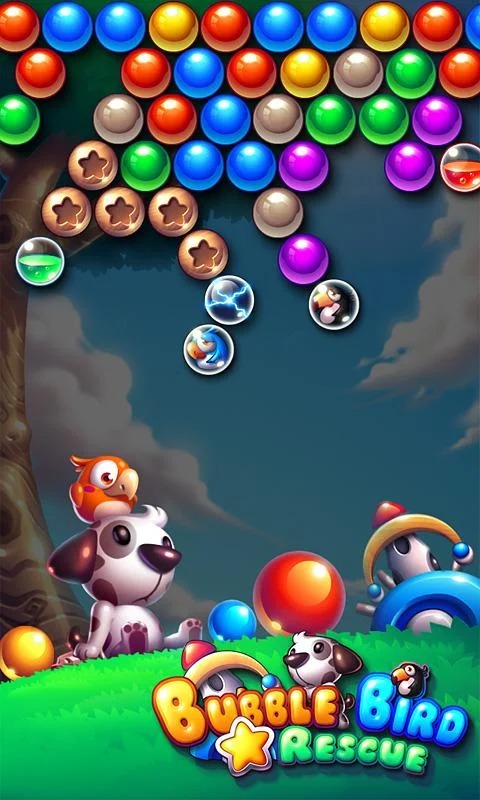 Bubble Shooter: Panda Pop!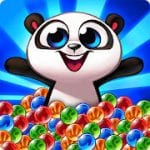 As you could understand, in many games of this genre, your assistant and companion will be an animal. This is done in order to make the process more interesting and exciting for you.
In Bubble Shooter: Panda Pop your assistant is a panda – and in the story, you will have to save the little pandas from the hands of an evil baboon. Of course, the steps to rescue will be your successful passing the levels – the more balls you burst, the closer you will be to the little and cute animals.
In Bubble Shooter: Panda Pop there are more than 2 thousand levels, among which you can even find incredibly complex and fascinating. To pass them, you will need bonuses and combos, which can also be bought or won.
You can buy special amplifiers for the balls you shoot – they will destroy more parts. By connecting the Bubble Shooter: Panda Pop to your Facebook account, you will also be able to watch your friends' progress in the game.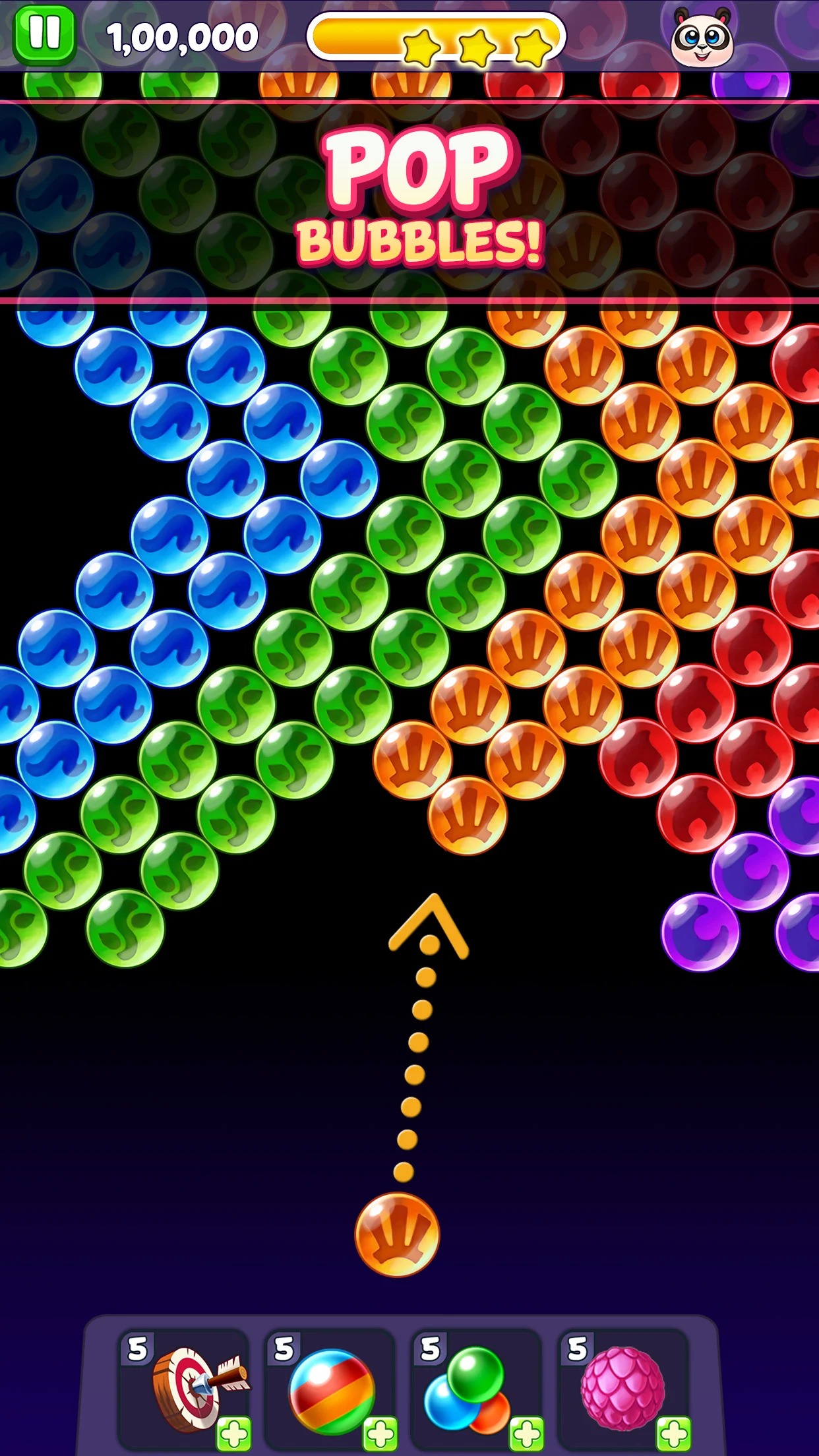 Bubble Shooter by Neworld Games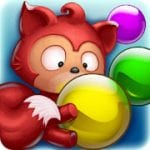 Would you like to start playing with an incredibly cute squirrel? If your answer is yes, we present Bubble Shooter by Smoote Mobile. This is a classic variation of the game, where you will have to shoot at the balls, but the whole process is more cute and fun.
The developers offer users to use a squirrel as their assistant – it will do all the actions in the game for you. The shooting is offered with a special cannon – it is guided by your assistant and loads the balls.
Control is simple and even standard – you need to press with your finger where you have gathered a group of 3 or more balls of the same color. Naturally, your projectile must be of the same color.
Bubble Shooter by Smoote Mobile has 2 game modes – puzzle and arcade. In the first mode, you will need to clear all the bubbles on the screen with your shots.
In arcade mode, you will clean all items one by one without focusing on screen cleaning. Try to play Bubble Shooter by Smoote Mobile – we are sure you will just fall in love with this cute animal.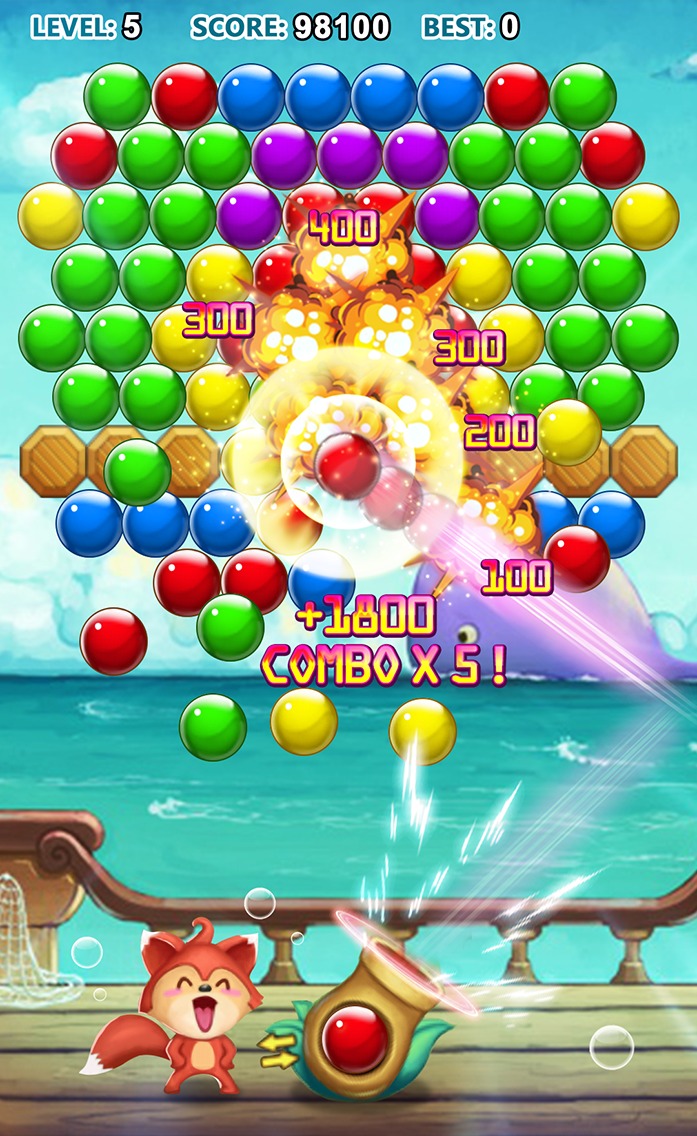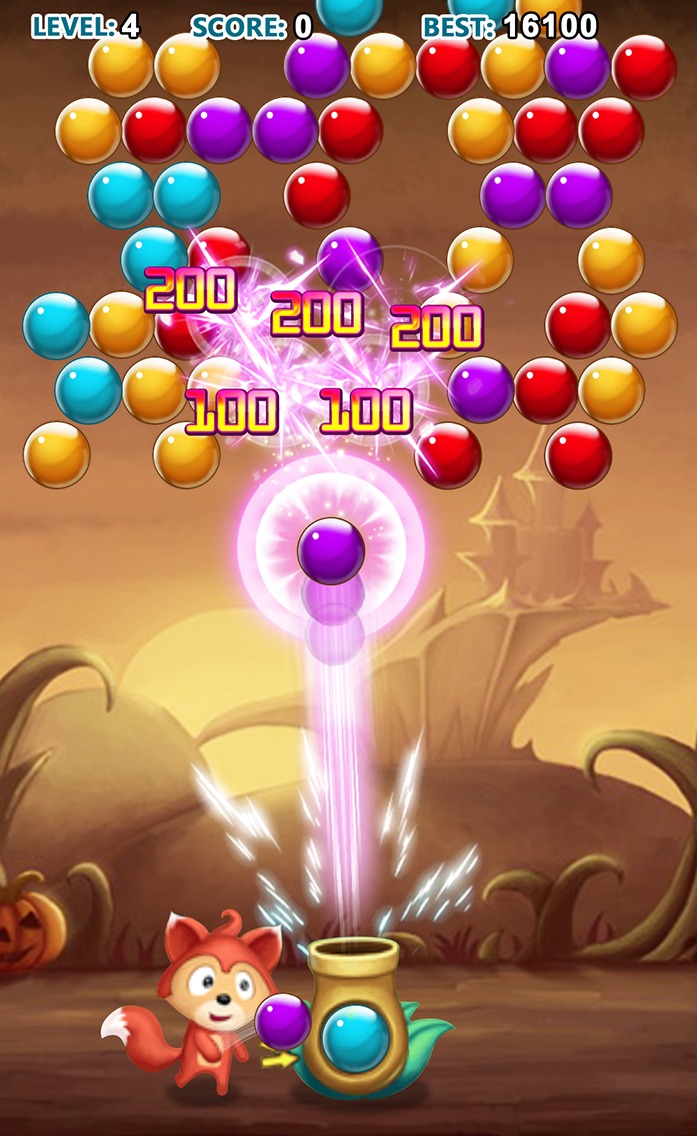 Bubble Shooter Dragon Pop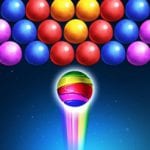 Fantasy is another integral part of many computer games, books, and mobile applications. Bubble Shooter Dragon Pop added fantasy elements to the classic version of the fantasy balloon shooting and opted for dragons.
These creatures will accompany you during the whole game and you will get to know each of them. The idea is that you get into the world with the dinosaurs and their families, you will watch the dragon children, together with them eliminate colored bubbles and generally enjoy everything that happens on your screen.
The Bubble Shooter Dragon Pop provides players with many props that you will use as amplifiers or auxiliary elements. They allow you to finish the level much faster – especially useful if you have already made many attempts.
You need to play with an internet connection – for stability, it is better to use a Wi-Fi connection. Also, the Bubble Shooter Dragon Pop has an excellent soundtrack, which will be played throughout the game.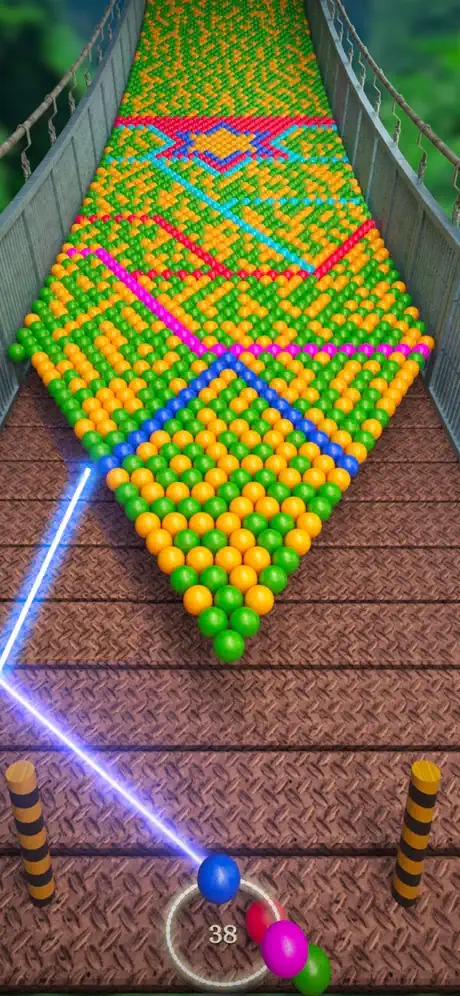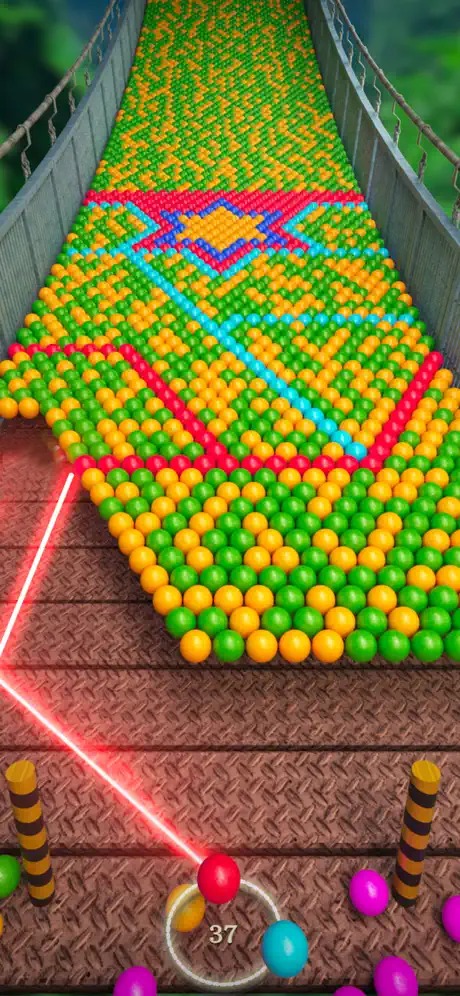 Bubble Worlds by Smoote Mobile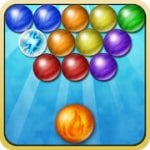 It looks simple enough and does not take much time to destroy the bubbles. But in Bubble Worlds you will notice for yourself how much you are passionate about the level because you will solve every puzzle for a long time.
When you can still solve it, you will be rewarded with stars and experience points. You'll be able to score maximum values, and then you'll get additional bonuses and rewards for further progress in the game.
In Bubble Worlds management is simple and clear to understand and colorful graphics will be a plus for demanding players. Of course, the game does not have a too interesting plot or unexpected twists – but in general, the genre of Bubble Shooter does not have such content.
However, here you will find five different worlds, each of which will have its own visual features and effects, as well as 150 different levels. Try to pass them all – we are sure that it will not be as fast as you expect.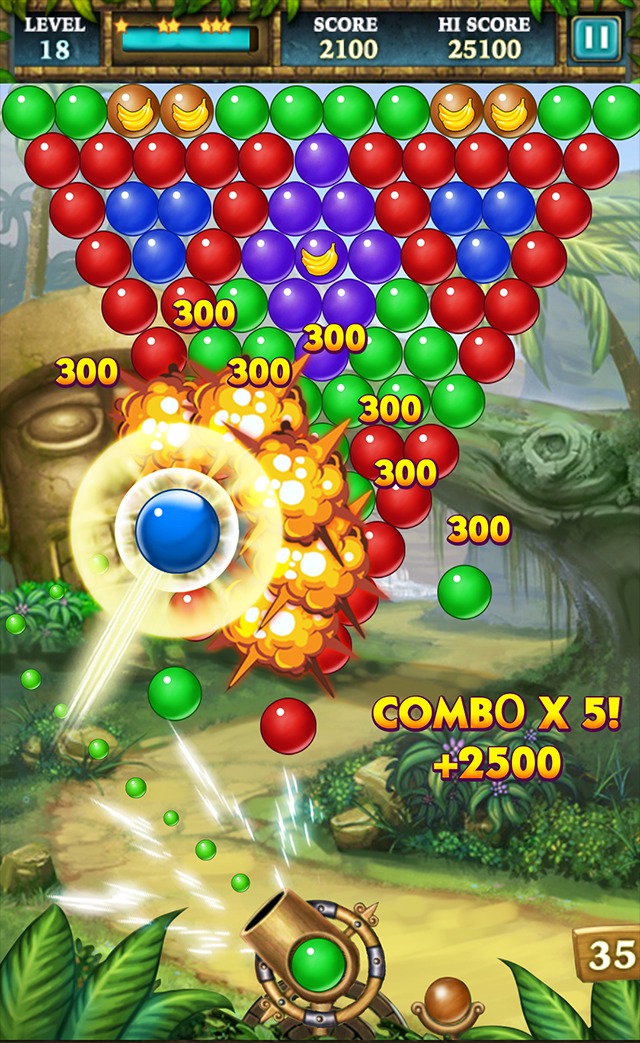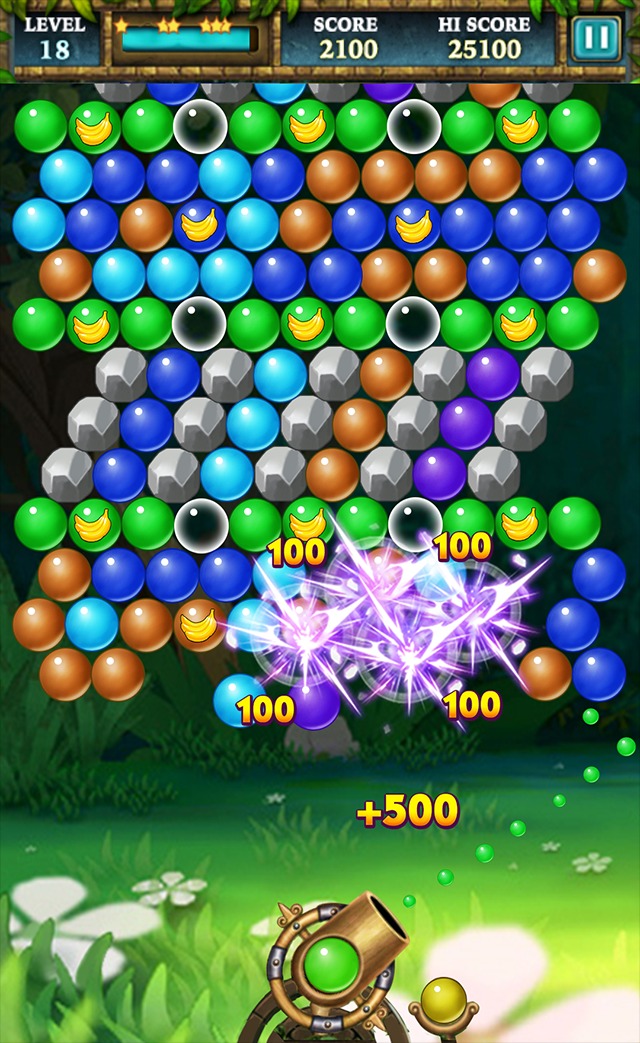 You may also like: 11 Best griddler puzzle games for Android & iOS
Bubble Shooter Viking Pop by LinkDesks – Jewel Games Star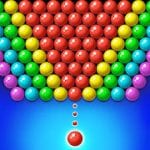 LinkDesks have already created many games in which you can kill time without even noticing it. You will collect diamonds, blow up balls, pick up 3 figures in a row, and not only – you should just look at the applications from the developer.
Now we want to tell you about the Bubble Shooter, which will give you some fun time and will not even require money for it. It is also worth noting that the game does not need a permanent connection to the Internet, which is also a significant plus.
Bubble Shooter has its own theme – Vikings. Here you will immerse yourself in history along with interesting themed characters, as well as follow them on all levels.
According to the developers' idea, each level that you successfully complete helps the characters to save the dragons or move on their way. You'll need to use strategy and logic to properly blow up all the balls and gain the most points. We hope that you will be interested in the whole Viking story.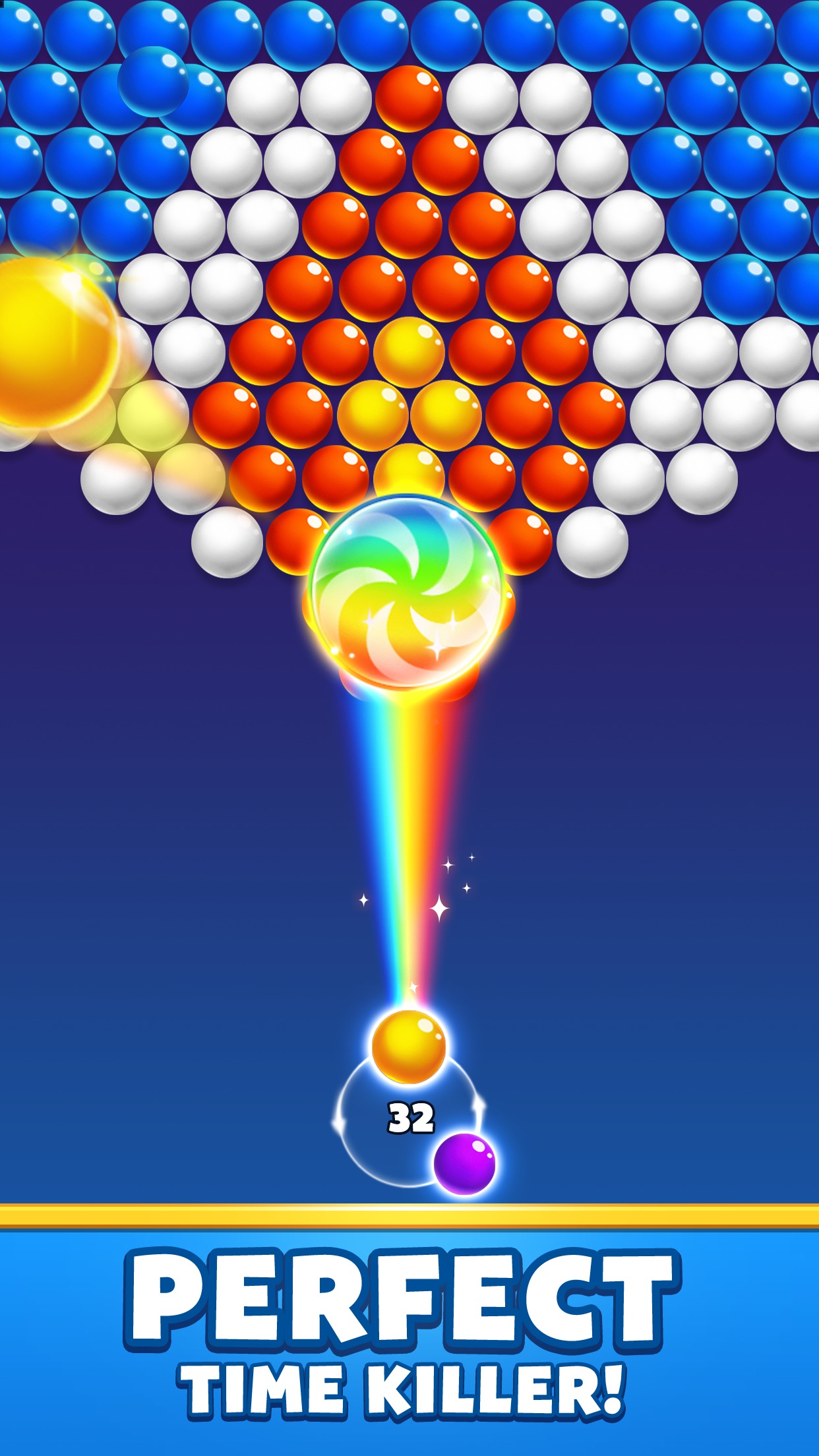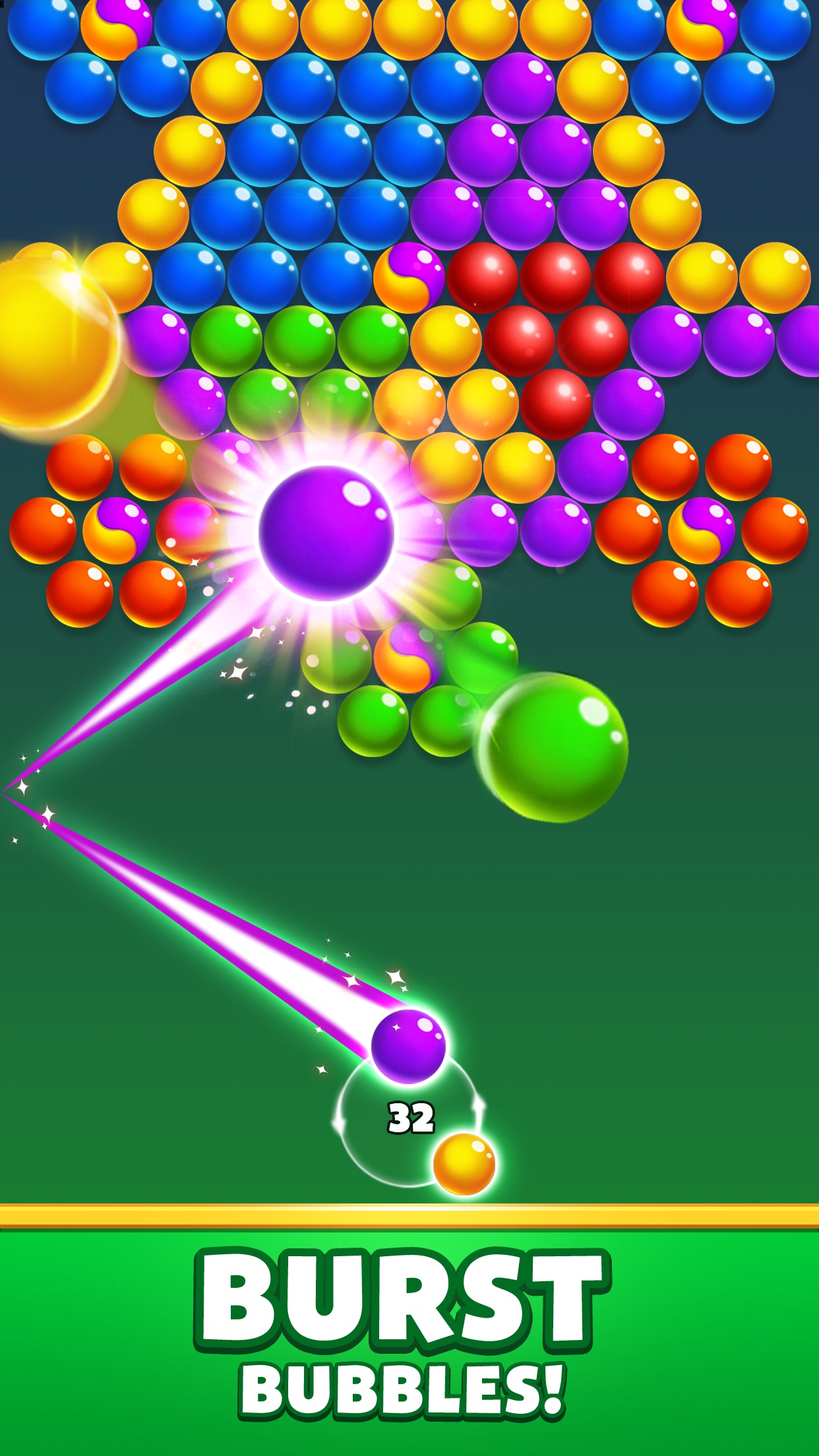 Doing the same action over and over again can be annoying. For this reason, in each of the games, there are additional events, plot turns, or complications of levels.
So your interest will not go anywhere, because the developers are constantly showing you something new and interesting. For example, many of them change the interface of the games during the holidays or add different thematic levels.
In this case, the whole family can play bubble shooter – on different devices you can even arrange a competition, who will further advance in the game. We hope that our article became useful for you because we tried to select only the best applications for your entertainment.