22 Quote Apps for Android & iOS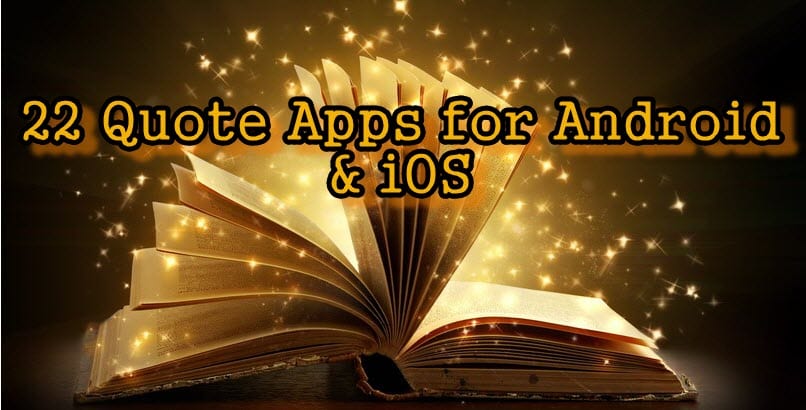 In this article, we will consider the applications in which the greatest statements of any time from the most diverse personalities, such as writers, philosophers, sages, and other thinkers, are collected. All you need is a phone or a tablet.
You may also like: 11 Best apps to write text on videos (Android & iOS)
Top List of Quote Apps
Brilliant Quotes & Quotations
Brilliant Quotes & Quotations is the most popular quotation app on the market available for Android devices. It has a modern and user-friendly interface. The app offers more than 4000 quotes from more than 200 famous personalities.
It is possible to change the theme of the app (Dark and Light themes). On the home screen, you can see "Quote of the day" and set notifications when it has changed. You can search quotes by author or by category. You can even read some facts about the author here or use a link to Wikipedia for detailed information.
You may also like: 11 Best gallery apps for Android
Inspirational and Motivational Quotes -Daily Quote
Inspirational and Motivational Quotes has a big collection of quotes that will inspire you. New quotes are added every day. You can save the ones you like to your 'Favorites', share them with friends via social networks, or save them on your phone.
If you wish, you can change the background of the app. There is a collection of colorful background photos or you can use your own photos for the background. You can set reminders to see new quotes every day on the screen of your phone.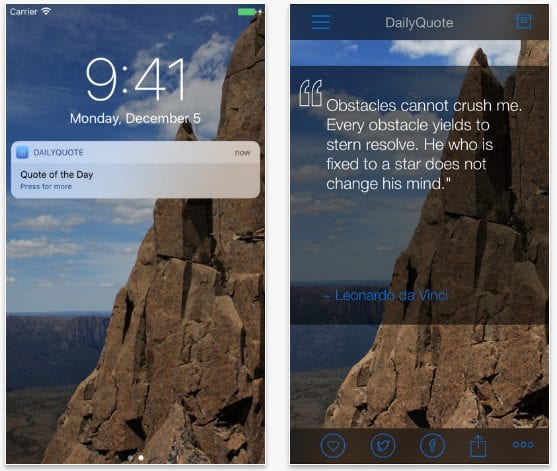 The Best Life Quotes
The Best Life Quotes is the best quotes and statuses app available for both iPhone and Android users. It is simple in use and has a clear interface. So, you can set notifications to read new quotes every day. You can save the sayings you like and share them as a text or a picture. There is also a Favorite list to add the quotes you like best of all.
Quotes are divided into some categories: Best Life Quotes, Happiness Quotes, Forgiveness Quotes, Smile Quotes, Attitude Quotes, Action Quotes, Give up Quotes, Proverbs Quotes, Hard Times Quotes, and others.
Quotes Book
An amazing app for Android users that contains quotes from famous personalities. They are well organized, so you can choose a category and view the list of sayings on your phone's screen. Then, tap on a quote and you will be able to send it to somebody else.
On the home screen, you will always see random quotes of various authors. To see the list of authors, just tap on the left top option.
53,000+ Famous Quotes Free
Over 53 000 quotes that will inspire and motivate you are gathered in one place – 53,000+ Famous Quotes Free. The design of the app is inspiring itself and you will have a pleasant time reading quotes here.
You can search for an author by name, browse random quotes, or your favorites. Sharing via social networks is available.
Inspirational Quotes Free
Do you need some inspiration? Don't you enough motivated? Try Inspirational Quotes Free app! It will help to make your world brighter, inspire you, make you smile. It contains the most popular quotes and poems about life. You can save them, share with friends, or use as wallpaper.
The list of quotes is daily updated.
Positive Inspirational Quotes
Are you sad? Need something to make you smile? Download Positive Inspirational Quotes app on your phone and a good mood is guaranteed for the whole day! You will see a great selection of positive quotes that are proper for each situation. View them by sliding the images to left or right. Want to share an image with a friend? Do it using WhatsApp, Facebook, Line, or Google+.
The app contains inspirational quotes about love, career, relationships, happiness, attitude, dreams, leadership, achievement, success, and much more.
+Quotes – New Positive, Inspirational Quotes Daily
+Quotes app helps you to discover new inspirational and motivational sayings of famous authors and share with them. A famous artist and illustrator Tom D'Auria cooperates with the developers of the app and brings original, high-quality artwork to +Quotes. So, enjoy the app and be inspired!
Philosophy Quotes, Philosophos
It is a huge collection of quotes and sayings of great philosophers for all occasions. You can add favorite quotes to 'Favorites', or immediately share them on social networks, send by mail, and SMS.
The application has a handy and beautiful widget that has very flexible settings for each user and for every taste. The interface of the app is intuitive and pleasant.
Quotes"
The application contains beautiful quotes, thoughts, and aphorisms of great people, for all occasions in the quote book. These quotes and statements can be used as statuses and saved as wallpapers. And also there are quotes about love and business quotes.
I hope that this application will change your life for the better.
15000+ Latest Status & Quotes
Find phrases close to you, join the wisdom of great people – expand the consciousness and understanding of the world around you! You can view random phrases, select by category of words or authors.
You can view random phrases, select by category of words or authors. Add favorite phrases to Favorites – create your own mini-library of the best expressions of the world!
You can even create your own quotes here and share them with others.
Quotlr
The app contains quotes and thoughts of our contemporaries and people from past eras. Quotations are grouped by authors and categories. This application will allow you to view quotes by authors, read quotes on the selected subject, view quotes randomly. You can also share your favorite quotes with your friends on social networks.
55,000 Amazing Quotes
The collection contains more than 100,000 quotes from more than 7 000 authors whose biographies can also be found in the app. All quotes are divided into over 1500 topics, among which you will certainly find one that you like. You can view quotes in offline mode even.
You will be surprised to discover anew many well-known thinkers since childhood. And also get acquainted with hundreds of new philosophers, writers, politicians, musicians, psychologists selected especially for you.
Best Daily Life Wisdom Quotes
In any life difficulties, you will find inspiration and motivation in this treasury of thought. Support a person who is dear to you, in two clicks, sharing with him any quote through social networks.
Wise words and thoughts that have not lost their value centuries later. The collection contains selected quotations and brilliant phrases, memorized by the world, from ancient Egypt to the twentieth century.
BrainyQuote – Famous Quotes
The most beautiful quotes and statements of famous people in your phone! Daily updates! You can create beautiful wallpapers using these quotes and share them with friends. All the pictures you like can be saved in the device's gallery in the application folder.
A colorful widget with the ability to customize it to your taste will allow you to have the wisdom of the World at hand.
You may also like: 15 Best Font Style Apps for Android & iOS
50000 Status Quotes Collection
Beautiful quotes, phrases, and statuses about life, success, dedication, relationships – are suitable for all occasions. Great words of famous people in one app. You will find unusual thoughts and wise statements.
Our quotes and statuses with pictures will support you in a difficult period of your life and help you to look differently at this or that situation. New interesting thoughts, statements, and quotes are constantly added.
Funny Quotes Free
Funny quotations, phrases, aphorisms, statuses, short anecdotes, stories from life are collected in one app. You can save and share them. Browse through categories: hot, new, top, and your favorite quotes.
Reading these quotes, you prolong life, the smile will increasingly slip on your face, and friends will ask – why you are laughing at the monitor of the smartphone. Just smile!
PicQuotes
This is the app that allows you to frame your favorite quotes with a beautiful picture. It can be even called a photo editor for quotes. All you have to do is to choose the background (to upload it from your phone gallery or choose it from the app's library), insert a quote, choose a style, font, size, and apply a filter.
As a result, you will get a cute quote picture that you can share on social media.
ImageQuote
Though InstaQuotes and all these social media quotes became cheesy today and the object of jokes, there are still many people posting quotes on their social media. The moderation is the key here. This is a fine app that will help you to make your quote look beautiful for Instagram.
Just insert the text, choose a font, colors, background (that can be your picture as well), and create your unique image.
Miraquill
If you're feeling a little adventurous, this app will help you to choose the quote of the day in a random way. Moreover, some people use this method as a "universal advice" – when they have a complicated question in life, they turn to random quotes – and which one they see first will give them a hint to the solution.
Quotes Creator
Do you have one friend who has the talent to speak very shortly and precisely about things? Probably, there is such a person in each company. Or, even more, maybe you are that type of person? Whoever it is, if you want to keep these "pearls" forever, get this app that allows you to create and save your personal quotes, made by yourself.
Besides, you can experiment with design and not just type the quote in a boring font, but to choose various colors and backgrounds, in order to find your unique style.
You may also like: 11 Best color texting apps for Android & iOS
Daily Quote – Positive quotes
It has been proven scientifically that when you start your day with positive affirmations or just positive information and raises your vibe and automatically makes you stronger and healthier.
This app is a collection of daily quotes that you can look up from time to time when you're feeling low or just to support your energy. In the main menu, you can see the portraits of famous people. Click on one of them and you will ee their most powerful and famous quotes.