Finding the right quote to start your day with may positively affect your life in lots of ways. That's why we've found the best quote apps for Android & iOS you could try.
These apps let you find sayings for any occurrence and life situation possible. You'll get to find quotations from philosophers along with daily affirmations for positive thinking. Some apps even let you make your own quotes. Take a look!
Daily Quote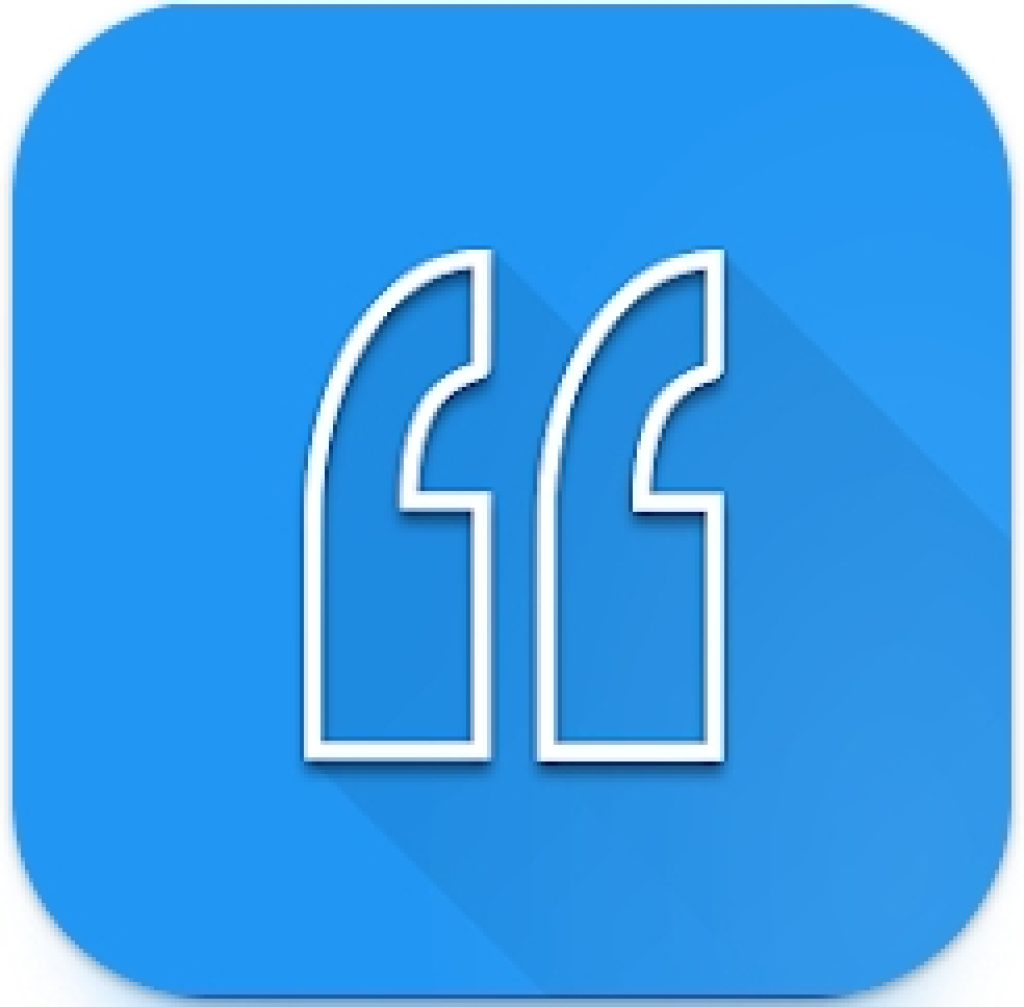 This app has a big lib of quotes that will inspire you. The lib is increasing every day, so your affirmations won't get repeated. You'll get to bookmark and repost the sayings, and nd it works for socials as well.
And if you're not happy with the bg pic you can always change it on smth to match your vibe. The app delivers multiple HQ pics you could use for that, along with loading ones from your gallery. And if you don't want to miss any of the new quotes, make sure to set alerts.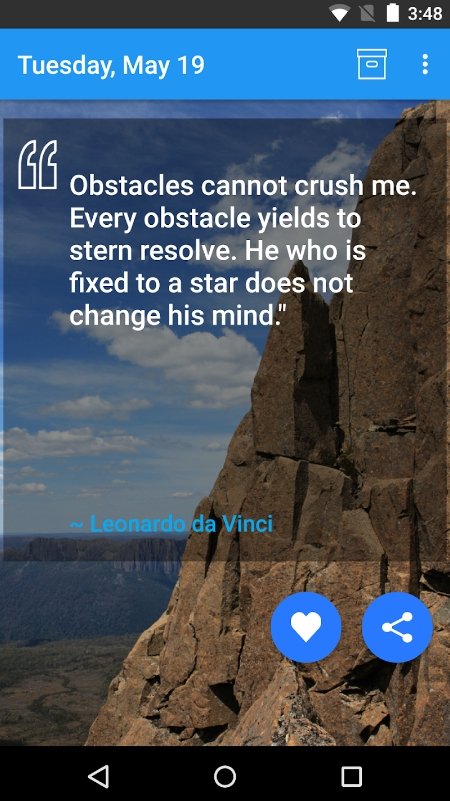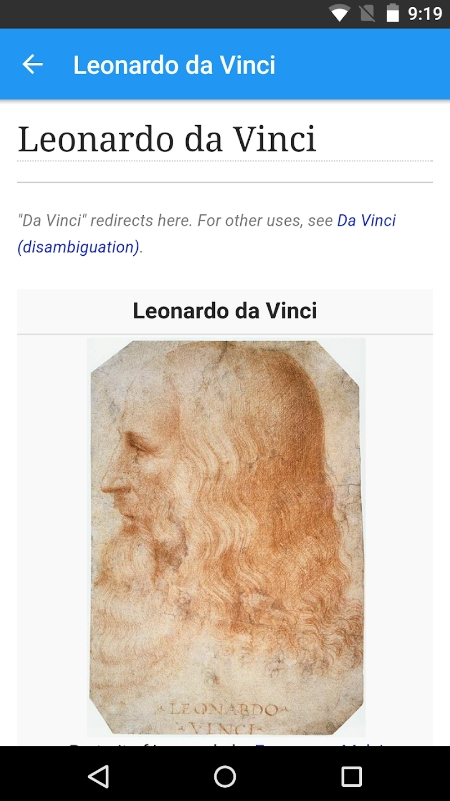 You may also like: 7 Best Spiritual Apps You Will Enjoy
Brilliant Quotes & Quotations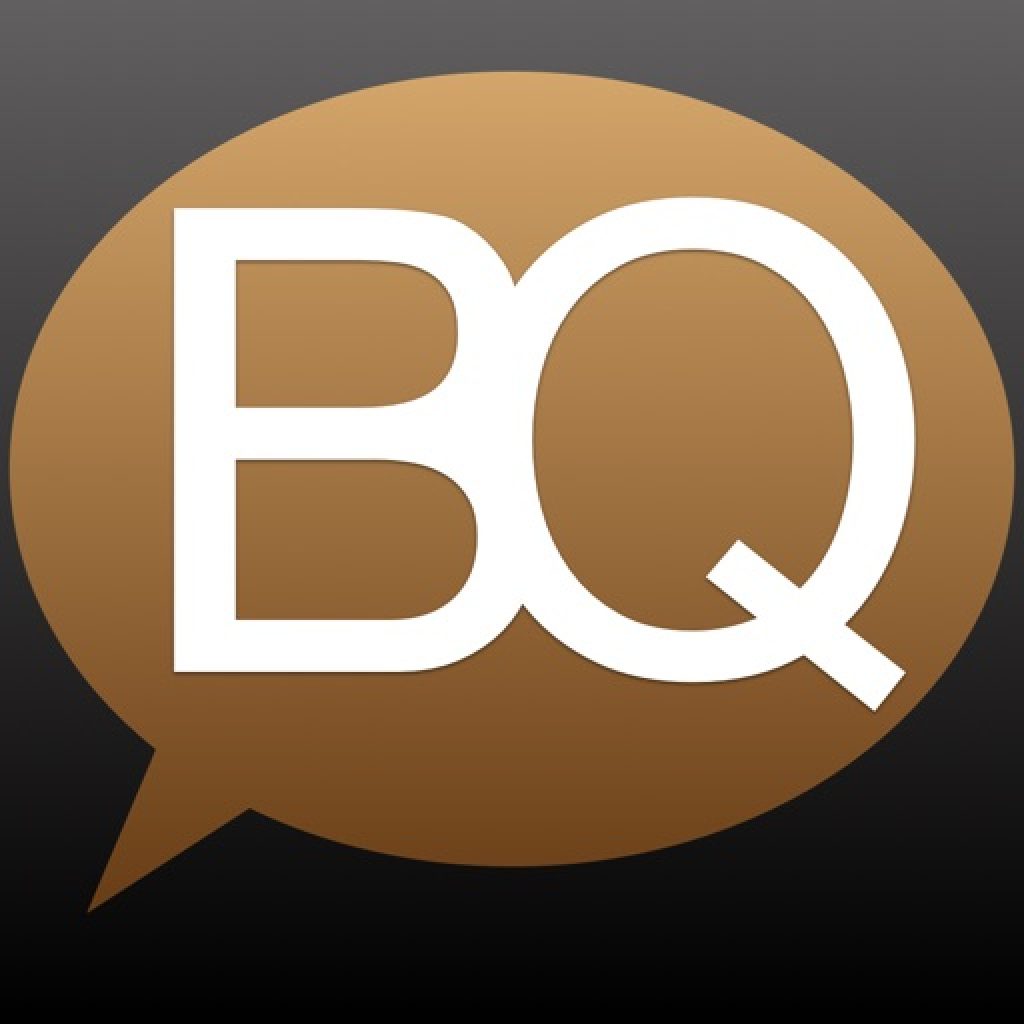 Next, we have an app with hundreds of sayings for any mood. The UI is uncomplicated, and the designs look pretty stylish too. Most quotations are from all kinds of famous individuals, and there are around 200 sources in general.
The app lets you navigate through the lib by using tags and sources. Some of them even offer additional author info for context. The app has light and dark modes, and you'll get to add widgets.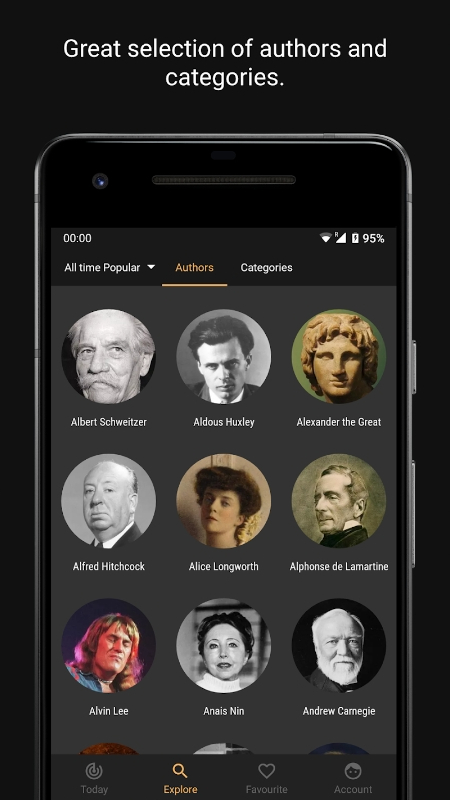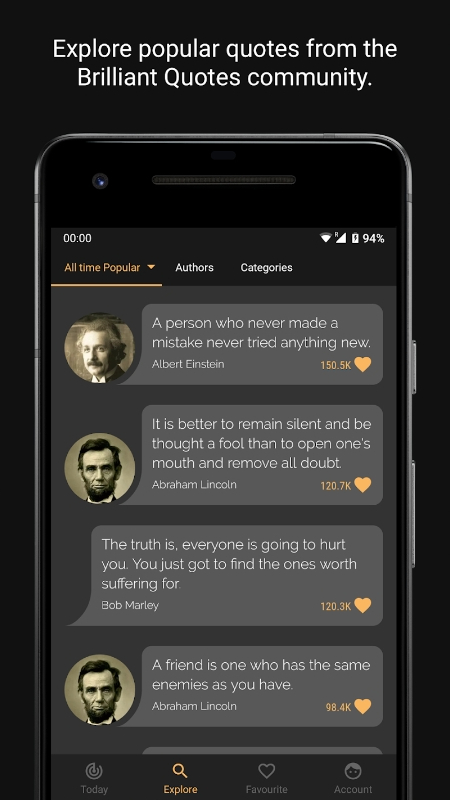 53,000+ Famous Quotes
As the name suggests, there are over 53K quotes for inspo are gathered in this app. The graphic part is pretty nice; nothing special, but not annoying or old-school.
The app lets you bookmark the sayings and use tags if needed. Sharing via socials is supported as well. The lib of quotes keeps increasing with every update.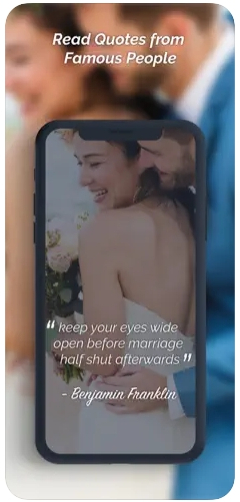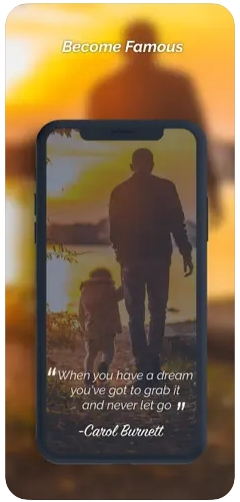 Daily Inspiring Life Quotes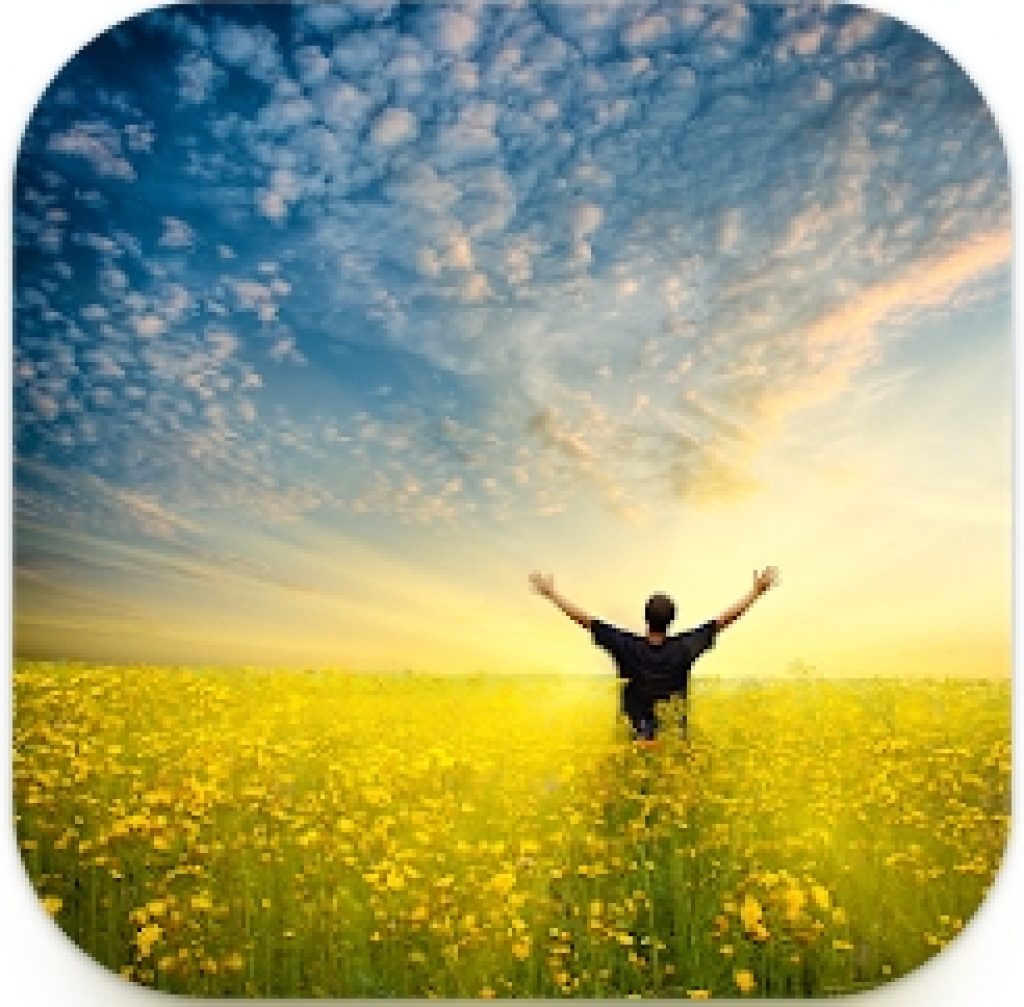 If you need an extra source of inspo, don't get past this app. It has a rich lib of all sorts of sayings that may be useful at different points in life. There are even compilations of poems. You'll get to bookmark the quotes and repost them as well.
The list of quotes is daily revised, which is nice. The only downfall is that you can't search for quotes, but it's not that big of a deal.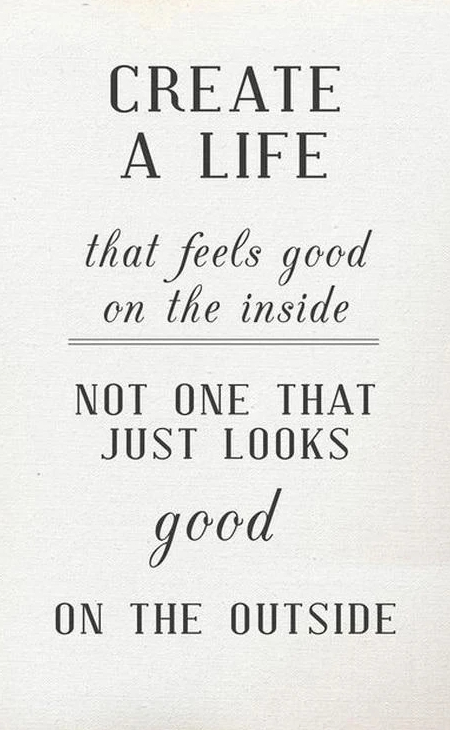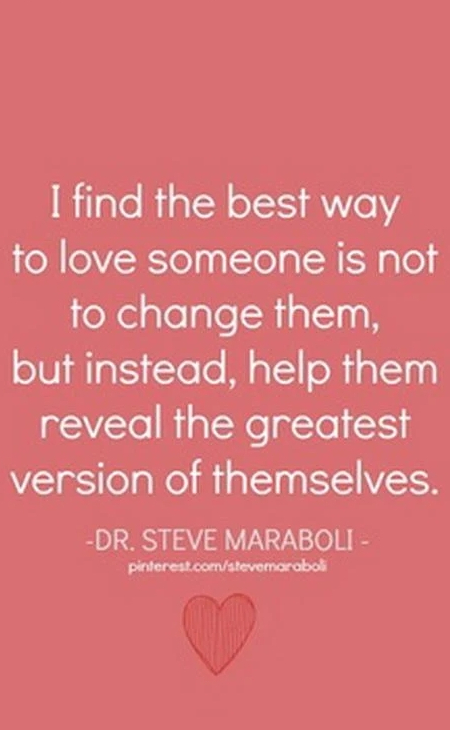 +Quotes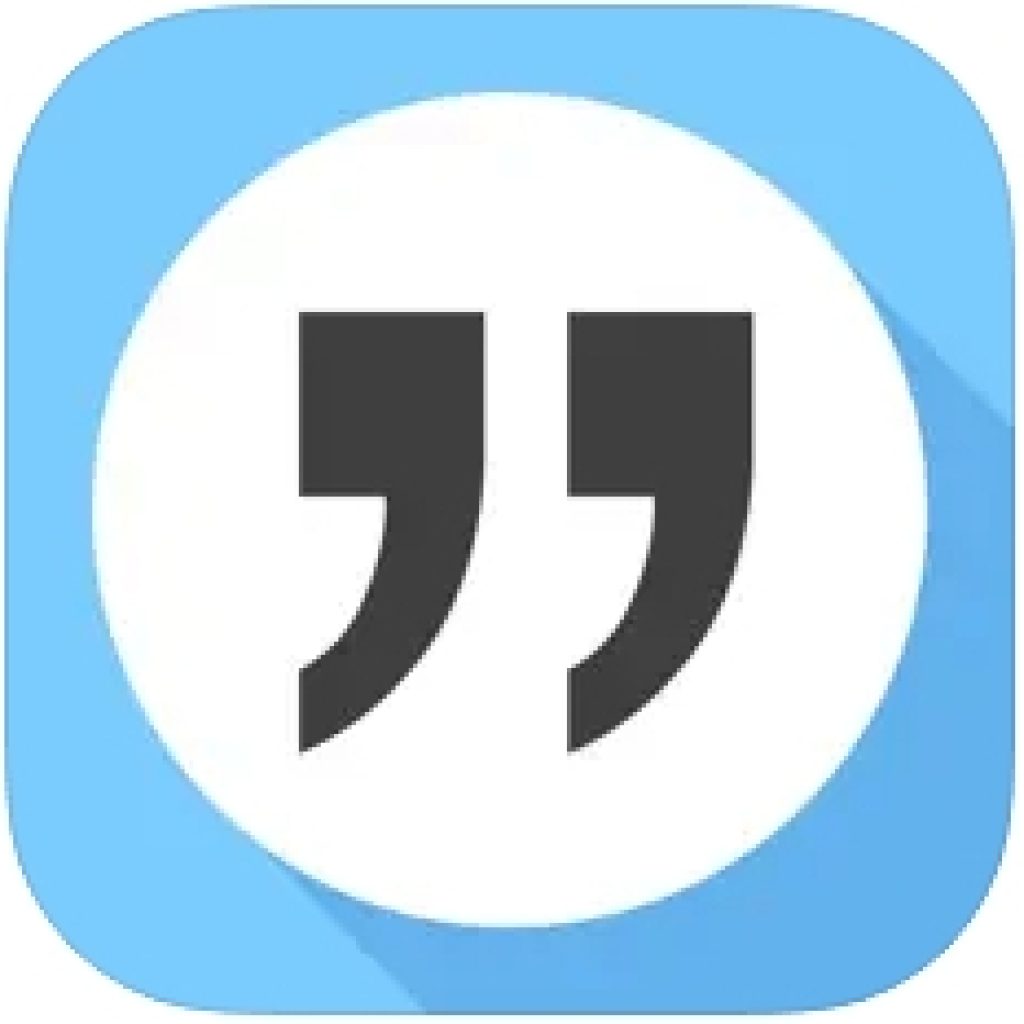 This app lets you discover new quotes and sayings to stay a day with. A famous artist has cooperated with the creators of the app to make stunning unusual visuals.
The quotes may vary by the source, but the overall experience is more than worth trying. The app works on multiple devices, including smart TV, so you could appreciate the artwork on the big screen as well.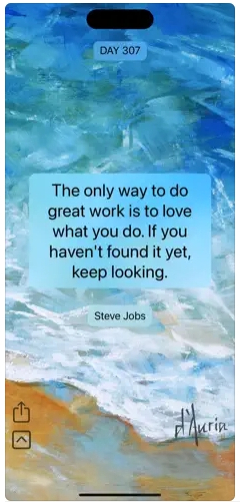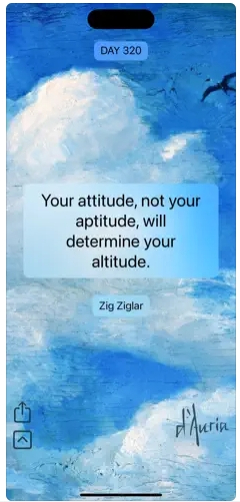 Philosophy Quotes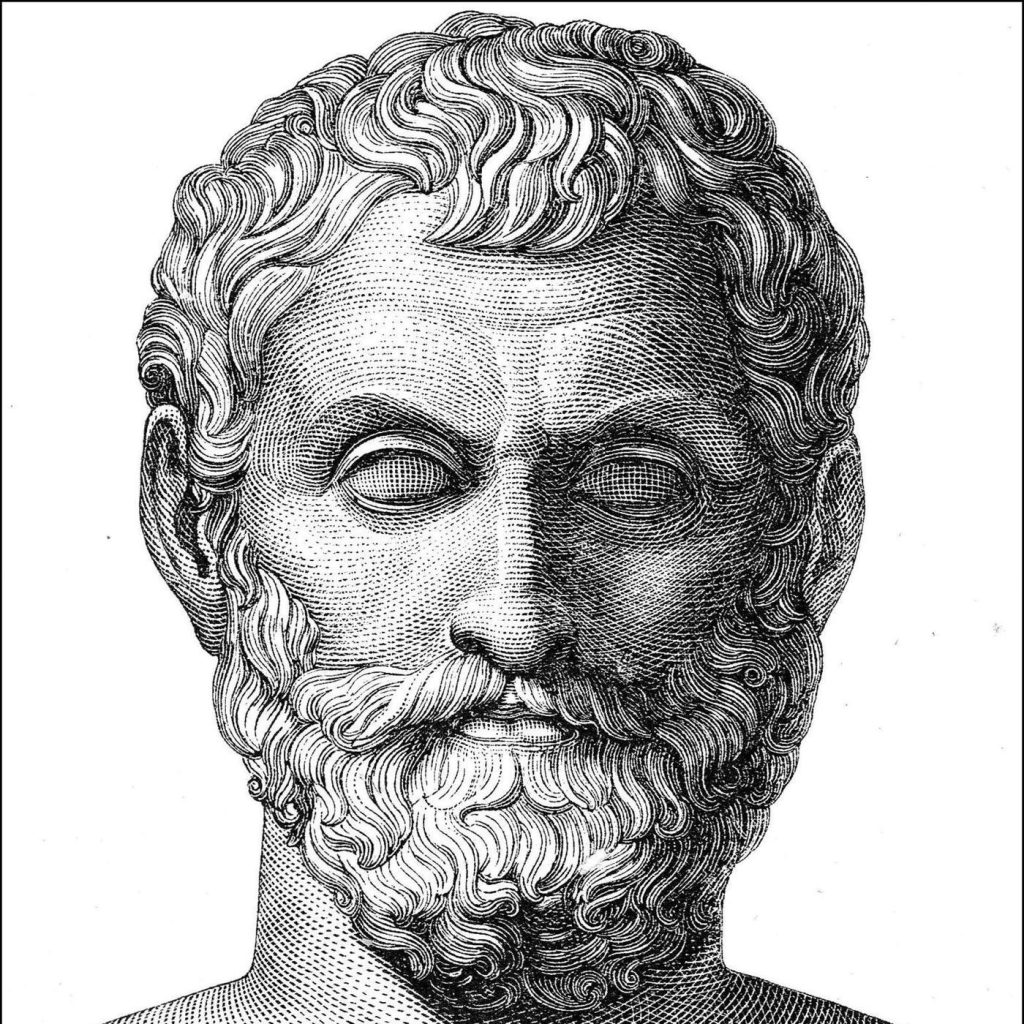 This app features tons of quotes for you to analyze and share. You'll get to mark quotations as your faves and post them on socials in one tap. The visual part looks nice and IG-friendly as well.
The application has handy and beautiful widgets with adjustable settings for each user. The UI is user-friendly as well, so no worries here.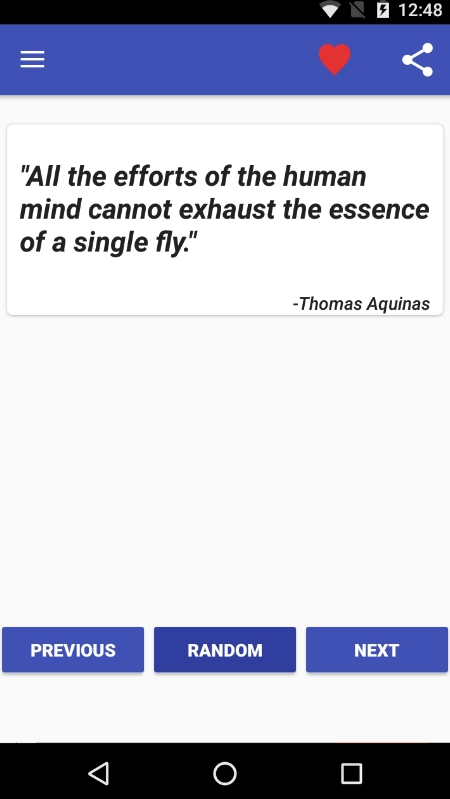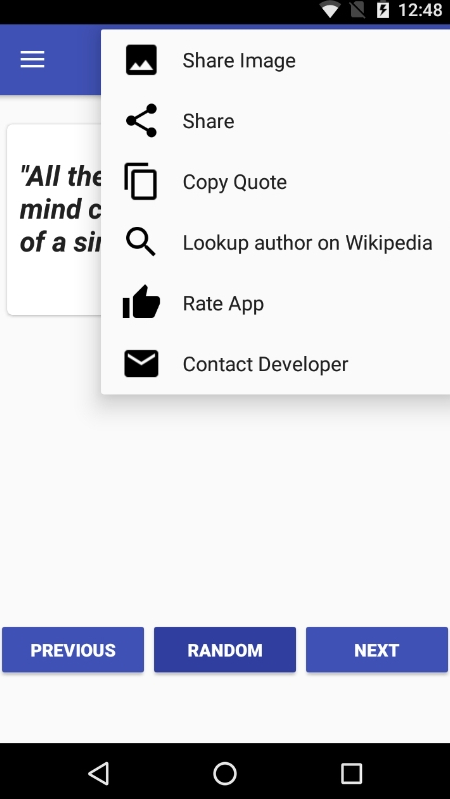 Wisdom Quotes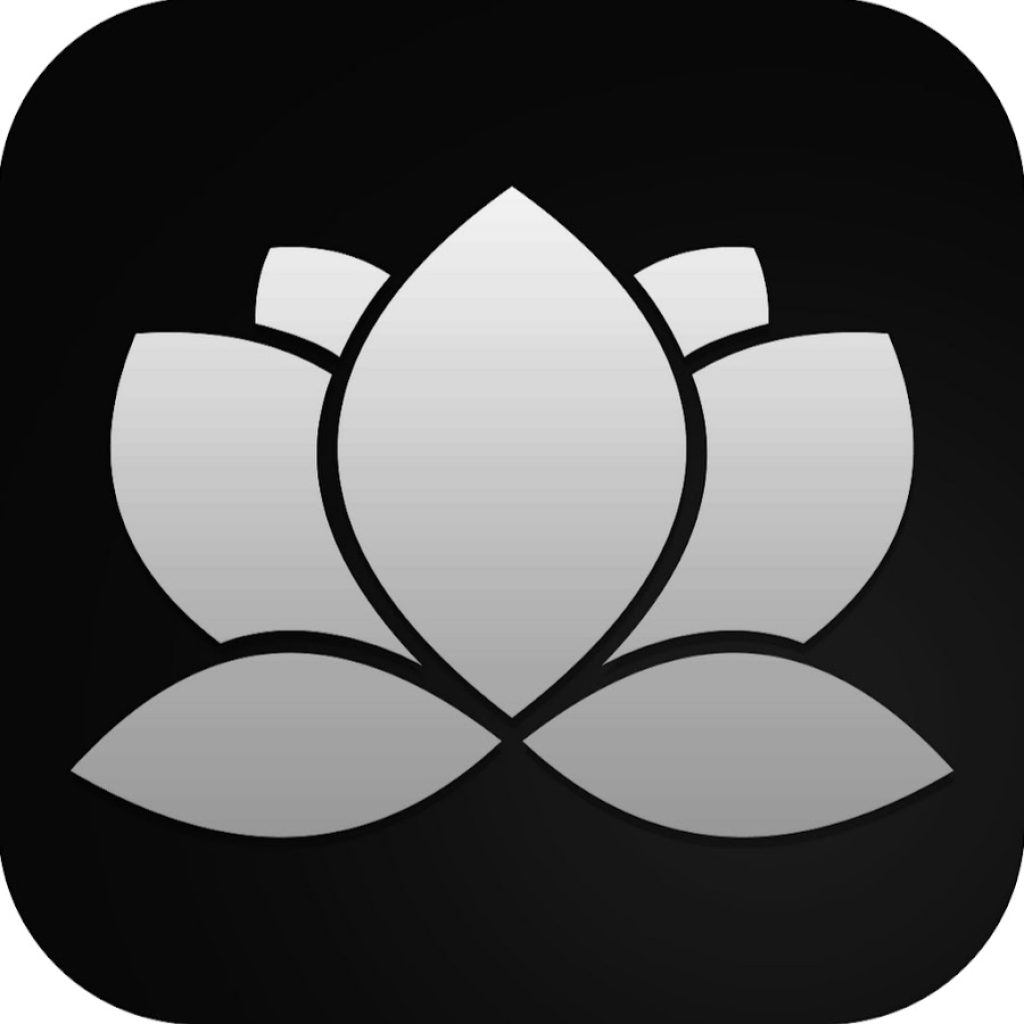 This app is all about finding inspo and motivation in this treasury of thought. You'll get to skim through quotes and share some with pals and on socials.
As for the source, the app has sayings of well-known people and philosophers from centuries ago. All of these are split by topics for easy navigation.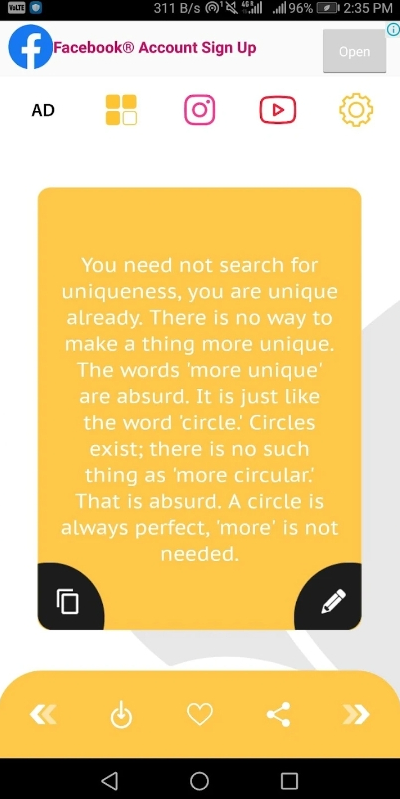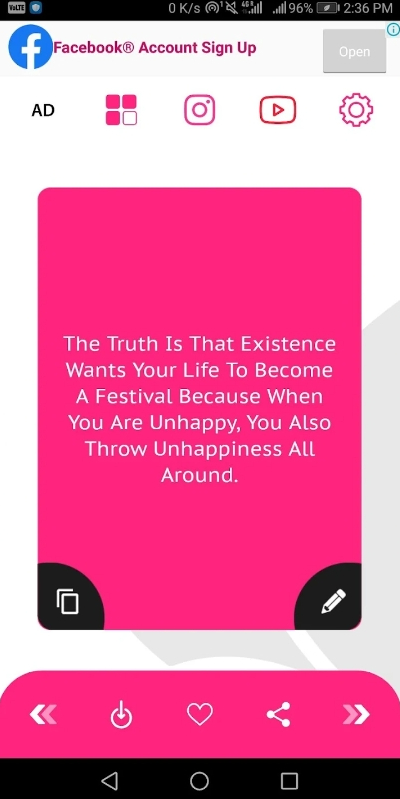 BrainyQuote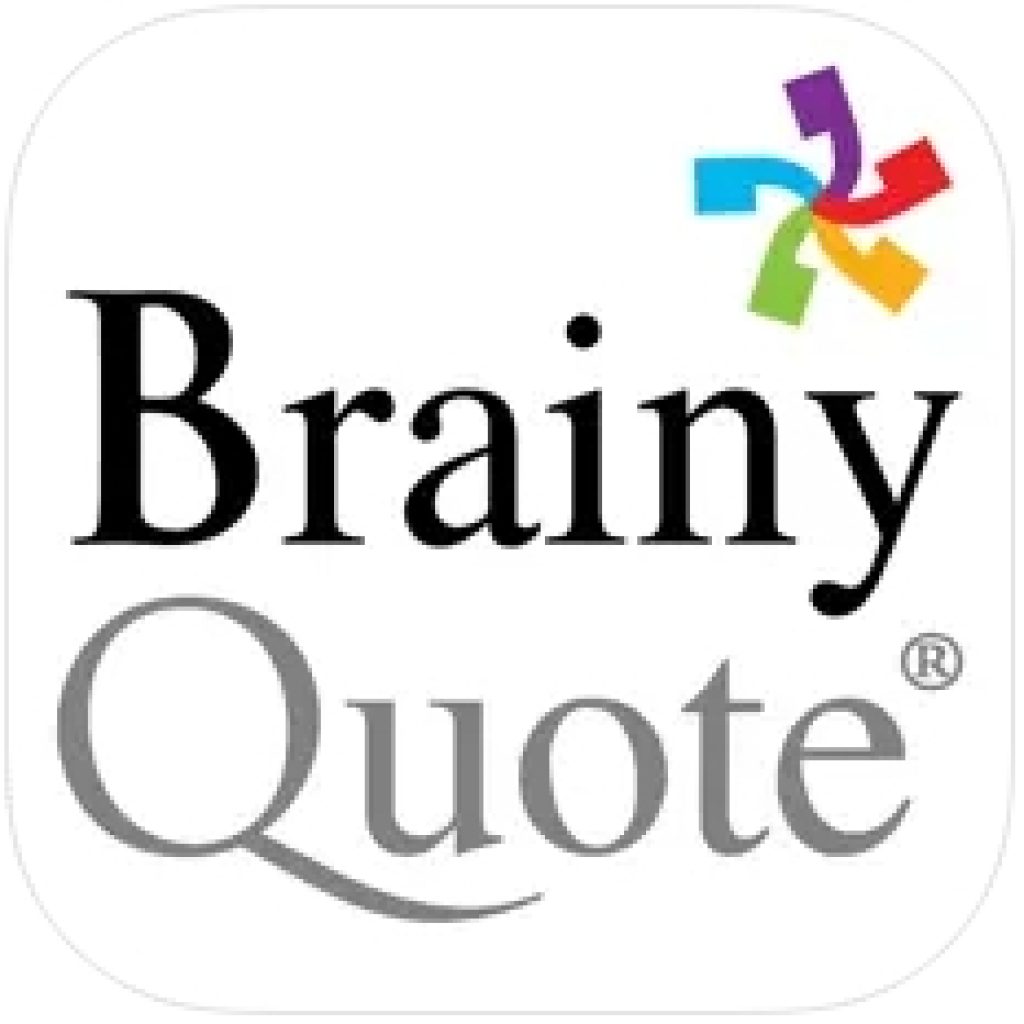 This app has a diverse list of quotes you can use for inspo and send to pals. There are sayings for all sorts of situations, and you'll get to navigate the collection by tags and topics.
The lib is updated regularly, so there won't be any repeats. You'll get to generate widgets to decorate the screen and set up how often the quotes should change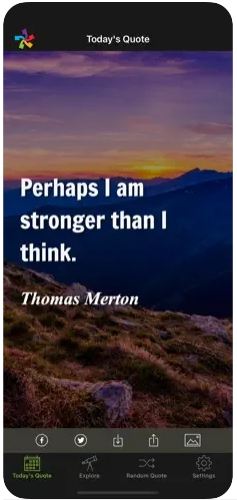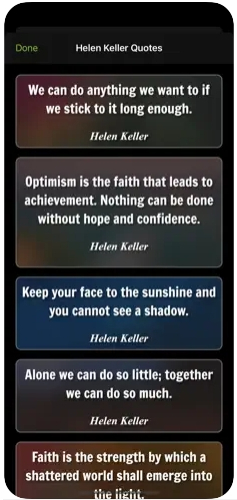 Check also: 15 Best Font Style Apps
I am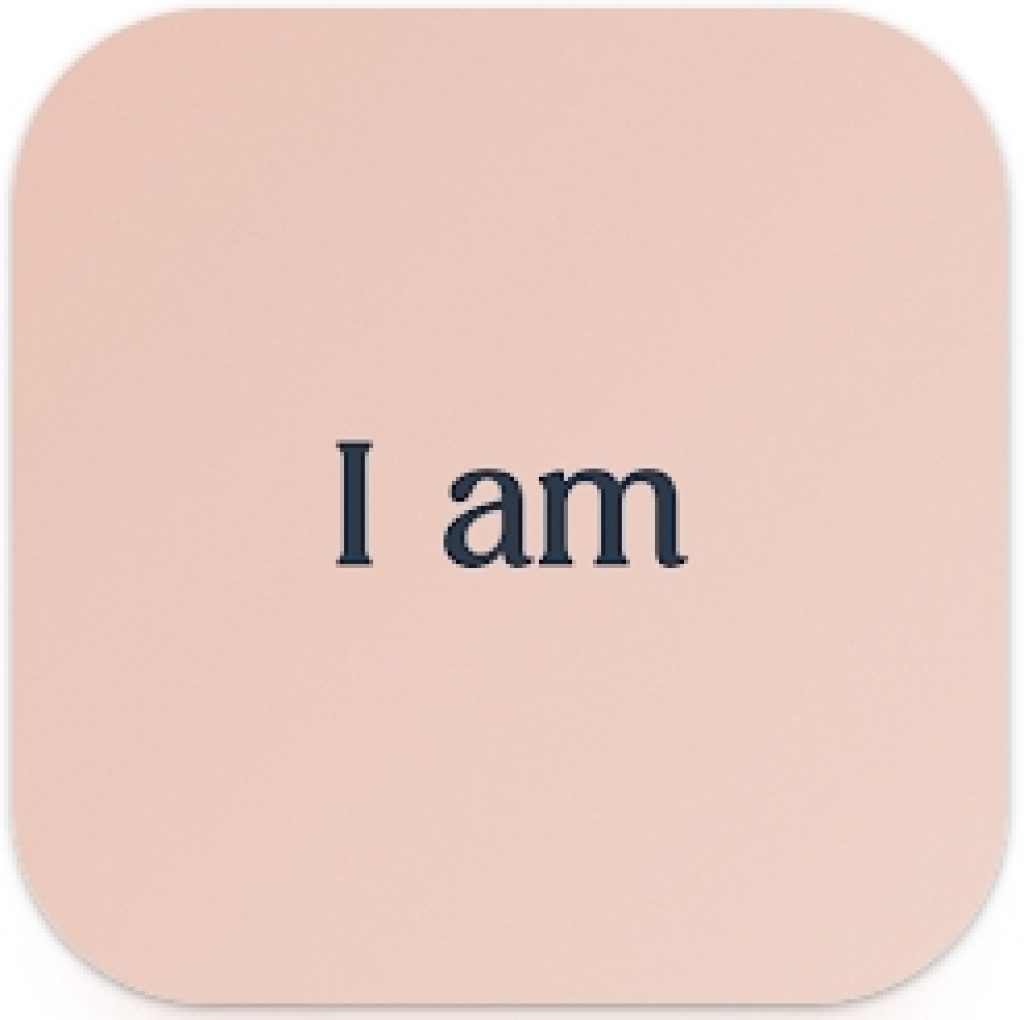 Next, we have an app for all the aesthetic lovers out there. Truth be told, some of the quote apps look kinda old-school which levels down the exp quite a lot. Well, it definitely won't happen with this one.
This app offers daily affirmations for positive thinking, motivation, and all that. It's all about empowering and appreciating yourself, and it feels nice to start a day with this app. It's not annoying at any point, and you can select the background themes you're interested in.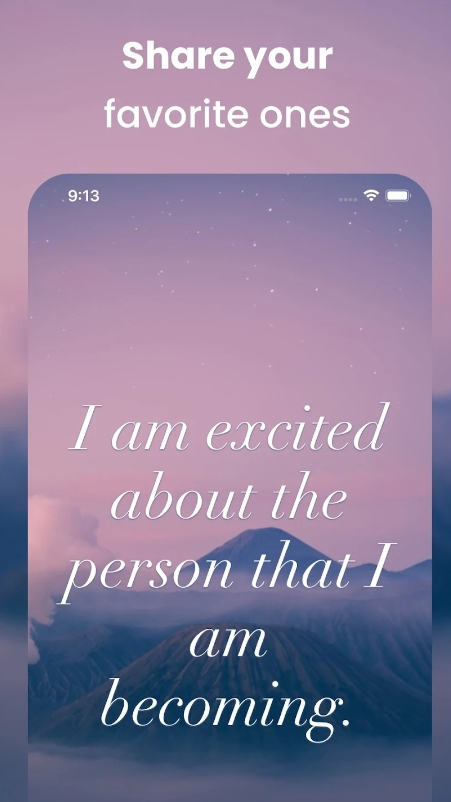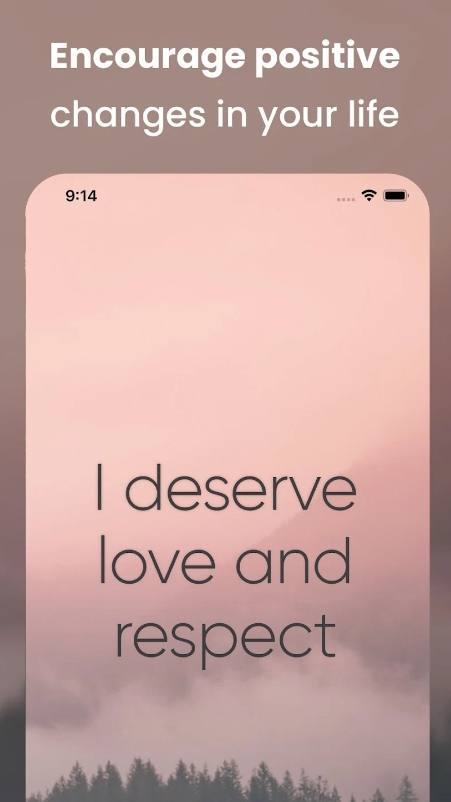 Crafto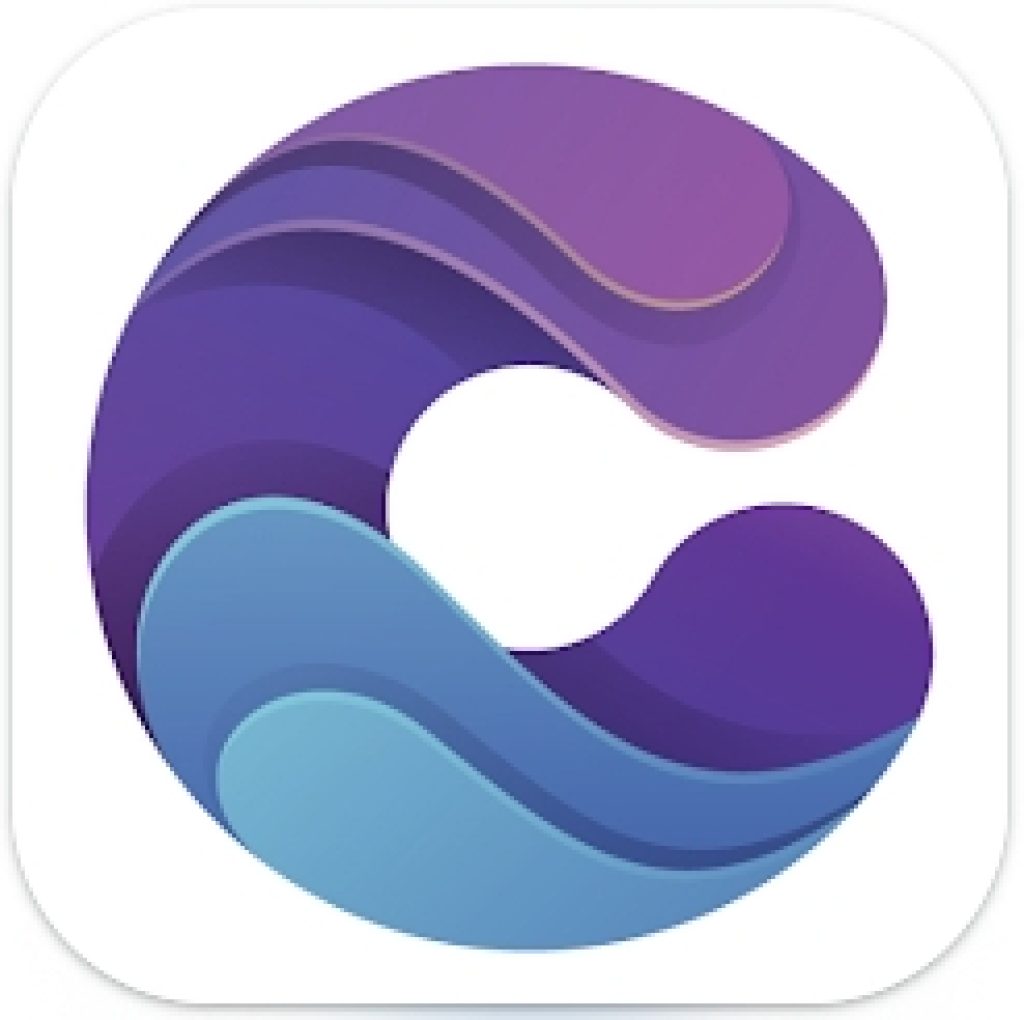 If you like to share sayings with your pals or online community, you'll find good use in this app. It delivers a vast scope of sayings and lets you create simple designs with them.
The lib of quotes gets frequent uploads, so there won't be repeats. As for the designs, there are a couple of templates you could use to make ready-to-post images with photos.
All the templates are free, but they don't vary by style that much (which is not necessarily a bad thing, especially if you follow one style in your IG stories).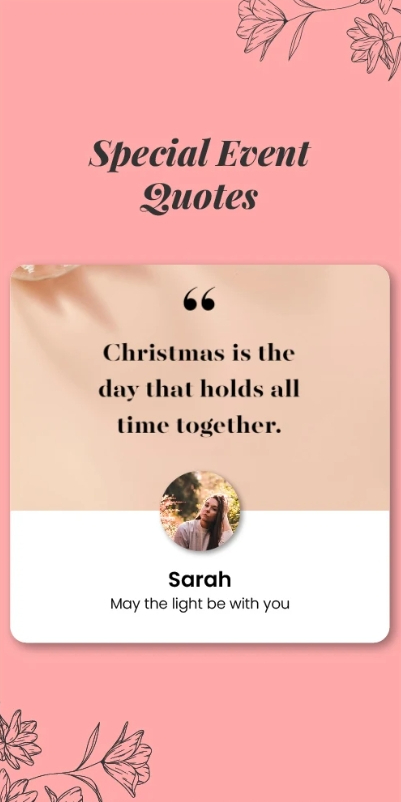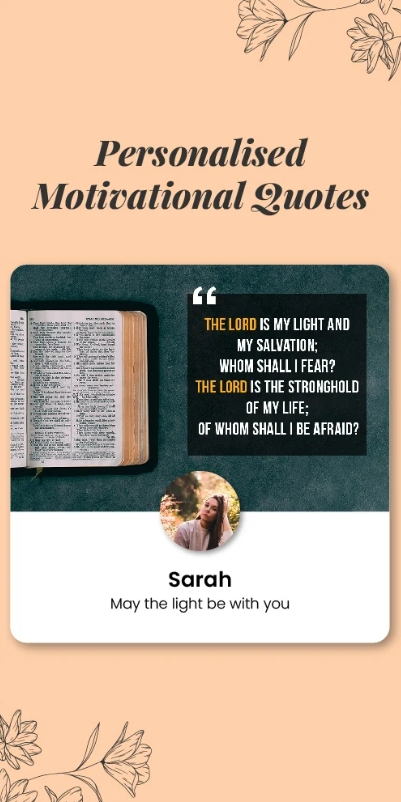 Daily Quotes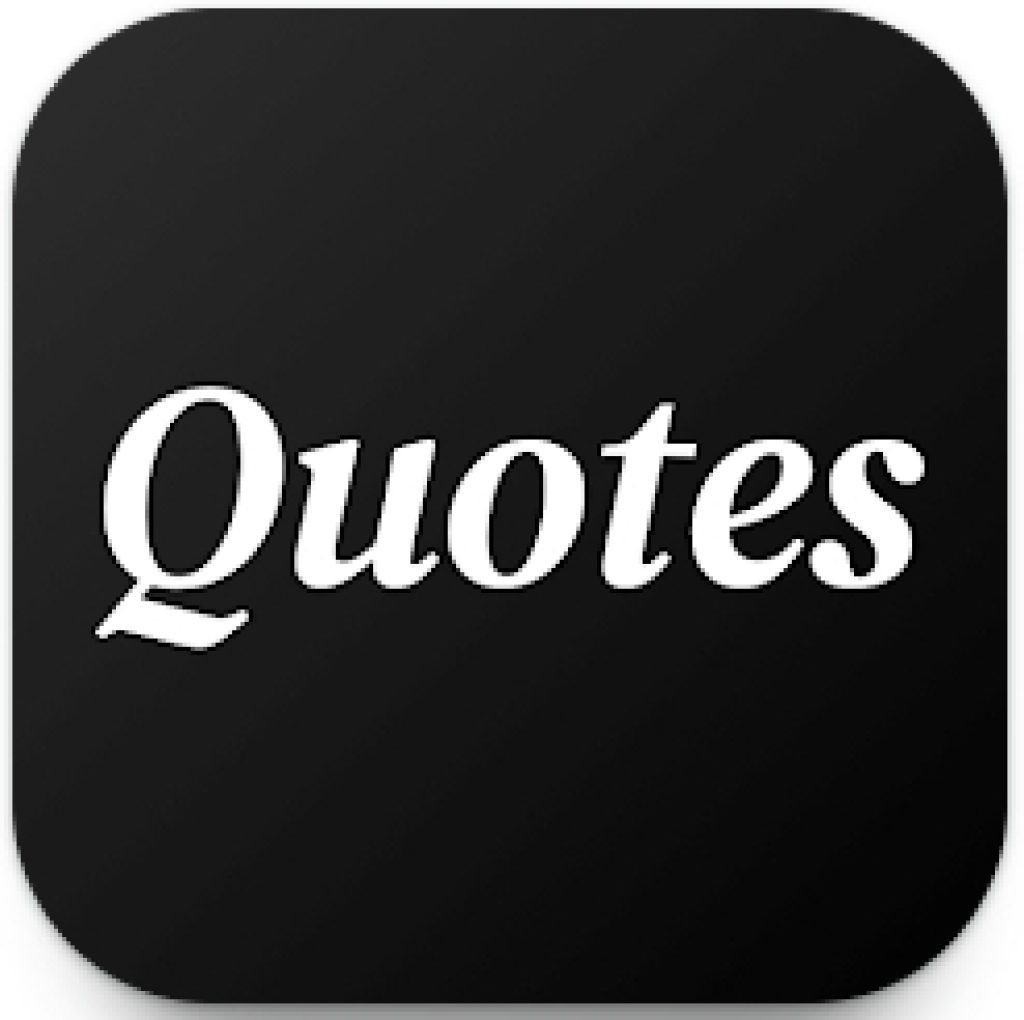 Here's an app that offers tons of quotes to motivate you every single day. It's pretty much an anthology of positive reminders and affirmations to help you set up for a day.
The app lets you personalize your quote recs by answering a couple of quick questions. Once it's done, you'll get cool quotes every morning to cheer you up a little.
The app also lets you generate stylish widgets and set up how many quotes you'd like to get throughout the day. You may also browse through sections and explore quotes by tags. And if you'll ever want to send some quotes to friends, you could do that as well.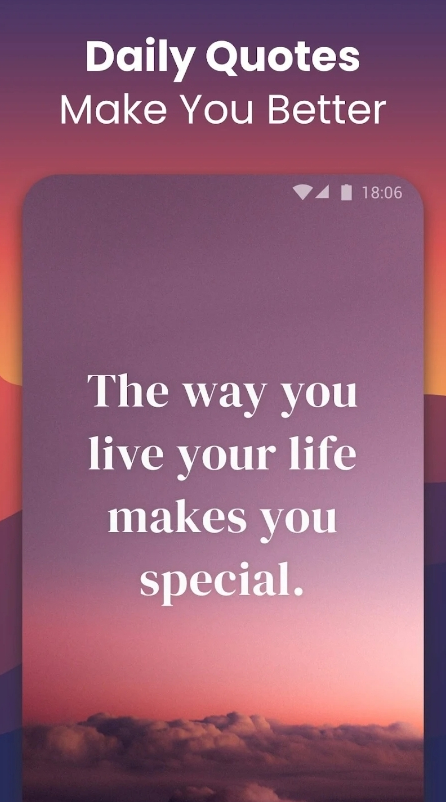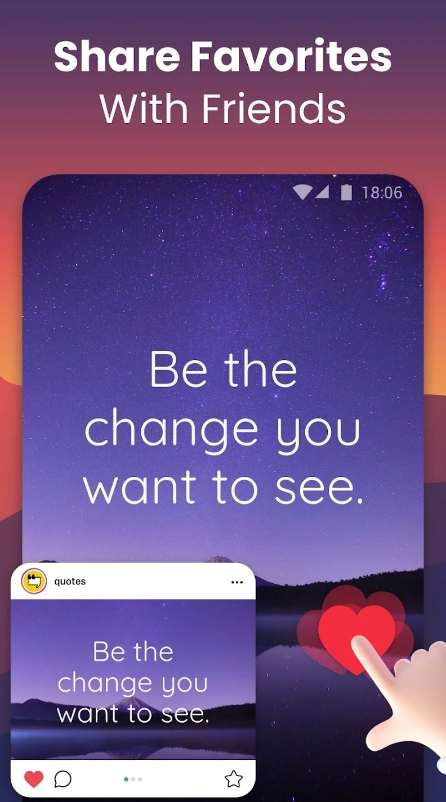 Inspirational Quotes Daily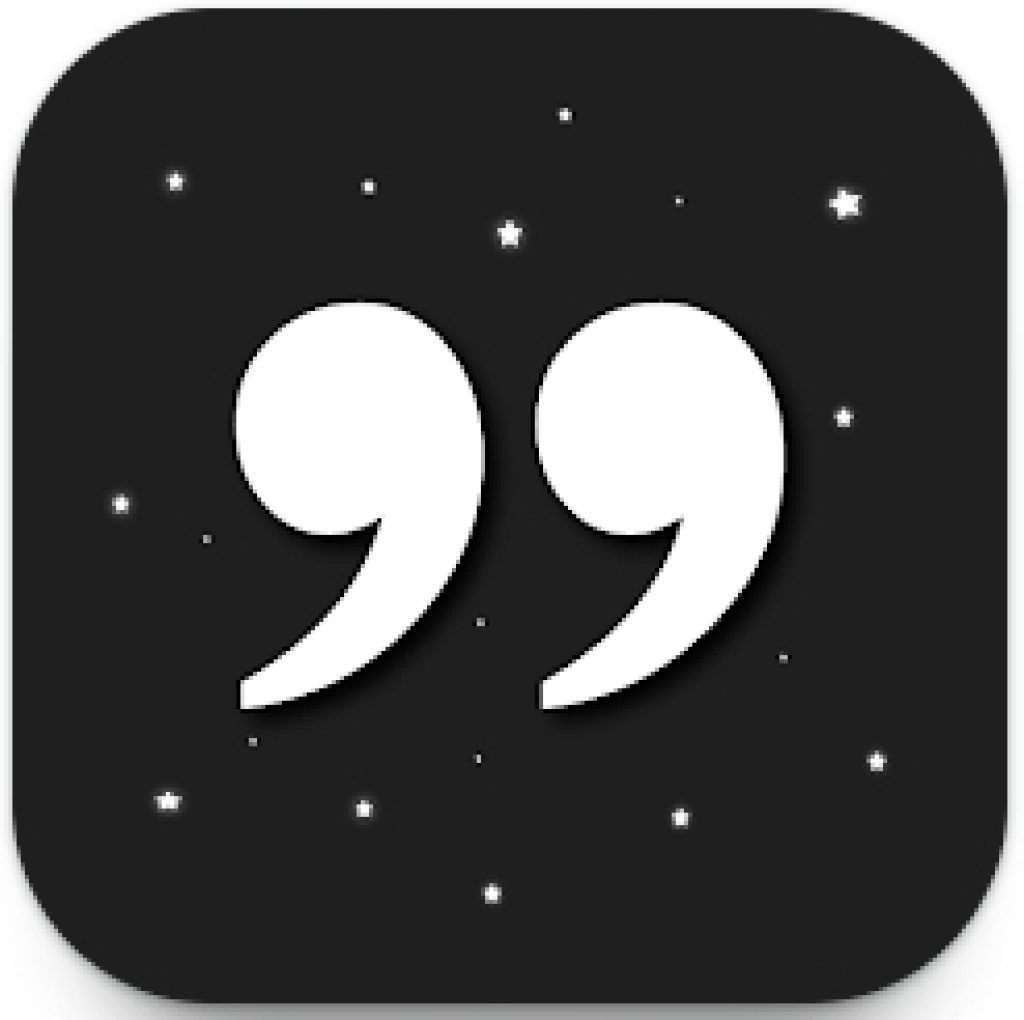 The name of this app gives you a clear idea of its concept. It has a vast scope of quotes to give you a little push boost to start a day with.
The app will send you new quotations every day, and you may also pair these with calming music. There are tons of affirmations already, and new ones are posted with each update. The sources may vary, so you find quotes from philosophers, books, famous people, and more.
The quotes are classified by topics, and you'll get to search for ones via tags. Visually speaking, the quotes look pretty great, and you'll get to adjust the background if needed.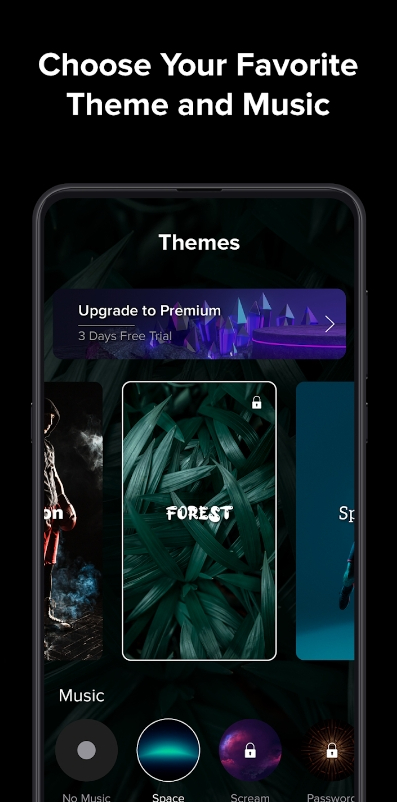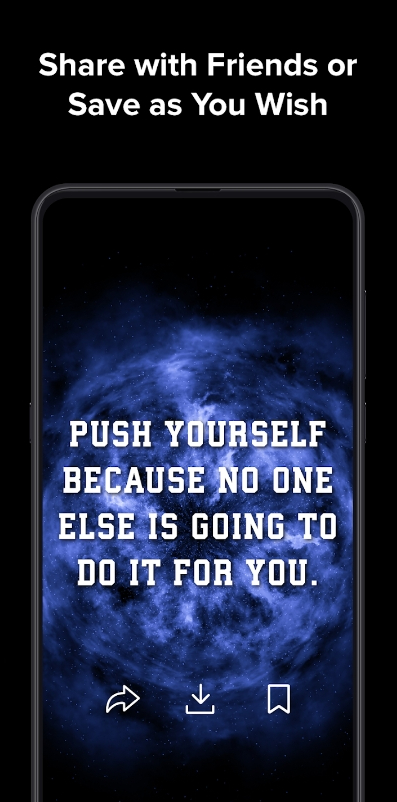 Mooti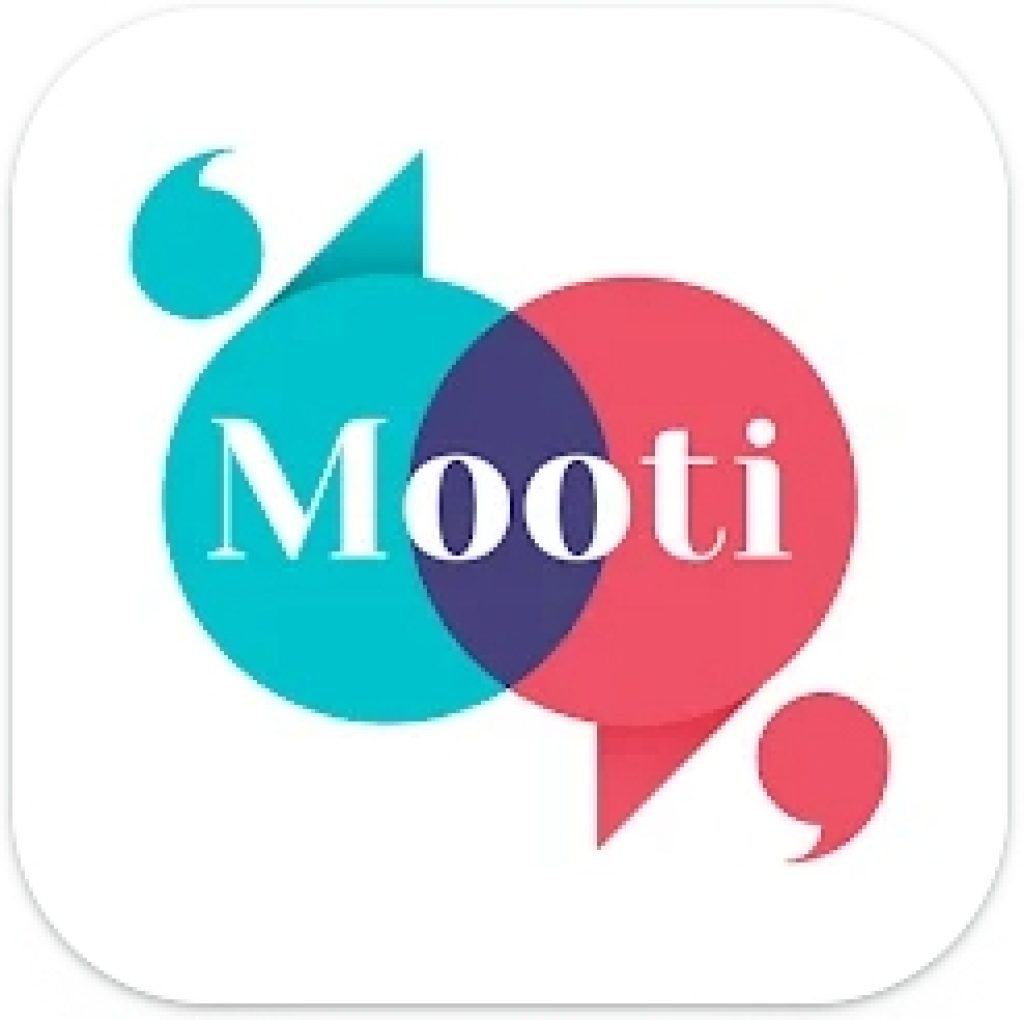 That's another app for positive sayings and inspo. The concept is beyond simple: to help you get into positive thinking and boost your mood in general. It's all about motivating you to grow and stay positive no matter what.
There are countless compilations of quotes you could browse through such as spirituality, relationships, health, fam, and more. Plus, you'll get to customize the visual, and the choices are pretty stylish.
The app also lets you personalize the exp by liking and disliking certain quotes. And if you'll feel personally attached to any quote, make sure to save it to your collection or share it with friends.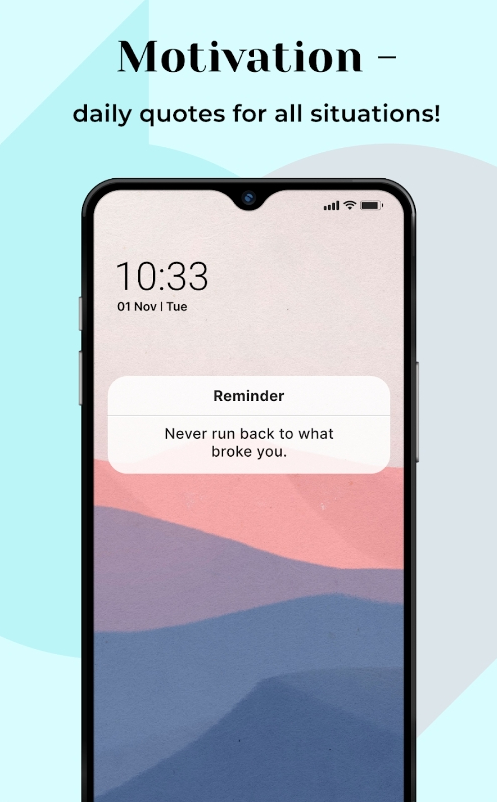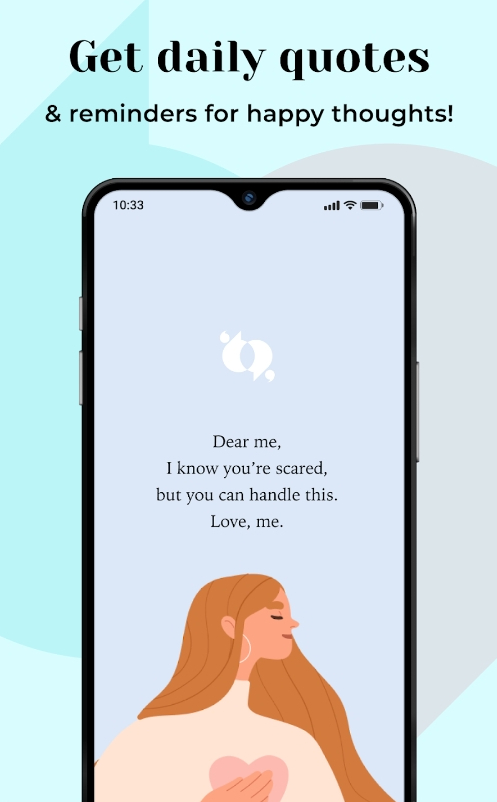 TrueMe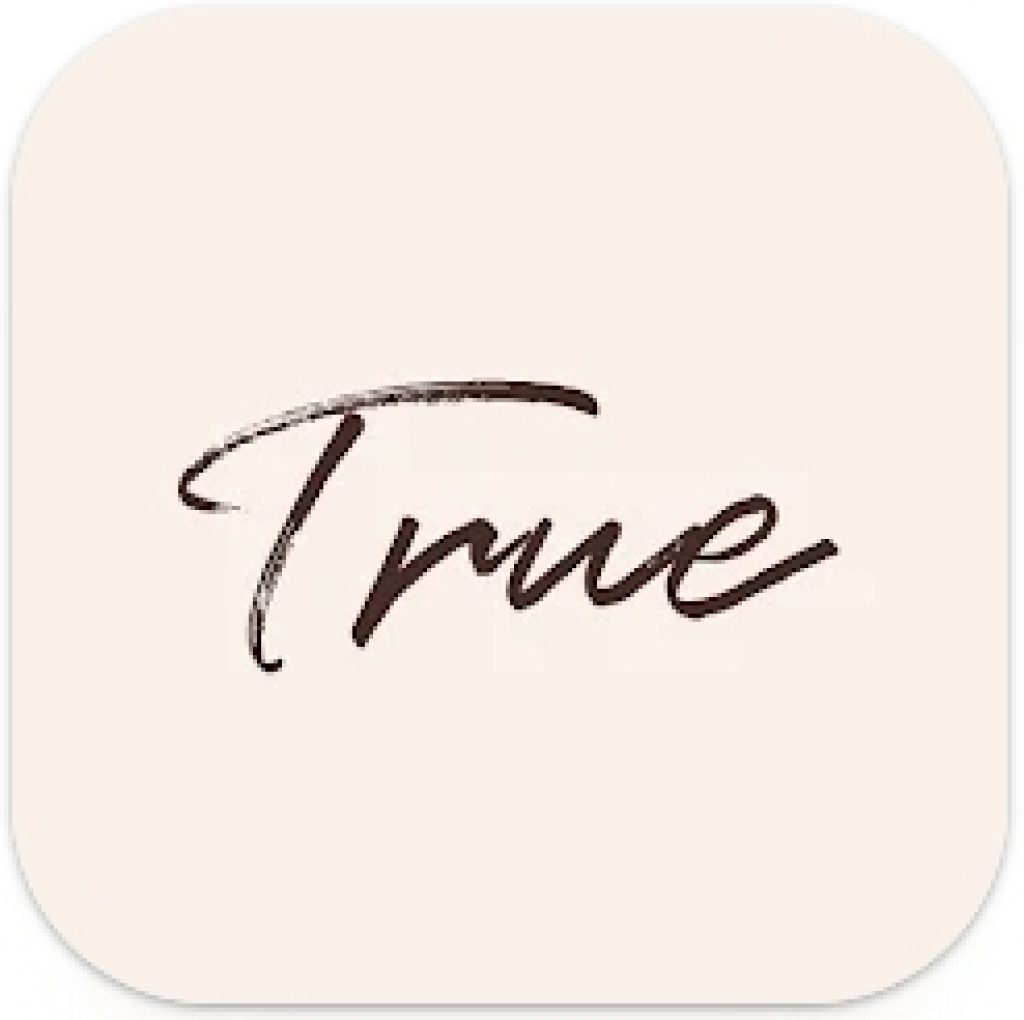 Is it an affirmation app as well? Yes, it is, but you can't really go wrong with these. This app is for all minimalist lovers, and it has a wide scope of quotes for any occasion.
There are quotes that help you go through hard times, fail, get into self-care, relax, and all that. You'll be able to pick the categories you like to make sure you won't get the affirmations you don't vibe with.
Beyond that, the app has inspo vids with relaxing music. It lets you adjust the visual and bg and post the quotes online with one tap.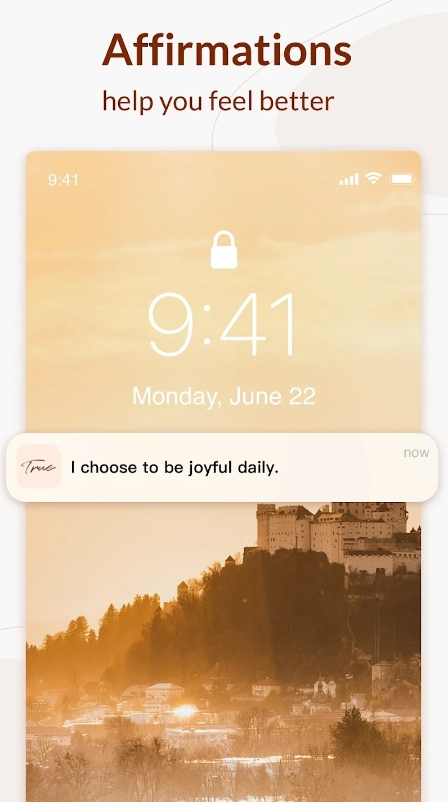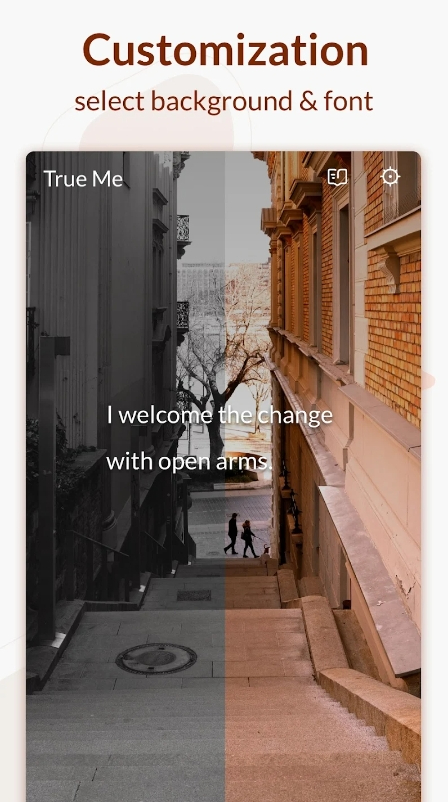 You may also check: 7 Best Free Family Meditation Apps
Quote Writer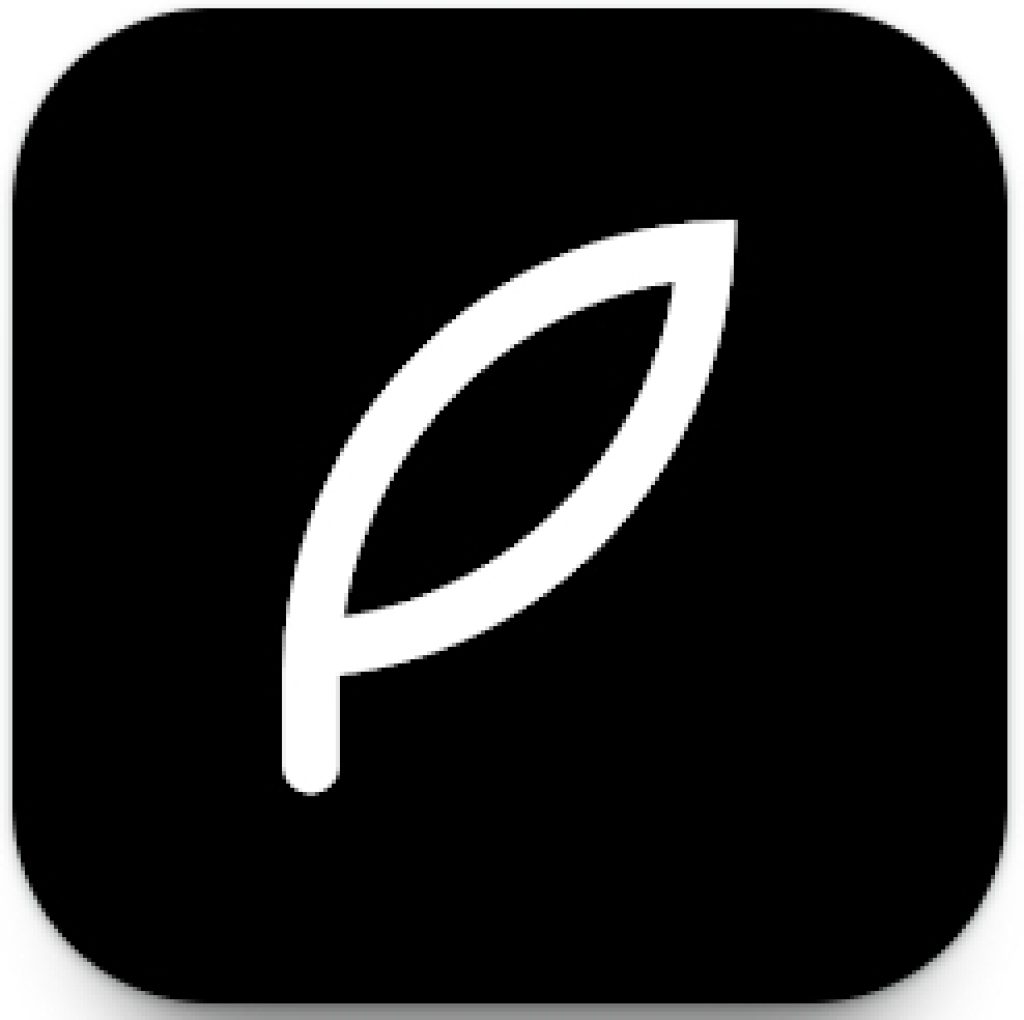 To wrap up, we have an app to edit stylish pics with quotes. It's one of the easiest ways to edit quotes for your socials, whether you want to post to your feed or add to IG stories.
Herewith, all the templates and fonts you could pick from are pretty minimal, so your pics will look good every time. There are a couple of fonts you could try, and tons of HQ pics to use as a background.
The app doesn't contain a lib of quotes, though, so you'll need to find these on your own. The download is quick, and it doesn't take down the resolution.