NCLEX is a regulating nursing examination for everyone who wants to get a license to practice. And as any other exam on the planet — this one is thought to get ready for.
Luckily, there are lots of apps for reviewing NCLEX on Android and iOS that will get you through the preparation for this exam.
These apps empower you to study via short sessions that can be incorporated into any lifestyle. Plus, each of these apps has a wide bank of examination-like questions so you will cover all the required topics.
In case you wonder about other apps that can ease the life of a nurse, check out this article: 15 Free Nursing Apps for Android & iOS
Here's the list of the 9 best apps in that category you should try. Have a look!
My Mastery: NCLEX & Nursing
Let's start with an app called My Mastery: NCLEX & Nursing. This app aims to help you get fully ready for the exam even if you have a busy lifestyle.
This app always stands on top of all the other ones when it comes to preparing for NCLEX. That's because it covers more than 2000 exam questions you can go through and it can give you detailed responses for all of them. To be more precise, the app contains practice topics, mnemonics, terminology collection, and more.
On top of that, the app runs on several learning techniques that tend to help you learn information faster and more efficiently.
Thus, there's a quiz mode that empowers you to prepare for the exam in a game form. All the questions in the app are rather made by the professors or nursing educators so you can be sure every single topic is covered.
As it was already mentioned, the app will give you detailed explanations for all the answers you've got wrong. You can also mark the answers, and they will be saved on your acc. Plus, the app keeps track of your progress and so you can view how far you've come and how ready you are for the exam at the moment.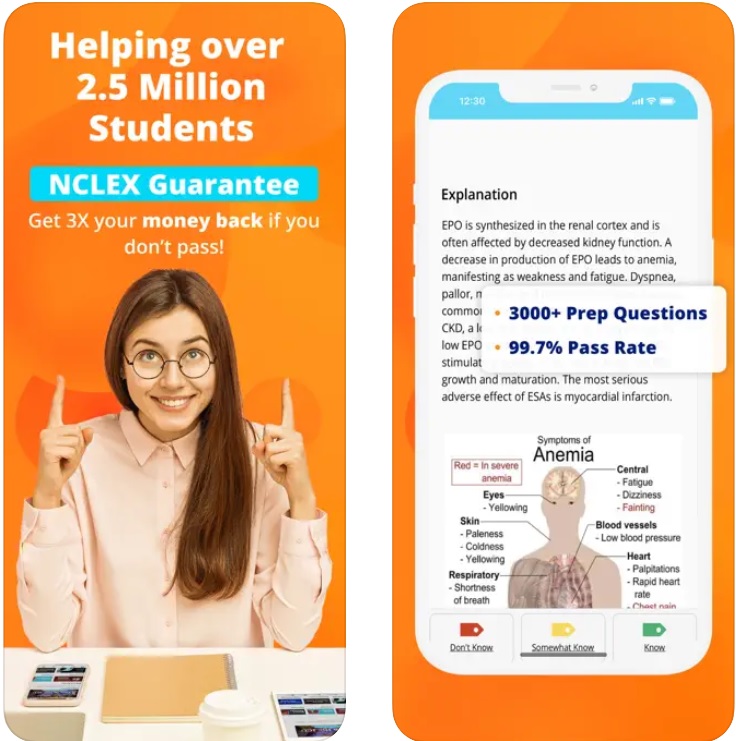 You may also check: 11 Best medical ID apps for Android & iOS
Archer Rewiev – NCLEX
The Archer NCLEX Review app is worth considering for those looking to prepare for the NCLEX exam.
The app offers a variety of review materials and an intuitive interface, making it a great choice for students who want a comprehensive review tool.
Also, there is a variety of review materials, including practice questions, flashcards, and study guides. Users can track their progress and identify areas where they need to focus their study efforts.
Additionally, the app provides detailed explanations for each question, allowing students to better understand the concepts being tested.
While the app's graphics may not be as flashy as some other review apps, they are still clear and easy to read.
The app is also well-organized, making it easy to navigate and find the materials you need. However, some users have reported occasional glitches and slow loading times.
However, the app is that it is not free. While there is a 3-day trial period, users must pay a subscription fee to access all of the app's materials.
Advantages:
Intuitive interface.
Variety of review materials.
Detailed explanations for questions.
Ability to track progress.
Drawbacks:
Not free.
Occasional glitches and slow loading times.
High cost of a full subscription.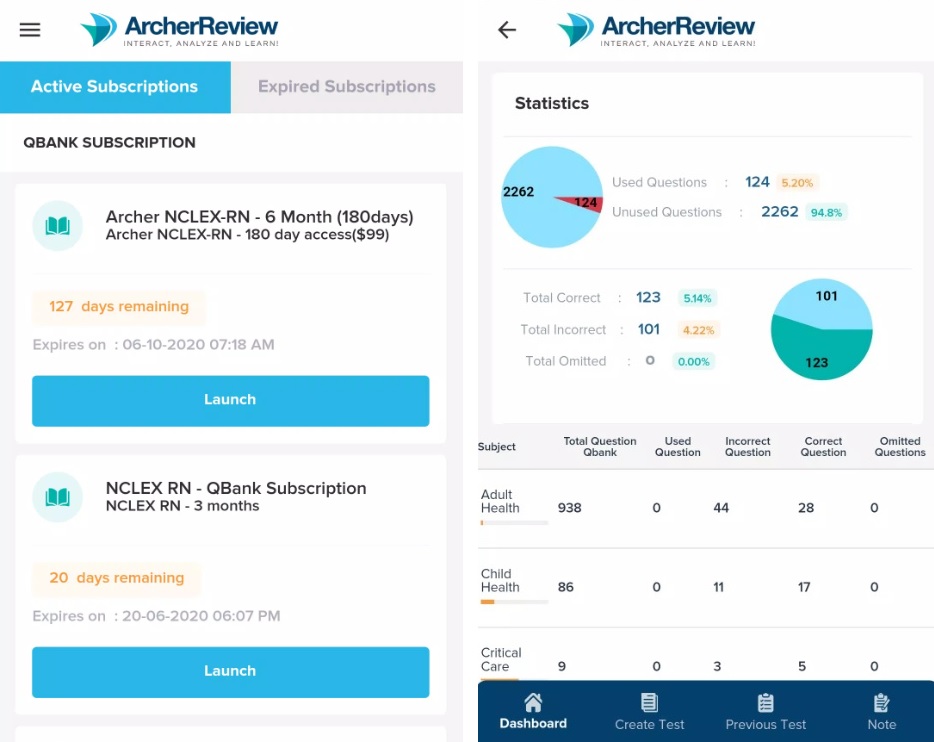 NCLEX RN Ultimate Reviewer
HESI NCLEX RN is another app that covers a full list of questions for the NCLES exam.
The main goal of this app is to help you succeed in your NCLEX exam in the most efficient way possible. The app tracks your stats and points out all your strong and weak points. Plus, if you'll get any questions wrong the app will make sure you'll get a detailed explanation for it.
Then, you will continue to get this question again and again till you'll get it right. Besides, the app has an exam mode that includes five practices. The main goal of this mode is that it fully recreates the way the real nursing exam goes so you could fully feel how it will be. Each exam of the five includes 100 questions.
For now, the app covers more than 650 questions in "study" and "test" formats and this number is still growing. There's also a whole category of questions that train your analytical thinking.
You also get to mark the questions and the answers you'd like to come back to and that will be saved in your account. And the coolest thing about this app is the fact that it works without the Internet.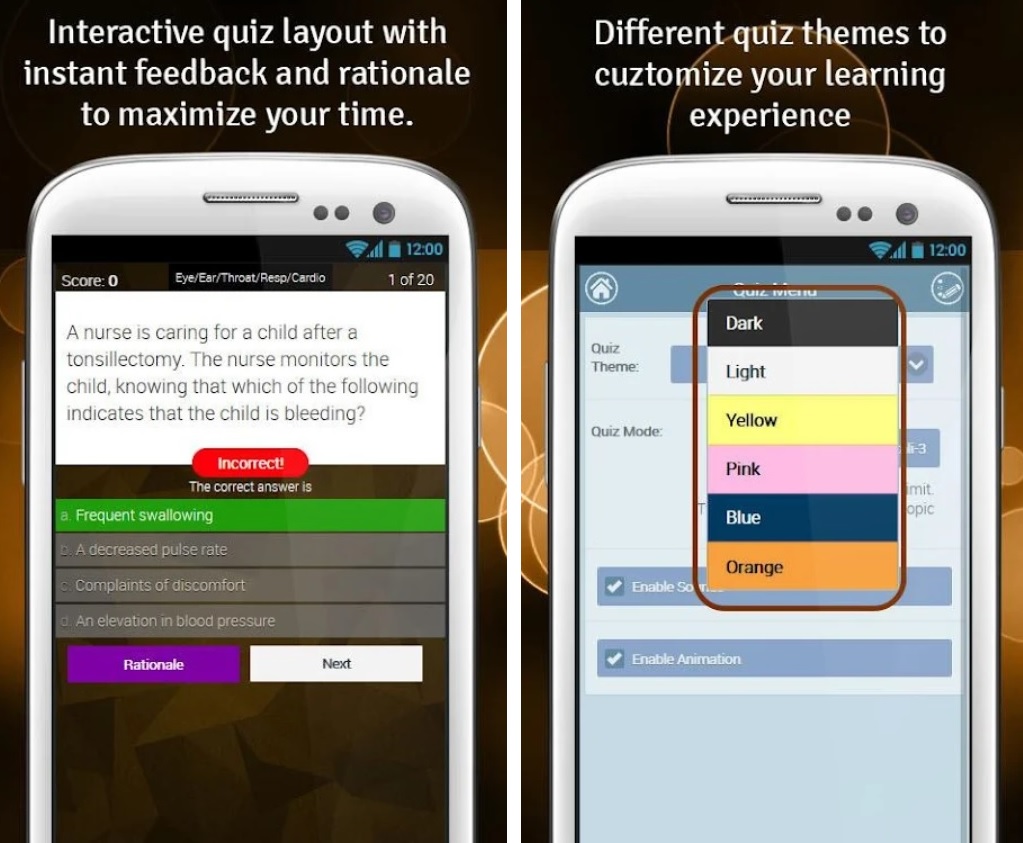 SimpleNursing
SimpleNursing is an app designed for nursing students and nurses to help them prepare for exams and stay up-to-date with the latest nursing practices.
The app offers a range of nursing-related content, including video lectures, flashcards, and quizzes. The video lectures cover various topics, including anatomy and physiology, pharmacology, and patient care.
Also, the flashcards cover essential medical terms and definitions, while the quizzes allow users to test their knowledge of different nursing concepts.
Moreover, this service provides a discussion forum where users can interact with other nursing students and professionals.
The videos are of good quality, and the flashcards are easy to read. However, the app's overall design could be more aesthetically pleasing.
The color scheme is a bit dull, and the app could benefit from some more visually appealing graphics.
What is more, the app is free to download, but to access all of its content, users must purchase a subscription. Some users have complained that the subscription price is too high and that the app should offer more content for free.
Advantages:
Simplifies nursing concepts.
Includes practice questions.
Offers an extensive library of videos.
Drawbacks:
Requires a paid subscription.
May not cover all nursing topics comprehensively.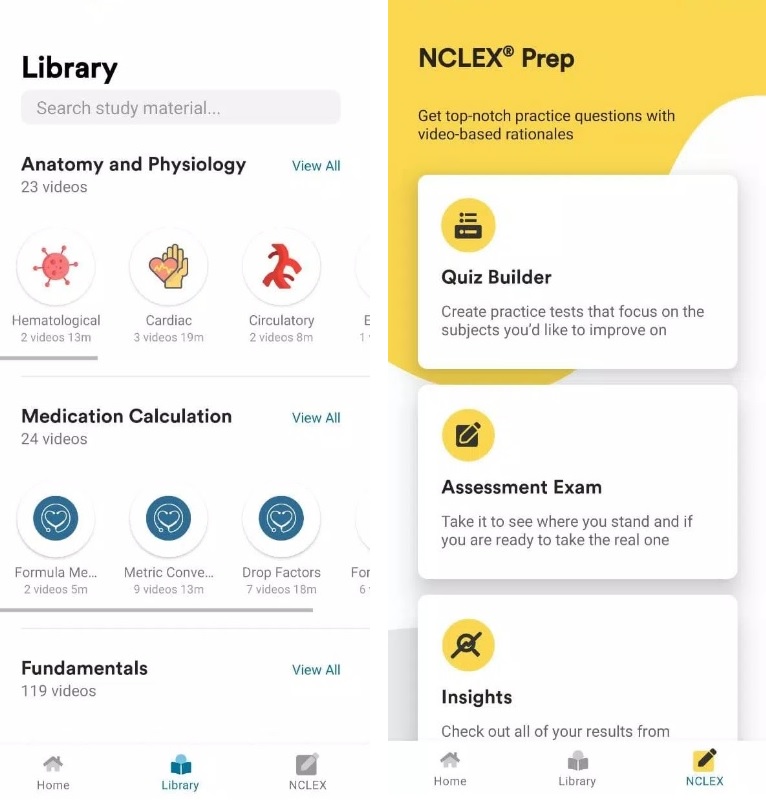 UWorld NCLEX
UWorld NCLEX is an app that practically stores the best NCLEX courses in one place.
The main claim of this app is to give you the same level of exam preparation any course would have. And according to users' experience — it's not that far from the truth.
The only difference is you need to push yourself into studying by yourself. The app covers more than 2000 NCLEX questions and more than 30% alternative SATA items.
Furthermore, the app gives detailed explanations for all the questions you get wrong. Therewith, you get to save those answer cards to your account for easy access. The app also contains multiple medical images and charts that help you to learn the material easier.
It also needs to be said that the app gives detailed statistics for each session you go through as well as for your overall progress.
You get to view the stats on your profile page and the app can even predict if you'll most likely pass the exam or not. There is a pro version in this app but the free one is more than enough for successful preparation. The app can also be reached without the internet which is always great.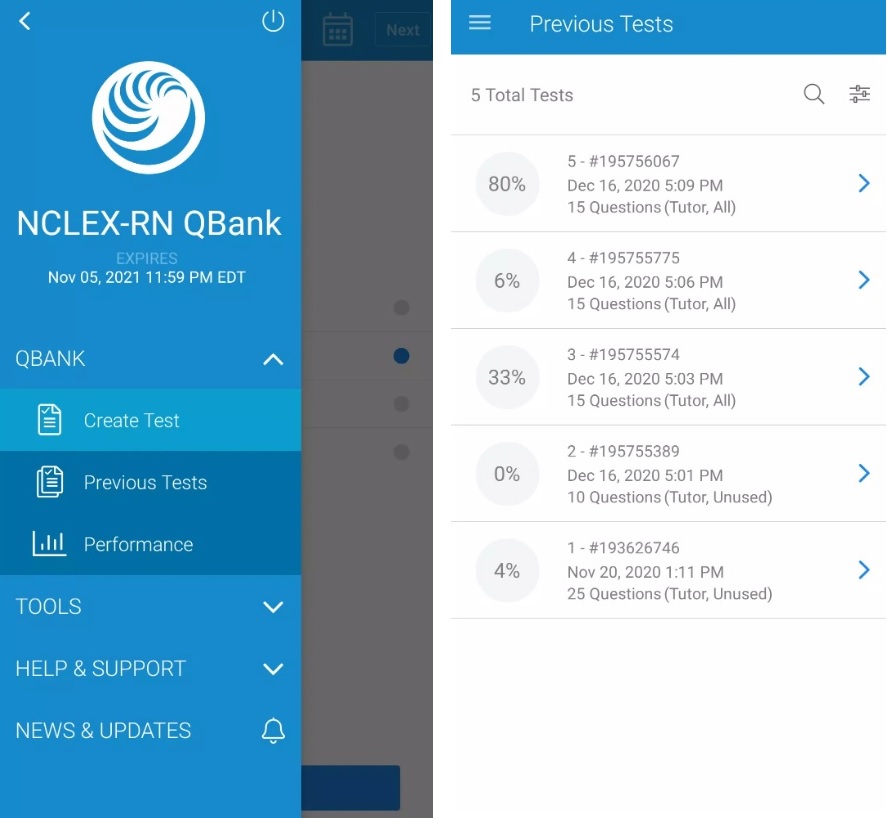 You may also check: 11 Best Medication Tracker Apps for Android & iOS
Nursing School Prep TEAS HESI
As its name suggests, Nursing School Prep is a service that empowers you to prep for your nursing exam on your own.
Along with its sister apps, this one also enables you to practice questions that may be included in a real-life exam. The app covers an enormous bank of questions from seven nursing exams so you can be sure that it covers every possible topic.
You also get to filter the questions to only see the ones for the NCLEX. Above that, the app gives you detailed answers to every single question from the text so you will have the ability to work on your weak points.
Plus, the app has several learning programs that basically generate the learning time according to your lifestyle. Thus, you will get notifications when it's time to go do a learning session.
And just to keep you motivates — the app will give you virtual rewards for regular studying and good results.
Besides, the app will track and analyze all the sessions you went through to show your exam preparation level. You can also compare your results with the ones of other people to remind you not to get off the learning course.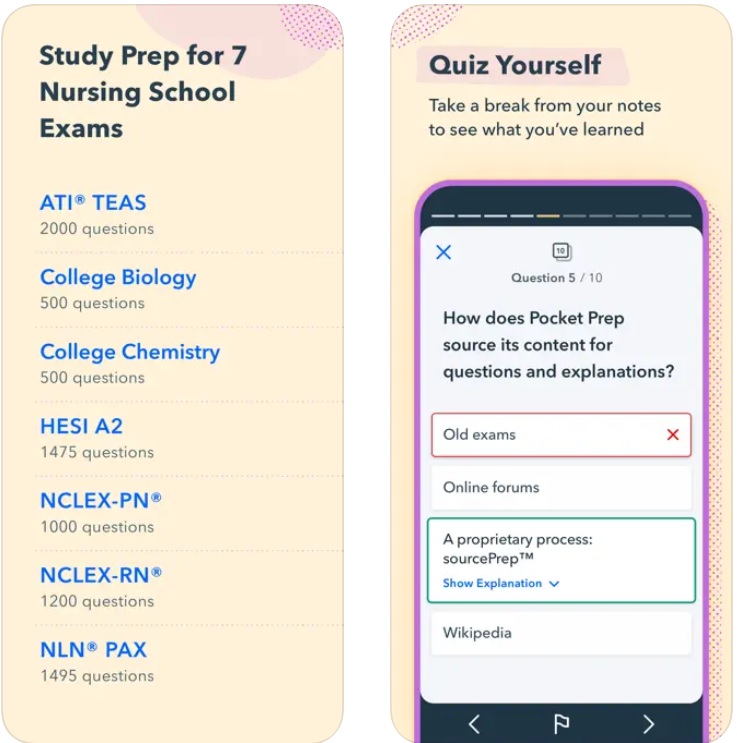 epocrates
Epocrates is another app that helps nursing students and nurses to not lose their minds while prescribing medicine.
In the first place, you need to keep in mind that this is not an NCLEX preparation app specifically. Although the app can be extremely helpful if you have learning gaps in the medication part of the exam or you just don't understand the drugs. So as you can already guess — there are no tests in the app — only practice.
And if you need an app that covers all aspects of the medicine — this is not the one you should go for. Let's go for the features of this app.
First of all, the app has monographs for Rx and OTC medication with all the details and warnings. Plus, the app has a built-in drug interaction checker that will help you to prevent potentially harmful drug combinations.
Next, this app works as a pills identifier — all the pills are arranged by color, shape, imprint code, and so on. Besides, there are more than 600 dose calculations and equators you can use. You even get to use this app to check drug coverage for more than 7000 insurance plans in the US!


Picmonic: College, Pre-med, MCAT, Biology, Anatomy
Picmonic is an app that aims to aid your learning and get you fully ready for the exam. This app covers mnemonic vids and a handy learning program that is based on spaced repetition study. This program means that you can prep for your NCLEX via short sessions that can be easily incorporated into your day.
Plus, if you get any question wrong you will be able to view the right answer and then you'll get this question again and again till you memorize it.
You can also add the answer card to your account for easy reaching. What is more, the app covers more than 10000 questions so you will be able to study all the topics and aspects of the NCLEX exam.
As for the videos that were mentioned below, there are more than 1000 options as well. Most of the bids are only accessible with the pro subscription but you can watch several ones go for free too.
Besides, the app tracks your score and analyze every session you're coming through. Thus, the app can predict if you'll pass the exam or not and show you all your strong and weak points.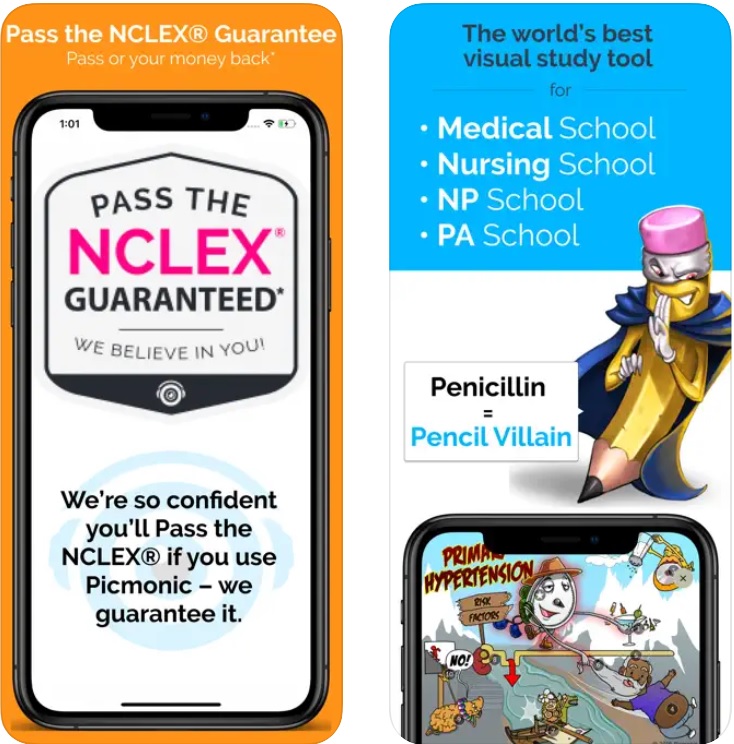 You may also check: 11 Best symptom checker apps for Android & iOS
Saunders Comprehensive Review for NCLEX RN
And lastly, Saunders Comprehensive Review is an app that provides you with everything you might need to prep for the NCLEX.
This app is fully dedicated to the NCLEX exam and it is basically a complete review of more than 6000 NCLEX questions.
Thus, this app is actually based on the print book for NCLEX prep that is often called the best exam review ever. But this app is way more helpful than its printed versions cause it has an amazing learning program.
The study mode of this app empowers you to gradually move through the questions during short sessions. Therewith, you get to see the answer to every question with just one tap. Moreover, you can mark the answer cards you're most interested in and they will appear in a stand-alone folder.
Besides, the app also has a timed mode that is you to think and answer the questions faster cause the clock is ticking. Every session you go through in this will be analyzed and you get to view stat reports on your studying. The app can also run offline so you can study wherever you are.