Wanna know the exact shade name of your skin tone? This article has you covered!
There are lots of skin tone detection apps for Android and iOS that will help determine your skin tone without much effort. These apps use your phone's cam to scan your skin and determine its tone so you won't need any extra tools for that. Plus, each of these apps comes with extra tools like skincare recommendations, your personal color palette, or the perfect foundation match.
In case you're into cosmetics and skincare, check out this article: 11 Best cosmetics & beauty apps for Android & iOS
Here's the list of the 11 best apps in that category you should try. Have a look!
My Best Colors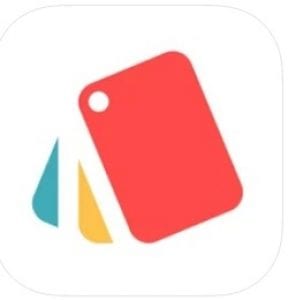 Let's start with an app called My Best Colors. This is an app that can determine your skin tone and figure out the appropriate color palette for you.
First of all, the app uses your phone's cam to scan your face and point out your skin tone. The whole process literally takes seconds so you won't have to wait long. The only trick there is to do the scanning with good natural lighting to avoid any possible mistakes.
Once the scanning is done, the app will point out your skin tone and give you a recommendation on the colors you should wear.
Besides, the whole app is based on the twelve-season color palette so you can be sure that it will pick the one that suits your skin tone the most. It also needs to be said that the app considers your hair color along with skin tone so the recommendations are not that random.
The color palette that suits you include several groups of colors — the best one, a complementary one, a neutral one, and so on. Furthermore, you get to view the best share of lipstick and eye shadow for your skin tone and appearance. The app can even pick the best options of fabrics that should look complimentary to you.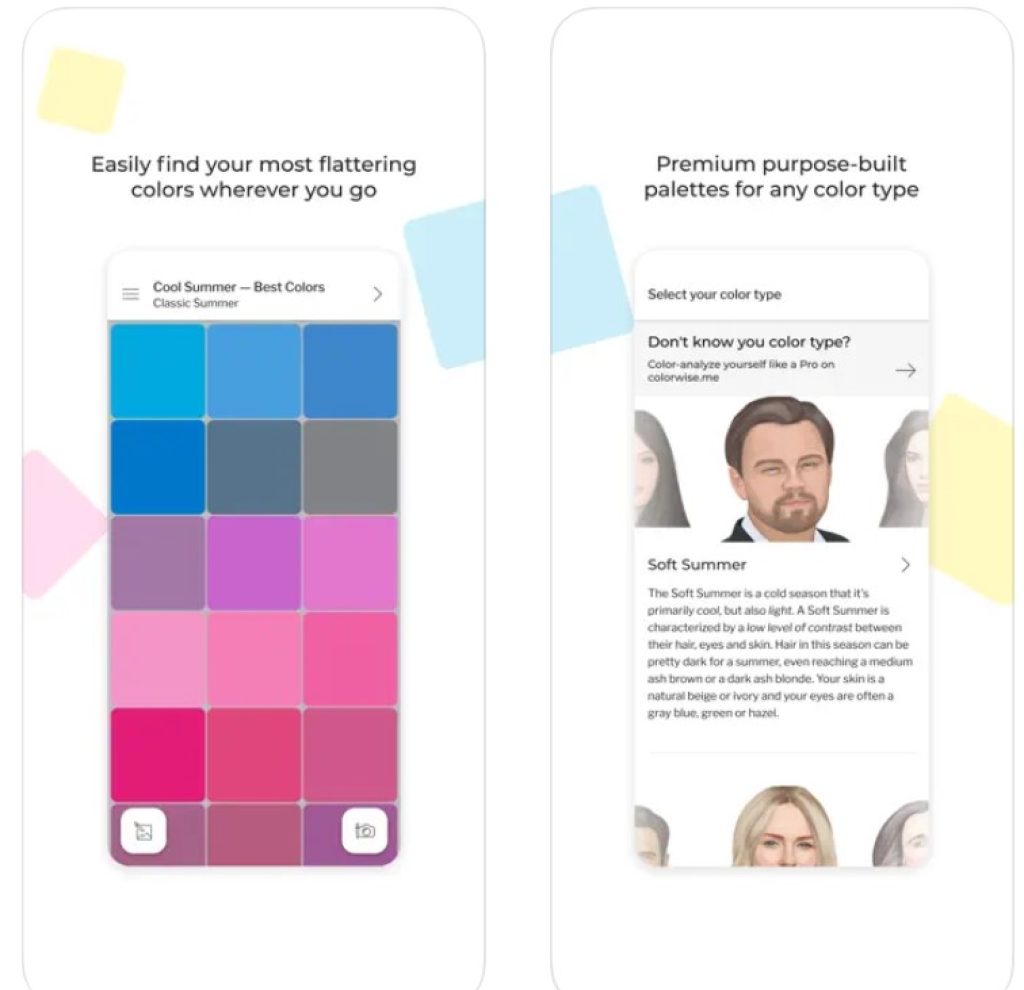 You may also like: 9 Best Skin Care Apps with Daily Advices (Android & iOS)
Color Grab (color detection)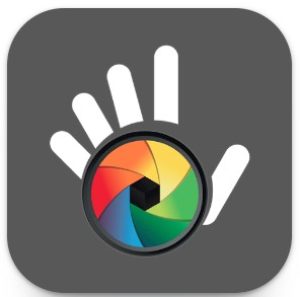 This is not exactly the app for detecting the tone of your skin, but you can surely use it for these purposes.
First of all, this app seems to be working and more or less capable to detect the colors of things. All you have to do is to point the camera to an object and then it will detect the color automatically.
Therefore, you can point this camera to your hand or face, or any other body part – and it will detect the skin tone. The interface of the app is a little bit difficult to use, however, after a while, you will be able to figure things out.
Moreover, if your goal is just to detect the skin tone you won't be willing to dig deeper in the app to figure out how to blend the colors, match them in a palette, etc.
Or, you can select the picture from your phone's gallery, point the detector to a certain area of it, and then Color Grab will detect the color.
And you can always save all the detected shades and colors to a new palette – in case you need that. If the quality of the image isn't good enough – you can adjust it right in the app so Color Grab could better detect the tone.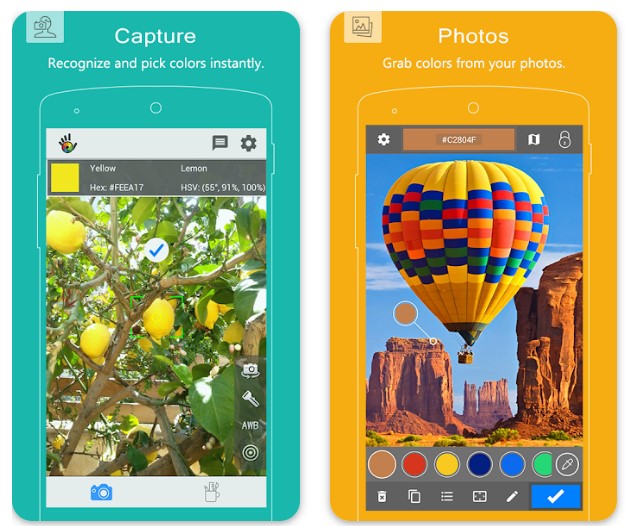 Show My Colors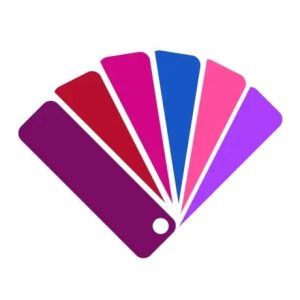 Use the Show My Colors app to look your best every day. With minimal effort, you're guaranteed perfect results. Create a complete look for any occasion, and find the perfect look for every day. Be the center of attention with Show My Colors.
Choose from a huge range of color options. You will see how the selected closet elements match, find the right shade for accessories, and do the best makeup of your life. The app keeps up with fashion trends so you can keep up with the times.
No more trying makeovers and tedious trips to stylists. Everything you need is in one place. Just answer a few test questions to speed up your palette selection process.
It's easy to learn how to pick the color that's right for you. Be as natural and attractive as possible without difficulty. The next time you're in the store, you'll save a lot of time picking out things that fit your color type.
The app contains a description of each of the 4 color types. Professionals in the beauty industry share their insights and up-to-date tips. Install Show My Colors and create your own unique look today.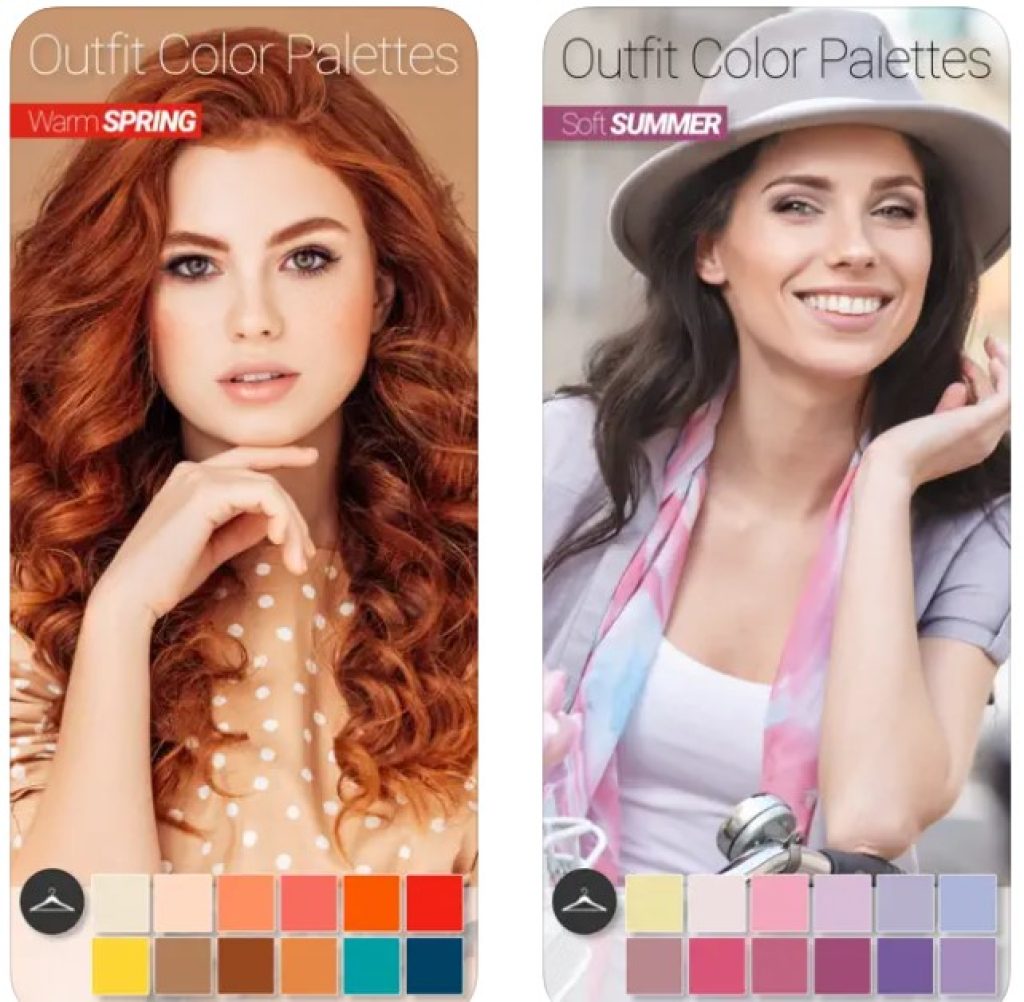 Mary Kay® Skin Analyzer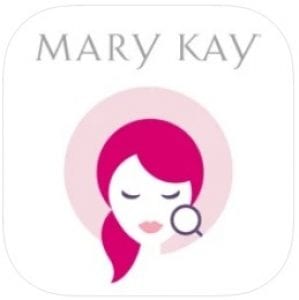 Mary Kay Skin Analyzer is an app that will give you detailed reports on the condition of your skin.
Like all of its sister apps, this one uses your phone's cam to scan your face and analyze it further.
Therewith, the only thing required of you is to use a scanning tool with good natural light to avoid any kind of inaccuracies. Along with the scanning, the app will compare your skin to 80,000 other profiles from its base.
Once the scanning is done, the app will tell you your exact skin tone and some others along with it. To be more precise, the app uses smart virtual tech to basically go beyond your skin surface and determine its condition. Thus, the app will mark all the aging signs, uneven skin tone, skin texture, and stuff.
You will be given detailed reports that cover everything you might need to know about your skin — from its tone and warmth to any possible imperfections.
Beyond that, the app will give you recommendations on how to take care of your skin properly. Although you will be offered Mary Kay products as possible skincare you won't be forced to buy anything and can just take the recs into consideration.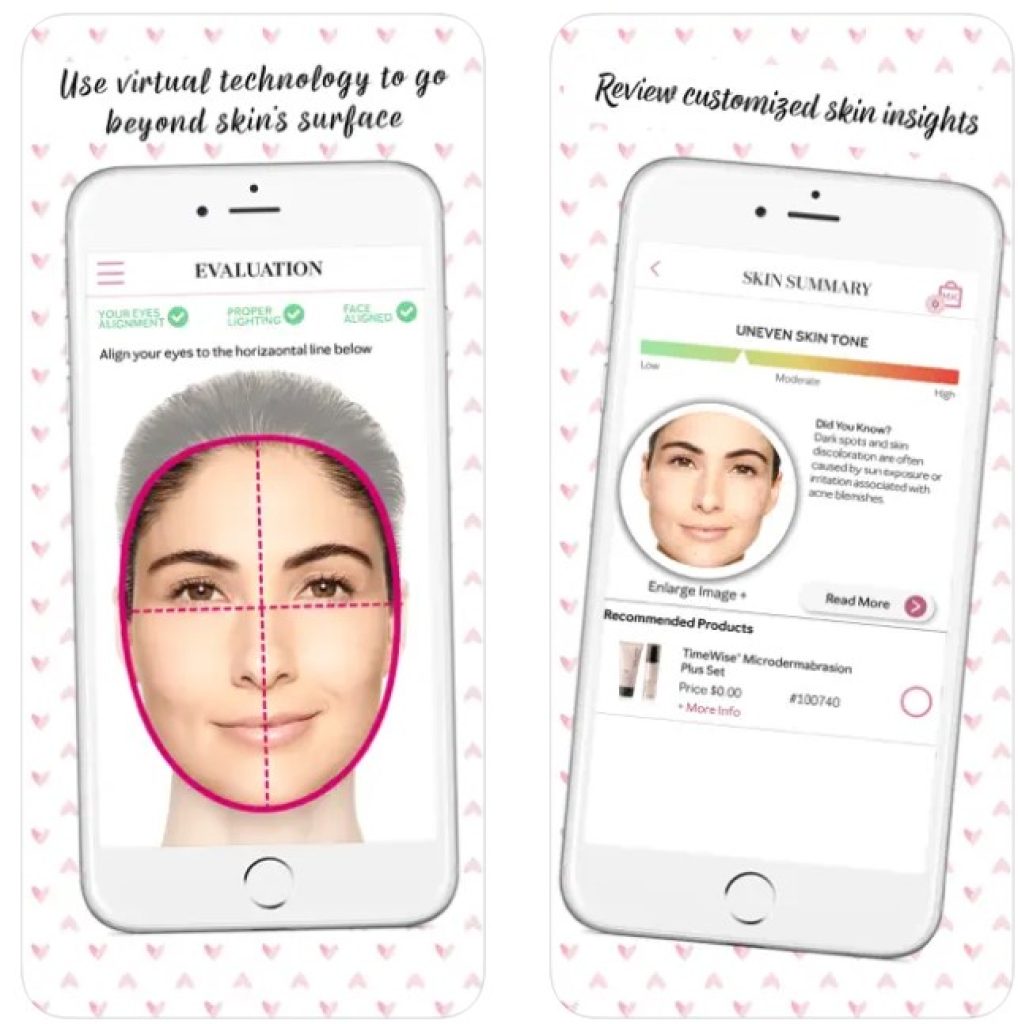 Dressika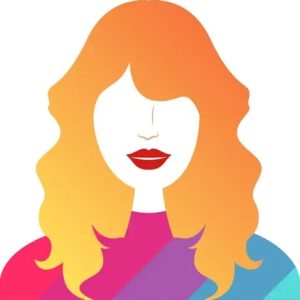 Standy Soft offers to your attention a new mobile app for those who appreciate style and natural beauty. Dressika allows you to look your best in any situation.
No more consultations with paid stylists, hours of shopping malls in search of the perfect clothes. Try on outfits online and save real money.
Upload a gallery photo and take selfies to determine your color type. It's important that the photo is of good quality. The app will scan the image and give you the result in a few seconds. Knowing your color type will make it easier for you to choose a color palette for your closet.
If you do not like to shop, Dressika will help you. You choose your closet and make-up in a virtual mode and then make a smart and useful purchase. You can save and share those images that suit you with your friends.
The mobile app offers 120 shades for clothes and 70 for makeup for each color type, to cover the entire palette. Besides, you can add the desired shade yourself using the color wheel. Don't waste your time and money – use Dressika for smart shopping.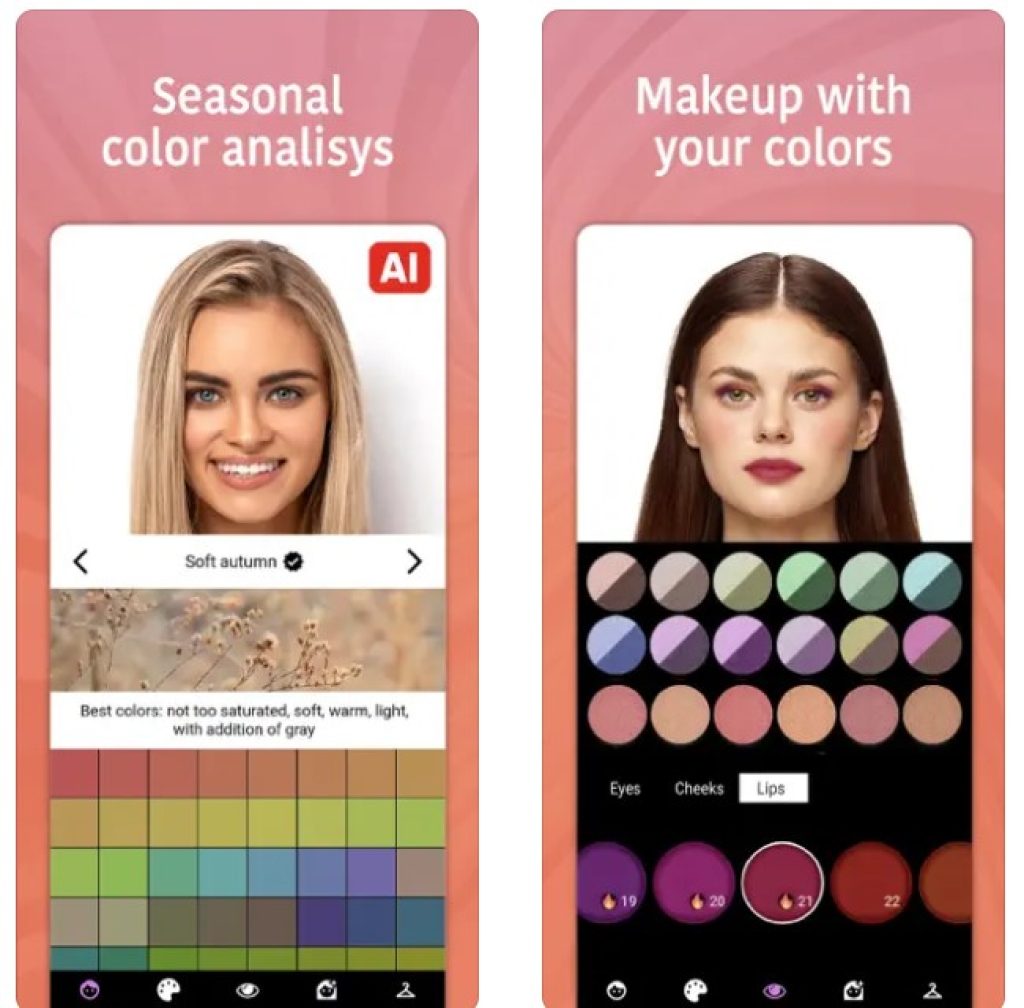 Check also: 11 Free Apps to Change Hair Color on Android & iOS
Medgic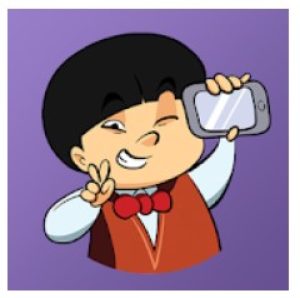 This app was developed more for detecting skin problems, but you can use it to detect your skin tone as well. After all, skin tone has a lot to do with our health and the state of the skin.
The app itself is lightweight and simple. When you launch the app you click on the camera icon and take a picture of a spot on your skin. Then, the AI will analyze its state and will provide you with the results. If there are any problems with it, the app will compile a list right under the picture.
For example, if you have acne, the app will notice that or any smaller imperfections. Medgic is really good at detecting various kinds of pimples and acne. After you have analyzed your skin, Medgic can give advice about how to heal the pimple.
And though the interface of this app is quite plain, its AI works decently and you can actually detect all the problems of your skin.
Moreover, Medgic can recognize dry, oily, saggy, etc. skin and suggest you the solution for those problems. Many users use this app to detect the state of their moles. Overall, Medgic is made not exactly to detect your skin tone but to evaluate the health of your skin in general.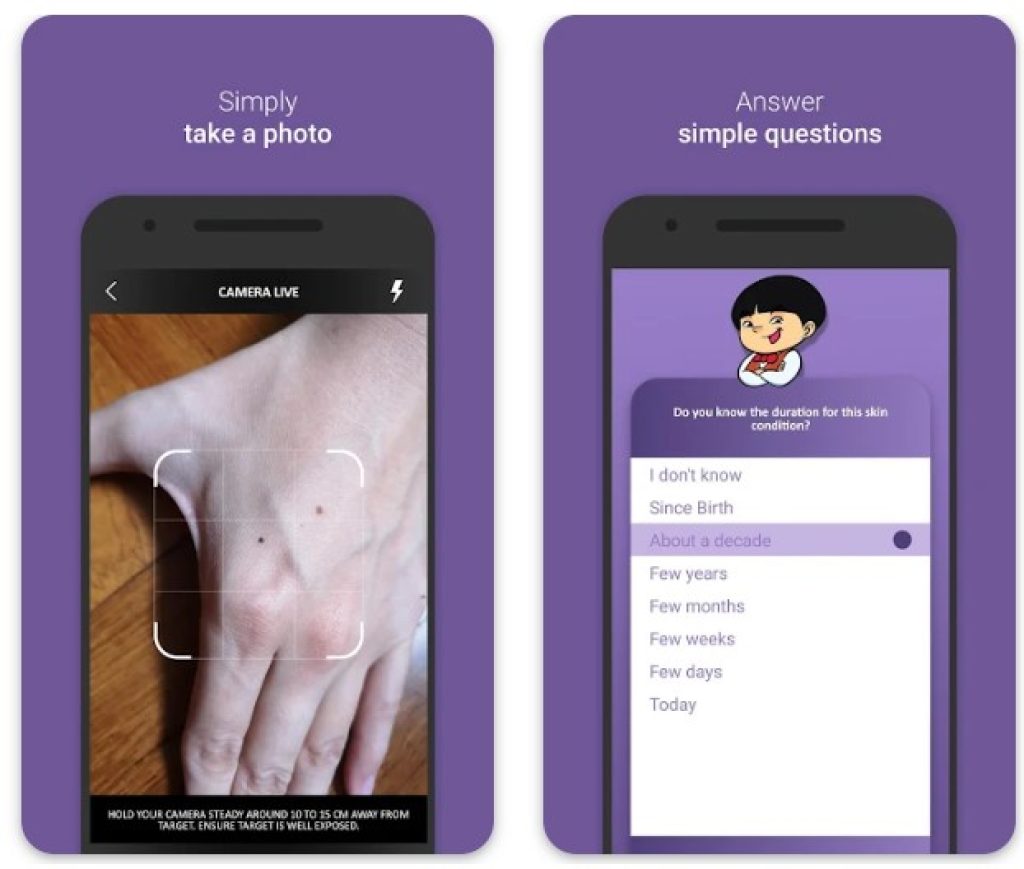 Color Detector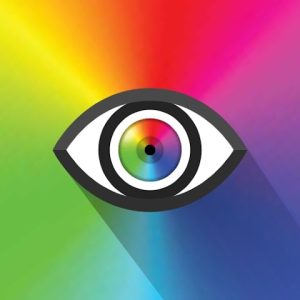 The mobile app Color Detector is so colorful and bright that it's simply impossible to look away. The mobile detector allows you to find all kinds of shades of colors in a photo or downloaded image.
You are offered a palette of 1000 shades and colors. Point to a specific spot in an image and the detector will automatically give you the result.
You can use both the front camera and the zoom camera to take photos. Instantly see exactly what color an object is colored in. Zoom in for a more detailed analysis. The app is great for original and creative people. It can be used as entertainment or as a study assistant.
The developer is serious about the security of each user's personal data. To work in the app, you must give your consent to the processing of uploaded images and access to the camera.
Color Detector works on all kinds of electronic devices with Android 4.4 or newer installed. Use the help of this app to make your work brighter and more enjoyable.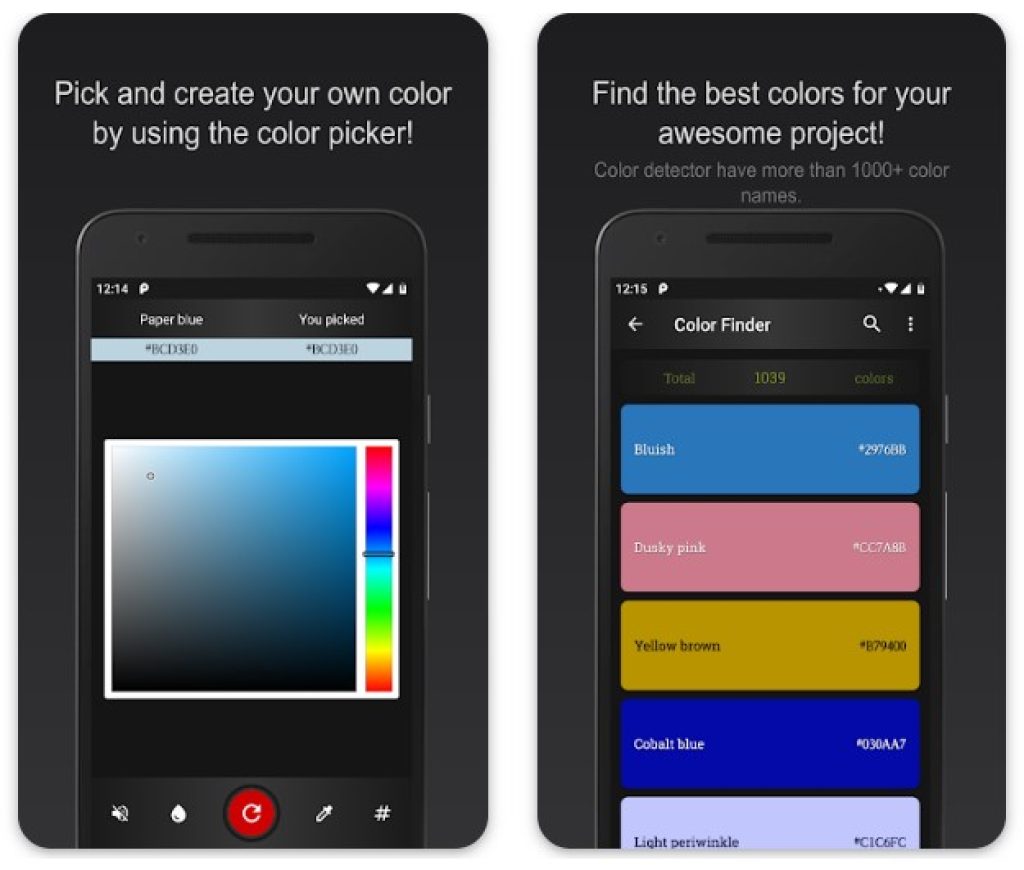 Microskin™ ColourMatch – Skin tone matching app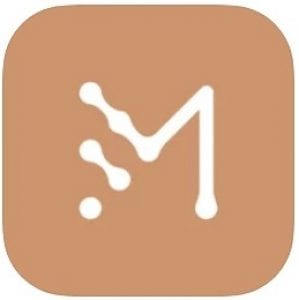 And lastly, MicroskinTM ColourMatch is an app that can determine your skin tone without much effort from you.
It needs to be said, there's an instruction page on the home screen of this app so you can view all the steps on how to use it properly. The main purpose of this app is actually to help you get a march of Microskin foundation but nobody forces you to do that.
Moreover, there are lots of websites that can pick your foundation color according to the shade of another brand. So you can use this app as a base for your foundation shade search as well. Speaking of the scanning itself, the app uses your phone's cam to determine your skin color.
But the first step here is to balance the lighting by scanning a piece of white paper. This step empowers the app to come up with more accurate results.
Therewith, it's not necessary to use the scanner on your face you can scan any part of your body. The only trick here is to make sure you're doing your scanning with good lighting to avoid any kinds of mistakes and mismatches.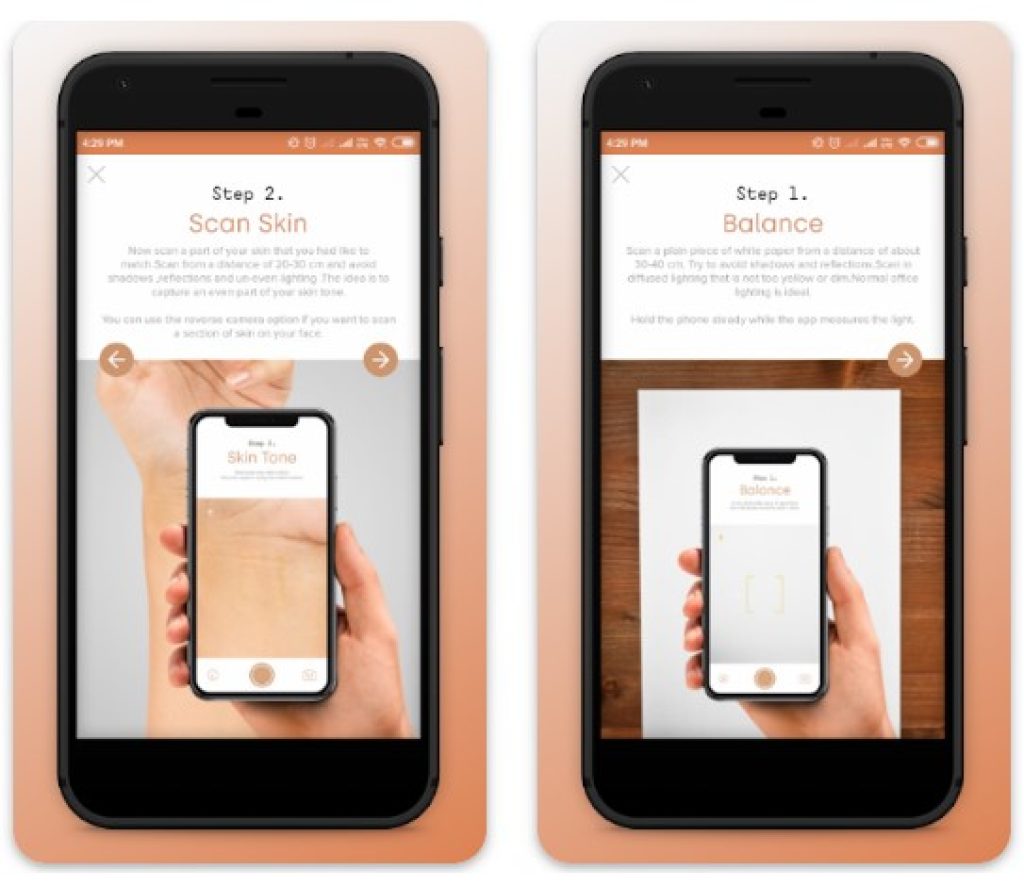 Skin Tone Booth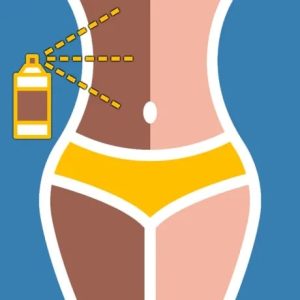 Skin Tone Booth allows you to quickly and accurately identify and change your skin tone to one that is right for you. As a counterpart to expensive programs, this mobile app allows you to get professional results in record time.
You can download it from the App Store. The app is designed specifically for iPad and iPhone models.
You can change the color of the skin on the uploaded photos with one click. The photo editor allows you to select individual parts of the body that need color correction. That is, each part of the body will have the desired shade.
Skin Tone Booth contains the functions of an editor program. Remove unwanted shadows, smooth out wrinkles, and remove all imperfections on your skin. Get perfect results with ease.
You no longer have to look for photo editors to take quality photos. This app has all the effects and tools you need. Make as many changes as you need for the perfect effect. A premium account allows you to enjoy the app without ads.
The app is great for both professional and home use. Just install Skin Tone Booth on your cell phone, upload a good-quality photo, and enjoy the perfect result.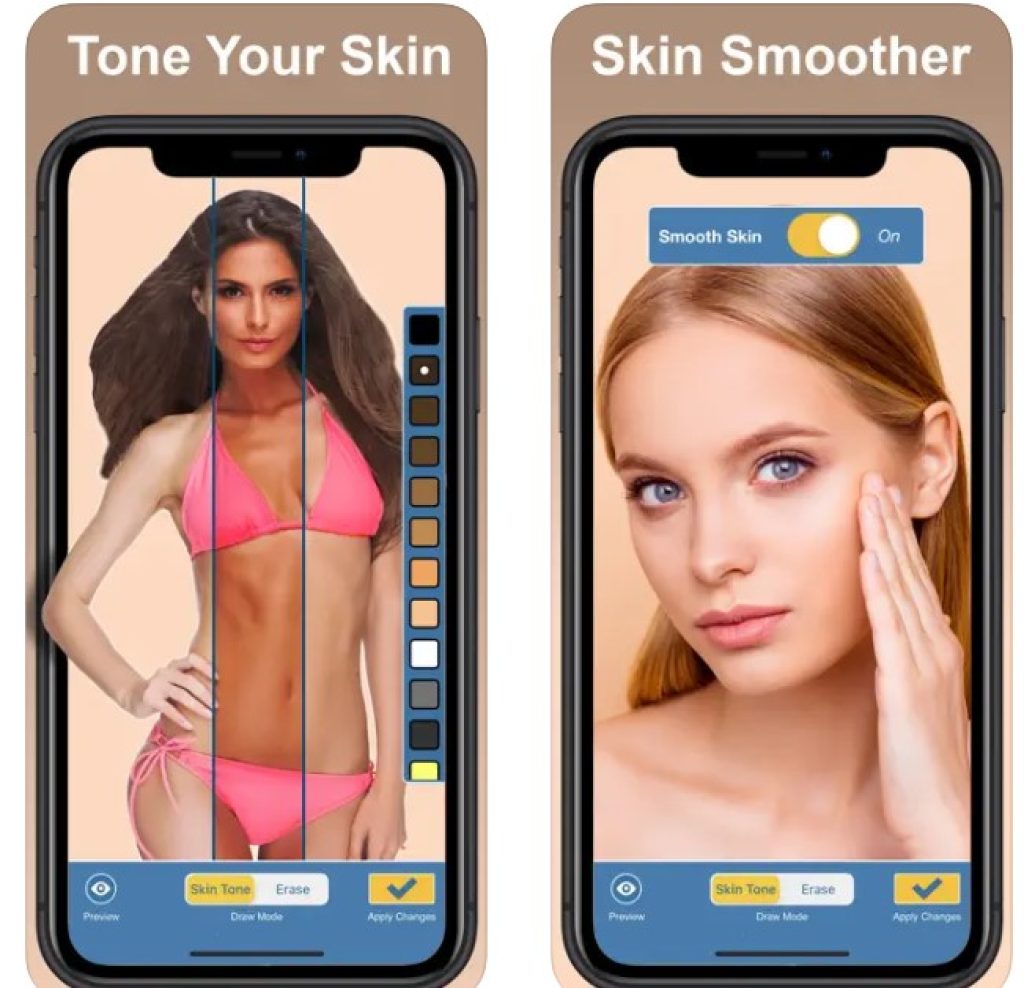 Unotone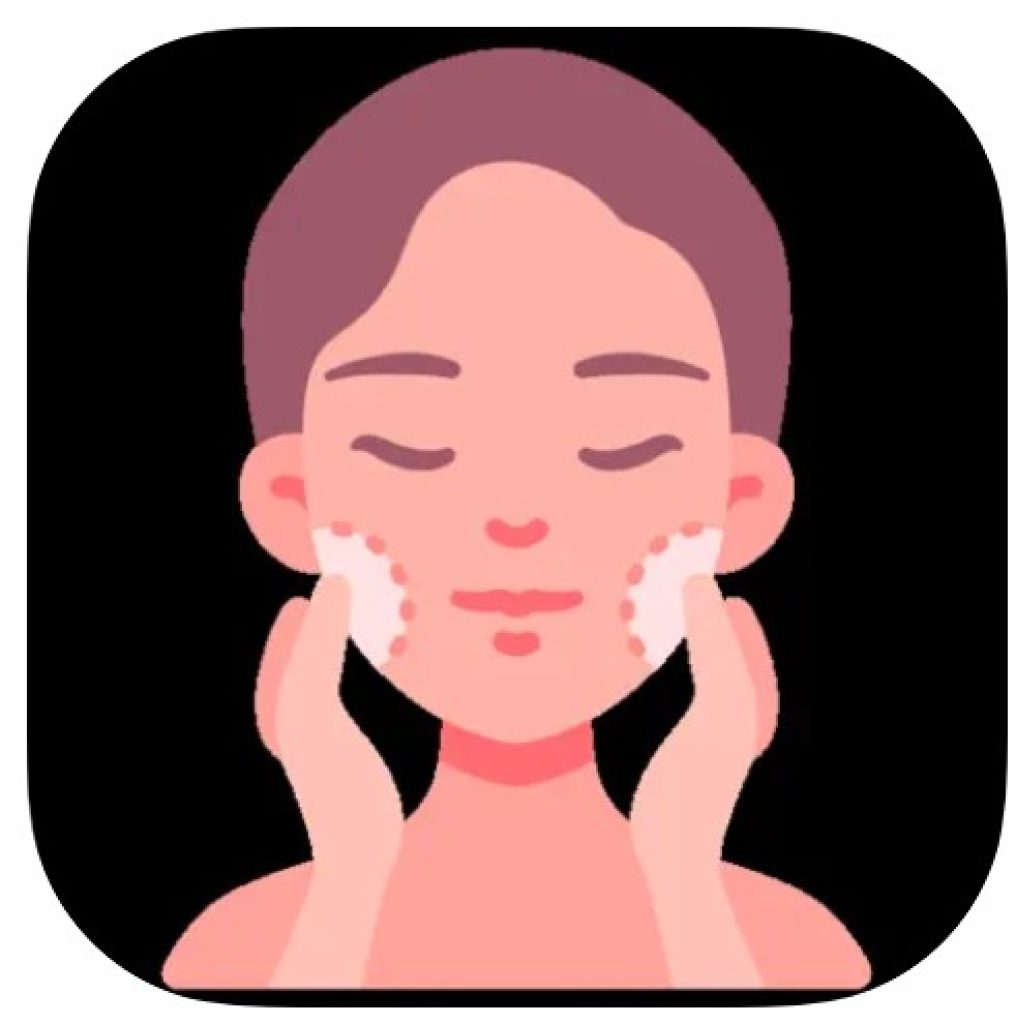 Unotone is mainly a make-up app and it also helps users to detect their skin tone. It's not the most popular app in this category, but let's give it a chance.
The app works by taking a photo of the user's skin and analyzing it using a sophisticated algorithm. The app then provides a comprehensive report on the user's skin tone, including information about melanin levels, UV sensitivity, and skin health.
One of the main features of the app is its user-friendly interface. The app is easy to use and provides clear and concise information about the user's skin tone. Users can also track changes in their skin tone over time and receive personalized skincare recommendations based on their skin type.
The accuracy of the information that Unotone provides can be questionable sometimes, but it's a common error among this type of app.
And some users complain about issues with the app's user interface. Some find it difficult to navigate, while others have reported that the app crashes or freezes. It mainly depends on the type of your device and the overall compatibility if Unotone will work well for you.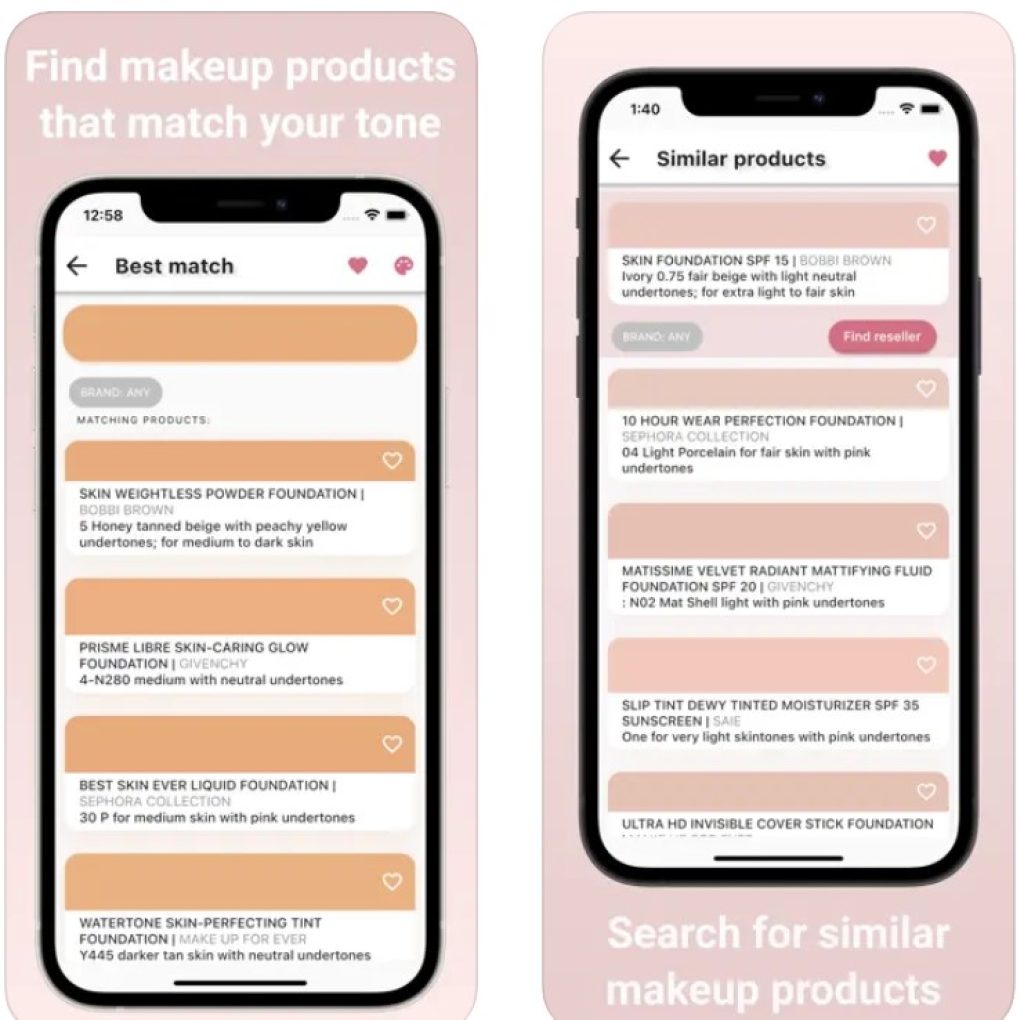 You may also check: 10 Free Selfie Filter Apps for Android & iOS
Plan YOUR TAN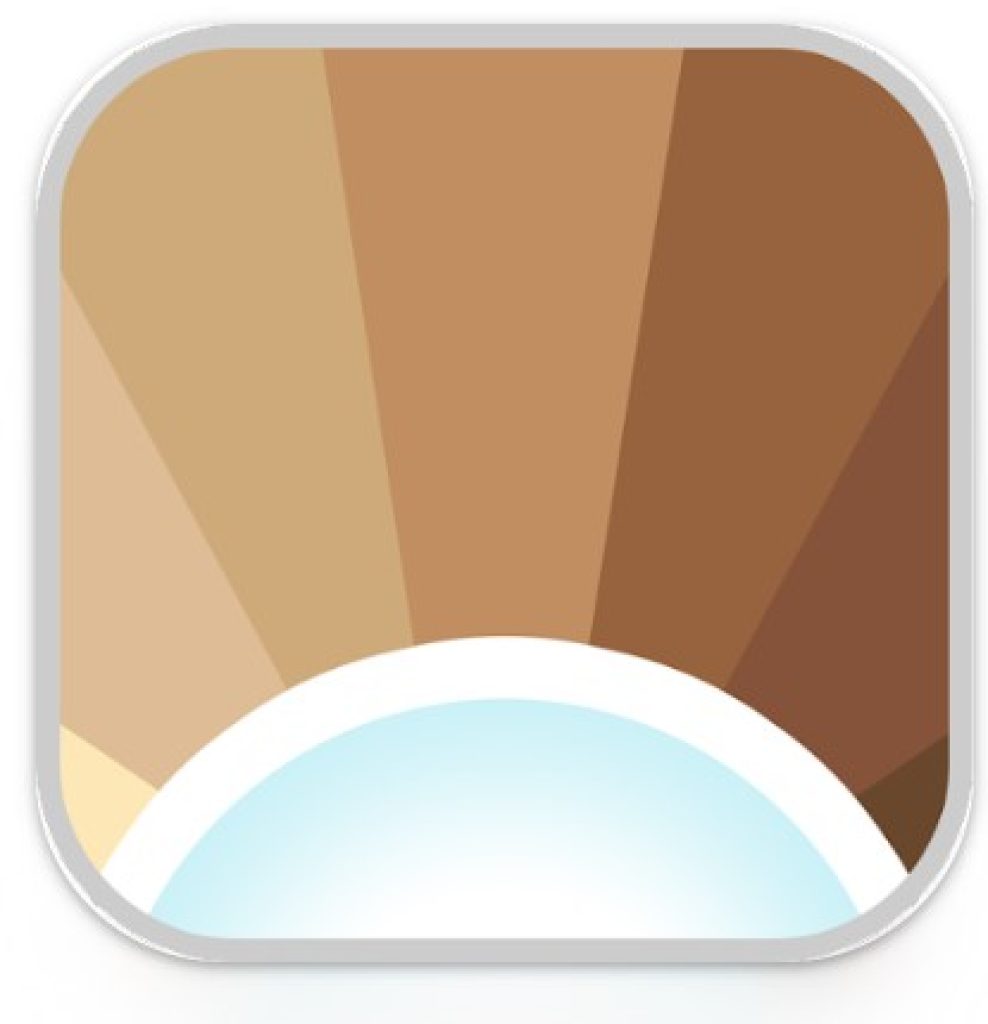 Even though this app mainly aims to help you to find the perfect tan tone, it can also help you to detect your original skin tone and look better in perspective.
You will need to fill in the questionnaire so Plan Your Tan can give your recommendations. The app then provides recommendations on tanning time and sunscreen application based on the user's skin type and the UV index of their location.
The app also features a timer that allows users to set their tanning time and receive notifications when it is time to reapply sunscreen or seek shade. The app also provides information on the dangers of UV radiation and tips for staying safe in the sun.
The interface design here is average – it's not difficult to use, but there is a feeling that it's lacking originality. And there are also complaints about the accuracy of Plan Your Tan, and there is a feeling that the recommended tanning time was too short or too long.
In general, this is a useful app for those who want to stay safe in the sun and avoid sunburn. It doesn't do the best performance in terms of detecting skin color, but it provides some useful tanning tips, so you might be interested in those if you plan to tan.