Today more and more people care about the world of money. However, it's not a simple thing to do. You have to stay informed and get new information regularly.
Sometimes it is too hard to monitor the real-time prices. To do it, you'll need to visit sites a few times a day. This requires discipline and time. However, there are many other ways to stay informed.
The best option is to get a good real-time stock price application. That's why we decided to create this article.
By the way, if you want to start investing your money, make sure you read 11 Best Investment Apps (Android & iOS).
Here you'll find perfect apps for iOS and Android users.
Yahoo Finance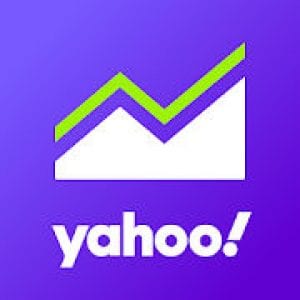 Let's start with the most popular and highly rated applications. If you are keen on finance and the economy, you probably already know about Yahoo Finance. 
Why do we recommend that you download Yahoo Finance on your smartphone? It's all about its wide range of functions: 
Follow the news

. In the world of money and stock, it is vitally important to keep up-to-date, or you will simply make mistakes and lose your money. With Yahoo Finance, you can personalize your news. To do it, choose your favorite topics and subscribe to them. For example, you can go for stocks, the world economy, and analytics. Yahoo will remember your choice and sort the news.

Read about stocks

. There is a huge number of great articles created by professionals. We recommend that you read it before you do any operations. 

Enable notifications

 if you are aimed at monitoring prices on the market. When the price rockets or falls down, you will be notified. 

Create your portfolio

. This is a profile that contains many details about you, such as your preferences and interests. If you install Yahoo Finance on multiple devices, the synchronization will be performed automatically. You can also edit your web portfolio at any time.

Enjoy detailed information

 about stocks and finances. There are great tips on working with currencies and monitoring the prices. 
These features are available for free. You can enjoy them once you downloaded the app and created an account. Please note that the app wi;; collect data about you, such as your contacts, purchases, and location. However, most pieces of data won't be linked to your identity.

The size is about 100 MB, which isn't too big for such a big portal.
However, if you still lack functions, you can always try Yahoo Finance Plus. If you upgrade, you'll be given a bunch of exclusive tools. 
Download the app on the App Store or Google Play and start monitoring the stock today.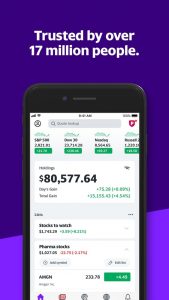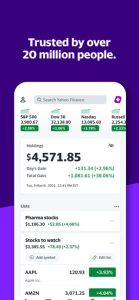 You may also like: 9 Best NFT Crypto Games (Android & iOS)
Investing.com Stocks & Finance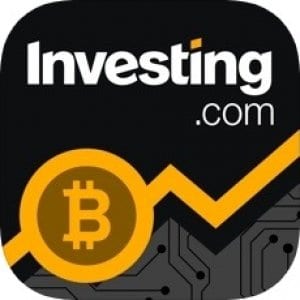 Here is another reliable service for people involved in economic activities. If you monitor prices on the market, check the currency, or work with stock, you can't do without Investing.com. 
We recommend this application for investors and traders. Investing.com will also become a perfect tool for students who specialize in economics. 
Let's take a look at the best features of the app: 
The service will provide you with 

real-time stock prices

 and many other important metrics. If you need to stay informed about the prices, make sure you enable alerts. This will help you not to forget to monitor the app. 

Create a portfolio

. If you are an investor, this is the most important function for you. Choose your favorite financial instruments and add them to your portfolio. To keep order, create a watchlist – all the things you monitor will already be there. This will save you time and energy. 

Detailed and clear analytics

. You can't do without important data. What you need to do is to analyze the trends. This simple action will ensure that you won't make serious mistakes and therefore won't lose your money. 

Keep in touch 

with your friends and business partners. You can share your profile via LinkedIn, WhatsApp, Twitter, or Facebook. You might also export some reports or pieces of data and download them on your device. 

Check the global indices

. If you work on the stock market, you will find the option perfect. 
This is just a small part of the functions available for free. The app has a pretty high rating – 4.7 out of 5. 
Please note that the app is very big – it will require at least 236 MB of phone memory. Many users complain that the service works slowly at times. 
Unfortunately, there are many ads popping out of nowhere. If you find it too irritating, go for in-app purchases. Removing
The app supports various languages, such as Italian, Spanish, German, Arabic, Chinese, and many others. 
You can download the app for free. Both Android and iOS users can get it.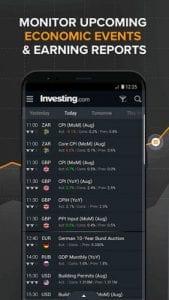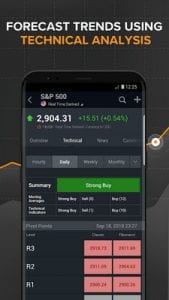 Bloomberg: Financial News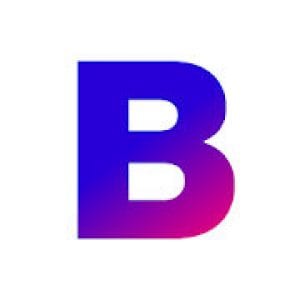 It's high time you started studying global business news! Not only does it broaden your horizon, but it also helps you deal with money wisely. 
Bloomberg will be a perfect solution for you if you like to: 
Work with currency

, including bitcoin. There are cool articles and tips on how to deal with it. This will also come in quite handy for those who study economics at school or university. 

Monitor stock positions

. This option will be the best for those who want to invest their money or simply find out more about this sector of the economy. 

Create a watchlist

. This is a great place to store your favorite topics, such as currency, stocks, and funds. It will save you time as you won't spend long minutes sorting the information

Get information in different forms

. If you don't feel like reading, it's ok – you can always listen to the news or watch cool videos. There are great podcasts, which give you information on the go. 

Save your favorite content

. If you like some articles or videos, you can download them on your device or save them in the app. In this case, you won't need to have access to the Internet. 
These functions are free for the first 30 days after you download the app and create an account. After this time, you will have to pay 34.99$ per month to keep your access. 
Bloomberg is available for Android, as well as iOS users.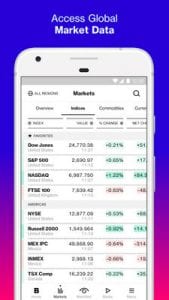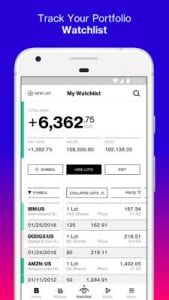 Webull – Stock Quotes & News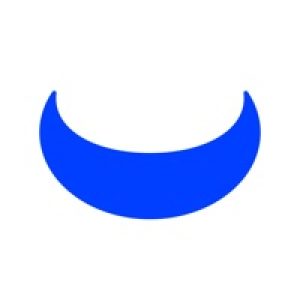 This is a great application for everybody. It doesn't matter if you are a skilled person who's keen on the stock market or you are just interested in this topic and not quite sure if you gonna continue. It will be equally useful. 
Let's look at the most striking features of Webull: 
The data provided by Webull is 

always correct and up-to-date

. You can fully trust it. Just get the necessary info, there is no need to check if the news is correct.

Create your profile

 once you download the app. The best feature is the 

portfolio

 – this is the best way to keep all your favorite topics in one place. There is a pretty cool feature: you can add notes and set alerts if you monitor stocks or currencies. This will help you not to forget about important issues. 

Customize your profile

. Don't neglect this feature, as it will make your experience more pleasant. Choose your favorite categories, and the app will sort the news according to your preferences. 

Enjoy smart financial tools

. This is the best option for beginners. If you know nothing about the market, visit this section first of all. You will find great tips on various topics. These tools were created by professionals, so you can rely on them. 

Try widgets

. This is a good way to display important data on your screen. These widgets can work in the application or be placed on your phone's display as a theme when you turn it on. 
The app supports various languages, such as German, French, Hindi, Spanish, Thai, simplified Chinese and many others.
Be the way, if you want to pay online without using cards, you should check 9 Best Online Payment Apps Without Credit/Debit Cards.
If you want more features, you can go premium. One month will cost you from 1.99$ to 2.99$ per month. 
Please note that the app will collect and link some data to you. It includes purchases, usage info, and finances. However, the developers claim they won't sell the data to others. 
The app is quite big, it will need at least 330 MB to be installed on your device. This makes it an impossible option for those who don't have enough memory.
Both Android and iOS users can enjoy this great service.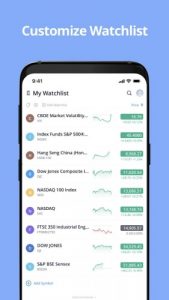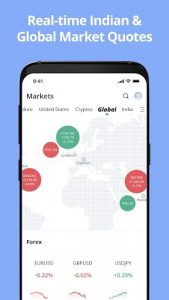 E*Trade Invest.Trade.Save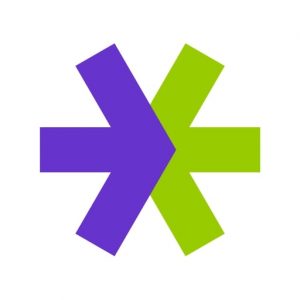 Do you want to save or invest your money? Or maybe you are just planning to invest the money you'll make later? Or maybe you are just keen on global market news?

If yes, E*Trade will be a pretty good application for you. The best thing about it is that it has multiple functions. You can make research, follow the news about the global market, or simply monitor currency. The app will be equally useful for all purposes. 
Here are the coolest functions you will explore after the download: 
Check the news and monitor the stocks 

on the go. If you have favorite topics, you can add them. In this case, you will see the news related to the topics you like most of all. 

Try investing

. Many people find investing too hard and are afraid to make mistakes that will lead to losing big money. However, if you follow the tips, it will be safe. There are many opportunities for financial education: watch courses, read articles and become smarter every day. 

Create watchlists

. If you want to check some articles or you simply monitor the market, this option will come in handy. 

Chat with other users

. You can ask questions or get a precious piece of advice. Don't be shy to ask for information and help others if you know the answer. 

You will 

always be secure

. This application is about money so others shouldn't be able to get access to your account. The app supports Face ID or Touch ID. This is the safest way to log in to your profile. However, we recommend that you use password as well. 
The only language available in the app is English. The size is about 165 MB, which isn't too big for such a huge range of functions. 
What is especially cool is that this tool is 100% free. There are no subscriptions and in-app purchases. 
You can get the app on the App Store or Google Play.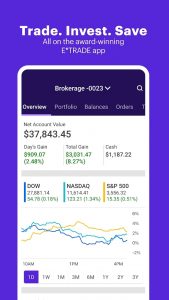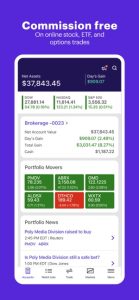 Stock Events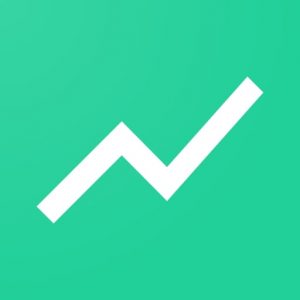 This is another great application for those who are interested in currency (including crypto), stock prices, and global economic news. 
This application is famous for its wide range of functions. Let's look at some of them: 
Portfolio Tracker

. This is the most powerful option if you monitor prices. Add your favorite items and track the changes. If you want to always be informed about the price changes, make sure you set alerts or place widgets on your display. 

Check calendar

. It can track your dividends or price changes. This is the best form of info representation. 

Your 

privacy is guaranteed

 by the developer. First of all, you don't even need to create an account. You can read articles, look through the news without logging in. What is more, you can be sure that the app doesn't track your location or any other data. 

You will like 

a friendly interface 

that will make your experience pleasant. 
These are the basic functions available at no cost. Should you need more, make sure you go premium. It will cost you 29.99$ per year.
Stock Events isn't too big for so many functions. You will need 86 MB of phone memory to install the app. 
Both Android and iOS users can download the application on the App Store or Google Play.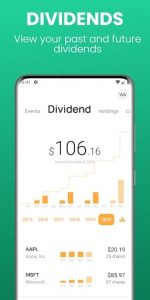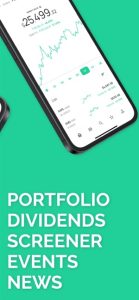 Stock Market Tracker
Do you want to monitor stock prices? If yes, Stock Market Tracker is what you need. This is a user-friendly and simple application, which will be the best solution for students and inexperienced users. 
This app is very popular among Android users thanks to its wide range of functions: 
Create your portfolio

 from scratch and start monitoring stock prices wherever you go. If you don't feel like spending your time, just set alerts and you will be notified about every change. If you need more than one portfolio, it's not a problem – create multiple ones. 

You will 

get correct quotes

 (Dow Jones, NASDAQ, and many others). This data will be checked and up-to-date. 

Set 

stock alerts

. This is vitally important if you are interested in stock price changes. You can add widgets to your display as well.

Read news 

about the US stock market. You will find what you need at the click of a button because all the news is divided into topics. Pick the ones you find more interesting. If you do it, the algorithms of Stock Market Tracker will understand your preferences and show you more news like this. 
The app has a pretty high rating – it is rated 4.6 out of 5 on Google Play. The size of the Stock Market Tracker is surprisingly small – it is 10 MB only. 
Most of the functions are free of charge. You can use them right after the download. However, there are some ads and in-app purchases that keep the content free. 
Unfortunately, only Android users can enjoy Stock Market Tracker.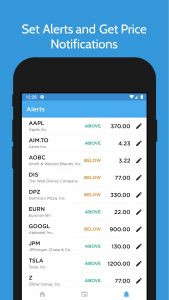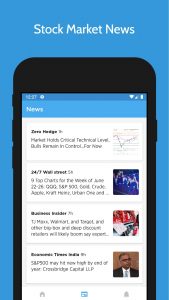 You can also check: 9 Free Money Apps for Kids (Android & iOS)