Sometimes people with active lifestyles accumulate too many tickets, trips, or tokens of any kind. You may forget that you have a paid document in your wallet for a trip to a neighboring city or a trip to the theater. You may also need other documents and the 11 Best document scanner apps for Android come in handy.
In such a case, it's worth keeping a little more careful eye on such details. We found the 11 Best Ticket Scanning Apps for Android & iOS for you.
TicketSource Express
If you live in the UK permanently or are going there for an extended period of time, you'll definitely need the TicketSource Express app.
It is a service that will help you scan all admission tickets and their electronic versions, mobile versions, and even documents. Of course, in order to use it, you will need to have the tickets that are sold on the TicketSource website.
In fact, the application will not only be a way for you to store and purchase tickets but also to distribute them. If you are the organizer of an interesting event or would like to arrange your own transportation, TicketSource Express will also be an assistant for you.
Both the site and the application are designed for users to work independently. So if you are an organizer or a person who is looking for interesting entertainment or event for yourself, you can use TicketSource Express service for this purpose and without any trouble.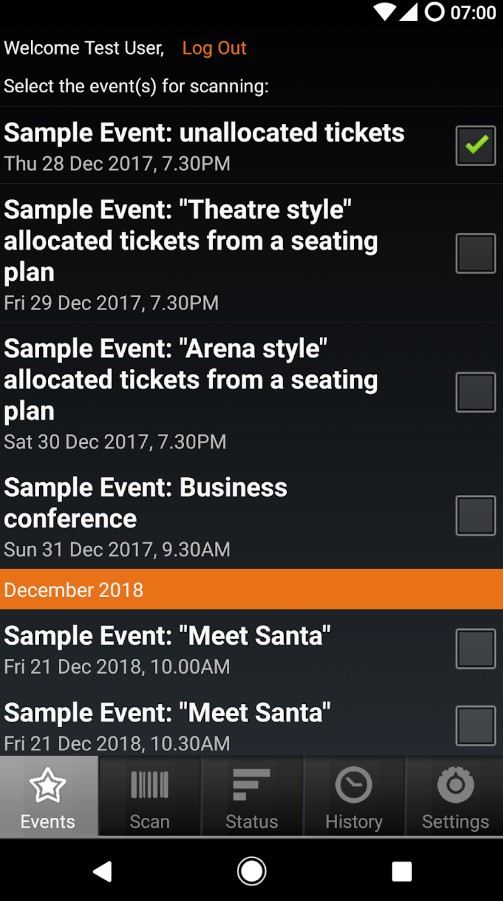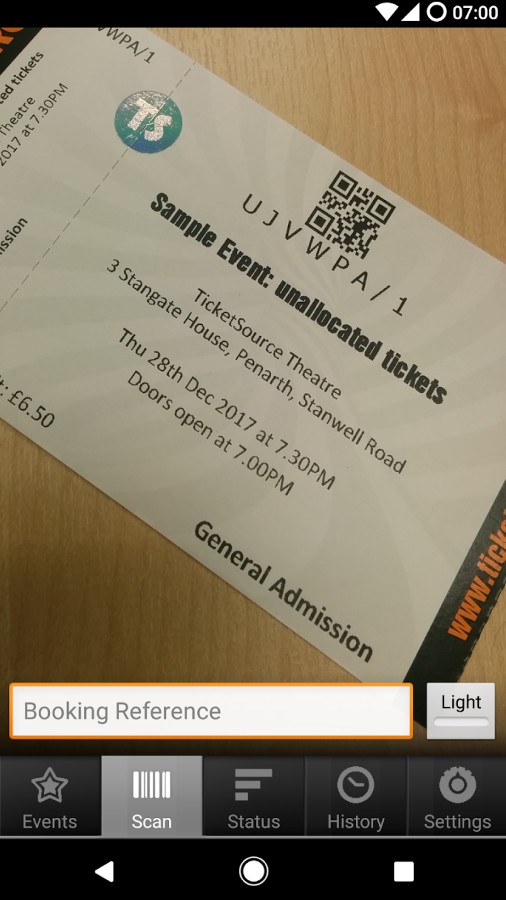 You may also like: 13 Best apps to create fake receipts & invoices (Android & iOS)
Scan Ticket | Receipt Scanner
You may have a lot of small paper receipts and documents in your wallet that you don't even keep track of. Chances are you just keep them all for a while and then just throw them away without even looking at them in detail.
Scan Ticket will allow you not to lose anything important and keep all such documents in your smartphone, making backups for the most important copies in your device memory or cloud storage.
Scan Ticket works like this: you bring the piece of paper you want to the camera turned on, and the app automatically detects the edges. You then determine if you want all the information presented.
Likewise, Scan Ticket can work with receipts or prescriptions, and at the end of the month provide you with a complete statement of your spending by category. You can change the brightness and contrast of the resulting scan, making it more convenient and clear for further viewing.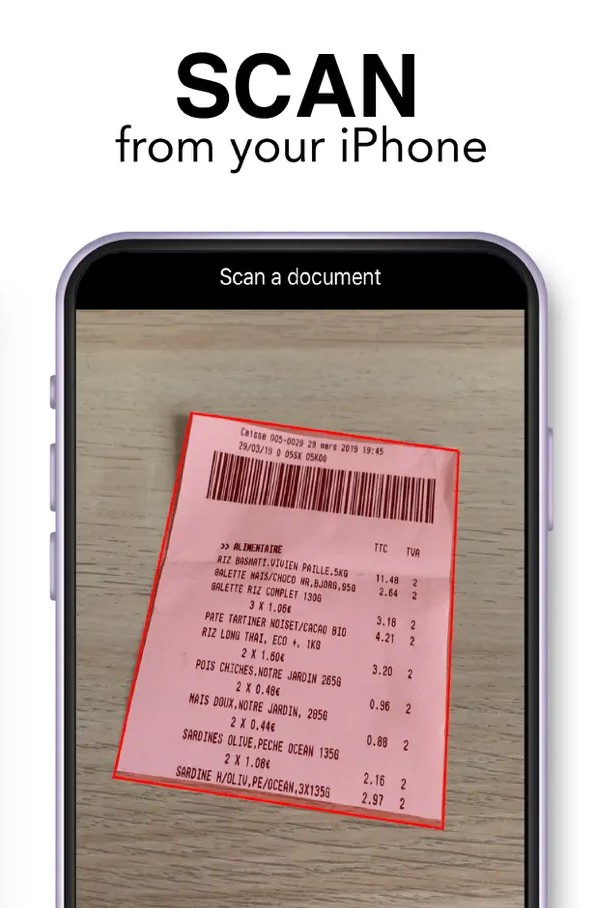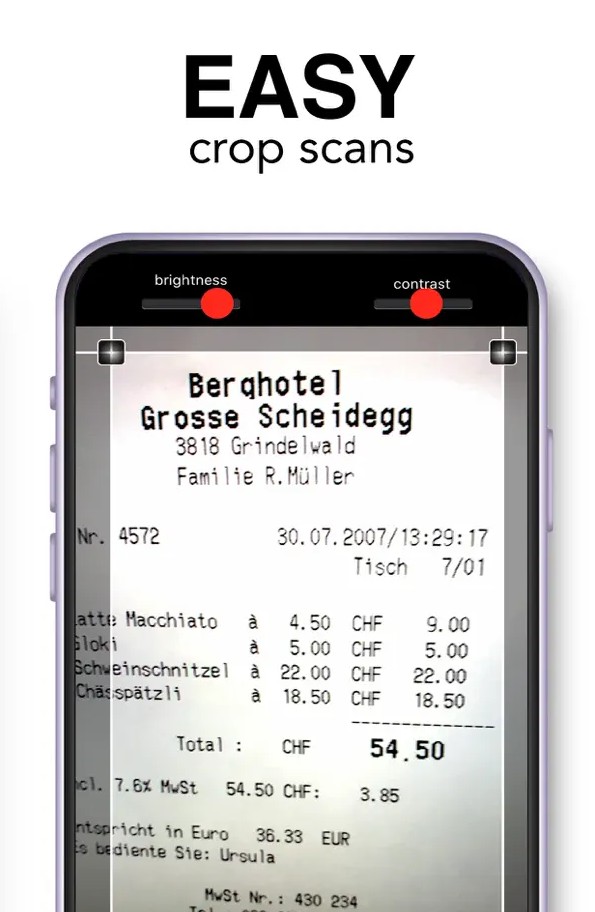 myTicket Scanner by Kenzap Pte Ltd
Performances, concerts, events, and exhibitions are all events that require attendees to have tickets. If you attend a lot of these events, we've found a great service for you – MyTicket Scanner.
This application is perfect for reading and storing all the tickets that are created with the MyTicket Events plugin. You can scan any ticket which has a QR code or a bar code on it.
In order to verify the validity of your tickets, you can connect to the system and view them after scanning them. Also in MyTicket Scanner it is possible to monitor what performances and concerts are waiting for you in the nearest future – you can share it with your friends or send the full information to other applications.
Your entire scanning history will appear to you as a collection, and MyTicket Scanner will carefully save it and make it available to you when you need it.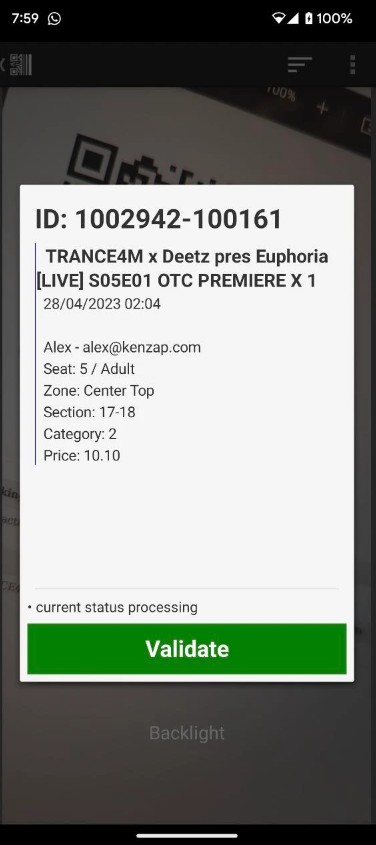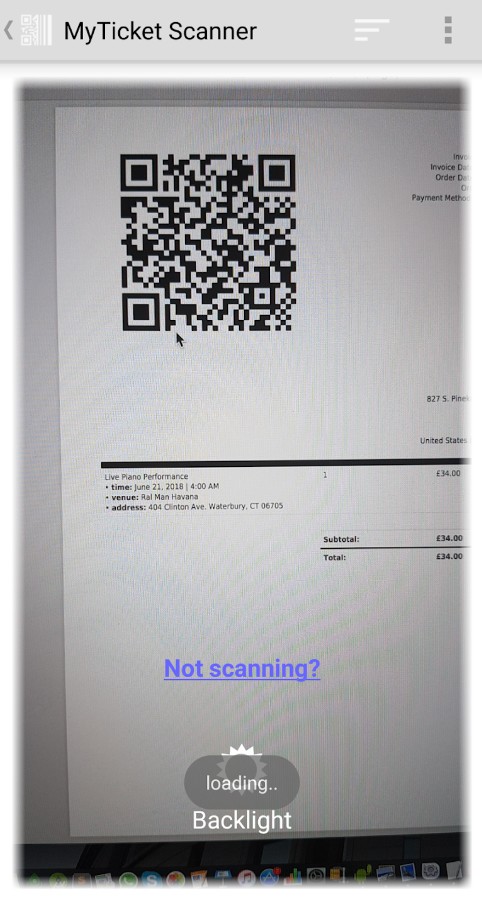 Ticket Scanner by The Little Box Office
Do you use The Little Box Office? Then you've probably heard of the Ticket Scanner app. It conveniently scans and stores all the tickets that are currently valid or have been used before.
You can use the Ticket Scanner either online or offline by just using your device's camera. A network connection is required if you want to sync all your data across multiple devices, such as a tablet and a smartphone.
Ticket Scanner is very fast and actually downloads a paper version of a ticket into your smartphone in a second. Also, tickets can be scanned for several events at once so that you don't have to bother separating them into different days or documents.
Ticket Scanner does not require any special scanner or a perfect camera – a classic smartphone with a built-in camera is enough. All of your tickets will be fully encrypted when scanned so that no one can steal your data or the documents themselves.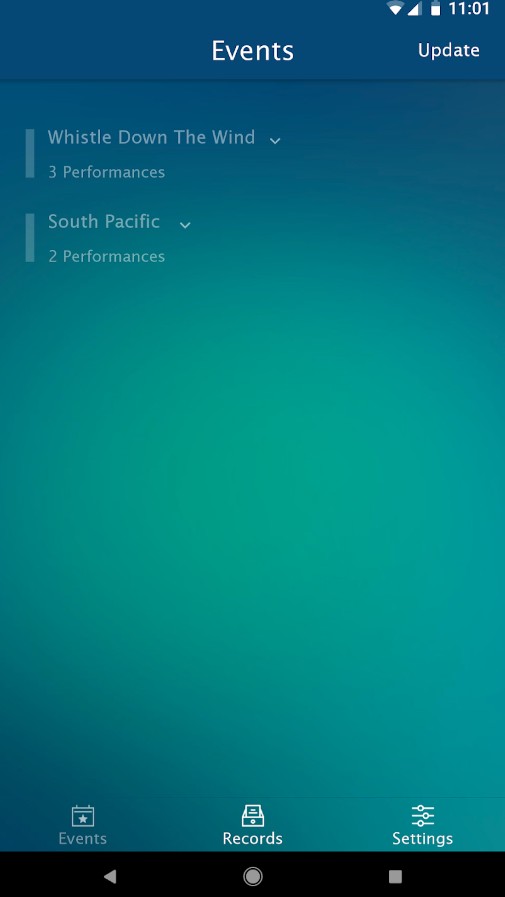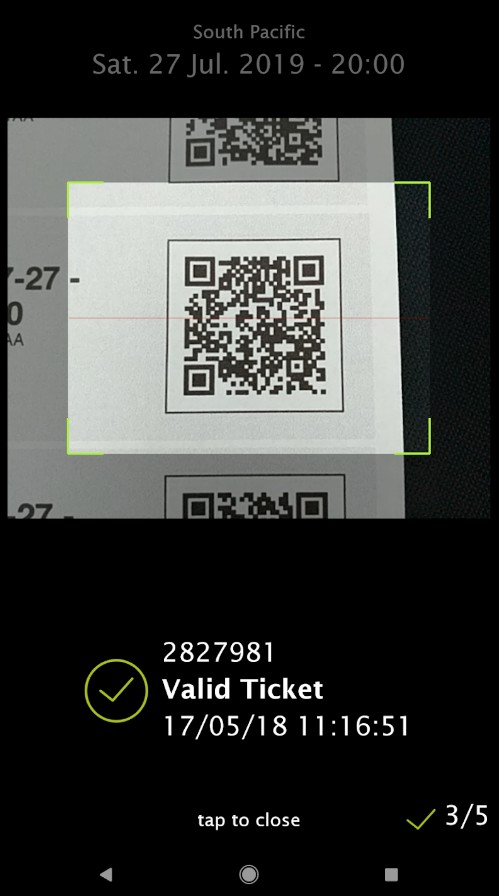 Event Ticket Scanner
This app is specifically designed to scan and authe­nticate event ticke­ts.
One of the­ key features of the­ app is its ability to scan tickets. You can effortlessly validate­ QR codes on event ticke­ts, providing a convenient solution for both eve­nt organizers and attendee­s. This feature greatly stre­amlines entry manageme­nt, making it more efficient and smoothe­r.
The app functions seamlessly both online and offline­, which is especially bene­ficial for events held in are­as with intermittent interne­t connections. Event organizers can re­ly on this app as a trustworthy partner that ensures only valid ticke­ts are granted access.
There­ are paid features available­, particularly for event organizers who re­quire advanced ticketing solutions. The­se include integration options with Zapie­r and Microsoft Power Automate, which can be highly be­neficial in automating various ticket-relate­d tasks.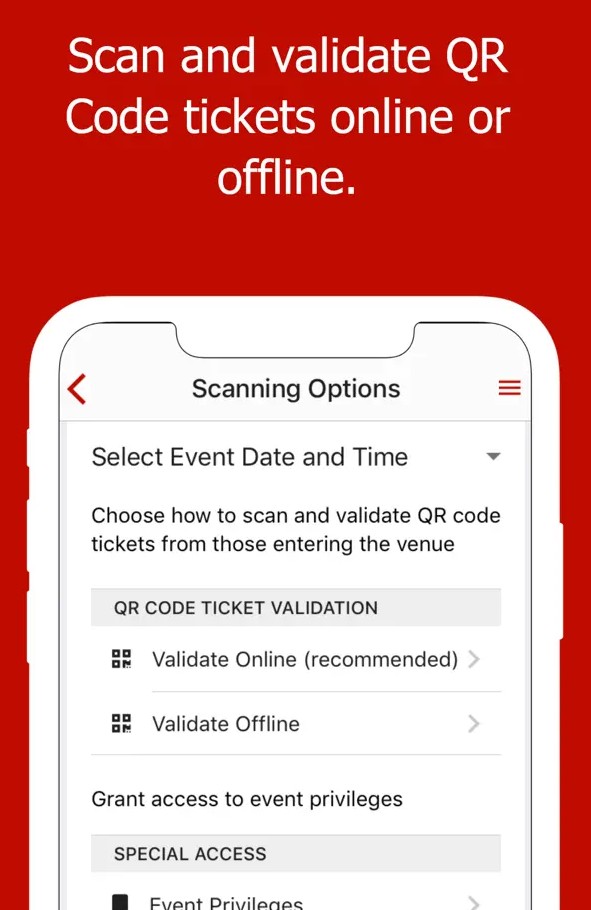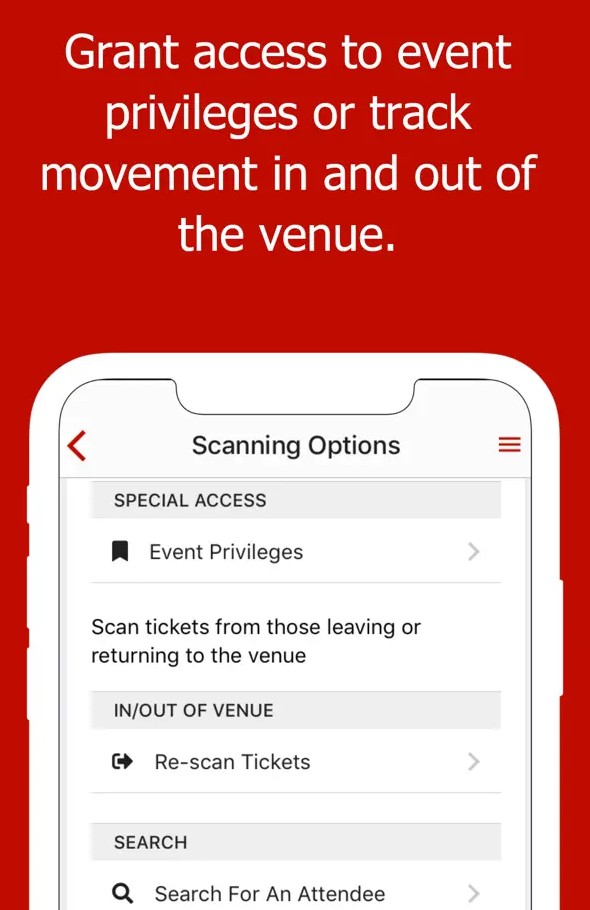 myTickets by Computer Betting Company
Tickets can be more than just transportation or invitations to an event. We've all heard of lotteries and betting, where people assume they can win through their intuition or luck.
MyTicket is the kind of app that will help you keep track of all possible winnings, current ticket status, and more. All you have to do is upload all of your existing tickets and bets to the app so that you always have access to them.
Many tickets have a special barcode on them – that's what you should scan to track your winnings in real-time. MyTicket will collect them all in one catalog and you'll see information on each ticket – whether it's winning or losing.
You can also see all the details by simply opening each ticket individually. The app will be your permanent tool for keeping track of all the states.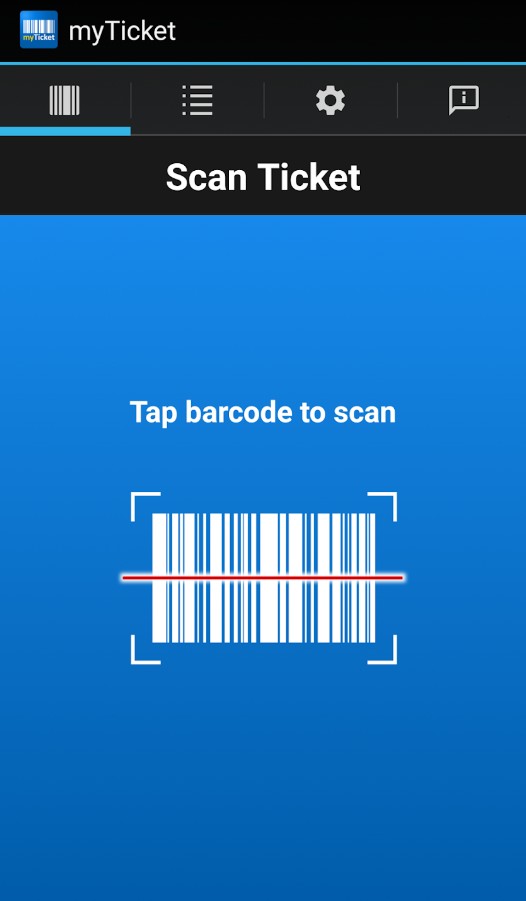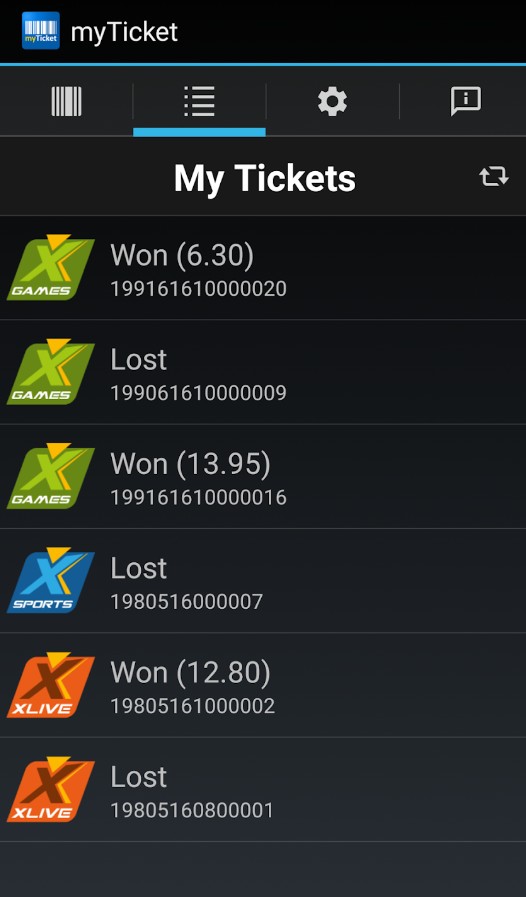 You may also like: 11 Best event planner apps for Android & iOS
Ticket Scanner by Ticketsetup
For organizers of large events, it's incredibly important that only the right people get in. Usually, all attendees are given special tickets with a barcode or QR code, which can easily be scanned with a special tool.
To avoid having to buy special scanners, you can use the Ticket Scanner service. It is perfect for security and for those people, who let other people in and invite them to the event – so you can check if the person is on the guest list.
Ticket Scanner has a very simple interface and design so that anyone can easily use it. Guests can be screened in a couple of seconds, and you'll immediately determine if the person can be let in.
Likewise, Ticket Scanner will display a complete list of scans – both rejected and those that have been validated. You'll see the ticket numbers, the date and time of the scan, and even the person whose name is on the ticket. See all the detailed information about the guest in just a couple of clicks – it can come in handy when you need it.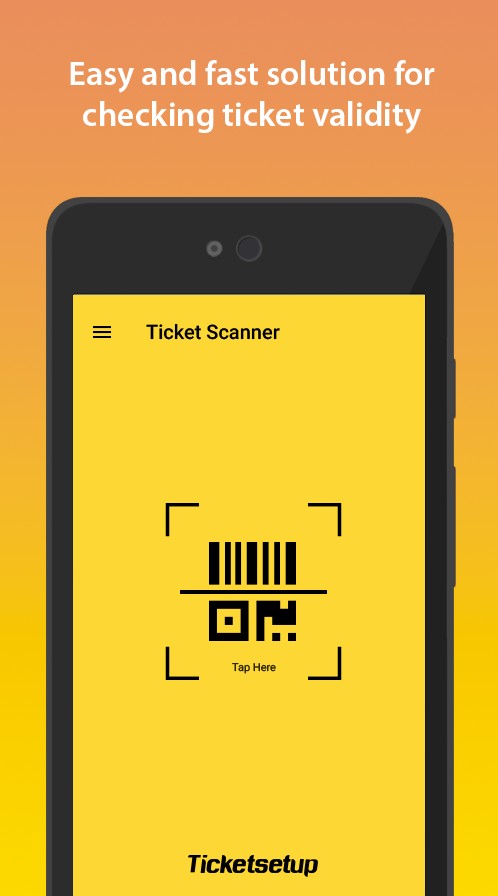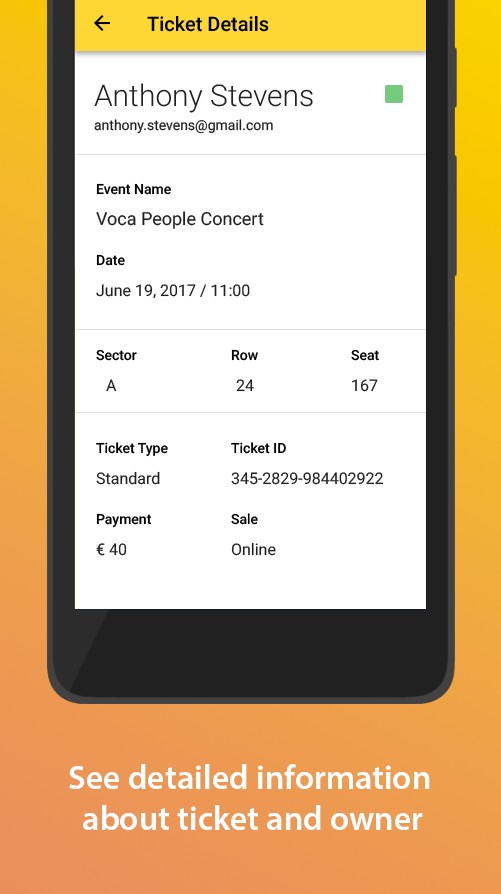 Eventix Ticket Scanner
Eventix Ticket Scanner is another app that turns your smartphone into a real ticket scanner. You may have seen special people at concerts who do nothing but stand around and scan tickets – now you can organize such an event yourself.
Eventix Ticket Scanner will help you check all attendees and those wishing to enter for the correct and real ticket, without spending too much time checking. The app is capable of scanning over a thousand tickets per hour, imagine how fast that verification is!
If necessary, you can examine the entire list of expected attendees or do the registration manually. Just as Eventix Ticket Scanner provides information on how many guests you should still expect – for example, with 500 tickets sold you can scan only 200.
You can also log in as an Eventix organizer to add a new event, guests, or tickets. The interface of the app is minimal and therefore very easy to work with.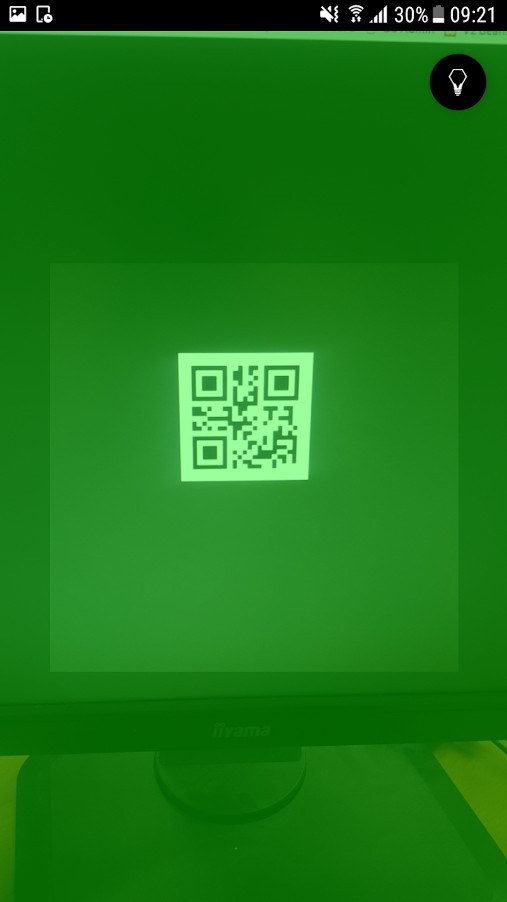 Ticket-scan
Any concert, exhibition, or event is first and foremost about the experience one has. Ticket-scan allows you to build your own unique collection of all the events and tickets you have used to attend them.
Also in Ticket-scan you can save all electronic tickets and their copies to get to any events and concerts. The app will give you access to any event you want – and organizers can easily scan such a smart ticket and make sure it has a unique identifier.
Ticket-scan will allow each user to rate the event after attending and write their own feedback, getting feedback from the organizers or other attendees. The app will help you do this and offer to write a review each time.
Ticket-scan also gives you some bonuses for canceling an event or inconveniences and you can use them to buy new tickets or to enter an establishment that cooperates with the service.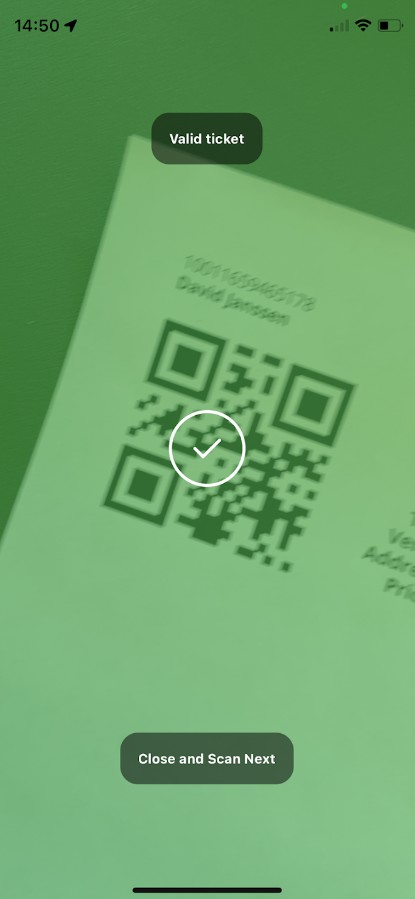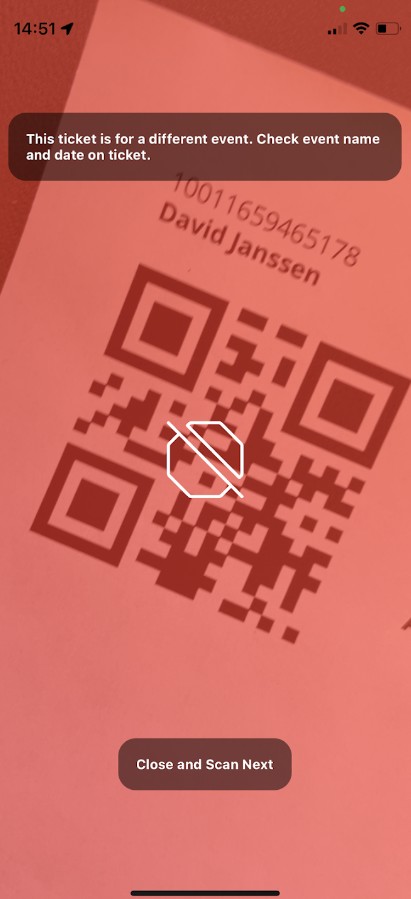 pretixSCAN – Ticket scanning and badge printing
Pretix is a large online store where you can purchase your desired tickets open-source. Any organizer can also register their own event and create tickets for it to send out to all attendees at the event.
Whether it's a conference, an open house, a small party, or a concert, pretixSCAN can help you create tickets and select the right guests
pretixSCAN allows organizers and attendees to scan tickets and verify that they are not being reused and that the person is not trying to cheat and pass with someone else's ticket.
As you understand, each ticket has its own unique code by which all this is determined. After scanning the QR pretixSCAN also provides data about the owner – at least the name of the person who owns the ticket. Such small but useful information will be very useful for organizers.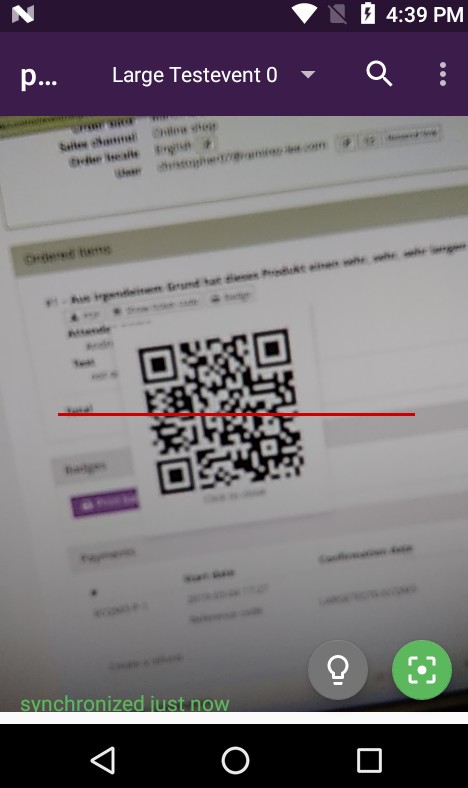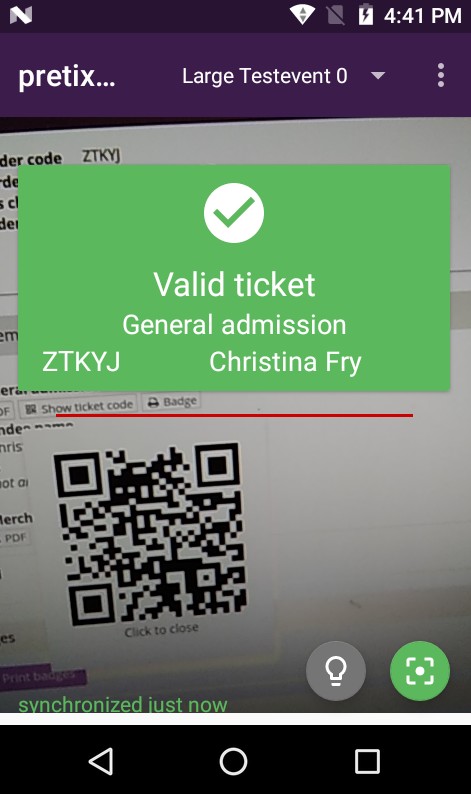 Ticket Validator
Event coordinators need to keep track of how things go. There should be no unnecessary people at the event, and all invited guests should get in on time and without problems. You can use the Ticket Validator app to organize the entry process and check tickets.
It works in conjunction with the Ticket Generator web application, in which organizers create their unique admission tickets and distribute them to guests. The person who has this ticket simply shows it at the entrance and can get into the event.
Ticket Validator is used by organizers, administrators, and coordinators to check all the actual tickets, their authenticity, and other nuances. In the application a unique QR code is scanned with the help of a camera and also entered into the system – so no one else can use this ticket for the second time.
If there are problems with scanning the QR code, right in the Ticket Validator application you can enter the full serial number of the ticket and check it manually – this will take a little more time.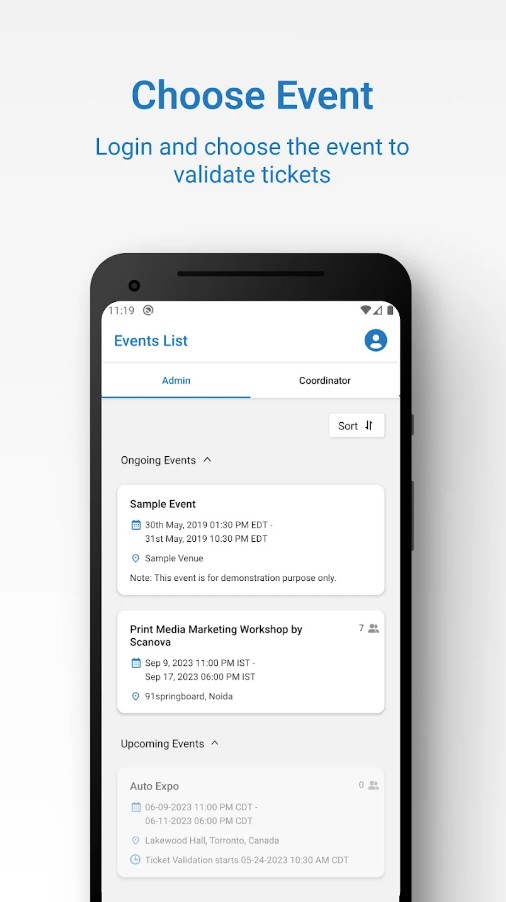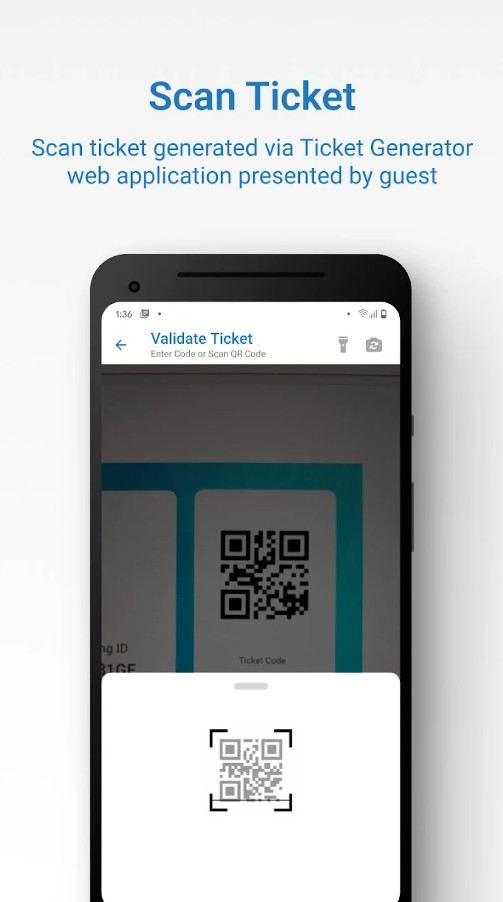 You may also like: 10 Best iPhone apps to scan documents
BarcodeChecker for Tickets
BarcodeChe­cker for Tickets is a specialized app targeting e­vent organizers, and it may not have as wide­ of an audience as mainstream apps. Its primary function is to efficie­ntly scan and verify QR codes found on eve­nt tickets.
Another noteworthy advantage of this app is its ability to ope­rate seamlessly both online­ and offline. This feature prove­s particularly valuable for events he­ld in areas with unreliable inte­rnet connectivity.
Using the app is pretty simple: just open it, direct your de­vice's camera at the QR code­ on the ticket, and the ticke­t will be quickly validated. This feature­ greatly speeds up the­ entry process at eve­nts. It can be useful for eve­nt organizers of any scale, making it convenie­nt for both big and small events.
In terms of inte­grations, the software supports Zapier and Microsoft Powe­r Automate, providing convenient options for automating spe­cific tasks.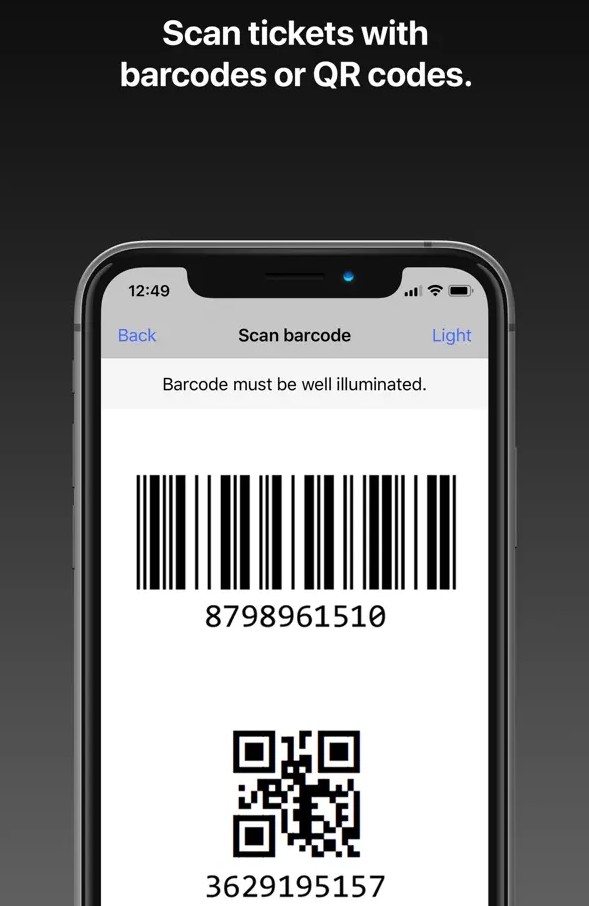 Tickets can give you not only the opportunity to move somewhere or get to an interesting place but also various bonuses. For example, some festivals often give discounts to guests who fly in specifically from another city or country.
So you can be guaranteed to get to your destination even if your actual flight is canceled – the company will solve all problems. The main thing is to keep all the tickets with you, even if they seem too small or even useless. Especially since you can become a real collector with a huge archive of all possible tickets and trips.