Learning languages has a lot of benefits such as memory improvement, broadening of the horizons, learning a new culture, makes you smarter in general, and so on. Now you don't have to search for a tutor or go to courses to learn new skills.
One of the life hacks about how to learn a foreign language quickly is to always chat with native speakers. You can play online multiplayer games and chat in a foreign language at the same time!
There is a perfect app for it and it's called Simply Learn. We think the name speaks for itself, the creators promise an effortless and easy form of education. And it's perfect for traveling as it has its own phrasebook. What exactly does this application offer?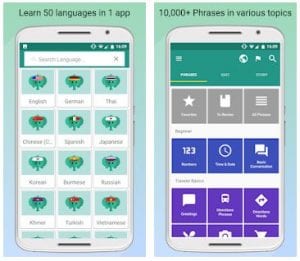 Simply Learn Languages has a rich choice of languages (50!) and it's extremely simple to use. Just look at this adorable elephant on the icon of the app, do you not want to download it already? Also, it works offline, so if you don't have internet access you can still be sure to learn something.
What is more, you can watch cartoons in a foreign language so the process goes faster. Here we prepared a special list of the best websites to watch cartoons.
So let's take a closer look at the features of Simply Learn. It has a phrasebook containing 2000 common phrases. So, if while traveling you want to order a meal in a French restaurant or ask a passer-by how to find the Eiffel tower, for example, this app is here to help you.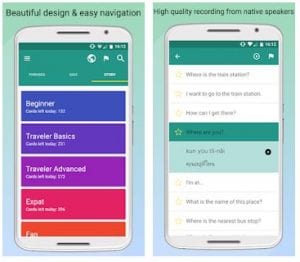 And don't worry about getting it wrong, all of the audio in Simply Learn is recorded by native speakers. You will have a magnificent accent, we promise.  The app also makes the learning process fun and engaging with a broad variety of quizzes and flashcards.
If you aren't sure about the meaning of the sentence you can check it word-by-word in the application itself. The app provides a learning tracker and gets back to you frequently with the progress report which really motivates a user to keep getting better.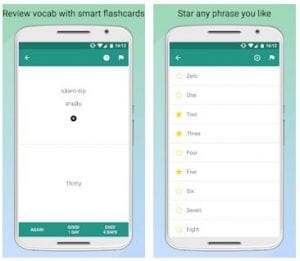 Of course, you are able to make adjustments such as switching the languages or changing the voice speed. It's also quite easy to review the material or mark Favorite. The UI of Simply Learn is not distracting at all, it really helps you to focus.
The creators of the app didn't miss anything, they really want a user to feel comfortable and to learn efficiently. If you check the reviews of the app the users can't get enough of it. There are students, businessmen, teachers and all of them love it. Everything from the phrasebook to native pronunciation makes the people interested in learning.
And if you're learning Japanese you should definitely check out our list of the best apps to watch anime.
The education methods of Simply Learn are perfect for anyone. We couldn't find any disadvantages in the app, everything just fits! Why do you not check for yourself? Become a polyglot with Simply Learn.