When you're writing important text or a message, you need to make sure you're spelling the right words. It is also useful when learning a language. This will help you to notice your mistakes right away and correct them.
There are a lot of different applications to check this aspect. There are even keyboards that you can install on your phone. They automatically correct errors in your text.
This list contains the best spell checking apps. With their help, you will be able to create perfect text without errors.
You may also like: 10 Free grammar checking apps for Android & iOS
Grammarly Keyboard — Type with confidence
Grammarly Keyboard — Type with confidence will be your best assistant in writing literate texts.
If you install an extra extension, it can work in any application on your phone. It will always check the text you have written. Whether it be messages in social networks, scientific articles, and many other things.
The application icon will appear in the text window of your phone when writing texts. It will immediately emphasize the errors that it will find in your text.
The icon in the form of a circle, which is located in the text box, will light red if an error is found in the application.
Once you've finished creating your own text, you can click on any selected part of the text. This way, you can learn more about why it marked the word or expression as an error.
The app Grammarly Keyboard — Type with confidence will also offer you options for replacing the word or expression. You can also completely remove the word or phrase from your text or ignore an error.
Good written communication skills include the ability to write your text. This app has a set of notes. Just click on the "Set goals" button. Next, select the configuration that will guide the application.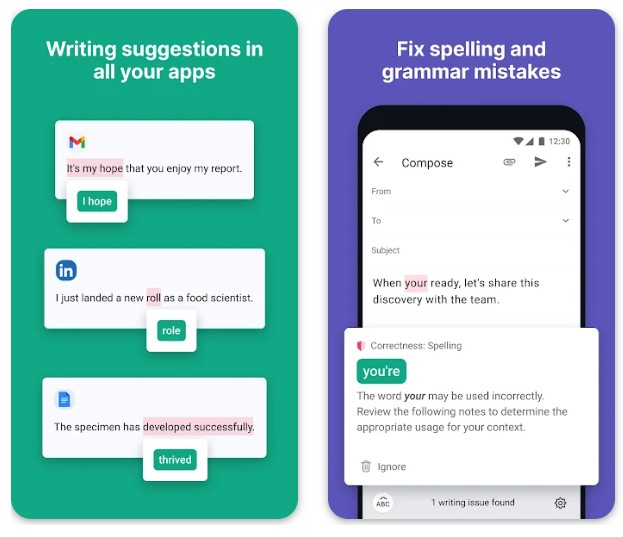 You may also like: 11 Best proofreading apps for Android & iOS
Correct Spelling Grammar Check
Spelling check is an app that will improve your spelling and pronunciation in English.
Developers claim that Spelling check has a wide variety of functions, namely spelling the words, their pronunciation, checking the punctuation, and checking your pronunciation.
When you open the application, you will see a blue screen with three circles, which are Start, Rate Us, More apps.
By clicking on the Start button, you will be transferred to a window with six rectangle buttons: Correct spelling, Word pronunciation, Love story pronunciation, Numbers, Difficult Words, and Alphabets Pronunciation.
By clicking on the first button Correct spelling, you will be able to record a specific passage of the text in English, and the Spelling check will indicate where you made a mistake.
When you switch to the Word pronunciation: by entering a word you can listen to it; in Numbers – you can listen to numbers. Difficult Words will give you a list of certain words that are difficult for even the most experienced English speaker to pronounce.
Alphabets Pronunciation will show you the alphabet and its pronunciation for each letter.
The app's standout feature is the available Love Story Pronunciation feature. With its help, you will learn how to correctly pronounce the words of love.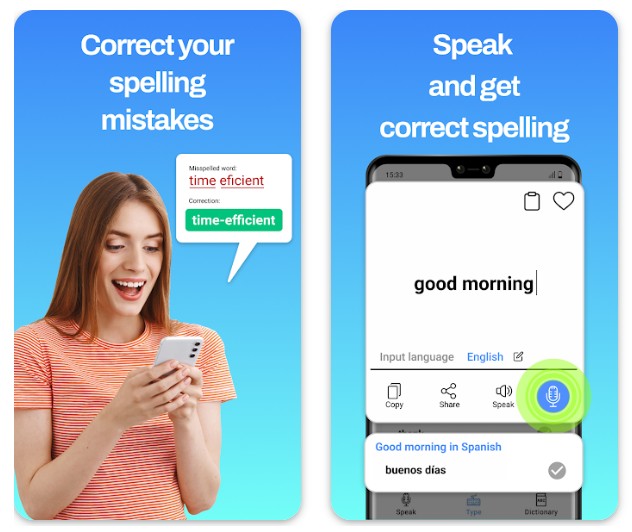 Correct Spelling and Pronunciations: Spell Checker
Correct spelling is a free grammar and spelling checker. The app is perfect for non-English speakers who want to improve their language skills.
The developers present this application as a quick and easy way to check and correct pronunciation or spelling. You will no longer have to spend hours searching for the right word in a traditional dictionary: with the help of Correct spelling, it will be available in a matter of seconds.
The main features of an app are Voice base spelling Checker; the possibility to improve your Lexicon; the quick find of English synonyms, adjectives, verbs, and more.
The Correct spelling can support Paragraph syntaxes and grammar; there is a built-in function of the words spell checker (with its help you will be able to write correctly and improve your language skills).
The app is also known as the Correct spelling app because checking your speech, it will make your pronunciation way cleaner.
When you enter the Correct spelling app, you will see pleasant white and blue interface colors. There will be three tabs on the bottom of the screen: Voice, Keyboard, and Dictionary.
An enjoyable function is a test that you will be able to find in the last tab. There you will have to choose the correct words from the several given ones.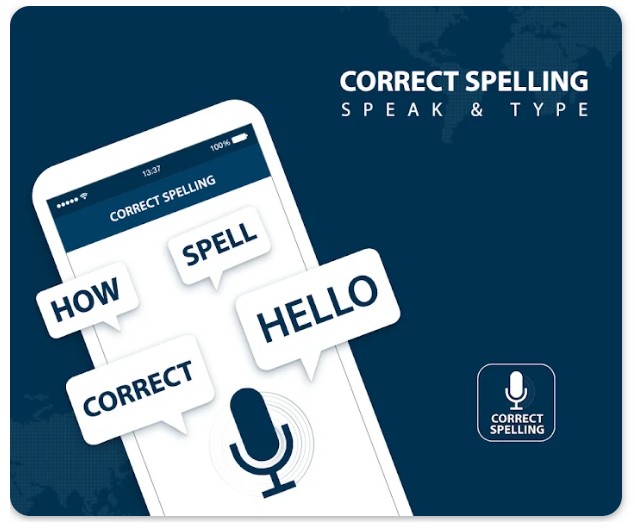 Spelling Grammar Checker
Spelling Grammar Checker is a young multifunctional service, but it has already proved itself in a good way.
To check the text for errors you need to register using an account of social networks. The application will offer you a choice of authorization options.
The app Spelling Grammar Checker can not only check for errors but also translate the text into another language. After checking it offers the right options for writing where the app has found errors.
Despite the excellent functionality of the site, the principle of use is simple. The text should be inserted in the area of one of the tabs, and the service has three – Literacy, Beauty, and Quality.
Then you need to press the button to start the check. After that, the service will show you the results with options for correction. All defects in grammar, spelling, and punctuation will be highlighted in different colors.
Also, the application Spelling Grammar Checker will show you the stylistic discrepancies. This program copes with the check, allowing you to detect even non-obvious errors. It combines the functions of several services.



Page: English Grammar & Spell Checker + Translator
Page: English Grammar & Spell Checker + Translator is a specialized proofreader. It cleans up all grammatical, contextual and spelling errors and misuses of vocabulary.
This app knows how to search for plagiarism in the text. It also helps to adapt your lines to a certain style of writing. Academic, business, conversational or artistic.
Whether you're on Facebook, Gmail, Twitter, or anywhere else, Page: English Grammar & Spell Checker + Translator will keep a close eye on what you're typing. This app will proofread the text and correct errors.
The editor fixes it:
commonplace typos and spelling
words that are misused in the context
words that sound similar, but spell differently
word piles that make it stylistically difficult to read text
misuse of articles and pronouns
corrects the use of idioms and phrasal verbs
The app Page: English Grammar & Spell Checker + Translator uses technologies of artificial intelligence. It replenishes the database of recommendations at the expense of the data.
It breaks the text into phrases and sentences. The app analyzes them using natural language processing, machine learning, and other technologies.
In order for this program to work in all apps of your phone, you need to install the extension in the settings.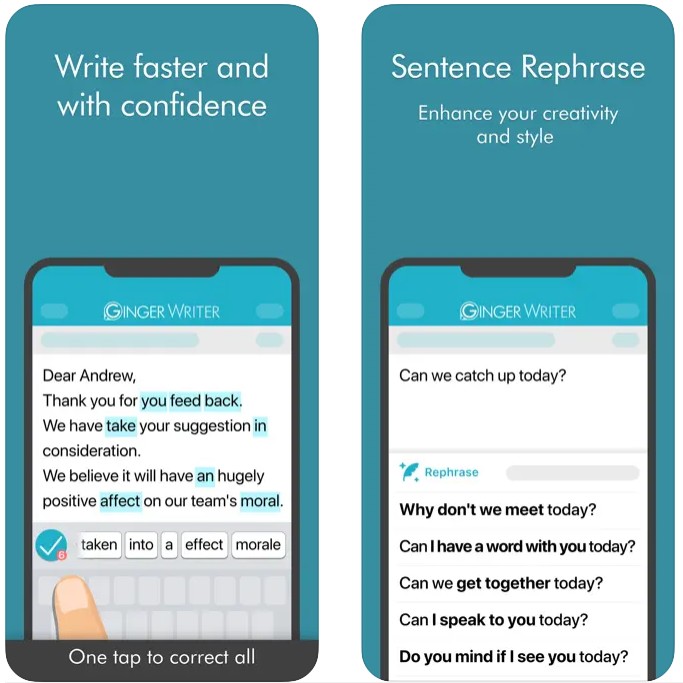 You may also like: 21 Best crossword apps (Android & iOS)
Speller English Pronunciation
Speller English Pronunciation due to its multi-platform nature is available on almost any gadget.
This app is a keyboard with many supported languages. A separate contextual proofreader of English text is screwed to this keyboard. Switching between the two components is implemented smoothly enough.
The program Speller English Pronunciation uses revolutionary technology to detect and correct all types of errors.
Even in the most complex sentences. Complex cases of the use of time, contextual identification of used words and much more.
Fixed grammar? You can stop there and publish the text. And you can try to improve the construction of sentences. The tool "Paraphrasing sentences" handles this. Sometimes the app offers deep enough reworking, and it is up to you to decide whether you want to accept them.
The built-in translator supports 40 languages and requires an Internet connection.
The dictionary in this application looks more interesting. With its help, you can learn the meaning of a word, as well as find its synonym. This makes it easier for you to diversify your vocabulary. Improve your written language by eliminating repetitions.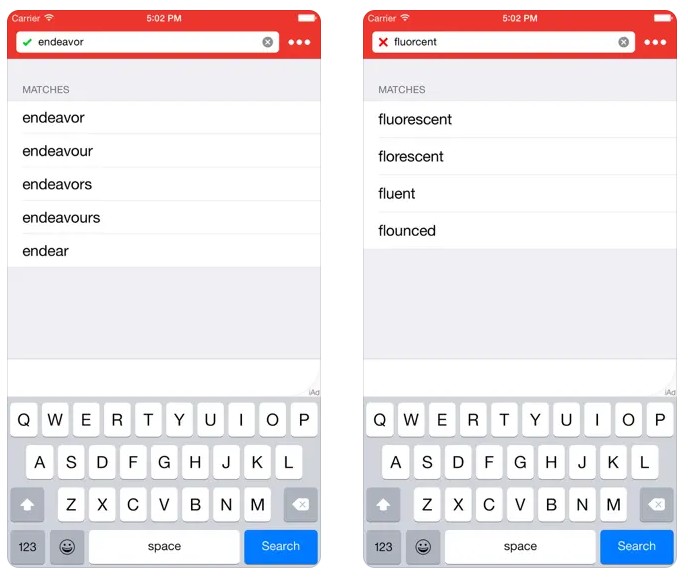 Spell Checker
The Spell Checker app will help you to cut grammatical and spelling errors in your text.
You can also check the spelling and pronunciation of specific words here. There is a dictionary in the app that you can use to find out the meaning of the selected word.
The app settings contain the same items that you take into account when writing text.
Suppose you have a strong desire to write something. In this app, you can choose the nature of your intention. Inform, describe, convince or tell a story.
It is guided by your intention when making recommendations during the text checking.
If you write for expert readers, you will use specialized terminology. If you select the "Expert" option in the "Readers" section, the app Spell Checker will start to follow the terminology.
The "Sphere" configuration is also useful, as you can use it to select the type of mail. After selecting the type of mail, the app will offer variants corresponding to this type of mail.
Spell Checker is really easy to use. You will learn the application in a few minutes or even faster.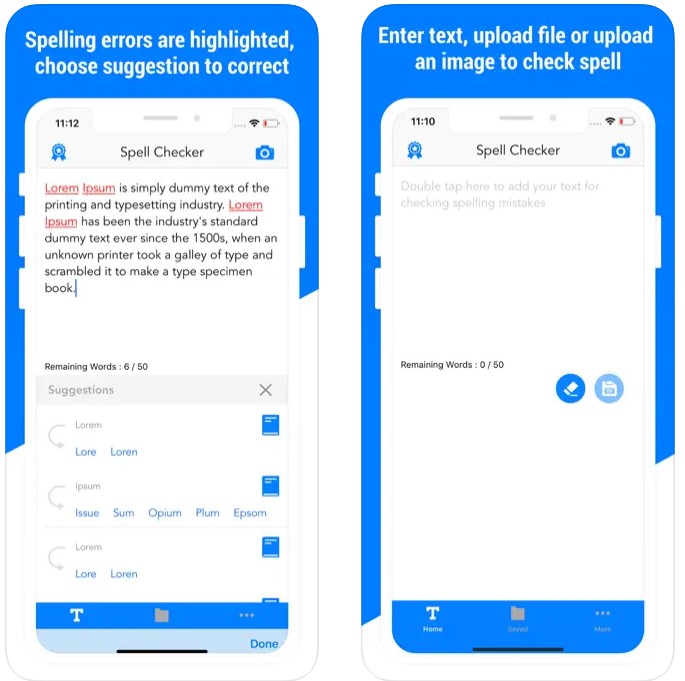 Spelling Check
The Spelling Check app will help you improve your spelling and learn how to spell certain words correctly.
When the app detects a possible error, it highlights a word or phrase in red. Then you can decide what to do next.
If you need more information, you can copy the text to the app Spelling Check. The statistics will appear on the right side of the screen.
You can view all the notes or select only one option. Spelling, grammar, punctuation, variety of text or vocabulary.
You can check the quality of your email by selecting the "Performance" option. The number on the button indicates the percentage of the quality of your email. You can also send this report by email.
Sometimes you are pressed for time, but you want to do it right. The app Spelling Check understands it very well. So you can select the corrected word or phrase without having to look up any extra information.
But in other circumstances, you will want to review your mistake and understand it. Select the "Learn more" option. Then, you will see the reason and explanation for why the application marked it as an error.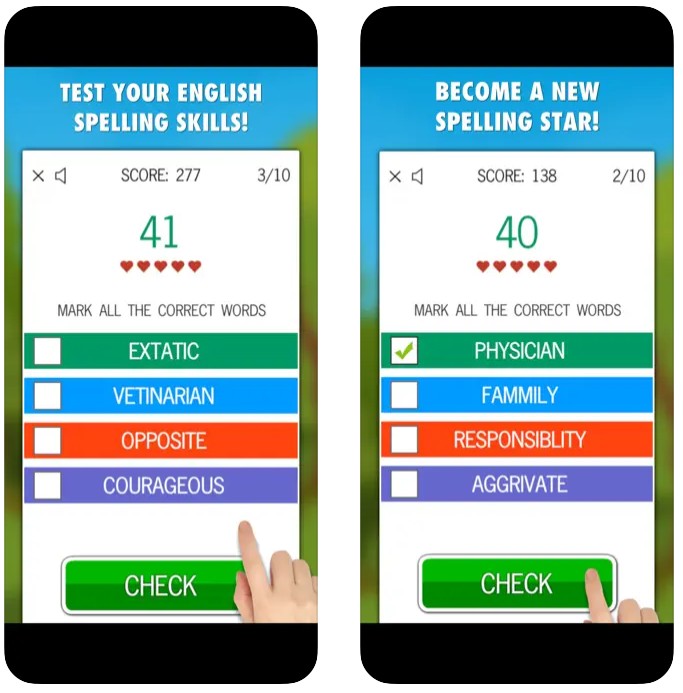 AI Grammar
HelloTalk AI Grammar is a mobile software that helps learners of the English language with grammar and spelling. However, it is also very useful for native speakers who would like to correct their texts.
After installing the app, users are asked to choose their level of proficiency in English. The app then provides a series of questions to assess the user's grammar and spelling skills.
However, it doesn't provide explanations for wrong answers in the quizzes. Users are left to figure out the reasons for their mistakes on their own, which can be time-consuming and demotivating.
You can write your text in the app, and then it will check the spelling. This way you will get a correct composition, essay, report, and so on.
The app has a large database of English spelling rules, which is why you can be sure that the auto-correct will do its work properly.
Another helpful feature is the OCR text scanner. Just take a photo of the text and get the correct one in a few seconds.
Advantages:
Helps learners improve their grammar and spelling skills.
User-friendly interface.
Offers a wide range of exercises and daily lessons.
Drawbacks:
Only supports the English language.
Doesn't provide explanations for wrong answers in quizzes.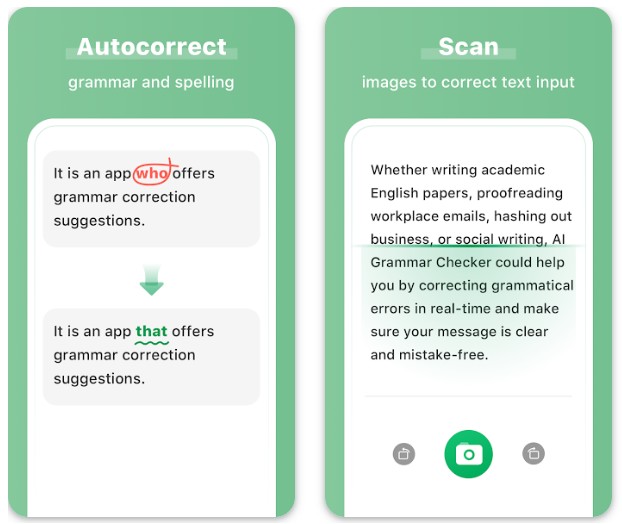 Spell Checker & Correct Spelling- Speech to Text
Your writing can be flawless, but still not perfect. The Spell Checker & Correct Spelling- Speech to Text application highlights only spelling and grammar mistakes in red.
It also gives advice on how to improve the quality of your writing. It highlights frequently used words, jargon, and passive collateral.
Writing e-mails or writing anything on your phone is quite problematic. You can easily make a misprint, write text badly because of the small screen and hurry.
You can install the application keyboard on your phone. Spell Checker & Correct Spelling- Speech to Text will be able to offer you variants of writing and correct errors in real-time when you type on your phone.
The application has a built-in translator in its arsenal. When using the keyboard, you can also use this feature.
Use the grammar check. It's the only keyboard that knows how to fix your grammar, spelling, and punctuation. When the best grammar corrector helps you, you can focus on speed typing.
Take advantage of a special feature that allows you to type by sliding. Write faster with streaming typing.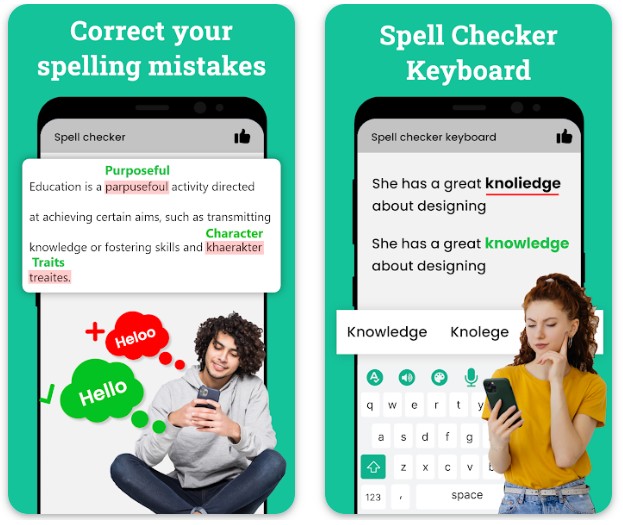 You may also like: 21 Best keyboard apps for Android & iOS
Spell Checker and Translate
The Spell Checker and Translate app will help you check if your text is spelled correctly. It also has many other useful features.
The app starts on the main page. Here you can register your account right away, or skip this step and go to the classic keyboard setup.
After installing the app, you will be asked to add input languages, a theme and try out the keyboard in action.
The application Spell Checker and Translate itself looks normal. But, it is very nicely decorated. This program offers extra topics.
The size of the keyboard here changes in five positions in height.
This application offers support for an alternative input method called swipe. With this method, you can enter text without taking your fingers off your phone screen.
The app Spell Checker and Translate has a whole section called Smart Writing. Five extra buttons on the top panel are provided for easy entry and retrieval of information.
There are some built-in apps. A calendar, a task scheduler, a document manager and a simple search engine.
Also in this app is a translator, which is already integrated into the keyboard. By pressing the corresponding key you will be directed to the built-in translator. Here you enter a word or phrase and get it in a foreign language.