Sports video analysis is dedicated to complete, accurate and advanced scanning of a sportsmen`s performances during the training. Recording a sports video and then playing it back to check it in detail can enhance and facilitate coaching and self-training.
For example, a slow-motion function can help to see movements that led to the wrong pitches and swings in a game of golf.
You can also check: 17 Best Sports Streaming Apps for Android & iOS
Of course, the software market offers a lot of specialized programs for professional sportsmen and their coaches. But besides them, we can find a few of their mobile versions. For your attention below is the list of best sports video analysis apps for iOS and Android.
They support tablets and smartphones and will play a beneficial role for coaches and athletes.
myDartfish Express
If you try to search for a sports video analyzing application myDartfish will be among the most popular and most trusted solutions used by many couches. It has proven its efficiency over time. Many professional trainers found it very useful and effective in tactic and performance analysis.
myDartfish software is available in different versions. There are free apps and premium apps with a one-time payment or monthly fees for options like integration with Cloud services to download and send video analyses.
The story of the myDartfish performances lasts since 1999 year and the developers have created a lot of different software for professionals and amateurs.
Activities you can perform via the app:
The main feature of the app is to monitor sports activity that was captured and add corrections to the video itself. For this, you can import videos from your phone video gallery or any other application.
Advanced video tools let you analyze video image by image in a slow-motion mode. Numerous tools such as drawing, tags, animated arrows, angle measurements will help in analyzing.
After making the important and necessary corrections save the video, create a backup and share it with friends via Facebook or e-mail.
The app is convenient for all kinds of sport: tennis, golf, swimming, rugby, volleyball, ski. The free version of this app is available for just two weeks trial period.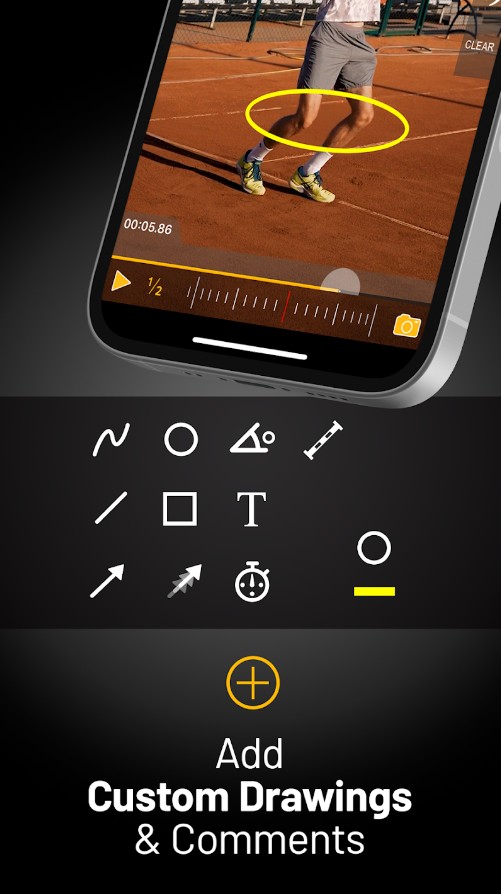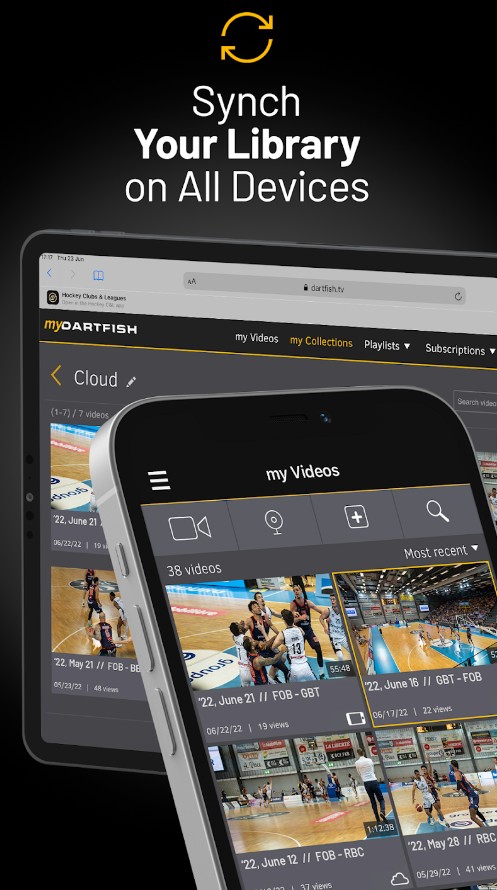 You can also check: 11 Best Football Prediction Apps for Betting (Android & iOS)
OnForm: Video Analysis App
OnForm is a top-grade coaching platform that allows users to always keep in touch with their mentees. All the trainers can send messages, record voice-overs, and share videos.
In OnForm, users can record high-speed videos up to 240 FPS. Here you can capture several moments in a single video, compare the videos, apply Bluetooth camera trigger, enable slow motion and video markup options.
Coaches can also create background voice commands just by tapping on the button. The application also comes with integrated private or group chats where you can easily share the content.
Furthermore, you can sort out all the materials. For example, you can save them in the private folder and add titles or tags for a quick search.
There is no need to worry that you lose your data, as all the videos will be automatically synced across all of your devices.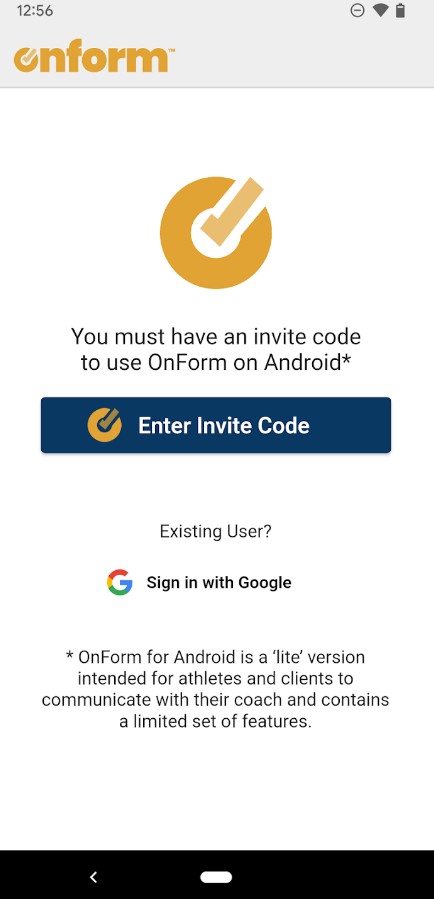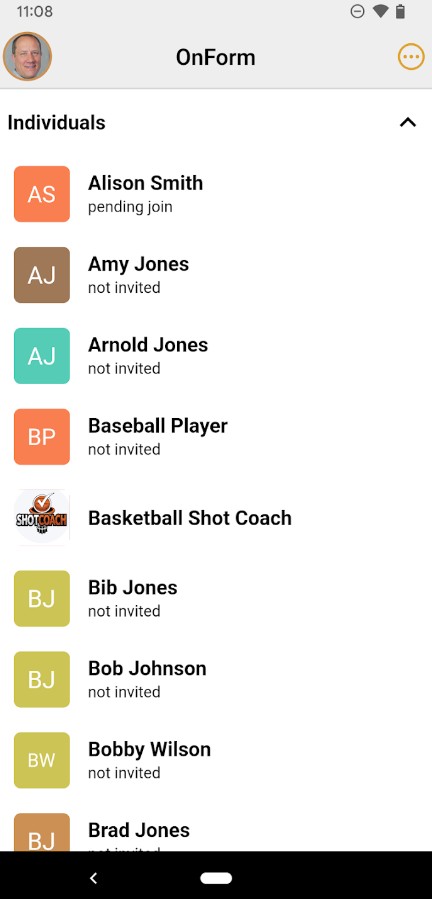 Sportus – Pro Sports Analysis
Sportus is a multifunctional application that allows users to keep track of all sports events worldwide. The app supports assorted sports – e.g. Football, Tennis, Baseball, Hockey, etc.
Once you have launched the app, you can start using it straight away. Despite a great number of options, the app is extremely lightweight.
So, at the top of the screen, you can choose an appropriate sport type. Scroll down the screen to monitor all the provided content.
Tap on the most-liked option to gain access to profound information. If you want, you can also choose your favorite league to monitor its performance. Plus, users can select the preview for Today and Tomorrow.
Moving on, there is a special section developed for favorites. Just click on the button on the top of the screen to get to the new window.
On this page, you can open the favorites section, get a paid version, or share the integrated content via the social nets.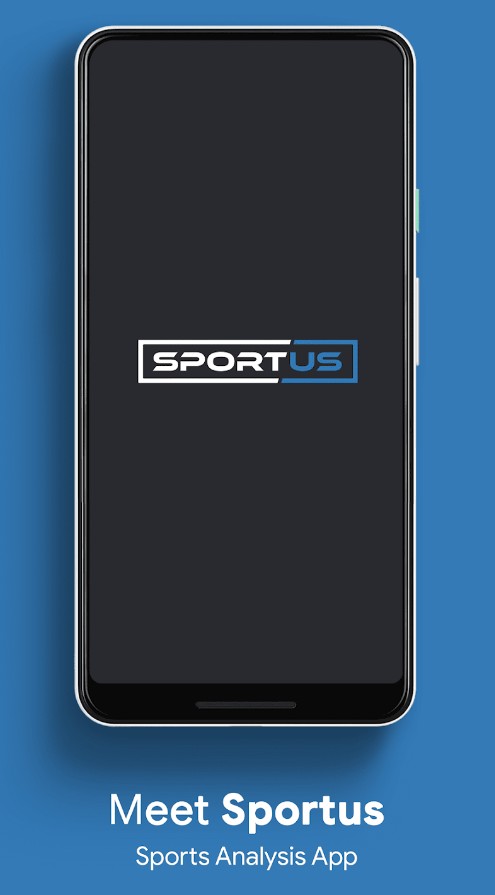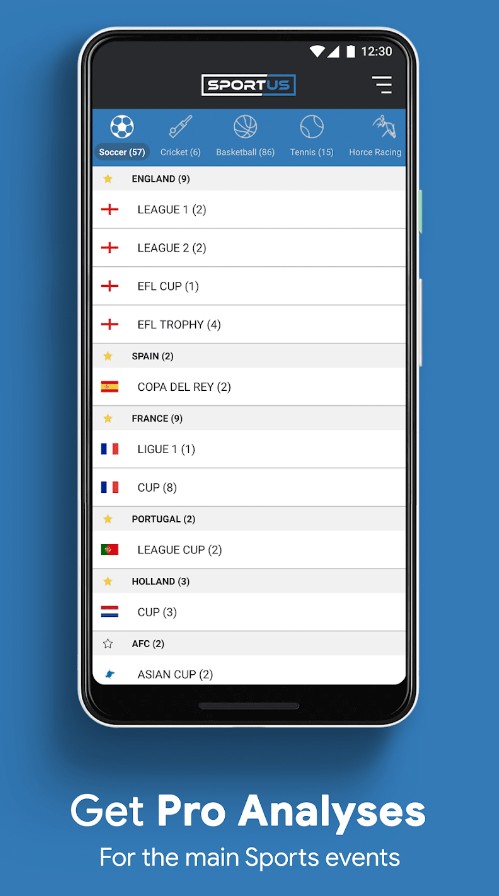 You may also like: 9 Best Apps to Watch Sports Highlights (Android & iOS)
CoachNow
CoachNow is yet another powerful and popular apps for coaches, trainers, and other sports mentors. If you are one of them and you need to improve your own and your athletes' performances the CoachNow will replace any software you have used till now.
Coach now is more than a video analysis application. It's a team community app where all will stay tuned together, seeing each other performances, sharing thoughts, texting each other. So, it's a professional integrated software for your device that can replace many other apps.
App`s main features:
Teamwork and communication through the app. You will gather all your team members into one app sending notifications and staying in touch with them at any place in the world. You are able to invite all members, their parents, their coaches sending them a link. More than one team can be created.
Analise and share video with up to 5 members for free through the app. You can add a voice message to the video.
Coach library. The place where you can save all your videos. photos, messages templates, blank documents are now in one app.
Some of the mentioned above functions are available only in CoachNow + subscription that is available for 39$ per month.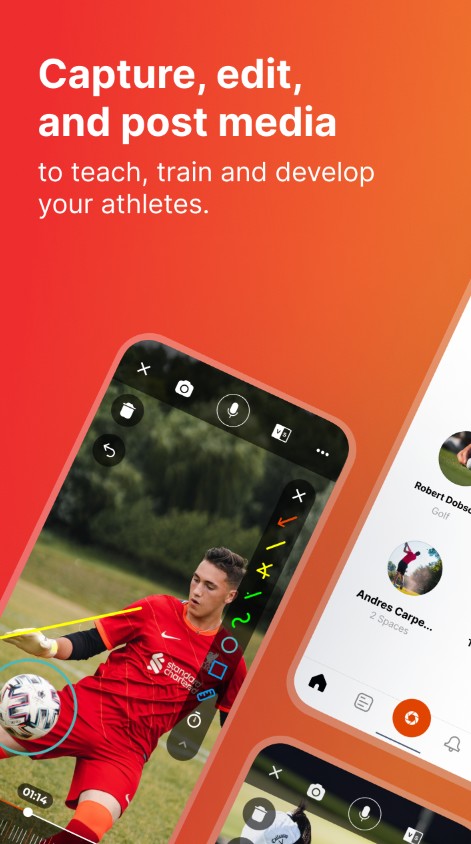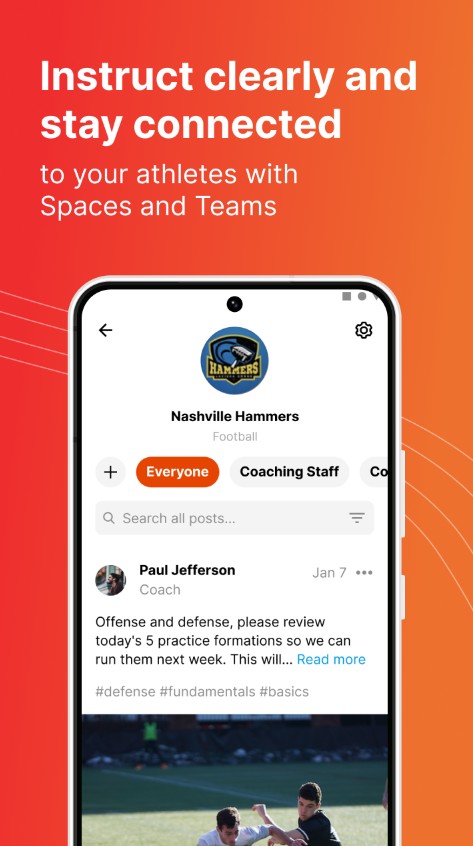 Hudl
Hudl is one of the most efficient apps among coaches and their athletes especially for teamwork games as football or basketball. It's available for iOS and Android. A free version is very limited and all of the coaches get a premium subscription to use all available tools and features.
Upload a video or record from the app;
Use tools to add comments on videos describing mistakes your players have done;
Check stats that was automatically calculated, see all numbers and charts;
To use the app need to register on hudl.com Give login info for your athletes to join your team in the app and get access to all videos and comments.
After registration and logging in a personal profile will be generated giving a chance even to add the main picture. There you can save all your videos, all messages will be stored there too. So you will have easy access to all your data. All kinds of devices either tablets or smartphones are supported.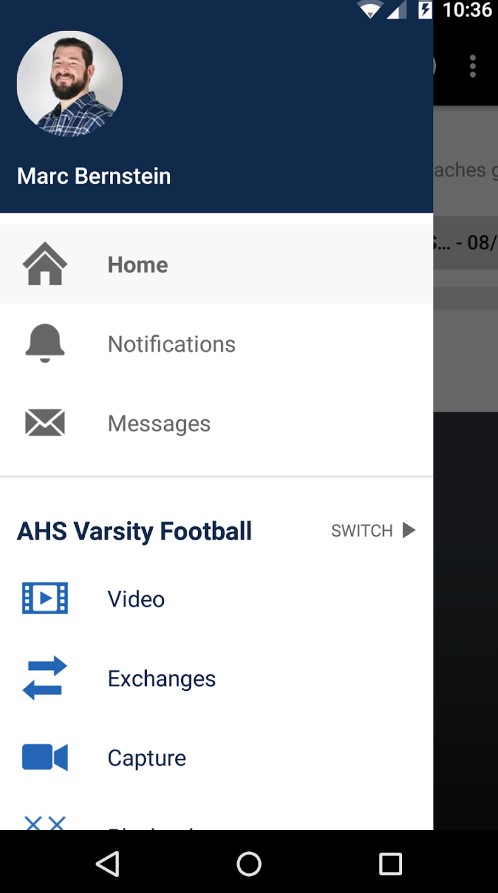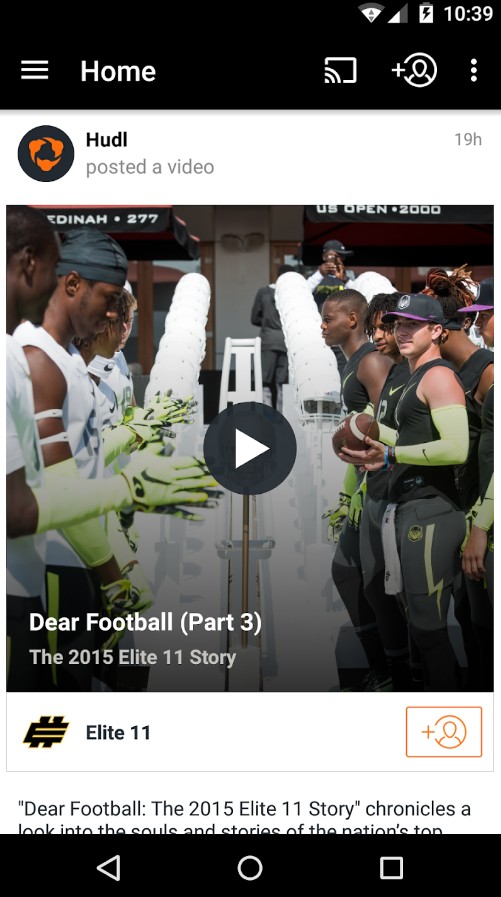 iClooPlayer
iClooPlayer is an app that allows us to playback any video for detailed analysis. Slow-motion and frame-by-frame playback forward and backward are very useful functions for those whose work can be improved by this video editor. With this in mind, coaches of all kinds, athletes, choreographers, and golf players will evaluate this app at a high rate.
Besides, you can draw lines of different colors modifying the thickness of the line, and add angle measurements for better analysis.
In this app, you can zoom in on the video for better details and analysis.
This app stays on one line with other apps used for video analysis of sports events and training of athletes but it also can be used by medical workers especially to analyze surgical operations.
The app is free with in-app purchases.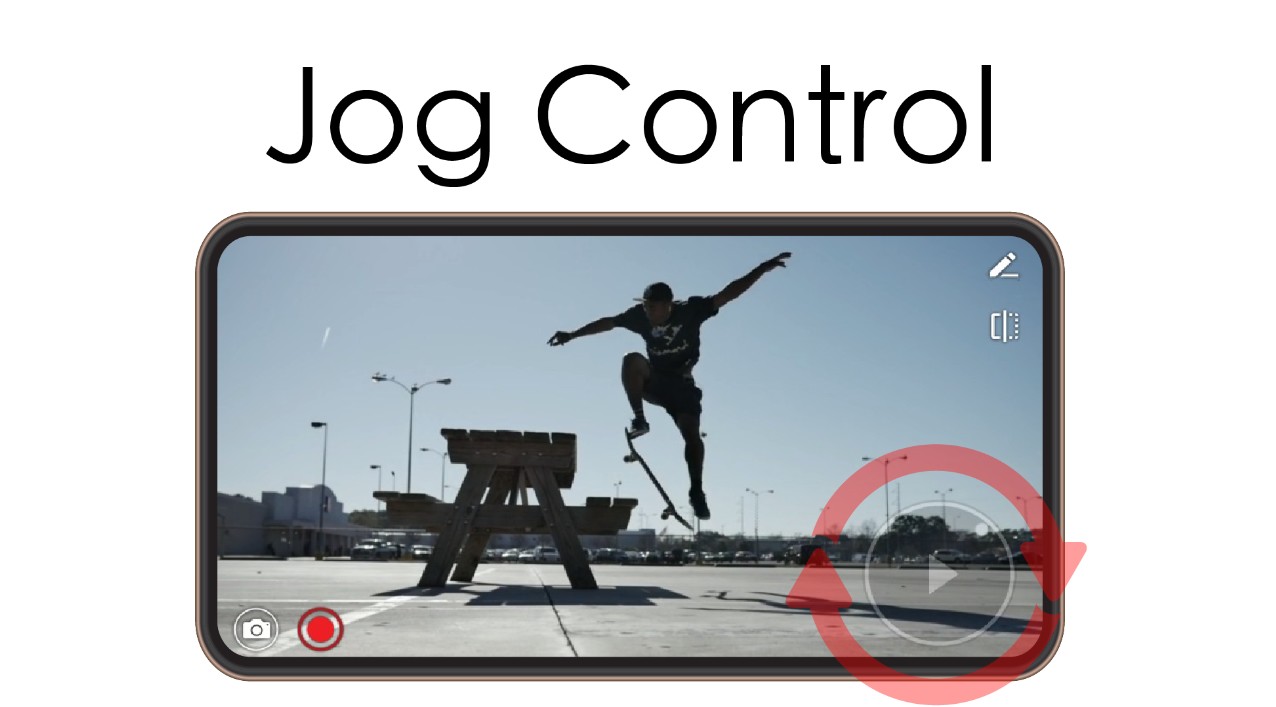 BinaryVideo iX
This app will be most convenient for those who analyze various sports and games on their video recordings. Here, you can add ready-made videos as well as shoot your own.
Besides, you are offered extensive functionality with a lot of special tools. You can make graphs, analyses, and add labels and other signs on the video to make it more understandable and easy to use. You can add many participants to a group for sharing.
The video allows you to use various effects, including slow motion. It will allow you to see all the necessary details in the video for future statistics. Saving and importing files is easy, so anyone who is new to the service can figure out the features and interface in a few of minutes.
You can study the video for any minute or even a second. This will help you make a detailed analysis of any sport. A huge number of functions and tools will make you a real professional in analyzing sports events through video format.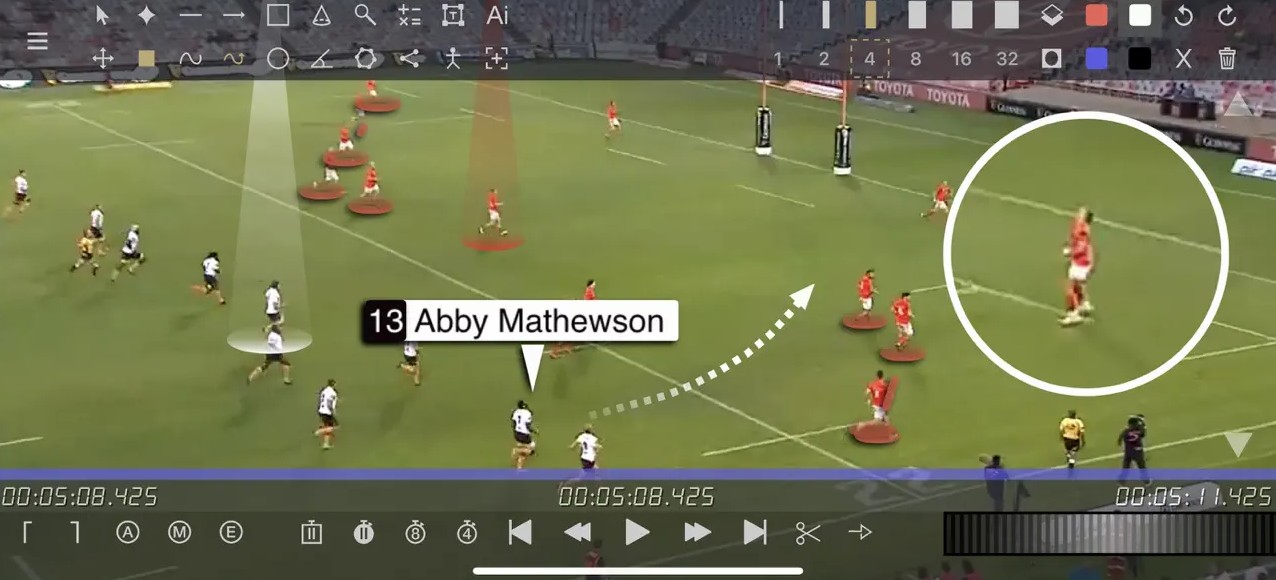 V1 Golf
Improve your golf skills with this app. Learn how to play golf from scratch. It allows even beginners to track their progress with high-quality technology and video recordings.
You can use the linking of the two videos together to view your goals. This will make it much clearer to you how you can improve your technique, the strength of your shot, and the right trajectory.
In addition to self-training at the service offered to seek help from professional trainers. They, in turn, will help master all the missing skills and learn to make the right shots exactly in the hole.
Completed tasks and your achievements you can send your coach directly from the program. With these features of the app, you'll quickly master the sport and can easily get on par with the professionals.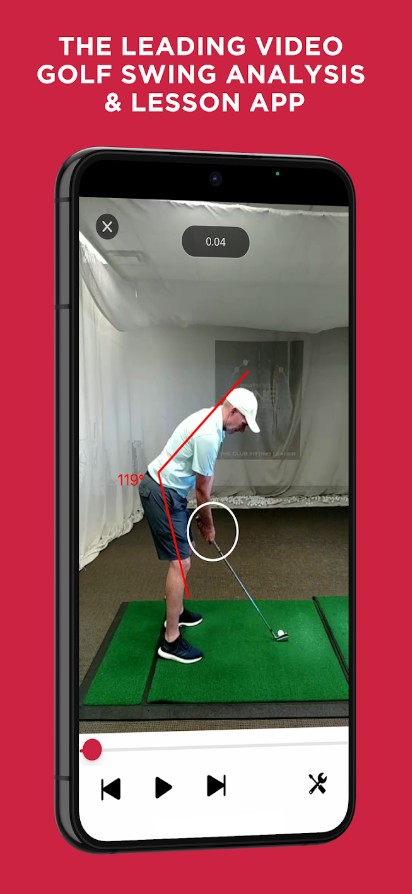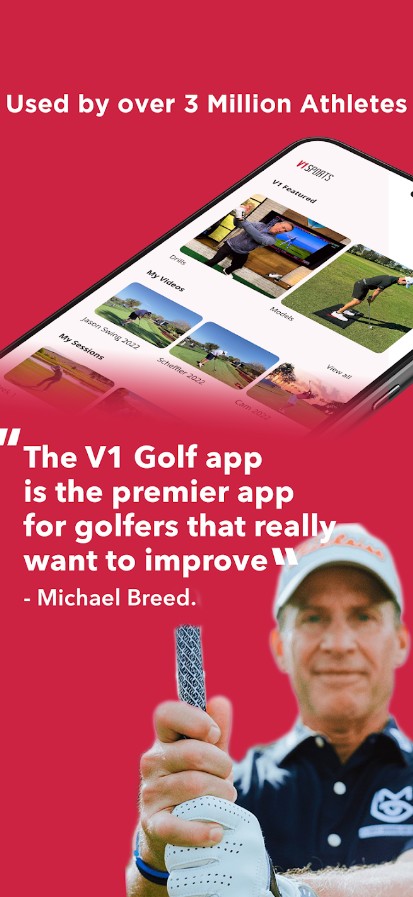 CMV Pro
CMV Pro is an advanced video analysis app for better coaching. It's available only for iOS devices for 9.99$. It has a bunch of function and let you freeze, rotate video, draw lines over it and measure angles. It has been claimed that all functions and tools of the app are easy to learn for anyone. The design and interface are user-friendly, descriptions are comprehended.
Features:
Professional advanced tools: lines, arrows, angles, stopwatch,
All video is available in HD quality. ( the quality and functionality of the app directly depend on the model of your iPhone. Thereby,iPhone4 and 5 will have limited abilities)
Record video through the app and get an immediate analysis.
The app was found very useful by golf, tennis players, and other athletes. Also, it will be convenient for dancers and photographers. And of course, CMV Pro is an irreplaceable tool for coaches and instructors.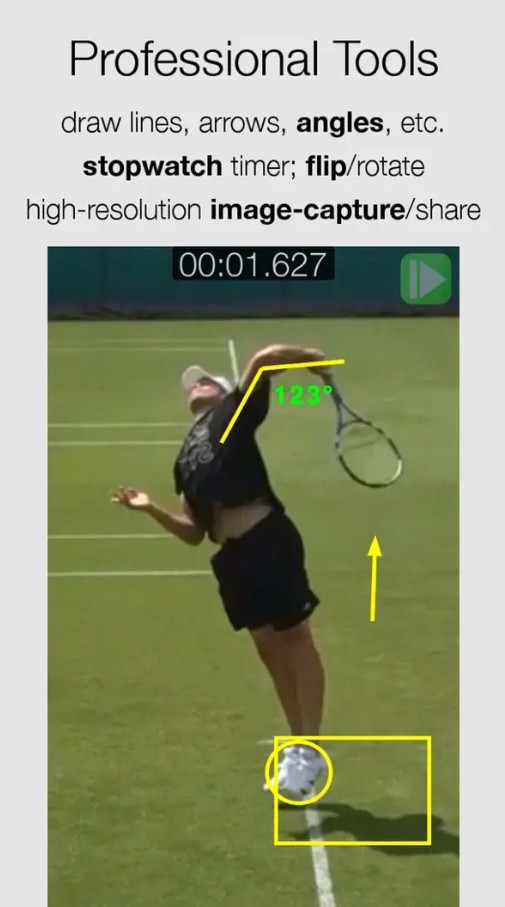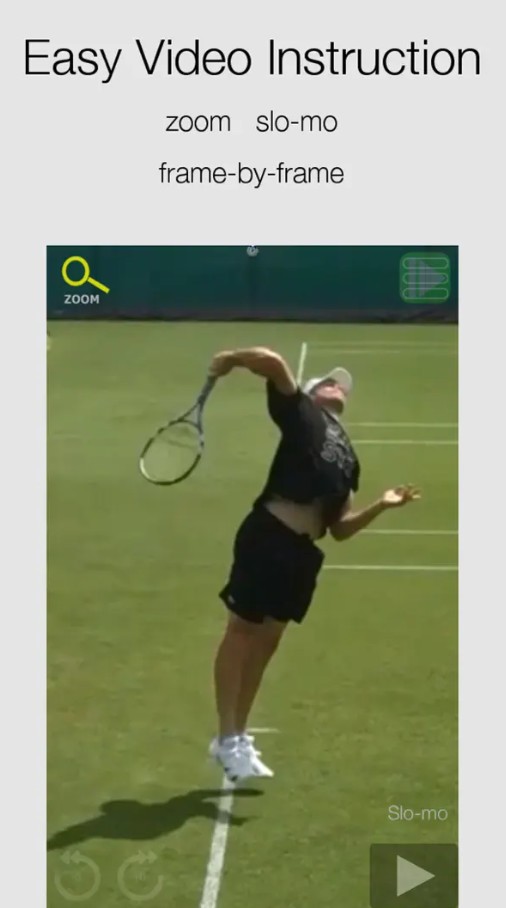 VidAnalysis free
VidAnalysis is a full-featured application that enables users to record and edit sports videos.
Users can record high speed and reverse videos, compare videos, adjust video speed, zoom in/out.
When you have recorded the video or selected the required one, you can play it in a slow-motion mode, and monitor the video frame by frame.
As for the apps' interface, it is quite convenient to navigate. There are not any redundant features there, that's why even novice users will quickly manage it.
Another interesting feature, the app also supports advanced editing tools – e.g. lines, rectangles, circles, arrows, curves, mosaic, etc. Plus, you can also add texts or stickers, and instantly share all the videos with friends via social nets.
However, we have to warn you that this app does not work well on the low specification devices.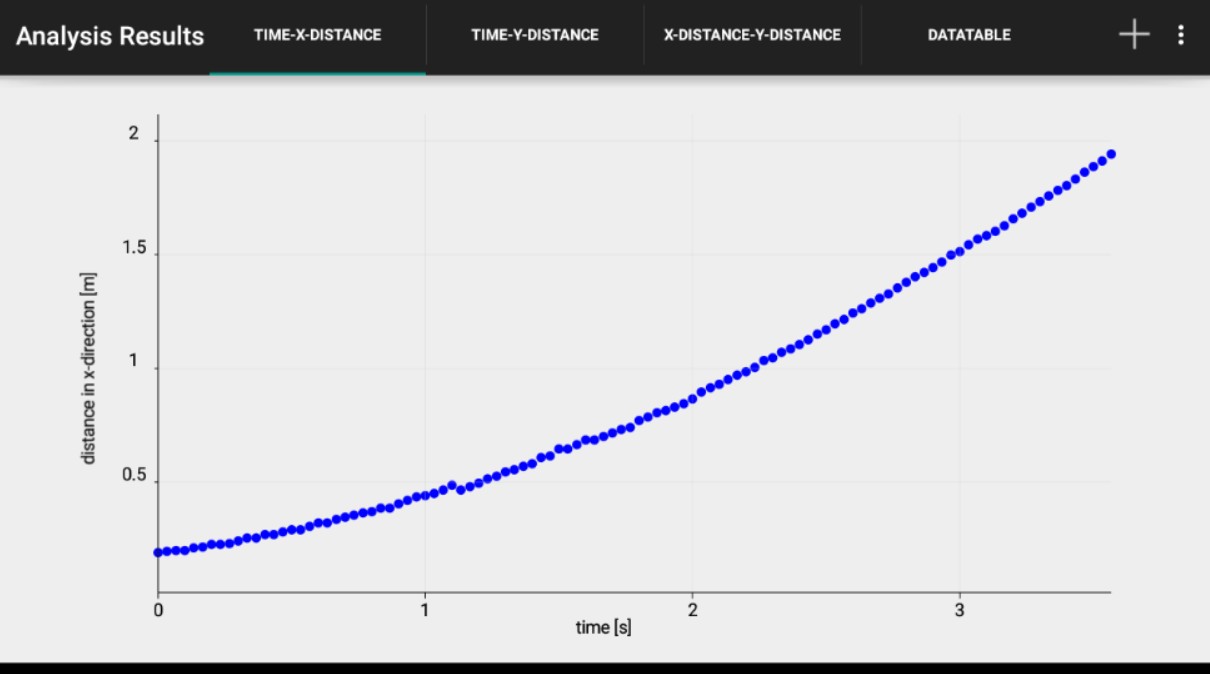 VisualEyes: Video Coaching App
VisualEyes: Video Coaching App is a game-changing tool designed to revolutionize the way athletes, coaches, and enthusiasts analyze and improve their performance.
Users can record their sporting activities or performances and then use the app's sophisticated tools to review, slow down, and annotate the videos frame-by-frame.
Coaches can use the app to draw annotations, add voice notes, and highlight specific aspects of the performance, delivering tailored and constructive insights to the athletes.
Moreover, the app's offline capabilities ensure that users can conduct video analysis even without an internet connection, enhancing accessibility and convenience.
In general, VisualEyes can equip you with the tools to take your game to the next level.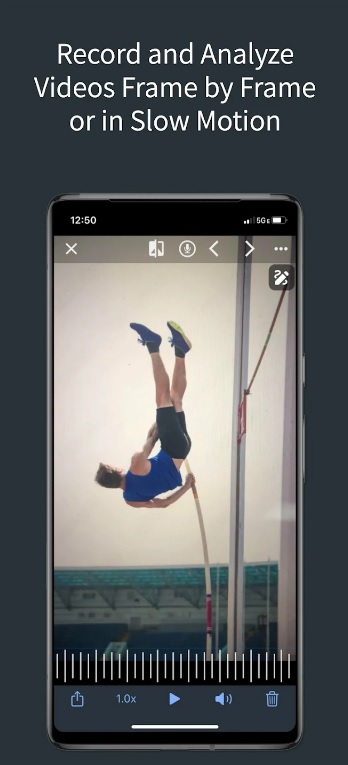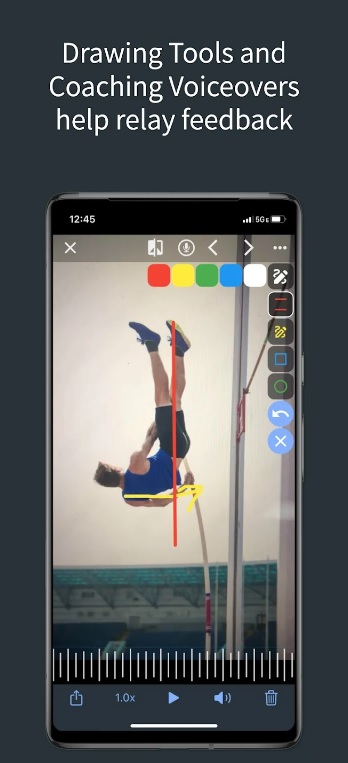 SportCam – Video & Scoreboard
If you have been following sports events for a long time and even wanted to be the main broadcaster of such events, then you will be interested in this app. Here you can post videos and broadcast any sports events in real-time.
Quality video transmission, the ability to leave marks and add points, and editing and formatting the video will allow you to feel like a real operator. Your videos will look just as good as the real thing.
You can post videos showing any sport. You can also show the scores, team names, and individual players for your viewers. So any sports game becomes much more interesting and even those who sit at home can watch it online.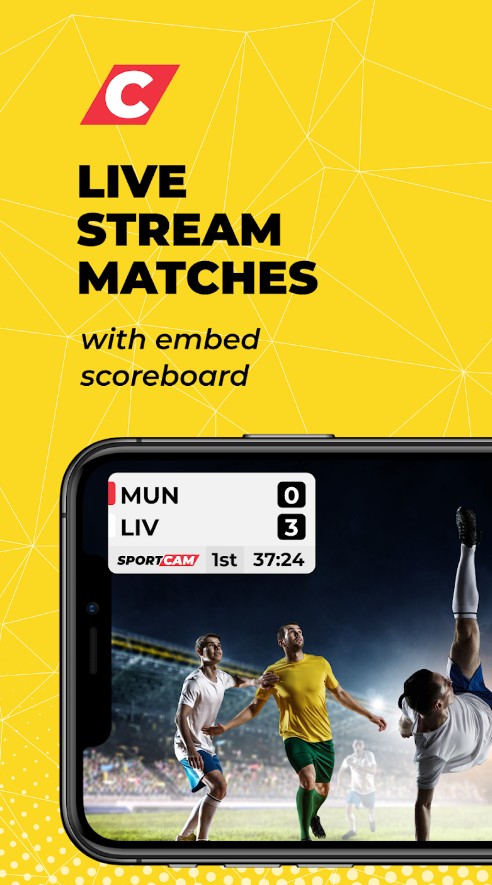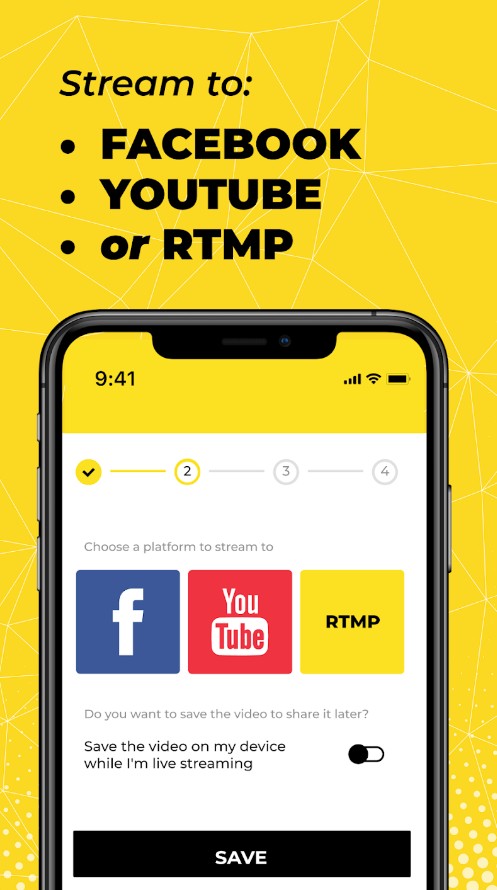 You may also like: 11 Best Sports Betting Apps for Android & iOS
CoachView Slowmo Video Player
The CoachView app aims to give users an edge in understanding critical moments, strategizing, and refining techniques with its slow-motion video playback capabilities.
The slow-motion playback option allows for an in-depth examination of the finer nuances of a shot, a swing, or a play, ensuring no detail goes unnoticed.
Coaches can utilize the app to provide players with visual feedback, enhancing their understanding of strengths, weaknesses, and areas of improvement. Athletes, on the other hand, can utilize the app to self-assess their performance and make informed adjustments to elevate their game.
Moreover, the app's versatility extends beyond sports coaching. It serves as an engaging tool for sports enthusiasts to relive exciting moments and analyze memorable plays of their favorite athletes.
In conclusion, whether you are a coach, an athlete, or a passionate sports fan, this app opens up a world of opportunities to enhance your understanding and enjoyment of the game.