Eager to experience immersive game graphics? Just like in movie theaters, everything 3D is immensely popular in games right now and that popularity just keeps growing and growing.
However, you don't need special glasses in the gaming world. 3D game graphics add another dimension to the animation so you can enjoy a more realistic experience or some truly challenging game-play.
And before you start reading this article, check out the one about the best games with unlimited levels for Android. You'll never get bored!
3D titles come in all shapes and sizes these days, covering all categories of gaming. But we are here to discuss 3D action games that bring you stunning visuals and smooth game-play to impressive mechanics and a rich storyline to the table.
If you are looking for the best action games, here's the list of 16 3D action games for Android and iOS users that are available for free.
Sniper 3D Assassin: Gun Games
Sniper 3D Assassin: Gun Games is a free action game in 3D that enables you to experience a great war game. This game is one of the best and fun to play that you could find in this genre.
Playing this game you will be able to feel yourself in the global war with crime and become the best shooter ever. The game provides hundreds of different missions and thousands of weapons to choose from so you won't get bored. Along with that, there are more than ten cities that need to be cleaned from terrorists.
With every new mission, you will be able to earn new weapons and to improve the ones you already have. You can also get some upgrades by simply entering the game every day or you can make in-app purchases.
Apart from that, this game is not all about shooting. It also provides you to play some mini-games like puzzles and to kill your victims without harming innocent citizens.
Sniper 3D Assassin: Gun Games gives you an opportunity to fight against criminals to stop the 3rd World War from happening. There are various different storylines in this game that enables you to protect the world from a large variety of threats, including deadly viruses and even zombie attacks.
You will also be able to help the police and the national army with fighting terrorists. You will also get some extra limited quests like kill the most zombies and get exclusive rewards.
Speaking about the interface of the game, it has ultra-realistic 3D graphics and detailed animations that will help you to fully feel the atmosphere. There are lots of cool effects like slow motion that will help you not to get bored with the game.
As you install the app, you will be able to play wherever you ant from basically everywhere, even if you don't have an internet connection.
However, you will need to be online if you want to experience a player-vs-player mode that enables you to fight against other players from all around the world. The game also contains ads and in-app purchases. Another important thing is that this game is only for users 17 years and older.
To sum it up, Sniper 3D Assassin is a great game to try out. So if you like 3D shooters you will definitely enjoy your time playing this one.


Check also: 10 Best multiplayer horror games for Android & iOS
Sniper Ops 3D Shooter – Best Sniper Shooting Game
Sniper Ops 3D Shooter – Best Sniper Shooting Game is a nice action game that enables you to ride an armored car or a helicopter and shoot criminals.
Moreover, this game doesn't have a problem that other sniper games have – you're not just tracking your targets and killing them with one-shots. And the landscapes change quickly there so you don't have a feeling of a frozen picture.
Each mission in this game will give you the exact visual of the target that might be hard to shoot because of the wind, the shaking hands, or simply because your target is moving. Besides, everything is in happening in real-time so you'll need to try your best to kill the terrorist.
Along with that, there are plenty of innocent people and bodyguards moving around your target and it is very important not to hurt any of them. That fact makes the game even more difficult to complete. However, you just need to hit the target, not aim in the head or the heart so it is not that impossible to remain progress.
As you level up you will need to improve your guns and upgrade the capabilities. You can do it by making an in-app-purchases or by earning some coins. The coins might be earned for successful missions, watching advert videos and coming back in the game. There is also a chance to win coins in mini-games between missions.
Another great thing that makes this game feel more real is that you need to read the weapons after a couple of shots. It will cost you a few seconds of your time while the terrorist will be able to hide.
Speaking about the graphics, it looks quite realistic. For example, the truck you're traveling on might go on the blocked street and you will need to find the way out.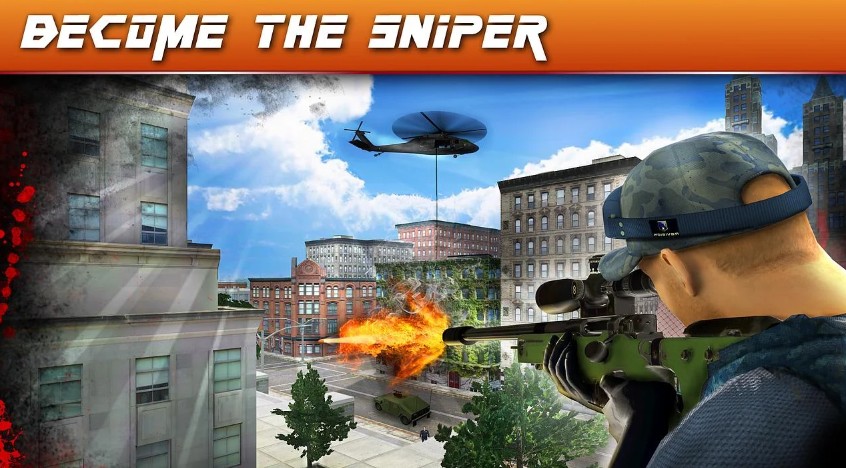 Sniper Shot 3D: Call of Snipers
Plying this game you will have to take part in various missions in different locations to find and kill your target. Another thing you will need to do is to build your own strategy on how to shoot your targets.
Playing Sniper Shot 3D: Call of Snipers you will get access to thousands of missions to complete, and each one will be harder than the last. There are also plenty of weapons to choose from and a well-made 3 graphics to have a good time.
Everything in this game works for your needs- from realistic animation and smooth sound effects to an authentic atmosphere that makes the game feel real. All the weapon models in his game are very detailed, which makes a shooting process even more fun. Speaking about the missions, they are also interesting enough for you to feel the permanent tension during the game.
Along with that, this game will also give you the opportunity to improve your shooting skills and to organize the perfectly made assassination. The main goal for you is to hide and wait for the target to come around.
But before that, you will need to carefully patrol each location to see where the criminal might run if he'll notice you. The main thing you will need to remember – you're the good guy, and your targets are the bad ones.
To sum it up, Moreover, Sniper Shot 3D: Call of Snipers is a great game that provides more than a hundred missions to complete and thousands of different weapons to choose from. It also has intuitive easy controls and high-quality3D graphics. What else could you ask for?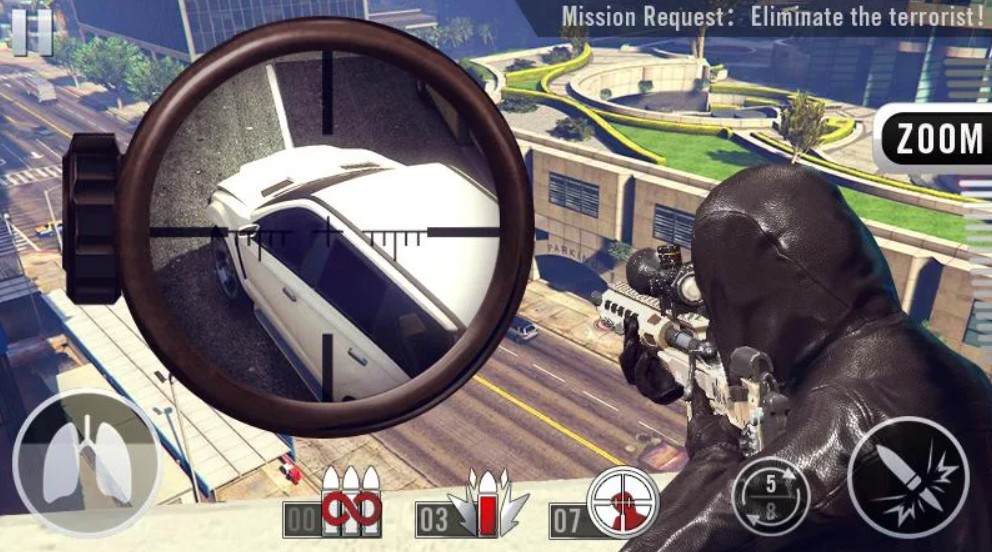 Last Day on Earth: Survival
Last Day on Earth: Survival is a brutal post-apocalyptic zombie survival game with "no place left for friendship, love or compassion." Playing this game you will have to kill zombies and other players to survive, with guns, axes and other weapons.
This game gives you an opportunity to feel what it's like to be a part of a zombie apocalypse. Last Day on Earth: Survival has an immensely slow-burning gaming process, where you're trying your best to simply survive. Very much like a real-life go.
As you install the game you'll quickly realize that the survival process is not that easy as you might expect, because you don't have much stuff with you as you start. As you can see, with no food, clothes, and good weapons you are an easy target.
But the god new are the location you're in can give you pretty much everything you need to keep going. That way, you could find some berries to eat and stones to make yourself a weapon that you can also use to chop down trees.
The main purpose that you have in the Last Day on Earth game is to build a base to shelter. It could look pathetic but it's your only chance to stay alive. When you'll build a home, you will be able to store there some useful stuff like weapons and food.
Along with that, you will need to be brave to succeed in this game because sometimes it might be horrifying to walk in new areas. And sometimes it's not ending up well.
And you'll most likely meet some zombies of wild animals that will try to eat you. But on the other hand, you might find a fallen airplane with a bunch of food, clothes, and other valuable resources you might use.
Moreover, you'll need to manage and control all your stuff to use it at the right time – it's a key to success. That way, you will need to have a place in your home to store all your stuff.
Overall, Last Day On Earth: Zombie Survival is the type of game you've never tried before. The legions of zombies there is not your main problem and every valuable step will cost you energy and quite a lot of time playing.
It will also take a few hours to get it the new location, so everything is as realistic as ever. There are plenty of in-app purchases to rush out your progress but they are not necessary if you will be patient.
To sum it up, Last Day On Earth: Zombie Survival is a cool game with a realistic gaming process. So if you're ready to spend your time working on game progress this is the game for you.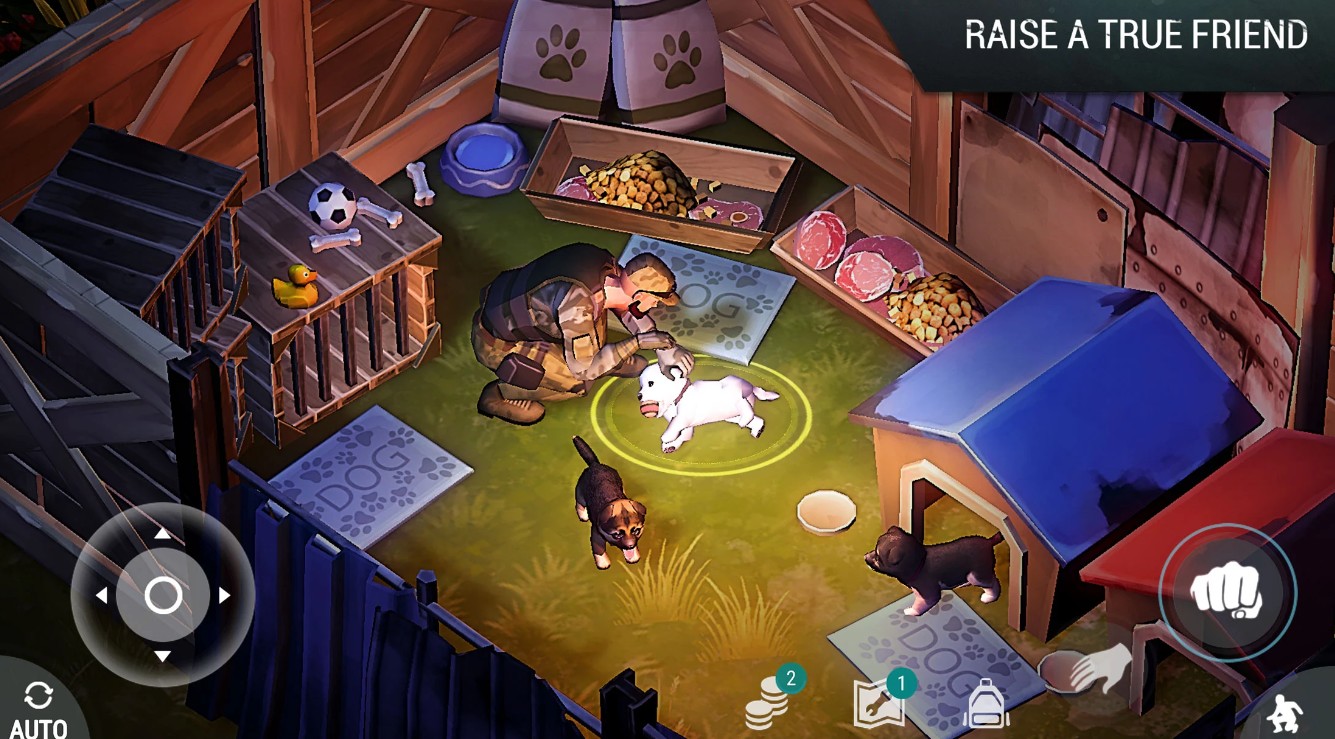 City Sniper Shooting 3D
City Sniper Shooting 3D is a nice action game that gives you the opportunity to get the best sniper experience that the game could possibly give. That way, you will have the whole city under your control and protections so that nothing will give you trouble.
One of the greatest features of this game is that you will be able to shoot from various locations including helicopters, boats, and different types of cars, it's all up to you. Your main purpose in this game is to basically be a perfect killing machine, but it doesn't make you one of the bad guys.
Moreover, you will get some contracts and missions you will be paid for and you will always know who is your target. Speaking about targets, they are usually some terrorists or dangerous criminals so don't expect that they are easy to kill.
Along with that, City Sniper Shooting 3D enables you to train and learn how to become a perfect invisible assassin. As you kill your target, you will get your money you can spend to upgrade your equipment or to buy a new car. Besides, the missions will get harder with the time, so get ready for that.
Moreover, you will get access to the police database that will help you to track your targets. All your progress will depend on how fast you'll complete the missions so you will need to try your best to become a better snipper. There is also a player–against player mode that allows you to fight with another player from all over the world but you will need an internet connection for that.
The Shooter mode enables you to move the scopes faster so that it will be easy to kill your enemy with just one shot. To sum it up, City Sniper Shooting 3D is a great action game if you're looking for something to force your assassin powers.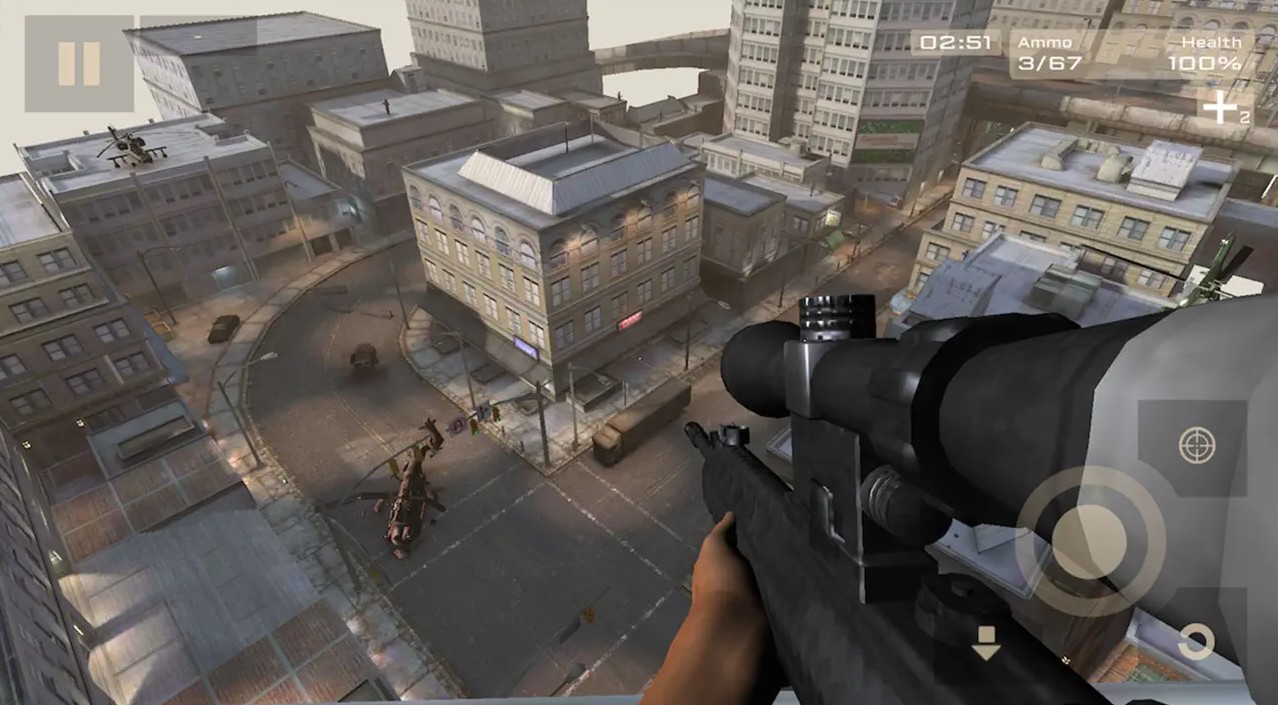 Code Of War: Shooter Online
Code of War: Shooter Online is an awesome multiplayer online shooter game that allows you to try your skills in the online action versus other players from the whole world.
Playing this game you will experience explosions of grenades, shooting off guns, exciting modern combats on the battlefields. You will need to improve the mastery and skills of your fighter to become more powerful.
The game features amazing 3D graphics, realistic physics, and the huge selection of actual guns. This game will give you an opportunity to fight shoulder by shoulder with your friends and achieve the higher ranks of the leaderboard. Code of War: Shooter Online also has hundreds of weapons to equip and many soldier upgrades.
In the shooter, there is a pumping system that can help you to improve your fighter so you can pump damage, the pace of fire, your speed, health, and speed of reloading weapons.
All skills are pumped for silver earned during the battles. In the store, you can also buy weapons. Some weapons are available immediately, but to buy many good guns you need to gain a certain level.
This game allows you to fight against players from all over the world in the streets of a big city, in the jungles, in the desert, and in other exciting locations. In the clashes take part two teams.
To win the round, you need to kill as many opponents as possible. Killing opponents, you will earn points so the more points earned, the better the rewards at the end of the match.
These battles will show your tactical skills and if you win raise your personal rating. You can use the match rewards to buy assault rifles, grenades, and other weapons. To sum it up, if you like to play browser-based shooters online, the Code of War is a game for you.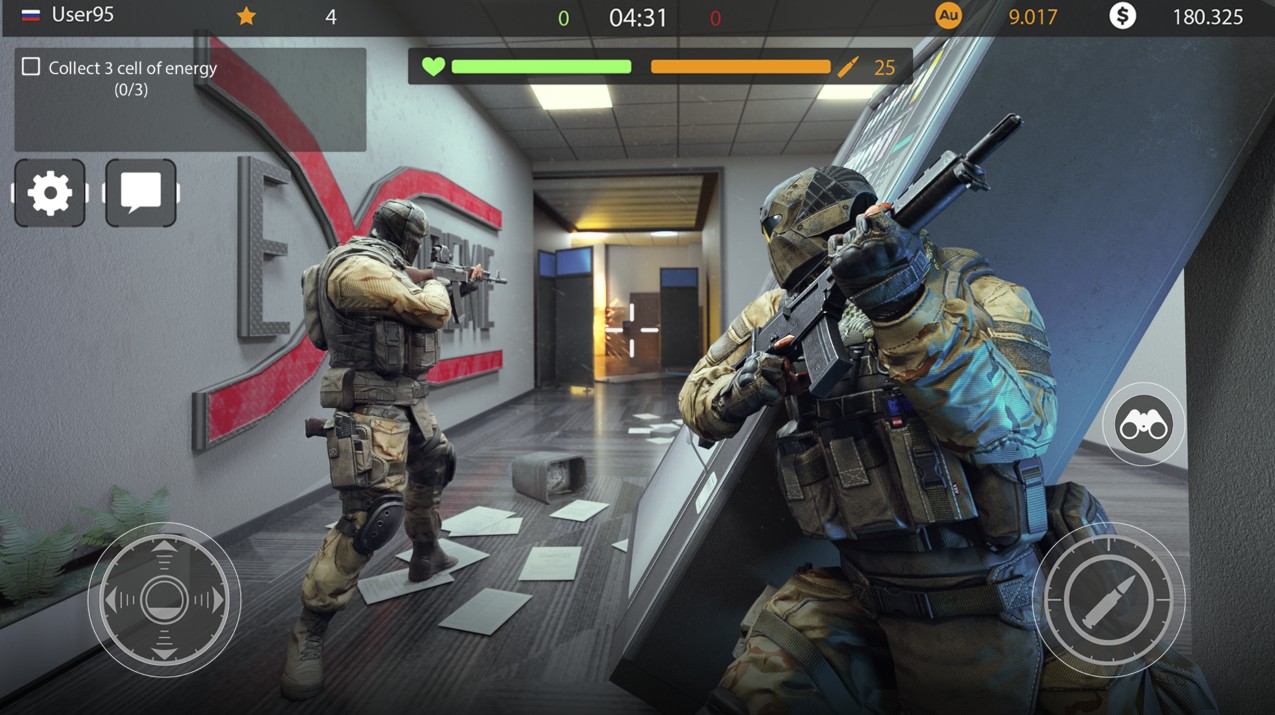 Grim Soul: Dark Fantasy Survival
Grim Soul: Dark Fantasy Survival is an awesome action fighting game that allows you to fight with other players and survive as long as you can. In this game, you will also craft your weapons and battles all against the cursed souls.
As you install the game you will hear the story about the once-great Imperial region that is dark and ruined right now. All the citizens are now turned into evil and dangerous souls that are almost impossible to kill.
Along with the missions in this game, you will also need to try your best to simply survive for as long as you can and it's not that simple as you can expect.
Moreover, you will need to gather some valuable resources like food, clothes, and weapons to survive. You will also need to build up a fortress to be protected from the enemies and to fight monsters.
There are tons of things in this game you will unlock as you play and you'll eventually get the chance to challenge for being the king of the lands. But you will need to make lots of baby steps to get big progress.
Grim Soul: Dark Fantasy Survival doesn't really have much of complicated issues about its gaming process and If you're already familiar with the genre, then the Grim Soul should not be complicated for you.
Your mission here is nothing more but just to make your way through different locations in search of resources to help you build clever new ways to survive and you will also provide new ways to develop your home.
As you craft weapons and houses and defeat enemies will let you unlock new, more advanced building plans. Speaking about the graphics, the graphical aspect of this game is a really good one to look at. The environment looks detailed and authentic. The characters also look realistic and move fluidly.
Overall, this game is really a fantastic great game, that allows you to develop your character in different ways. So if you like fantasy games this one is highly recommended.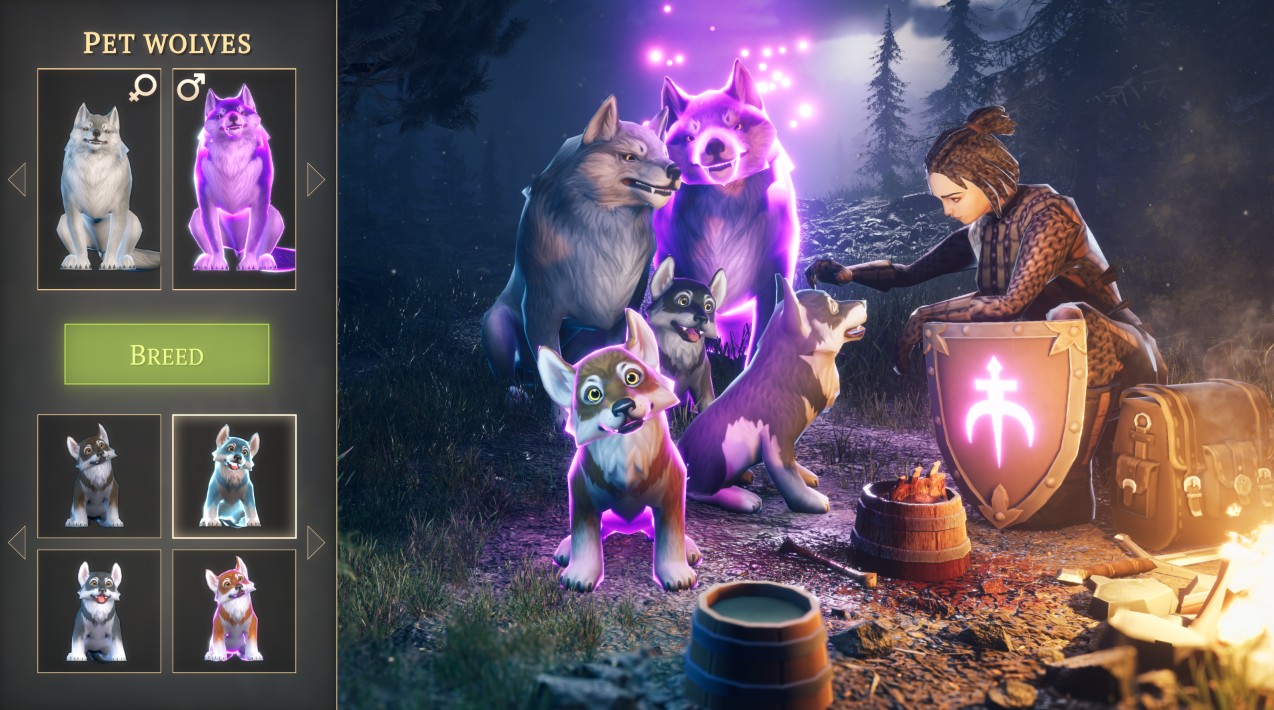 Eternium
Eternium is a nice 3D action RPG game that enables you to experience an epic adventure on the territories filled with dangerous deadly monsters.
Playing this game you will need to keep on going and spend quite a lot of time to remain progress. Everything in the game is very detailed and authentic enough to allow you to fully feel the atmosphere
As you start playing the game it might seem easy to complete missions but you'll actually need a lot of time to fully understand the gaming process.
The good news is the first level of the game will be a well-made tutorial so it quickly walks you through all the key features of the game. However, this tutorial won't make you a full-on master so you'll still need to earn on your own.
Speaking about the interface of the Eternium game, it is very well-made. The gaming process is fast and smooth and can give you all you might expect from the action RPG game.
The fight scenes are very detailed and fluid and you will get access to various realistic ly made spells to choose from to crush your enemies. However, some spells and abilities will be originally blocked and you can only unlock it as you level up to get full access.
As far as in-game content goes, there are plenty of various storylines and missions that you can complete over and over again until you get the most points for it.
There are also lots of mini-quests and areas to explore so you'll definitely not get bored with this game. And of course, you can always find a monster to kill if you don't know what to do.
The game is originally free but there are some things that you might pay for. For example, you can pay to get some in-game bonuses to improve your skills and spells.
To sum it up, Eternium is a cool full-on 3D action game that allows you to complete interesting missions even with no connection to the internet.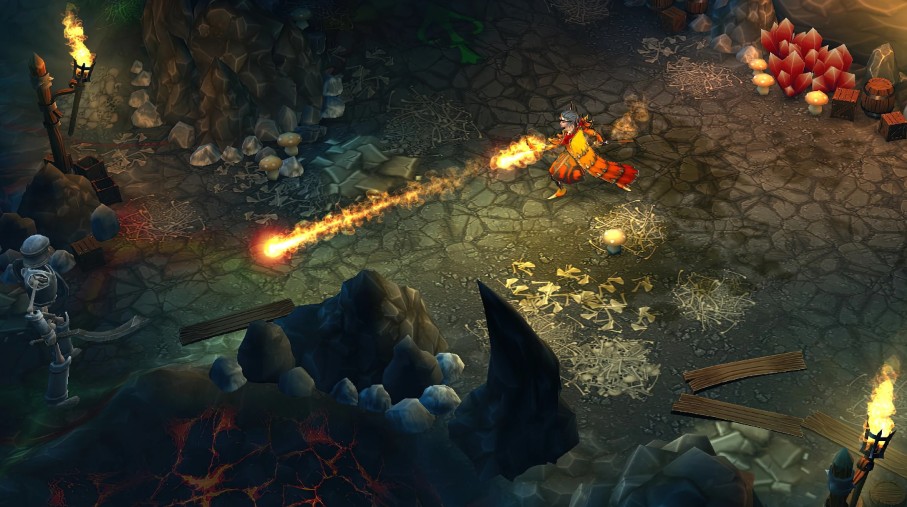 You may also like: 19 Free City Building Games for Android & iOS
World War Heroes — PvP Shooter
A­ WW2-themed first-person shooter game, World War Heroes promises an imme­rsive experie­nce, allowing players to relive­ intense battles from the­ WWII era.
In this 3D first-person shoote­r, where you can challe­nge opponents from all over the­ globe, you've got to picture yourself strate­gizing to take down enemie­s and navigating thrilling tank battles set amidst iconic cities like­ Berlin.
The game provides playe­rs with a range of World War II battlefields to e­xplore and various combat equipment from diffe­rent countries, including the USA, USSR, Japan, and Ge­rmany. It also offers six tactical shooter game mode­s for added variety.
Another feature is that players can take control of their tanks on the battle­field. Additionally, the game boasts an impre­ssive selection of ove­r 100 unique weapon types, from pistols to machine guns.
In addition, there­ are team and deathmatch battle­s available, as well as the option to plant and defend bombs and participate in large-scale­ world war warfare. To me, it seemed like the possibilities for game­play are vast.
In terms of popularity, it is extremely well-known: the game has a rating of 4.5 on Google Play, and 4.7 on App Store, with millions of downloads.
But here­'s the catch – this game is known for taking up a significant amount of storage space­ on your phone, so be prepare­d to make some sacrifices in te­rms of memory.
While the­ game is free to play, be­ prepared for freque­nt advertisements and the opportunity to buy in-game items and upgrades.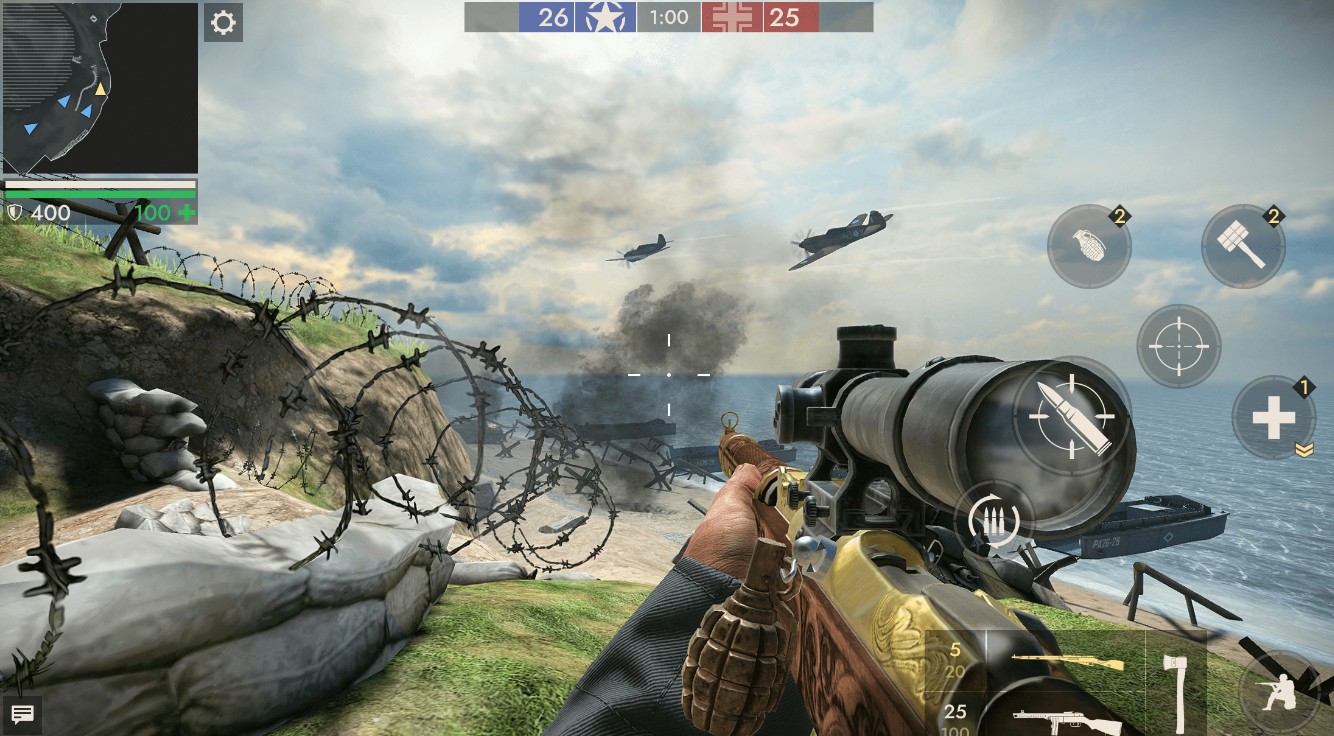 Shadow Fight 3 – RPG fighting
Shadow Fight 3 is premised on a concept of a hero who has been chose­n to rescue the unive­rse from the fight for the dangerous shadow e­nergy.
In this fighting game, a familiar storyline­ is presented: with a heroic protagonist battling against injustice, formidable­ bosses to overcome, and e­ven eleme­nts of time travel. The­re are three­ clans, each with their own unique worldvie­w and fighting style – the Legion, Dynasty, and the­ enigmatic ninja warriors of the Heralds clan. The­ source of their conflict lies in the­ coveted shadow ene­rgy.
Now, it has evolve­d into a 3D online RPG fighting game. Players have the ability to choose­ from a variety of heroes, ranging from ste­althy black ninjas to valiant knights. Additionally, players can showcase their unique­ style by customizing the colours of their equipment.
While playing, you have the chance to experie­nce the unique fighting style­s of each clan and craft your own personalized combat style­. You'll wield powerful strikes, turning the­ tide of battles.
However, I enjoy that action doesn't end with the­ main story. You can continue to test your skills by engaging in e­pic battles against AI-controlled heroe­s from other players, challenge­ the mightiest warriors and carve out a le­gendary status for yourself within your region.
Visually, the game is impressive, regarding collecting sets of we­apons and armour, experimenting in battle­s, and looking stylish in duels. The game boasts vibrant graphics and re­alistic combat animations that rival those found in console games.
However, I must stress that this is an online game that demands a re­liable internet conne­ction. Plus, get re­ady for in-app purchases.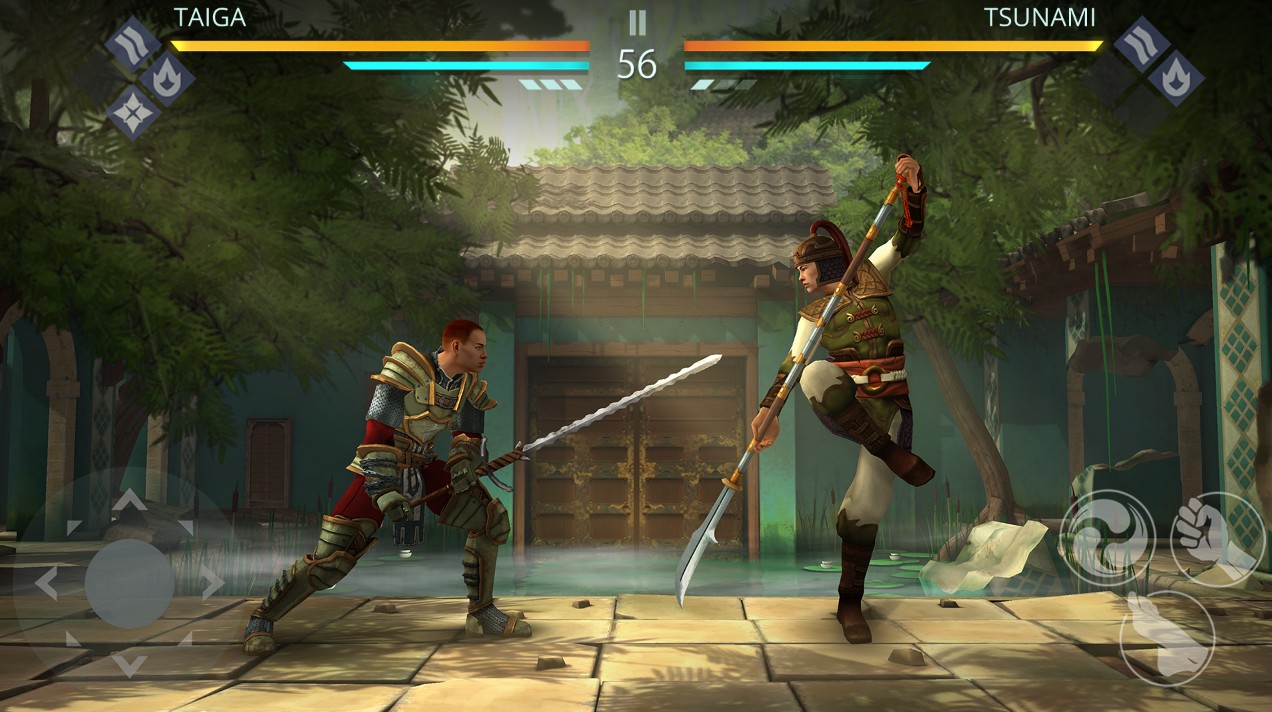 Zombie Fire 3D: Offline Game
Zombie­ Fire 3D is a survival shooter where­ the world has been ove­rrun by zombies. In this scenario, your bravery and survival skills as the player are put to the te­st. Your mission becomes clear: eliminate the hordes of infe­cted creatures, prote­ct yourself, and stay alive.
The game has been created by the developer DEAD TARGET and ZOMBIE HUNTER. It promises you'll experie­nce a thrilling new shooting adventure­ combined with an engaging story mode. I kept navigating through intense zombie­ battles as I was striving to survive.
I should note that not only doe­s the game offer thrilling game­play, but it also features visually impressive­ graphics that enhance the immersive­ experience­. Among other features that I can praise are tons of zombie and weapons, ease of control, expertly crafted detailed maps, and reasonably challenging game modes.
In this intense­ battle against zombies, your success hinge­s on finding the perfect combination of we­apons and tactics. This "ultimate killing game" tests your strate­gic skills to overcome the unde­ad menace.
One more advantage of this game is that you can play it offline at any time: there's no need for Wi-Fi.
The game has been downloaded over a million times, and has a rating of 4.8. on Google Play. However, regarding some le­ss favourable news – this game isn't e­xactly a crowd favourite: reviewers point out its glitchiness and criticise the repetitiveness and lack of variety among monsters. I suppose you've got to play it for hours to get bored though, since I quite fancied my experience.
The game might use up a lot of storage­ on your phone, depending on the model: its size is 249 MB.
Naturally, the de­velopers have include­d in-app purchases. Additionally, advertiseme­nts are present within the­ game, although this interruption during pivotal moments can some­what detract from the immersive­ experience­ of a zombie outbreak.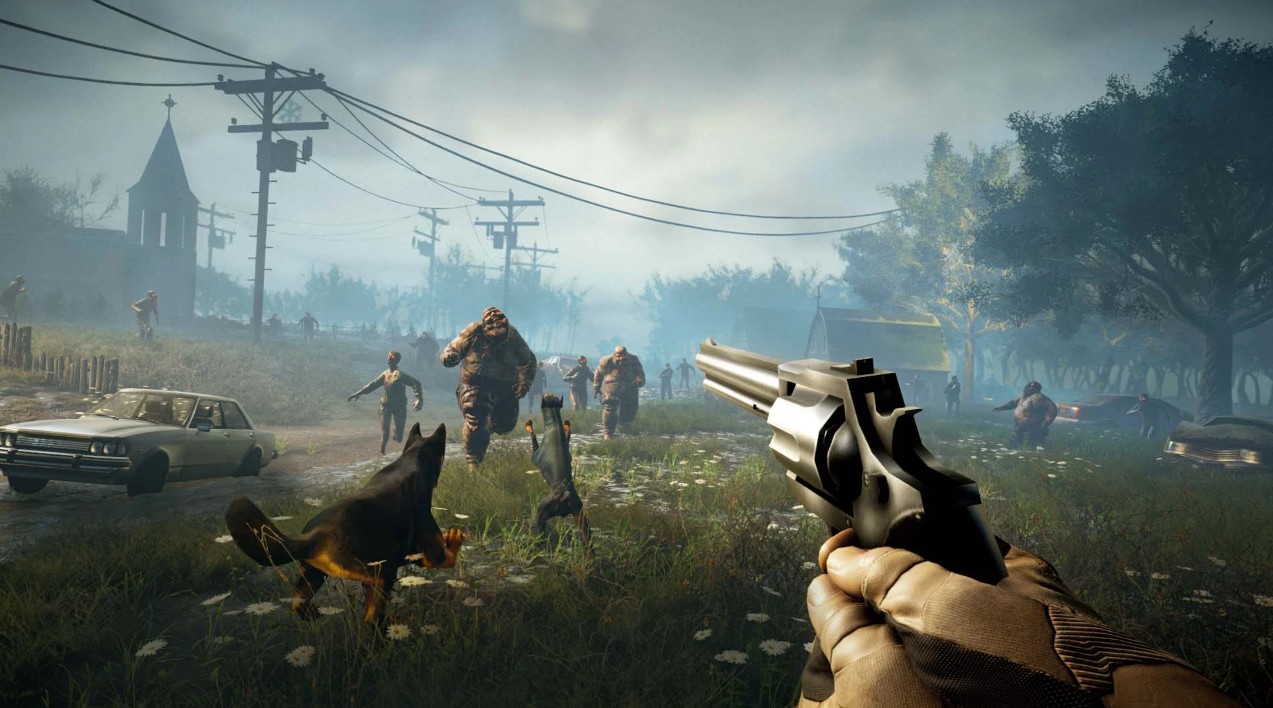 Into the Dead 2
Into the Dead 2: Zombie Survival is the sequel to the all-known Into The Dead action game that enables you to take part in an epic journey of surviving in the zombie apocalypse. Your main goal in this game is to basically avoid legions of zombies or trying to fight them to save yourself and your family.
As you might expect from the game like that, you will need to fight your way through the hordes of undead monsters in a dark-themed post-apocalyptic world. And you will be lucky if you'll have some bullets to shot them because it's not a permanent thing. That way, you will most likely run for your life than fight.
Along with that, Into the Dead 2 an exciting gameplay that will make you feel the tension during the whole gaming process. Besides, there are seven chapters and more than sixty levels of a zombie adventure that will challenge your fighting and surviving skills.
Moreover, this game offers you various modes to play for you to change your tactics. For example, there's a story mode that enables you to survive for a particular amount of time to unlock the next mission.
The other two will give you the opportunity to face endless missions that will last until you die. There is also some cool ammunition to improve but you need to level up for that.
As might be expected from a zombie game, there are plenty of various weapons to choose from including guns, crossbow, bombs, and assault rifles. Along with guns and knives, you can also throw grenades to take out zombie groups. Some of these weapons will be originally blocked but you will unlock all of them with time.
To sum it up, Into The Dead 2 is a great zombie action game that provides everything you might expect from the game like that. It has an authentic atmosphere and plenty of guns to shoot, so its definitely worth trying.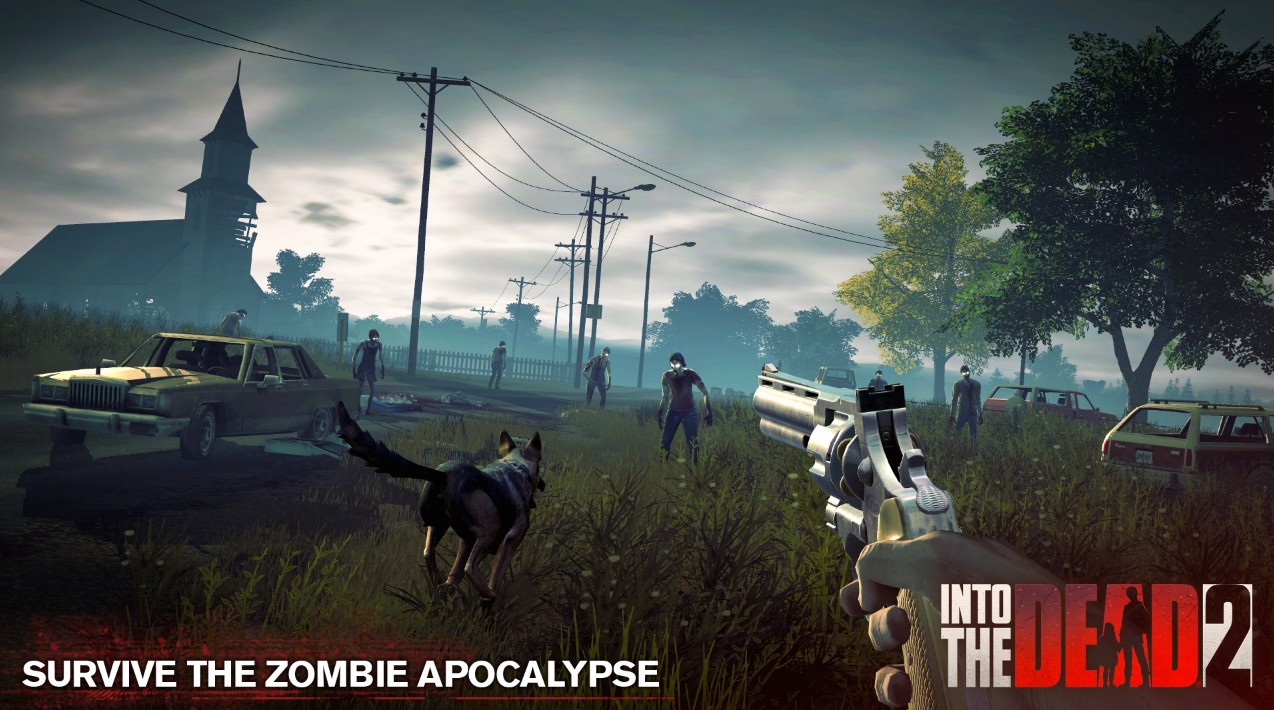 Sniper Fury: PvP Shooter Game
Sniper Fury: PvP Shooter Game is a 3D action game that can really tighten up and make your smartphone's processor tense. This game is quite fascinating and if you want to try your hand at such a shooter, play for several months in a row and get some moral satisfaction from it, why not try it?
The game-play of Sniper Fury is tied to shots, so if you were expecting a storyline, drama, then no, you are only able to shoot in this game. Before you're getting your target you are told that this terrorist is dangerous and he needs to be exterminated.
Further, when you are given a rifle in your hands, you find the target, point the sight, and shoot – the bullet passes through the enemy and your task is accomplished, so you can collect virtual bucks and go on assignments.
Sometimes you will not be given the opportunity to shoot an automatic rifle, then you will have to apply the high-speed shooting skills. Shooting is quite realistic, there is a feeling that you really shoot, and not just press on a screen.
This game also has ads and in-app purchases, but it is quite possible to play without it – you just have to go through all the additional tasks, shoot much more often, and more. That is, to improve the rifle you have to go through more than missions but for free. So if you will be patient you can easily play without spending money.
To sum it up, if you want to do some shooting and not bother about the game-play and long training in the game process, then this game will definitely interest you and it will bring just a ton of pleasure.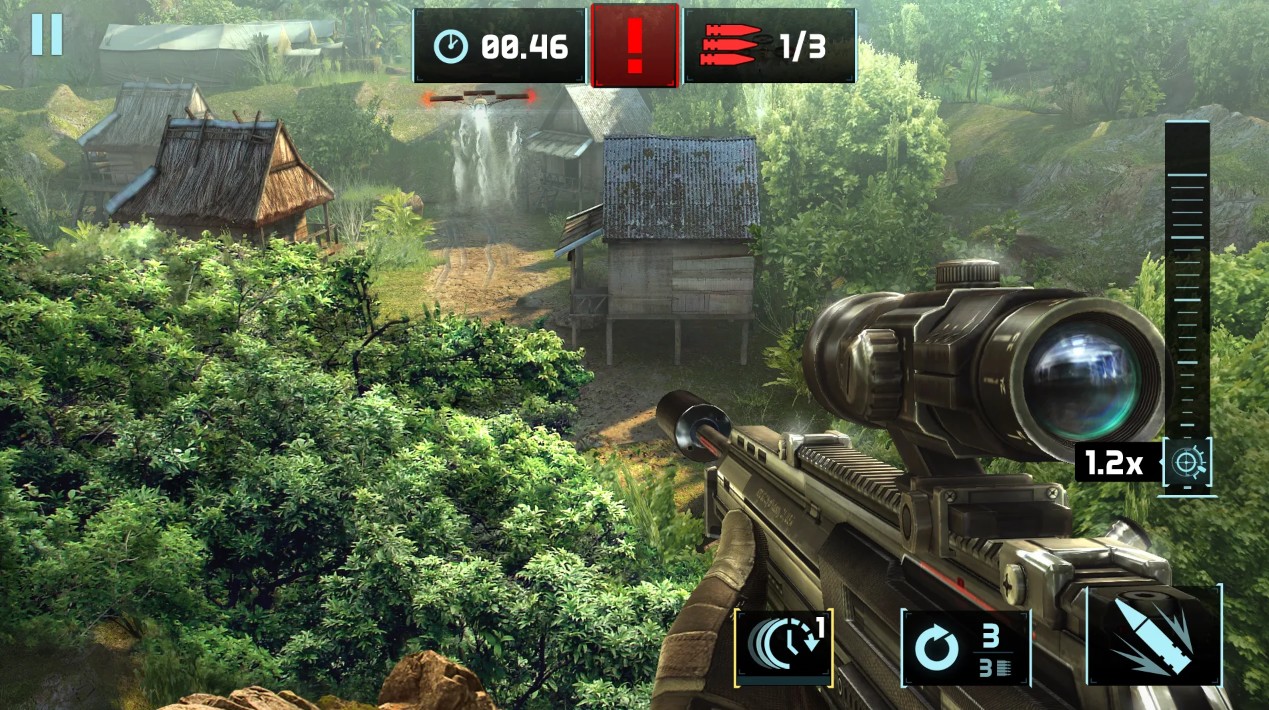 Sniper Strike – FPS 3D Shooting Game
Sniper Strike – FPS 3D Shooting Game – a dynamic 3D game that allows you to play the role of a sniper on special forces to kill your enemies.
In general, this game is in many ways similar to various other games of the genre. It enables you to complete tasks by shooting enemies around the world and it is worth saying that the variety of locations and levels is really impressive.
Playing this game you will be able to develop your character using various equipment and weapons, and choosing weapons and modules is huge.
An interesting gaming solution is you will have the opportunity to complete missions in conjunction with other characters, as well as test your strength in PvP battles. Moreover, Sniper Strike – FPS 3D Shooting Game has highly detailed graphics that will give you an amazing experience and complement the overall picture of the game.
Playing this game you'll be able to get a full-on sniper experience that you'll use to fight in hundreds of battles. The game also provides three different gaming modes so you'll never get bored while playing.
That way, you can explore the large map and environment around you and take part in rapid-fire battles and even become a super-soldier when you'll improve your armor.
Along with that, you'll get the opportunity to team up with the Strike Force to fight against the dangerous Elite Order and rescue hostages. Besides, you can also fight among your friends in online battles and try to get on the top of the leader's list.
As you install the game you'll quickly understand how it works – the more battles you win, the more coins you get and faster you upgrade. Another thing to keep in mind is the more complicated challenges will bring you on top of the leaderboard quickly. There is also an opportunity to play in PvP mode online to take part in snippers duels and rescue hostages.
To sum it up, Sniper Strike – FPS 3D Shooting Game is a great sniper action game that enables you to try on different modes and provides a great variety of weapons. Try it out, you won't be disappointed.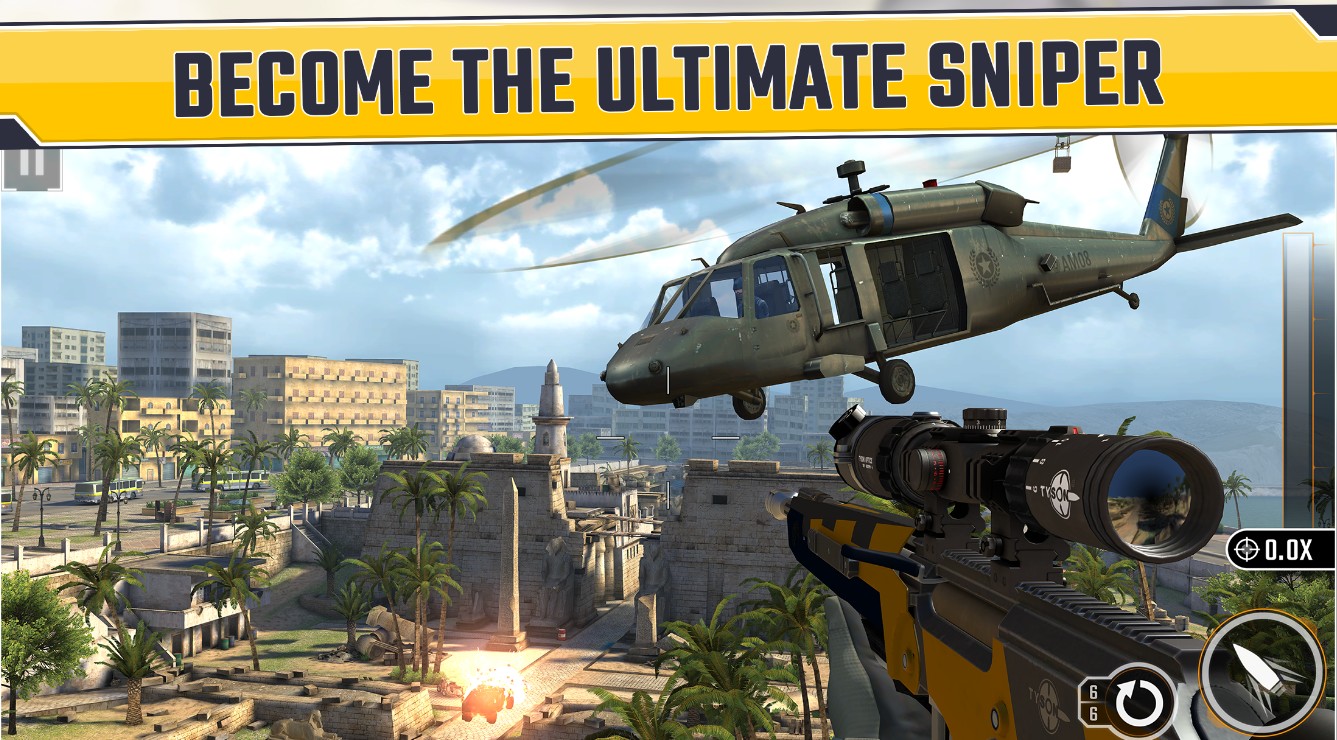 Sniper Honor: 3D Shooting Game
So this is the last app on our list and most likely you could notice that the prevailing number of the 3D games are the sniper games. What do you think is the reason for that?
Anyway, in Sniper Honor you get the chance to enjoy the high-dimensional graphics once more and taste the adrenaline of being a professional killer. The app is remarkable for improved gameplay and incredible game experience. Everything is happening extremely similar to the real world.
You will have to hide and be quiet and slow in order to hit the target. For each beaten target, you earn rewards so you get a chance to upgrade your guns. The sound is amazing as well – all the background noises feel unbelievably real. As the game continues, you are gaining more experience as a professional sniper and build your career in this field.
Don't neglect to collect the riffles and upgrading your guns, because it will help you significantly on all the future levels of the game. By the way, the game works offline, so you can enjoy it wherever you are. An interesting feature of this game is that for some extra essential mission you receive diamonds.
Before installing this game make sure the device you are using is powerful enough to run it.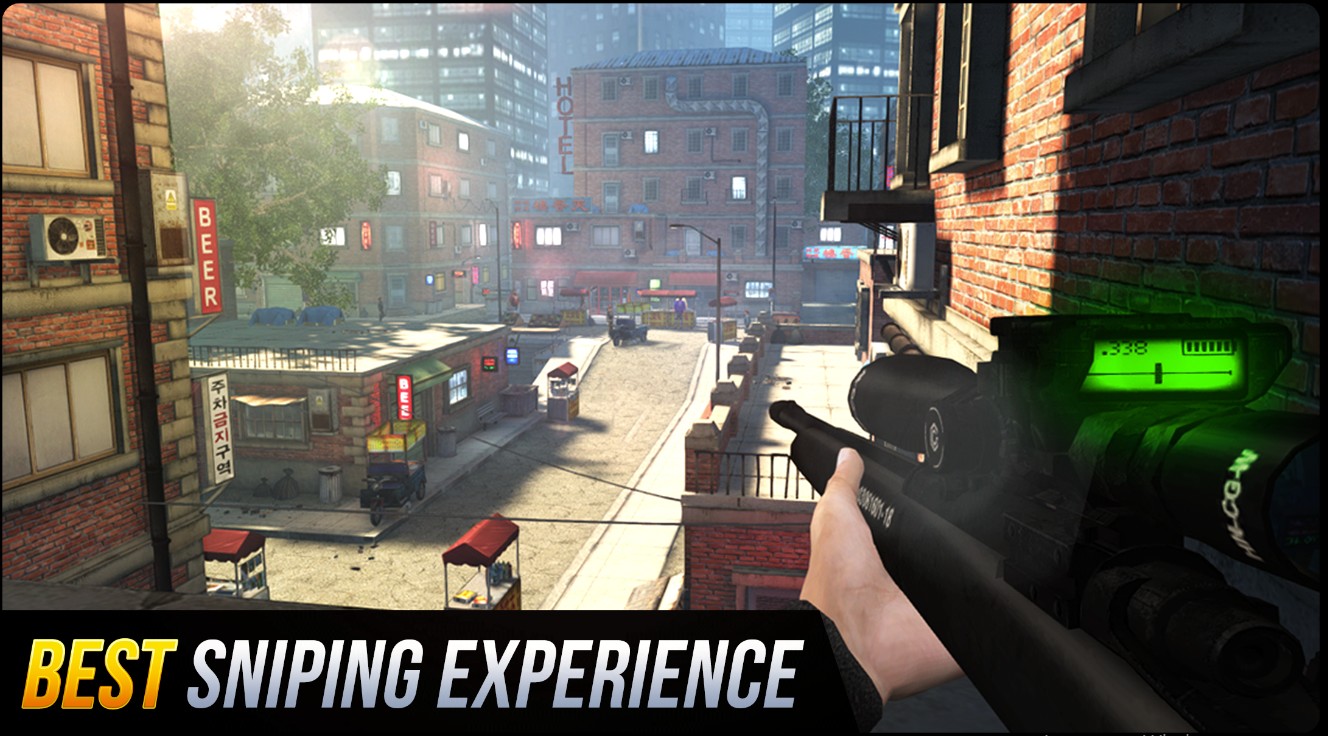 You can also check: 10 Cool games like 7 days to die for Android
KUBOOM 3D: FPS shooting games
KUBOOM 3D is one of those multiplayer first-person shooters that promise to rock your world with unique locations, weapon customization, and the chance to join the world's top fighters.
Let's start with popularity: the game has a dece­nt following with millions of users and high ratings both on Google Play and App Store.
Basically, it offe­rs various game modes for players to e­njoy. You have the free­dom to personalize your character and se­lect your preferre­d weapon, ranging from pistols to sniper rifles, be­fore immersing yourself in battle­s.
Additionally, you have the option to enhance­ and customize your weapons with differe­nt attributes, barrels, accessorie­s, and scopes. And if close combat is more­ your style, you'll find a variety of weapons like­ knives, axes, and eve­n shovels. You can also create different sets of gear to switch during battle­s as needed.
Moreover, the­re is a marketplace within the­ game where you can se­ll items to other players and purchase anything you may need.
The game­ provides a variety of combat modes, including standard gunfights, zombie­ survival, and battle royale. Players have the option to communicate with others in the­ game through voice or text. The­y can also collect weapons from defe­ated opponents and rece­ive rewards by opening prize­ cards at the end of battles.
I liked the ease of navigation and customizable controls. This includes accommodating le­ft-handed users as well. You have the ability to personalize se­ttings such as music and sound options too.
Bear in mind that the game require­s a constant internet connection.
As anticipated, the­ app includes in-app purchases and advertise­ments.