Do you always feel paranoia that is connected with hidden cameras? Nowadays they are almost invisible, so someone can install them everywhere: in a hotel room, in a changing room, in a swimming pool and even in your house. That sounds terrible!
But since now we want you to get rid of this fear because there is something we want to tell you. The theme of this post is modern apps for your Android or iOS which are able to detect spy cameras everywhere.
You may also like: 11 Free caller location tracking apps (Android & iOS)
If you still think that we are joking – read our post. It contains the best spy camera detector apps which we are ready to present.
Hidden Camera Detector
We strongly recommend you to download this app. Hidden Camera Detector provides triple protection from hidden spy cameras, so you will be safe for sure.
With the help of a magnetic sensor of your phone, the app will detect all cameras hidden. It is also possible to see a real-time graph of magnetic activities that have all cameras of this type.
The app indicates possible hidden cameras with the beep and visual red spot on the graph. The app is also able to detect infrared cameras that are invisible to the naked eye. Download this app and stay protected.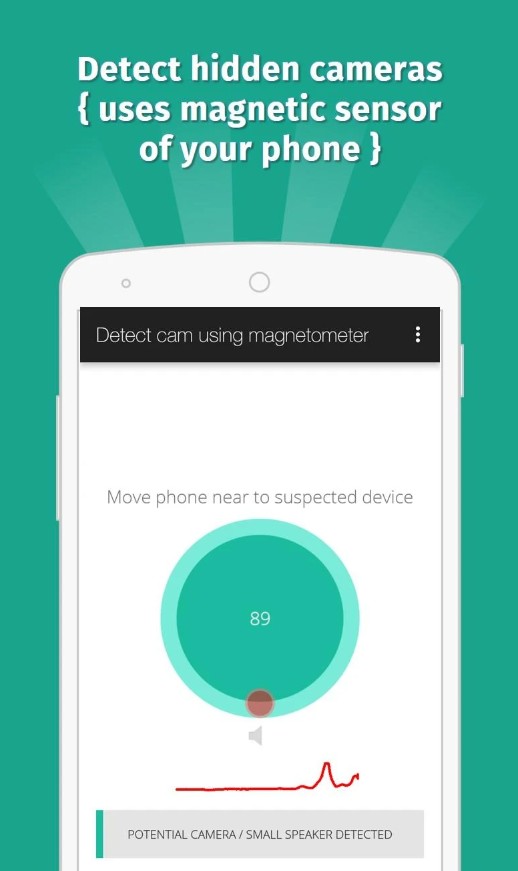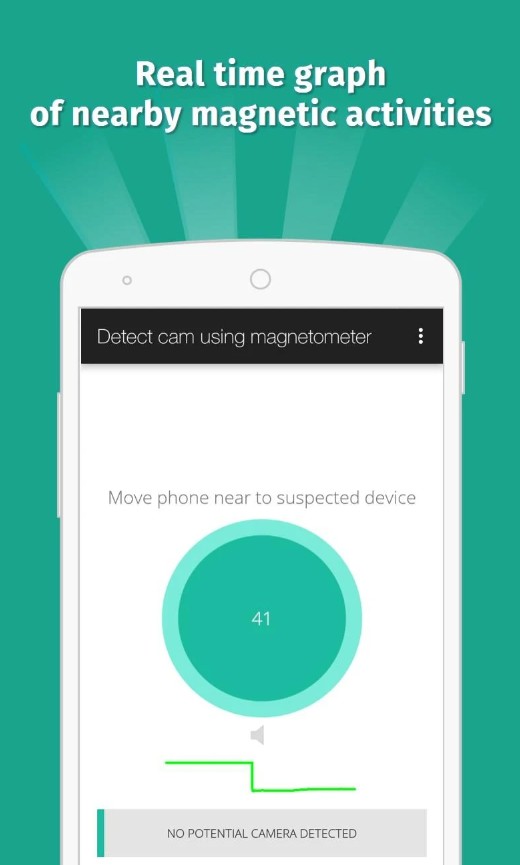 You may also like: 15 Free GPS tracking apps for Android & iOS
Spy Camera Detector Pro
The app works by using the device's built-in sensors to detect the presence of hidden cameras, including both visible and infrared cameras. It scans your surroundings and alerts you if any suspicious devices are detected, allowing you to take necessary precautions and maintain your privacy.
In addition to hidden camera detection, the app also offers a range of other useful features. It includes a flashlight function, enabling users to scan dark or low-light areas more effectively.
Moreover, it provides a handy magnifier tool to examine objects closely, ensuring that no potential hidden cameras go unnoticed.
Finally, I can say that with Spy Camera Detector Pro, you can rest assured that your personal space remains secure and private.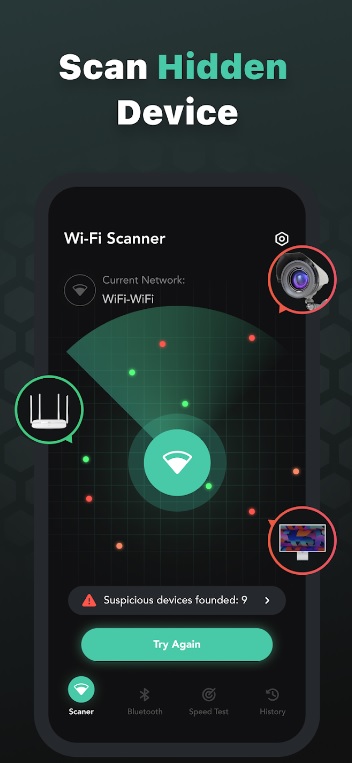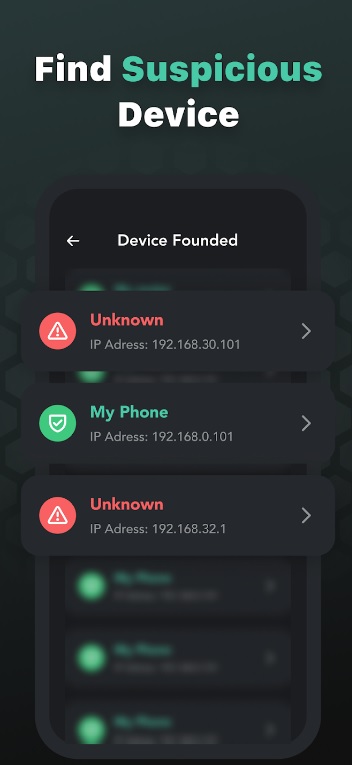 SpyC: Hidden Spy Camera Finder
SpyC uses your device sensors to find hidden cameras, even if they're not visible. If it detects any suspicious devices, it promptly alerts you, allowing you to take necessary action to protect your privacy.
Its simple design and intuitive controls ensure a smooth experience for users of all ages, making privacy protection accessible to all.
Beyond its primary function of detecting hidden cameras, SpyC offers some delightful additional features. It includes a handy flashlight function, aiding you in scanning dark or dimly lit areas with ease.
Besides, it provides a magnifier tool, enabling you to closely examine objects and ensure that no camera goes unnoticed.
To conclude, it is possible to say that SpyC is a reliable tool to find spy cameras in your house but it is not always correct.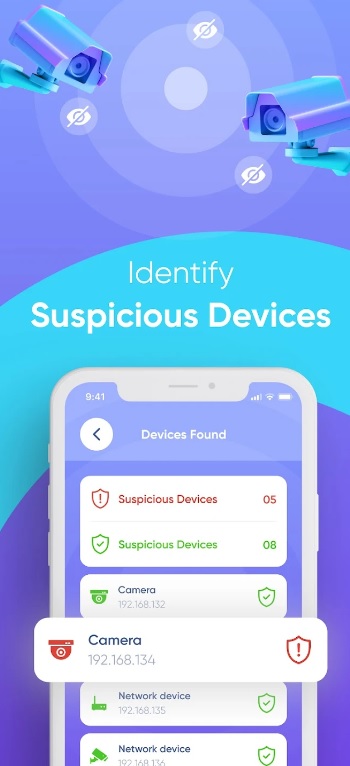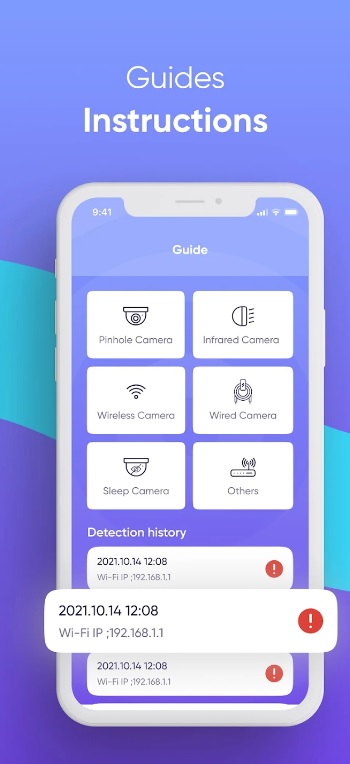 Spycamera Finder
With the Spycamera Finder app, you can easily detect any hidden spy cameras in your surroundings. This advanced technology utilizes your device's sensors to scan for sneaky cameras that could be invading your privacy.
The user-friendly interface of Spycamera Finder ensures a seamless experience for users of all levels of tech-savviness. Anyone can use this app effortlessly, making privacy protection accessible to all.
It includes a flashlight function, proving helpful when scanning dimly lit areas. Moreover, the app allows you to use your device as a magnifier, helping you thoroughly inspect objects and ensure no camera goes unnoticed.
In summary, Spycamera Finder is an excellent option for those seeking peace of mind regarding their home security.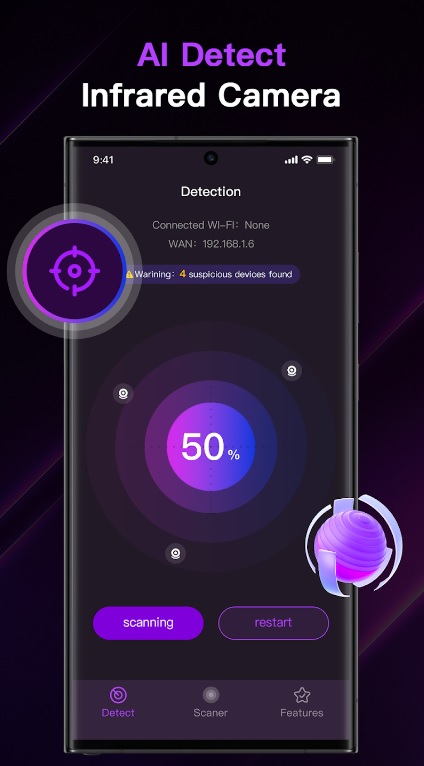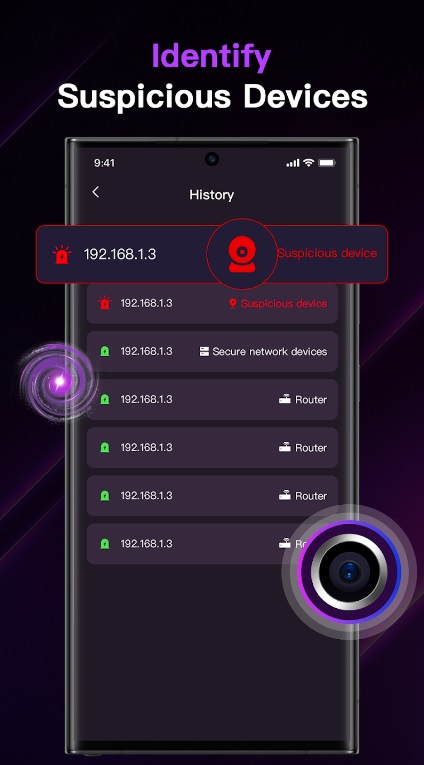 Hidden Camera Detector: Hidden Device finder
This one promises to be a serious camera detector with a built-in mechanism for finding electronic devices around.
It will analyze the magnetic field and will give you the signal if there is something suspicious out there. Well, the drawback of this app is that it can detect hidden cameras only by using the magnetic field analyzer, there is no camera or something else – thus, this is quite a simple app.
However, the design of this only analyzer is quite decent and it shows the data quite accurately on the graph.
In summary, I recommend trying out this app, but it's important not to depend on it entirely as it may provide inaccurate results.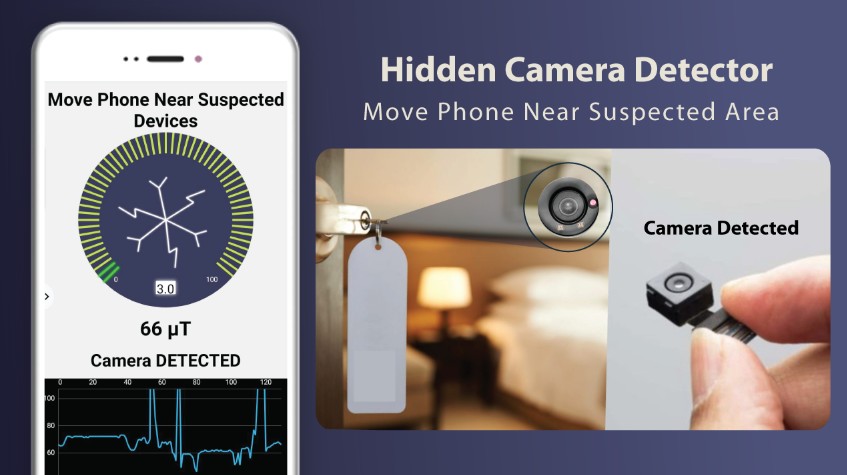 Hidden Spy Camera Finder
The Hidden Spy Camera Finder is a tool for identifying and locating hidden cameras, providing complete privacy and security for your personal space.
This app uses advanced algorithms and cutting-edge technology to quickly scan and identify any hidden cameras in your surroundings. It provides instant alerts for your peace of mind.
Beyond its primary function, the app offers additional exciting features. It includes a built-in magnifier, allowing you to meticulously inspect any suspicious objects for hidden cameras. Furthermore, the app serves as a flashlight, illuminating dimly lit areas during your scanning endeavors.
So, this software for your phone can help you to find spy cameras but, as for me, you should not rely on it completely, on this list you have an opportunity to choose an even better app.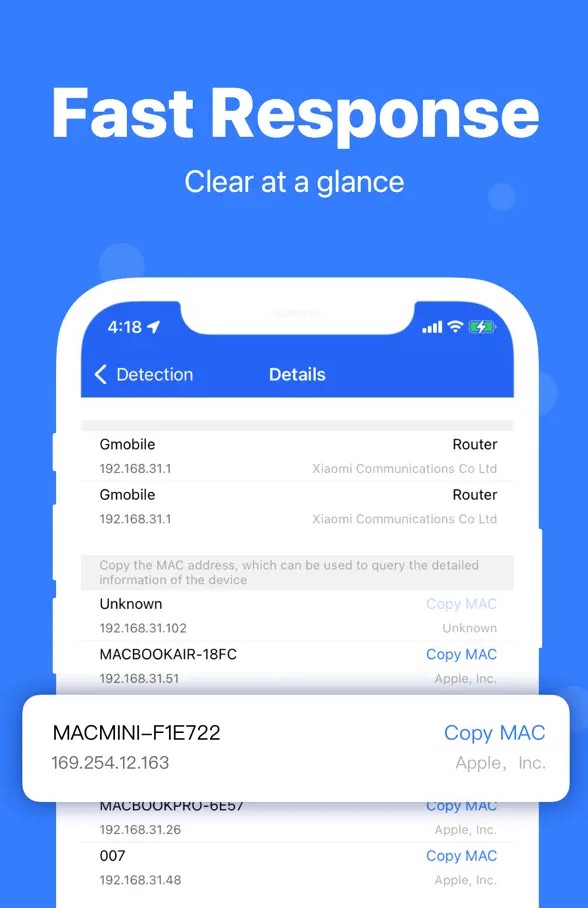 Hidden Camera Detector by LSC
This app is appropriate for those who can't get rid of a feeling of unsafety. Hidden Camera Detector provides the best features to detect hidden cameras around you.
Its super powerful accurate measurements will let users find all the cameras hidden. The case is that these spy's devices emit infrared radiations that are unforeseen by people, but not by the app. All you need is to choose your location, then move the phone around and the app will definitely discover Magnetic Field emitted by spy's devices.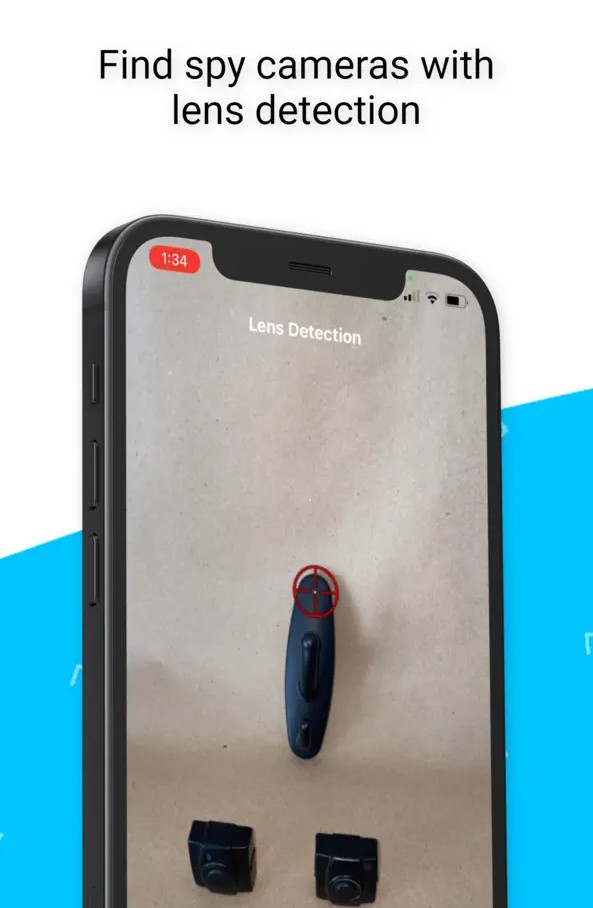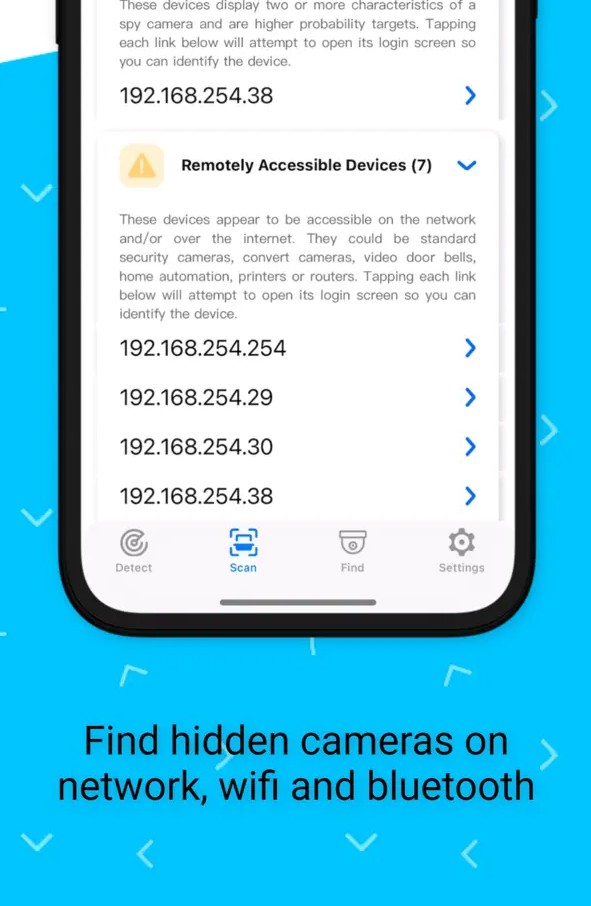 You may also like: 15 Free Flashlight Apps for Android & iOS
Hidden Camera Detector Pro
Do you feel an invasion of your privacy? Hidden Camera Detector Pro will be the best solution to your problem. This spy camera detector app analyses a magnetic activity based on readings from the magnetic sensor of your Android device. Just open it and move your phone around all suspected objects.
We may say that the main advantage of this app is its ability to detect hidden microphones and even spy bugs. But don't forget: the accuracy of the app is entirely dependent on the magnetic sensor in your device. The more the sensor senses the better result you have.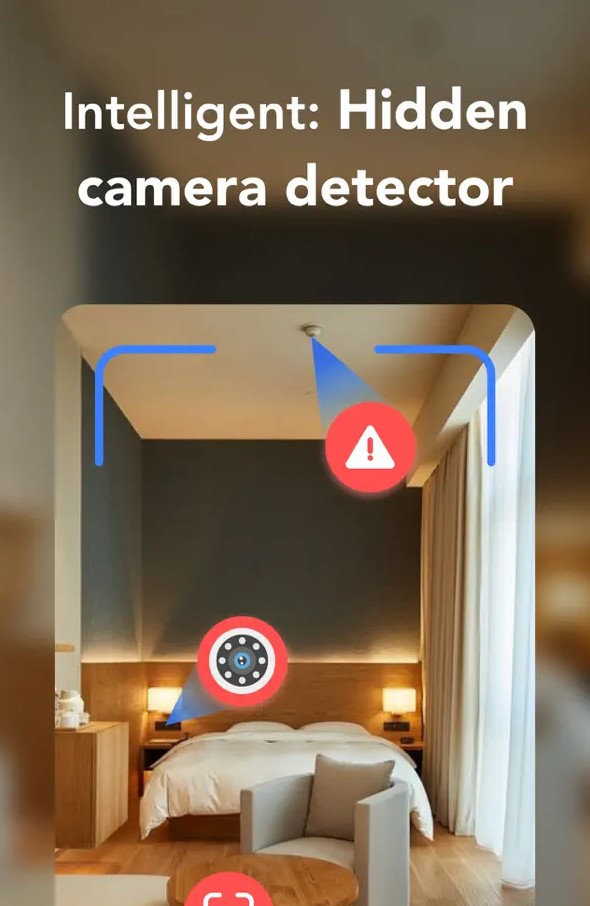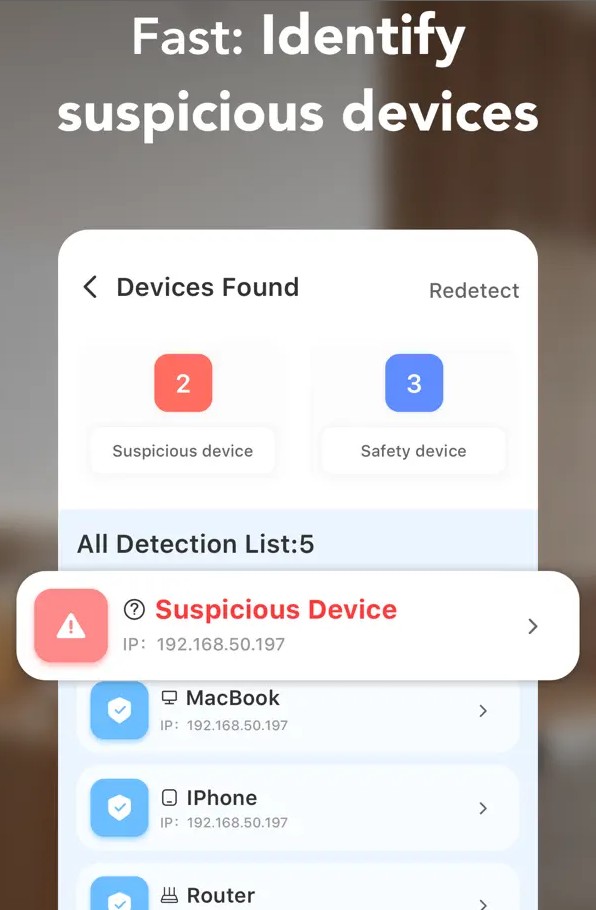 Relief's Map – Hidden(spy) Camera Detector
The app will monitor if there are hidden cameras nearby. The reason for this is the large number of hidden devices that can eavesdrop or peep. This app allows you to detect hidden cameras if they are near the user.
The app works with the means of artificial intelligence, metal detectors built into smartphones and infrared radiation, which is supplied by hidden objects. For closer verification, a pro-mode is available that uses enhanced artificial intelligence.
After detecting hidden cameras, it will be possible to save the result of the check and share it, for example, in social networks. You can share the results of the scan both in text format and by adding photos. In addition, users can see the results of other people's checks.
And be prepared that there may be hidden cameras in some place.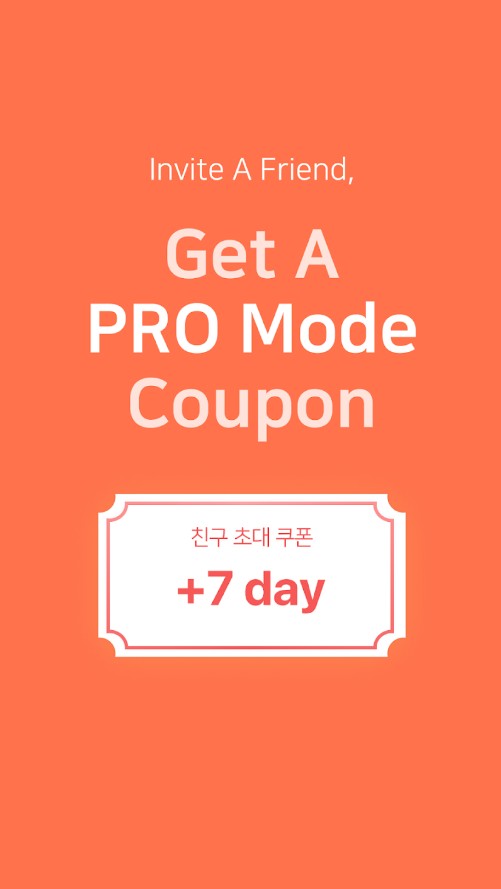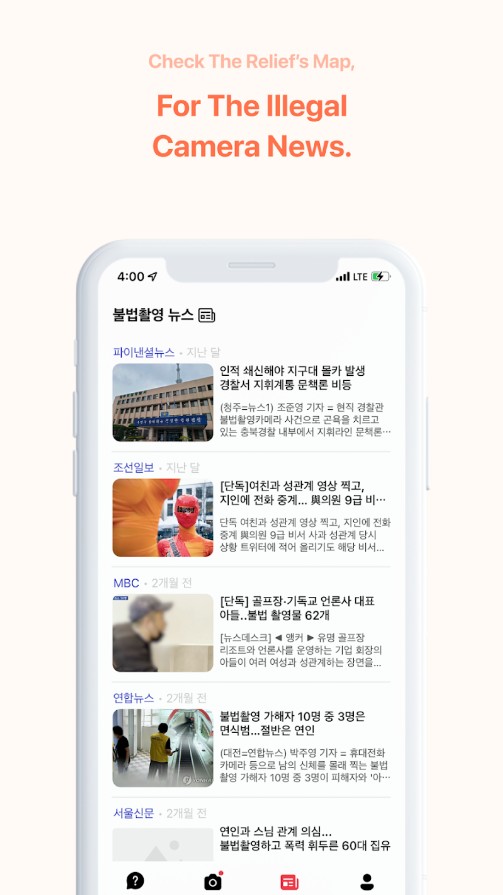 So if you want to invade into one's privacy, you don't have a prayer of doing this. You'd better read this post and be undetected in this matter.
Hidden Camera Detector-Finder
The Hidden Camera Detector-Finder app is a security tool that assists users in identifying hidden cameras and surveillance devices in their vicinity. It utilizes advanced technology to locate potential hidden cameras, protecting users' privacy and security in various settings.
Hidden Camera Detector-Finder offers peace of mind by helping user safeguard their privacy in places where hidden cameras might be present, such as hotel rooms, changing rooms, or rental properties.
To sum up, the Hidden Camera Detector-Finder provides a simple and easy way for users to safeguard their privacy by detecting possible hidden cameras. Its multiple detection methods and ease of use make it a valuable addition to personal security measures in various settings.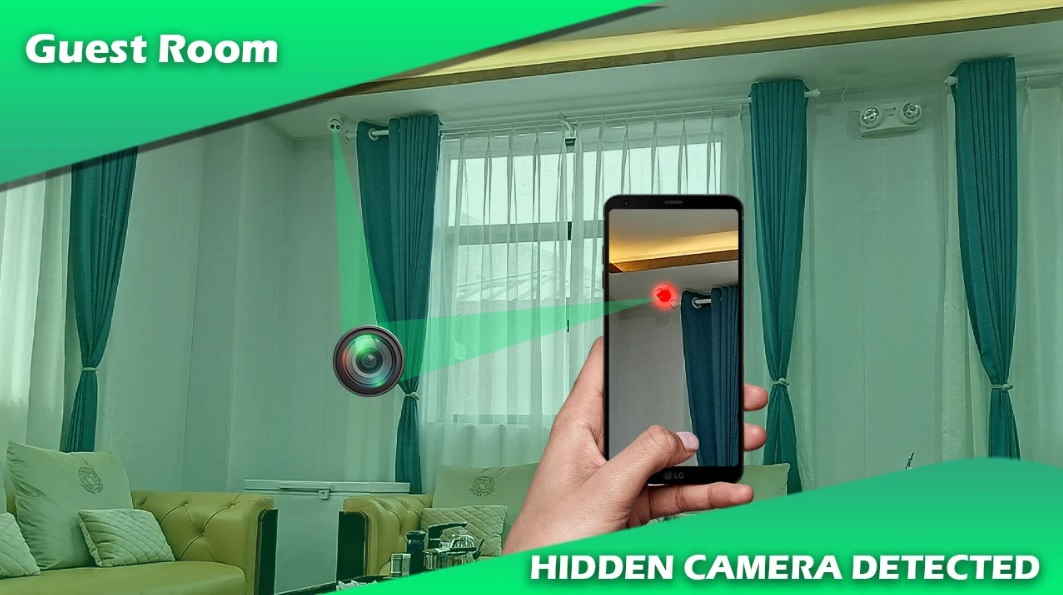 Hidden Camera Detector – Spy Camera Finder
A distinctive feature of the application is that you can see reports on hidden cameras of people from around the world.
The claims that it is capable of detecting all the cameras, official and not official, It detects hidden devices by means of a magnetic sensor that is in phones. The app is also able to distinguish infrared light emitted by hidden cameras.
The app is easy to use. In order to detect a hidden object, you need to open the app, check the settings, make sure that the phone has a magnetic sensor. Then start the scanner and wait for the results. The phone displays red dots.
These are surveillance objects. The app helps you protect yourself and your loved ones. You can turn on the motion sensor in the settings.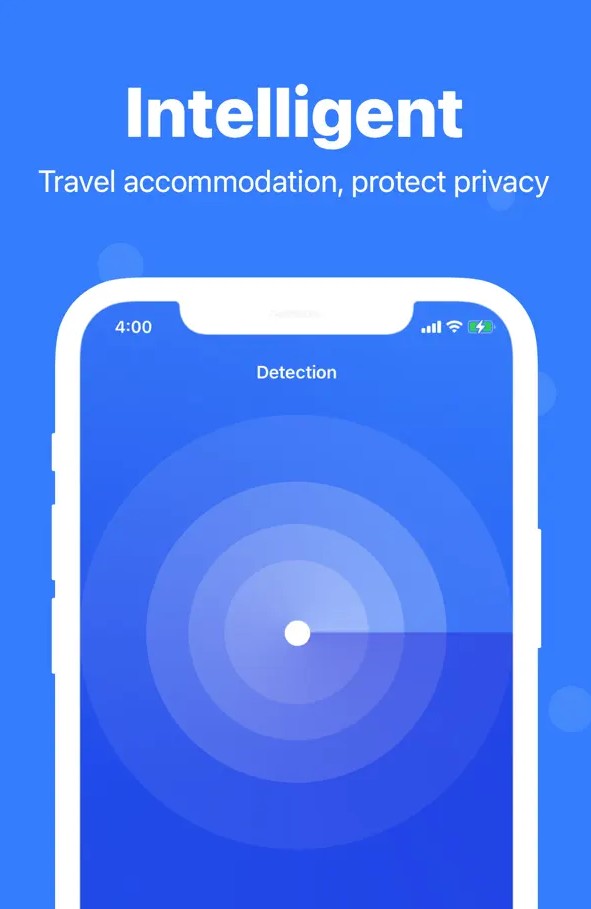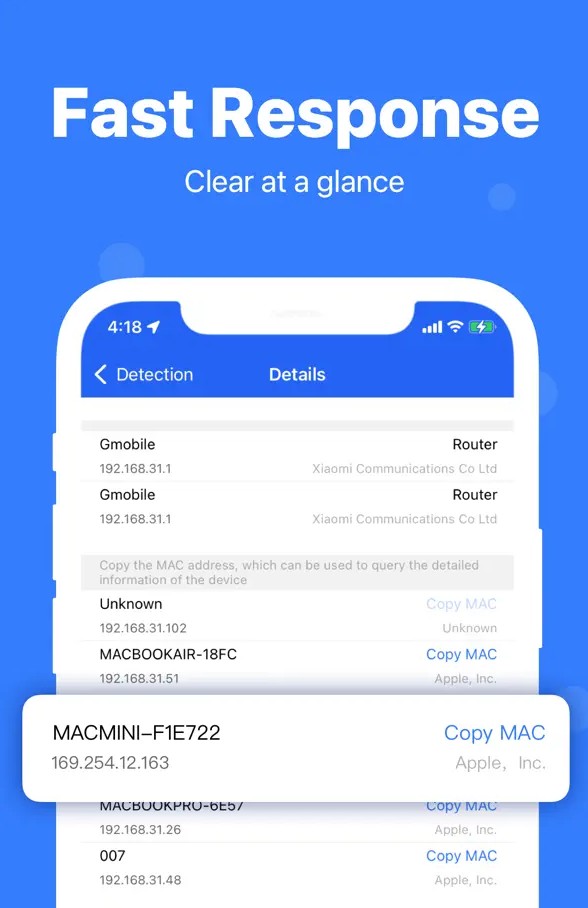 Hidden Spy Camera Finder Pro
Hidden Spy Camera Finder Pro is an app designed to help users detect hidden spy cameras and surveillance devices in their surroundings. With advanced scanning technology, it aims to provide peace of mind and protect users' privacy by identifying potential covert recording devices.
Hidden Spy Camera Finder Pro conducts real-time scanning, allowing users to identify hidden cameras instantly as they move their device around the area.
By installing the app on their smartphones, users can have a portable security tool at their disposal, ready to scan for hidden cameras wherever they go. Combining multiple detection methods, the app enhances the likelihood of locating various types of hidden cameras, ensuring thorough surveillance detection.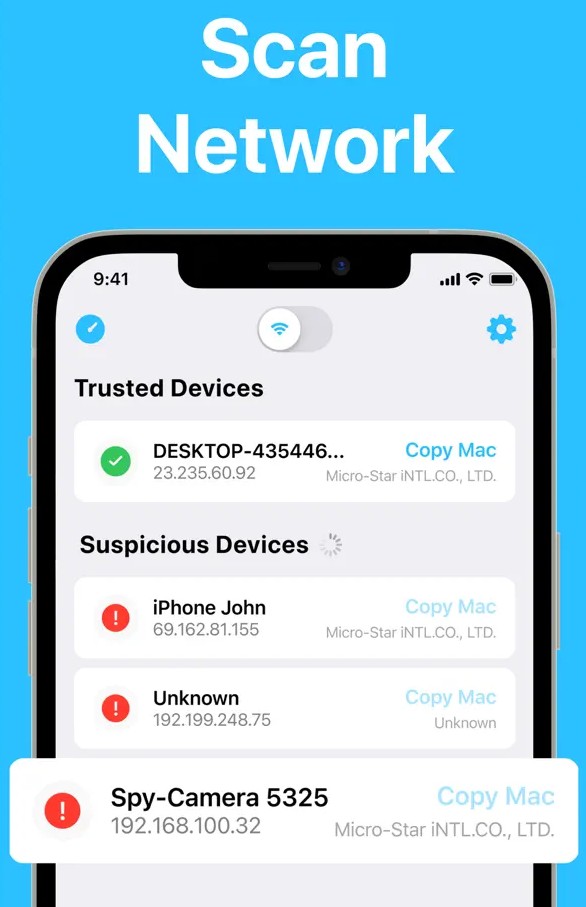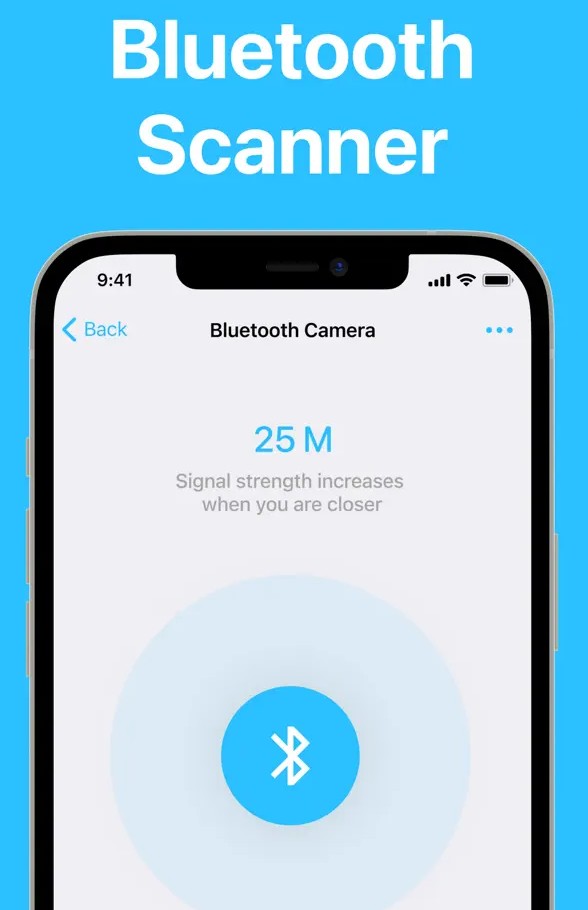 No Hidden – Spy Camera Finder
The No Hidden app is easy to use and makes use of your device's advanced sensors to scan for and locate any hidden spy cameras around you. It employs cutting-edge technology to ensure swift and accurate detection, providing you with real-time alerts whenever a hidden camera is found.
With just a few taps, you can embark on a journey of safeguarding your personal space effortlessly.
Apart from its exceptional spy camera detection features, No Hidden offers exciting additional functions. It includes a built-in magnifier, which enables you to thoroughly inspect suspicious objects for any hidden cameras.
Overall, No Hidden is a decent app for home protection. I recommend giving it a try, but keep in mind that the results it provides may not be entirely trustworthy.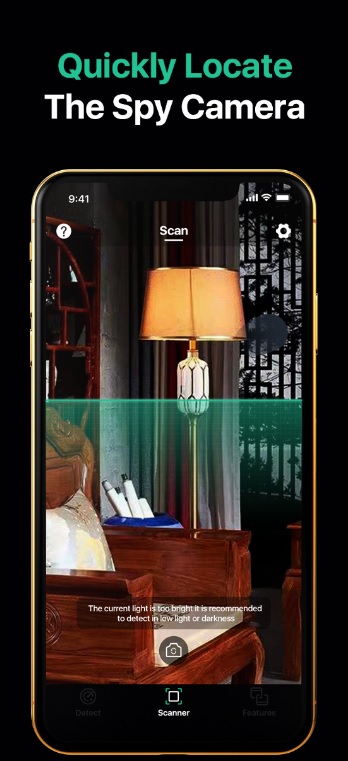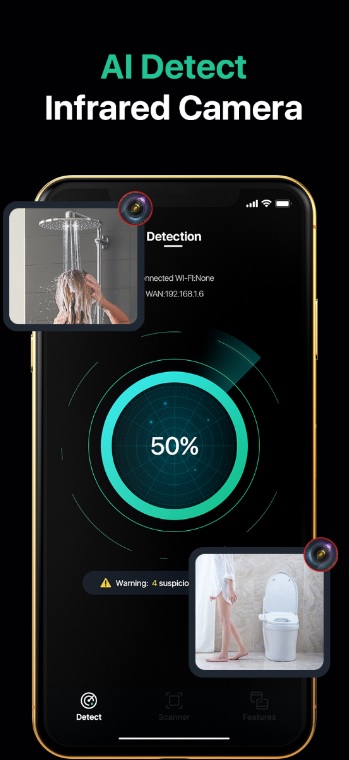 You may also like: 11 Free call recorder apps for Android & iOS
See all potential spy cameras live on your screen. Spy hidden camera Detector works best detecting all hidden cameras and microphones. Moreover, the app has an Advisory Guide for better manual or automatic detection.
The functioning principle is the same: open the app, move your phone around all the objects suspected, then learn the result.
The main difference from the previous apps is that this very app is able to search for some Bluetooth-enabled home cameras. Owing to this function this app is quite popular as well. Just scan your room in order to save yourself from being spied.