Despite the fact that ADHD most often originates in childhood, many adults continue to suffer from this disorder. Thus, this problem becomes relevant for all ages. This psychological disorder has many unpleasant consequences that interfere with one's normal life.
For example, it leads to difficulties in trying to focus on something for a long time, causes signs of inattention and impulsiveness. Yet, there are many really effective ways to combat this. One of them is special services that help you properly organize your day, relax and perform all of your tasks.
For anyone who wants to get their life in order, we recommend using these best free ADHD apps in 2023 for Android & iOS.
If your daily routine consists of many important to perform things, then you should definitely use these free daily checklist apps for Android & iOS.
Brili Routines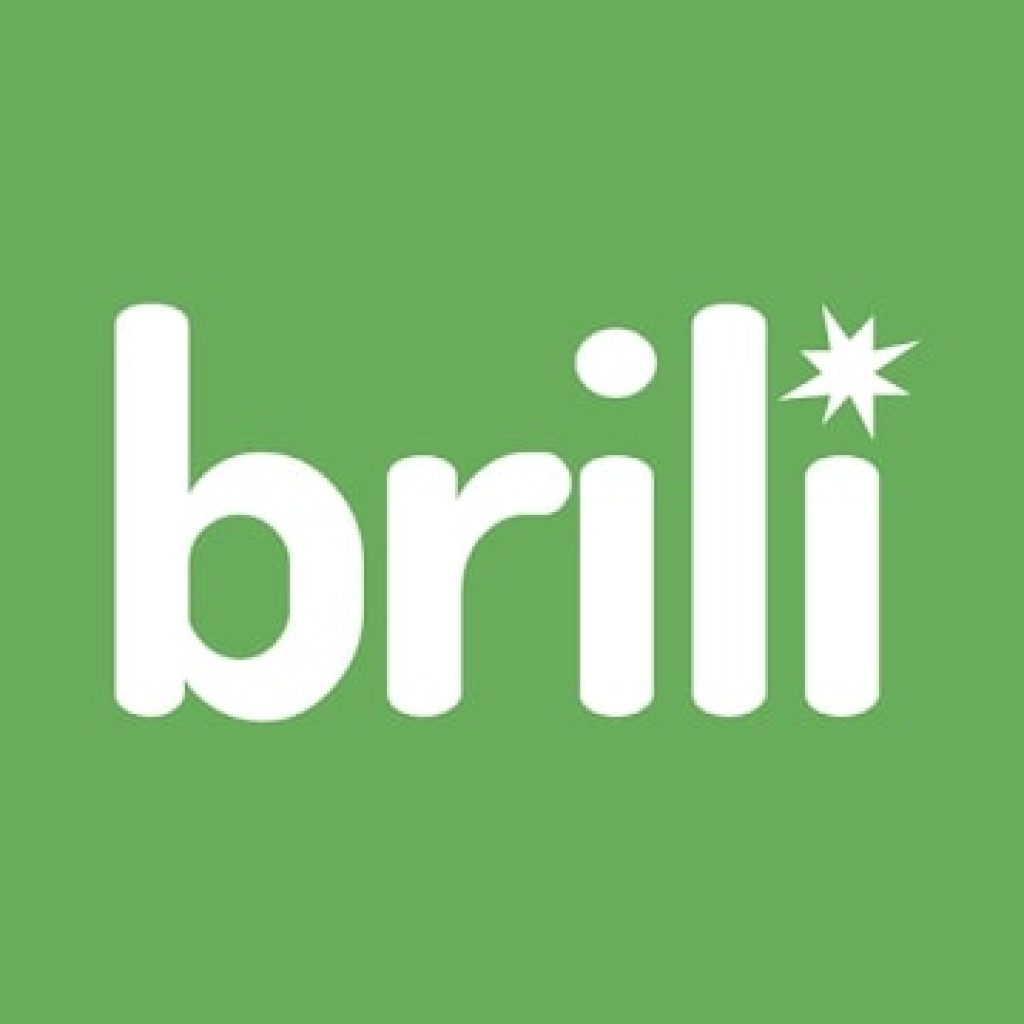 Brili Routines is a program for daily routines.
Do you want to simplify your household chores and just start getting things done? Then download this app right away. You'll be able to adjust the system to suit you and enjoy using it.
Are you tired of being busy all the time, having no rest, and getting really exhausted? Solve any problem with Brili!
It's for adults and teens alike. Finally, fix your schedule and don't have to rush anywhere. Users have great feedback about this program. Everyone likes how the system adjusts and recommends certain actions and schedules. Indeed, after downloading, you will see life before and after.
Moreover, if you have a busy schedule and no spare minutes, you just need to start taking action! You will be able to rest fully, have time to go to the store without rushing, start doing the things you love for yourself.
The result of all this will be positive. You will stop stressing, your mental health will improve.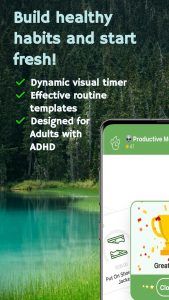 What's more, your strength will boil inside you. Your motivation will increase. The interface is straightforward, and the instructions are right in front of you. There is also a timer to keep track of. Read the phrases of great people and take a breath of air for further action. Set goals and achieve them!


You may also like: 15 Free Phone Monitoring Apps for Android & iOS
Inflow ADHD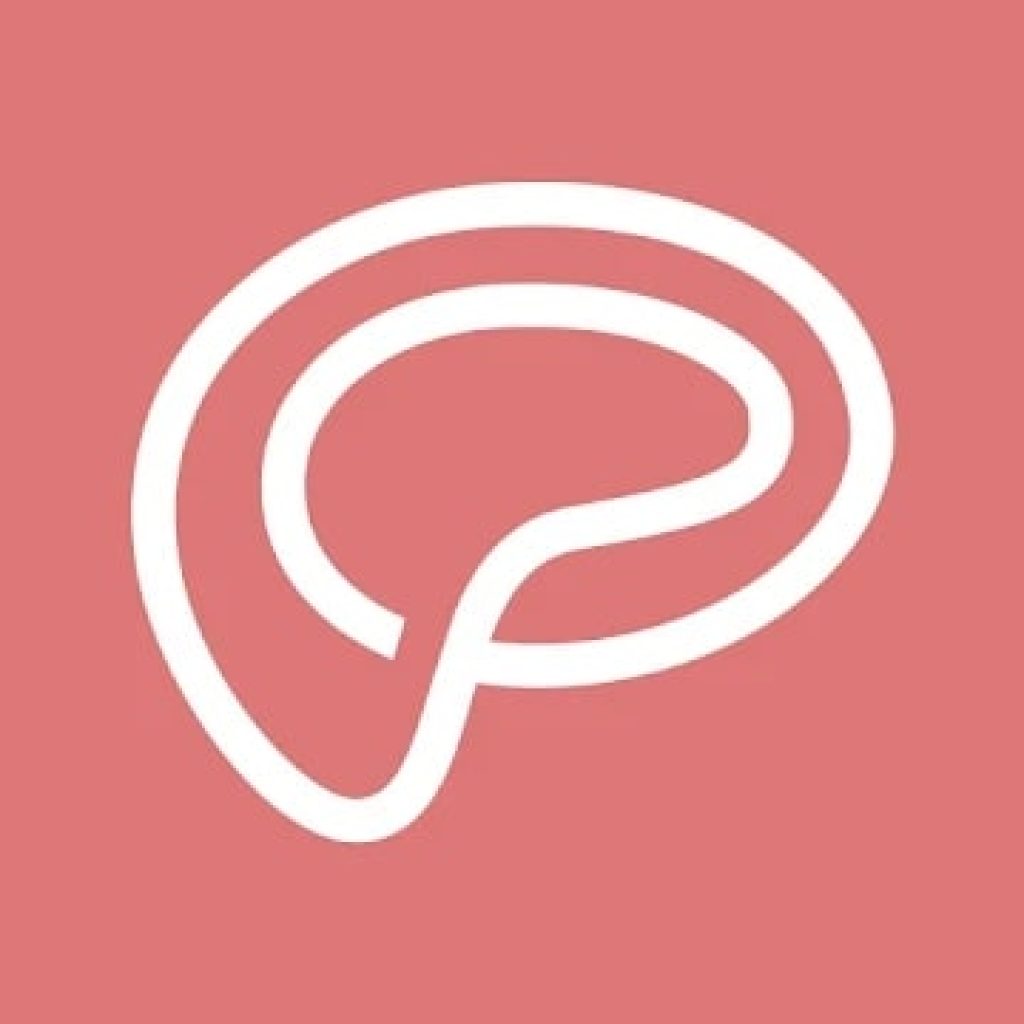 Inflow ADHD is an app that helps you get things done faster. It will allow you to plan.
Are you running out of time to do what you have planned? Do you lack energy and personal time? No problem! Inflow will turn your life upside down in the best way.
It will give you peace of mind and help you understand yourself. The app is designed so that it must first get to know you, which is to say, your routine. Then the system instructs you in your actions.
Get rid of many of the unpleasant habits that have hindered you in the past. You can learn to limit yourself to something. For example, you spend a lot of time on social media and would like to minimize your time.
This program will get it right. Get your addictions out of the way! Become more aware of what you are doing. Watch what you waste your time on. You will also learn how to control overeating.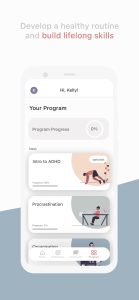 Take responsibility for this self-improvement activity, and you will see results. Inflow will notify you of new chips that are added every so often. Moreover, with the help of this service, you will be able to find the cause of depression. It will be possible to find a psychologist through Inflow.


Dwellingright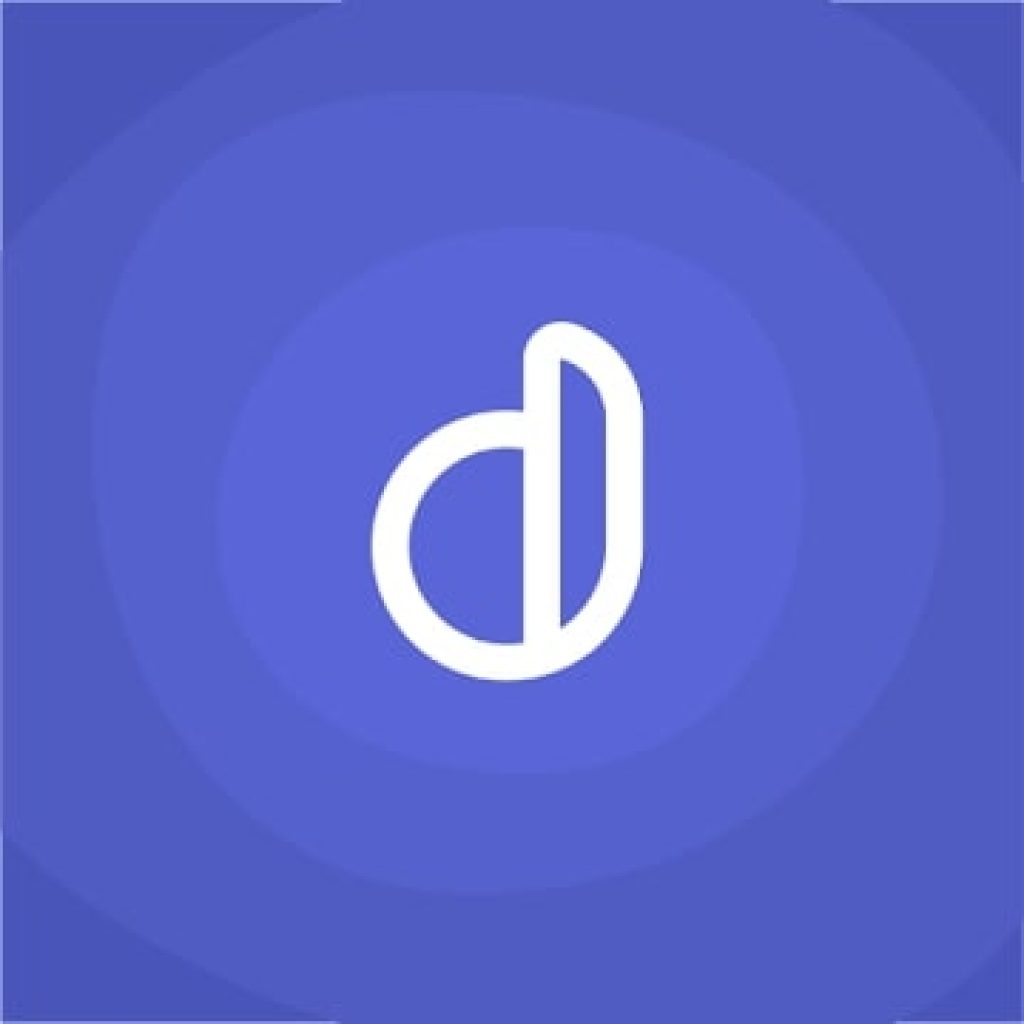 Dwellingright is the platform that organizes you. It's absolutely quick to analyze and set up your day so that it's a success.
Try something new and don't stand still! The world is developing now, new technologies do not cease to amaze us. Here you will be able to schedule the life of your dreams.
No longer will you have to worry about missing or forgetting to take something. Things will be written down and the program will notify you at the right time.
It will be a list that is easy to follow and achieve what you want. Mark the things you need to spend more time on so that you focus on them. You don't have to keep everything in your head and then blame yourself for what you forgot to do.
That's not right! Everything needs to be clear and measured. If you need to buy groceries at the store or repair the refrigerator, the system will let you know that you put it in the routine.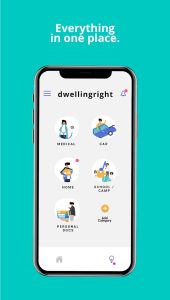 Contact Dwellingright when you are late with urgent duties. Establish contact with yourself in this way. Understand that you can't be constantly thinking about the problems and chores around you. Your new mobile assistant can do that for you.


Engross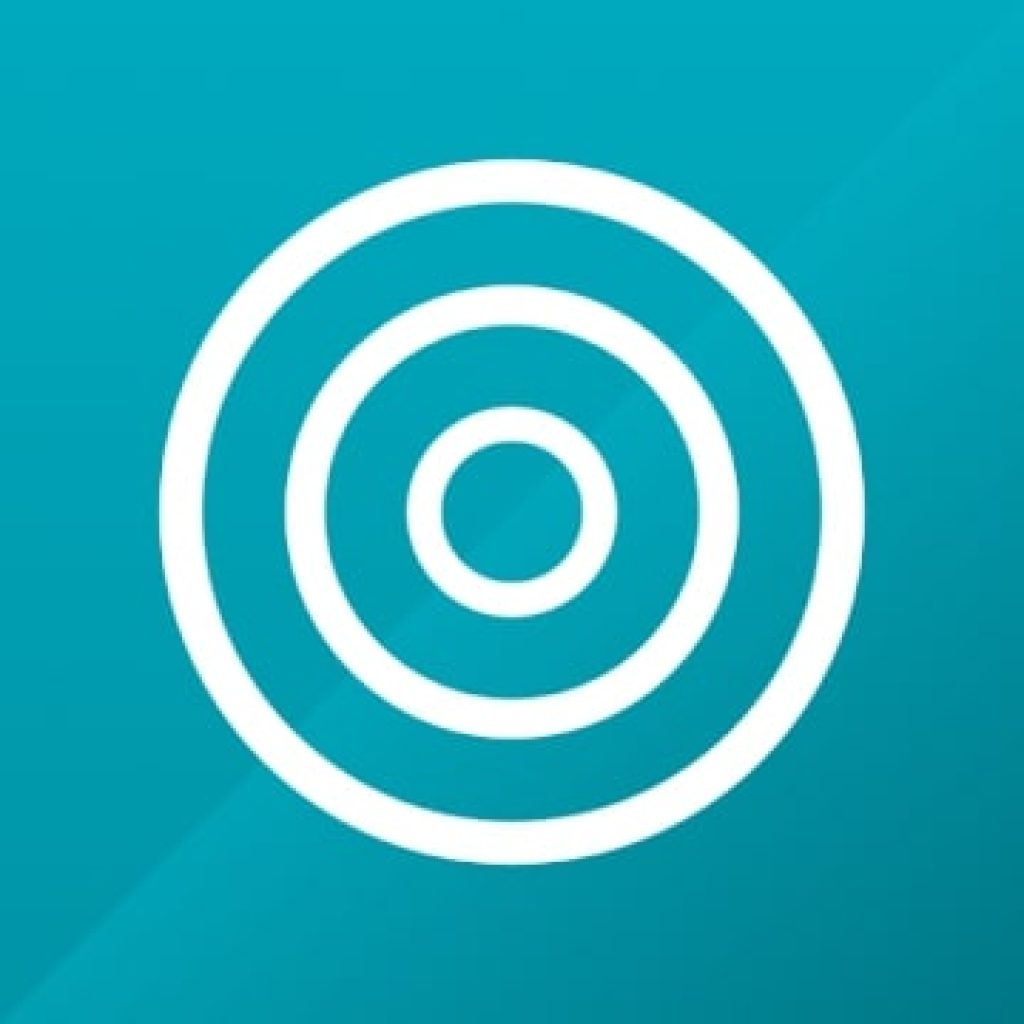 Engross is a program with planning for your time. You will be able to stop keeping everything in your head that you need to have time for.
You need to do your schoolwork in time, but you don't know how to do it? A program like this has come to your rescue. Now you won't have to worry about whether you forgot to do something.
What's more, your schedule will adjust, you'll stop getting tired, and you may even improve your health. Set yourself goals to achieve big ones in your studies or in something else.
When you slow down and get lazy, the system notices and demands that you get back on track. Create weekly, monthly tasks. Set yourself a reminder in a timer that is built into the program.
What's more, you'll always see an analysis of your activity. Watch and break records for completing tasks. You will be able to really understand what needs to be done first and what to push back.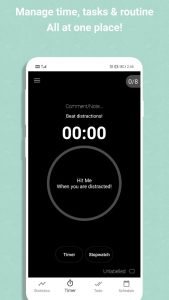 Control the time you spend on your gadgets. Give yourself a break, and then get into a stress-free mode. Schedule everything down to the details, make yourself comfortable. You'll be able to limit other apps' access to it so that no one disturbs you during the auction.


Routinery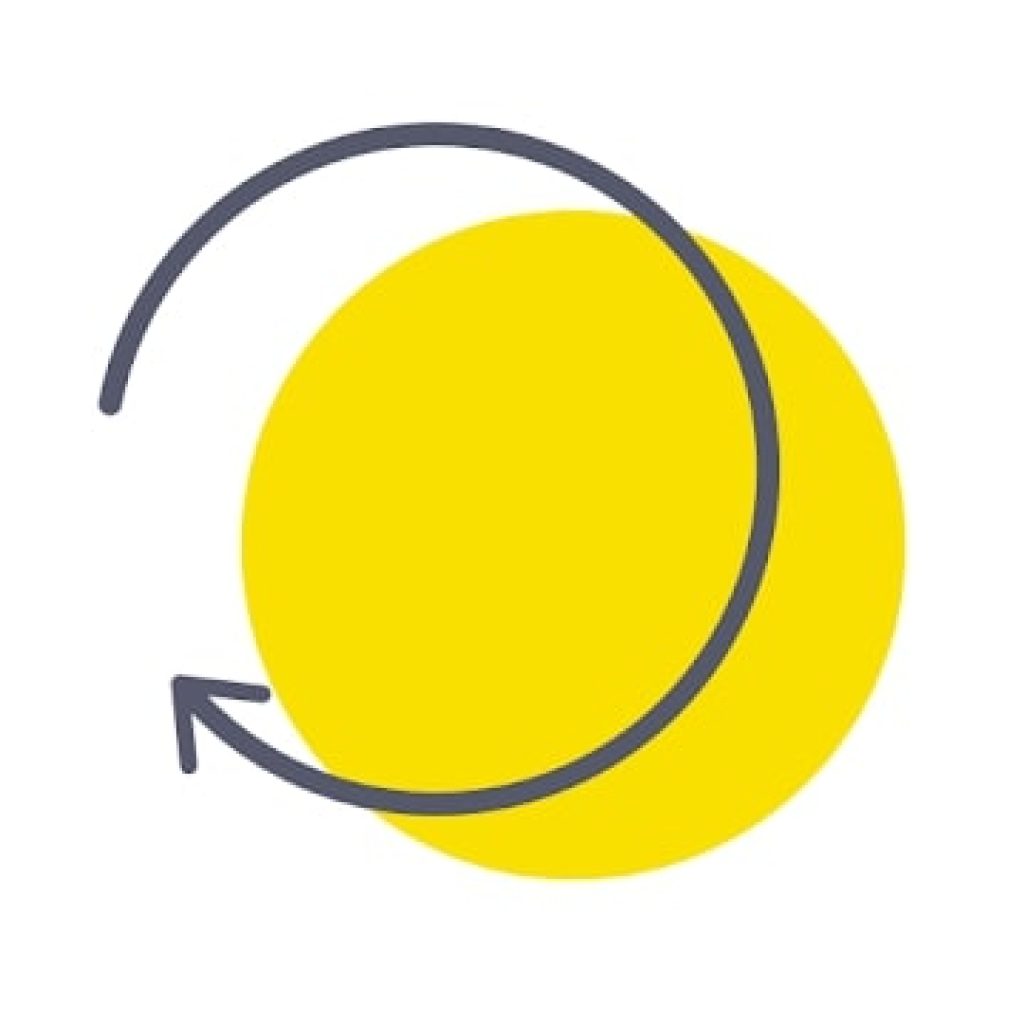 Routinery is a personal time assistant program. You need this app if you are a distracted person if you do not know how to allocate your time properly.
Things don't go according to plan and nothing gets done in time? Routinery will organize you, you will be able to concentrate on your work and not be distracted by anything.
The program is looking for maximum contact with you to understand the expectations in the end. If you have poor willpower, the app will assess the difficulty of getting things done and give you instructions for avoiding it all.
Keeping everything in your mind is very hard, especially in our lives. Take advantage of help when you have a baby in your arms. Feed him or her at the right time and be satisfied that you didn't forget.
It's not that routine on a piece of paper, it's a real workable thing that you'll have fun with and you won't give up using.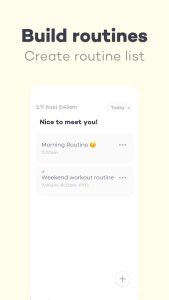 Count down the time you spend on this or that activity. Plan your day so you can take a bath, go for a walk, sleep, work, and do your other important things. You can get badges for activities. Recommend Routinery to your family and friends.


Tiimo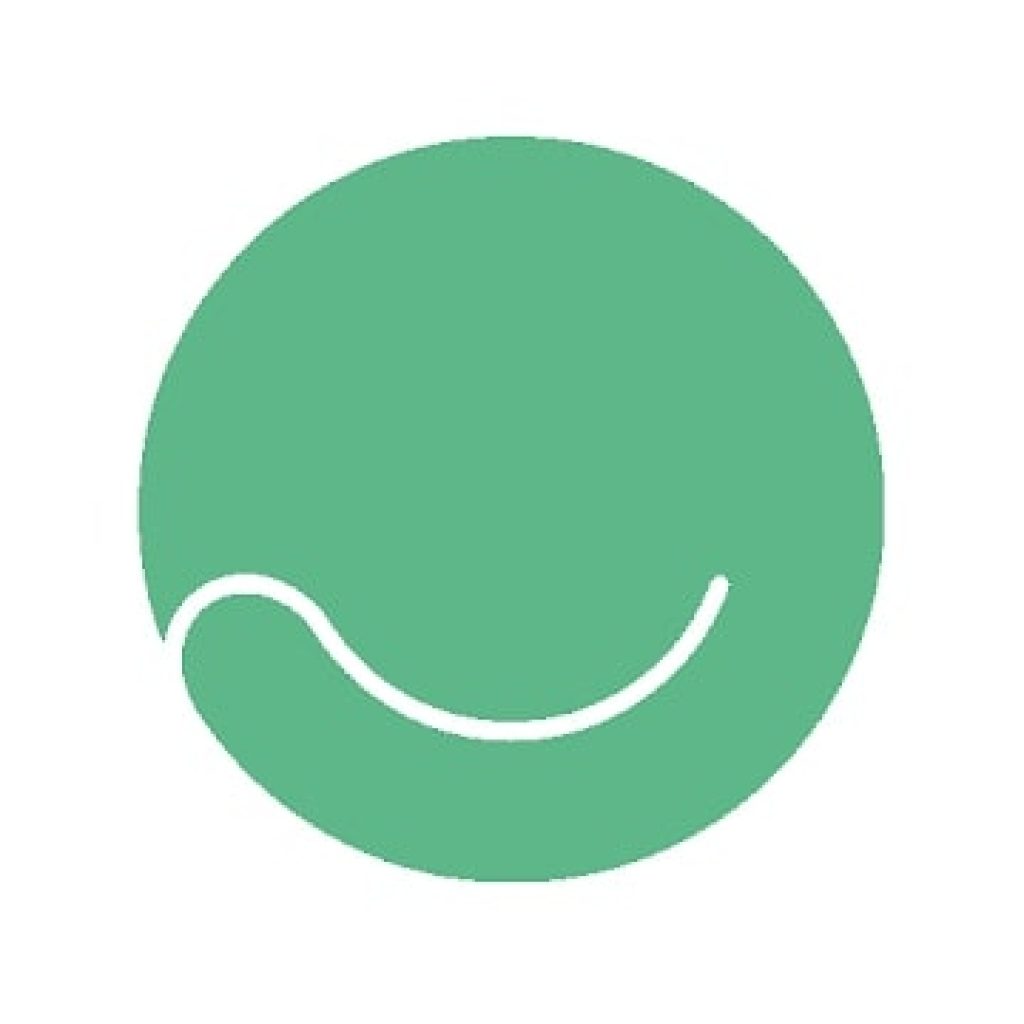 Tiimo is a program for self-monitoring actions. This app has a great impact on the quality of life.
It is enough to install this app, try it out, and you won't want to live your old life anymore. All because such a find will make you a kind of routine.
You will now forget about the problems that have been on your mind forever. The app can be used absolutely everywhere.
Tiimo will motivate you to action, you won't be hanging out on your phone for hours, the program will remind you of what you need to do responsibilities. Try to plan your day off so it will be productive.
The best part is that you will be able to save your precious time. You will often get messages that you need to move on to a new task soon. You can use the program with your relatives at the same time. Making common plans is also very handy.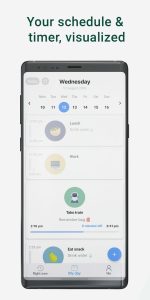 The problem with wallets, in which all things are written down, is that you quickly forget about them. With this program, on the other hand, you won't be able to forget. Even if you miss a notification once, Tiimo will fill you in with others until you get to it. The program works without ads.


Remember The Milk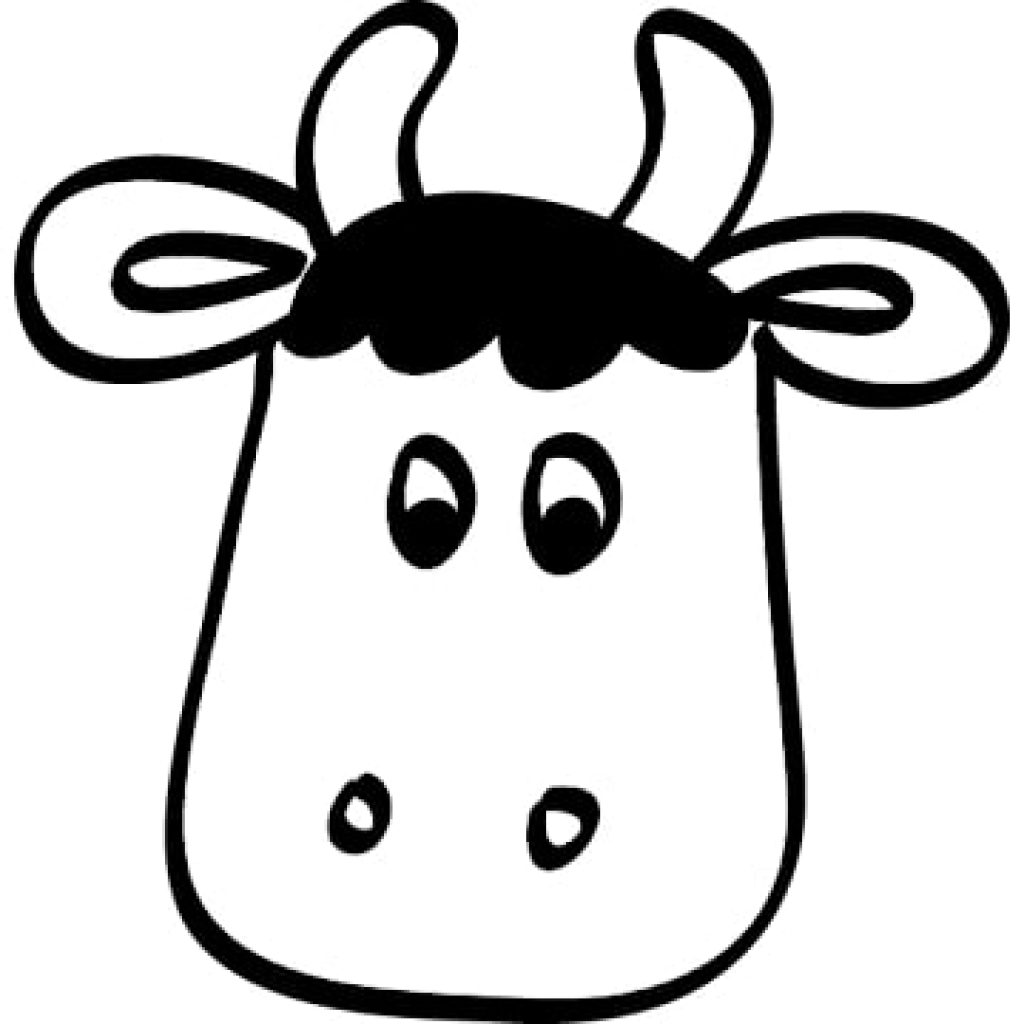 Remember The Milk is a program for planning your days. What makes this app so convenient? It will let you forget about the things you always forget to do.
The program will remember all the things you have written in it and will notify you in time so that everything is done in time. You'll enter the tasks you want to do into the system.
Everything you do will be saved on your mobile device. Collect all your tasks in this program.
Take into account the turnaround time, how much rest you should have after work, and other important factors. Furthermore, you'll stop doing huge tasks and messing with your head that everything is mixed up.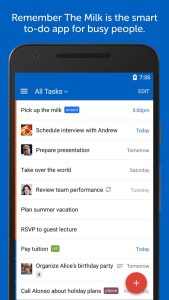 Large tasks should be divided into smaller ones, then you will have fun and you will do it much faster. You will be able to track your completion time and compare it to other days. This app has excellent graphics and the same interface. Building your day will be easier than ever!


Woebot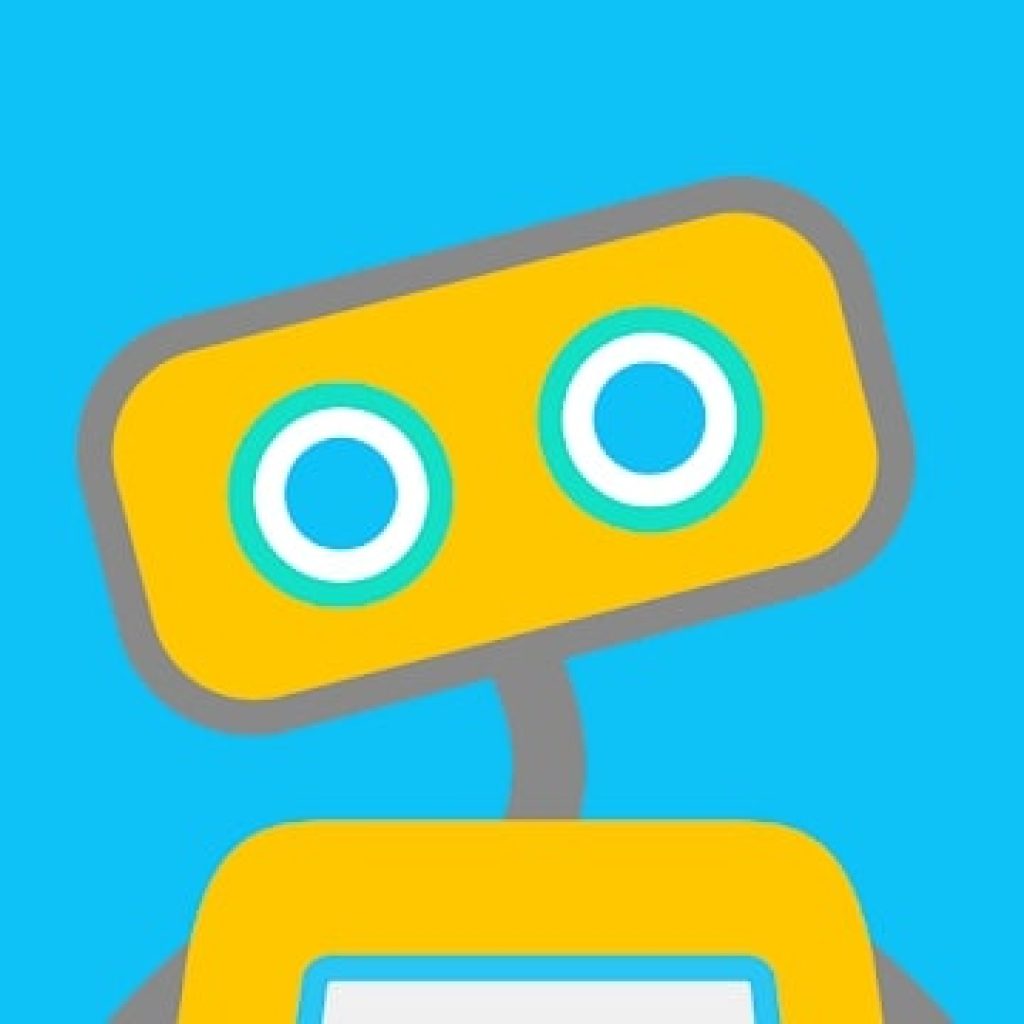 Woebot is a program for having a better day. You can greatly improve your quality of life and realize that everything works with this app.
The program also takes apart all the disturbing factors and aims to remove them. You will become much more comfortable with your schedule. Here you can talk about your problems in the family, between peers.
Woebot often does research on changes in your health and condition in general. Don't be afraid to talk about your worries. On the contrary, the program will find a way to improve you and lead you to certain actions.
The app analyzes all of the people's problems and makes a plan of practices that will need to be done to fix the problem.
A specialist like Woebot will tell you everything and there is no need to run to other people who do not know how to help. It is created by knowledgeable people, so no danger of this program does not carry.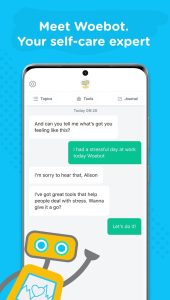 Woebot is recommended by psychologists and doctors. You will be able to understand everything that you did wrong before. In general, your condition will be much better after such sound advice, which you will apply in practice. Take care of your health and plan your life the way you would feel comfortable!


You may also like: 15 Free timecard apps for Android & iOS
Cerebral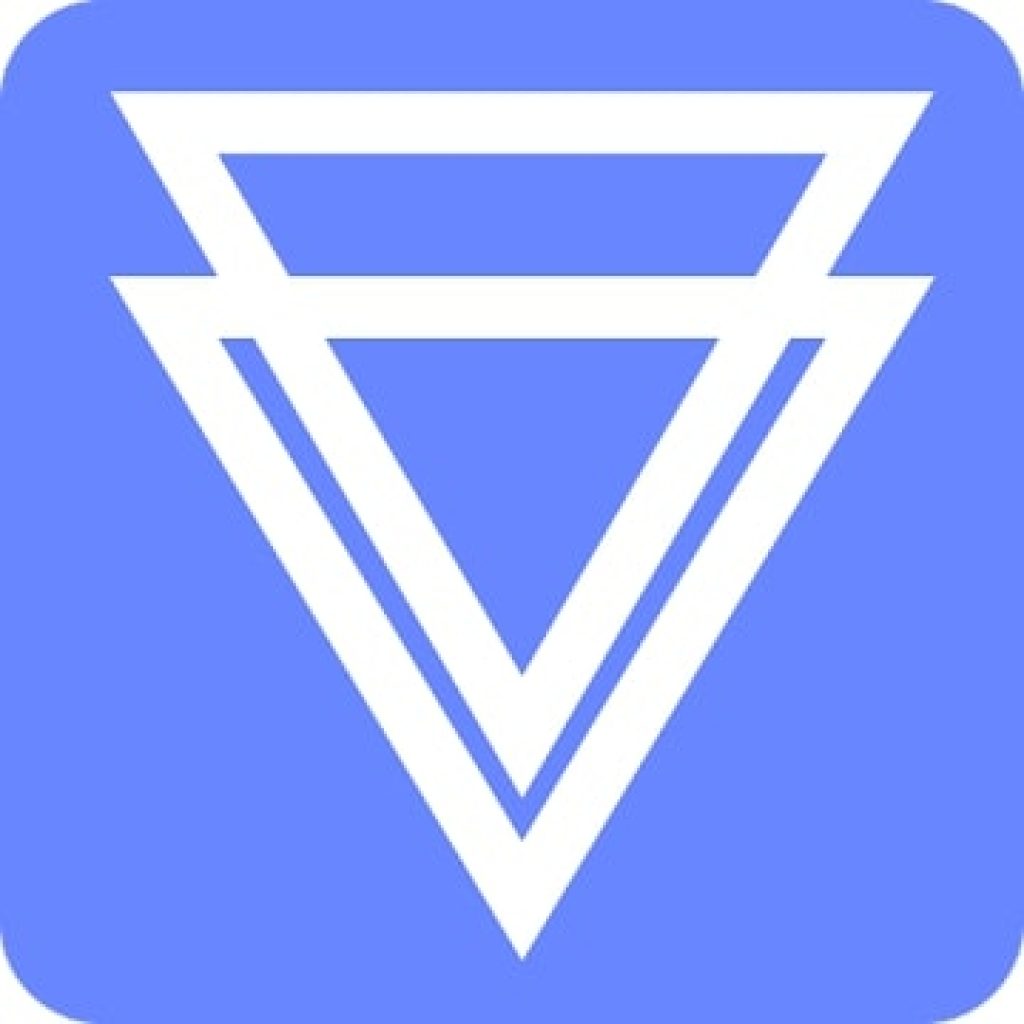 Cerebral is a program that can provide real help. Are you suffering from panic attacks or depression? If so, you urgently need to install Cerebral.
You will no longer have to go to specialists in different clinics, it's too long. Here you can get help quickly from specialists. The call with the expert is done via video link and you discuss everything that's bothering you.
All the symptoms have to be told. The session can be long, it all depends on the complexity of the problem. Everything your mentor has told you to needs to be done regularly.
If you are prescribed medication, you can order home delivery. Moreover, you are not alone in having problems, so there is a group where people share and splinter about their current well-being. You can also just correspond on other topics here.
At such a difficult time, when something is troubling, support is needed. Ask for advice, share your experiences. This is so crucial and needed by other people!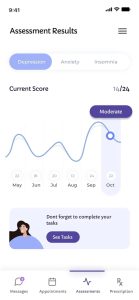 Everyone wants to beat the hated disease as soon as possible. Follow all the instructions and be healthy. Cerebral is perfectly adapted for each patient and is equipped with various convenient features. Share the program with people who need help too.


MyLifeOrganized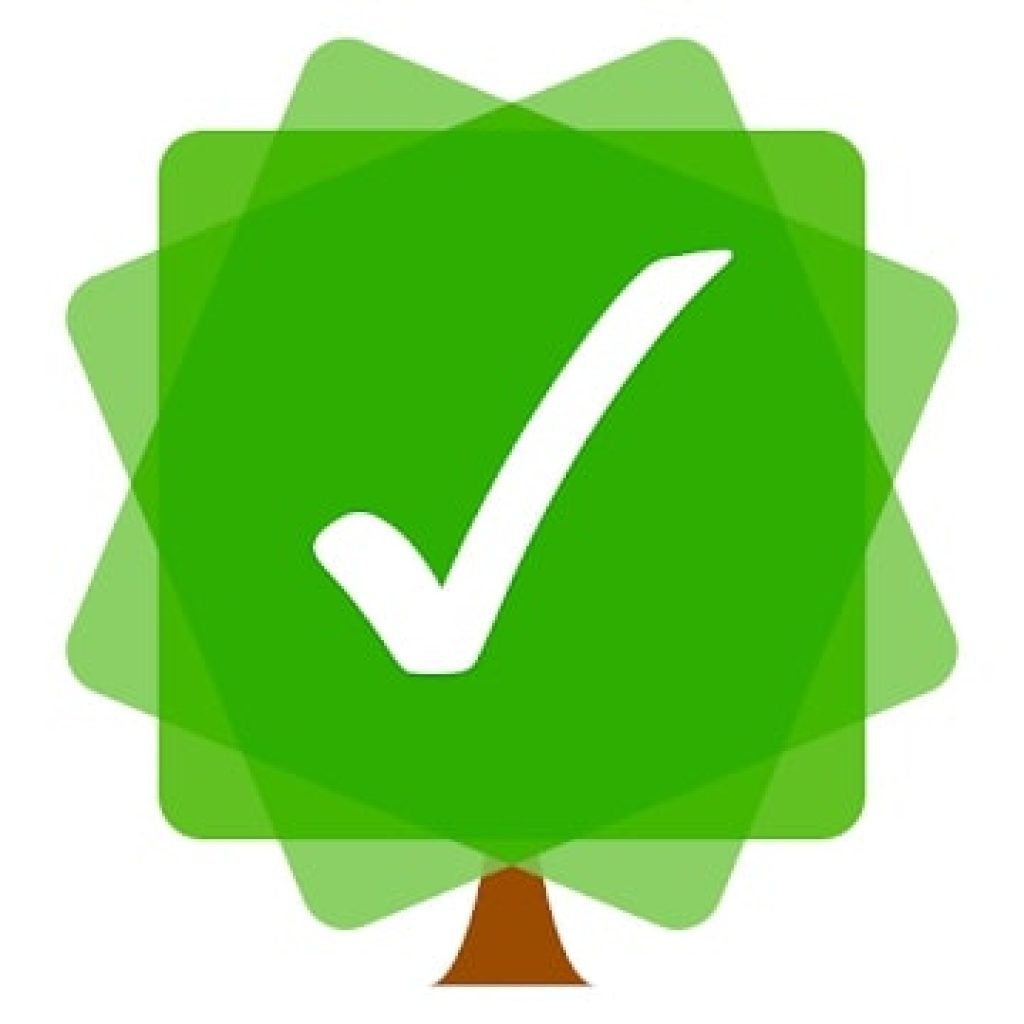 MyLifeOrganised is an app for a variety of tasks. You can work on projects, presentations, and you can take it to another level in general.
The program adjusts to the user and finds a more convenient way to manage. When the app helps with the execution, everything done will be synchronized.
MyLifeOrganised has many useful features. You'll get support and you'll get notifications of what you've done. What's more, you can easily sort things by need and do the important ones first.
In the calendar, you will mark the most important things and see the deadline. You can also set up widgets if you like.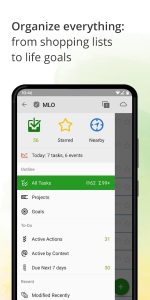 There are a large number of advantages, which are used for comfortable use. MyLifeOrganised is a fairly versatile app with easy controls.


InnerHour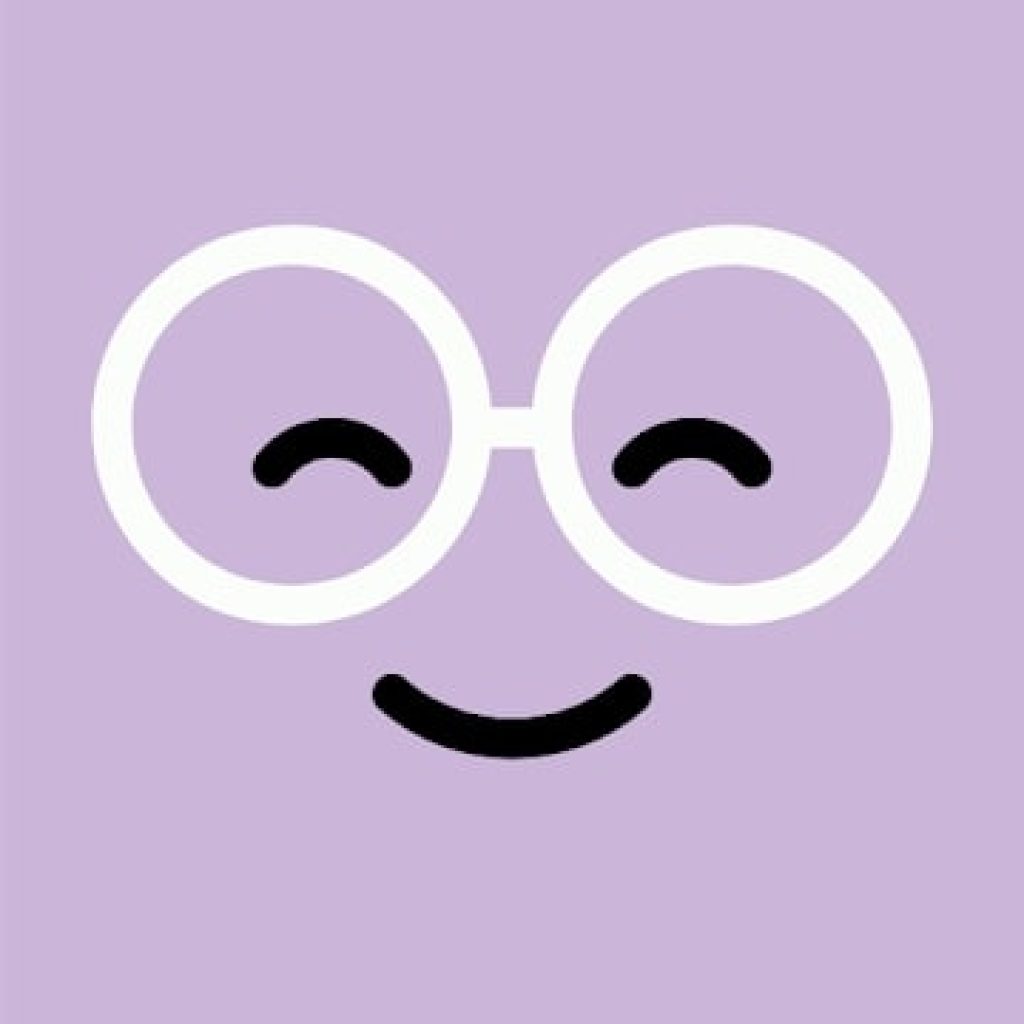 InnerHour is an app that will give you tips for dealing with depression, anxiety, and other disorders. You can improve your life and forget about your problems.
This is where the real healing happens. The specialists know their job and do it with dignity. First, you can make an appointment for a consultation, and then you can start treatment.
You will be instructed how to fight. Also, listen to all the advice. Moreover, you will learn here how to organize yourself and not depend on others. You can get habits that are great for your health.
You will also learn to feel your body, what it lacks, what it needs. Understand your favorite activities. Then you will find harmony with yourself and fully enjoy your life. First comes the four-week treatment, followed by a supportive course and self-love.
After treatment, you will restore your inner resources. Dedicate time to yourself, don't forget that your health comes first. Check-in with specialists more often. Users really like InnerHour for its atmosphere and the attitude of specialists towards users.


Forest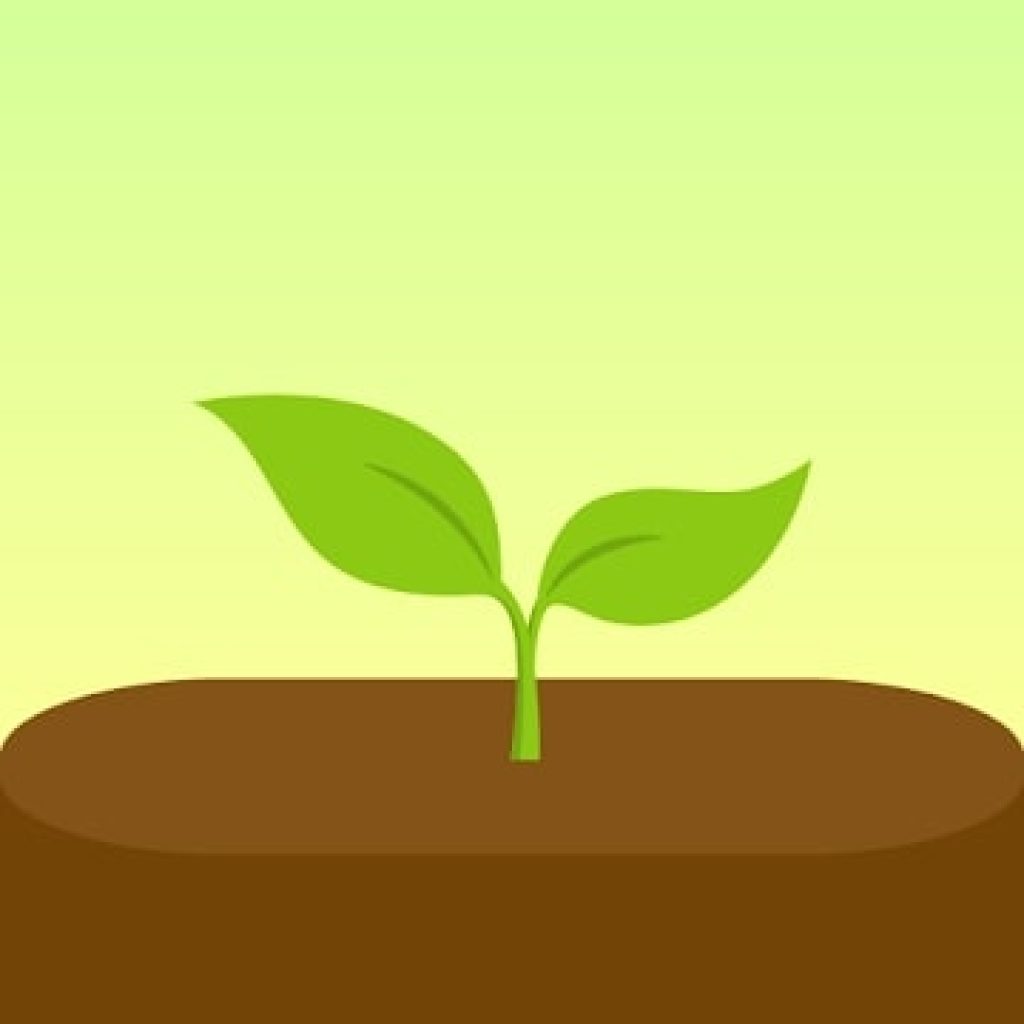 The Forest app gives users the opportunity to focus on their work by growing a virtual tree and creating a forest on their mobile devices.
This way, you can take the first steps toward overcoming phone addiction and focus on doing important things. The utility is designed to increase the level of attention and achieve the necessary goals.
Here this process is carried out by growing a virtual tree. At the same time, you need to keep track of time to periodically water the plant and do not leave the app.
In addition to growing trees, it is possible to create your own small forest. In this way, users can learn to focus their attention on one process and stop putting off things that can be done now. The process of creating a virtual forest is quite interesting.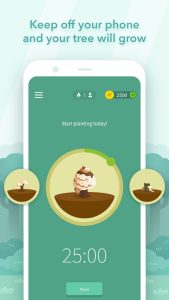 The opportunity is provided to plant different types of trees, among which you will find a star coral, a ball cactus, a flowering tree, and grass. The results of the completed work can be added to the story. Regarding the creation of the forest, you can follow the cultivation of trees on a daily basis.


Fabulous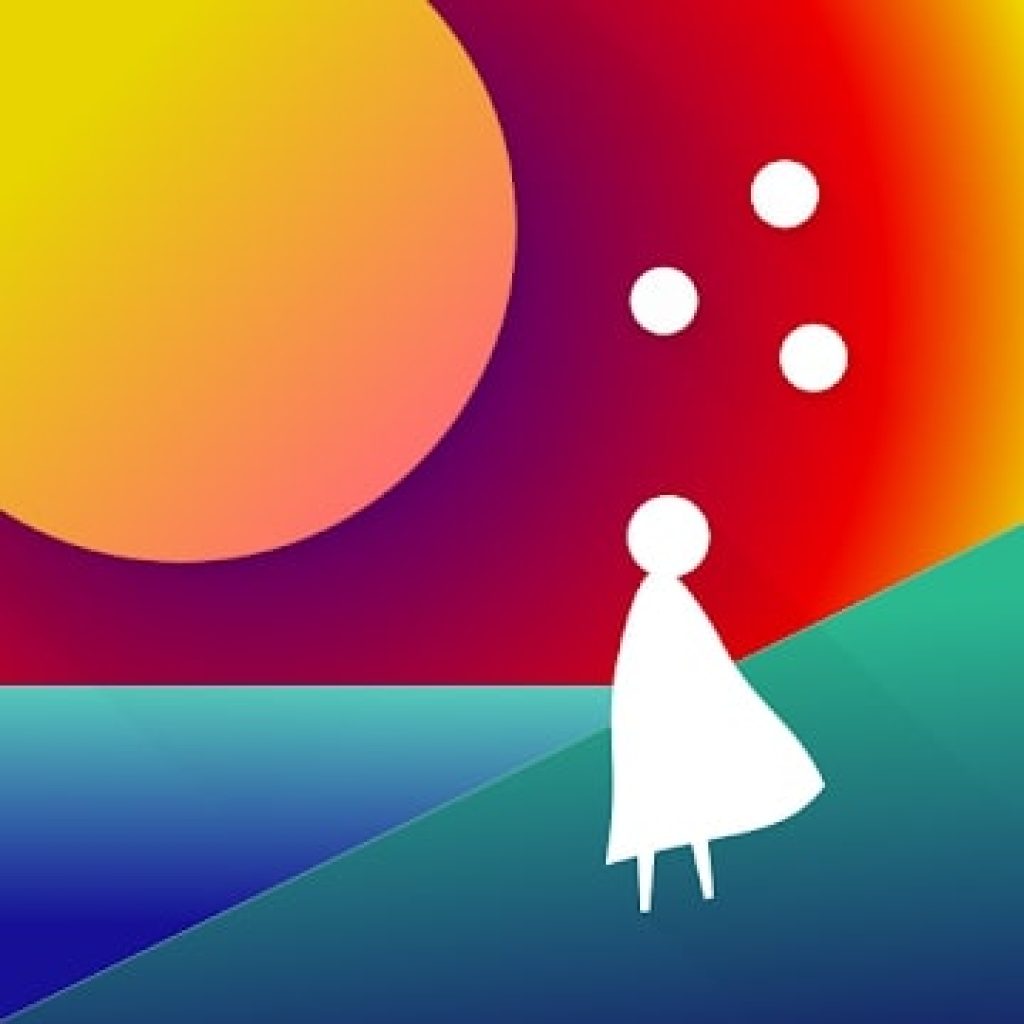 The Fabulous app is designed to build healthy habits, improve well-being and create an optimal daily routine. It motivates you to achieve your goals.
The app immediately changes its settings according to your choice. To do this, you need to answer a few questions at the start.
They relate to your goals, the main problems you have, bad habits, and factors that interfere with your resourceful state.
Fabulous develops a personalized program for the user depending on what goals he or she has set for himself or herself. It also depends on how he or she answered the questions.
The complex will include short sports workouts combined with stretching, meditative techniques for relaxation and getting rid of stress, breathing practices, and tips for getting into the right sleep.
Besides, there is a program for correction and weight loss without tedious calorie counting. The app helps you build a daily schedule and eating habits so that you can achieve good health and feel a burst of energy.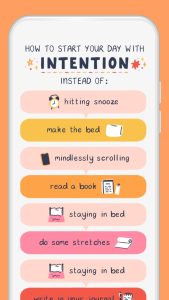 At the same time, it takes into account the daily activities and tasks you face and adaptively integrates into this scheme. Alarm clocks, reminders, efficiency and concentration tips, and personal motivation are provided. All of this is aimed at forming daily healthy habits.


Productive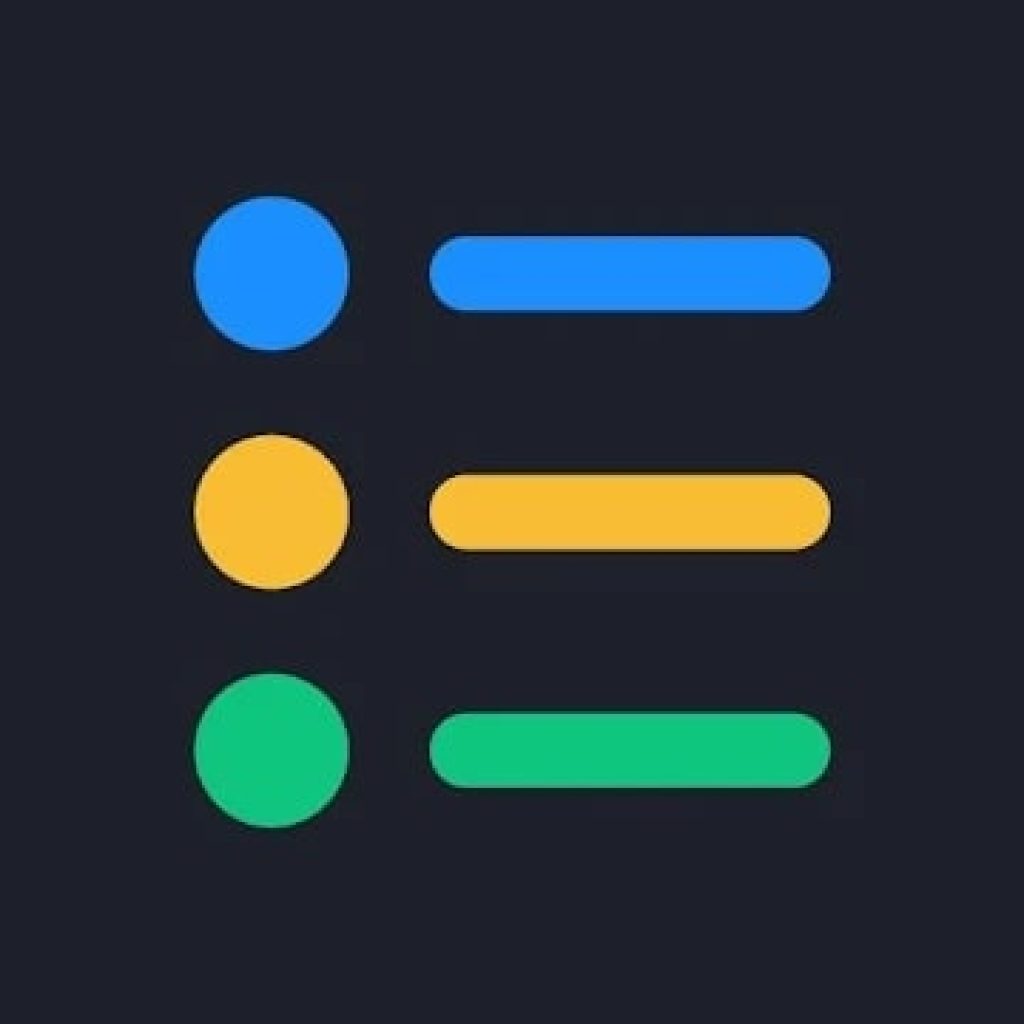 The Productive app is designed to help you plan things and develop pleasant habits.
You can create a schedule for the day, week, or month with regular or one-time tasks in the utility. The app is based on the theory of building skills in 21 days.
Thanks to the utility, you can choose a habit, develop it and track your progress. There is an option to create a one-time or regular task. When adding a new item to the schedule for the day, you can choose the time, icon, and color.
Activation of notifications with reminders is available. The number of tasks is not limited. They can be distributed in the morning, afternoon, and evening, pre-specifying convenient time limits for each period in the day.
The app has challenges and personal statistics that motivate you to develop. Every evening, the utility automatically summarizes the day's results. It has categories with to-do lists and habits.
Interesting tasks are provided for those who have to be at home because of the pandemic, as well as disease prevention skills. The app highlights habits aimed at improving well-being and health. For example, brushing your teeth regularly, getting eight hours of sleep, anti-stress techniques.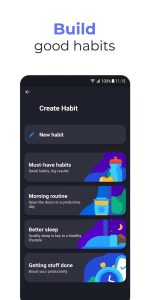 The utility has categories with things to do to help keep your home clean, manage your finances, make goals for the next year, and take care of your loved ones and your own mental health.


You may also like: 7 Best Habit Trackers Based on Covey Method Apps
Asana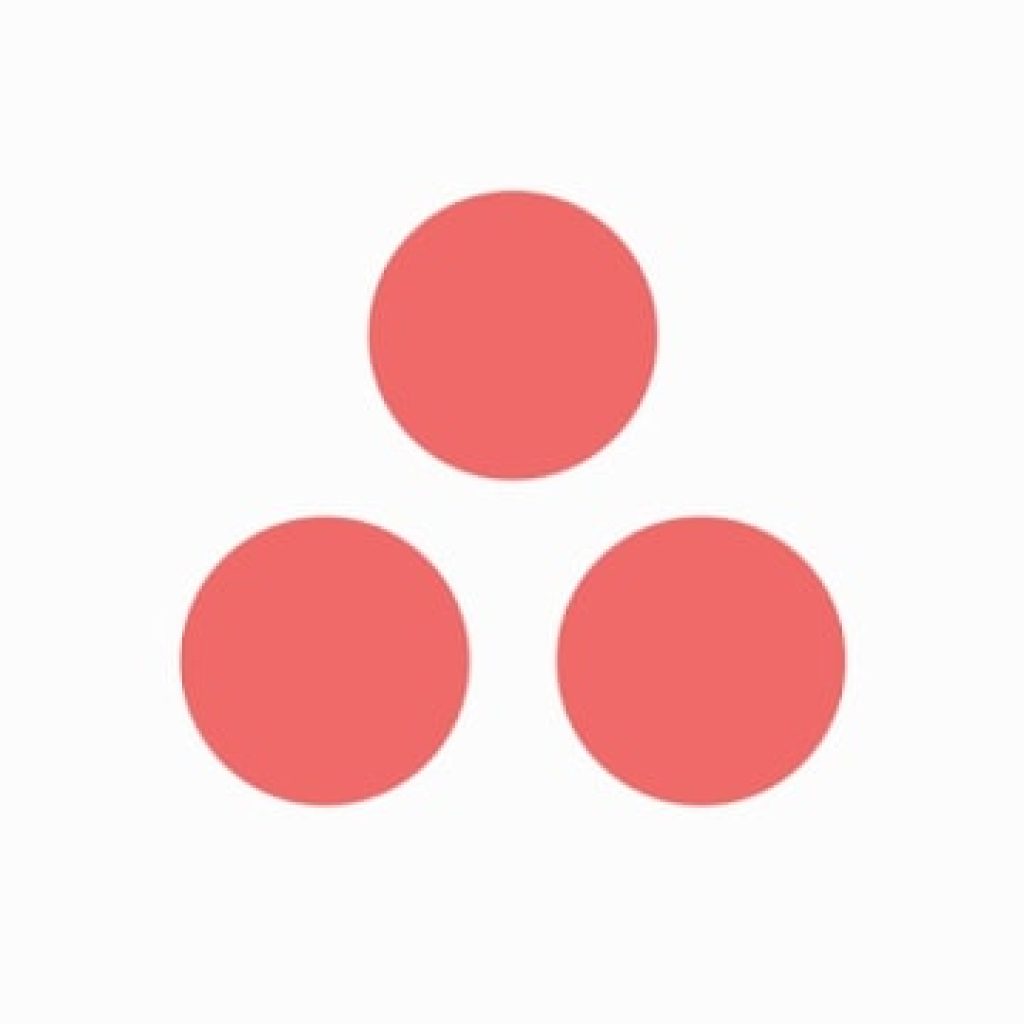 The Asana app allows you to organize interaction between employees of the company. Users can create workspaces and collaborate on projects.
The utility allows communicating with colleagues, exchanging messages, files, and ideas. A built-in task scheduler is also available.
To use the app, you need to sign in with your Google account. After that, you should invite your colleagues. It is possible to add users from your contact list or send invitations by email.
With the help of the utility, each user can create their own workspace. The ability to add projects and tasks is supported.
Also, this app allows you to specify a deadline for tasks. Company employees can give colleagues access to projects and publish important files.
Besides, the function of subscribing to notifications about changes in the list of tasks is available. It is possible to add hashtags for a quick search.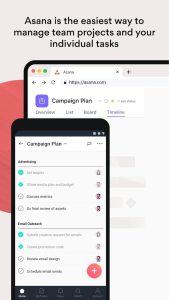 The utility allows you to exchange text messages and set tasks. This feature allows you to replace email and ensure that important issues are dealt with promptly. At the same time, managers can set up notifications on the completion of the project.