Almost each of us has imperfections that we want to hide. The teeth don't always look snow-white in pictures, so there is a natural urge to whiten them with the help of photo editors. In this article, we present a list of the best applications that will help you whiten your teeth.
You may also like: 9 Best nose editing apps for Android & iOS
Facetune
Face Tune application allows you to improve the look of your face in photos. Before uploading photos to social networks or sharing them with friends, try to process them with Facetune and you will be surprised.
Unlike other photo editors, Facetune was created especially for improving faces. It contains a lot of tools that are indispensable in case your picture didn't turn out to be the way you wanted.
The basic tools for working with photos are located at the bottom of the screen, right under the processed photo. Facetune allows you to edit skin, remove imperfections and shortcomings.
The "toothbrush" tool will make the teeth whiter, and with the Patch tool, you can remove moles and scars. The Reshape function allows you to raise the corners of the mouth and make the smile more joyful.
It is easy to add a photo frame to the finished work of art, which in some cases makes the photo more pleasant and beautiful for the human eye. The result can be easily saved to the memory of a smartphone or tablet, sent by email, published on Twitter, or shared practically in all the convenient ways.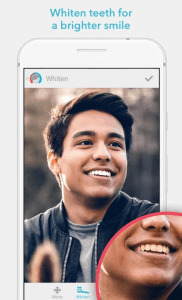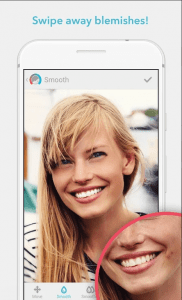 You may also like: 15 Best photo zoom apps for Android & iOS
AirBrush
AirBrush is a must-have application for every selfies love. Its tools can turn an ordinary photo into a real masterpiece.
Right after launching the application, you can take a selfie and start editing. It's enough just to check the offered options. The photo editor itself can improve the picture, smooth the skin, remove acne, scars, wrinkles, and other elements that can seem annoying.
Also, there are such popular features, as teeth whitening, red-eye removal, makeup adjustments, and much more. There are also a lot of filters that will complement the picture. You can adjust brightness, contrast, color temperature in a real-time photo adjustment mode (preset what the photo will look like before its creation).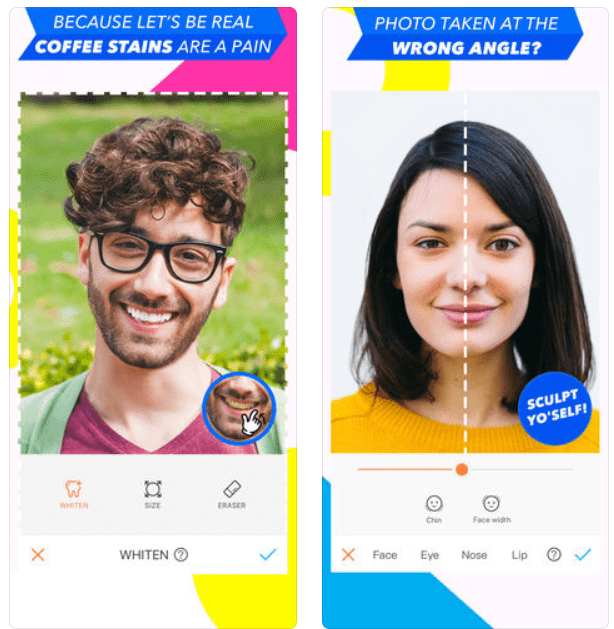 Visage voir
The Visage voir application is an excellent substitute for Photoshop. Instead of doing most of the actions by yourself, you can just slightly adjust the result. Downloaded from the gallery or newly-made photos will be instantly processed by the application.
It will easily remove the red-eye effect, correct skin pigmentation, smooth its irregularities, and conceal fat and unhealthy shine.
After all of these actions are completed, the application will give you the result, which can be compared at any time with the original photo.
After processing, you can save the improved picture and share it on social media. The user can also perform a variety of adjustments to his taste due to a huge number of additional options. It is even possible to give the skin a tan color by selecting an option called "Glamor", which is located in the "Stylization" group.
In the Visage voir application, there is also a whitening function that can make the photo more qualitative, whitening both teeth and whites of the eyes.
Download the Visage Voir application now and get a first-class and truly irreplaceable tool on your device that can not only significantly improve the photo but also save a lot of time that is spent on processing the image in a professional photo editor.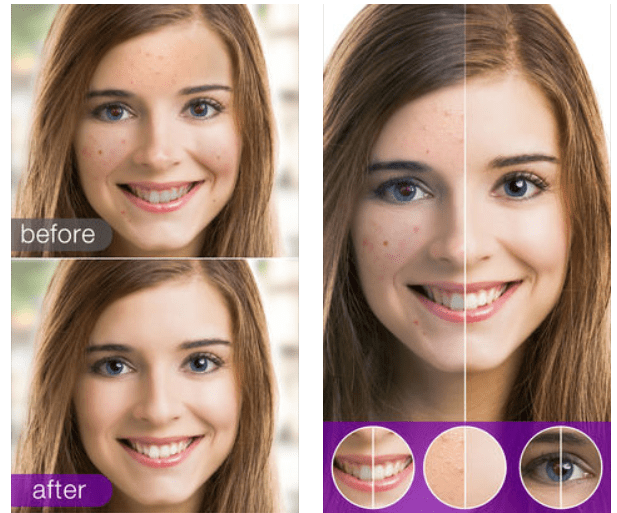 BeFunky Photo Editor
BeFunky is a photo editing application with which you can edit your images using a variety of different tools. With it, you can apply a variety of filters (including whiten teeth), change the brightness, contrast, and other image parameters, crop, rotate it, and so on.
However, the main advantage of BeFunky is not the presence of more than 30 tools, but the fact that they are presented in a very simple and well-thought interface. You can easily apply any of the effects – just move your finger from side to side right on the picture.
You can even add glasses and fake mustaches to a photo with your face, or adjust the white balance on the landscape. To cancel an unfortunate action, all you have to do is tap the cancel button.
BeFunky is an excellent photo editor, which is not only full of a variety of features but also has a thoughtful and functional interface. If you like intuitive apps, this one will definitely suit your taste.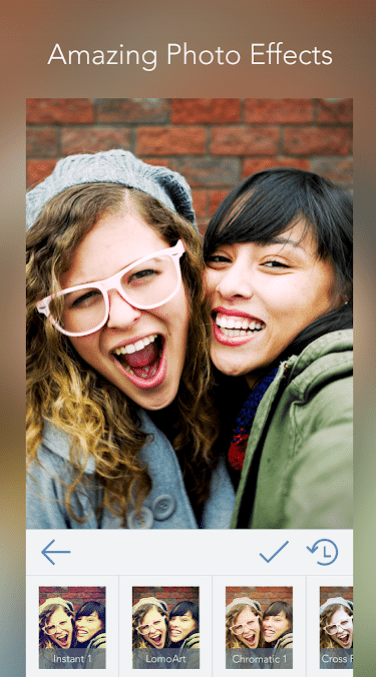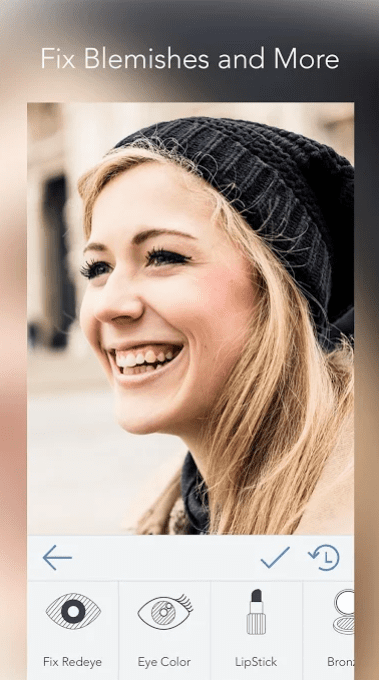 BeautyPlus
Download the BeautyPlus application and find out why tens of millions of users have chosen it to edit their photos and videos. The application includes many simple but powerful editing tools, various visual effects, AR filters, and many other functions that will help turn an ordinary video or selfie into a memorable work of art.
Express yourself and your unique style with an updated AnimeCam camera. Now you and your friends can try on funny anime filters even while taking group selfies! Also, the app can turn an ordinary photo into an animated collage. Show your creativity with a multitude of filters and frames, make your account social media account unique!
Creating beautiful professional photos and videos has never been so easy. With the application, you will be able to remove unsuccessful photo elements, smooth out skin, add various filters and effects.
Famous makeup artists and photographers take part in developing this application. The beauty camera will allow you to make the following corrections to create an incredible selfie – change makeup, remove scars, acne, and other problem areas of your skin.
Do you want to make your eyes more expressive? In one touch, remove dark circles and even change their color so that it matched the tone of your hair. Create a perfect smile with the help of the teeth whitening function, let your smile shine on every selfie!
Need to quickly retouch? The editor will perform all the work independently thanks to several specially developed algorithms.
The professional functions of the application include a brush (adds the effect of neon, radiance, glow), an adjustable blur of the specified area, a simple tool for cropping photos, dozens of filters, and full image control – zoom, stretch and rotate.
The application also includes a self-timer, a multi-facial recognition system for group photos, a sensitivity adjustment feature, and easy sharing.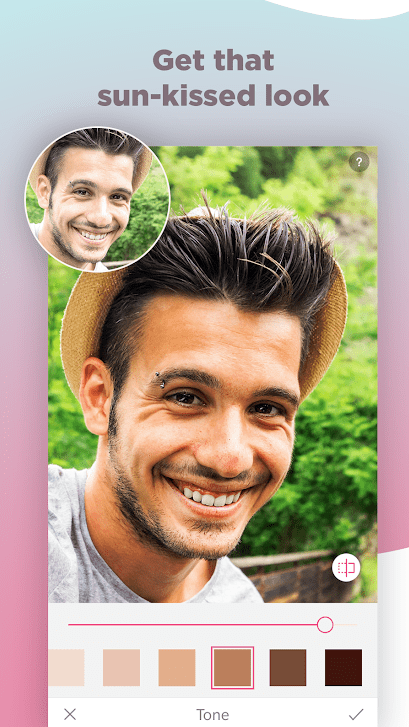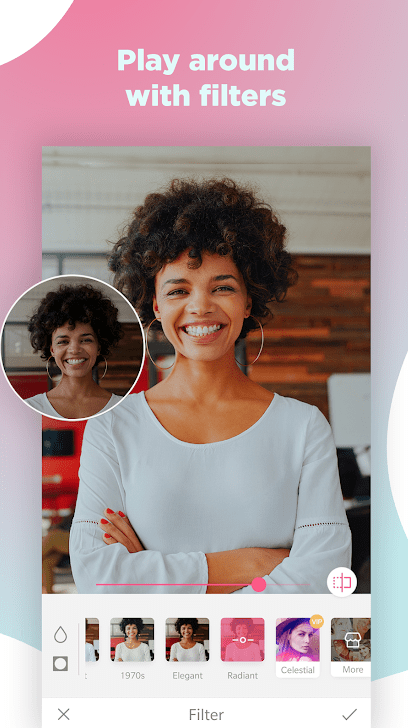 Pixlr
Open your creative potential with a professional photo editor Pixlr. Make unique pictures, thanks to millions of combinations of effects and filters.
This editor provides a wide range of tools for customizing your photos. Despite its huge functionality, a photographer of any level can cope with it. Create collages of photos with a wide range of layouts, backgrounds, and intervals between them. Adjust the color balance in one tap thanks to the automatic correction feature.
Create excellent selfies with simple tools that remove defects, eliminate red-eye effect, and whiten your teeth. Select the best colors or, on the contrary, blur unwanted details of the photo with the Focal Blur feature.
The ability to save combinations of effects in the "Selected" will allow you to apply them to other photos in one touch. Create real works of art and share them with friends on Facebook, Twitter, or send via e-mail.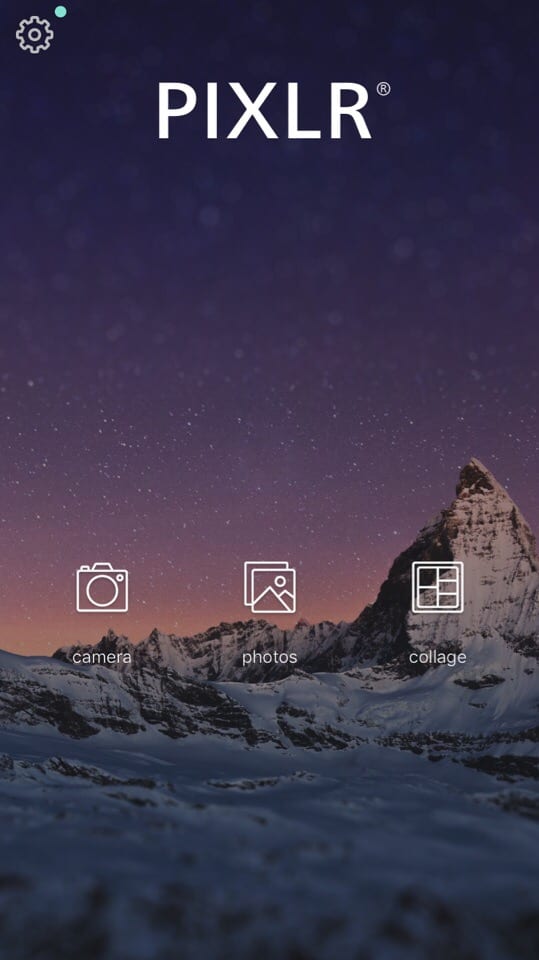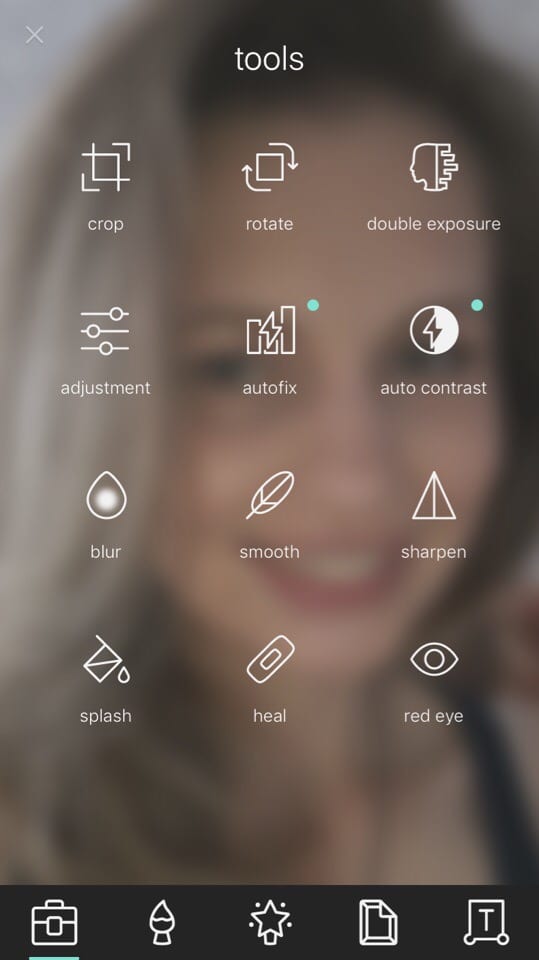 You may also like: 11 Best virtual tattoo photo apps for Android & iOS
Perfect365
Perfect365 is the best free application for creating makeup without wasting money on it. Join 80 million subscribers and explore a variety of functions!
Try changing your image with just a few taps. This is a very easy-to-use application, which offers new styles from experts, artists, and make-up artists every week. Feel free to change the color of your lipstick, whiten your teeth, or repaint your hair.
Features of the program include more than 20 styles of make-up, various tools for applying shadows, liners, lipsticks, and much more, about 200 styles and unlimited custom options with a unique blending of colors.
You will find tips on how to use cosmetics, recommendations for day and evening makeup, settings to make glowing makeup as well as the opportunity to share your work with friends on social networks. Perfect365 is a fun, easy-to-use photo-editing application that gives you pretty good results.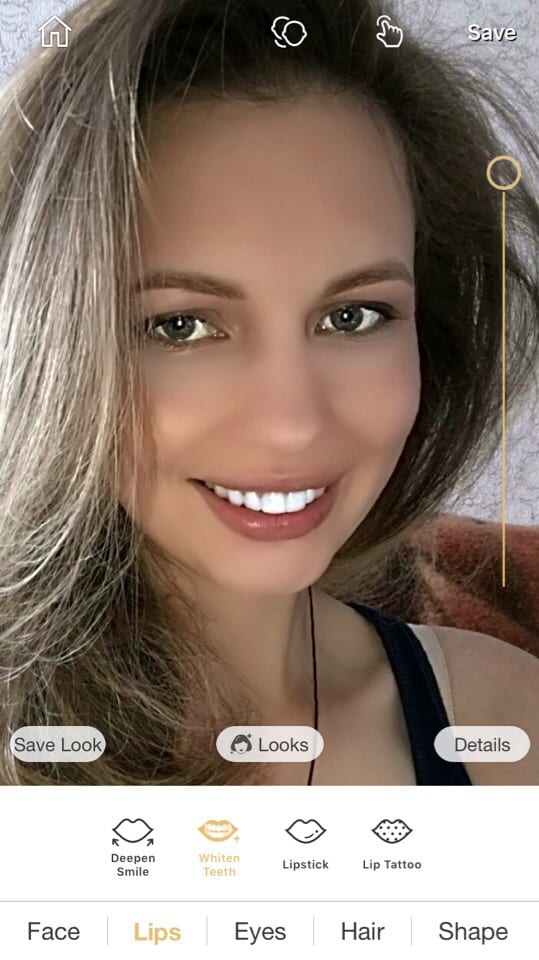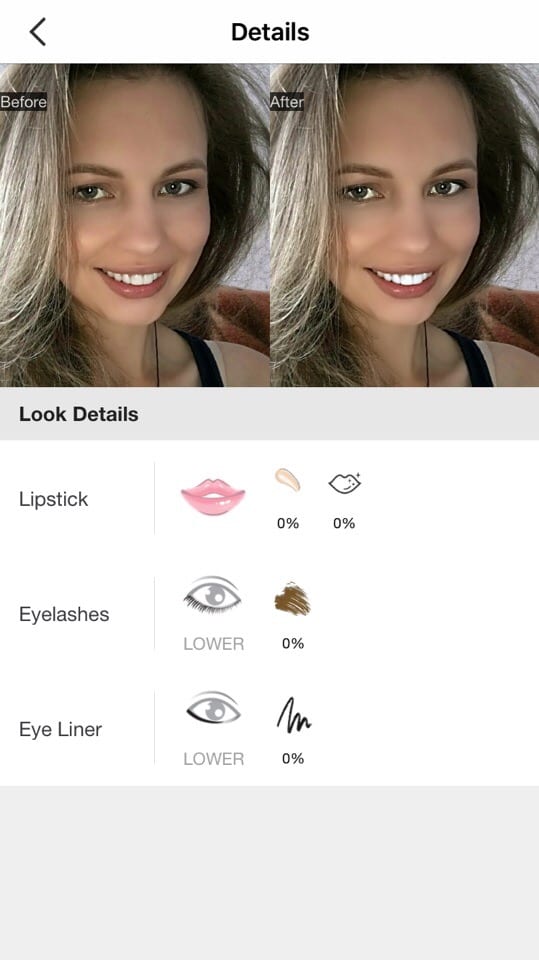 Teeth Whitening Photo Editor
Teeth Whitening Photo Editor will help you to look perfect. This app will automatically adjust all the filters to your face. None of your followers will even notice that the photo has been processed.
This app is free, and that's a nice plus. You can apply your makeup, change the shape of your eyes and tone of your skin and whiten your teeth. And it's all thanks to a simple interface.
All you have to do is take a photo or upload a ready-made selfie from the gallery and edit what you think is wrong or ugly. Just select the part you'd like to change, choose a tool, and the app will do all the work for you.
Additionally, feedback from users is split into two camps: some users like the app, while others say it doesn't work. But you won't know unless you try it.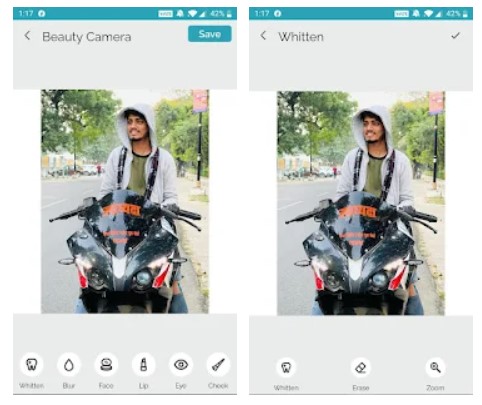 Fotogenic
Face tuning might be criticized in a lot of ways, but it doesn't change the fact that people keep on photoshopping themselves on pictures. Actually, there is nothing terrifying in that as long as those tunings are moderate and look natural. Seriously, we all deserve to look a little bit better at pictures.
As you have already guessed this is another face editing app, that also includes the feature of the teeth whitening. You can meticulously whiten your teeth on any pic just by highlighting the area of the smile. Or, you can do that automatically by clicking on the right icon.
The teeth whitening is one of the main features of Fotogenic. Apart from that, you can polish your skin, remove the dark under-eye circle, add muscles to the figure, and so on.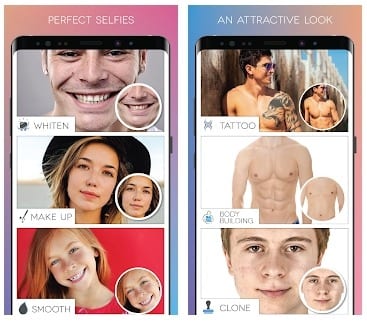 PicsArt
PicsArt is another popular photo editor that you are probably familiar with. And ti you are the content user of this app you know that it offers lots of face-tune functions, including the teeth whitening. All you have to do is to upload the picture to the app, and then click on the face icon.
Somewhere in the last positions, you will find the function "whiten the teeth". It is important to notice that when you click on it, the app will detect the smile and whiten the teeth automatically. Honestly speaking, it doesn't always do that right, so you can cancel that action and do the whitening manually.
Just zoom the picture, highlight the area of teeth, and choose the intensity of the whitening. A little tip: don't roll up the intensity up to the maximum because in this case, the picture is going to look unnatural. Choose from the weak to the middle intensity – this is how you reach the best teeth whitening effect in this app.
Apart from that, PicsArt offers lots of photo and face editing options, that you can explore in this amazing app. You can, for example, change the color of your skin, eyes, hair, the shape of the nose, and many more. By the way, you can even correct your smile by choosing the "curve" function.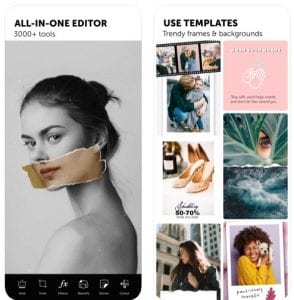 You may also like: 11 Free face recognition apps for Android & iOS
Facelab – Selfie Face Editor
If you're still afraid of getting a bad picture, taking dozens of selfies to update your photo on social networks, this app has come to your rescue.
Here you can reshape your face, change the shape of your lips and eyes, and give yourself the makeup of your dreams. You can even whiten your smile. Now you will always look perfect.
No more wrinkles or tired look and enlarged pores, just an even complexion. Have you considered dyeing your hair or getting a new hairstyle? Just do it. Thanks to this app, everything is possible.
Nothing beautifies a person as much as a beautiful and sincere smile. You will no longer have to worry about the whiteness of your teeth.
All you have to do is upload a photo and choose a tool to work with. Your smile will become a Hollywood smile. Thanks to a lot of filters, no one will replace the photo processing, everything will look natural and effortless.
But even though the developers say the app is free, you will still have to pay for some filters and tools.