Nowadays, each of us is running raged by the increased fastness of living. After a hard day's work, all we need is to have a rest and relax. However, we have so many things to do, that is why half an hour for resting is not enough for a tired person.
Moreover, for better relaxing, you should seek professional advice. These specialists can be masseurs that provide the highest quality service to all customers. It remains just to go to any beauty salon and pay for a massage session. But what if someone doesn't want to waste time and money on it?
We would like to suggest the best decision on this question ever. The solution is your mobile phone. To be more precise, there are many apps that can massage your body. Best of them are described in this very post. Since now, a human's place in this matter can be easily filled by your mobile device. That sounds incredible, but that's the way it is!
We have reviewed the best vibration apps for a massage that are available on the App Store and Google Play. Read information about these apps, select several of them and try! It will be hard to choose because each of them is excellent. But we promise, after installation, you will forget about any solicitudes that you wearied with.
Vibrating Massager FREE
Does your strength ooze away every evening? It's a very common problem, but we know how to get rid of it. Install Vibrating Massager FREE and feel the energy in your body. Open the app and start a massage session. You always can control the process by changing vibration intensity.
One more thing that you will surely like is its graphics and animation that synchronizes to the vibration. That is why this app is quite appropriate for kids. While your child is entertained, time will fly past.

back to menu ↑
Massager Vibration App: for women & girls
We can't help adding this great app in the list of best vibration apps. Install it and see how many capabilities it has! Choose any of 4 modes and start relaxing.
For better effect, you may listen to preset music, nature sounds (such as rain sound, sea waves sound, birds singing and much more) or sleep sounds of high quality. That is why this app can be used as a sleep helper.
One more distinguishing feature is a timer. It means, that you can be unmindful of time – the app will be turned off automatically. Massager Vibration App works offline, so you can use it everywhere. Just keep calm and massage!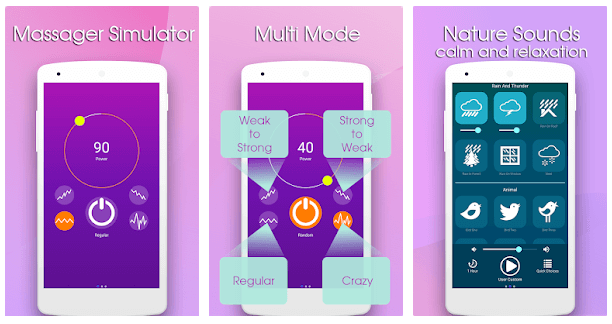 back to menu ↑
iMassage U Vibrating Massager
iMassage U Vibrating Massager will become a free personal masseur for every iOS owner. In this app, 10 different vibration patterns are available for you. All you need is to choose a vibration pattern, set vibration strength and speed. After that enjoy relaxing. Because of a special Power on/off button, it is very simple to use.
Moreover, Apple Watch owners should pay special attention to this fact: it is the first vibration app to support the Apple Watch.
As you can see, this app's interface is very convenient, so take enjoyment in unlimited customization!

back to menu ↑
iVibe: Best Vibrator Massage
Do you want to relax and relieve stress after a long day? Or maybe you want a quick fix to your health? The developers of iVibe assure that this app meets your requirements. According to their opinion, with the help of this app, you can treat cellulite and wrinkles, stimulate hair growth, calm sore muscles, etc. So the app will become your doctor as well.
What about the app's basic features, you can choose vibration from three built-in vibrator settings and start massaging. By the way, the app will is also able to make you fall asleep. And if you want to hasten the process, we advise you to read about the best white noise apps for Android & iOS.
back to menu ↑
Body Massager – Extreme Vibration
Are you wearied with perpetual solicitudes and labors? Download this app and forget about all worries. Install Body Massager and enjoy a powerful and strong vibrating sensation from your mobile device.
It has 5 different modes to choose from. Select one of them and put the phone on any part of your body. You will definitely like the result. Moreover, you can change pattern speed at your pleasure.
We strongly recommend you to use this app that is able to simulate a powerful massage machine.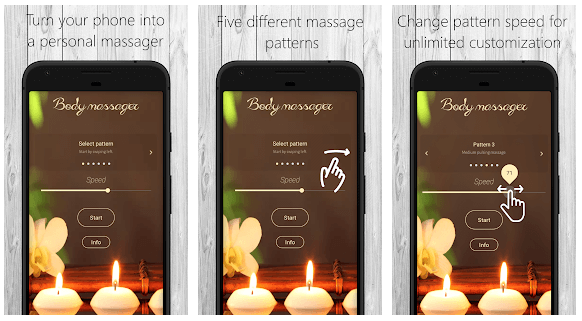 back to menu ↑
Body Massage Vibration
One more great app is called Body Massage Vibration. Download it and make yourself sure how simple the interface is and how powerful the app is.
It has 9 different vibration modes supported (Continuous High Vibration Massage, Medium Delay Vibration Massage, High Delay Vibration Massage, etc.).
You should pay special attention to the app's background: just like in beauty salon or Thai massage parlor. Moreover, it is an animated one. That is why the app will become a perfect tool for certain meditation techniques.
Use the app and enjoy an in-home professional massage!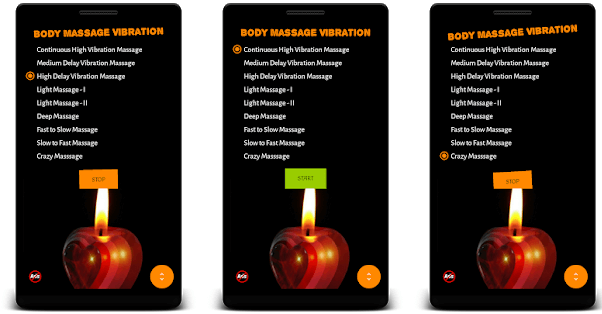 back to menu ↑
Extreme vibration app
In case of insomnia or overwork, you can use this nice app in order to relax. Extreme vibration app will be used instead of a masseur, so you don't have to pay money for massage sessions anymore.
There are 4 auto vibration modes with an ability to set your own interval level. The user interface is very simple and has only basic functions.
Nevertheless, there are many options to use the app: you may massage yourself, relieve stress and even soothe yourself or a baby to sleep. It remains to download the app and enjoy its capabilities!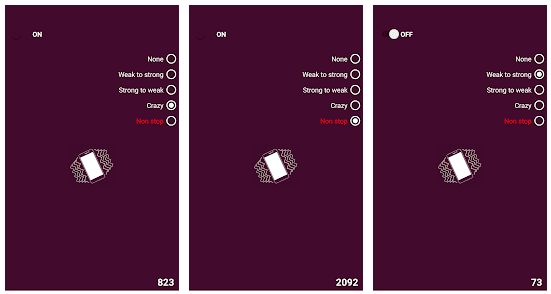 back to menu ↑
Best Vibrator PRO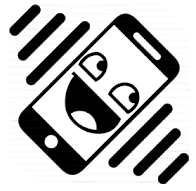 There is no doubt, this app will become one of your favorite. Best Vibrator PRO is suitable for those who want to make use of massage service as often as possible.
There are almost unlimited vibration modes: you can set your own pace, vibration length and pauses between vibrations. The app will become your personal masseur that makes your dreams come true.
The main distinguishing feature is that the app also works when the screen is off. Or you can use it in background while other apps are opened.
By the way, there are no ads, so nothing can disquiet you. Open the app and derive pleasure from a professional massage.
back to menu ↑
Vibes – Massage Vibration app
If you have trouble sleeping, this app is listed special for you! With the help of Vibes, you will be able to relax and feel yourself somewhere on a beach.
Its 7 massage modes will make these massage sessions unforgettable. The vibration is quite strong and equals special massagers by its strength. Like the previous one, this app works when the screen is locked or in background mode along with other apps.
As you can see, it's very convenient and easy in use. So you've got everything to avoid being disgruntled.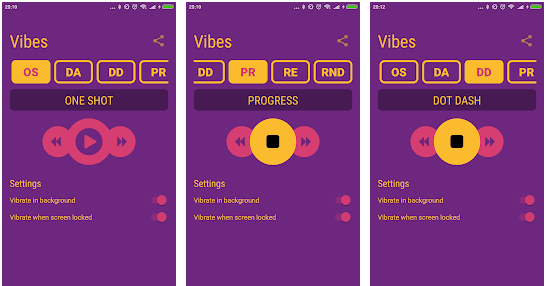 back to menu ↑
MeVibe
Do you consider yourself as a professional athlete? If your answer is "yes", you surely know about tensed muscles. Believe it or not, but MeVibe is a really strong phone vibrator and it will really relax you and calm sore muscles. If you overworked and have some problems with sleep, it will help you as well!
There are 7 different vibrating functions that will let you relax and not suffer from pain in your body. Just install this app, turn your phone into a massager and try its unique effect!
back to menu ↑
Vibrate Plus
We guess each of us would like to have a professional masseur at home. But now it is available for everyone and absolutely free!
Choose any of 2 modes (Simple or Pattern vibration), set vibrate and pause duration and tap "Start" option. You may use Constant vibration as well. Vibrate Plus has become a personal assistant of more than 1 million users. If you doubt its power still, try it and make yourself sure. Just launch the app, tap the "Start" option, put the phone on your desired area and relax!
Check also: Aware – Meditation & Mindfulness app review