Have you ever wanted to turn your memories into a movie? Well, now you can cope with that right on your phone!
We've gathered together the 9 best video diary apps in 2023 (Android & iOS) that let you document the most precious moment of your life. Just imagine – you spend a couple of secs to record something daily and get a full-on year of your life captured on cam. Plus, these apps also let you keep a written diary by adding notes and insights to clips.
You may also like: 11 Best Apps for Filmmakers (Android & iOS)
1 Second Everyday
The name of the first app fully reflects its concept. It's a video diary app that lets you document a full-on movie out of your life.
The idea of this app is quite simple — you need to record 1 sec of your day for a year. But why do you only have a second? That's because in that case, you'll only record the brightest moments of your day. Once you'll have enough clips you'll get to view the film made out of your life moments.
Herewith, you can use this up for whatever long — from a couple of months to decards. Thus, if you'll use this app for ten years without any skips you'll get a movie that is an hour long. And the best thing is — this app is completely free with no ads or sub packs. Besides, you get to edit your vids by rotating them and trying different frames.
You can also add captures to your vids and leave notes to your future self. Along with the classic timeline diary, the app also covers freestyle one that lets you capture your trips, cool events on the video as well. This style lets you regular the length and doesn't limit you in vids you can record in a day.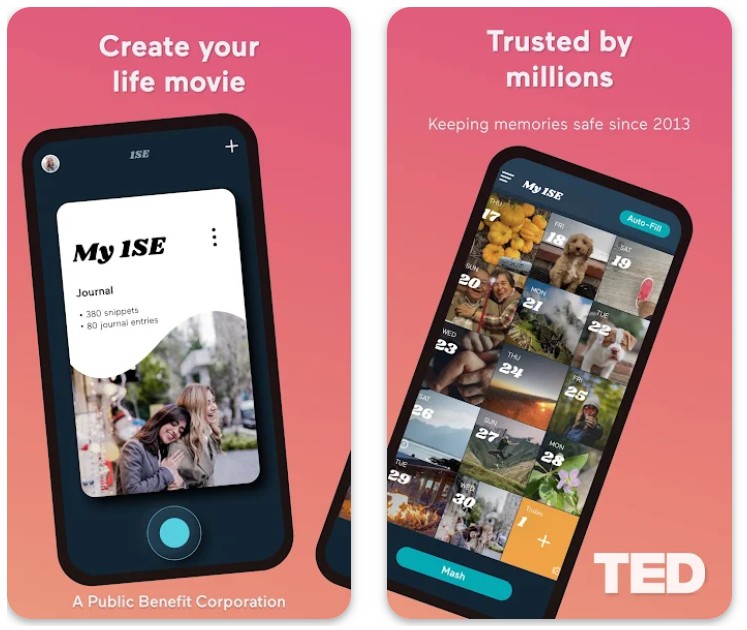 You may also like: 6 Free Video Presentation Apps (Android & iOS)
Day One Journal
This is a journaling app that lets you capture all the important memories in one place.
First of all, this app is not fully dedicated to video capturing. Its main feature is a handwriting diary attached to the calendar. Herewith, this app is compatible with media files so you can add pics and vids to your notes. You don't get to add long vids but you can cut them within the app.
Besides, the app has an incredibly simple and intuitive UI so you can make notes as easy as possible. The app also covers a habit tracker, reminders, and so on.
You're not limited with the number of notes you can take and media files to add in each one of them. The app is also integrated with SM in case you'd like to share some of your memories with others.
You can organize your notes as needed and add tags for better navigation. Additionally, this app runs on high-security techs. You get to protect your notes with the fingerprint, face ID, passcode, and more. Plus, all the notes will be automatically encrypted so you can be sure they won't be leaked.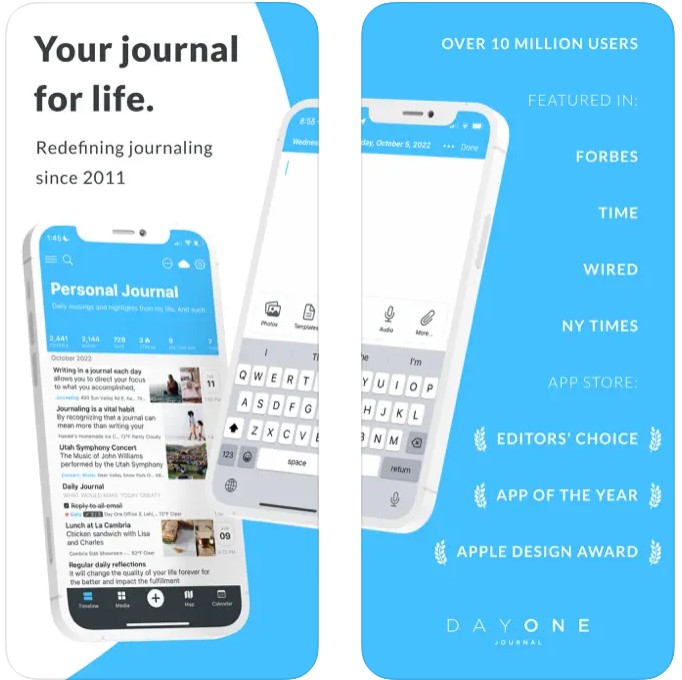 Journey: Diary, Journal
This is another diary app that will keep all your precious memories safe and sound.
This app is more than just a diary — it will also teach you to stay motivated and show you how to become a happier human being. To cope with that, the app includes a gratitude list and affirmations you can use for motivation and self-improvement. In case you're not familiar with this type of thing the app will give you a guide on that.
Besides, you can set goals and mark the achievements you make — from small daily goals to some life-changing ones. However, if you just need a place to put all your thoughts and emotions — this app has you covered as well. You can write daily notes and attach them to the calendar for simple navigation.
Plus, this app is compatible with media files so if you wanna add some pics or vids you can easily do that. You can add severe files to each note and even edit them a little. The app will also send you daily inspo quotes from books movies and articles if needed. The app syncs on all the devices so you can reach it wherever you are.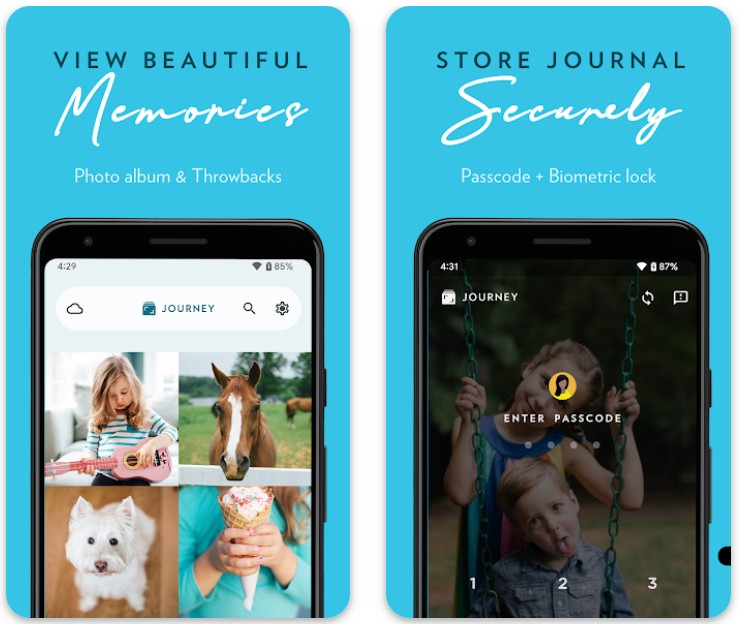 Daylee
Next, we have a video journal for capturing the story of your life.
The concert of this app is built upon short vids you should record on a daily basis. Apart from the first app on our list, this one doesn't limit you to just a second you can record complex moments as well. For now, the maximum time limit is 10 secs which is not a lot but still enough for recording a piece of your life.
Beyond that, you get to refine your vid with some extra details about your day. To be more precise, you can mark your mood, the activities you've been doing and add a small description of what the clip is about. You can also sort the clips by folders and mark some of them as faves.
Besides, you can add GPS marks to your clips, weather info, and more. Then, you can ask the app to comply with the vids in a short movie about a certain timeline, event, or whatever else.
It needs to be said, the app pays lots of attention to your privacy so you can be sure none of your vids will get leaked. Plus, the app has no ads or sub-packs so your money is safe as well.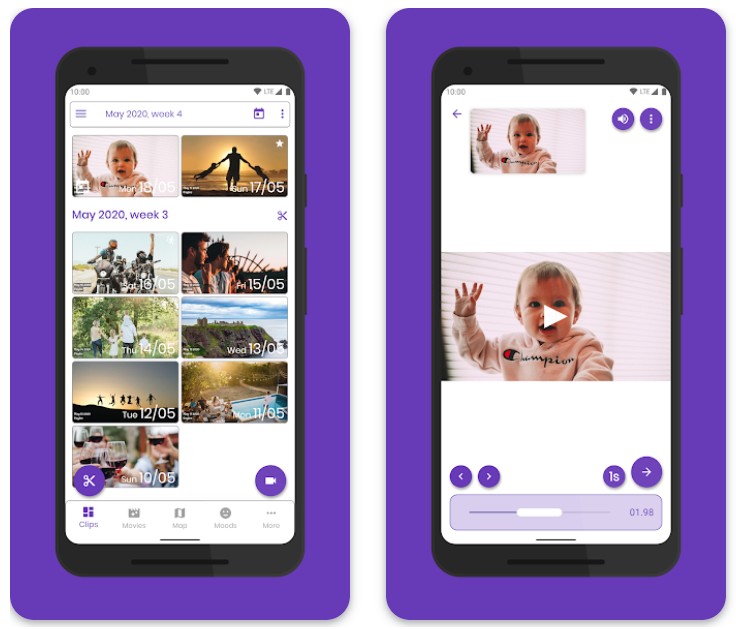 You may also like: 7 Free Boomerang Alternatives for Android & iOS
Leap Second
This is another journaling app that is built upon short daily vids.
The main goal of this app is to give you a simple source to capturing a video version of your life story. Thus, you'll get to record 1-sec vids every day for the app to compile them into a full-on movie.
In case 1 sec is not enough you can extend the timing up to 5 secs long. The quality of all the ids remains original so no worries about that.
Herewith you can pic any timeline periods for the movies — from a couple of months to a couple of years. All the vids you add to the app automatically attach to the calendar so you don't even need to do anything by yourself.
You are not limited with the number of daily vids so you can add as many as you want. Plus, you can also add pics and live pics if needed regardless of the mode they were taken with.
You can also pick the soundtrack to your life movie by yourself. Beyond that, the app has a collab made that lets you invite friends and fam to join your video journal. If you'll do that, the people you've invited won't only get to view your vids but add their own as well.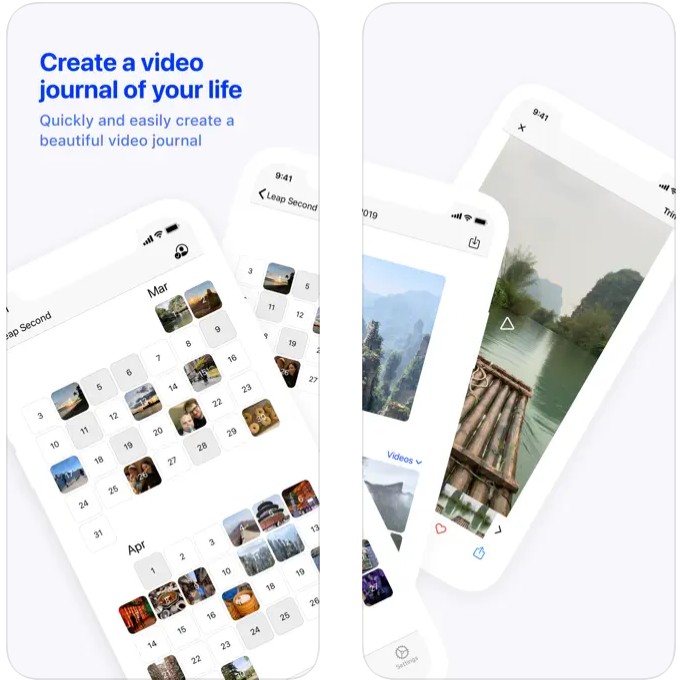 Daily Moments
As its name suggests, this app lets you record daily moments for your video calendar.
The main concept of this app is to make a simple video diary all people could use. Due to this, it has a simple UI and doesn't even ask you to sign up before using it.
As for the clips, you may rather add ones from your gallery or record new ones right away. Plus, you can come back to several dates and more vids to them if needed.
The timing is limited by 1 sec tho but it's classic for this app genre. However, you can add severe vids to one day and there is no limit for that.
Once the vids are added, the app will automatically generate a movie out of your clip. Herewith, the app doesn't take down the quality of the vids and you get to save the results in HD as well.
Plus, the app supports both portrait and landscape vids so no worries about that. Then, you may rather attach the clip to the calendar day or share it right on your SM. The app can generate the vids out of different timelines — from a mouth to a year.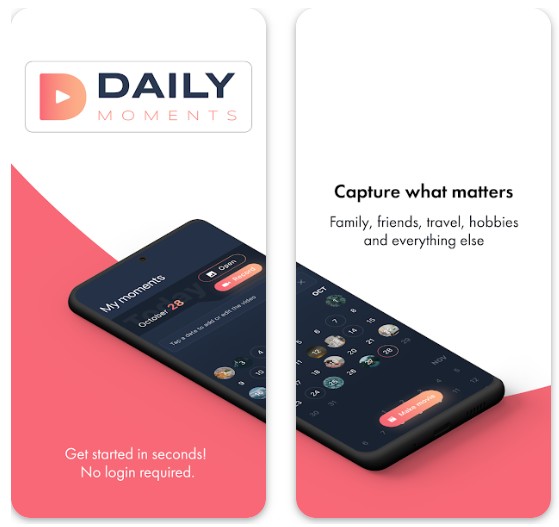 Daybook
And lastly, we have a diary app that provides you with diversify functional and high protection levels.
The main goal of this app is to give you a safe place to keep your thoughts and memories. You get to make calendar notes and entries along with adding some media files to them. Thus, you can add an unlimited number of pics, vids, and GIFs to all your notes.
Plus, the app will ask you about your mood, activities, well-being, and other stuff like that on a daily basis. The app also covers a gratitude journal and lets you set habits and life goals.
In case you're the type of person who likes handwriting notes but wants to keep them organized as well, the app has a built-in scanner that will turn paper notes into digital ones. There's ween an investment journal if needed.
As it was already mentioned, the app proves you with high security so you can protect it with a password. Plus, it runs on encryption algorithms so all the notes are all the way protected. In case you're still worried that someone could open the app without your concern you can write a special private diary or memoir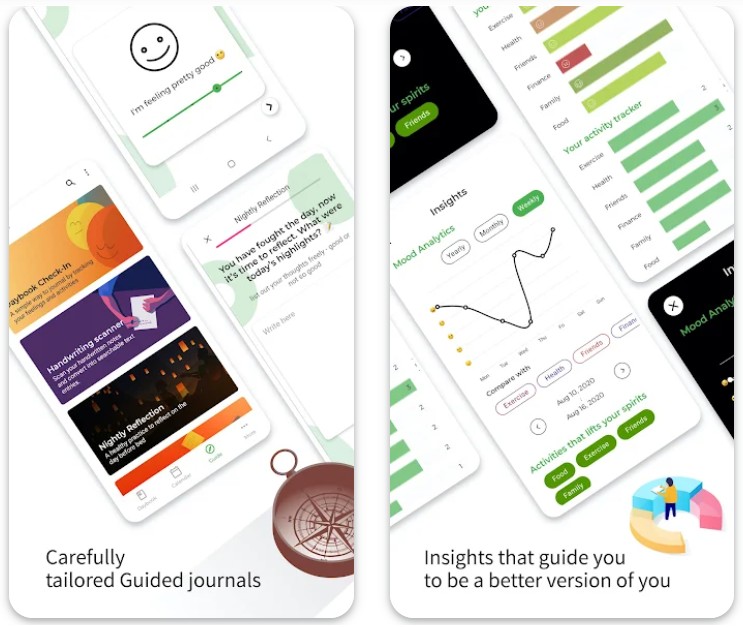 Stych
Stych is an application with which you can quickly and easily create amazing photo collages. With a simple and intuitive user interface, even those with no photo editing experience can create your video diary.
The app has a wide selection of pre-designed templates. You can choose from dozens of layouts, from simple grids to more complex designs with text and backgrounds.
Pros:
Large selection of features and options for creating a video diary
Ability to create collages
Сons:
Failures during operation
Not all features are free
The app also has a range of editing tools allowing you to customize your collages, such as adjusting the color, brightness, and contrast of your photos.
But on some devices the app has the tendency to crash.
Also, while the app is free to download and use, it comes with a limited set of templates and editing tools, and additional features require in-app purchases.
Some dissatisfied comments mention that they are having difficulty uploading photos, while others report that the app can sometimes load slowly.
Despite some controversy, we would still recommend using this app if you want to quickly create a nice collage. At the end of the day, it's convenient.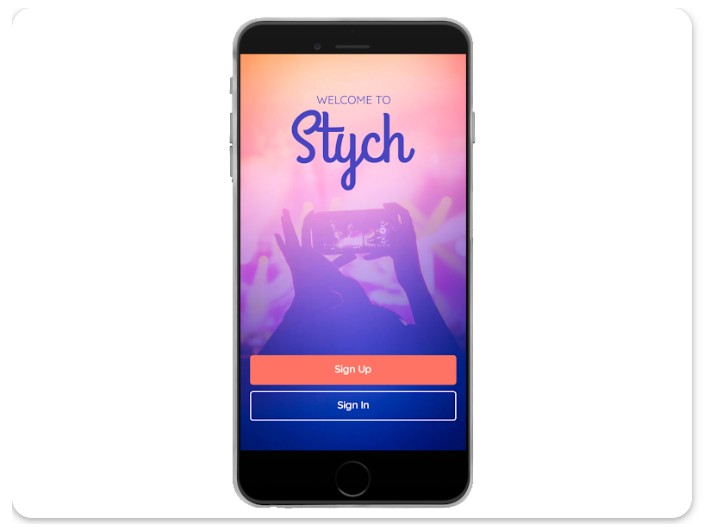 You may also check: 9 Best Easy Video Cutter Apps in (Android & iOS)
One Second Everyday
One Second Everyday is a app that allows you to create a unique and personalized movie diary. With this application, you can easily record one second of video every day and then combine those clips into an attractive video montage.
Using the app is incredibly easy. All you have to do is record a one second video every day and then upload it to the app. The app will automatically merge all your videos into a coherent and fun movie diary that you can watch and share with friends and family.
While the app has received mostly positive reviews, there are some downsides to be aware of.
Some users have complained about the app crashing or freezing, while others have complained about the app's limited editing tools. And sometimes the app doesn't let your videos across multiple devices.
Whether you want to capture a year of your life, or just a few months, this app is a great way to do it. So why not give it a try and start creating your own one second everyday video today!