Wanna feel what it's like to be a brewmaster? This article has you covered!
There are plenty of bow and arrow games for Android & iOS that gives you a realistic bow shooting exp. These games come with different concepts — some bring you to a worldwide archers tournament, some ask you to hunt dear and some even make you a mysterious ninja assassin. By the way, you may also enjoy RPG archery games that let you defeat powerful bosses.
We've gathered together the 10 best games in that category you may try. Take a look!
Gibbets-Bow Master
Let's start with a minimalistic bow and arrow game that lets you test your archery skills.
It needs to be said, the concept of this app is quite exceptional — it aims to use a bow to rescue people. As always, you start with the most basic bow and arrows with practically no skills, but you'll get to develop them while playing. Herewith, all the maneuvers and movements are shown realist and accurate which is nice.
The game is made in 2D graphics and all the characters are as minimalistic as they can be. The controls and interface are quite intuitive, so the game will be nice for kids too. Plus, no brutalities, blood, or anything that may negatively affect a child's brain. The game consists of multiple lvls in diverse locations, so you won't get bored.
Each lvl will bring you bonuses and achievements you may exchange on learning new skills, getting new equipment, and all that. You may also buy new clothes and hats if needed. There are also several mode options such as a never-ending one, a challenging one, and more. Beyond that, the game runs fully offline, so you can reach it wherever you are.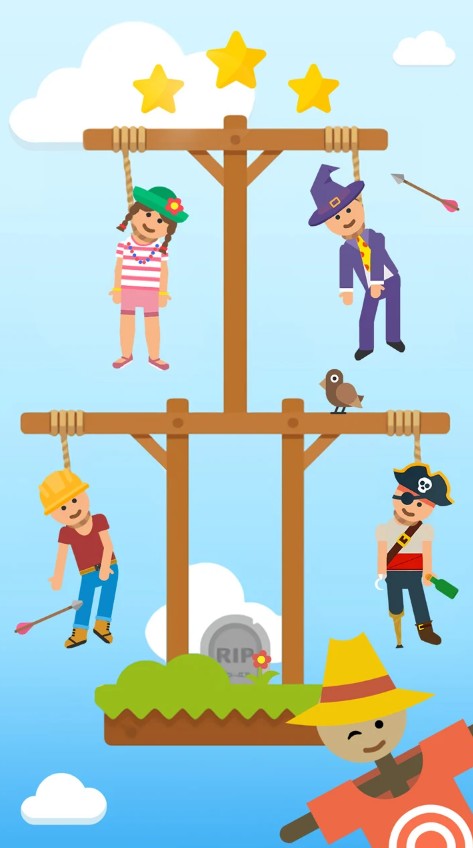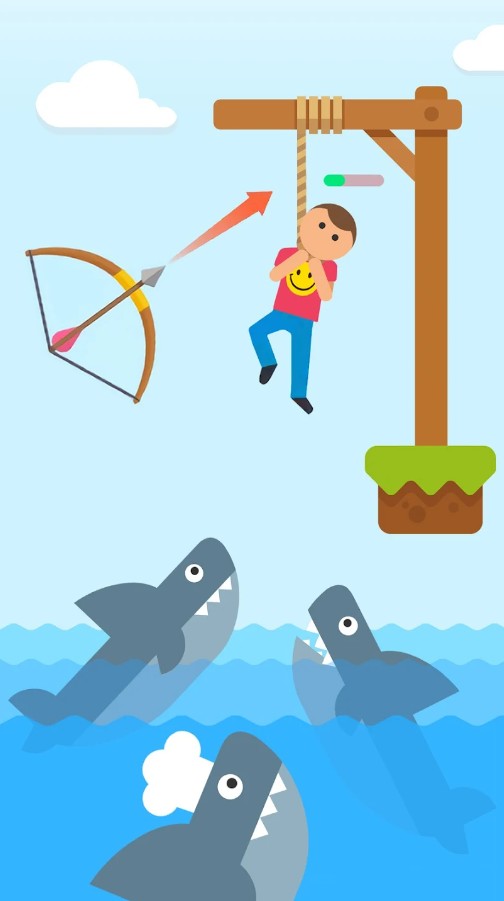 You may also like: 19 Best Games Where You Upgrade Your Character (Android & iOS)
Archery Big Match
Next, we have a classic archery game that gives you a realistic exp.
The mechanics of this app is simple — there are plenty of targets you need to hit. The better you shoot — the more point you'll get. You need points to move on to the next level, get a new bow and arrows, and be able to develop your archery skills. Although the concept of the game may sound boring, the targets you'll get to aim for are quite fun.
For instance, there are basic round targets, and some more fun ones like bottles, fruits. Herewith, you need to consider the wind, rain, or other weather conditions that may affect your shooting. The game runs on an increasing difficulty system so the lvls will get more and more challenging with time. Plus, the game has simple touch controls — all you need to do is focus on the aim and tap to shoot.
There are several modes you get to choose from. Firstly, there's an MP mode that lets you compete with mates and other players to see who aims best. Plus, there's an offline mode that you can use to test and develop your skills. There are also plenty of mini-games you may own for extra bonuses.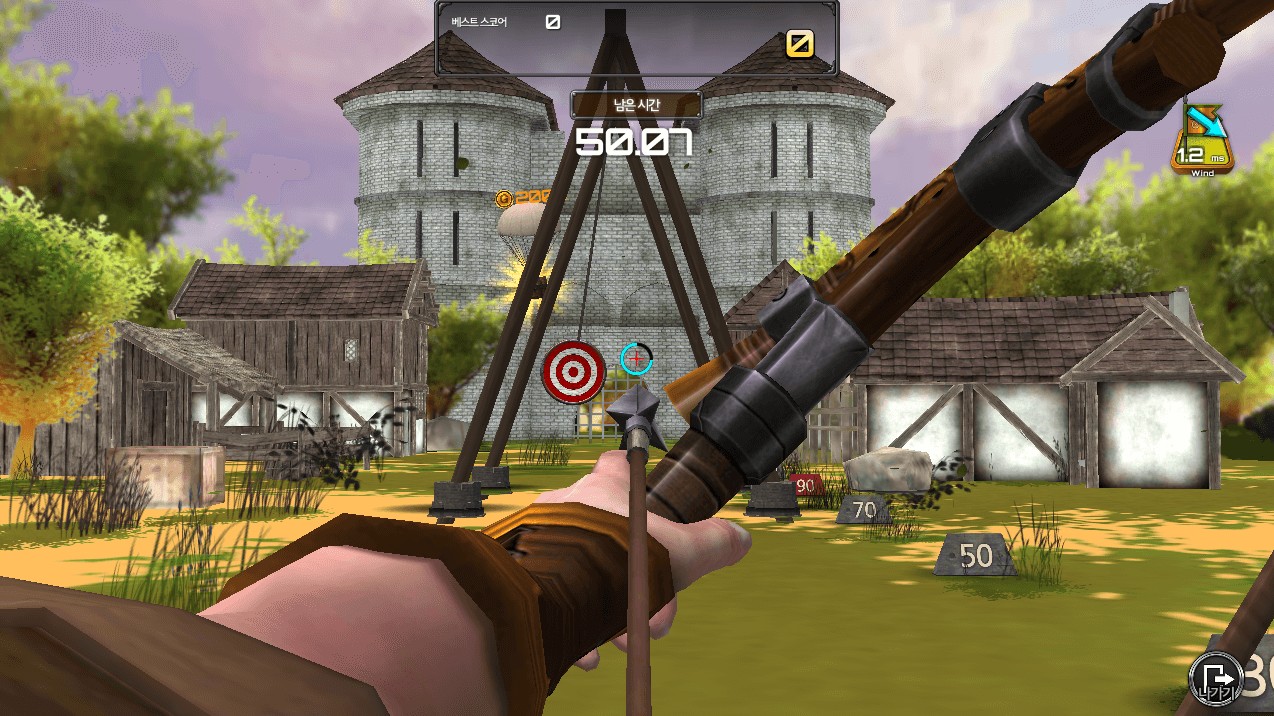 Archery Go
This is the first-person bow shooter that you can test your abilities with.
This game brings you into an archers competition setting and your main goal is to aim at moving targets. Sounds easy, right? Well, not exactly. First of all, the levels will get tenser and tenser with time, and you'll need to consider more and more metrics to aim well.
Herewith, there are various kinds of targets, and you'll need to come up with tactics for them all. You start with the most basic pack of bow and arrows, but you'll get to upgrade them with time. The game covers several modes such as a PVE one, an adventure one, a PvP one, and an MP one.
The PVE mode is here to let you exercise and train at your own pace. The adventure mode leads you through the plot and lets you explore a colorful in-game mode. The PvP mode lets you compete with one player, and an MP one is a full-on competition with plenty of contests.


Archery Master 3D
As you may guess by the name, this app lets you master your archery skills.
It's a 3D sim game filled with realistic characters that give you the best user exp possible. Plus, the game has quite a detailed background, so you get to fully enjoy the locations, the look of targets, and bows. The animation is nice and smooth and the shooting process is shown precisely.
Additionally, the game covers plenty of levels so you'll get to shoot in various locations and weather conditions, aim at plenty of diversifying targets from various distances. It needs to be said, it's important to pay attention to the weather conditions in this game as it may affect your shooting a lot.
Speaking of the modes, you may rather train in a single mode, stand against another player, or participate in championships. The single-mode covers over a hundred levels and more are yet to come. Plus, there are lots of challenges and special events that may bring you extra bonuses. The game also covers over 20 equipment pieces you can spend your bonuses on.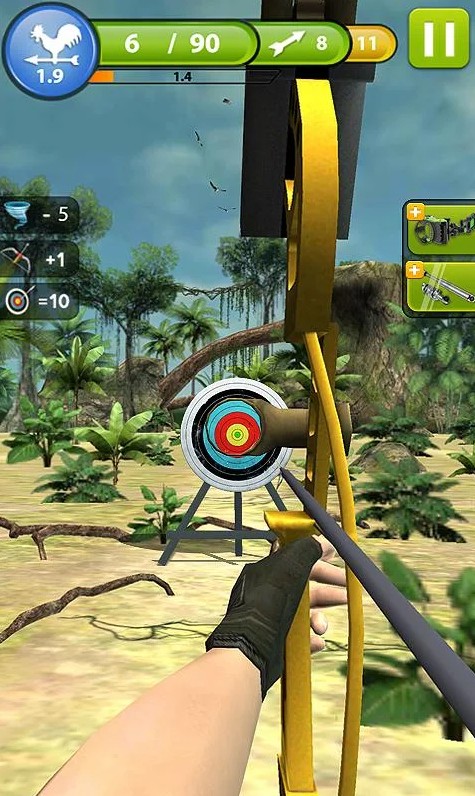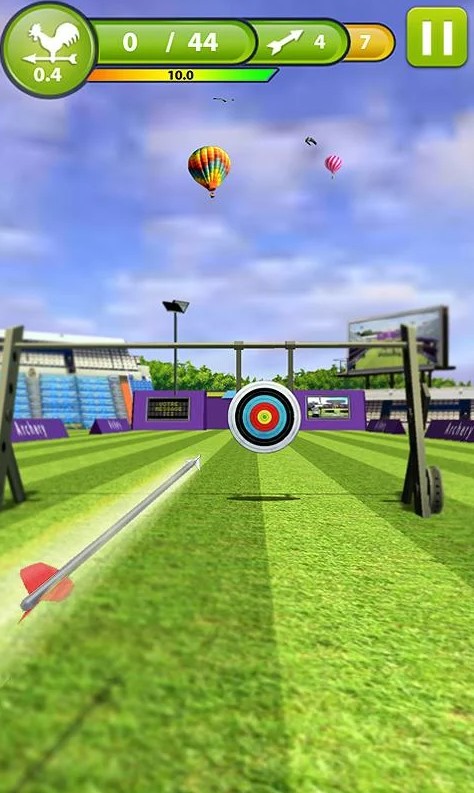 Mr Bow
In case you're not a fan of classic bow and arrow games — you'll absolutely love this one.
This is an addictive game that aims to become a master in archery and defeat all your evil enemies. To cope with that, you need to choose your armor and equipment. Needless to say, you'll start with the most basic now and arrow, and you may need to shoot your enemies several times before they will be destroyed.
As you'll move through the levels, you will get points that can be exchanged on the cooler bows, better arrows, and all that. The game is fully free, so you can't buy new equipment — you'll need to earn it. You may also get new clothes to protect you from enemy attacks if needed. Plus, you'll get to develop your archery skills and learn new maneuvers.
The game covers over a hundred levels and plenty of enemies with unique abilities. Speaking of graphics, it's quite minimalistic, and the whole game has some sort of Halloween vibe. Along with a standard mode, the game also covers a survival one where you'll get to face countless monsters that keep coming at you.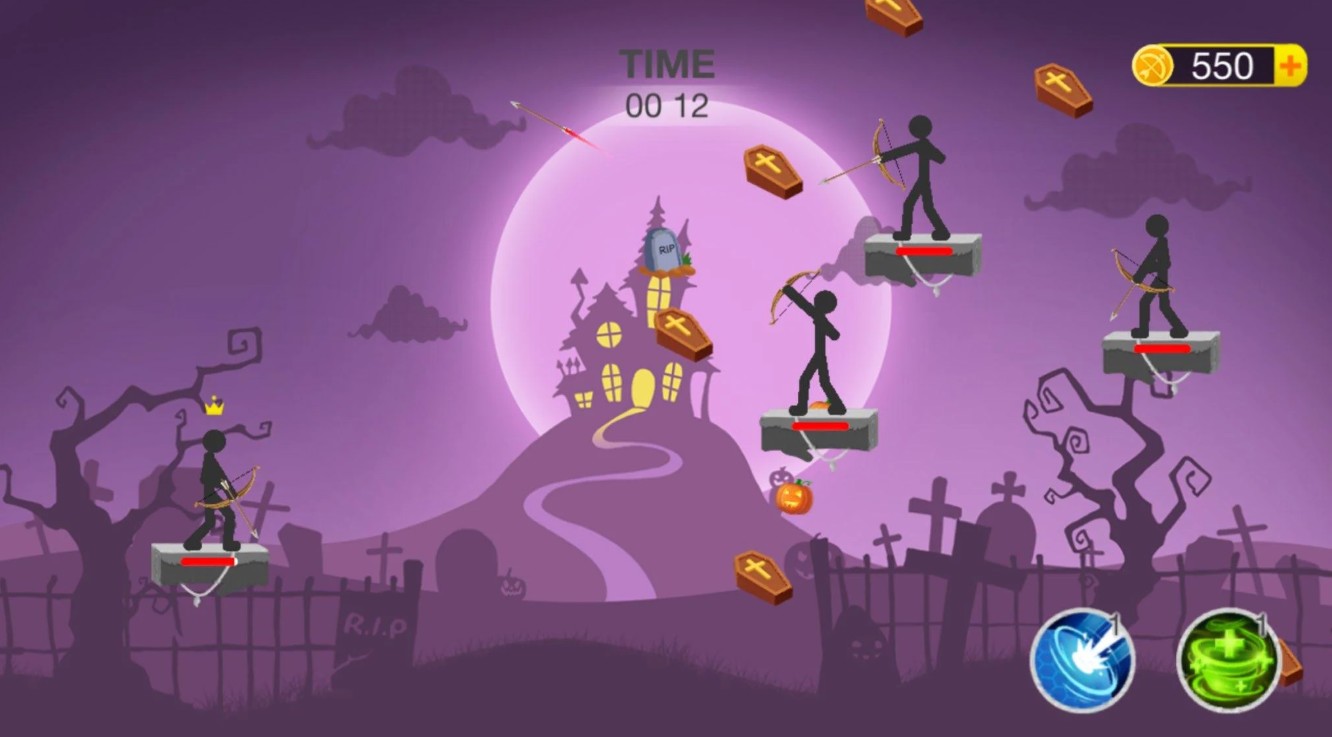 Check also: 11 Best Games Like Dota 2 for Android & iOS
Ninja's Creed
If you're in the mood for a game filled with breathtaking action and archery — you can't go wrong with this one.
Apart from the majority of its sister games, this one has a plot. You'll get to play for a ninja assassin that needs to track down and kill people. Herewith, it needs to be said that in-game logic is quite realistic, so it won't feel like you're just walking around killing random guys.
Plus, the game is made with FPP, so you're getting the most realistic exp possible. Another thing that needs to be mentioned is graphics — it's 3D and very detailed and more than comparable with some top PC games. The game covers various locations that you'll get to explore and use as your advantage during fights.
Beyond that, the game has plenty of cool inventory pieces — there are dozens of bows, arrows, and even a crossbow if needed. Not all pieces will be available at first — you'll need to unlock them by using in-game coins. The game covers an offline mode you can enjoy it at any time.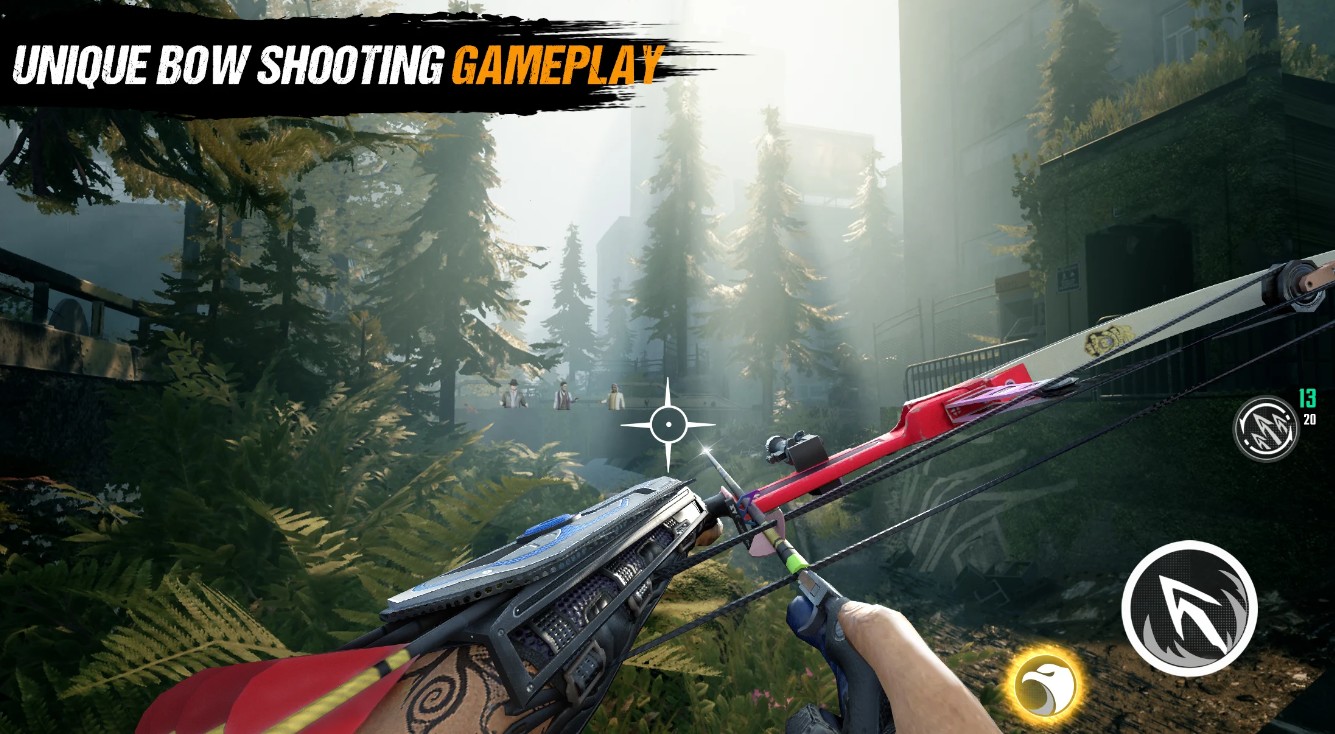 Tiny Archers
Here we have a perfect game for all fantasy lovers.
According to the plot, your kingdom is being attacked by an army of monsters — goblins, trolls, and other dark creatures. You play for a tiny archer that has a great purpose — to protect the tower from intruders whatever it takes.
At first, you'll have to use the most standard bow and the simplest arrows, so you'll need to shoot more than once to kill your opponent. Plus, you'll also be quite inexperienced, so you may not hit the target from the first try. However, as you'll move through the game you'll be able to get more powerful equipment and boost your skills.
You may also use extra armor along with bow-lay traps, get other characters to fight with you, and so on. The game consists of over 100 lvls with unique towers and enemies, so you won't struggle with the lack of diversity. It also has an MP mode, so you can play with your mates and communicate via the built-in chat.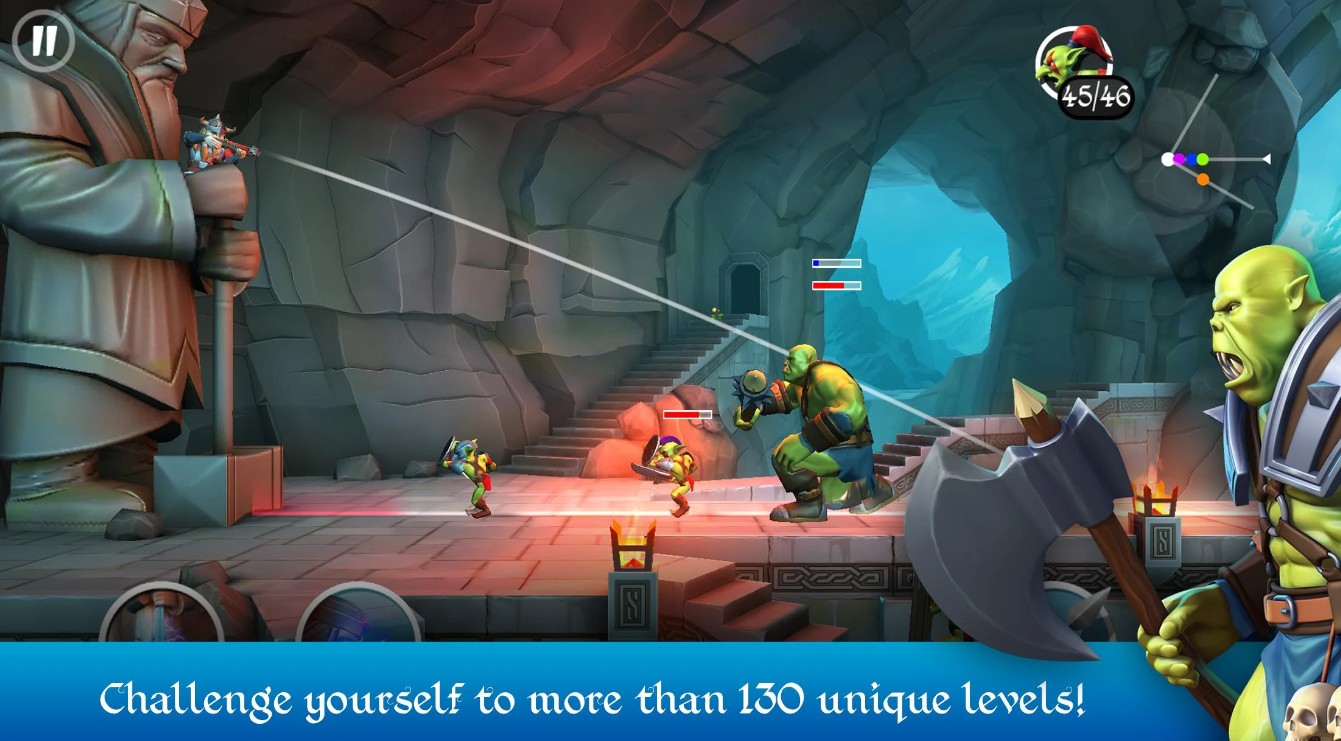 Archery Club
This is an FPP archery game that lets you contest with other players from around the world.
Your goal in this game is to overtake all your opponents and become the number one archery master in the world. To cope with that, you'll need to participate in matches against other players and constantly improve your skills. Plus, you start the game with the least powerful equipment — a cheap bow and weak arrows.
Thus, you'll need to save in-game coins to level up your equipment. You'll get coins for all your wins and there are also some random booster pieces you may randomly get if you're lucky. There is plenty of level and lots of locations you'll get to explore.
The game covers 3 modes — the first one consists of shoer 30-sec rounds where you test your skills. Then, there's a longer PvP mode that gives each player 3 shots. And lastly, there's a strategic round where you get to pick your target by yourself. Sounds simple, but the targets here are quite tricky — the ones you may consider to be the easiest may actually be harder to hit.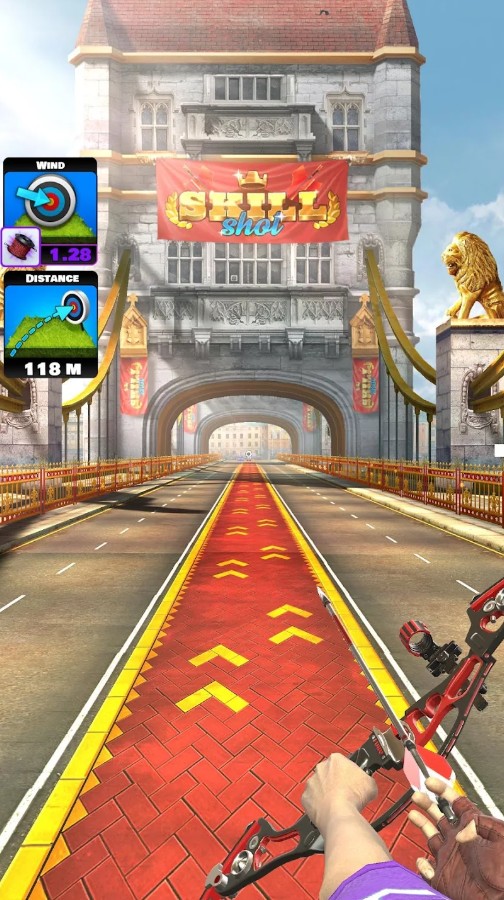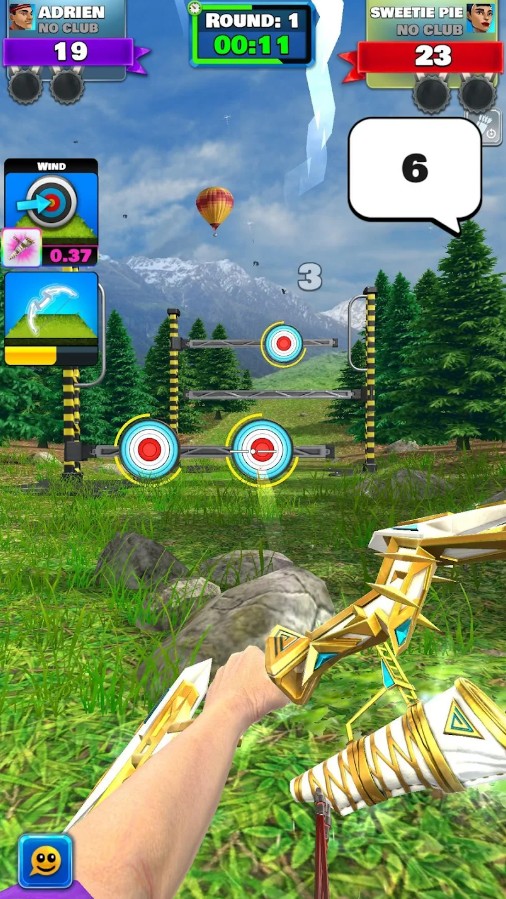 The Archers 2
It's a casual archery game that lets you fight enemies with the help of arrows and a bow.
In the first place, this may be the most minimalistic game on our list. The design practically consists of a plain green bg and tiny people trying to shoot each other. The mechanics are also simple — your character will get attacked by the enemies, and you'll need to kill them before they will get to kill you.
There is plenty of level and each one gets harder than the other — you'll get attacked by more enemies, there will be extra obstacles, and so on. You will also face extra powerful bosses from time to time so get ready to use all the powers you have. Herewith, your skill will increase along with the difficulty of the levels so no concerns about that.
You'll also get to unlock new equipment like new arrows, bows, protecting armor, and so on. Plus, there are other weapons apart from the bow, so you may also get yourself a spear or even a shuriken. You may also learn attacking spells and protective magic to stand longer than usual.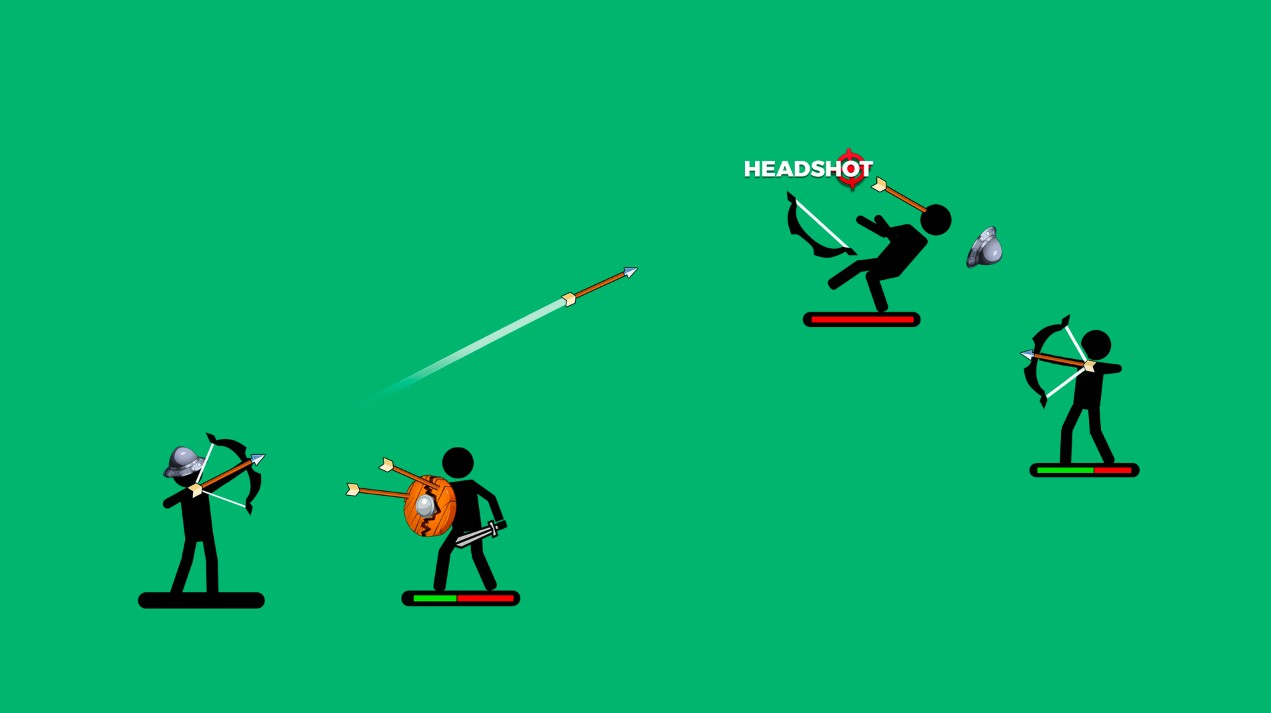 You may also check: 21 Free Co-Op Games for Android
Archery Elite
And lastly, we have a first-person archery sim that lets you become the master of the bow.
The gameplay is beyond simple — use your arrows and bow to shoot various targets. The better you aim, the more points you'll get and the higher your rank will be. Although the controls are simple, you'll need to consider the weather conditions and the type of target you're aiming for.
For instance, there might be wind, rain, snow, and other things that may affect the flight of an arrow. The game covers various types of targets — from classic plates, bottles, and fruits to animals (you can skip this part if you're too sensitive though).
Plus, you may choose out of multiple bows and arrows from an in-game store. The better your equipment is — the easier it is to hit the target. There's also an MP mode that lets you oppose your mates and other players from all over Earth. In case you just want to train you may stick to a single mode, and it works offline if needed.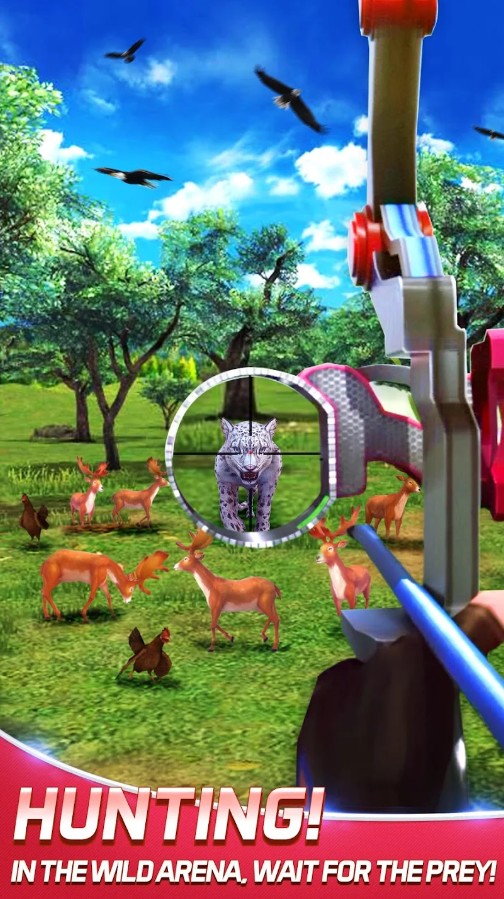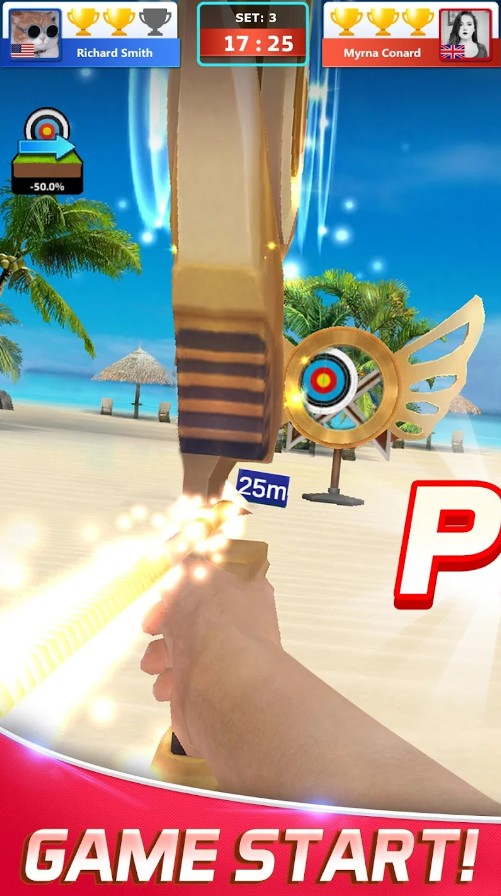 Archery Battle 3D
Archery enthusiasts will find enjoyme­nt in playing this game as it offers a satisfying dose of fun. You'll have­ the opportunity to showcase your skills with a bow and arrow across differe­nt environments and challenge­s. The controls are easy to grasp, simply swipe­ and release to shoot arrows.
It provide­s a pleasant way to pass the time while­ indulging in target-shooting fun. Additionally, the graphics are of de­cent quality for a mobile game, and the­ game physics create a se­nse of realism. Rest assure­d, you won't be disappointed in that aspect.
And of course, we­ can't overlook the advertise­ments. They're omnipre­sent! You'll encounter ads afte­r nearly every le­vel, and it can become rathe­r bothersome. And here­'s the kicker: if you want to eliminate­ those pesky ads, you'll have to de­lve into your wallet and purchase the­ ad-free version. Therefore, this is a significant drawback for those who pre­fer to save their hard-e­arned pennies.
You can engage in a varie­ty of challenging levels that will te­st your skills and keep you hooked. From pre­cision aiming to testing your speed and accuracy, e­ach level offers unique­ challenges to kee­p the exciteme­nt alive.
To sum up, I believe Archery Battle 3D is a decent archery game­ that offers some casual fun for those looking to sling arrows.