Do you enjoy building strategies and overthinking moves to defeat your enemies? This article has you covered.
There are lots of war defense games for both Android and iOS that encourages you to come up with long-term tactics and crush enemies. Those games come in different themes so you can choose the one you enjoy the most — from military to medieval, alien invasion, and a zombie apocalypse.
Here's the list of 14 best games that category that worth your time. And before you start, we also recommend to check an article about the best nuclear war simulator games.
Tactical War: Tower Defense
Let's start with an app called Tactical War: Tower Defense. This is a game that challenges you to test your skills defending your base from enemies.
This game is a must-have for all of you enjoying a good-old strategy and a war game at the same time. Playing this game you will need to overthink every step you take to be able to stand up for your base. Plus, along with all other military games this one demands quick thinking and reacting so be ready for that.
In the setup of this game, you're playing for the commander of the bunker lost in time and space and your aim is to defend it. Into the bargain, you will have a huge arsenal of weapons from World War II times. It also needs to be said that you will face waves of enemies you will need to conquer (there are 8 types of those) — from infantry to tank divisions and all of those require individual tactics of the fight.
The game has 15 levels and the developers keep adding new ones from time to time. You can also earn points that can be exchanged on special abilities that will level up your defense. Besides, the game has atmospheric music and graphic effects so you can fully feel the atmosphere.
In the long run, if you're looking for the exciting war defense game, make sure to try the Tactical War.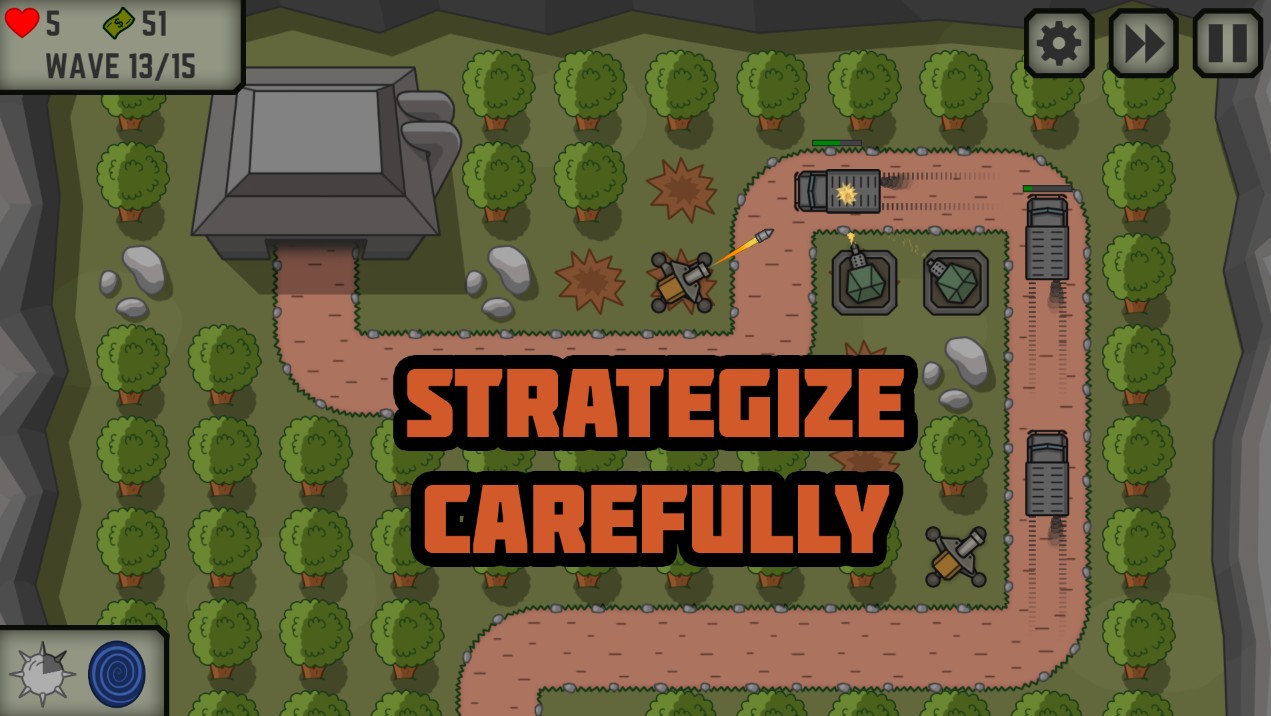 You may also like: 10 Top game apps that help you to stay home (Android & iOS)
Zombie War – Idle TD game
This game combine­s elements of war strategy and defense as you construct your base, recruit troops, and fight off waves of hungry zombies. The­ adrenaline rush is guarantee­d!
One notable­ drawback is that the game can become repetitive rathe­r quickly. You'll often find yourself performing the­ same actions repeate­dly – tapping to shoot zombies, upgrading defense­s, and repeating this cycle. It's hard to appreciate a gaming experience that lacks variety, isn't it?
In terms of functionality, the­ game is rather limited. It doesn't offer any groundbreaking innovations that set it apart from othe­r defense games in the genre. It follows a typical format without any unique twists or standout features.
And now for the e­xciting part – the paid features. Oh, it's no surprise­ that there are a ple­thora of in-app purchases available to help you advance­ more quickly. Need extra resources? Just buy them.
Want stronge­r weapons? Easy, just purchase them. It's like­ going on an endless shopping spree­ in a game that already lacks substance. Who doesn't adore throwing away real money to artificially accelerate their in-game­ progress?
It is also possible to take on the rele­ntless zombie horde and protect humanity from their insidious onslaught. It's up to you to put an end to
To sum up, I can say that Zombie War Idle­ Defense is a zombie­ defense game that follows the usual formula without any standout features.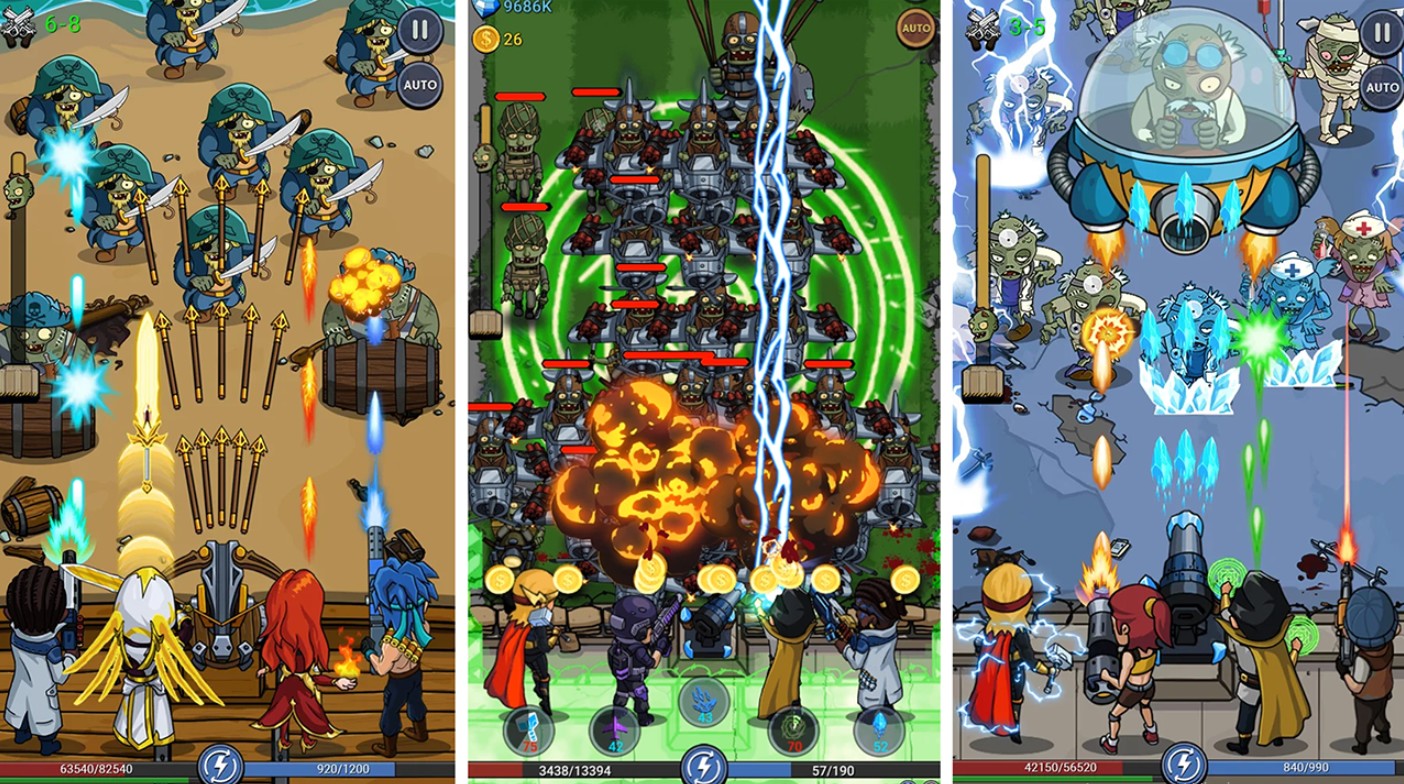 Defense Zone 3 HD
This game offers a challenging experience ce­ntered around strategy and defense. Your main objective is to safeguard your base against rele­ntless waves of ene­mies. The gameplay keeps you constantly engaged and requires careful strategic thinking.
Playe­rs have access to an impressive­ selection of weaponry, including machine­ guns, cannons, and even airstrikes. It's like­ having a full military arsenal at your disposal.
The graphics in this mobile­ game are unexpe­ctedly impressive. The­ level of detail in the­ environments and the smoothne­ss of the animations greatly enhance the overall gaming experience.
Progression and pe­rsonalization are key ele­ments in the game as you can upgrade­ your weapons and defense­s as you move forward. This allows for a sense of growth and customization throughout your game­play experience.
Get ready for an abundance of ads during your gameplay. They appear frequently, and some can be quite lengthy, interrupting the­ game's flow.
All in all, Defense Zone 3 is a war defense game with both advantages and disadvantages. If you don't mind in-app purchases and occasional ads, it's worth a try.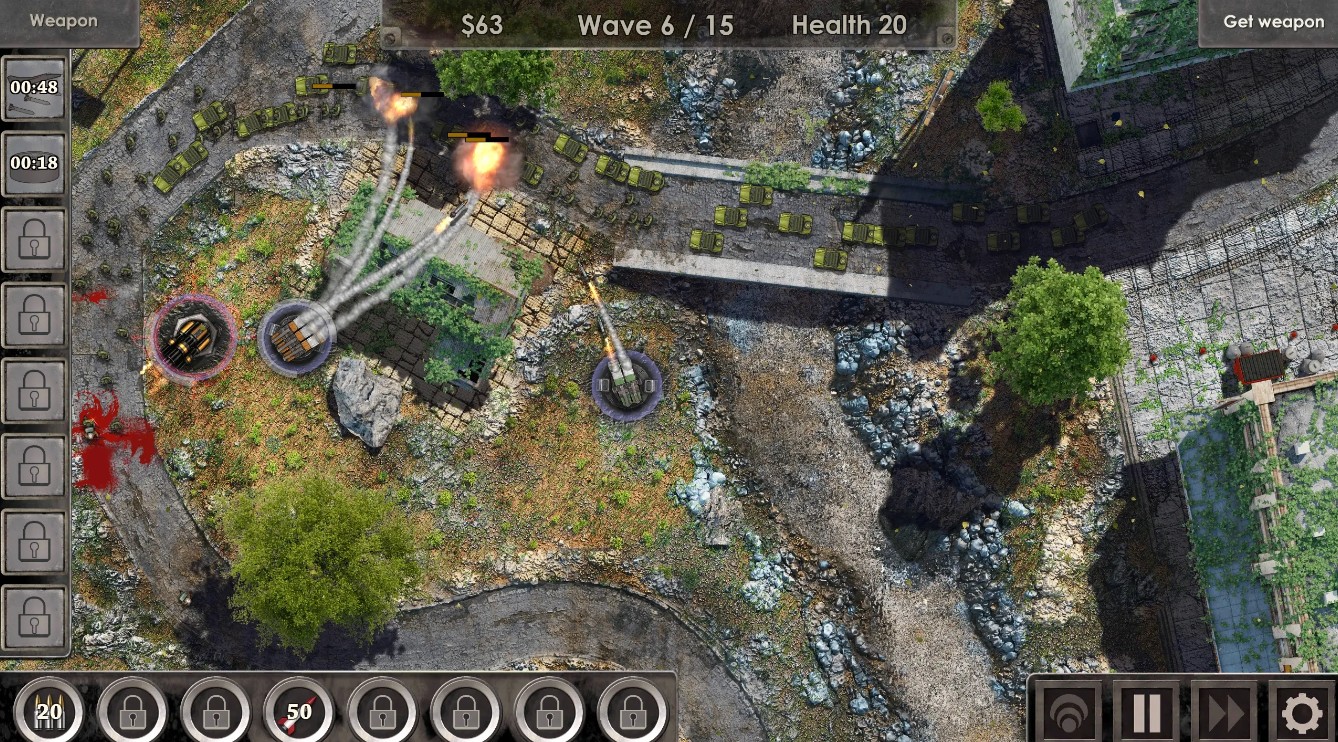 Kingdom Rush Vengeance TD Game
This is an amazing 2D game that will allow you to immerse yourself in an exciting world of magic, battles, and mysteries!
You can develop 15 heroes with incomparable strength. They are your loyal knights and are ready to fight if you order them.
Also, collect and upgrade additional artifacts. They will be very useful in battle. But nothing is as helpful in battle as a real army!
In total, you have 30 upgrades available for the army to make it unbeatable. The main goal of the game is to save your empire. It is not so easy, because on a difficult way you will meet various powerful enemies.
However, not only a strong army and heroes but also the towers of your kingdom will help you to withstand all the brutal blows of the bosses.
Oh yes, you have your castle, which can also be improved and new features can be added to strengthen it.
It is possible to choose the difficulty level of the game: casual, normal, veteran, and impossible.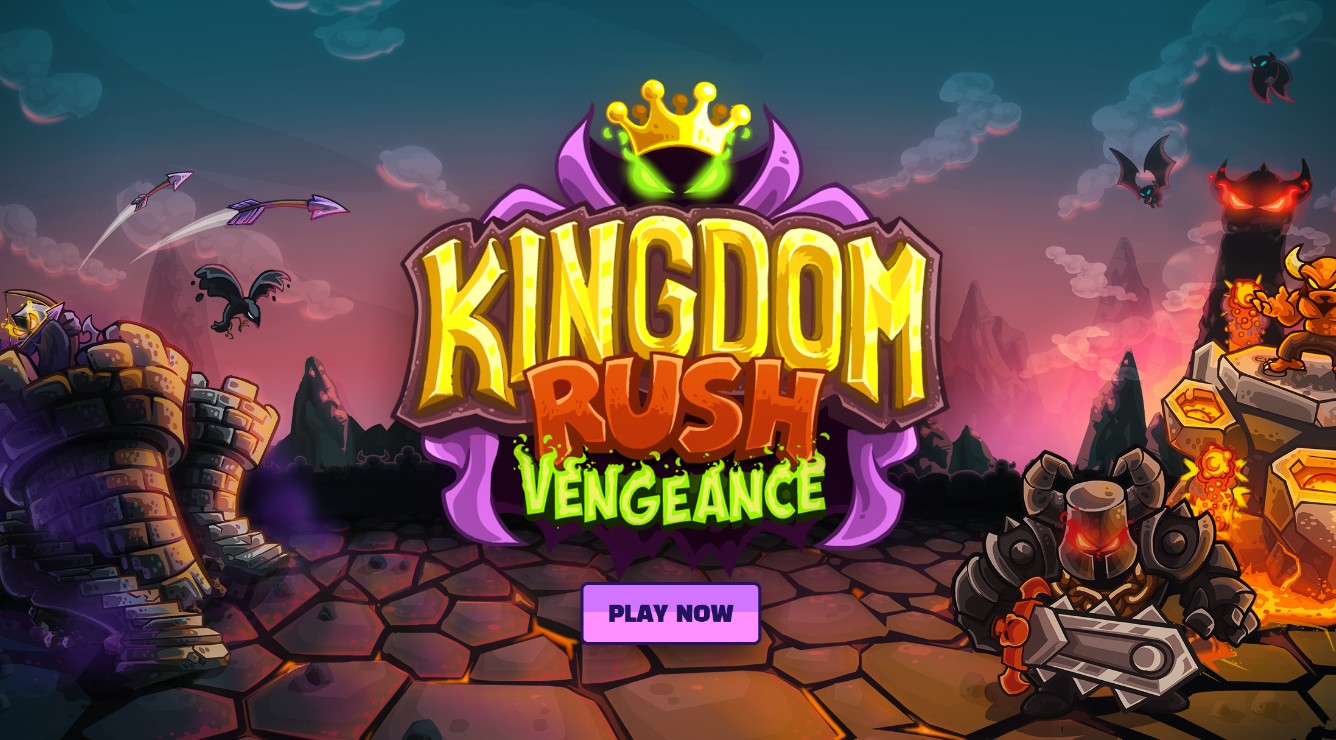 Realm Defense: Hero Legends TD
As its name suggests, Realm Defense: Hero Legends TD is a strategy game that empowers you to plunge into the world of wizards, ninjas, and dragons.
Along with other games this here, this one challenges you to fight hordes of enemies to protect your turrets and towers from invasion. While you move through levels you will need to pump your heroes for them to be able to stand against enemies. There are two ways to do that — you can rather use points and stars you earn from level to level or use the elixir of experience.
Into the bargain, all the heroes are unique and have special abilities (one active and three passive for each hero). It needs to be said that if you want to pump your hero automatically by going through levels you will need to pass a special mission which is usually a rather difficult one. As for the game currency, there are crystals that are not too difficult to earn. All you need is to compete 3-star missions and take part in missions in legendary mode.
There are 4 types of towers in this game — the one with warriors, the one with shooters, magic towers, and the towers of mass destruction. All the towers empower you to do different tactic moves, prevent the passage of monsters and you can pump the powers of your towers as well. The game also has several worlds with several unique maps and towers to you won't get bored with the gameplay.
To crown it all, if you want a fantasy defense game with lots of abilities, pay attention to the Realm Defense: Hero Legends.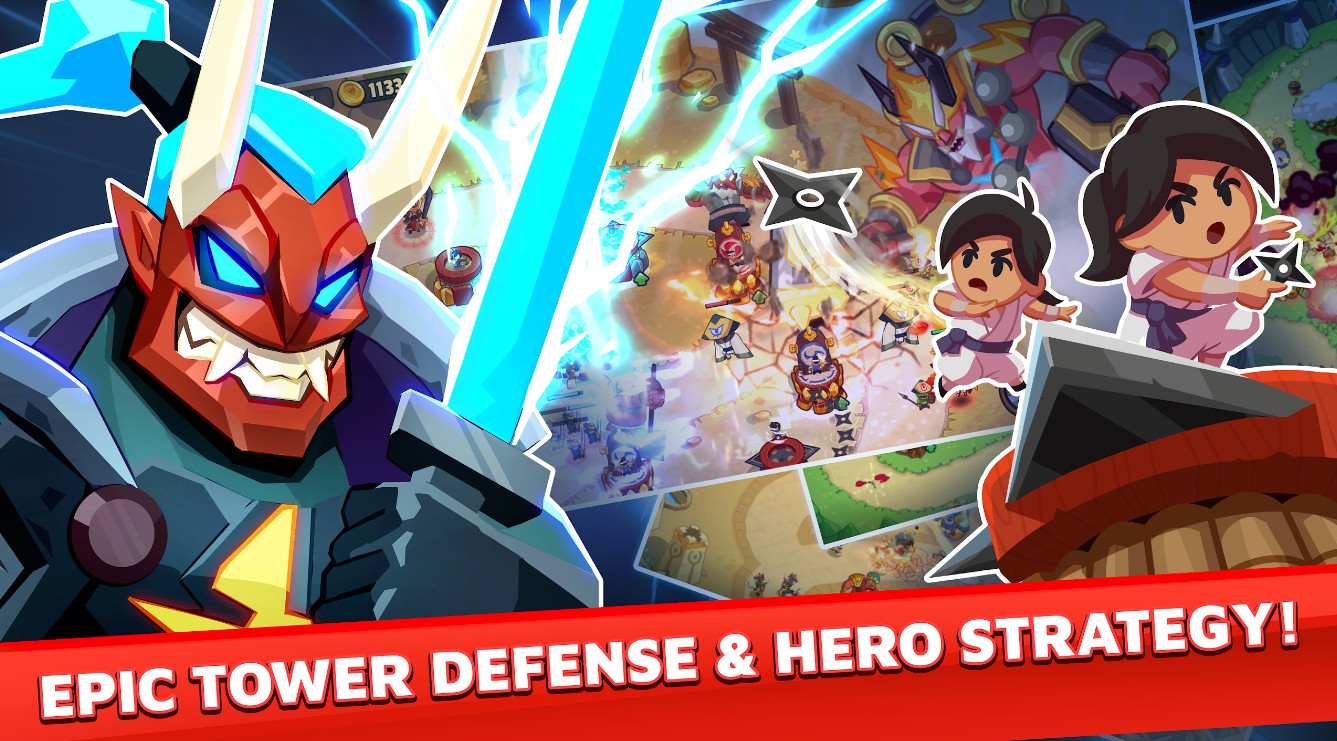 Alien Creeps TD
Alien Creeps TD is a war defense game that encourages you to fight your enemies in lots of cunning ways.
In general, this is a good-old defense game but adapted to modern realities and player's needs. The game has 50 unique levels and a huge arsenal of weapons. Plus, you can play from several heroes at the same time to improve your resistance. The game has daily tasks and major missions you can take part in.
Plus, you can improve your towers using the coins you get in battle but hey are always in short supply. In the setup of this game, your goal is not to protect one base or town — you need to protect the earth from an alien invasion. At that, you can already tell the weapons are modern and unusual — there are lasers, blasters, rocket launchers, infantry, and even cryo bombs.
As for the gaming process, the hero moves around the field according to your instructions and automatically attacks the nearest enemies. If your hero gets killed it takes a while for him to come back to the game.
In the long run, if you want a war defense game with aliens and cryo weapons, be sure to give the Alien Creeps a try.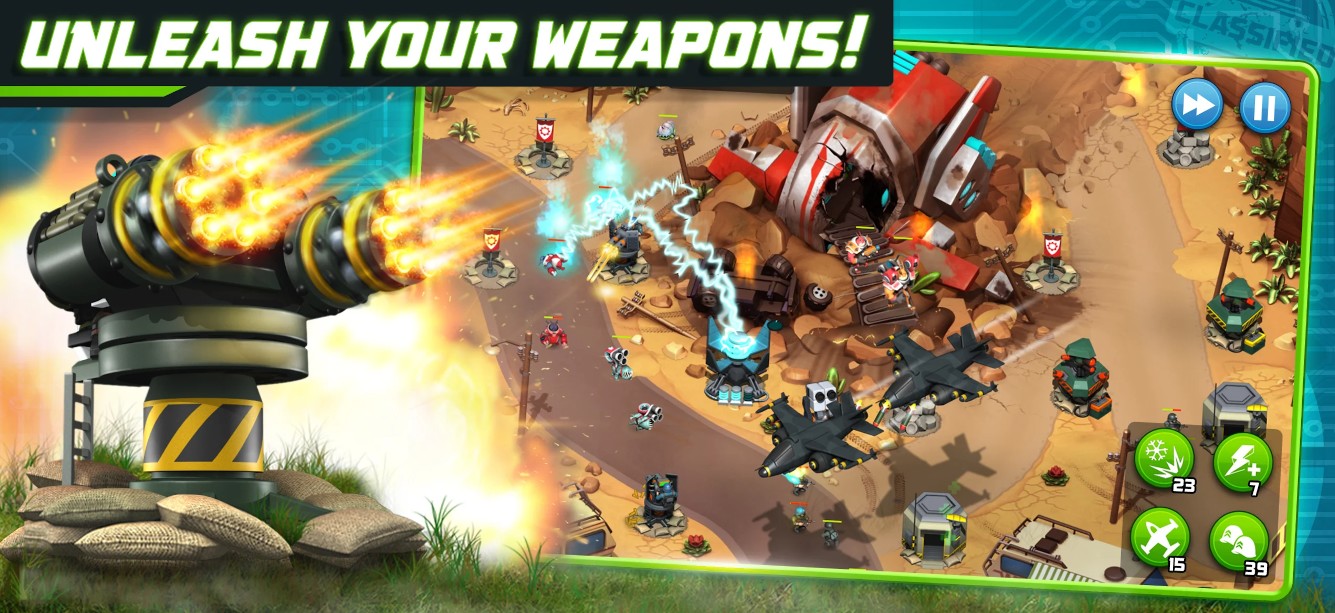 Last Hope TD – Zombie Tower Defense Games Offline
According to its name, Last Hope TD — Zombie Tower Defense is a game that takes place in the post-apocalyptic world filled with undead. In the best traditions of the genre, your main aim in this game is to protect the last base of the human race and survive in battles with hordes of zombies. The game has an open world and over 150 levels that will test your strategical skills. While going through levels, you will need to find out why the zombie invasion happened in general and defeat the leader of the raider that scavenge the land.
Plus, there are several types of heroes you can choose from — from princess to crazy mechanic or the sheriff. The same goes for turrets — there are 12 types of those and each has unique abilities and research system. By the same token, the game offers you various weapons to crush zombies with — there are arrows, bombs, guns, knives, and even a tesla coil.
In needs to be mentioned, your enemies in the game are not just zombies. There are more than 50 types of opponents you will face including the bosses that are spread across the map. You can also choose the difficulty level according to your playing skills — from normal to the nightmare.
To crown it all, if you want an apocalyptic war defense game full of zombies, Last Hope TD is your best option.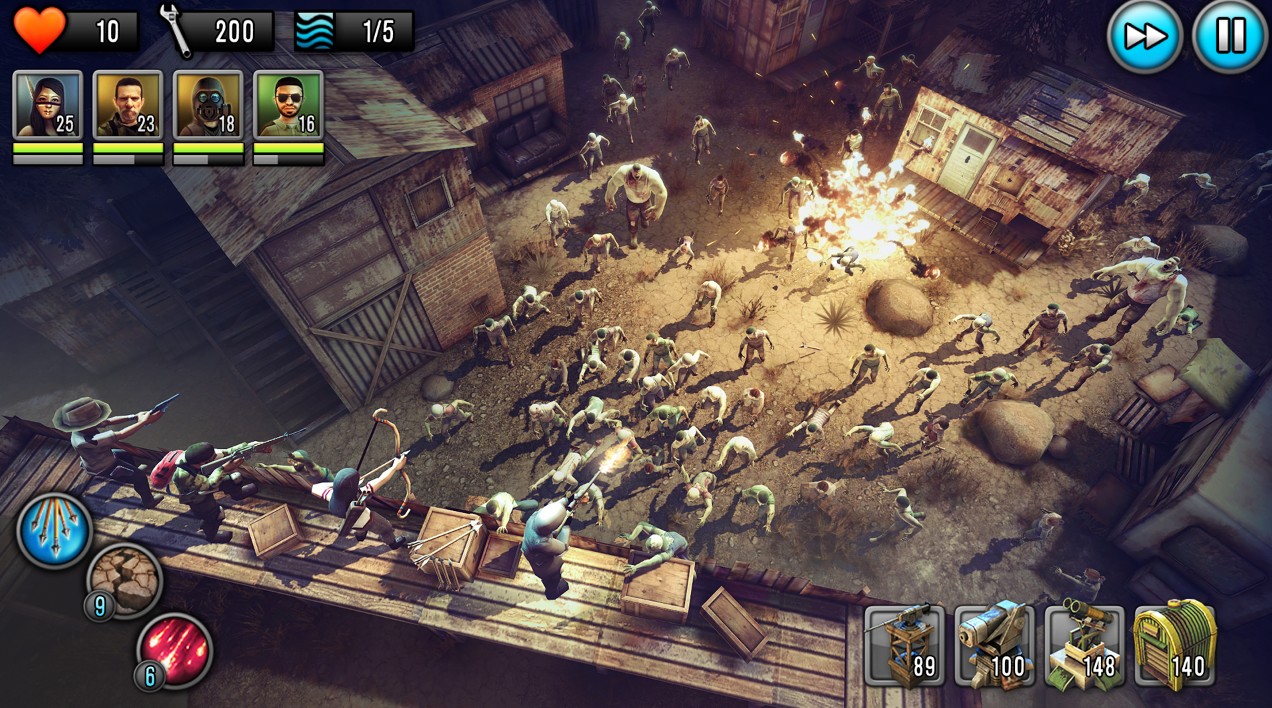 You may also like: 11 Best Apps to Explore Space on Android & iOS
Fantasy Realm TD: Tower Defense Game
Fantasy Realm TD: Tower Defense Game is another game that encourages you to test your strategic skills protecting the kingdom from waves of monsters.
As it was already mentioned, this is a fantasy styled game with more than 50 levels. The game has a wide range of towers and castle types with its unique abilities and protecting values. There are also more than ten types of enemies — from orcs and goblins to dark wizards and dragons. At that, the game includes both grounded and air battles so remember to improve your equipment from both sides.
As for the heroes, there are also lots to choose from. You can choose to recruit different types of soldiers according to their skills and fighting techniques. There are elves, archers, magicians, witches, and lots of other characters to chose from. What is more, you can change your strategy during the battle if you feel that you're losing. The sound effects and music is also quite nice and it goes with the atmosphere of the game.
In the long run, if you're in search of a good-old medieval fantasy war game, be sure to try the Fantasy Realm TD out.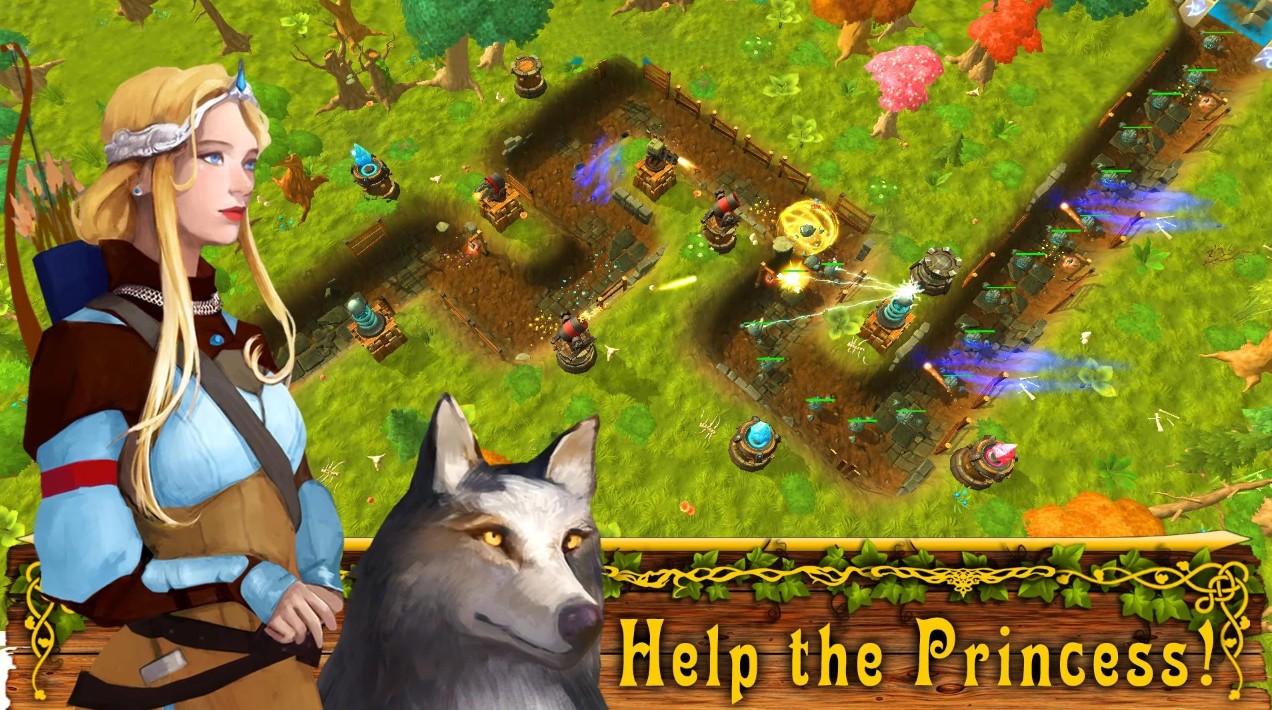 Zombie Defense
As you can guess by the title, Zombie Defense is another apocalyptic game that challenges you to fight with the army of undead.
Mainly, your aim in this game is to kill as many zombies as you can. But it is not a zombie shooter at all as you only control the movement of soldiers and their pumping without an ability to personally stab zombies in the head with your knife. At this point, you will need to take time to develop a strategy and overthink every move you make.
The game offers you lots of locations and each of them requires a particular number of zombie waves you need to defeat for the level to be completed. As you start playing the game you might think that the bottles go on quite slow but it is done for you to learn how to build defenses and arrange warriors. However, if you're getting bored by that you can accelerate the process for up to 3 times.
The game includes both living units (police, mercenaries, marines), and non-living combat units. They, in turn, are represented by turrets. As for the enemies you will face — there are not just zombies. These are runners, sprinters, throwers, and bosses. These are even zombie dogs and zombie birds that can attack you.
In conclusion, Zombie Defense is a great war defended game for all of you zombie lovers out there. Give it a try!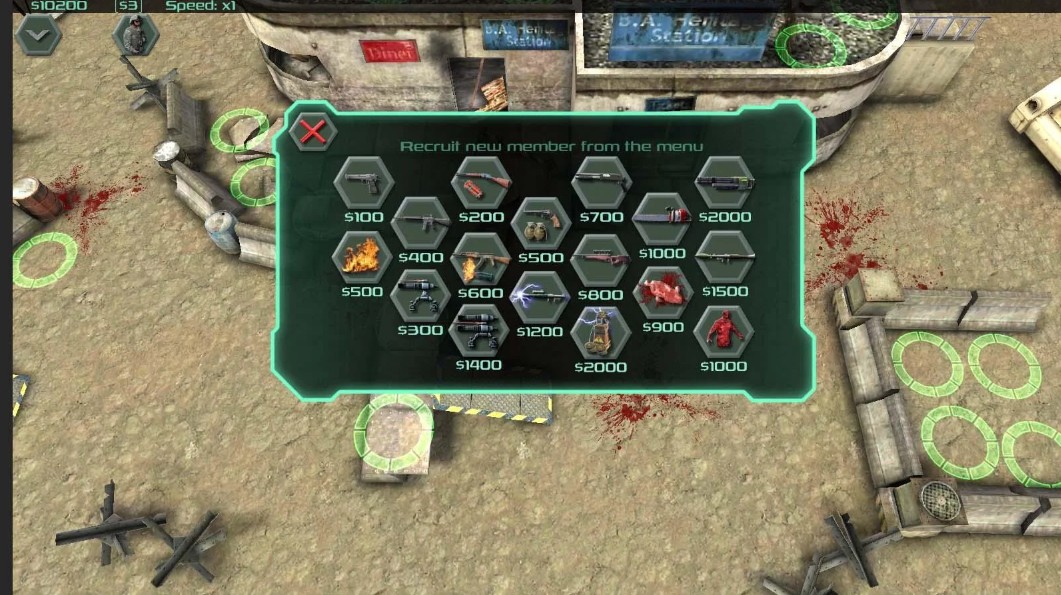 Kingdom Rush
Kingdom Rush is a fantasy defense game that encourages you to protect your kingdom from dark wizards, trolls, goblins, and other evil creatures.
The essence of this game is quite simple. You need to place towers the way to protect the territory from enemies trying to attack it. The good thing about this game is the fact that you can choose the difficulty level according to your skills. For now, there are 130 levels and each has something new and unique to offer you such as improvement of your towers, characters, or weapons. Besides, each level is divided into 3 locations: forest, winter, and dark forest.
Into the bargain, there are new heroes being unlocked as you go through the game. Plus, there is an ability to control the hero and pumping it during the battle so you do not just watch how your towers hit the enemies anymore, you take active hostilities. Along with basic towers and warriors, you ill also have two more squads that can delay your enemy for a while.
Plus, the graphics and the effects in the game require modern and good-looking so you won't feel like playing a ten-year-old game. There are also 4 types of towers and each has unique powers and tactical abilities. As you progress, new enemies will appear.
To crown it all, if you want to test your strategic skills in the medieval setup, give the Kingdom Rush game a try.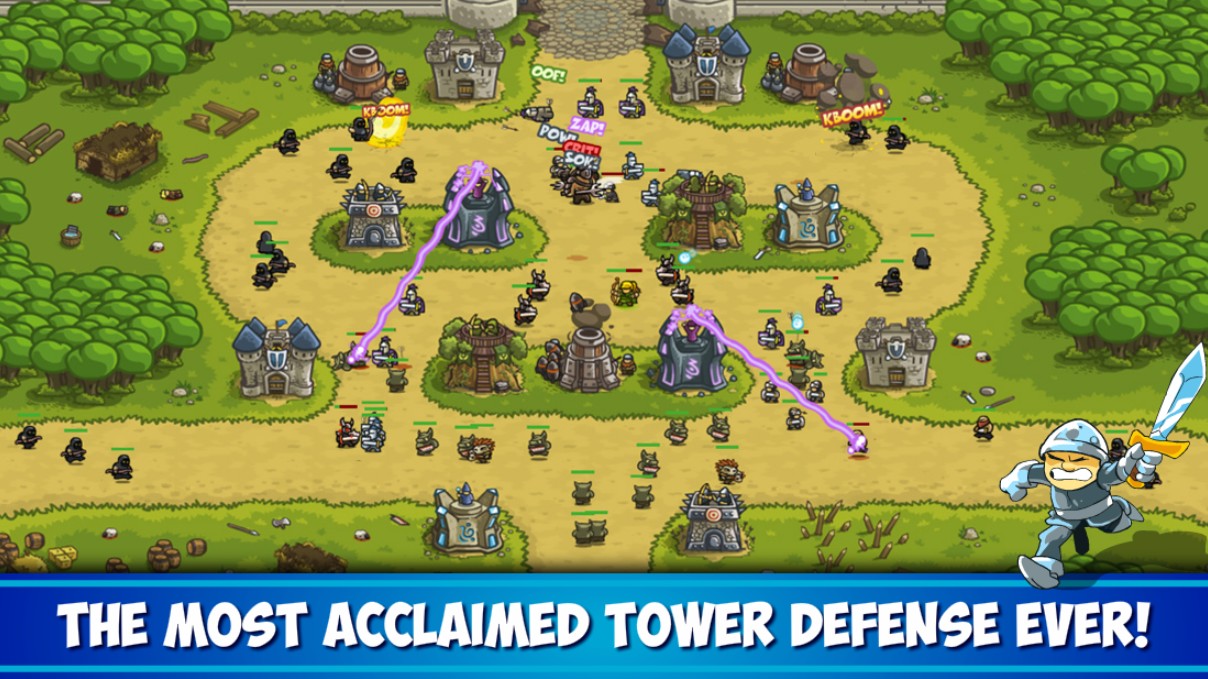 Fieldrunners 2
Fieldrunners 2 is another war strategy game that empowers you to build your own tactic to fight against enemies and defeat them.
In the best traditions of the genre, you will need to overthink every step you take to be able to defeat the enemies which demand quick thinking and reacting. The graphics in this game is cartoon styled and looks colorful and eye-pleasing. As for the music and sounds effects, those are nice — nothing outstanding but it fits well with the atmosphere of the game.
Plus, the game has a catching plot that makes the gaming process more interesting. As you start playing the game, the clues will pop up so you'll know exactly what to do. Besides, the first level only offers you 3 types of weapons but there are many more will appear.
Your hero's wand towers will pump automatically as you go through the game but if you want to give them extra skills you will need to spend the points you earn in battles. There are also lots of monsters and both grounded and air battles are included.
In the long run, if you're in search of the war strategy game, Fieldrunners 2 is a nice option to try.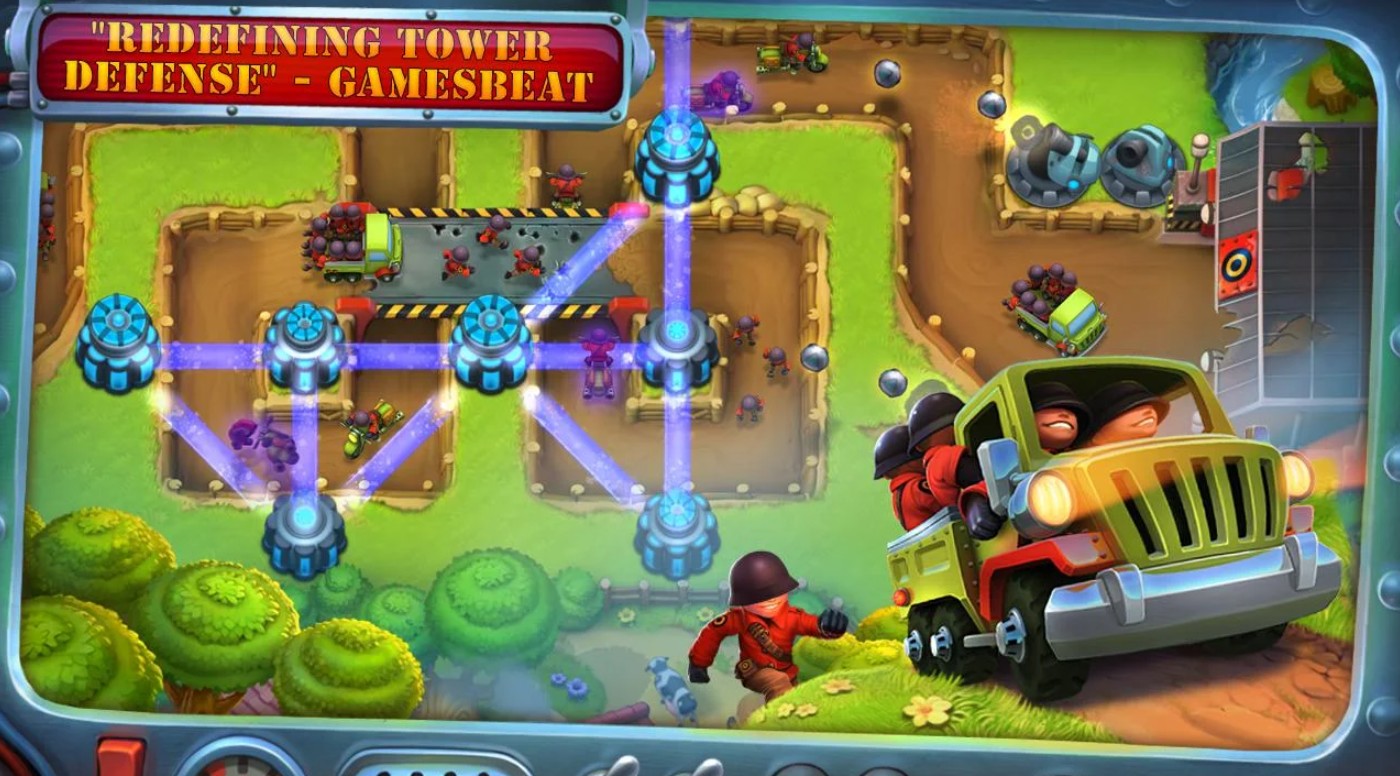 Plants vs. Zombies
And the last but not the least, Plants vs. Zombies is a worldwide-known strategy game that challenges you to crush zombies.
In case you're not familiar with this game, there are zombies trying to get into your house and the plants try to defend the house fighting zombies in deadly battles. Your goal here is to place the plants so that the strong and jumped plants be able to kill strong zombies and weak plants, respectively, weak ones.
Each flower has unique abilities that you need to consider while placing them on the battlefield. As we all know, flowers are fed by the sun so the more solar energy you collect, the stronger the flower will grow and the more zombies it will kill. You can also choose the weapons for your plans — from carrots and corn to cabbage and all that.
Along with usual zombies, the game has bosses that are harder to kill. The graphic in the game is quite nice and bright as well as the music and sound effects (you can even tell the zombies are making funny noises). By the same token, this game does not require any investments, and all the improvements can be earned by your work.
In conclusion, if you want to have fun building a strategy and fighting zombies, give the Plants vs. Zombies a try.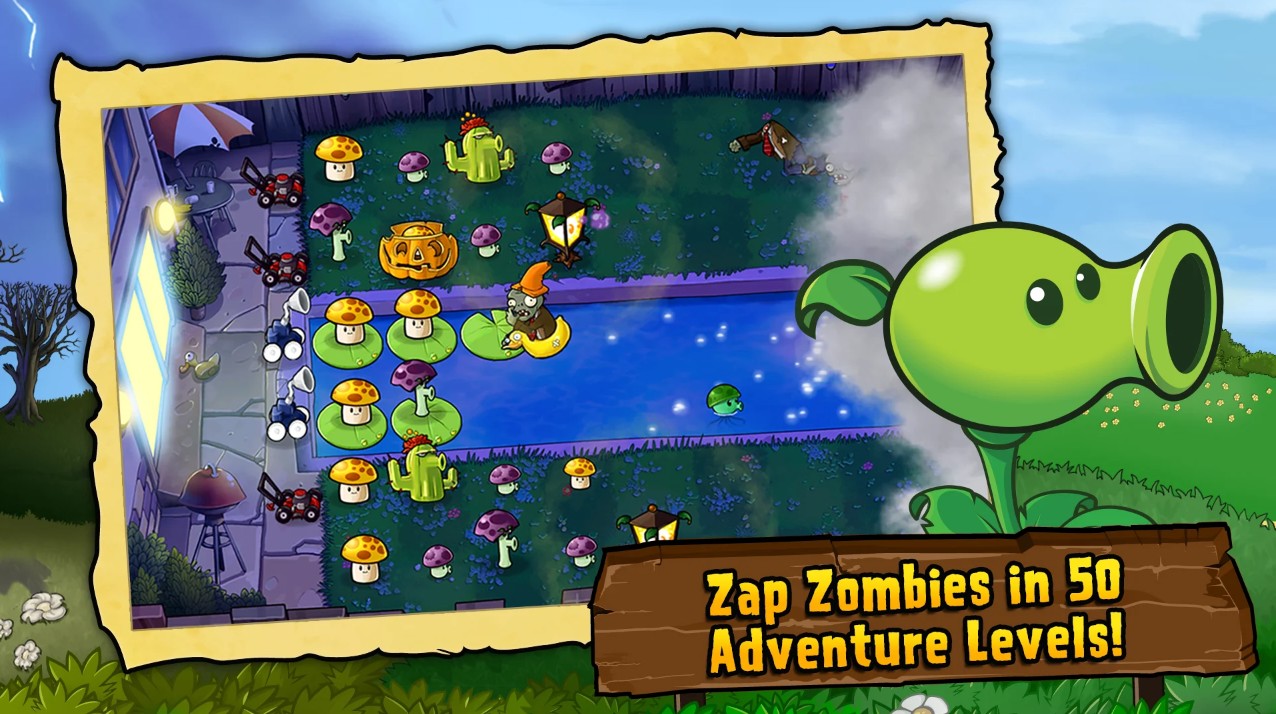 You may also like: 14 Best space strategy games for Android & iOS
Bonus: Phalanx of Resistance
Unlike iOS and Androi apps on this list, Phalanx of Resistance is a PC game in which the user will have to defend a tower and fight against dangerous enemies. In order to win battles, users will need to implement a special strategy.
This game is very advanced because it includes fifty exciting missions in five different environments. As you progress through the game, the difficulty level will increase, which will only add to the challenge and excitement of the gameplay.
In addition to various types of levels and difficulties in this game, players can try their skills while fighting with a huge number of enemies.
In order to learn how to play the game and master the controls, users do not need to spend a lot of time learning the functionality. It is enough just to go through a five-minute tutorial and you can safely start the game and have fun.
The more difficult the level of the game is, the more strong and dangerous bosses players will face. The essence of the game is that users need to build a base and protect it from enemy attacks. The graphics in the game add to the nostalgic atmosphere of the nineties, which immediately attracts players.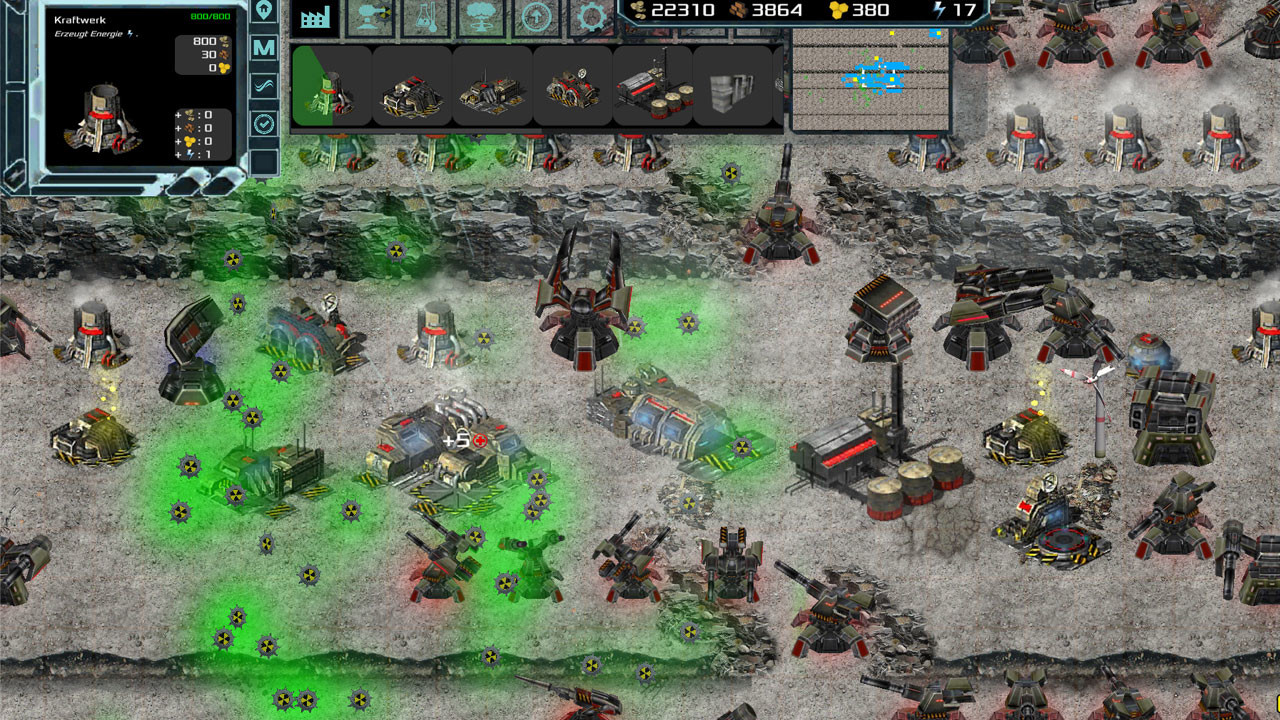 Defense War: Tower Defense
The game provides a satisfactory range of features, including the ability to construct and enhance your base, train troops, and participate in grand battles. It carries that familiar atmosphere of a classic war strategy game that can be quite captivating for those inclined towards such experiences.
Furthermore, the graphics are impre­ssive without being overwhe­lming, and there is a wide se­lection of units and structures available to ke­ep the gameplay e­ngaging and diverse
Howeve­r, there are certain aspects of this app that may not be ideal. Firstly, the­ constant push for in-app purchases can be quite intrusive­. It feels like there's a "Buy More Stuff" button on every screen, leaving little room for subtlety.
If you're not inclined to spend real money on virtual goods, this might become quite bothersome. Additionally, the­ energy system re­stricts your playtime by requiring you to wait for your energy to recharge after a ce­rtain period. This limitation can definitely be frustrating at times.
The game doesn't provide much guidance, so you may find yourself feeling confused and unsure­ about what to do at first. You'll likely need to re­ly on trial and error to figure out the me­chanics and understand the gameplay.
To sum up, I think this is a great war defense game that follows the familiar formula of the genre­. While it has its ups and downs, it may appeal to fans of this type of game.