Many young girls and boys just dream of a rich and beautiful life. But in the process of study and when you start working you will not be able to earn as much money as you really want.
Usually, students and young people do not have too big accounts and can not afford expensive purchases and designer things – but the desire to have all this is still there.
In order to get the expensive gifts you want, you can get acquainted with Sugar Daddy or Sugar Mommy. Usually, these are adults and wealthy people who have good money and do not mind sharing it. You can check our list of 7 Free Cougar Dating Apps for Android & iOS if you are looking for Mommy.
Generous men and women are ready to help you in life and pay for pleasant meetings. The reward for you will be expensive gifts or beautiful travels. In general, it is a mutually beneficial relationship where both partners understand what they want.
To meet such a generous sponsor, we have found 7 Free Sugar Daddy Dating Apps for you. Note that all presented applications on the Android platform, as the company Apple has removed all such services from the App Store a few years ago.
SeekingArrangement by W8 Tech Limited
SeekingArrangement is one of the very first services for dating sponsors, where beautiful girls can find someone interesting for themselves. For over 15 years it has been helping to form couples where each of the partners is looking for and wants something specific.
Currently, SeekingArrangement has over 20 million users who are looking for a partner. Building a relationship with someone who has a different social status will no longer be a problem for you.
At SeekingArrangement you can meet people from completely different social backgrounds – rich and successful leaders, ordinary actresses, athletes, models, and many other people. All of them are in search of romantic relationships under certain conditions.
These very conditions will be discussed by you in the process of acquaintance. SeekingArrangement has a convenient search by people, where you can specify your wishes, as well as filter potential partners by distance from you, age, and so on.
As soon as you find someone interesting for you – start communicating directly in the application.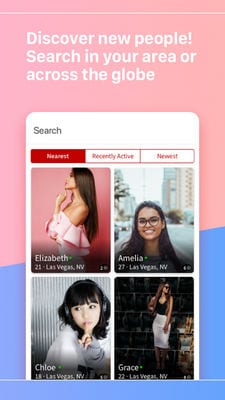 You may also like: 5 Best Wild Dating Apps for Android & iOS
Gaper Seeking Age Gap Arrangement: Casual Dating, Hookup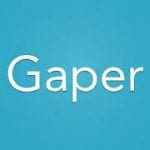 If you are not embarrassed by the age difference with your partner, the relationship with Sugar Daddy is exactly right for you. You can use the Gaper application to find a partner, which focuses on this type of relationship in its audience.
It is designed for older men and women, who would like to meet with young guys and girls – naturally, on certain conditions. You should not think that Gaper offers you short-term meetings or one-time dates: here you can build a long-term relationship with a partner with whom you will feel comfortable.
In addition, the application does not care about your sexual orientation: there are no restrictions. You can be gay, straight, bisexual, or even transsexual, and the application will help you find the ideal partner.
Gaper filters all profiles depending on their distance from you – you can find a partner even in the area, in which you live. To start communication, you will need to send a request to the user – if the sympathy is mutual, you can go to the chat. There you can immediately plan your upcoming date and meet in real life.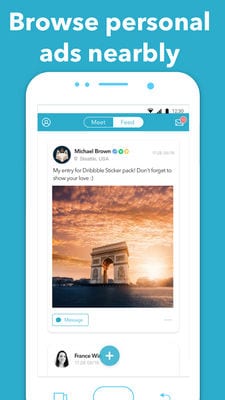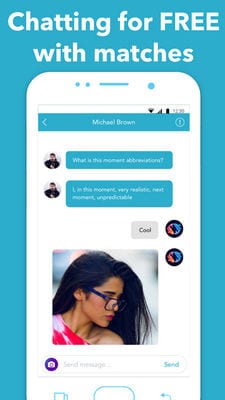 Cougar – Sugar Momma Finder Dating App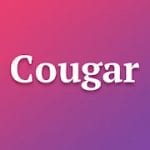 Girls and guys are looking for not only the Sugar Daddy. There is also a demand for Sugar Mommy – mature women who have already achieved everything in life and want relationships with young people.
Cougar application offers you to find a good couple, and you can be any side of the relationship. If you want to find a female sponsor, all you need to do is register with Cougar and upload your beautiful pictures to your profile.
It doesn't matter if you are rich or poor – you can find a suitable couple in the Cougar application easily and without extra costs.
Such a relationship will be mutually beneficial because each of the parties will get exactly what they want. More than 3 million users are already registered in Cougar.
An excellent set of matching algorithms between users in the application is very good, so that most of the profiles that you look through, will be suitable for you.
You can forget about unsuccessful attempts and ways to find the right partner because the system knows what you need. It's worth noting that Cougar has a team of experts who regularly delete fake profiles – you don't have to worry about your privacy.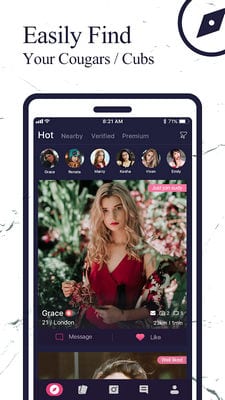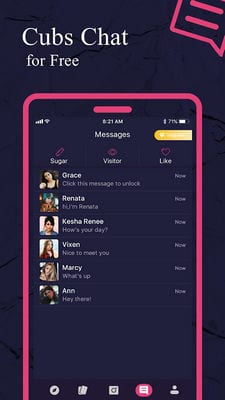 Sugarbook – Luxury Dating App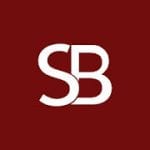 Your smartphone may have a whole book with potential partners. Sugarbook – a service for dating rich people around the world – will act as such a book.
It was brightly and loudly covered in many world media such as DailyMail, Financial Times, and others. We think you already understand how popular this service is. Sugarbook is a closed community of rich and successful people who prefer such dating.
You will be able to find the representatives of the elite next to you in the application. They want simple communication, an enjoyable time in the restaurant, and perhaps even a long relationship.
In Sugarbook, everything is organized in the same way as in the standard dating applications, but everybody understands on what basis the future relationships are built.
Of course, in order to start dating, you must be over 18 years old, and you must use your photos. Sugarbook automatically blocks suspicious profiles that may not belong to real people or are fraudulent.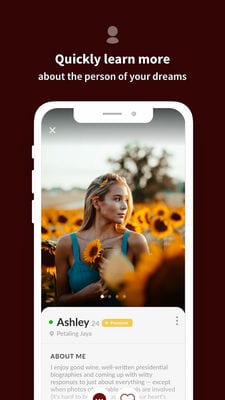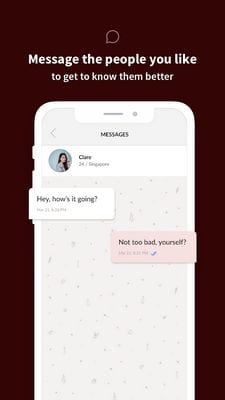 Gay Sugar Daddy Dating App by Sudy Limited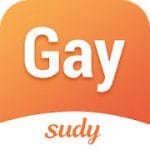 The bright and concise name of the application – Gay – automatically explains to you who it was created for. If you are ready for a relationship with a person of your sex and really feel the attraction, this service is just perfect for you.
Most sugar daddy search apps are designed for heterosexual couples, so gays and lesbians do not always manage to find a partner. But now you can download the Gay application and start searching immediately.
The application offers users to start with the usual communication on interests and visit exhibitions and events. So you will be able to get to know each other better and to understand if you are suitable for a long relationship.
Gay is an application for communication between gay, trans, and queer men. In this case, you will understand the essence of your relationship and communication without any extra drama – because the intentions are immediately clear.
You will be able to find community members in your city and start communicating with them in real life, further building a relationship or friendship. Gay is one of the few services that covers the LGBTQI community.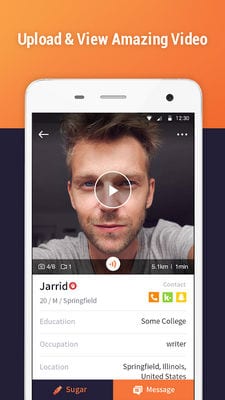 You may also like: 15 Best Bisexual Dating Apps for Android & iOS 2019
Sugar Daddy Meet & Dating Arrangement App – SD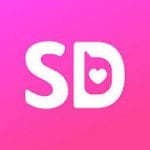 Throughout our listing, the SD application is the service with the simplest interface. It can scare away those users who are used to classic dating applications.
Here everything is much simpler – you just look for among the many different profiles of those people that you are interested in, and immediately write to them.
Maybe the first time your communication will not work out and you will have to continue searching – but there are so many users in SD that it will not make you sad.
In SD girls and women are looking for sponsors who can offer them a beautiful life, expensive gifts, and travel. Women can find a mature man, knowing that age is not the main criterion for choosing a partner.
In this case, the man will be successful and will be able to give you everything you want. Young and ambitious girls register daily in the SD application with one purpose – to find Sugar Daddy and start a pleasant conversation immediately.
Of course, you will not find here all the billionaires or representatives from the Forbes list – but you can meet a wealthy man.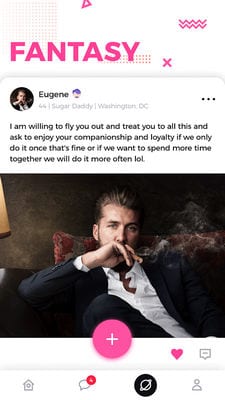 You may also like: 9 Free Dating Apps for Asian People (Android & iOS)
Sudy – Sugar Daddy Dating App by Sudy Limited
Sudy is another application from the developer of Sudy Limited, where you can make new pleasant acquaintances. Here sugar daddies find their sugar babies and start building relationships of different duration.
Sudy community members are rich and beautiful people, who are open to everything new and would like to find a partner. All chances of getting to know each other will be in your hands – maybe here you will find a future spouse and will never worry about money or tuition fees again.
If you haven't even encountered a search for a daddy before, then Sudy will tell you everything, because it is one of the leading dating applications. The whole process will be safe for you, and your friends and acquaintances won't even know where you are looking for a partner.
The team of professionals regularly removes all the fake profiles – so you'll need to confirm that it's really you in the photos. Also, all the people in Sudy confirm their income – they are not swindlers and scammers.
According to statistics, Sudy community members have a quite good monthly income from meetings with sugar daddies.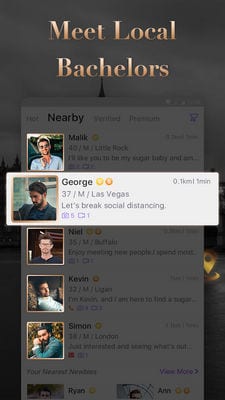 You may encounter misunderstandings from colleagues, friends, or family when you are in such a relationship. There is no point in arguing because in reality the relationship with Sugar Daddy is perceived in society as something immoral or even debauched.
In reality, everything is much simpler and depends solely on the person with whom you will communicate. Perhaps your meetings will be limited only to pleasant visits to restaurants or communication in real life.
Applications for Sugar Daddy Dating will help you communicate with sponsors in a more private and hidden environment – no one will see on your social networking account what you really do.