Many modern smartphones have a water-resistant feature that allows you to use them underwater. So you can take unusual pictures, not leave your phone unattended when you visit the beach, and more.
But how do you make sure and not expose your smartphone to breakage? For this purpose, we have collected for you the best waterproof test apps, with which you can check the functionality of your smartphone and check the permissible level of being in the water.
To keep the performance of your smartphone high, we recommend you to check the level of its battery capacity with battery analyzer apps.
Water Eject ~ Speaker Cleaner
Water Eject Speaker Cleaner is a mobile app designed to help clean the speakers of your gadget by removing any water that may have seeped in.
When you launch the app, you are presented with a screen that shows a virtual speaker. You can then tap on the screen to eject water from the speaker and clean it.
The more you tap, the more water is ejected, and the cleaner the speaker becomes.
One thing to note about the gameplay is that it can become a bit monotonous after a while. There isn't much variation in the gameplay, and you're essentially doing the same thing over and over again.
However, the app is still quite addictive, and you might find yourself spending more time playing it than you initially anticipated.
In terms of graphics, the app is visually appealing, with vibrant colors and an overall clean look. The speaker and water effects are also well done, and you can tell that the developers put a lot of effort into making the app look good.
However, the app can be a bit glitchy at times, and you may experience some lag or freezing while playing.
If you're someone who is constantly worried about water damage to your device's speakers, this app is an excellent tool to have on hand.
Advantages:
Helps clean water from speakers.
Simple and addictive gameplay.
Visually appealing graphics.
Drawbacks:
Glitchy and laggy at times.
Intrusive ads may disrupt the experience.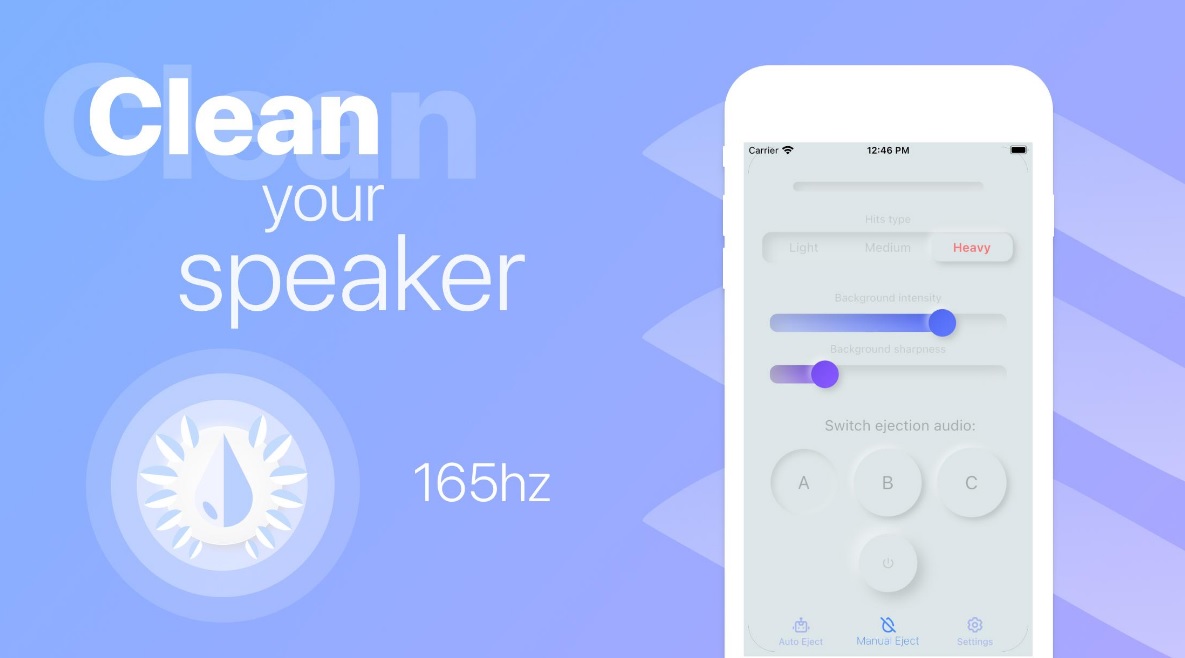 You may also like: 11 Free Notifications Control Apps for Android & iOS
Waterproof Quickcheck
This app uses an internal pressure sensor to detect certain pressure fluctuations while the user is touching the screen.
That way, you can tell if your phone is waterproof. "Detail" mode shows a graph of pressure variations in the phone.
If you open one of the phone's covers, you'll find that the pressure doesn't change when you touch the phone.
So, if the phone is sealed, you will find fluctuations when you touch the phone.
It is worth noting that this app does not directly guarantee whether your phone is waterproof. But, it does give you a hint that all covers are firmly sealed.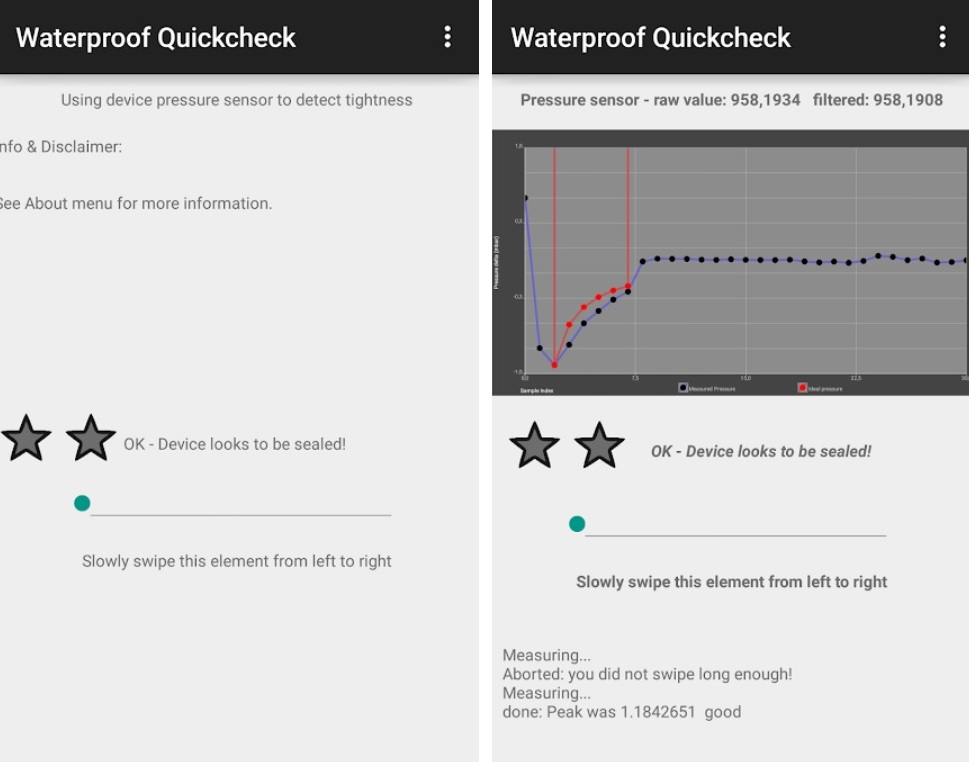 Phone Check and Test
This app is designed to quickly test your phone for water resistance.
You can also use it to test cellular, WiFi, display, touchscreen, GPS, audio, camera, sensors, storage, memory, processor, and battery.
Phone Check and Test allows you to check key device usage and signal strengths.
It provides an easy-to-use guided process to quickly check and test all major components of your phone or tablet.
It also displays an informative report about your phone that you can email.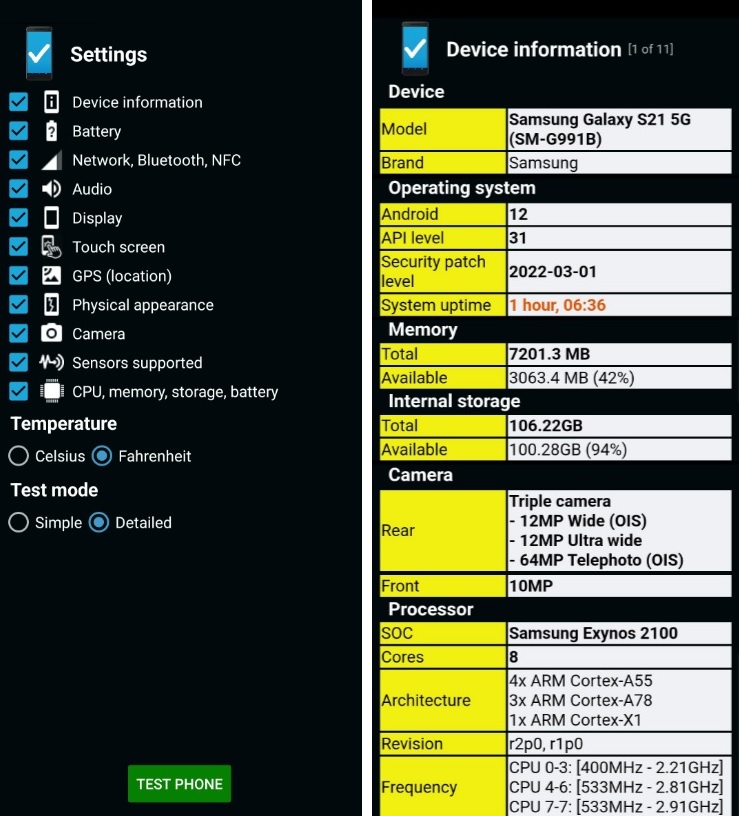 You may also like: 20 Best & Free Ringtone Apps for iPhone and Android
Clear Wave – Speaker app
The app is easy to use and provides users with a variety of options for adjusting the sound waves to their liking.
This app is designed to help users enhance their audio experience by providing them with a way to adjust the sound waves that are emitted by their device's speakers.
Once users have downloaded and installed the app, they can simply open it and start using it to adjust the sound waves that are emitted by their device's speakers.
The app provides users with several different sound wave profiles to choose from, which can be customized to suit their individual preferences.
Users can also adjust the frequency and amplitude of the sound waves to fine-tune the audio output to their liking.
The app's interface is intuitive and user-friendly, making it easy for users to quickly adjust the sound waves to their liking.
Advantages:
Improves audio quality.
User-friendly interface.
Customizable sound wave profiles.
Drawbacks:
Some users report bugs and glitches.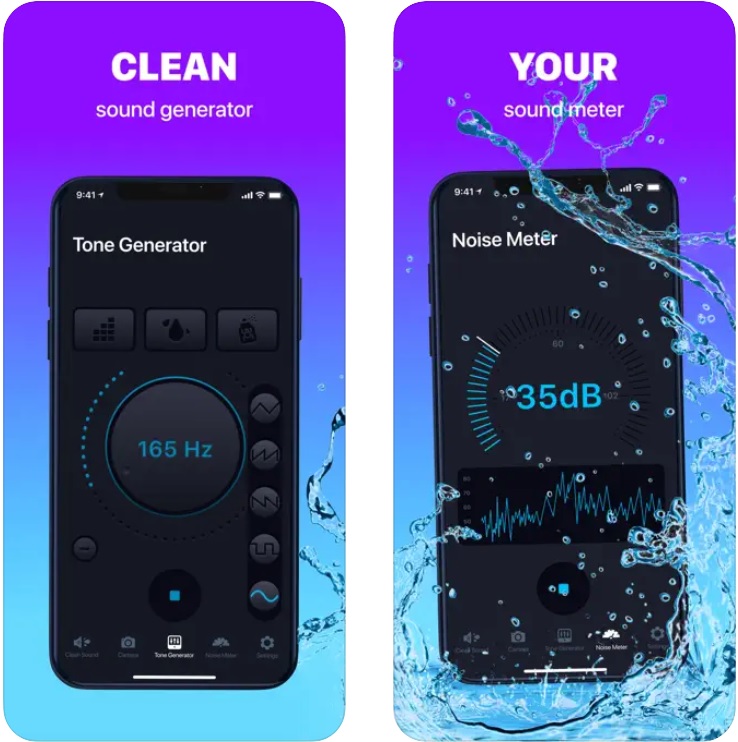 Check Water-Resistant
This app will allow you to do not only the water resistance test, but also check all the other functions of your phone.
The phone check and test are especially useful if you have just purchased a phone or tablet, are planning to sell your phone, if it has been repaired, or if it just doesn't seem to work as well as it should.
Identify the problems so you can return the phone or fix the problem now.
See if there is a hardware or other problem that can be resolved without buying a new phone.
Useful for troubleshooting and diagnosing your phone.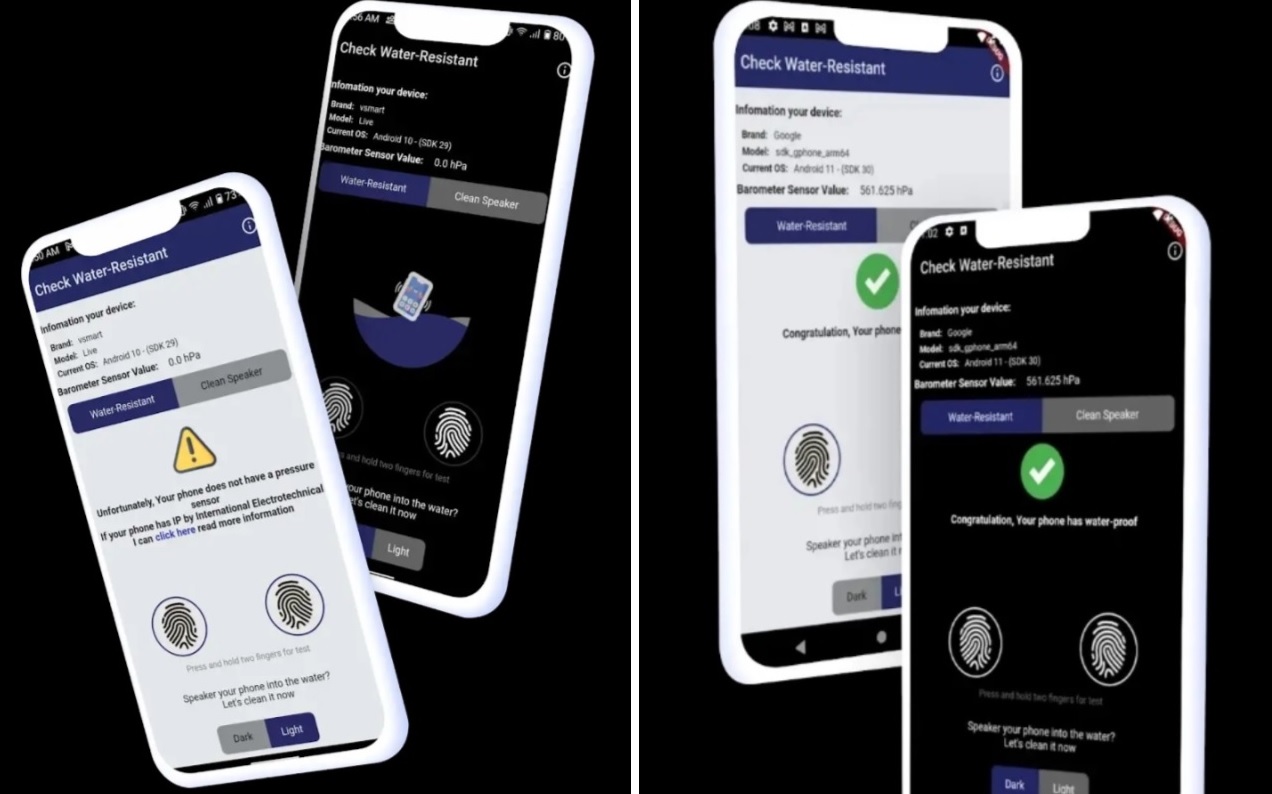 You may also like: 7 Free Apps to Lock Phone for Period of Time (Android & iOS)
Water Resistance Test
Water Resistance Test is a useful service designed which allows users to test the water resistance of their smartphone or tablet.
You should place your device in a container filled with water and then start the test. The app simulates different water pressures and depths to check whether the device is water-resistant.
Users can see how well their device performs and whether it is safe to use in wet conditions.
The interface is clear and easy to navigate, with simple instructions to guide users through the testing process. The app's design does not distract from the testing itself, which is the focus of the application.
However, some users have reported issues with the app not accurately detecting water resistance, while others have experienced crashes and glitches.
A few negative comments have mentioned that the app is not reliable and that it is not a substitute for official water resistance certification.
The water Resistance Test is an interesting tool for those who want to test the water resistance of their devices. However, users should be aware of the app's limitations and not rely solely on it for water resistance certification.
Advantages:
Provides a quick and easy way to test the water resistance of a device.
Simple interface and easy-to-follow instructions.
Drawbacks:
People say there are inaccuracies in the test results.
The app may not be reliable and should not be relied on for official water resistance certification.