Have you ever felt the need to get out of awkward and uncomfortable situations by faking a message from your friends or family? Yeah, we've all been there.
Lucky for you, we've gathered together the best fake alert maker apps for Android that will help you to escape from any unwanted circumstances or just prank your mates. These apps let you create realistic notifications from various apps in secs, and set a timer for them. In case you wanna go bigger — there are apps that let you fake an entire chat conversation.
Here's the list of the best 7 apps in that category you may try. Have a look!
Fake Notifications
Let's start with an app that lets you create custom fake notifications.
Fake Notifications is one of the most popular and fun apps in the category.
To use the app, first select the app they want to generate a notification for. They enter the text they want the notification to display and choose the contact or group that the notification should appear to come from. Finally, set a custom time for the notification to appear and wait for it to trigger.
Fake Notifications integrates with all the most popular messengers like WhatsApp, Messenger, and Telegram. There is also the ability to customize the text of the notification, and the ability to set a custom time for the notification to appear.
But keep in mind that the app contains ads and which can really damage the overall experience.
Overall, Fake Notification doesn't have any serious bugs or flaws except ads which are quite typical for this category of applications.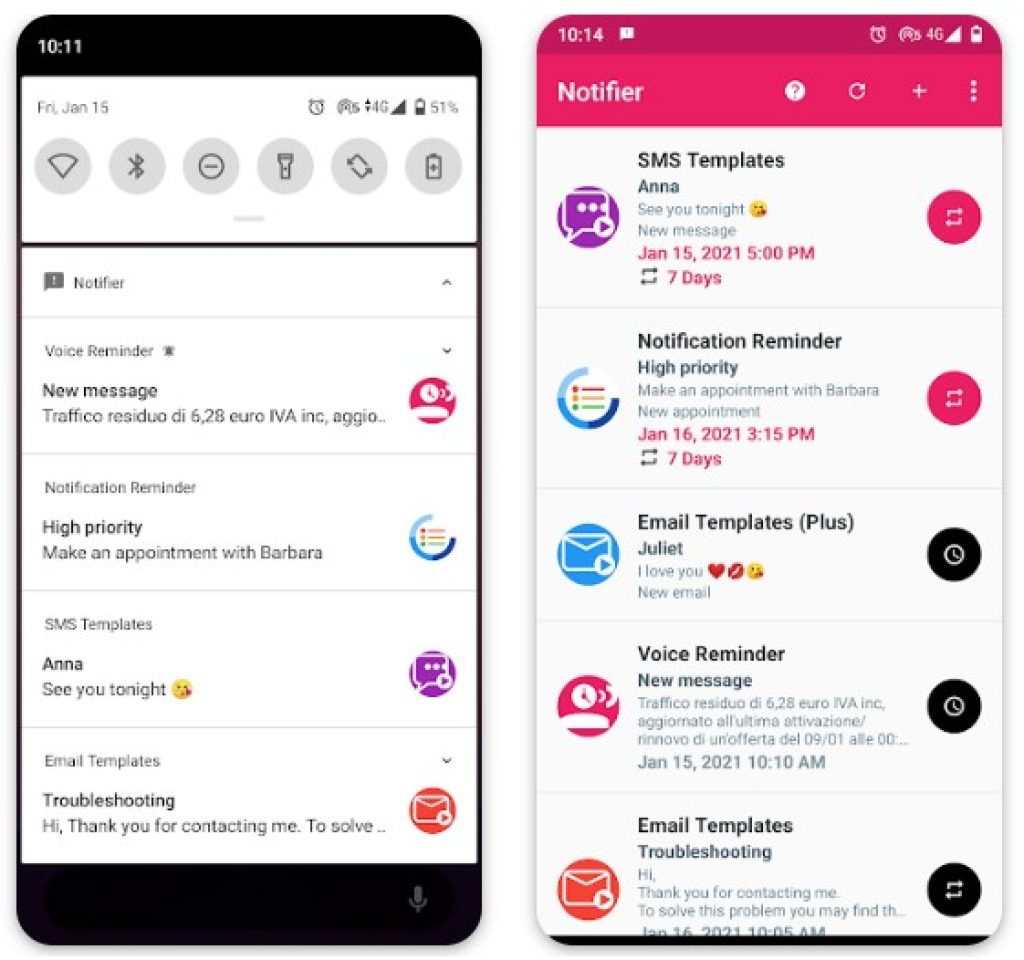 You may also like: 11 Best fake number apps for Android & iOS
Notifications Simulator
Next, we have a notification sim that lets you send fake messages to yourself.
It needs to be said, this app lets you send notifications from multiple apps like IG, FB, YouTube, Telegram, LINE, and even Tinder. More to that, it lets you imitate the alerts for incoming and lost calls if needed. Plus, the app has done a great job recreating the notification of all the apps, so it will look as realistic as it can be.
Along with that, the app has an intuitive UI, so it won't take much time for you to figure out how to use it. Your first step here will be to create the notification itself. To cope with that, you'll need to pick an app you wanna get notified from, and fill in the message title (aka the sender) and body (aka the text).
Next, you get to pick the date the message should come in and set the exact time of it. In case you want to get this exact message multiple times, make sure to add it to your faves. You may also plan several notifications to the same time, and even make a schedule for a couple of weeks ahead.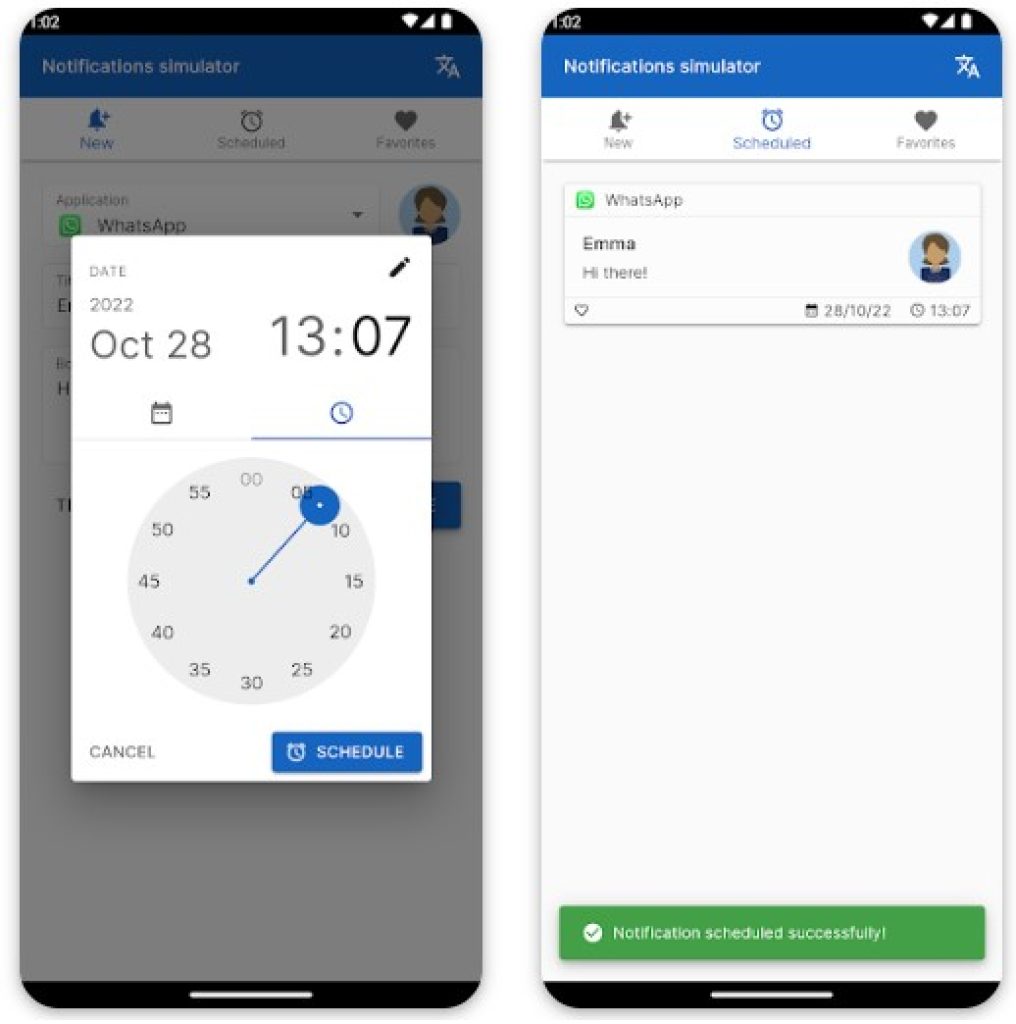 Fake Notifications
Need a simple tool to create made-up notifications? This is the one for you.
This app lets you send yourself texts and notifications from multiple apps, so you can create any notification you need. What is more, the app not only supports messengers, SM apps, and email — it also lets you fake standard SMS messages, and even get fake game notifications.
All the messages will appear in the bar like they always do, so nobody could tell they are fake. Beyond that, the app lets you create high-priority notifications for any app which is quite handy. The notification maker itself is easy to use so no worries about that.
You get to pick an app the message will come from, add the title, write the message, and even pick the ticker text.
Then, you'll need to select the time and date, and you can also set the repeating cycle if needed. The app will save all the notifications you've ever sent and there are no limits to the number of them. You may also add some at your faves and schedule them for several weeks ahead.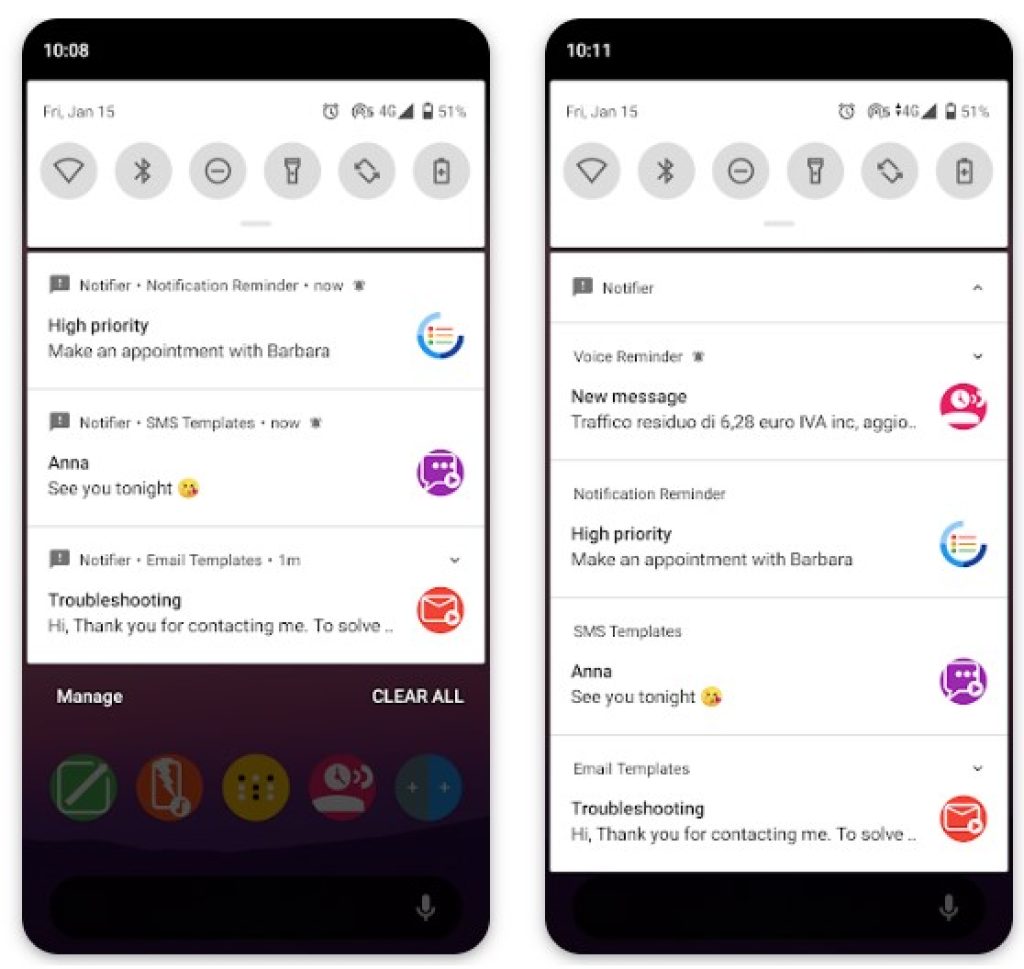 Check also: 5 Free Fake Calculator Apps to Hide Stuff on Android & iOS
Fake Notification Creator
It's a fake notification maker that lets you send yourself made-up messages from various apps.
This app supports dozens of app icons, so you can make a fake notification for any occasion possible — from a prank to an exit from an uncomfortable situation. All the icons look legit so no one would have a clue you're faking it. Plus, this app is fully free with no ads or sub-packs.
The notification builder itself is incredibly simple. You must need to pick an app's name (and sometimes an icon) and fill in the text form.
However, you don't get to send media files, there's a limit to the number of words per message. Then, you get to pick the time it will be sent to you (unfortunately, you can't delay it several days ahead).
Additionally, you can make the notification old when it will be sent, and you get to set the "age" of it too. Besides, the app lets you plan several notifications at the same time, and there are no limits to that. You may also pick if the message will come silent or standard if needed.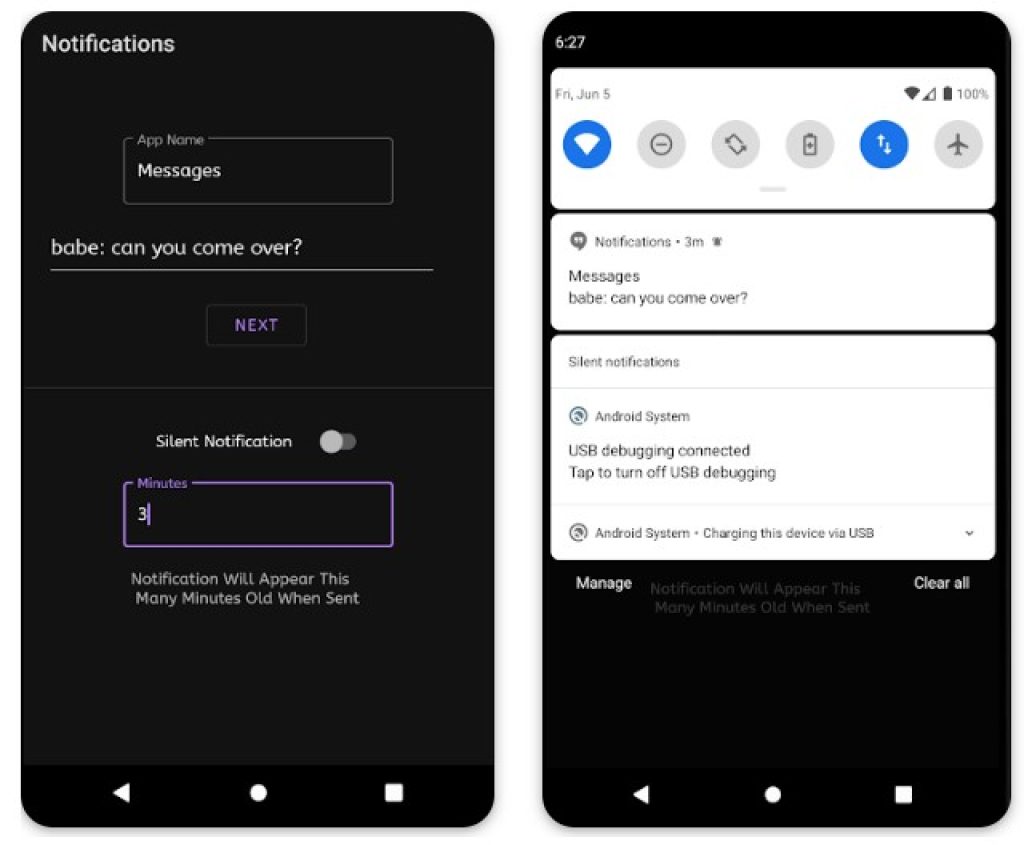 Fake Notifications
We have one of the simplest notification sims on the market.
This app lets you come up with a fake notification in just three steps. First of all, you'll need to pick the app the message will be sent from, and select its icon. Then, you get to pick who will send you the message, and it doesn't have to be someone from your contact list or even a real person. All you need to do is to write the name and then fill in the message form.
Beyond that, the app lets you create several messages from the same person at once if needed, but you're limited to 3.
You also get to pick the time and date the message will come, and even make a schedule with multiple apps several days or weeks ahead. The app keeps a history of all the fake messages you've ever sent, so you can always resend them with just one tap.
Plus, all the old notifications are editable, so you can easily change small details in the text, or switch the app. As for the apps, you get fake messages from your standard SMS app, WhatsApp, Telegram, FB, Gmail, and more. The app also supports notifications from games, music services, and even Tinder.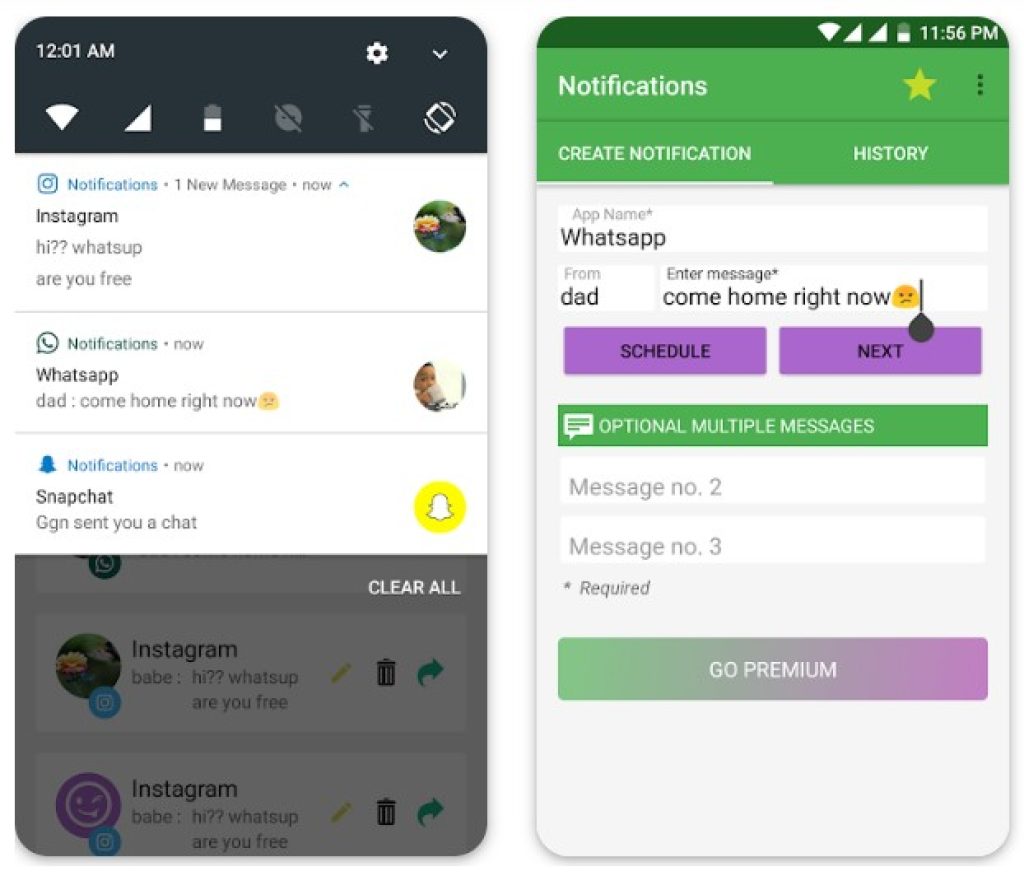 Fake Notifications
Another app with quite a trivial name, but it actually does what it claims to be doing.
The list of the app's main features:
Customizable notifications: You can choose the app, title, text, and time
Schedule notifications: You can set the date and time.
User-friendly interface: The app is easy to navigate in
Setting a fake notification and pranking your friends is really easy with this app. In order to do that, you need to take the following steps:
Choose the app for which you want to create a fake notification.
Enter the details of the notification, such as the title, text, and time.
Set the date and time when you want the notification to appear.
Click on the "Create Notification" button.
Once you have created the fake notification, it will appear on your phone at the specified time. You can use this app to prank your friends or to make it pretend like you are receiving important notifications.
Therefore, you get a chance to create fake notifications for any app, for example, WhatsApp, Facebook, or Instagram. Choose a time and date and there you go!
There is some amount of ads in the app, but it shouldn't be too overwhelming.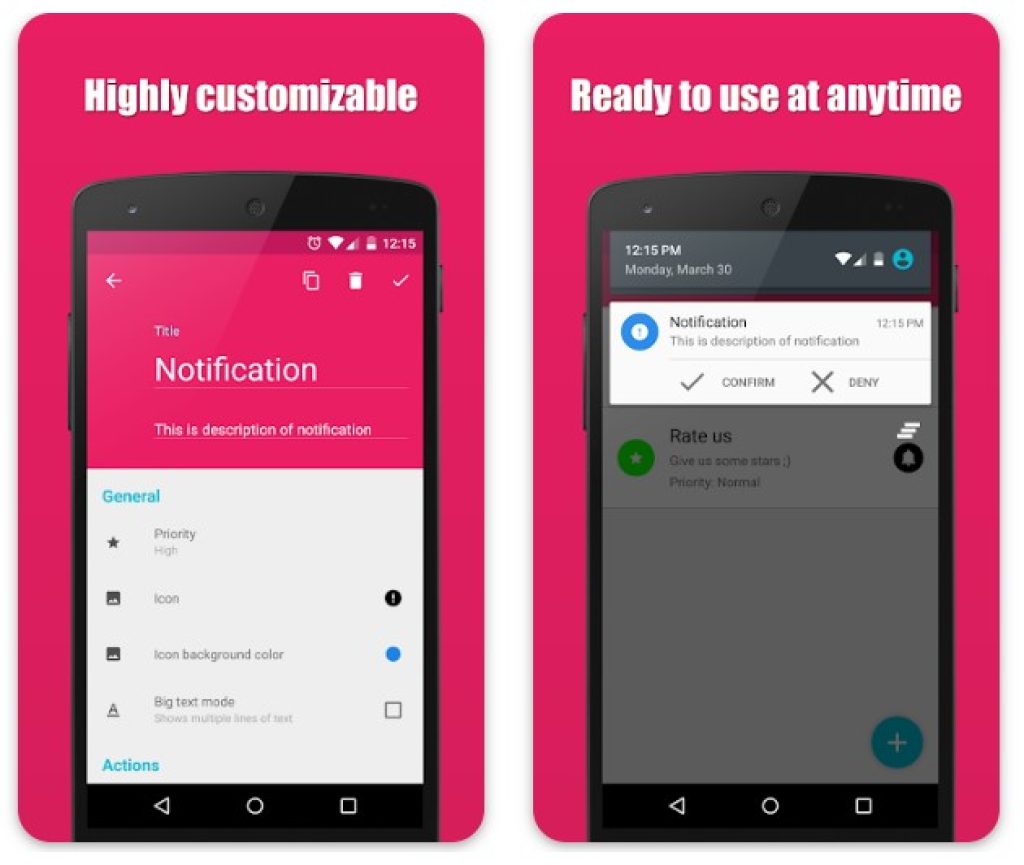 You may also check: 15 Best fake GPS location apps for Android & iOS
iFake
iFake is another cool app for creating fake messages and also create fake notifications on your phone. It's more simple than the other apps on this list and it has a plain interface design, but it doesn't demolish its functionality.
Ad just like in the previous app, here you can set the customized notifications with all the attributes which are needed to set the fake notification. What is more, the app can make it look like any messenger, for instance, What's App, Instagram, FB, and many others.
Once you have created the fake notification, it will appear on your phone at the specified time. You can use this app to prank your friends but please be careful.
Here is a short list of the messengers for which you can fake notifications and messages: iMessage, Messages, Messenger, Instagram, Telegram, Tinder, Whatsapp, Twitter, and LINE. Cool, right?