Do you like playing games? We all do. One of the best ways to relax is to enjoy good word games without ads.
It helps you to relax and train your brain at the same time. That's why we decided to create a list of the best word games with no ads. Most of them aren't free because the ads keep the content free for you. That's why you will have to get a pro version or go for in-app purchases in most cases.
By the way, if you love playing on your smartphone, you should check 11 Best Interactive Story Games for Android.
Word Search Pro
This is a trendy and exciting game that will test your smartness. What you need to do is to identify the hidden words. It will be a challenge!
However, should you face any difficulties, you can also change the difficulty. There are three modes: easy, medium, and hard. We recommend that you start with the easiest one.
However, there are more cool features. Let's look at them:
Simple interface

. It's an intuitive and easy tool. To choose the word, just tap on it and drag it to the center of the screen.

An

unlimited number

of cool puzzles. You can play as long as you wish. You will never run out of options, which is great for big companies.

Four great game modes

. All the puzzles are divided into categories so that you can choose the topic you like.

Should you feel the game is too difficult for you, don't hesitate to

check the hints

. They will help you to solve the puzzles easily and fast.

Enjoy elegant animations

. It makes your experience better.

Customize the app

according to your needs and tastes. Play with colors and try different modes. We strongly recommend you the dark one.
This game will help you forget about writing words on paper. Try the game and you will see how simple and comfortable it is.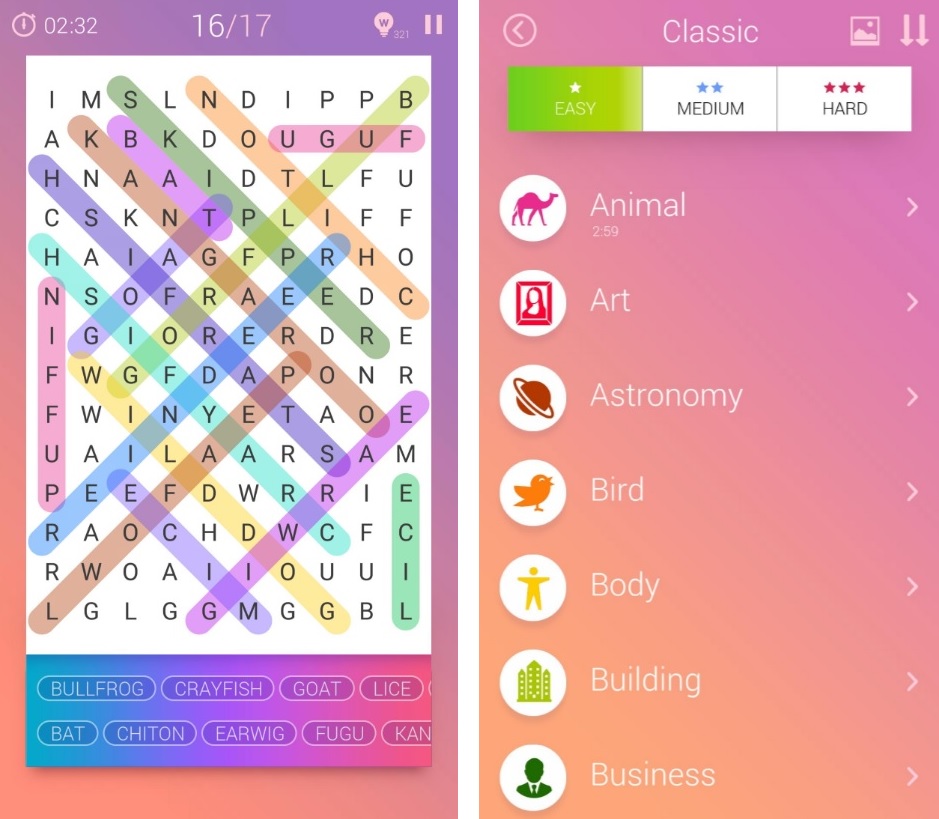 You may also like: 15 Best Anime Video Games for Android & iOS
Wordscapes
Here is another great application for those who like playing word games. It will be a perfect challenge for your and your friends' brains.
By the way, playing any word game for at least ten minutes a day will help you increase your ability to focus and be attentive to little details.
Most of the users who have downloaded the application find it great. This is proven by a huge number of positive comments.
Let's take a look at the best features of Wordscapes:
Try many

different background themes

. You can try various colors and even pictures. You will be able to see beautiful flowers or landscapes while solving puzzles. Sounds great, isn't it?

There are

many cool tasks

you will enjoy. There are anagrams, crosswords, puzzles, and many others. Try them all to see what you like most.

To

solve crosswords and puzzles

, you need to look at all the letters and then draw a line between them to form a word.

Try tournaments or play for fun

. You can relax while playing. In this case, there will be an unlimited number of tries. However, if you feel like competing with each other, you can always go for the tournament mode.
The app collects your data, such as your user info or location, but it doesn't link it to you. The free version contains some ads but you can easily remove them forever.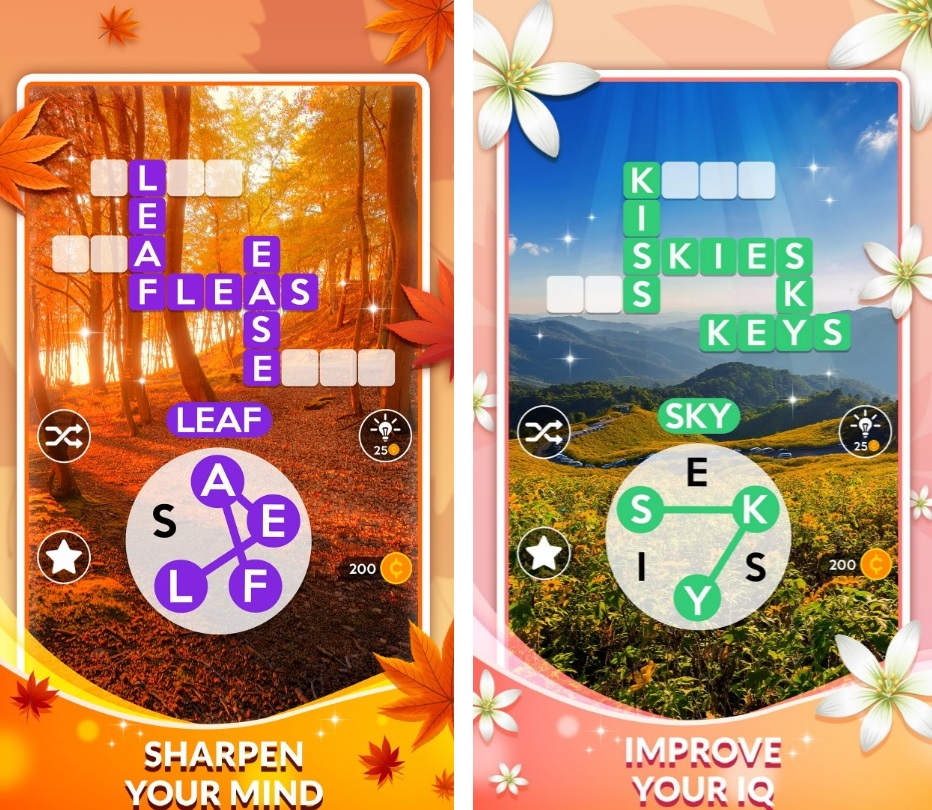 Word Collect
This is a great application packed with a big number of puzzles. Word Collect is considered to be one of the most popular word games in the world.
It has a simple and intuitive interface. When you download Word Collect, you can start playing at once.
Let's review the best functions of Word Collect:
There are more than

2500 different levels

you can explore.

When you log in to Word Collect for the first time, you will be given

500 coins

as a present. You can spend them later to have some hints and enjoy bonuses.

You can

play at any time

. It's no problem if you are disconnected from the Internet. All the range of functions will remain available.
Should you need any premium functions, you can always go premium. If you use the free version, you will have to put up with ads. This will remove all the ads forever.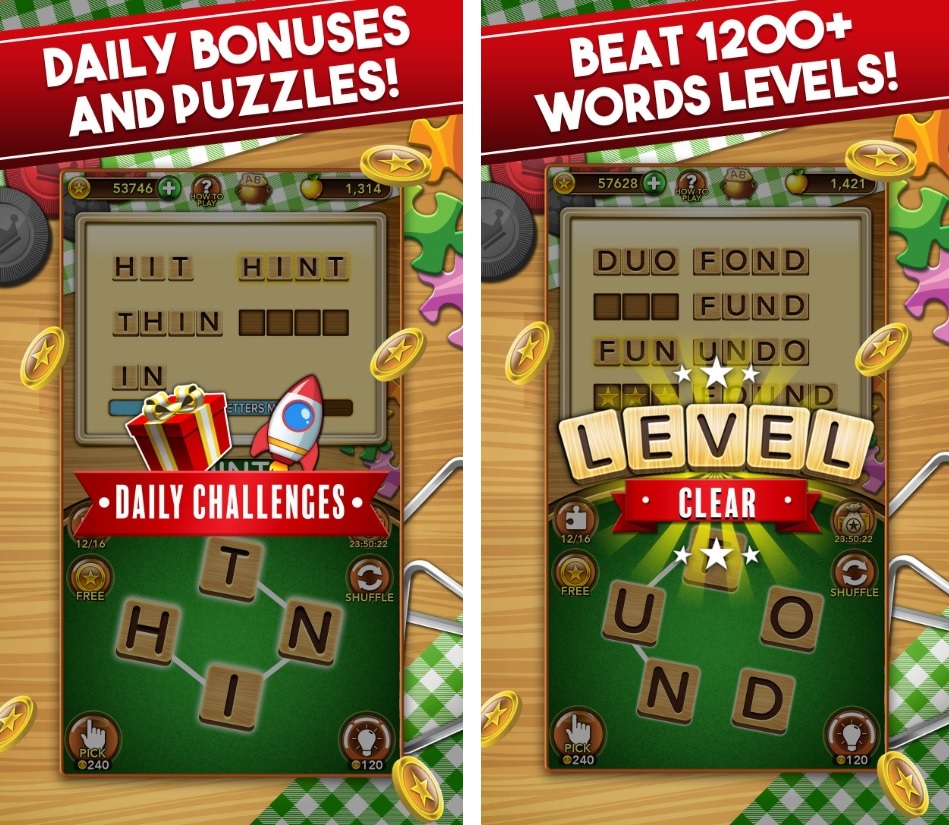 English Word Search
This game is a great way to spend time with pleasure. Moreover, you will be able to train your brain! You have to be attentive to find all the hidden words. This way you will learn a lot of new terms.
The game is available for users who speak both English and Spanish.
It is possible to choose the difficulty level. There are 4 levels in total. Pick the very first one, and then, if it seems too complicated to you, go to the next one.
Also, the developers have added a large number of different categories of words to the game. You just figure out random words and look for them according to a given topic.
For real fans of such games, there is an offline mode and auto-save to be able to play anytime anywhere.
The game has daily challenges that will help you get new bonuses and experience. Over time, you will acquire an incredibly large vocabulary.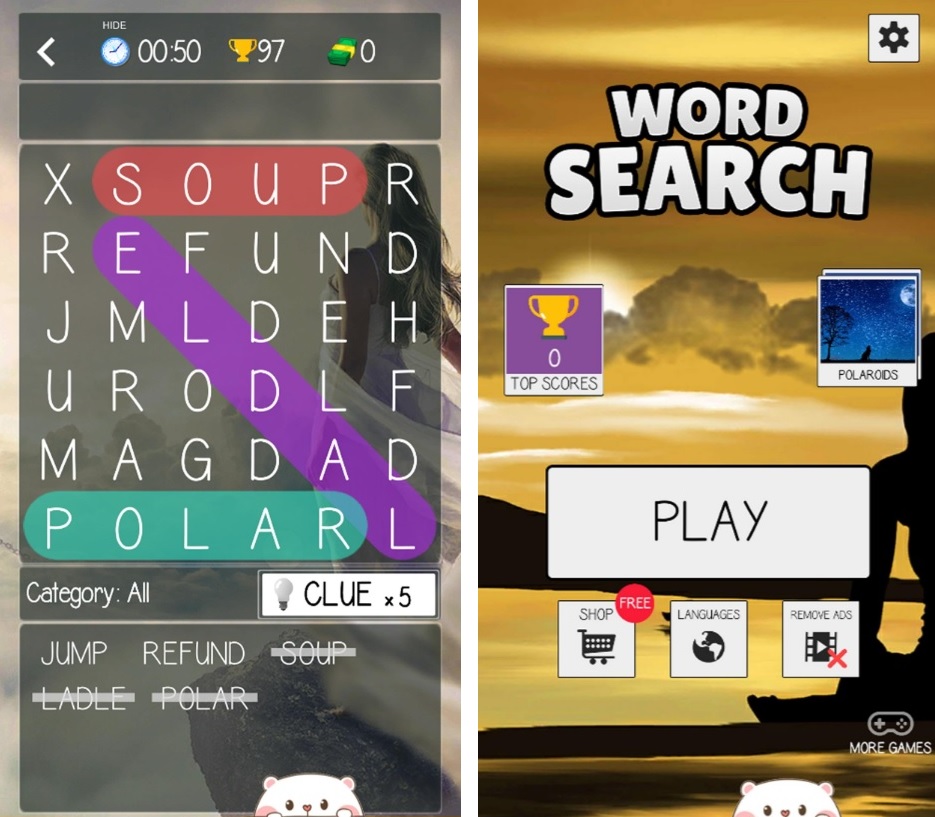 You may also like: 21 Best Mobile Board Game Apps for Android & iOS
Bonza Word Puzzle
This is a relatively old game, it was firstly released in 2014. In the same year, it was chosen as the best word game.
It looks like a dynamic crossword, always changing and challenging you. It's high time you tested your smartness.
This is the best option for those who like to play a lot. Don't worry, you will never run out of cool puzzles thanks to daily challenges. New words are being added all the time.
Do you feel like creating new puzzles yourself? It's great, you will have such an opportunity. Add your puzzles to enrich the game, and other players will appreciate it.
Keep this fact in mind if you are running out of your phone memory.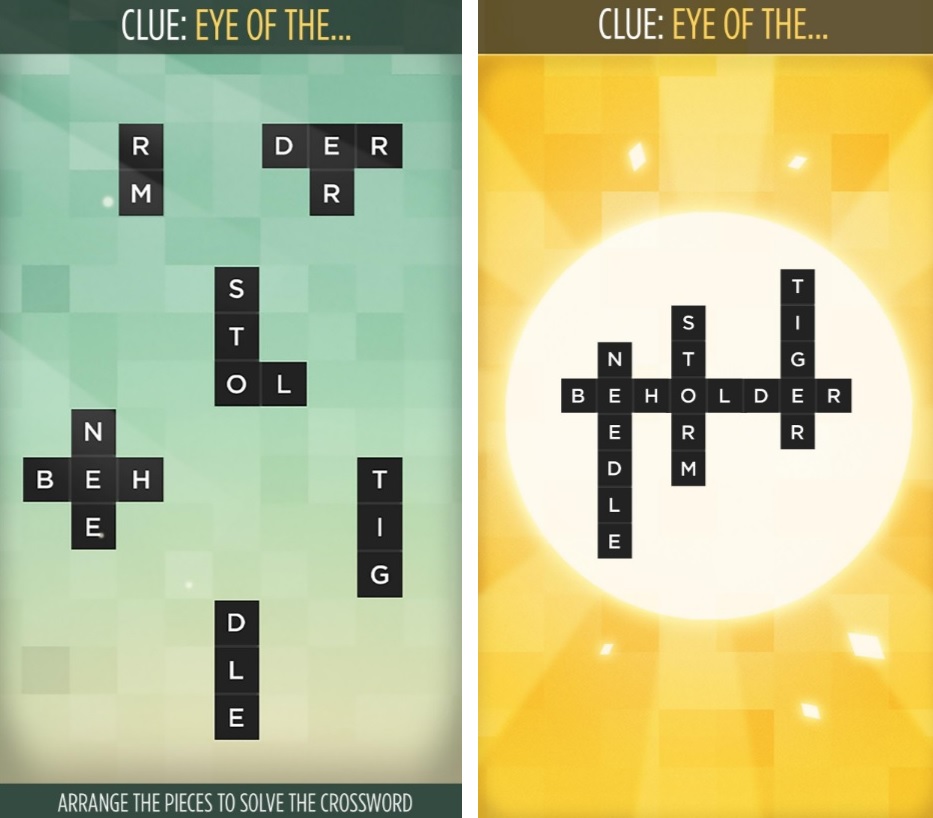 Alphabear: Words across Time
Here is another nice word game for people of all ages. This is the second part of the game created by Spry Fox in 2015. It was enhanced in many ways so now you can enjoy the best version of it.
As you might guess from the name of the game, the main characters are represented as bears. You aim to collect as many of them as you can.
How to do it? Just solve puzzles provided by Alphabear. When you are stuck with some of them, don't hesitate to use hints.
Enjoy bear humor and listen to their funny speech while playing! Those who know the characters will appreciate such a function.
You can download the word game and play it for free. There will be some in-app purchases if you want to unlock new bears faster.
By the way, if you like reading and playing, there is no need to divide these two activities. Just read 11 Best Text-Based Games for Android & iOS.
There is also a great built-in dictionary. It's not connected to puzzles but it can come in quite handy if English isn't your mother tongue. This will help you to memorize new words easily, it's very effective if you don't like traditional ways of studying.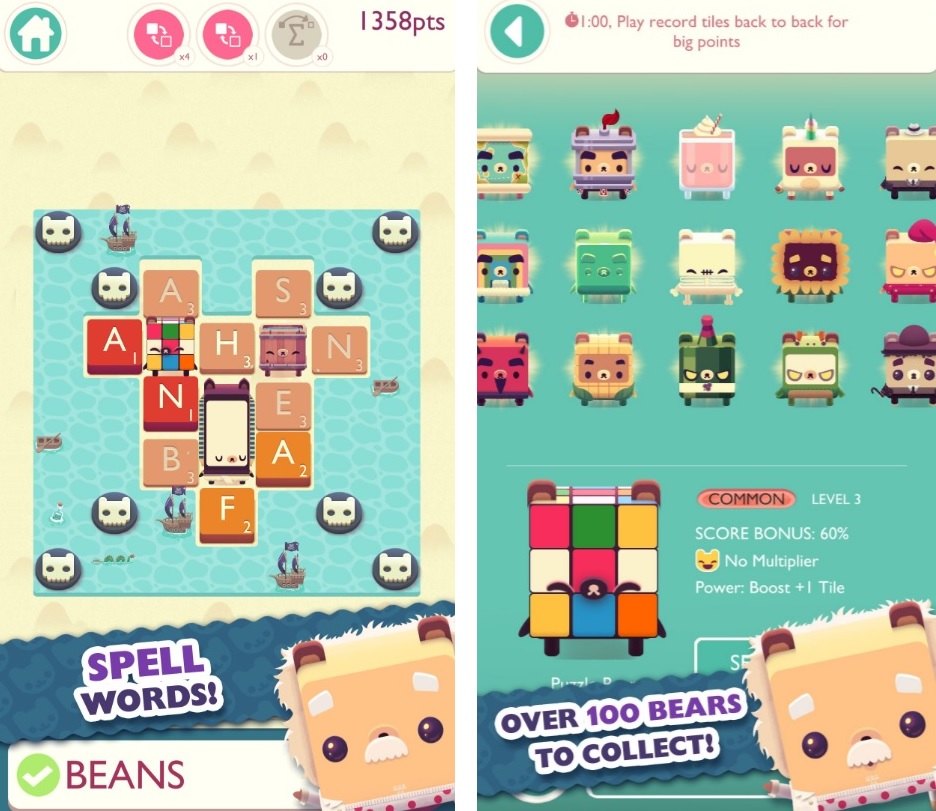 Letterpress – Word Game
Do you like playing with your friends? Are you in love with solving great and challenging puzzles? If yes, Letterpress is the best option you can choose.
There are at least three ways to play the game, and each of them has its advantages.
Play with random opponents

. This is the best mode if you love competitions with various people. You can set the difficulty to filter some of the players.

Play with your friends

. In this case, they will need to download the app too. Or you can use only a smartphone passing it from one to another.

Play with the Letterpress bot

. You can set the difficulty as well so that playing will be comfortable and not too easy.
There are many other cool features you will probably like:
Chat with other users

in real time. You can then pick them as opponents or just talk for fun.

All the features are available for free

meaning you can enjoy a wide range of functions without paying a single dollar for them. However, if you want to speed up your progress, you can upgrade your game.

The app

supports English and Spanish

.

The size of the game is relatively small –

53 MB only

. If you take a great number of options into account, you'll realize how small the app is.

Developers

collect some data about you

but they don't link it to you, so you can fully trust the app.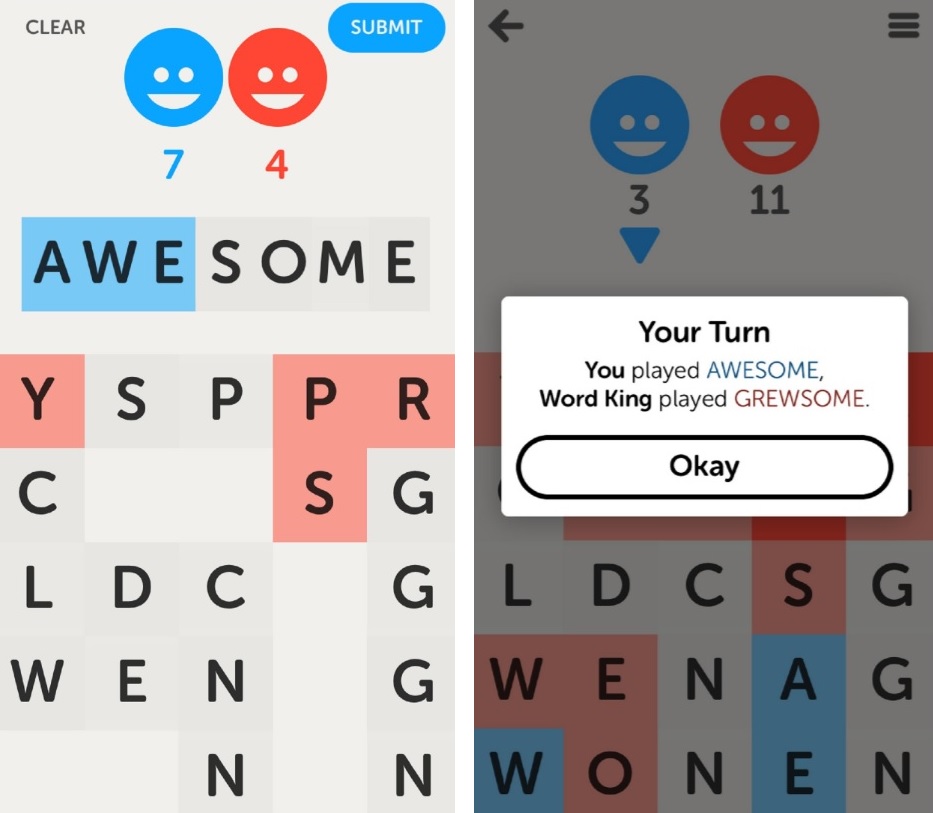 Blackbar
Look at this brilliant word game. We bet you will fall in love with these puzzles at the first glance.
However, you won't find typical word puzzles there. Instead of them, there will be smart allegories you'll have to understand.
It looks like a book you read. However, you will need to fill in the gaps while scrolling the text. It's not that easy – to find a good answer, you need to be attentive and never miss little details. Try to follow the story and predict what can happen next.
Most users who have already played the game love its dark humor and challenging word puzzles. They say the story is thrilling and unpredictable.
It's the best way to entertain yourself when you are tired after work or school.
One of the most striking disadvantages is that the story turns out to be too short. Some people also complain about dull gameplay but it will depend on your tastes.
The game supports English and German. It doesn't matter what language you choose – it won't affect your experience with the story thanks to good translation.
We can't recommend such a game to children. The rating allows them to play but the game can turn out to be too difficult for them.
So you need to download the game anyway! It will bring new great experiences to your life.
Another important thing is that the developer doesn't provide any details about its privacy policy. So we can't recommend your data will be safe.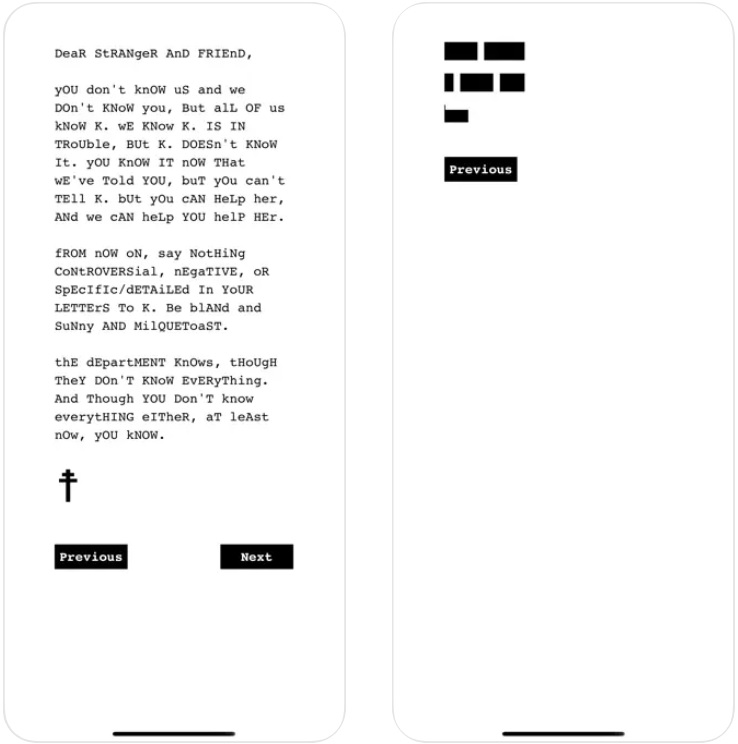 You may also like: 25 Cool Android Games with Controller Support
Words More
This word game can help you to expand your vocabulary and test your spelling skills.
You have to find as many words as possible within a certain time limit while you are given a limited number of letters. The game has several levels of difficulty, so it caters to both casual and serious players.
Advantages:
Addictive gameplay.
Multiple levels of difficulty.
Helps improve vocabulary and spelling skills.
Drawbacks:
Lots of ads.
Lack of variety in backgrounds.
Some users report bugs and glitches.
Moreover, you can get bonuses that can help you in a very puzzling round.
You can enjoy the pleasant backgrounds and visual effects. This way, it will be always a nice gameplay experience.
Though, sometimes you can face bugs that are annoying and distract from the exciting gameplay.
Also, when you have been playing for a long time (and you will be, of course) it is possible to notice that the game is quite repetitive and boring.
Soon you will find this game rather addictive. It is possible to learn more new words and shock your friends, of course.