Today I want to tell you about the100s Logic Games – Sudokus app, and I must say it's a Sudoku lover's dream come true. This app takes Sudoku to a whole new level, offering an impressive variety of Sudoku variants and an astonishing number of puzzles to keep you engaged.
You may also like: 7 Best Sliding Block Puzzle Games for Android & iOS
The Logic Games app, available at andreasabbatini.com, offers an engaging collection of brain-teasing puzzles and games designed to challenge your intellect and problem-solving skills. Whether you're a seasoned puzzle enthusiast or someone looking to exercise your mind, this app provides a wide variety of games to keep you entertained and mentally sharp.
With a straightforward and user-friendly interface, the app allows you to choose from different puzzle categories, including Sudoku, Kakuro, Minesweeper, and more. Each category offers a range of difficulty levels to cater to both beginners and experienced players.
The games are not only fun but also educational, promoting logical thinking, spatial awareness, and strategic planning. By completing puzzles, you can improve your cognitive abilities while having a great time.
You may also like: 7 Best Princess Games for Android & iOS
This app is a fantastic resource for anyone who enjoys solving puzzles and riddles, and it's entirely web-based, so there's no need to download or install anything. Just visit the website, select your game of choice, and start solving puzzles to challenge your mind.
In summary, the Logic Games app is a convenient and accessible way to enjoy a variety of mind-bending puzzles online, making it suitable for puzzle enthusiasts of all levels. It's an excellent tool for leisure or brain training.
One of the most impressive aspects of this app is its extensive collection of Sudoku variants. With a whopping 40 different variants to choose from, it caters to a wide range of Sudoku enthusiasts. Whether you're a fan of classic Sudoku or eager to challenge yourself with a unique twist, this app has it all. The diversity of Sudoku types ensures that you'll never get tired of solving these captivating puzzles.
You may also like: 11 Free Offline Puzzle Games for Android & iOS
What truly sets this app apart is the sheer number of puzzles it offers. With over 20,000 levels available, Sudokus provides an endless supply of Sudoku challenges. Whether you're a casual player looking for a quick brain teaser or a dedicated Sudoku aficionado seeking a real mental workout, this app has you covered.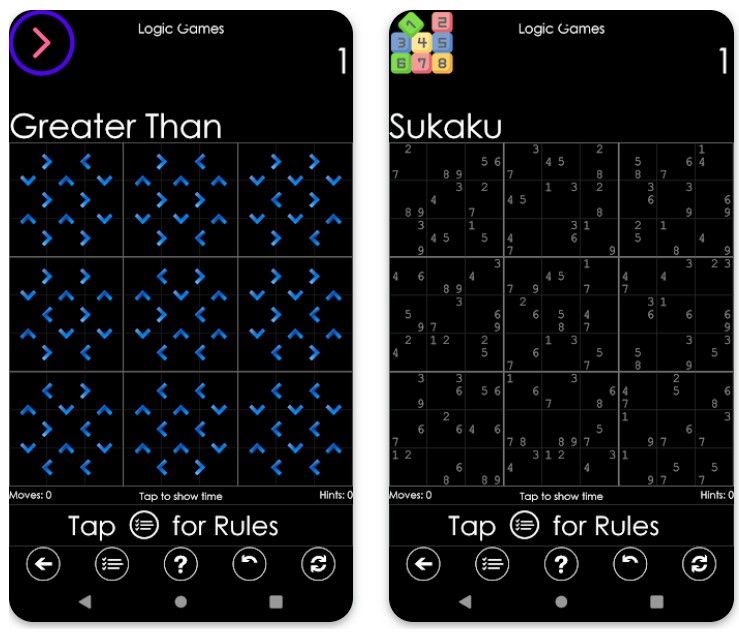 One particularly exciting feature is the inclusion of huge Sudokus that can sprawl up to a massive 21×21 grid. These larger puzzles provide an even greater challenge for those who want to push their Sudoku skills to the limit. They offer a unique and satisfying experience that sets this app apart from others in the genre.
The user-friendly interface and intuitive controls make navigating the app a breeze. The ability to select different Sudoku variants and difficulty levels with ease enhances the overall user experience.
To sum it all up, 100s Logic Games – Sudokus is a remarkable app for Sudoku enthusiasts. Whether you're a casual player or a devoted Sudoku solver, this app is a must-have for anyone looking to sharpen their logic skills and enjoy countless hours of engaging gameplay.