Do you like playing cards? If your answer is "yes", we have to present to you a top-grade application – 21 Solitaire Game. Now let's have a look at its features! First of all, we have to mention that 21 Solitaire Game is pretty lightweight, so you will install the app in a couple of seconds.
So, how should we play this game? Click on the column to move the card from the stack. The column will clear when it achieves 21 points.
And if you're someone who likes card games, and especially poker, we can advise you to play Texas Holdem poker – check out these apps for that.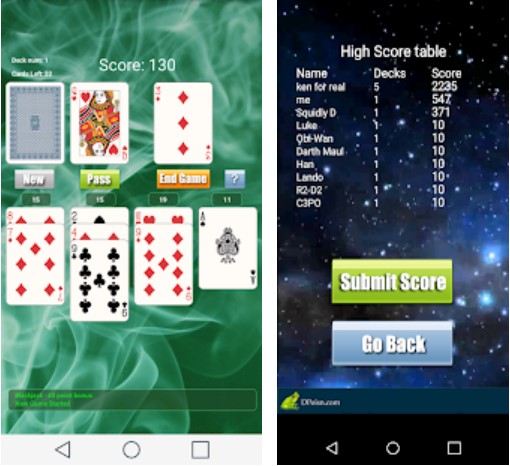 All the cards contain points. The number cards have face value. The face cards include 10 points. The Aces contain either 1 or 11 points. Moreover, the game provides bonus points for special combinations, like Blackjack or 5 Card Charlie.
If you don't have any move you can pass the card. But you can do it only 4 times. When all the cards will be used, you should click on the button "New" to obtain a new deck. The major task of this game is to obtain as many points as possible before you use all the moves.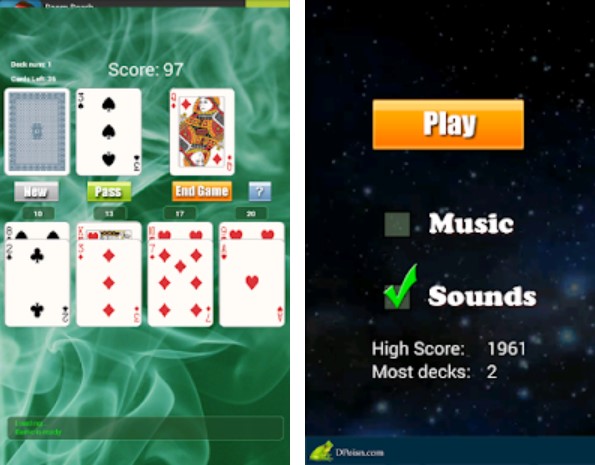 If you have faced any difficulties while playing this game, you should tap on the question button to receive detailed information on how to play this game. In addition to the aforesaid, the game allows you to monitor the worldwide leaderboard. If you want, you can also submit your score and compare it with other players' performance!
We were pleasantly surprised by the excellent game's design that guarantees a pleasant user experience. Plus, the interface is very user-friendly, that's why even novice players will quickly manage it.
What is more, you can also check out our list of the best strip poker apps.
The game comes with background music and sounds, but you can always disable them at any time you want. All in all, we really liked Solitaire Game. This is an amazing game that will not let you get bored. Highly recommended!