"Would you lIke to know how to watch cartoons online for free?" – this question will be discussed in the article today.
There's no denying that everyone dreames about returning to one's childhood, having kins of a tour around the past. Unfortunately, it is almost impossible to happen. We cannot run away from all our responsibilities; we have a lot of things to worry about in our everyday personal and professional lives.
However, here is a way out. Remember, watching cartoons was an essential part of our childhood! Do you still love cartoons but you have a lot of things to care about? Do you want just to have a nice evening watching something relaxing? How do you do that?
No doubt, that nowadays we have practically no time to sit in front of TV for a specific program and always wait for something we want. And the only way to watch cartoons is to look for them on the Internet. The problem is that there is a great amount of websites for watching cartoons which are free of charge or paid, demanding registration or not. So, let's agree that it takes so much time to find the most suitable one for you. Luckily, we have a way out just for real cartoon lovers!
Well, you don't have to search the Internet anymore to find the sites for watching cartoons or animes because here is the list of TOP cartoon/anime sites where you can watch cartoons online for free without downloading. Here you can watch cartoons like Spongebob, Gravity Falls, Bob's burgers, Naruto, Tom and Jerry, Adventure time and more. Have a look at the following list and save your time!
30 BEST WEBSITES TO WATCH CARTOONS ONLINE
Charge: free
YouTube is really the king of online videos.  This site is known for having thousands of videos meeting your requirements. It is one of the most popular platforms for watching videos. Millions of people use it every day!
Here you can find any video as well as your favourite cartoon series. To watch any cartoon on YouTube, just print the name of any cartoon you would like to watch in the search box. So, you will be simply taken to that very cartoon. Also, you will see some other similar cartoons or cartoons with the similar name.
Using YouTube you can upload and download cartoons (with AllMyTube), even rate and comment on them.
Undoubtedly, YouTube is the greatest video search engine in the world. So, just enjoy it!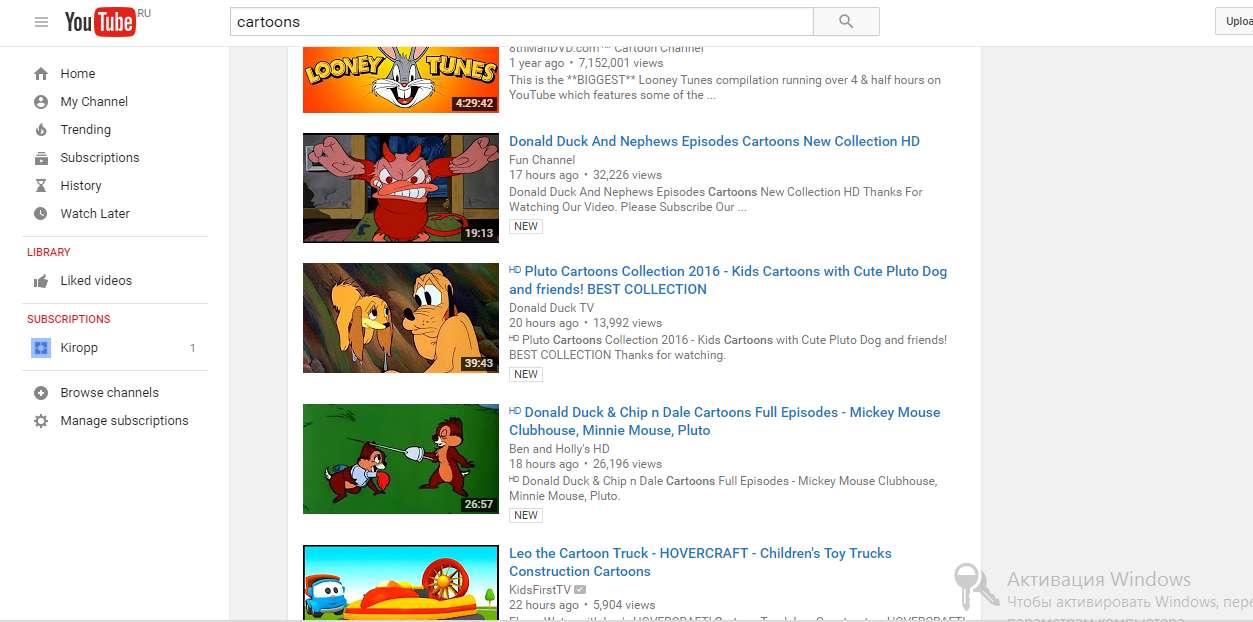 2. 
ToonJet
Charge: free
ToonJet is another popular website to watch cartoon videos online for free. You can watch classic cartoon series like Betty Boop, Popeye, Looney Tunes and so on.
You can watch cartoons online without registration. But if you want to have some other additional options, you should sign up. Sign up now and you get your own profile page, you will be able to comment on cartoons and rate them. There is also an option to add cartoons to your favourites. So, why not? Just fill in the required fields: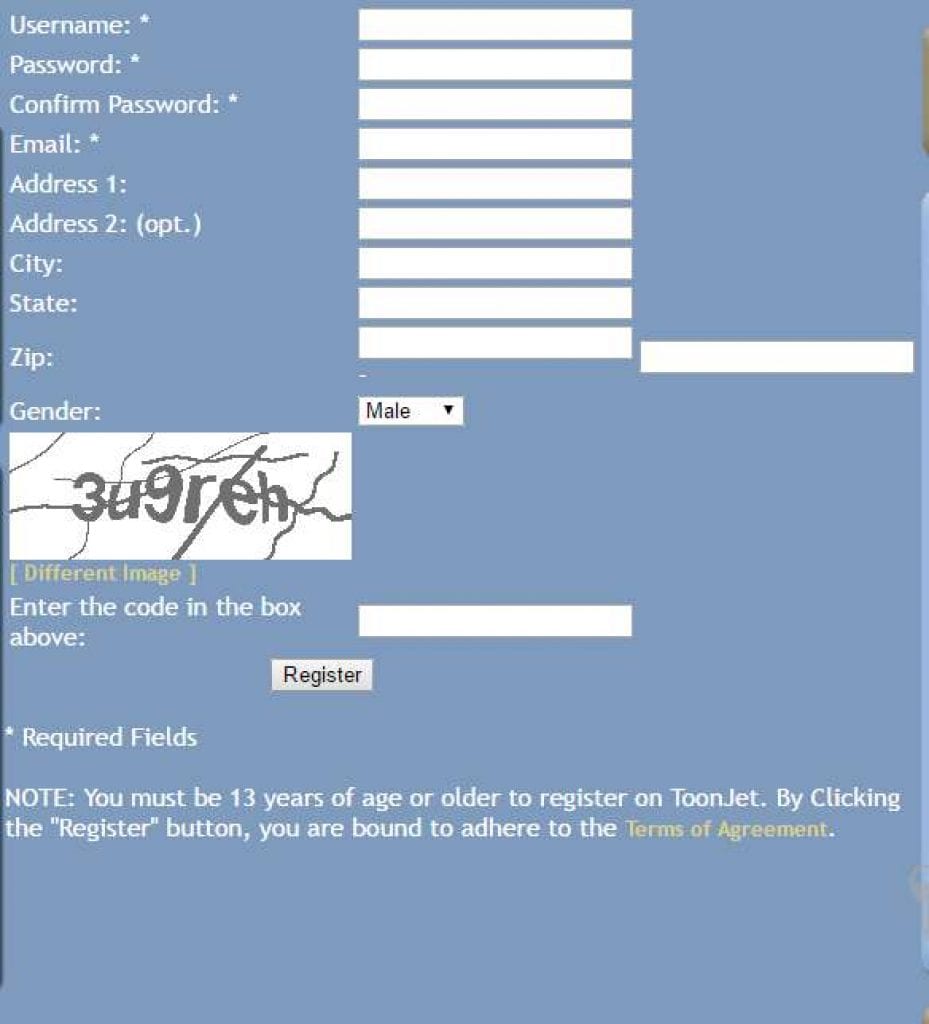 ToonJet has its own app on Android platforms and you can download it from the starting page www.toonjet.com
Watch streaming classic cartoons right here!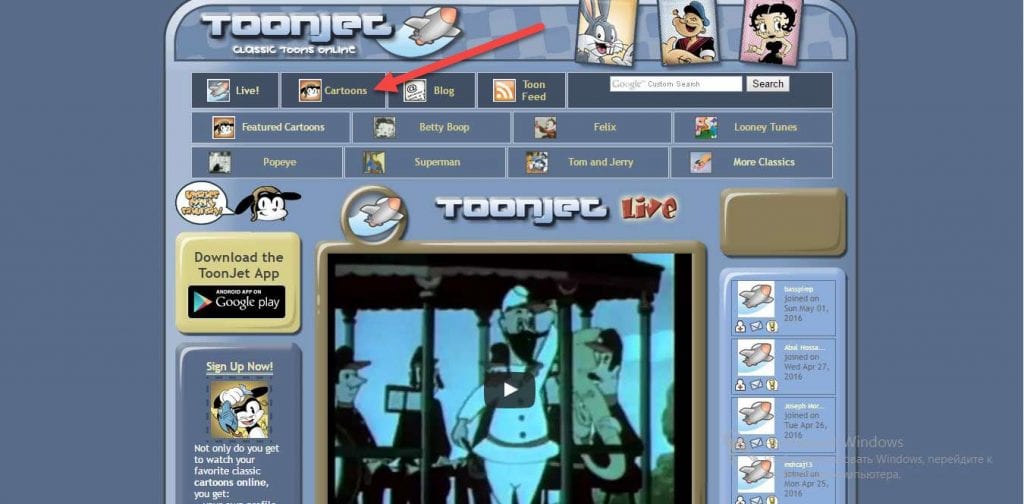 Charge: free
Cartoons On is a well-known cartoon streaming website which is easy in use.
Do you want to watch your favorite cartoons without downloading and exposing your computer to risks? Just use Cartoons on!
You can search anime/cartoons with the help of "search bar" or you can easily find it by "Studio" (Walt Disney, Warner Bros, etc.), "Characters" (Tom and Jerry, Mickey Mouse, Bugs Bunny, etc.), "Shows" (Family Guy TV Series, Ben 10: Omniverse, etc.) right here.
It doesn't require signing up or registering here. Watching your favourite cartoons is absolutely free! The collection of free cartoons is being updated constantly, so visit Cartoons On regularly to find new cartoons.
Is there really a need for waiting for a cartoon on the TV, when you can easily find it on this site and watch it in your free time? You are welcome, cartoon lovers!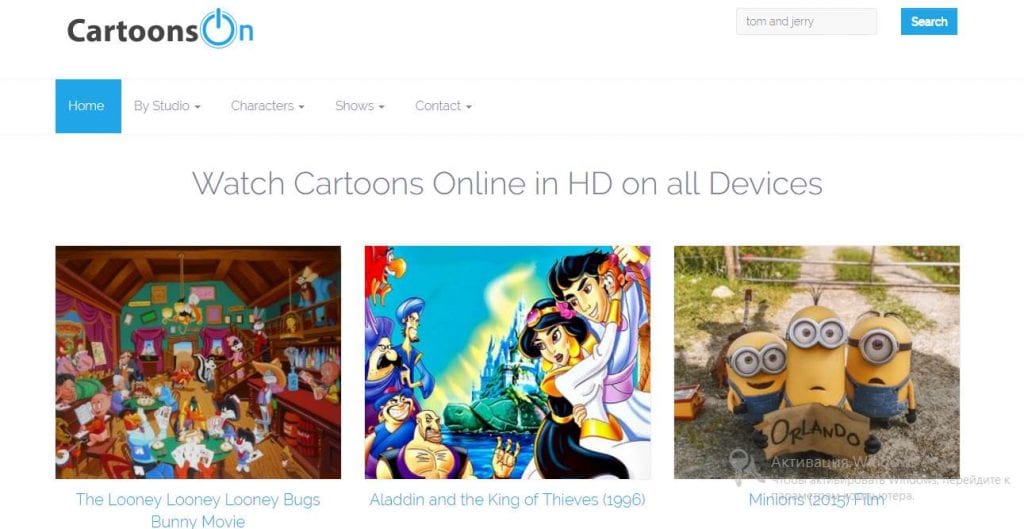 Charge: free
Watch Cartoon Online is one of the top sites for watching anime for free without any problem. This site is well structured and the menu is clear. It has a great list of cartoon shows. Some of the most popular cartoons that you can choose for watching are Shark Tale, Atomic Betty, The Super Hero Squad Show, Super Friends and so on.
Are you bored to death? Just open Watch Cartoon Online website and enjoy watching your favourite anime!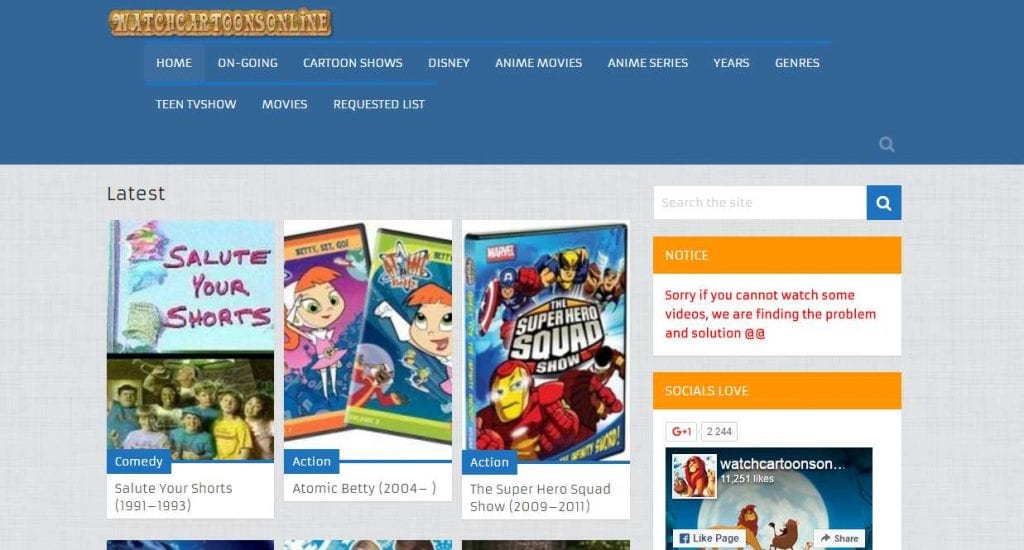 The only disadvantage of Watch Cartoon Online is that there are a lot of pop-ads and this fact so irritating!
Charge: free
Anime Flavor is the best website to watch animes online and without paying.
All the cartoons are structured in alphabetic order on the main page. So, you are just to tap on the name of anime you gonna watch and enjoy it. Additionally, you will see some information about the anime and its summary here.
In the top of the site here are Popular Episodes. If you are interested in one of them you can tap on its picture and watch. A search bar is also available on Anime Flavor.
You can watch cartoons without signing up at any time.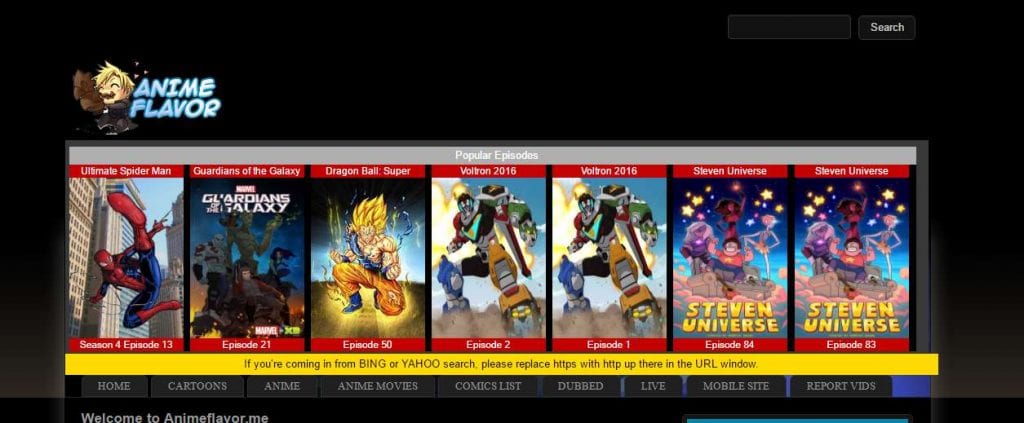 Charge: free
GO GO Anime is another remarkable site for watching anime without any cost. The design of the site is gorgeous and clear.
On the home page, you can see anime series recently released and popular ongoing update. Try it if you want! Do you like to find a cartoon you are interested in? Tap the "anime list": all the cartoons are listed in alphabetic order here. Or you can just use "search bar".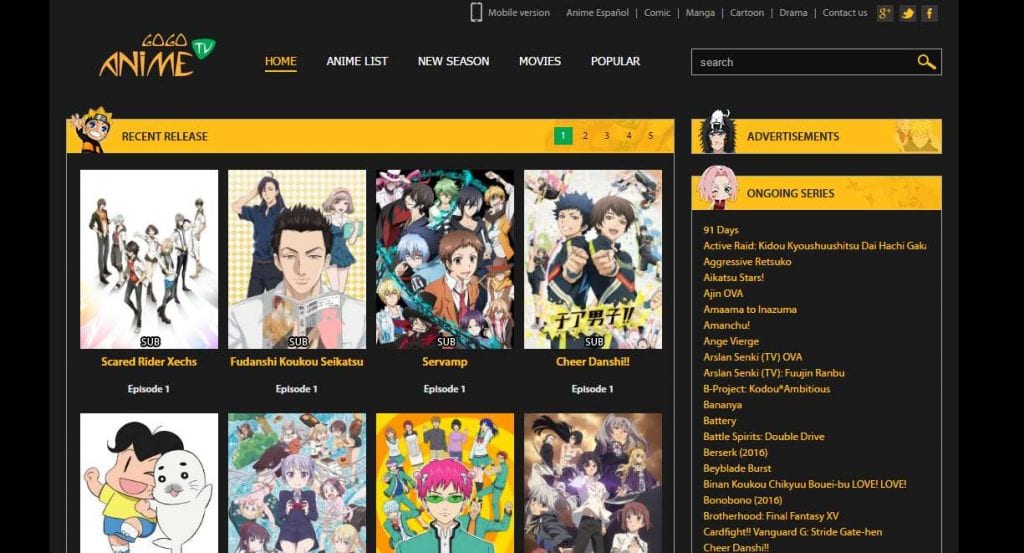 Practically all the animes are dubbed in English on this site.
GO GO Anime is the best place to watch anime online for free. You will surely be pleased!
Charge: free
Where the magic begins is the slogan of Disney Junior! Disney Junior for adults is a funny fantastic godsend for you! You can watch all Disney cartoons online here and without any pay.
The interface is very sweet and simple. Are you going to watch cartoons of Disney character like Mickey Mouse or may be Donald? You will really enjoy searching your favourite cartoon! On the homepage here are the small pictures of cartoon characters, so, just tap on the one you like and you will see the series with the particular character. It is so easy to find the desirable movie!
What's more, here are some additional services such as games, music bar, ability to download cartoon apps and some other activities.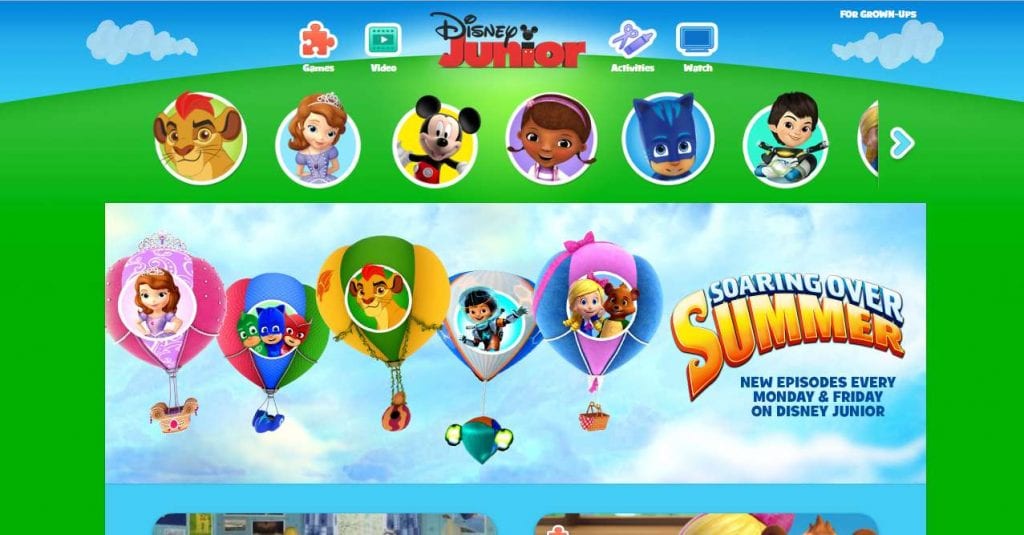 Charge: free
Nick.com is the favourite site for thousands of cartoon fans. The interface is creative and funny! Just go to the website and try it on! You will have a real fun!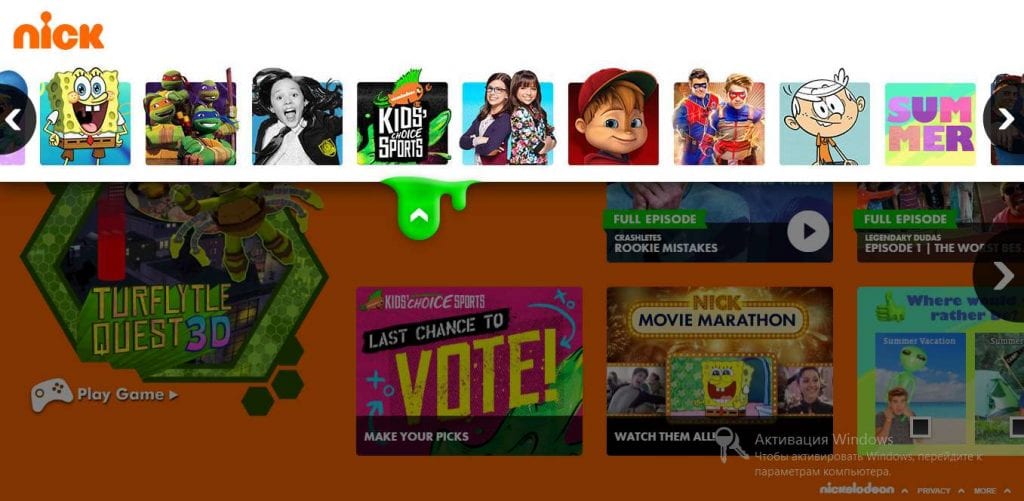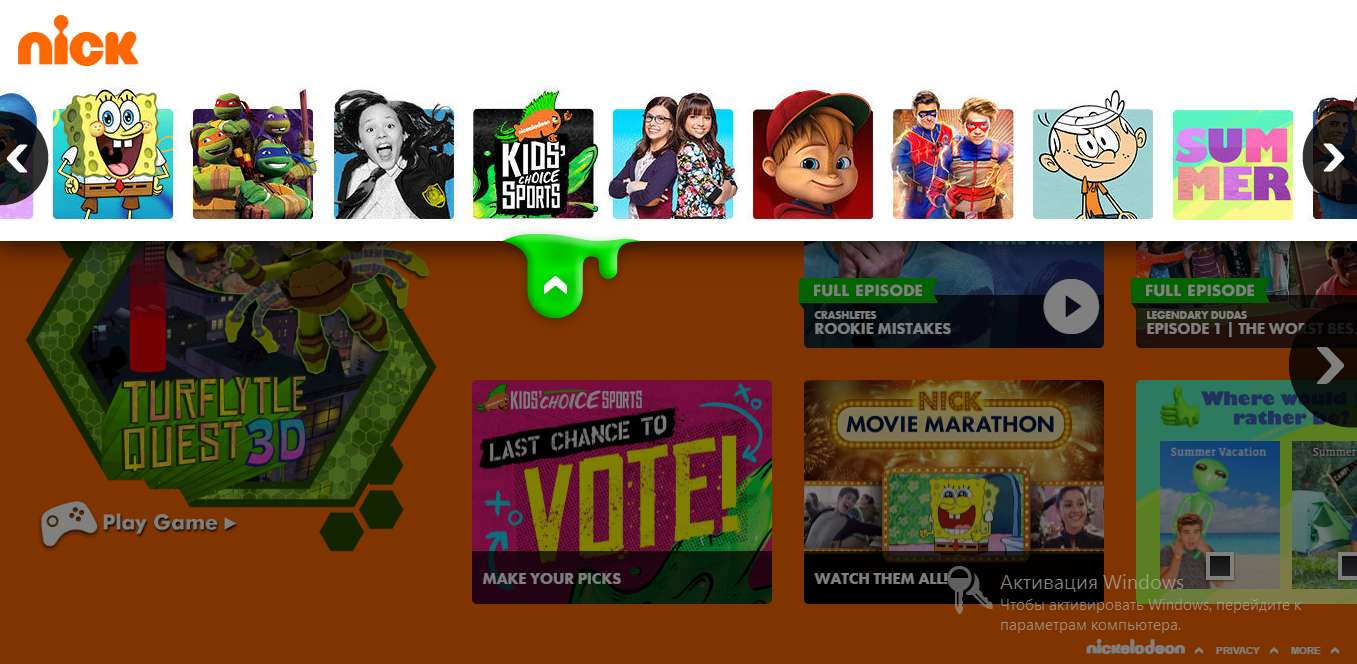 Let us notice, that this cartoon streaming site is limited to Nickelodeon cartoons only like Spongebob, Jimmy Neutron, Blaze and Monster Machines, Avatar etc. However, here are additional services like radio and games.
Once trying Nick, you'll never forget it!
Charge: free
Anime Toon is a great site for watching anime online without paying a penny.
It has a great number of Anime series in its database. You can watch dubbed anime online here. Also, you can find anime by its genre as all the cartoons are structured in groups: Action, Adventure, Comedy, Crime, Drama, Family, Fantasy, Food, Horror and more.
You will be certainly satisfied! Try it!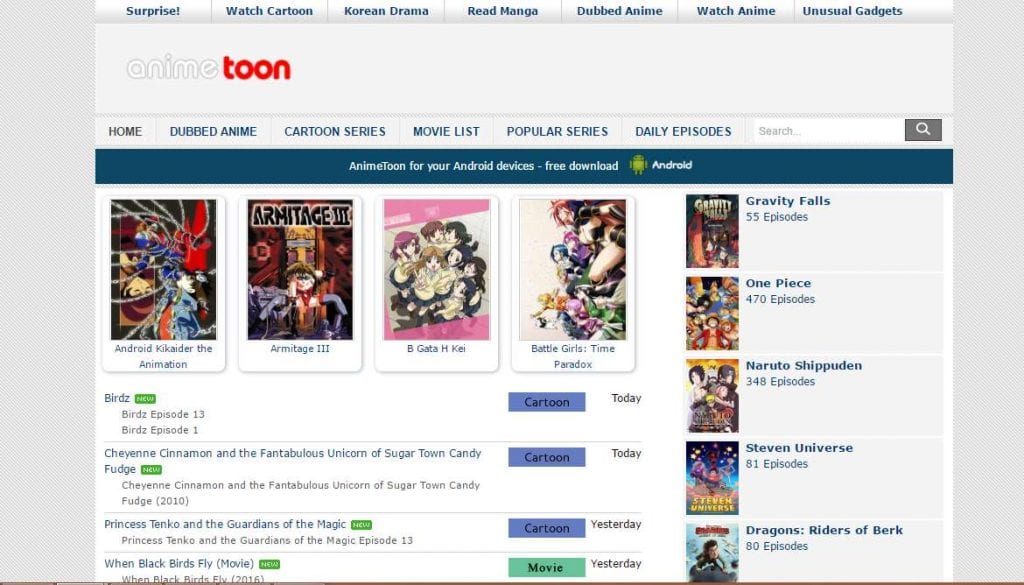 Anime Toon is also available for your Android device.
Charge: free
Do you want to watch the most popular anime series just now? Anime Center site is for you! The best cartoons are cok levied here such as Naruto Shippuden, One Piec, Fairy Tail and others.
Anime Center's interface is excellent. Animes are classified by genres such as Action, Adventure, Cartoon, Comedy, Demons, Drama, Ecchi and a lot of others. Also, Anime Center list includes subbed and dubbed anime.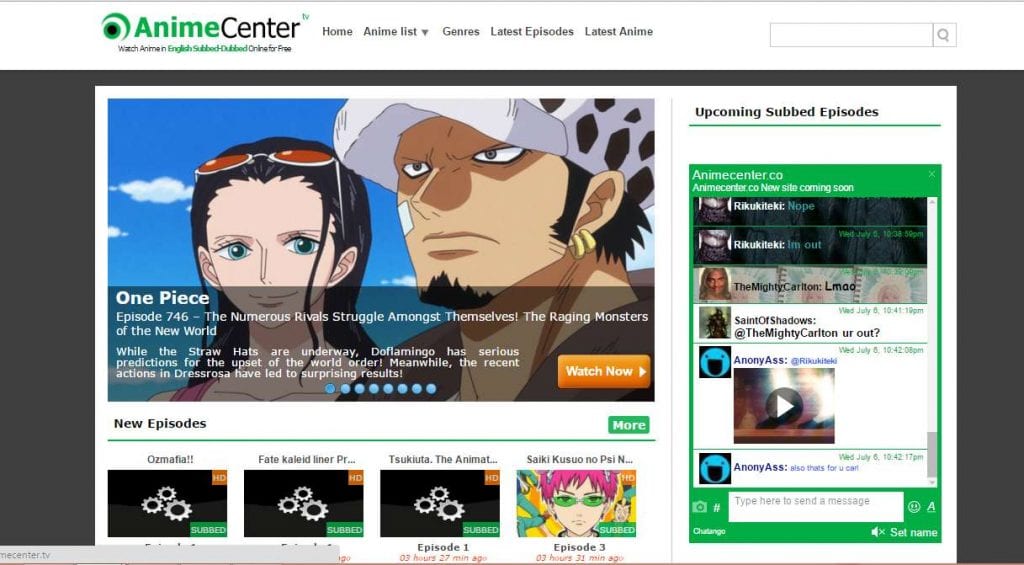 If you are searcing for the latest anime series here they are! Just tap on "Latest Anime", choose any you like and have a pleasant time.
Charge: free
If you've ever try Watch Online Cartoons you'll never forget it! You will get a great pleasure watching cartoons on this site.
Here you can watch all cartoons you like: Disney cartoons, Nickelodeon cartoons and other cartoons you may like. On this site, you can find a search box, so you can find any cartoon you like just filling its name here.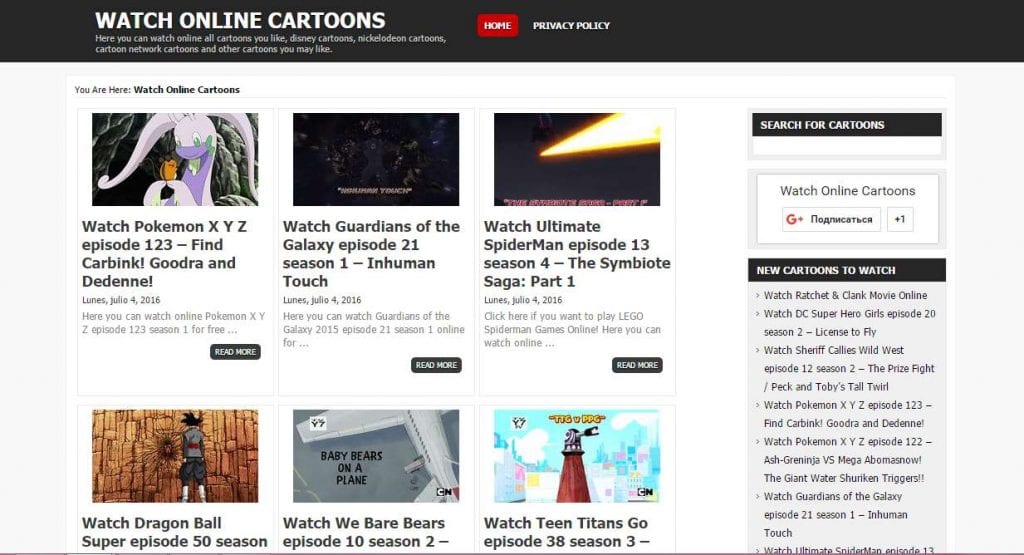 Latest cartoons immediately appear on the site .
The interface of the site is clear and has no irritating pop-ads. So, have a nice time enjoying your loved cartoon!
Charge: free
Boredom kills. Isn't it? How about replacing the most boring, lazy and annoying time with enjoying and exciting moments? Visit this site: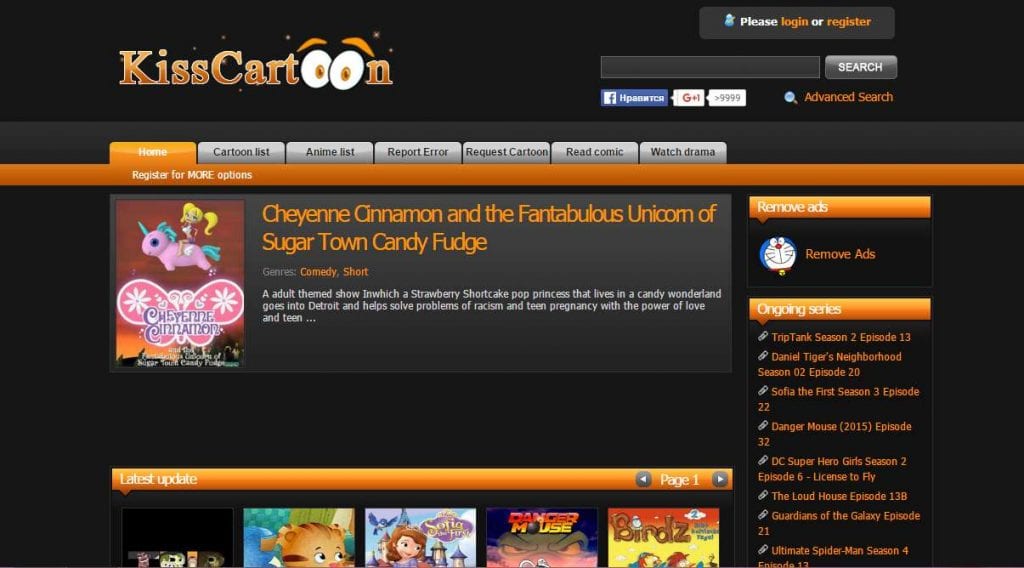 Kiss Cartoon includes Cartoon list as well as Anime list. If you tap Anime list you will be thrown to another website connected with the previous one: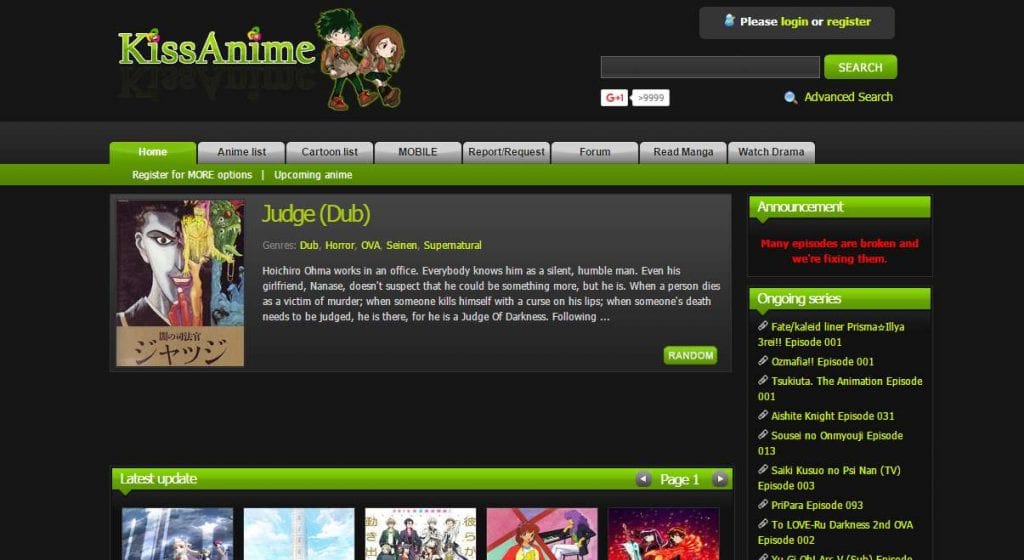 Using any of this both sites you can search cartoon by status (ongoing/completed) or by genres (Adventure, Biography, Crime, Cars, History, Musical, Ski-Fi etc.). Choose cartoons according to your preferences.
You can register on Kiss Cartoon/Anime and as a member you can use bookmark cartoon (this feature will notify you automatically about new episodes), default HD, disable autoplay and some other additional options. Just fill in the box: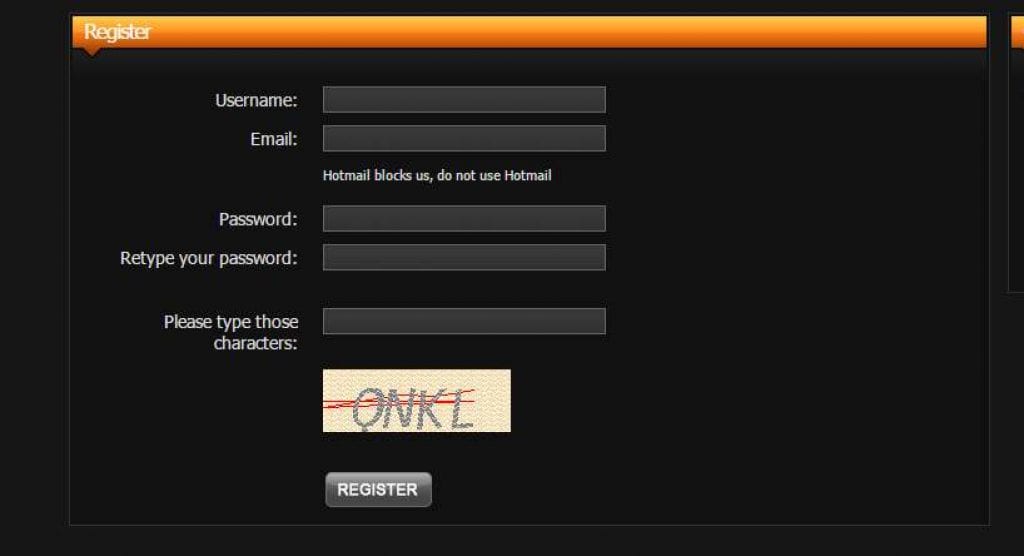 Kiss Cartoon/Anime are such outstanding tools for watching cartoons online for free!
Charge: free
SuperCartoons is one of the user-friendly sites. Here you can watch more than one thousand classic cartoons online for free.
You can watch old animated Disney as well as Looney Tunes and many other cartoons using SuperCartoons.
The menu is clear. So you can find a cartoon by its character (Tom and Jerry, Mickey Mouse, Road Runner, Daffy Duck, Pink Panther, Goofy, Porky Pig, Tweety, Speedy Gonzales and more!)  tapping on "Characters" or you can choose a cartoon from your favorite studio (Walt Disney, Disney, Warner Bros, Hanna-Barbera, MGM, Universal Studios, Paramount Pictures, Columbia Pictures, Filmation Associates, 20th Century Fox and many others) tapping on "Studios".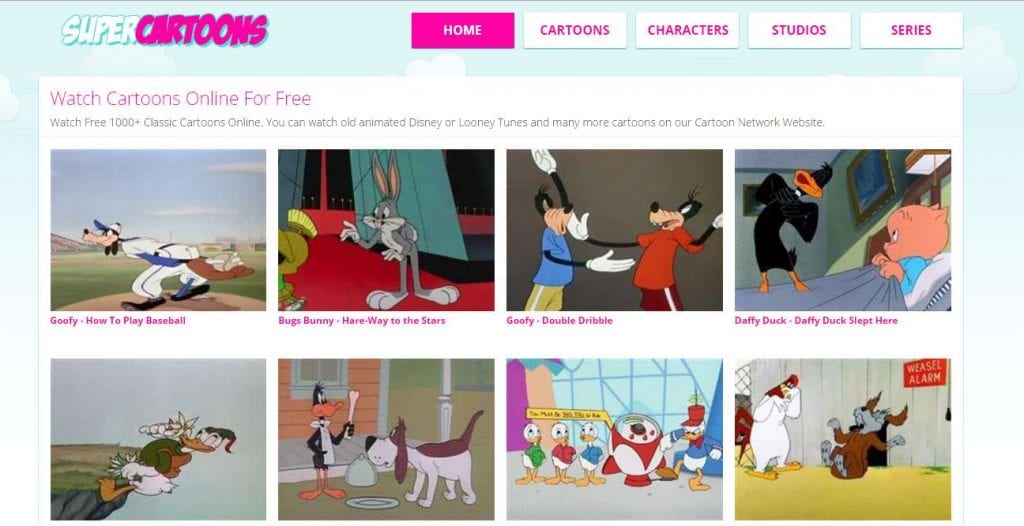 You can have an exciting time watching cartoon series without downloading and registration.
Charge: free
Vimeo is one of the world's largest community for watching videos. You can create, watch, download, share or download cartoons for free or by going premium. You can upload cartoons, rate and comment and meet other cartoon fans. You can join the site filling the form: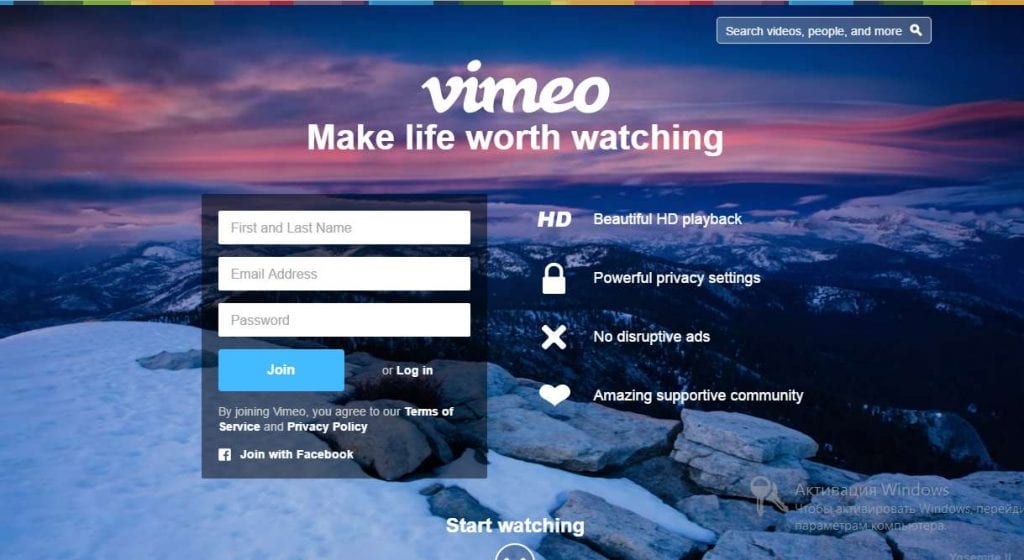 You will get some additional options doing that way.
You will be glad to have such an awesome website for watching cartons every time.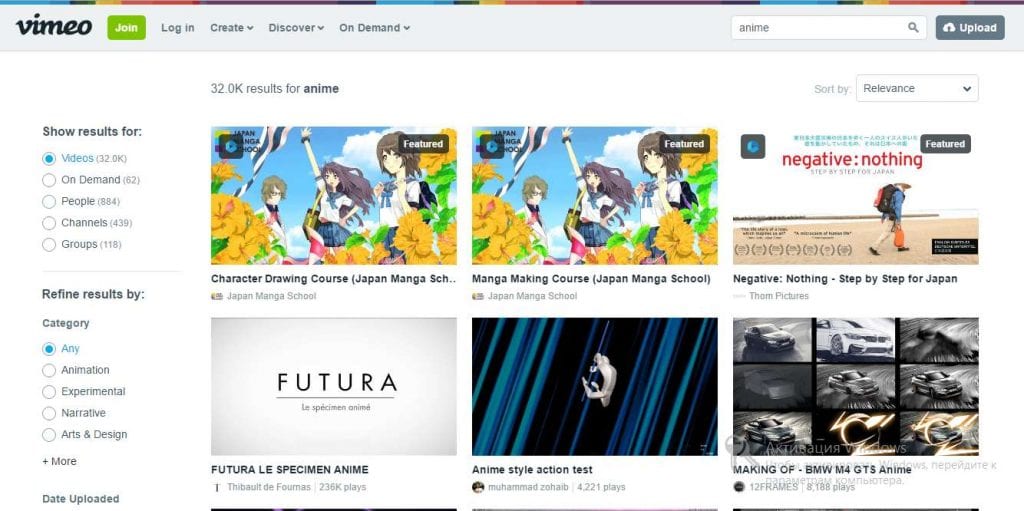 Charge: free
Hulu Watch Cartoon is a legal site to watch cartoon shows online for free. It provides you high-quality videos without any problem that's why it is so popular.
But there is an issue that it isn't accessible in all parts of the world excluding countries like the UK, US etc. For this, you have to use VPN. You can get PD-Proxy Premium Account from here. The Android mobile users can use DroidVPN for the same purpose.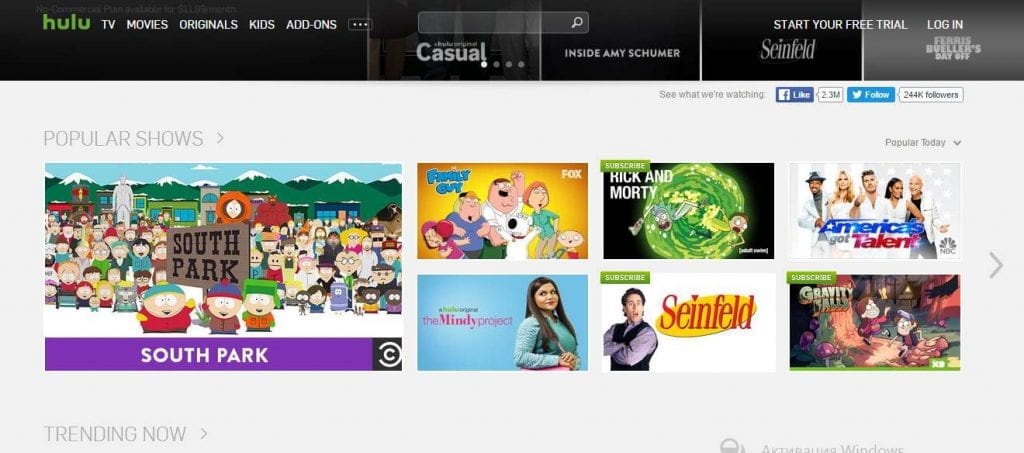 Charge: free
New Grounds is a community where you will find a great collection of cartoons and even games and music!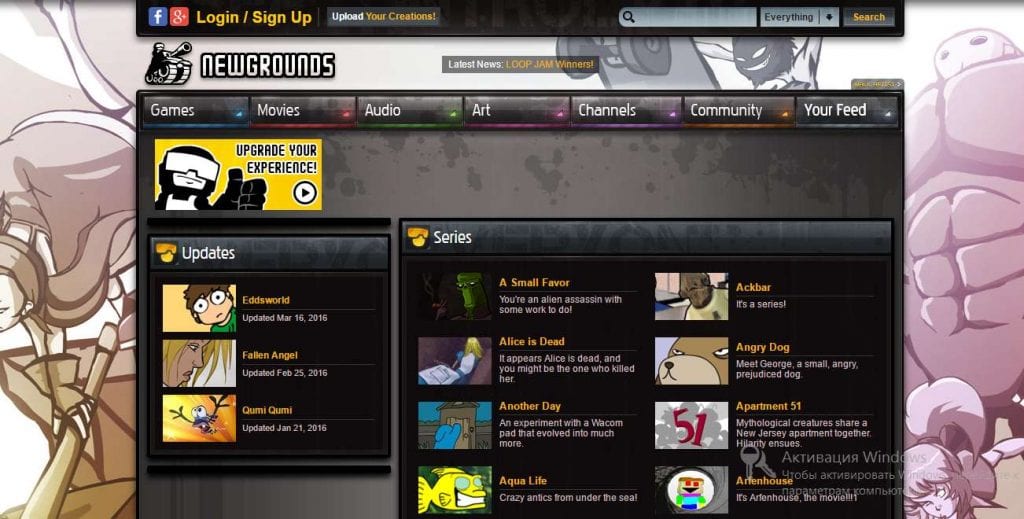 You can sign up here to have additional options: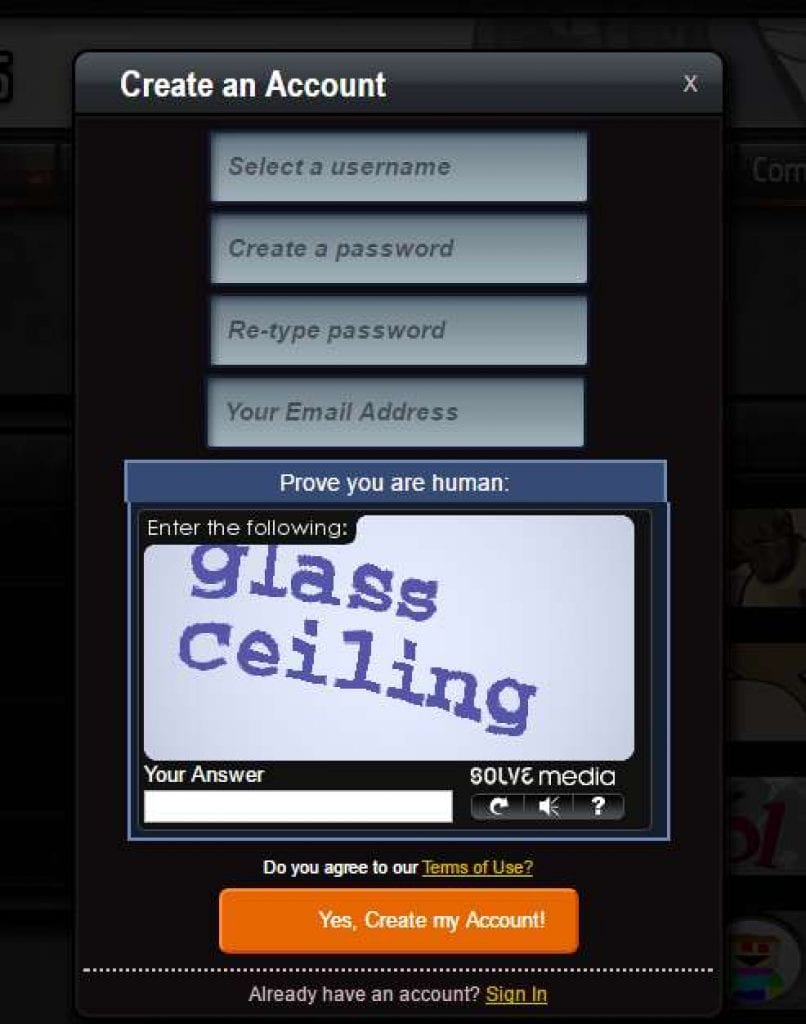 Also, you can create cartoons and upload your creations on New Grounds: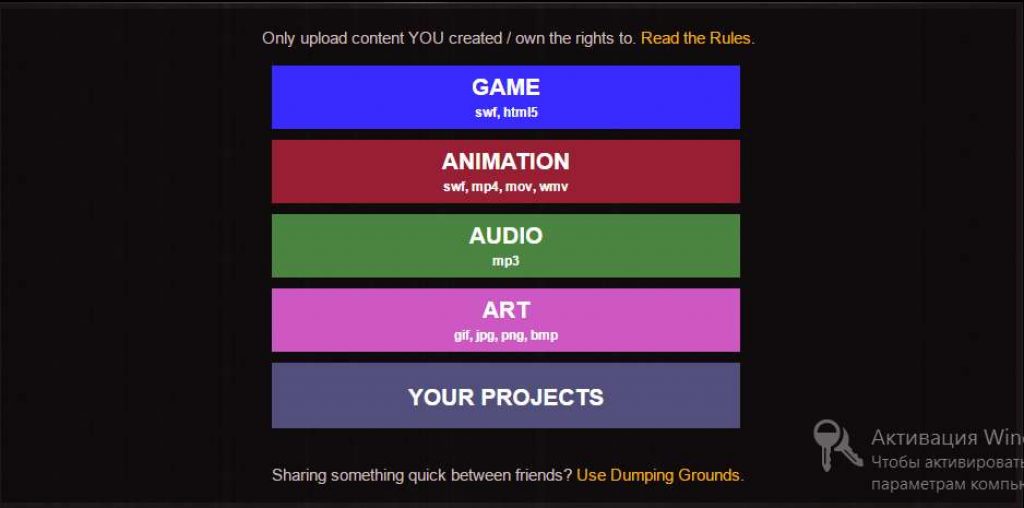 Share your creations and favourite cartoon with friends!
New Ground's slogan is "Everything, by Everyone"! Don't be bored, just have fun!
Charge: free
Another one of the top sites for watching cartoons online for free is Side Reel.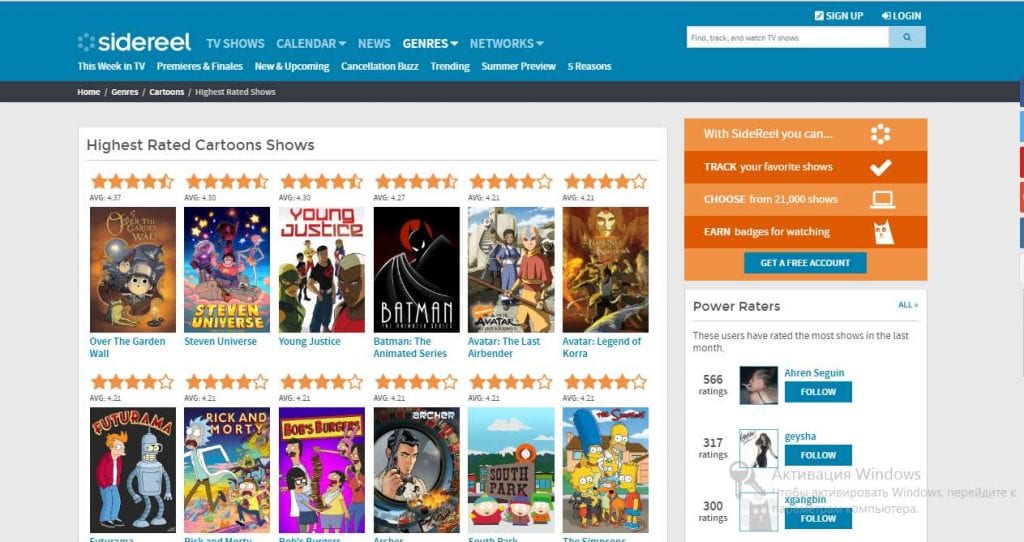 Here you can see the list of the most tracked shows such as Family Guy, South Park, The Simpsons and more. What's more, you will see Cartoons Premieres and Finales and the release dates. This way you are the first who knows and sees new series! It is cool!
Sign up with Side Reel and enjoy such points as:
*Track your favourite series
The track, rate, and review your favourite TV cartoon series and find out what our expert community members have to say.
*Discover new cartoons
Side Reel offers recommendations based on the cartoon shows you've already tracked and rated, so they're tailored just for you.
*Bring SideReel on the go
The site's iOS app gives you the ability to organize your TV addiction from anywhere! Track and rate right from the app, and get reminders before your favourite shows air.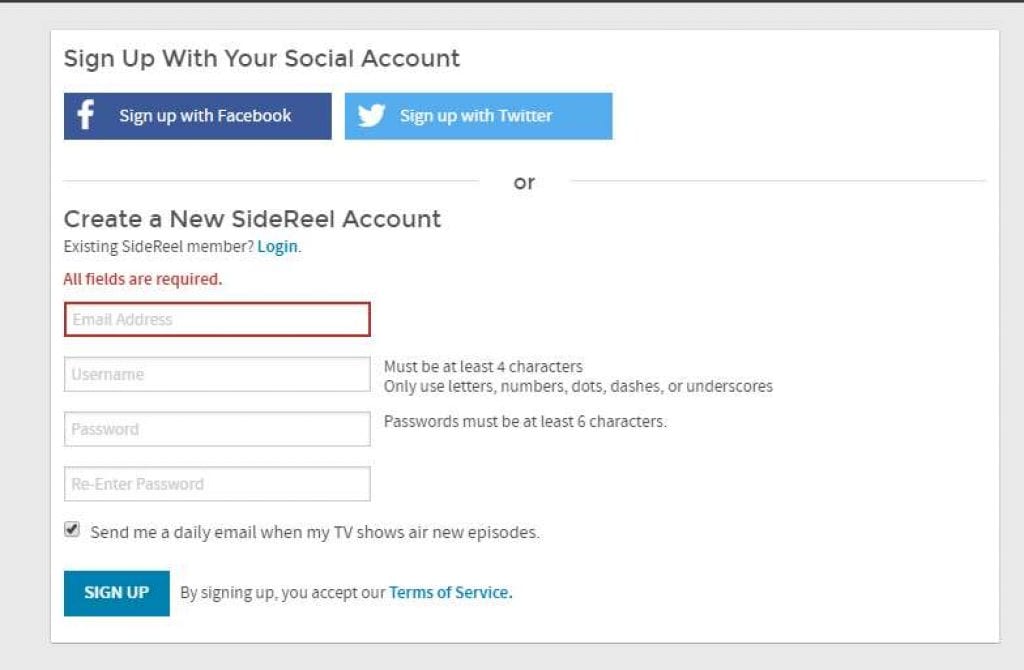 New cartoon series are waiting for you!
18. Cartoons8
Charge: free
If you are a fan of cartoons, then Cartooons8 is just for you where those fun, exciting series are waiting for you. Here are the lists of top cartoons and most viewed ones (Shokugeki no Soma S2 (2016), DreamWorks Dragons Season 5 (2016), Angry Birds (2016). Naruto Shippuuden (2007-2016) .
Moreover, you will find subbed and dubbed cartoons.
You can register on the Cartoons8 and share Cartoons8 with your friends.
Watch cartoons online for free without downloading! It is so easy!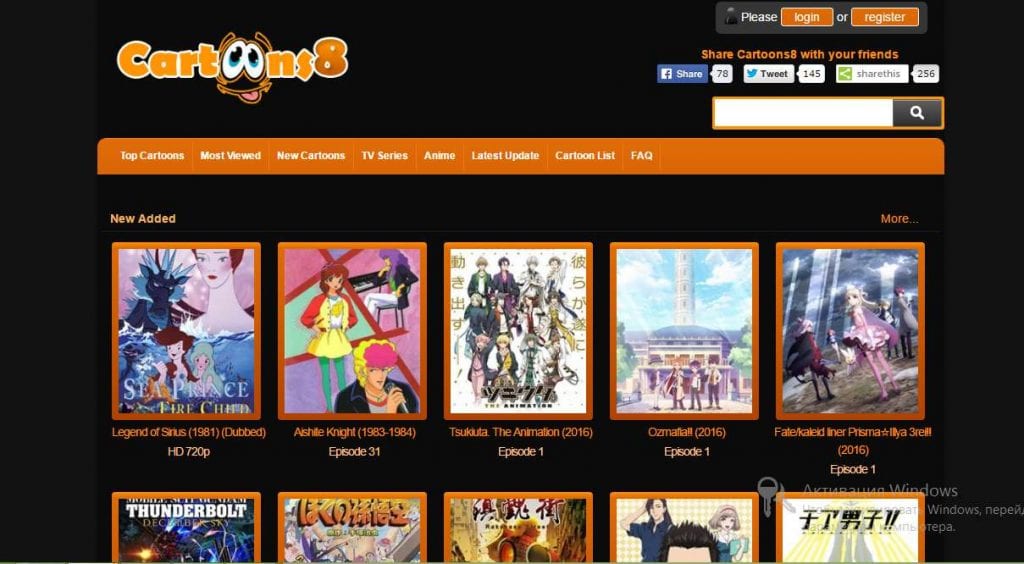 Charge: free
With Comedy Central you will have a great collection of animated movies and cartoon series with no sign-up or download. Here you will find such popular series as South Park, Futurama, Ugly Americans, Drawn Together, Professional Therapist, and others.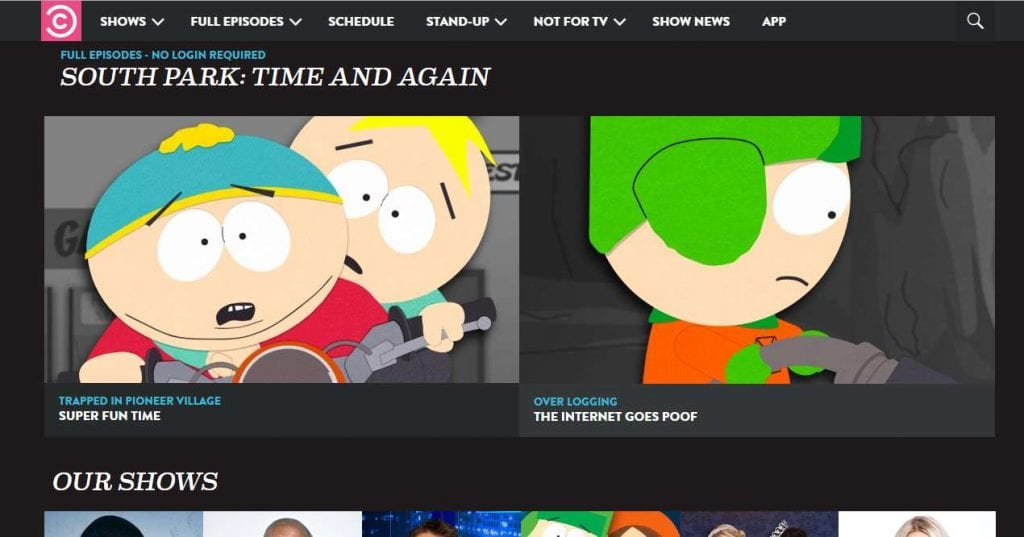 All content on Comedy Central is absolutely free.
Charge: free or paid
Disney Video is the most magnificent site for those cartoon fans who prefer classic animes.
Also here are exciting shows of Finding Dory, Frozen, Zootropolis, The Lion Guard and many others.
You can watch your favourite Disney videos from many channels on this site.  You will find recommendations for you with the cartoons that are worth watching.
Watch clips, trailers and more of your favourite Disney movies!
You can even play games using this website.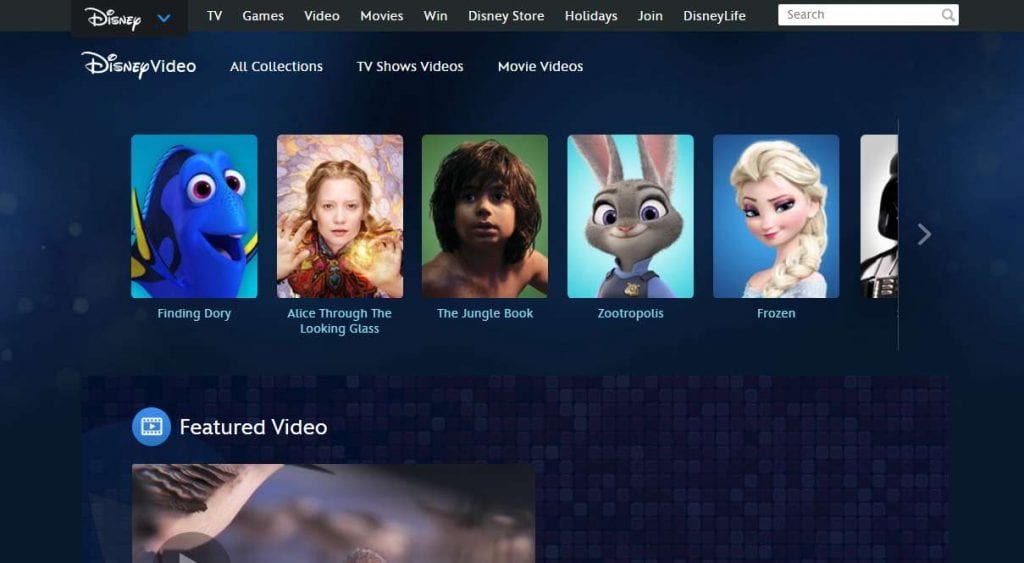 Charge: free
Are you crazy about South Park show?! The website South Park Studios is just for you!
It allows you to watch full-length episodes as well as clips of cartoons.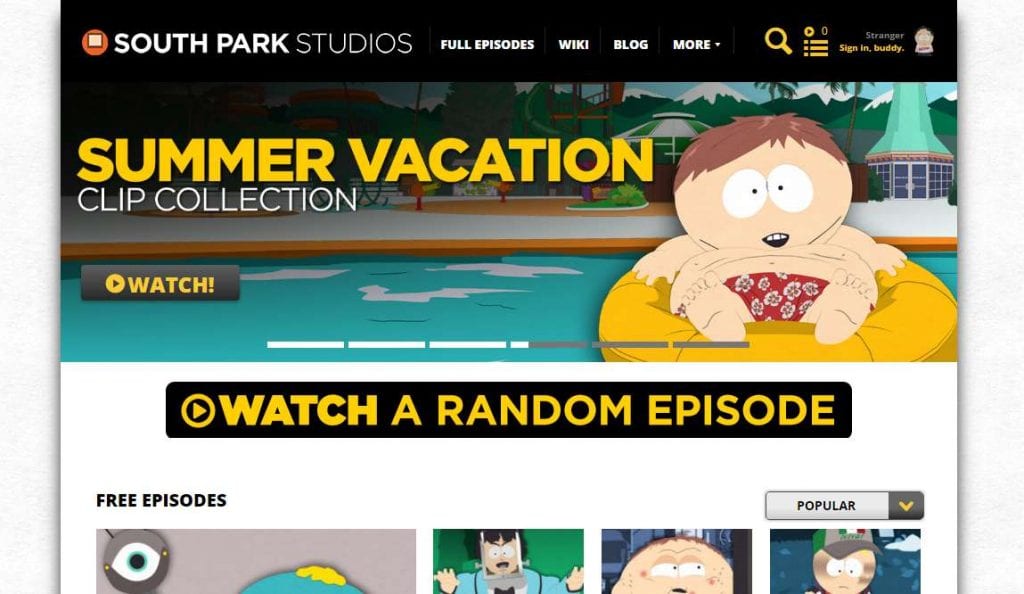 Are you a fan of Eric Cartman or Kyle Broflovski, or may be Kenny McCormick is your favorite one?
Just tap on "WIKI", then "Characters" and you will see the full list of South Park Characters.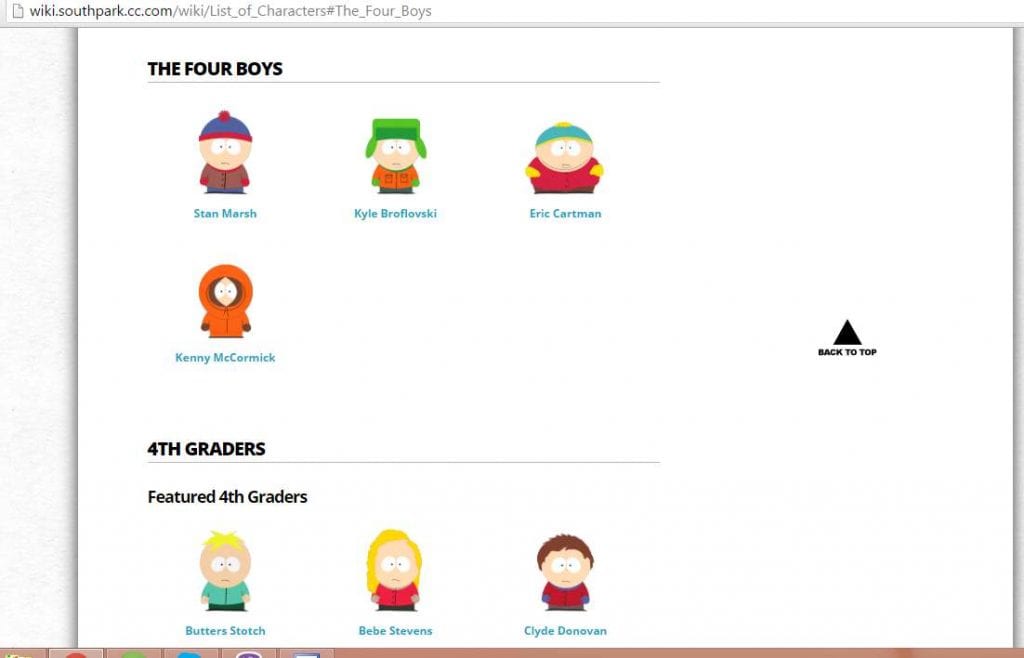 Choose the picture of any character and read all information about him. What's more, you can choose featured episodes on this page directly linked with the hero and watch them!
You can sign up here, buddy!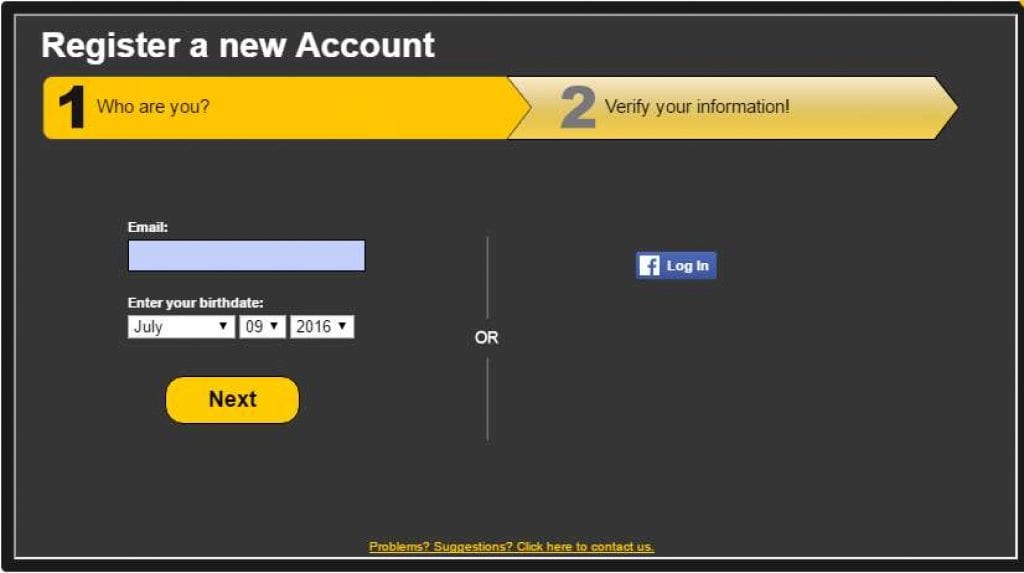 The interface of South Park Studio site is perfect and bright! You are going to like it!
Charge: free
If you are interested in classic animes, then Cartoon Park is for you.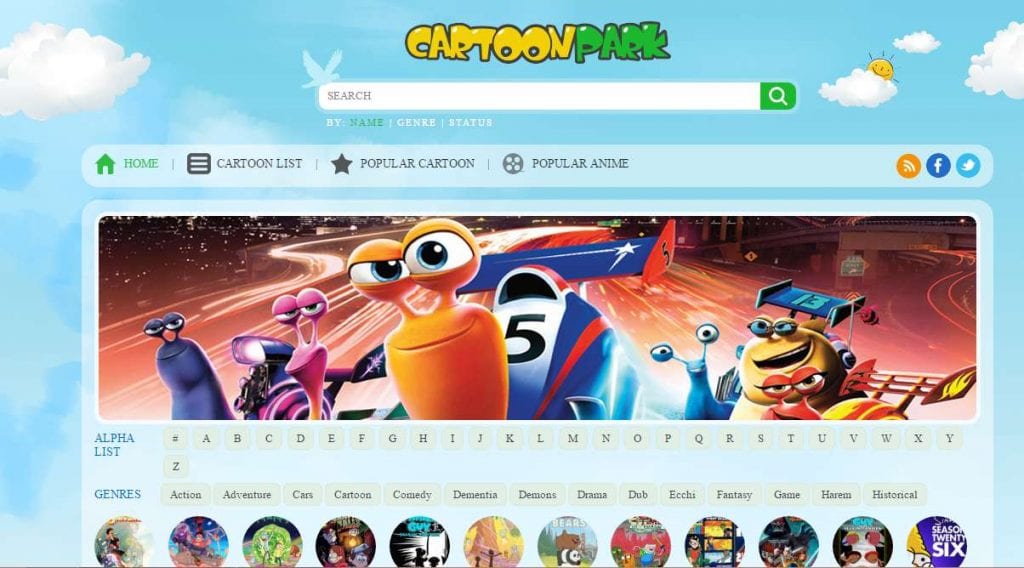 This is a website where you get to watch free cartoons with English subtitles. You can get subtitles with all the cartoons showed on this website.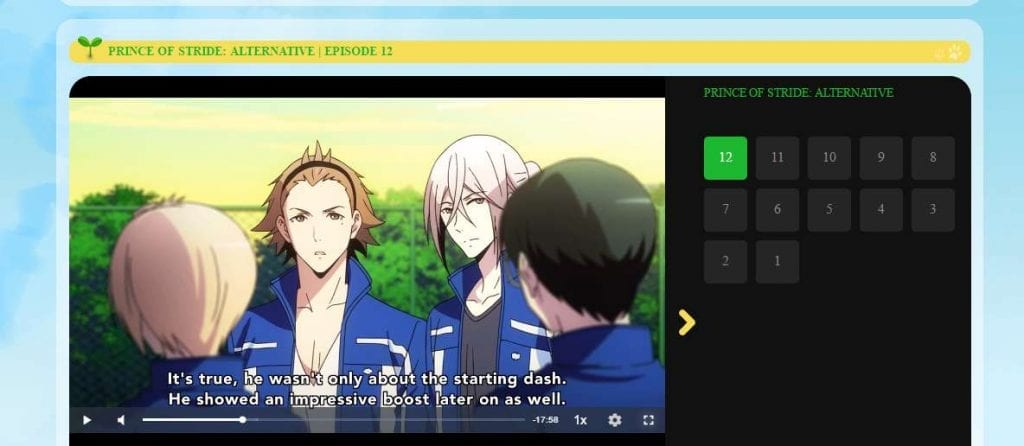 Also, the best part of this site is, you will get free online high-quality cartoons, watch them and download them for free.
The interface is perfectly organized and clear. On the home page, you can choose popular cartoons and anime as well as the latest ones or choose cartoon from the lists which classify them in alphabetic order or by genres.
Using a "search box" you can also find your favourite cartoon fast and easy. You can search by name, genre or by status.
The unique feature of this site is that you will get to watch the cartoons on your mobile phone as well as on this site.
Charge: free
Cartoon Network brings you the best cartoons anywhere, including full-length episodes, animated shorts and more.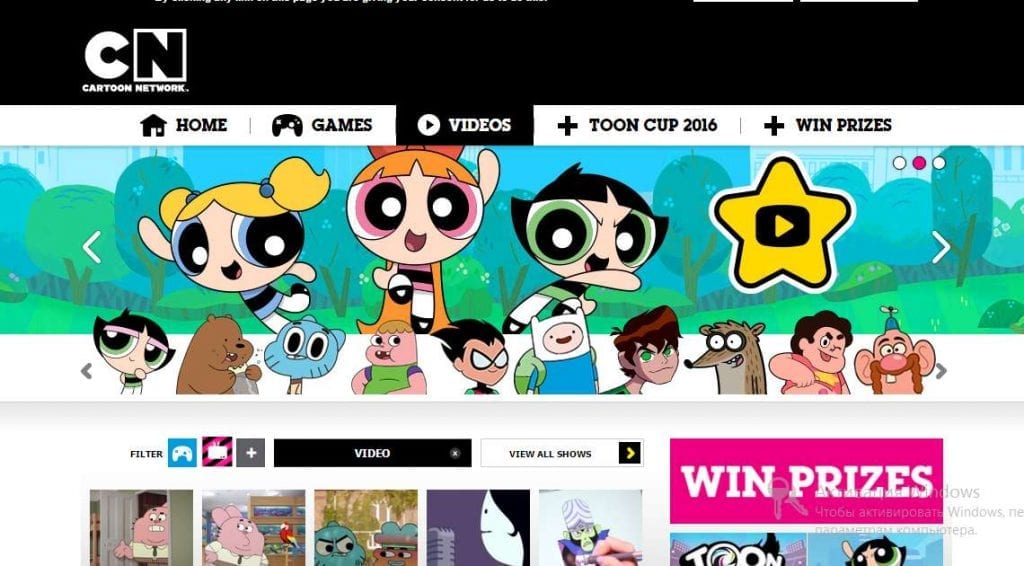 You are also able to play funny games with your favourite characters.
One more pleasant thing is that you can watch the cartoons on your mobile phones.
Watch funny cartoons with pleasure!
Charge: free
KissPanda is the site for the real fans of Family Guy, The Simpsons, American Dad, South Park and Futurama.
The menu is easy and simple, so you will easily find any episode you like.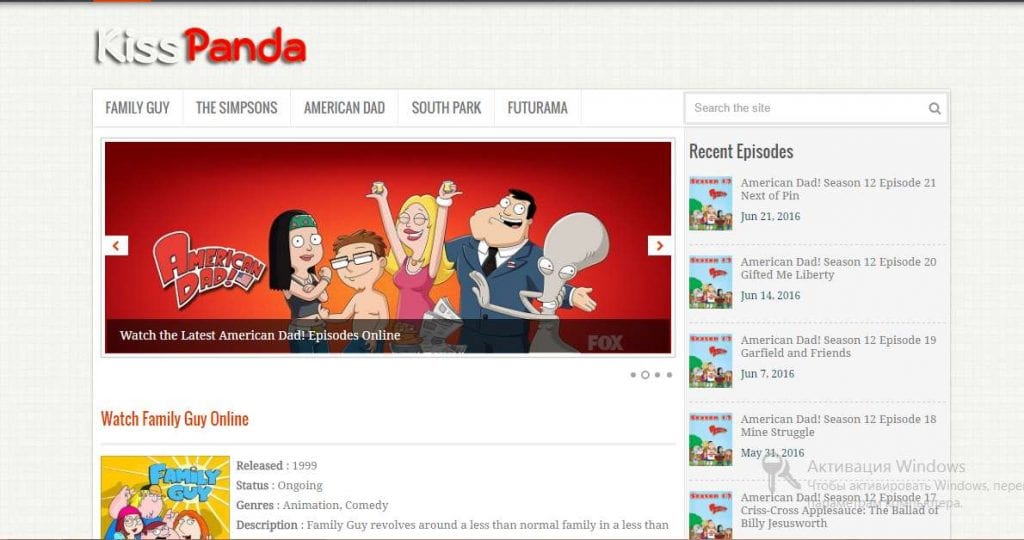 Are you bored? Open KissPanda and have a relaxing time!
Charge: free
Boomerang is home to your favourite cartoons, videos and free games. Here you can find old series like The Flintstones, Garfield, Tom & Jerry, Pink Panther and much more.
Play games online with your favourite Boomerang characters, like Scooby-Doo games and Tom and Jerry games. Watch free clips of your favourite TV shows like The Flintstones and Pink Panther and Pals! The interface of the Boomerang is wonderfully organized!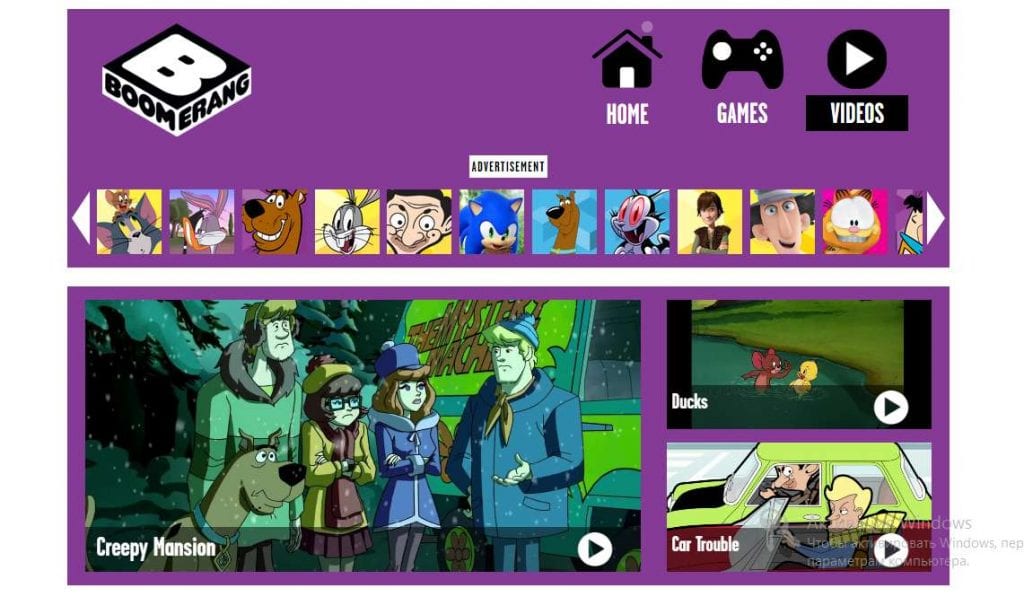 Charge: free
With Ovguide you can watch the best animes online in one place! Find your favourite cartoons from around the Web easily.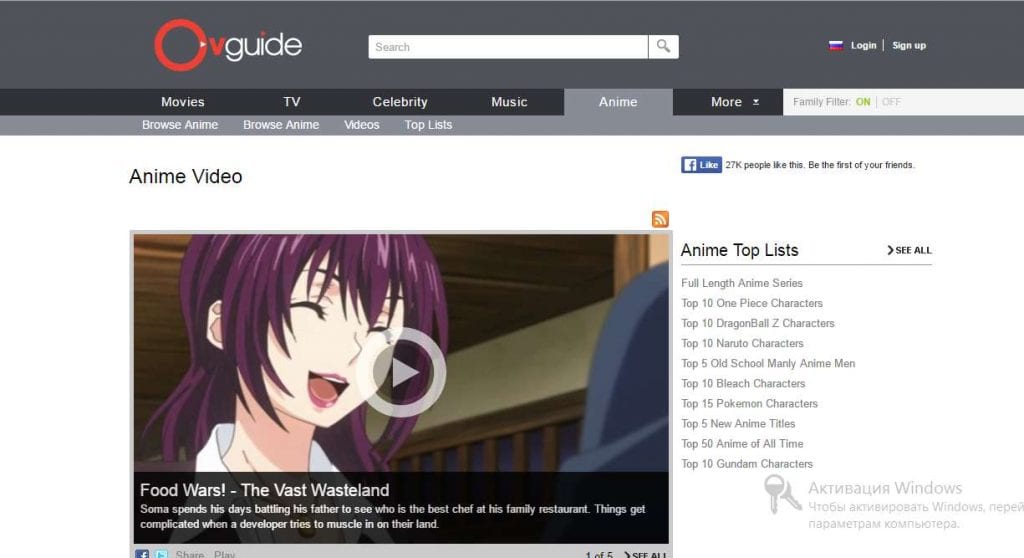 You can sign up here. You will get personalized recommendations, bookmark your favourites and more…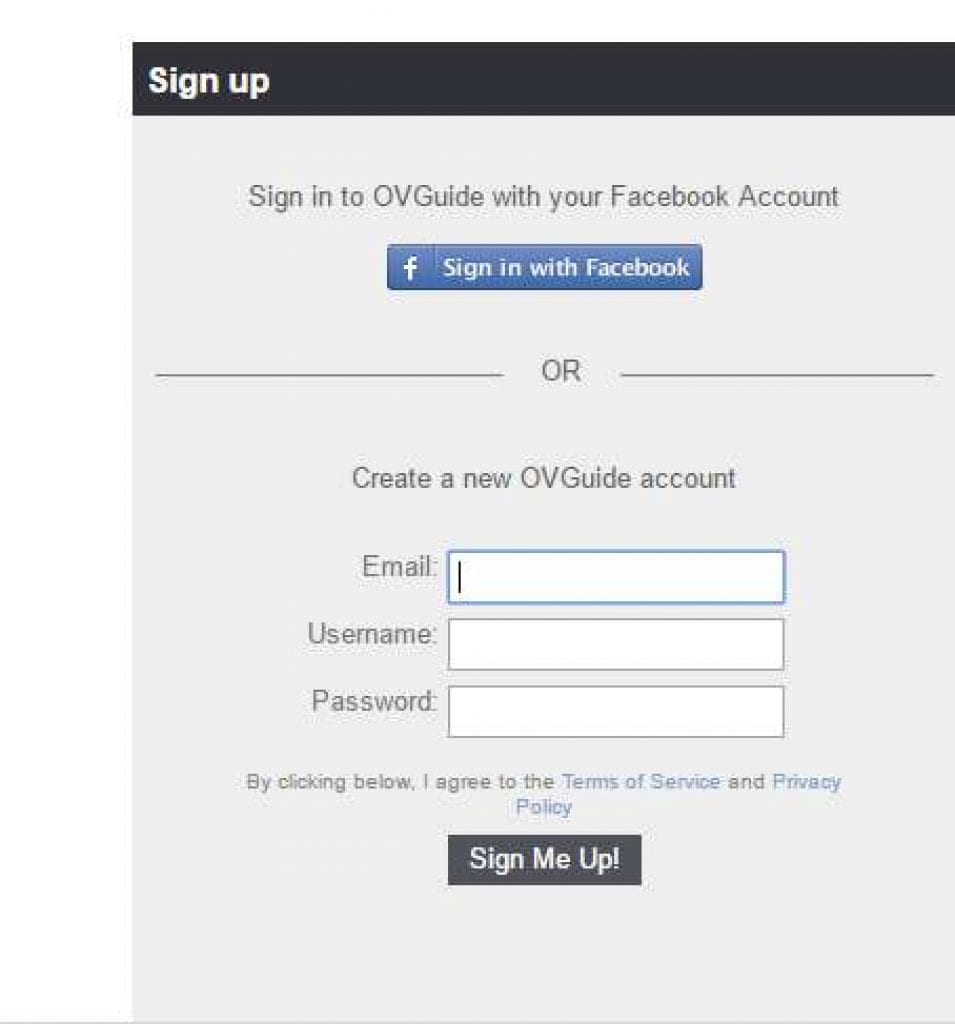 It is free and easy!
27.

Maker.
Charge: free
Maker. is a cartoon website with the best-animated videos from professional and up-and-coming producers. You can watch thousands of animation shows, cartoons, comic book series & reviews here.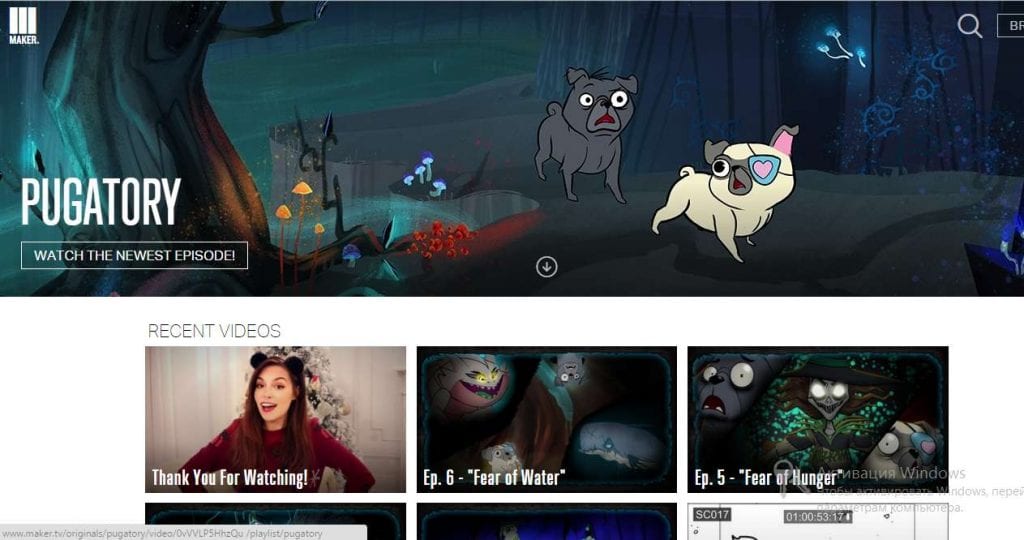 Charge: free
Watch Anime Dub is a perfect service to watch cartoons/animes online. Here you will find the lists of subbed and dubbed animes and the cartoon list. All the lists are structured in alphabetic order, so it is easy to find a cartoon by its name. Or you have also an ability to use "search board" to find what you want.
Watch Anime Dub site offers full-length episodes online.
The interface of the site is clear and colourful.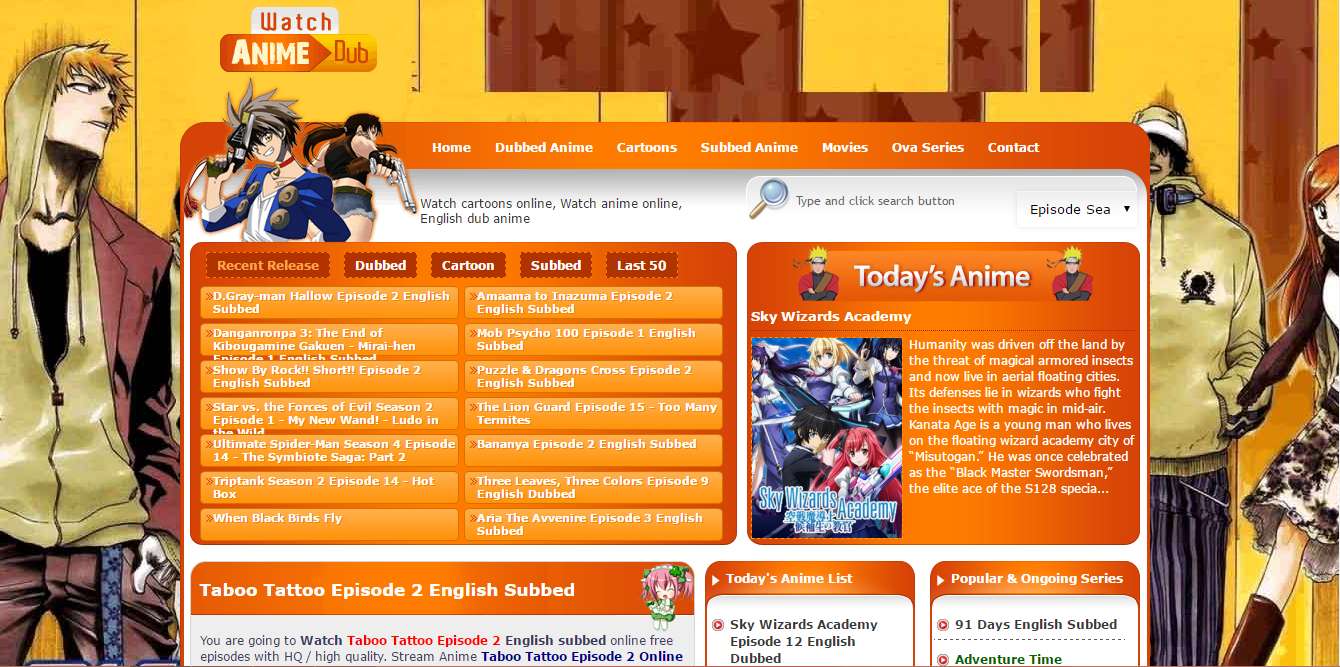 Charge: free
AllMyAnime is the website which you should visit if you call yourself a cartoon fan!
Here are great lists of cartoons and animes which are structured in alphabetic order. Here are latest updates, newly added cartoons. The animes are subbed in English.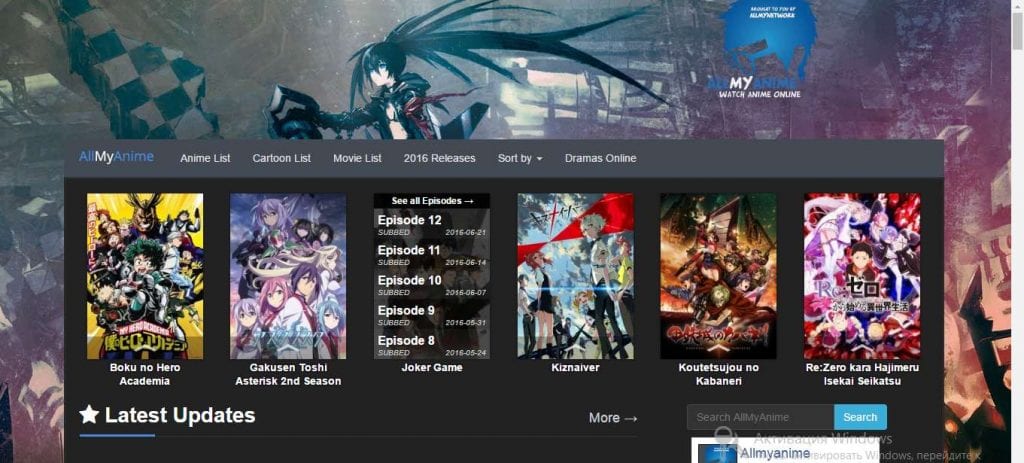 Charge: free
Do you want to find a website for your beloved kid where the one could spend time usefully? Here it is! Cartoonito is the best site for kids. It provides fun, entertaining and light educational videos even for pre-school kids.
You can choose any educational cartoon show by tapping on it. On your screen you will see all the episodes, so, you can choose any you like.
On the Cartoonito you will find a lot of additional services: games, songs and different activities. Be sure, your child will like it!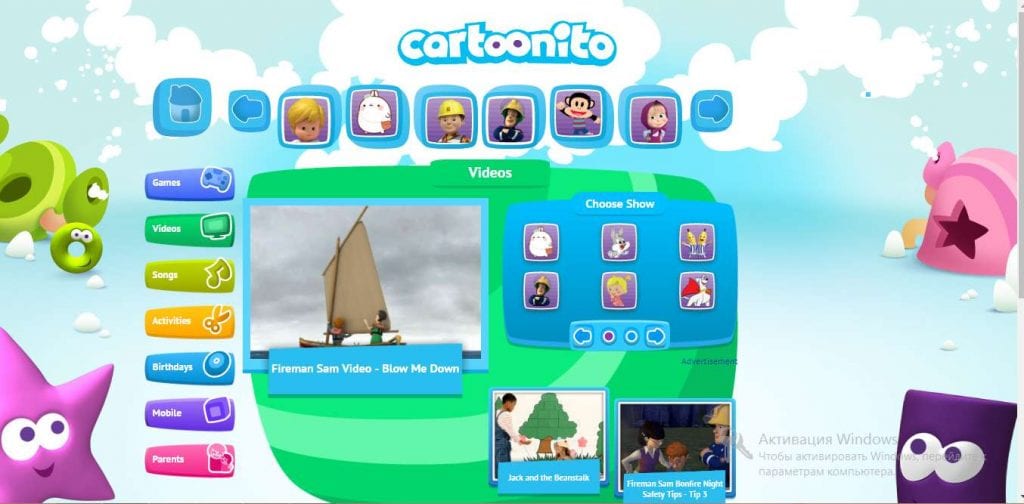 So you have got a decent list of 30 websites for watching cartoons online for free. Based on your interests, you can choose to go with any of them or altogether. It's all up to you. For you, it may be a great chance to relive old moments or to have a pleasant time watching the latest cartoons or just to kill boredom. Hope you will be satisfied.