Wanna skip all this headache-giving work related to inviting guests to your party? This article is here to help!
There are plenty of free guest list maker apps & websites in 2023 that will help you manage the event attendees like a pro. These apps let you easily create guest lists of any length, monitor the invitation responses, and check people in as fast as possible. Plus, some apps come with other useful party planning tools, so you're all the way covered.
We've gathered together the 9 best apps in that category you may try. Have a look!
Guestlist
Let's start with an app for event managers, that makes guest list creation easy.
This app is one of the best options to manage guests at any event possible. It relieves you from all the annoying paper guest list work and lets you cope with everything effortlessly. It lets you create various events and build separate guest lists for all of them. Herewith, the number of guests to add to each list is unlimited, so no worries.
In case you already have a list of guests in any other program, such as Excel, you may easily import it into the app. Once the event has begun, you get to check the guests in using the app. To check someone in, you just need to scan a code from the paper or email an invitation. This tool works offline, which is handy.
Plus, the app supports several types of codes, so you could work with any of your choices. There are also some analyzing tools to track if any guests haven't attended the event yet, and all that. You'll also get to add new guests in one tap if needed.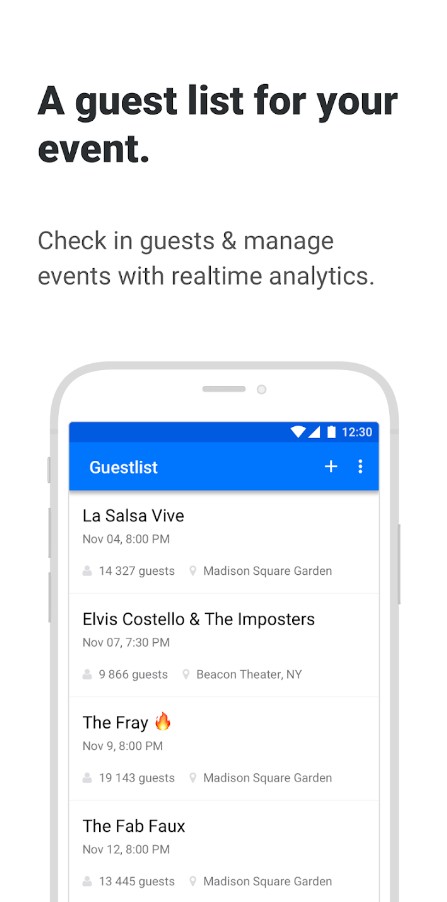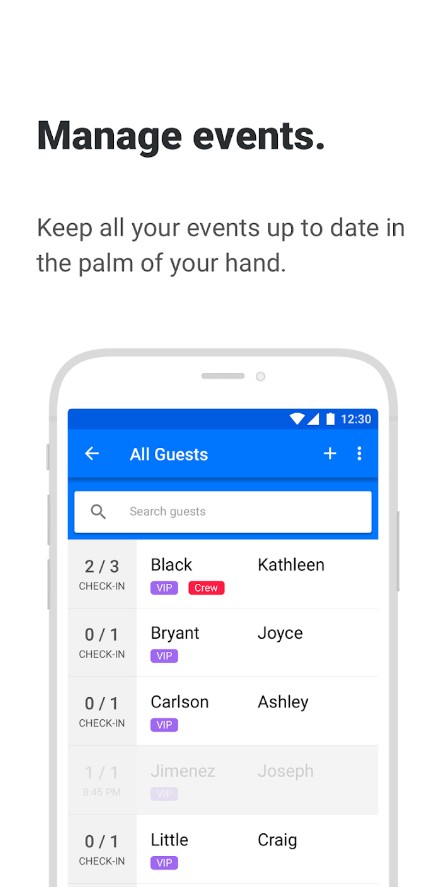 You may also like: 11 Best Event Planner Apps
Eventor
Next, we have another event management app that will help you to handle any party like a pro.
The main goal of this app is to ease the guest managing routine, and it gets the job done pretty well. Although the app claims to be professional software, it's quite simple to use, so no worries here. The app doesn't have any limits on the number of guests on a list, and you get to monitor various events at once.
Just like the first app, this one lets you import pre-made guest lists from other programs like MS Excel. It also syncs in between the devices. You'll even get to make custom guest cards for all the attendees. Such cards usually include a photo, a phone number, and an email.
You may also give some guests a VIP status if needed. Beyond that, the app lets you check in the visitors during the event. The check-in happens via QR codes on paper or digital invitations. Herewith, you get to search among guests and track the ones that are late or smth. It's also possible to add an extra guest as well.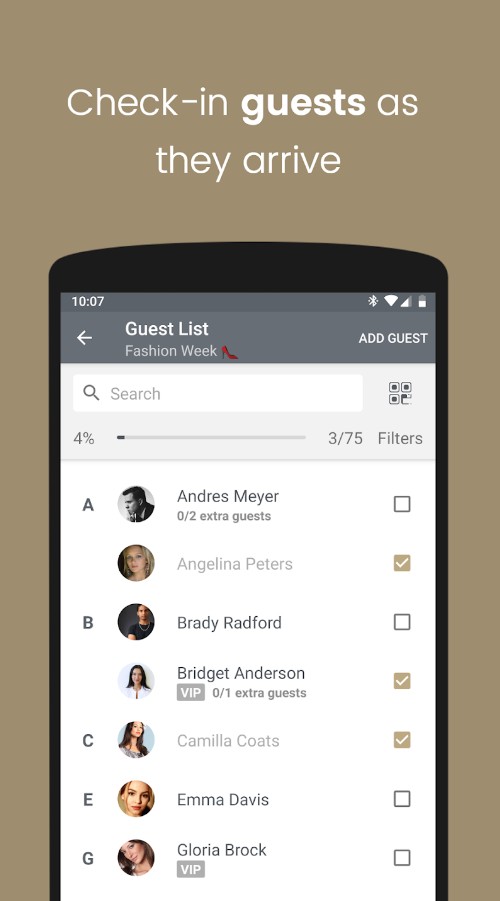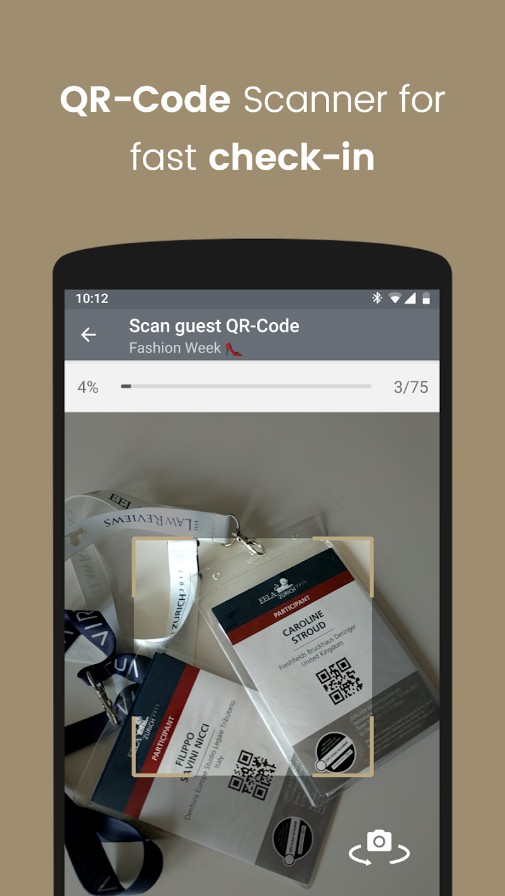 The Knot
It is a wedding planner app that comes with a guest list-making tool.
Of course, this app is more narrowly themed, but if you're planning a wedding – this is an absolute must-have. It comes with a guest list manager that lets you add as many attendees as required. Plus, you get to upload spreadsheets from other apps and add people from your contacts as well.
The app also lets you add guest details such as a pic, a phone number, an email, and maybe their plus ones. Once it's done, the app will monitor the invitation repeats, send RSVP reminders, and even send wedding updates to them. You'll also get to create multiple which-lists, to-do lists related to the event, and more.
The app also provides you with a full-on free wedding website. You'll get to choose between over 600 site templates, registry forms, and more. The app comes with a countdown widget, so you could always keep an eye on the time you've left till the big day.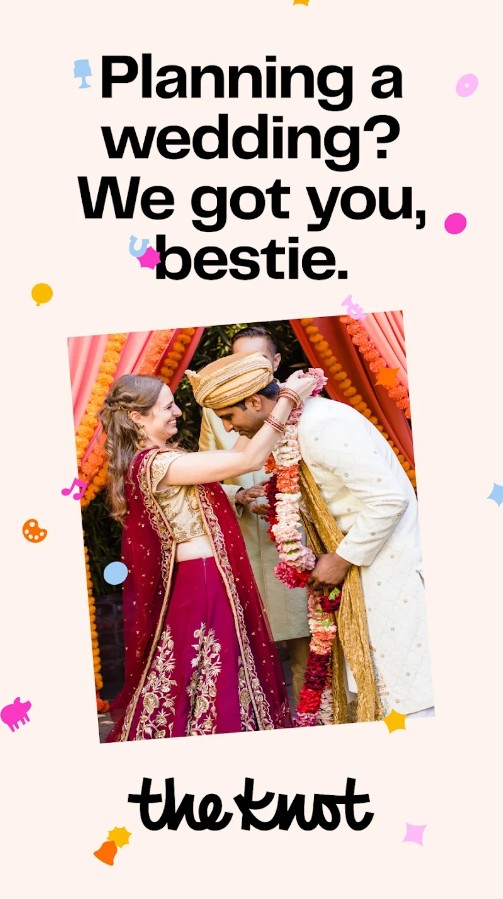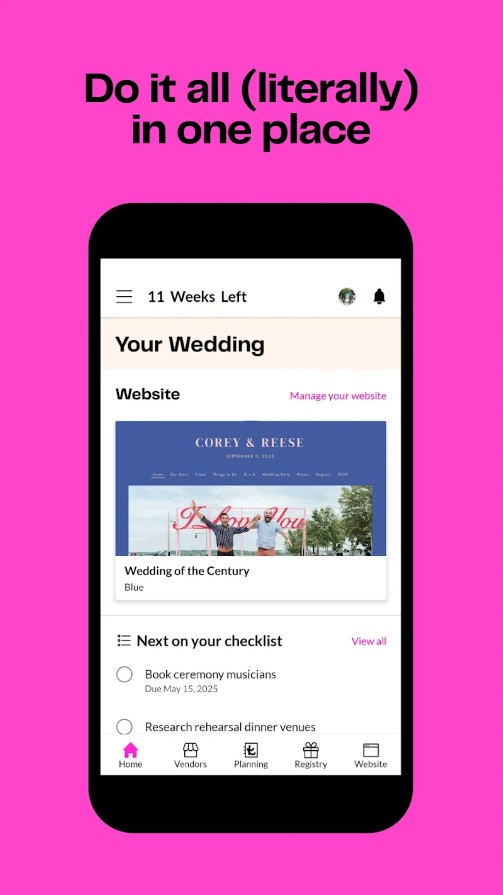 Splash Host
This is an app that helps you with event management.
Regardless of the event, you're trying to organize, this app is here to help. It's originally made for pro event marketers, but it's intuitive to use, so you won't have issues. It lets you manage multiple events at once with as many attendees as needed.
The only thing is you have to add the event via a website, the app is only here for management. What you can do here is you can plan and keep an eye on the program of the event, organize the guest list, and more. There are no limits on the number of guests, and you can quickly search for someone specific.
Plus, the app lets you check in the guests with a single tap. To do that, you just need to scan an invitation QR code with the cam. This tool works offline, and you may also set the app for the guests to self-registration. It also syncs between the devices, which is handy.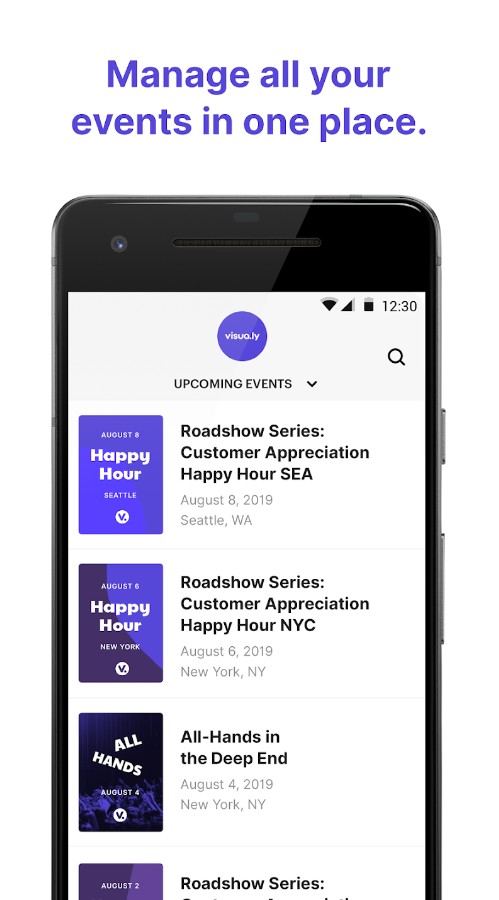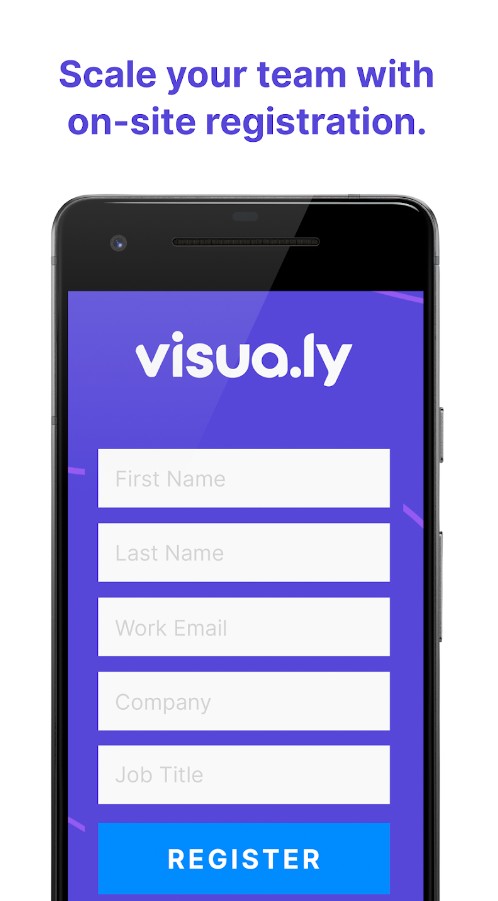 Attendium
Here's an app that lets you manage guest lists like a pro.
It's an intuitive tool that lets you supervise thousands of guests in the simplest way possible. You'll get to import pre-made lists for Excel, text docs, or whatever else. You may even ask the guests to add themselves to the list by sending them a link.
Plus, you get to download the list in several formats and rearrange the attendees using various filters. You may also create multiple lists for different events and segment guests by whatever filters are needed. The app comes with a duplicate check, and you'll get notifications if one person is on the list twice.
Besides, there's an analytical tool that shows you how many people are on the list, how many of them have checked in, and all that. The app syncs in between all the devices, which is nice for group work. More to that, the sync happens offline, so no worries.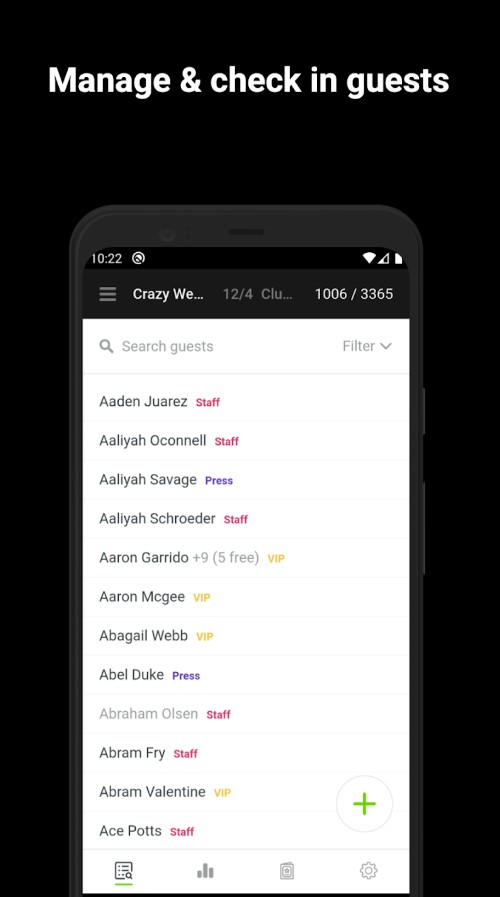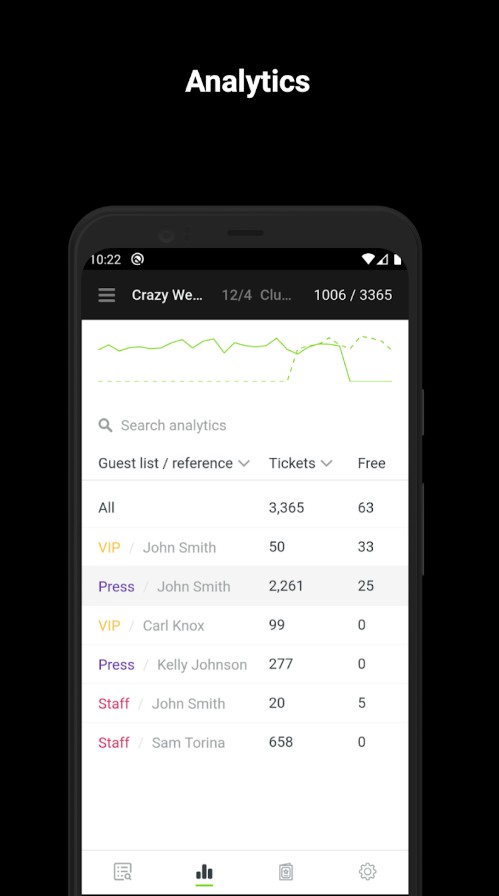 Check also: 11 Best Check-in Apps for Android & iOS
Sched
This is an attendance management platform that lets you create guest lists.
The app lets you control all aspects of an event: the schedule, the attendees, the speakers, and the sponsors. As for the guest list part, you get to add as many attendees as required and instantly make all the changes. Plus, you may create attendee cards with pics, contact info, and more.
And if you've already created a list in any other program, you get to import the info into the app as well. The speakers managing page looks pretty similar to the guest list. You just add all the speakers, customize personal cards, and more. You also get to sync the speakers with the schedule by pointing out the time of their performance.
The scheduling tool lets you split your events into timing parts to easily stay in touch with everything. The app is equipped with offline storage, so all your data will be available without a web connection. You only get to control one event at a time, though, so the app is not that helpful for pro event managers.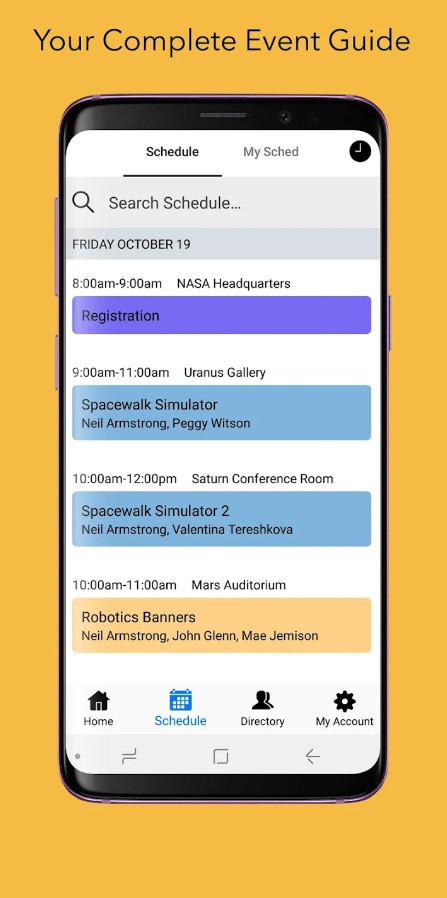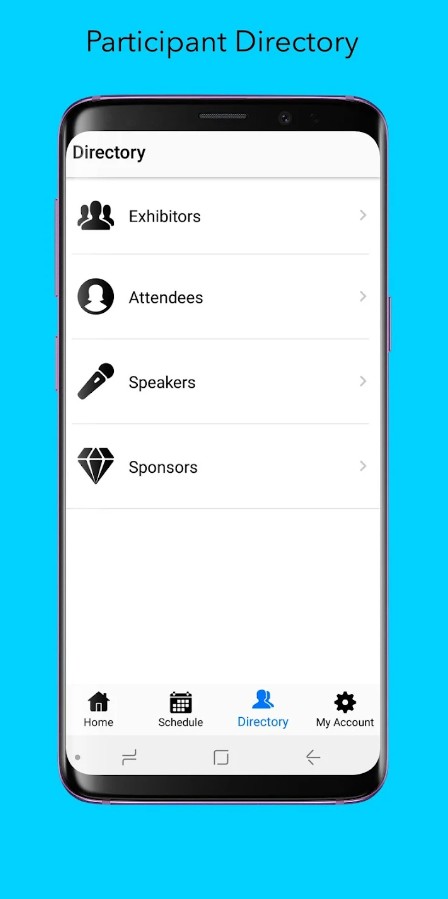 Snafflz
It's a simple app for managing event attendees without any hassles.
The app lets you create attendees lists for numerous events at the same time, which is great for professionals. It syncs in between all the devices, so you can use it for major events with several entrances. The amount of guests is unlimited, and you get to add new participants on the go.
You may also import pre-made lists from other programs. Beyond that, the app lets you create attendees' cards with all the essential info such as a name, job title, age, contacts, and more. Plus, you get to optionally add some extra notes such as a VIP status or a companion.
The app also lets you check in the guests in secs by scanning a QR code from the invitation. Herewith, the app comes with a statistics tool that lets you track the people who didn't come, the ones who've canceled or declined an offer, and all that. All the stats may be downloaded in graphs as well.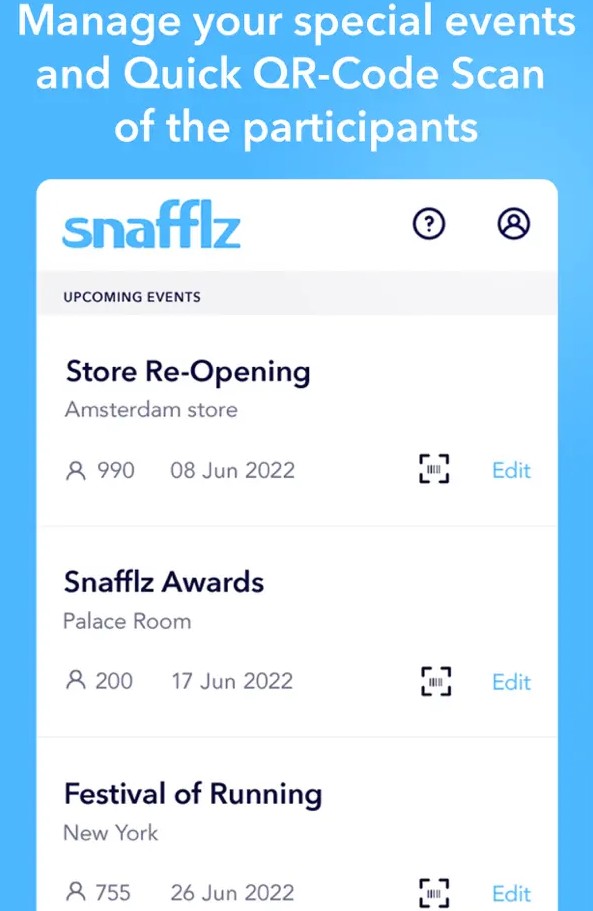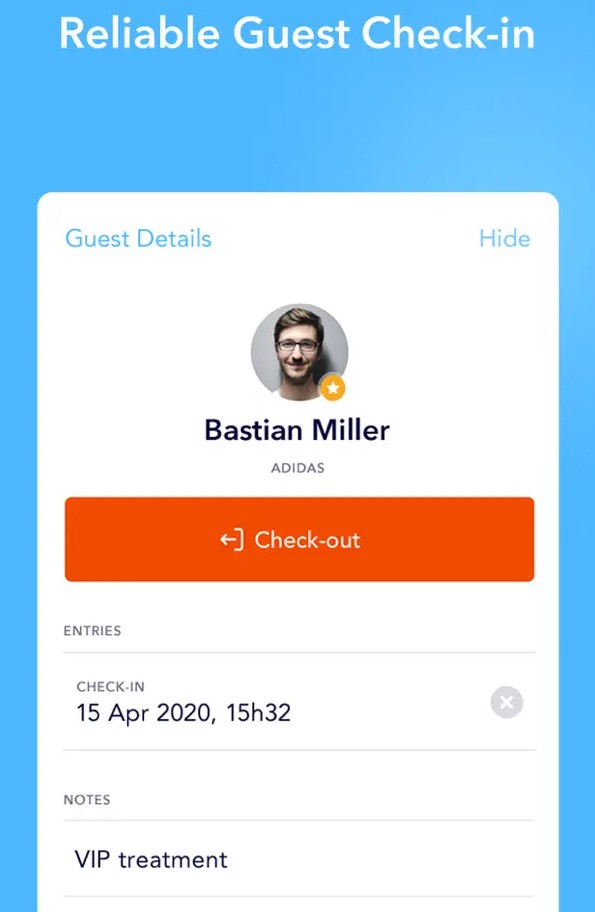 Guest List App | Attendium
This app is designed to simplify the process of organizing events, making it suitable for a wide range of occasions, from corporate conferences and seminars to weddings and social gatherings
If you're planning a professional event or a personal celebration, this app has you covered. It streamlines the communication process with your attendees, ensuring that everyone is informed and updated about the event details.
You can customize invitations with personalized messages and branding, making your event feel unique and special. It also allows you to categorize guests, manage seating arrangements, and keep track of dietary preferences or special requirements.
It saves you time and effort by automating many aspects of event planning. You can access real-time information about your guest list, track attendance, and send reminders all from the convenience of your mobile device.
Finally, this app helps you ensure a smooth event experience for both organizers and attendees alike, making every event a memorable success.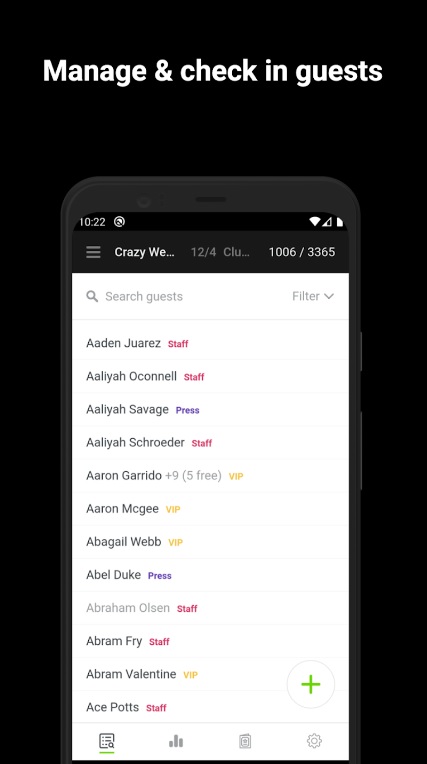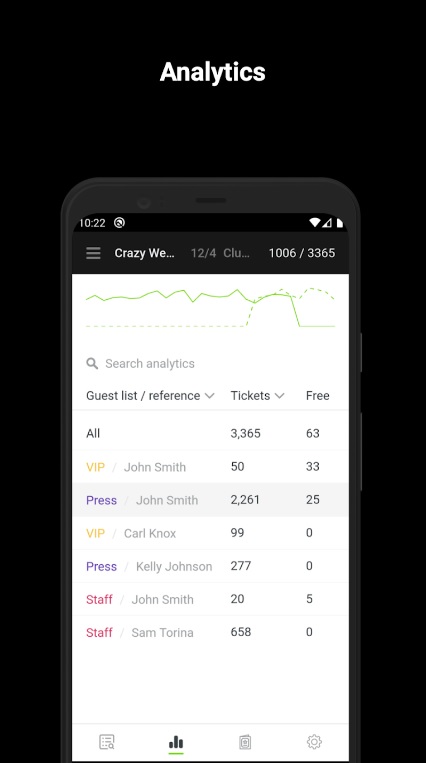 Event Planner
The Event Planner app is your go-to tool for effortless event management. Whether you're organizing corporate meetings, weddings, birthday parties, or conferences, this app has you covered.
Designed for simplicity and efficiency, the Event Planner app allows you to create, organize, and manage events with ease. You can tailor your invitations to match the theme of your event, making it feel personal and inviting.
You can manage guest lists, track attendance, and even arrange seating plans. Communicating event updates and reminders to your guests is a breeze, ensuring everyone stays informed.
It not only saves you time and reduces stress but also helps you keep all event-related information in one place. This makes coordination smoother, resulting in successful and memorable events.
In conclusion, I would say that Event Planner is a practical tool for individuals and businesses alike, making event planning a breeze.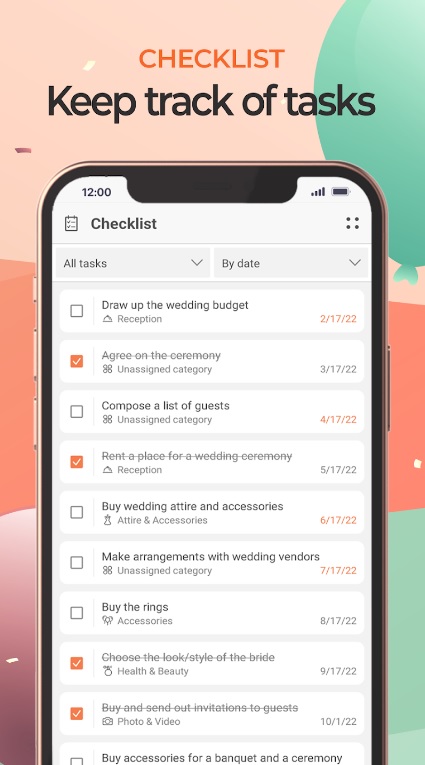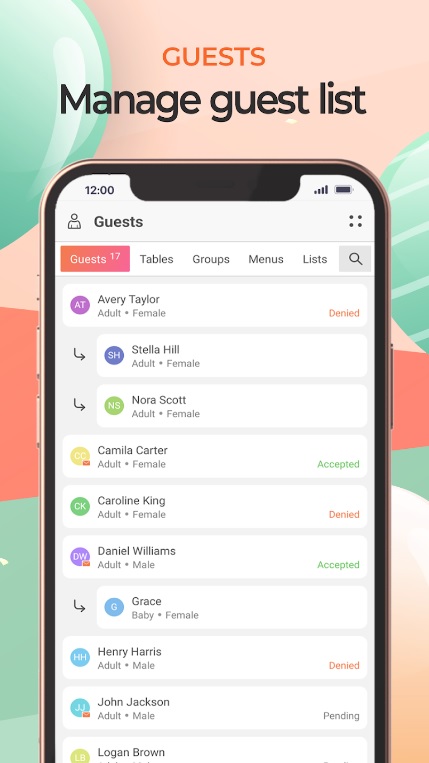 You may also check: 6 Best Gift-Registry Apps for Weddings & Events
Withjoy
In case you've come here looking for a website, not an app, here's a try-worthy option for you.
It's a wedding planner website that lets you organize all the details of your big day, including a guest list. It needs to be said, the guest list tool is quite powerful here as you get to customize plenty of marks, notes, and filters. There are no limits on the number of attendees, which is nice.
You get to create detailed guest cards with all the essential info like contacts, companions, seats, and more. Plus, you get to group families together and mark the guests with tags like a relative, coworker, college friend, and more. You can also add location notes to see how many people are coming from out of town.
The website also lets you send invitations and custom cards right from the list. Besides, you get to track all the responses and set notifications for the declines. You may also share the invitation link to work on the list along with your wedding planner, fiancé, mom, or whoever else is involved.