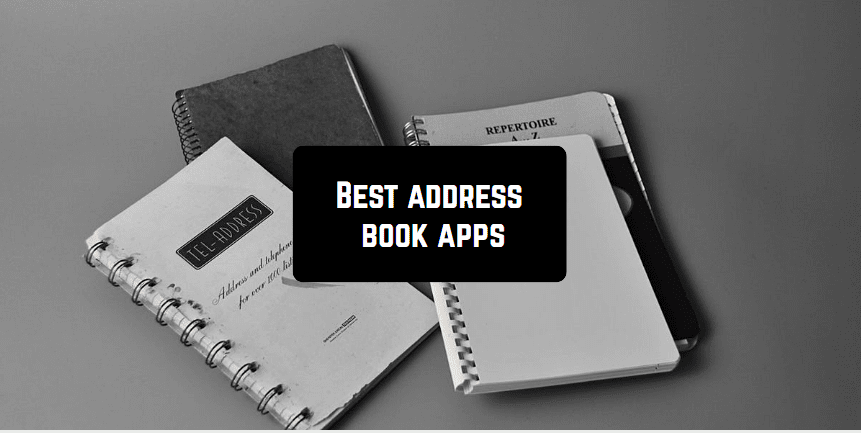 Address books were quite popular in the past. Nowadays people seem to care less about each other places of living, probably because of the "3rd places" growth and the possibility to stay connected each second and get any information immediately.
However, it often leads to an awkward situation when you ask a person about their home or work address and then forgets it and you have to ask twice. It is not cool, especially for the business sphere. Luckily, address books haven't disappeared, they just went digital – and now you can get an excellent one yourself.
Address Book
There are many types of people in our world, including those who like to keep everything organized to that extent that they got a separate address book and make notes there. At least they won't get lost without the Internet and will know all the addresses of their friends and family. So if there is a demand – there is a supply, as a consequence.
This app is a digital version of an address book, where you can keep the name, phone number and the address of a person. There are no limitations considering how many of those you can actually write down, could be millions. All the information is automatically copied into the Cloud Storage.
The app synchronizes addresses among Android devices and allows to share them. To make everything clearer, you can organize contacts into groups and highlight them with different colors. This way you will always find the address you're looking for in seconds.
You can also export all the addresses to an excel file, which can be used to recover your addresses when you change or reset your phone. In general, this is a classic address app-only addresses and nothing extra, so it is really easy to use.

You may also like: 13 Best Document Editing Apps for Android & iOS
back to menu ↑
Address Book
In fact, if you are working for logistic services such as meal delivery (which is roaring today) it is quite useful to have a secure address book to get everything under control and in arranged in the way you want. Manage your favorite places and contacts easily with the help of this app.
Except simply saving addresses you can also link them to contacts so you don't have to dog every time into your messenger to find an address once again. Navigate the saved addresses of places. Divide all your contacts and addresses into categories like Business, Family, Friends, Coaches and so on.
Pin the locations in the app and mark the address they have so it could be linked to the map. Next time you type in the address you will be redirected straight to the google maps. You login into the app using your google account which is useful for synchronizing the contacts from your phone with addresses of those people.

back to menu ↑
Contacts+ | Address Book
It is much more useful if along with writing down the person's number you also write down their address. This would be helpful for understanding their way of live and status.
This app works on the base of the cloud system and synchronizes all the info automatically. Contacts+syncs your contacts across your devices (including iOS, Mac, PC, & other mobile devices) as well as across various accounts you may store contacts in (such as Gmail, Exchange, Office365, and Twitter).
For each contact, there is only one place in the app so you could gather all the facts there. Thus you will avoide the mess which occurs in the situation when you occasionally add pieces of information about this contact and they all end up in various places.
With the cross-device system, your contacts and addresses will be available everywhere. Another cool option is that you can scan business cards and the app will transfer the info from them, including the address, into the database. You can unite different addresses into groups and add tags for them.
Contacts+ can search the missing information about contact across the web in case you didn't' add it yourself. Next time you'll be calling someone, the app will display the address of that person. Contacts+ also synchronize with other apps, like OneNote so you can cope addresses there as well.
back to menu ↑
Covve: Contacts address book
Get your contacts as filled with information as possible with this address book app. Numerous users are already utilizing this app every day, according to the famous sources. It is made for busy people who care about others and want to stay at the top of their relationships.
With this app, you will feel like you got a personal contact assistant and forget forever the necessity to worry about memorizing facts about addresses. It's your automated, AI-powered, contacts assistant, helping you stay in touch, grow and leverage your network, uncovering new opportunities.
Interesting feature: Covve scans the news and remind you to stay in touch with important people. You can scan business cards and the app automatically adds them to the base. You can also send your digital business cards using this app to others.
With this useful address book, you will remember who works where. All the details about your contacts and their addresses will be constantly updated. This could be really beneficial when you need to find a person working in a certain industry.
Build a trustful network right in your smartphone. No need to worry about privacy since the app has strict policies concerning info sharing. So you can build, for example, a group of addresses and contacts with your friends if you are studying at the same university or you are alumni.
back to menu ↑
Address Book and Contacts
If you're that type of the person who needs to remember bunches of addresses throughout their daily life this app is great assistance. You can save an address of any person and link all kind of information you want to it: from business partners to ex-lovers. As an addition, there is a possibility to share stored addresses, current location, phone numbers and email ids with one click.
Many apps can be annoying in term of free and premium version differences, but here you won't find it. Moreover, the app doesn't have ads and UIs. There is also a free backup facility.
When creating a new address, you can connect it with the location on the map. For the linked contacts, Call, Message, Mail actions are available. The address can be so precise so that even has the latitude and longitude of the location. In addition, you can add there photos of a place.
Organize your contacts and addresses into groups, for example, according to cities, if you travel a lot. Thus you won't call someone from another city on accident, losing a lot of money for a trans-regional call. Lastly, the interface of the app is worth mentioning – it looks very cute, an additional score to developers.

back to menu ↑
Contacts XT – Address Book Organiser
Honestly, with this app, you will never be a person who forgets anything about their friends again. This app is one of the 3 apps coming in one package, which also includes a birthday reminder and contact app. They all mutually synchronize and thus you get a full system of notifications and information.
Your addresses will be grouped automatically according to organizations, cities or countries. Moreover, it can happen sometimes that when you fill the information about the contact you can miss out some important facts about them. The app will help you and complete all the information about each of them. This is a great help when you're managing a big corporation department.
The addresses that you add you will be able later to see on the map along with phone numbers and other data. The app works with such programs as Microsoft Exchange/Outlook, Google Contacts or Mobile Me. In general, it is a simple iOS app, but in a package of 3 apps, it is clearly comfortable in usage.
back to menu ↑
Address Book
This is another Address book app for Android and you can tell by its interface that it is really simple. Well, at least you don't want your address book app to occupy tons of space in your memory which is unpractical, to some extent. Here in this app you can write down the names of people and fill them with phone numbers and addresses.
Divide your addresses into categories. Speaking about it, there is plenty of manipulations dealing with categories and that's basically the virtue of the app. If all you want is to organize your phone book properly with all the necessary addresses without any fancy features you should try this app out.
back to menu ↑
ContactsBook – AddressBook
Initially developed in Japan, this is a really functional address book. There are a lot of manipulations that you can do with contacts. Create different groups according to addresses, edit them and change. Talk with group members. In other words, there are plenty of variations of actions on the groups as well.
You can edit all the groups manually. Being more precise, you just tap on a contact, hold it for a couple of seconds and then drag it to the necessary group. What is more, you can mark contacts as your favorites. Not that it gives them a special status, it is rather helpful while sorting the categories. When you open a description of contact – you can see their address, fax, work address and many more.
back to menu ↑
Address Book
All the requirements for an address book app – here they are. This is another classic address book app, where you can put all the information about the contacts you have on your phone. As an addition, Address Book has a really minimalistic design of the interface creating a feeling like you're using an actual notebook for writing down addresses of people.
To each address, you can add up to 17 blocks of information. For better convenience, group your contacts and name those groups. All the fields are flexible for any information and you can even use letters in the zip code field. Add an entry to phone contacts,
Classically, you will have all your addresses arranged in alphabetical order. On each of them, you can see which have been updated or added recently. Besides importing phone contacts you can also import excel files. To find an address in the google maps, use the GMAP button. And last, but not least, you can be confident that all your personal data is safe and secured.

back to menu ↑
Lifekee Contact Address Book
A smart address book to regain control over your contact information and keep all your contacts up to date. With it you just need to complete the information of the profile once and never worry about updates again – they are made automatically.
It is remarkable, for google accounts, for example, all the contacts are shared no matter where you want or not share them. Here you can choose, which information you are keeping private and which you can share with others. What is more, you can make your social media apps to interact with this app.
Lifekee is a universal network and allows you to share your contact with any person around the world, no matter of the fact which app they use. In cases when you change your smartphone to a new one, you just need to install Lifekee again and all your contacts will be there. Security is a big concern for Lifekee as well. All your data will be encrypted in transit and at rest. You as a user, are the only one that controls what information is shared with your contacts and businesses.
back to menu ↑
Address Book Lite
Another useful app for business which allows you to add information about contact's name, age, occupation, address and so on. There are no restrictions on how to fill the fields so you can arrange things according to your taste. Just like a traditional address book app this one is simple to use and contains only the main feature and doesn't occupy much memory space.
All the contacts will always be seconds away with all the information you need. When you add a new contact you can fill the fields you want. When the changes are done, you will receive a notification. Address Book Lite is recommended for all users because no configuration required, just install the application in your smartphone and enjoy.
You may also like: 11 Best speed dialing apps for Android & iOS