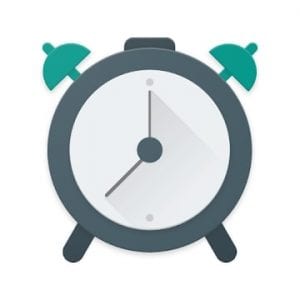 AMdroid is an alarm clock with a lot of settings and features. Besides standard options, the application has several interesting features. For example, you can choose an interval during which you need to wake up, and the alarm clock will decide when it is best to wake you up.
If you like to lie in bed "five more minutes", you will have to solve a mathematical problem or remember the password from Wi-Fi. Extra minutes of sleep still have to be earned. But these are just the main features of the application.
Waking up
It uses gentle wake-up mode, so now your morning will be a great start to the day. Here you will find an unlimited number of alarms that you can set as you wish. You can choose how long the alarm will last, how often it will repeat, how long it will last, and much more.
There are also disposable alarms that you can set for specific dates. If you choose to take an afternoon nap, you can set a countdown so that you don't have to sleep for sure. To automate all necessary processes and actions the application can be integrated with other programs that are on your phone.
Specifics
This application includes all data about holidays. So, even if you forget to turn off your alarm clock before the weekend, the application will do it automatically.
You will not be able to sleep through important things. With this app, you can set up special actions that are necessary to turn off the alarm clock in the morning. They will help you wake up, even if you have a hard time doing it.
Keep awake
An automatic alarm will tell you when you should wake up best. The app chooses the best time to wake you up based on your preferences and habits. It will choose a light sleep phase when your sleep is not as bright and strong. This approach helps keep you awake and in a good mood all day long.
Besides, the app helps you not only wake up on time but also sleep tightly. To do this, you need to go to bed on time. So the app will notify you when you need to go to bed. Activate the sleep mode so that the app can create a unique wake-up model based on your personal characteristics. All collected information will be saved in the statistics section.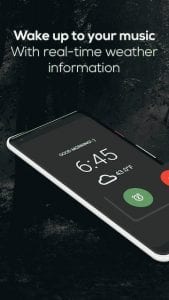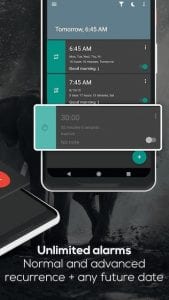 You can also activate the alarm clock only in certain places. To do this, you need to enable the location feature of your phone. For example, when you are at home, the alarm will go off at the time of your choice.
AMdroid is the best choice for those who like to sleep and wake up hard. Thanks to this wonderful application you will be able to overcome sleepiness and start the day every day with cheerfulness and a good mood.
You may also like: 17 Best clock widgets for Android