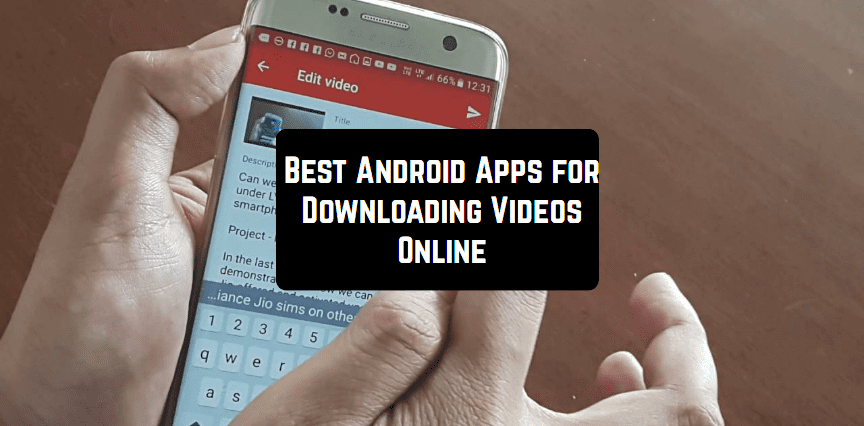 The issue of how to download any video from the Internet fast has always been ongoing. And if 10 years ago people were striving to get videos to their laptops now the smartphones are the main concern. Because nobody actually wants to plug in the smartphone to a computer to transfer a video anymore. We want everything to be done in one click.
Still, downloading video is illegal, but has it ever stopped anyone? Nowadays, probably, Netflix and YouTube are the hardest sources considering the videos downloading. But developers of the following apps managed to hack everything. So if you are brave enough to download videos from the Internet right to your Android device – get it!
YouTube Go
How many times did you wish you could use YouTube during your flight? That actually could be great but have you seen those prices for WiFi onboard? Bet that not many people are that crazy. However, if you are flying with a low coster there are usually no screens in front of you and no WiFi onboard. Still, you need to spend your time somehow. And here goes the solution.
With YouTube Go you will be able to enjoy your favorite videos even if you don't have access to the Internet. Your favorite music videos, movies, TV shows with famous guests, DIYs – these are will be available wherever you are.
All the videos can be saved to your phone. You control the consumption of the traffic yourself, and you control which volume in your phone memory will be occupied by those videos. It is extremely convenient – you've just watched a new video and now you can save it to your device! There is a preview function which helps to see the content you really like.
Saved videos can be played without buffering. And though some people are worried that apps like this can slow down your phone, in this case, it is not the truth. Moreover, the memory taken by YouTube Go is not a lot at all.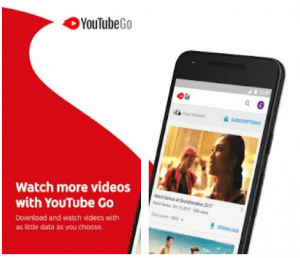 You may also like: 11 Best apps to download youtube videos to Android or iOS
back to menu ↑
Videoder
For diversity, this is the type of the Video Downloading app which doesn't support YouTube because of copyright issues. But how many times you've been watching videos on the Internet and wishing you could save them to your phone? Here where you need a special app to do that.
You will be pleasantly surprised by the speed of downloading in this app. Monitor all the social networks and save videos from there in HD quality. All formats are supported. If you see, for example, that someone of your friends is publishing a video you can download it instantly.
Another way to download a video you liked is to insert a link into the bar. You can manage several downloading simultaneously. Next types of files are supported: MP3, MP4, M4A, M4V, MOV, AVI, WMV, DOC, XLS, PDF, TXT and many more. When you start downloading a video by an accident you can tap on the pause or cancel the download.
The easy interface will make your interaction with this app stressless and effortless and ad blocker will save you from annoying banners. You can download videos not only with WiFi connection but also with 3G, 4G, and 5G.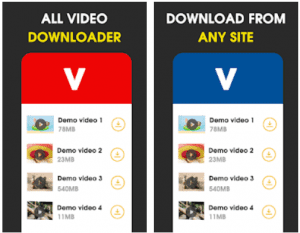 back to menu ↑
KeepVid
Well, we all know that downloading videos for free is illegal but still, millions of people are doing that. And whom does it hurt? Maybe you want to make a remix out of the video. In the late 2000s, it was common to download every single music video that was released to your PC. Now that we are using smartphones, it is not really comfortable to switch on the computer every time, but still, sometimes you just need to keep a video to your phone.
This app is easy to use in all aspects. In order to download a video, for example, from your Facebook, you need to go to your page, find the video you want to keep, tap on its link and the app will automatically save it. Or, there is another way to do it: copy the URL of the video on the bar, then you will get a possibility to preview the video and save it only after.
The app is totally safe to use and the size of the downloading videos is customizable. Just keep in mind that when you want to publish those videos that you download on public sources it can lead to certain circumstances since KeepVid doesn't own any rights.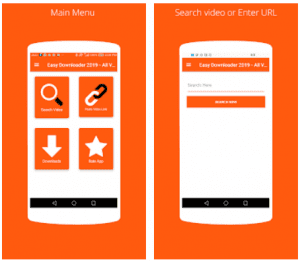 back to menu ↑
Nova
Just remember that before you are downloading an online video, you have to be sure no one catches you and that your country is not too strict with those who do that. Just in case, some countries consider severe fees for illegal traffic. So check everything before or you might lose your couple thousand dollars.
Nevertheless, Nova is one of the best video downloaders on the Internet. With it, you are able to download videos from all kinds of social media to your phone. It works super fast and it is free. Let's imagine you are watching the video on Facebook and you would like to save it for your project.
Here you don't have to do lots of manipulations, like copying URL, inserting it somewhere and so on. The icon of the download will appear right above the video and all you have to do is to click on it. Are you happy you finally don't have to use your computer and torrent to download your favorite movies to your smartphone?
In case your connection was interrupted during the download, the app will continue later. All the formats of videos are supported, the app supports SD-cards as well. Videos can be downloaded in background mode and in HD quality.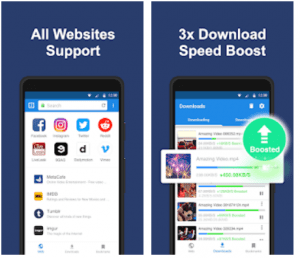 back to menu ↑
All Video Downloader
We all know that copypasting and spread illegally received content is bad, our society and lawyers have been talking about it for ages, but… The fact that's what has always stayed with us. Though nowadays we seem to evolve a lot, still, we got even more progressive with getting media content illegally.
This Video Downloader utility detects, downloads and save shared videos directly from internet to your android device. Right from this app you can both watch the videos and download them anonymously. So before downloading you can preview the vid, and use a great download manager to get the clip. The videos can be received in the background mode, at high speed, securely.
The app can also download large files. But watch out, the app doesn't support the oldest versions of Android. When a download is started or completed you will get a notification. There are 2 modes for watching videos – portrait and horizontal. In order to download the video, you will have only to click on the screen button which you will find in the app.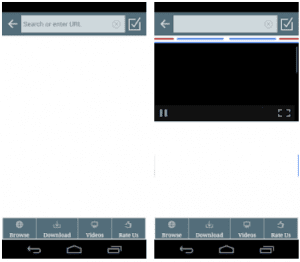 back to menu ↑
Video Downloader
It can happen that your favorite video can be deleted from the Internet one day. Has it ever happened to you? And then you will never see it anymore or you will find it in worse quality. To prevent situations like this (especially if there's a threat that a video can be deleted, use Video Downloader to save it in advance).
This Video Downloader allows you to get videos from the following sources: Facebook, Instagram, Tiktok, Twitter, Pinterest, Buzzvideo and Topbuzz. Whether you need to make a presentation or watch a movie with friends on a big screen – now you can get all these videos in a minute.
Another good feature of it is that you don't have to log in in order do download the video. However, if you are sending or receiving private videos from friends, you will have to. To download video from any of the listed sources you must copy the URL and then insert it into the app.
The benefit is that you don't have to switch between different downloaders for different social media, because there are a lot of apps that work specifically with only one source. Remember how you were discovering a funny vine on Instagram but had no idea how to save it or repost it to your page? Now you can just download it to your gallery and then post it.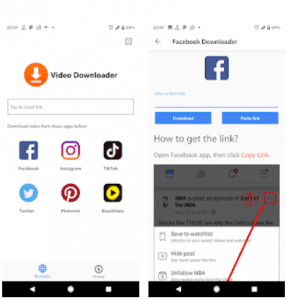 back to menu ↑
All HD Video Downloader
Probably we all would like to download videos in high definition since our smartphones now allow us watching clips in 4K. There are not many things more frustrating than a bad-quality video. Logically, people search to download videos in HD quality with better sound.
This app is developed specifically for downloading videos in HD. The app will let the user search video online and will ask to copy the link, and place in downloading area, by pressing the Download button, it will start download video. The list of formats is spectacular: 8K, 4K, 4k Ultra HD, MP4, .flv, .mp3, .mov and so on.
Enter the keywords to find the video you are looking for. Then you can choose a video from the given list. When you found what you need, you copy its URL. Then you paste it into the download section and the process will be started. Later on, look for a video in your gallery. By the way, people who are not the big fans of bright colors will probably find the interface of this app a little bit trashy.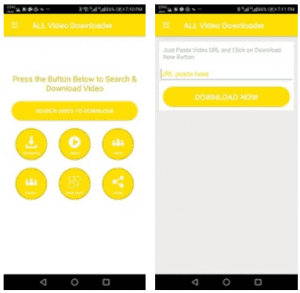 back to menu ↑
FVD
There are many news sources which are filming interesting clips. They are posting exclusive footages which cannot be found anywhere else. If you want to be able to save those videos any time you want (maybe, you are preparing a news report yourself) then install this app.
When you launch it it will give you access to a number of web sources where you will find your videos. When you are watching that video from the app you see an icon which tells you to download a clip. Keep in mind that all the videos are protected by the rights of their owners accordingly t=with the laws of the country of their origin and the app takes no responsibility for your actions.
Moreover, you can download videos from rare websites but you can't download them from YouTube and Flash. This may be a disadvantage for those who expect all-inclusive video downloader, but this app has rather the strict policy. On the other hand, this particular downloader is getting videos without damaging the quality of those which many other downloaders are cannot be praised for.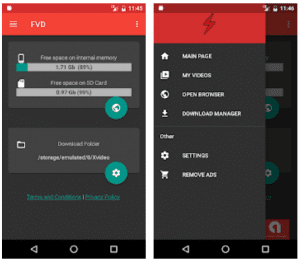 back to menu ↑
All Video Downloader
TEDx videos are always interesting to watch. They are bringing a lot of useful information right from the experts of the most prominent people of business. The problem is, many of those TED videos available not only on YouTube but also on the web sites of those places where they were held. And sometimes it's problematic to get a video like this.
With this All Video Downloader you will get any video from the source you want. First, you can watch the video offline and then share it with your friends. The app has an in-built browser which you can use to watch and, prospectively, download the videos.
Each time you'll be watching a video from this browser, you will see a pop-up icon at the bottom of the screen. Click on it to get the video. You can open any website. There are no limitations considering the downloading of videos, clean UI, many supported formats such as Mp4, Flv, Mp3, Wmv, etc.
Manipulating the downloading is easy as well. You can pause, stop and reset the download at any moment. All the downloading happen in the background mode. In Build file manager to see and manage all downloaded videos, images, and files. If someone from your friends is using this app as well, you can share with the download link with them.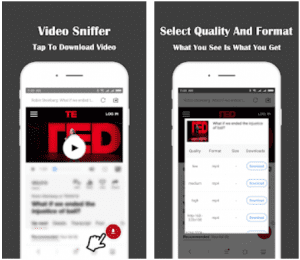 back to menu ↑
Video downloader
This app gives you a chance to download not only videos but the music as well. Find your favorite songs from different sources and download them right to your phone. Maybe you're making a video and you need the background music. Many video editing apps just do not synchronize with popular music platforms and there is no other way to get a particular song except downloading it.
The app has its own built-in browser where you can surf the Internet and just download the media files you like. When you play the video on a page you will notice there is a "download" icon. Sometimes it is possible to watch the video before download, depending on a source.
The app supports such websites as Vimeo, vibox7, LiveLeak, and such formats as MP3, MP4, M4V, 3GP, and MOV, HD, and others. The speed is more than decent and you will get a video or a sing in minutes. However, the remarkable disadvantage here is that the app doesn't work in the background mode and if you exit the app your downloading stops and you have to start all over again.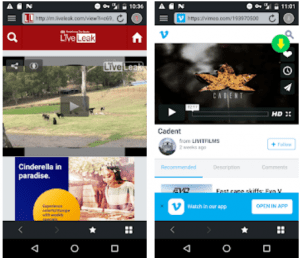 back to menu ↑
Tube Video Download
In the early days of YouTube, it was probably extremely easy to download videos from there. Logically, as the web portal was growing, the more and more serious enterprises, music labels and movie production studios started getting their official channels in there. So there is no surprise that nowadays YouTube is extremely concerned with the copyrights of all videos and protects its content from stealing. However, the way does exist.
The app allows you to preview the videos before the downloading and get them quickly and securely. The download manager is really helpful and makes the process adjustable and easy to manipulate. You can download both music and videos at miraculously high speed, even if we are talking about the HD quality.
How to download the video? Just find it in a web source using a browser built-in the app, press play and find a popping window on the screen. There choose a download option. Unfortunately, the app supports only MP4 and MP# formats. But we all know that now most of the videos come in MP4. Moreover, many users complain there is too much ad in this app.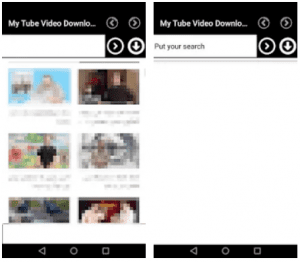 You may also like: 37 Best free music download apps for Android