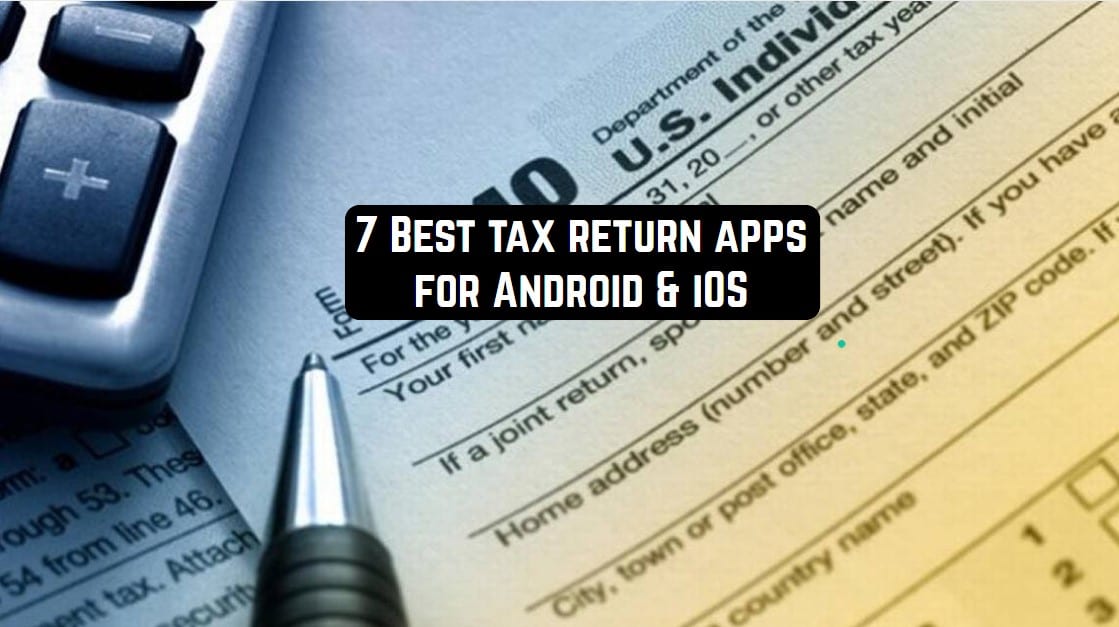 Tax time is never fun, but for legally obedient citizens this may seem particularly difficult. Business receipts, travel logs, unpaid invoices, refunds, and all other items that need to be tracked can be huge. Fortunately, the digital age has provided tools to facilitate tax time. Even better, many of these tools can now travel with you on your phone. Here are 7 Best tax return apps to help you keep track of expenses, manage your books, and generate taxes.
Check also 11 Credit repair apps (Android & iOS)
---
TaxDay
If you often travel between states, this application is specifically designed for. Because each state of the United States has its own tax system, using the TaxDay app, you can track which tax rules are valid in a given state, learn about a taxable day, and receive smart notifications about the need to pay taxes. This is a convenient and useful application for all those who manage their financial affairs under control.


TaxCaster: Tax Calculator
With it, you can calculate how much the user is entitled to a tax return. To make the necessary calculations, you need to specify the amount of your income, your age, the spouse's age, their income and the fact whether income tax is paid together or separately. In general, information on your income and marital status, up to the number of children and other dependents is required. The TaxCaster application will do the calculations and tell you whether the user will receive a refund from tax payments or not, and on what conditions he will be able to receive them.
If desired, the owner of iGadget can make possible changes in his income level or the financial situation as a whole. The application will immediately calculate and tell you whether payments will be made in the new conditions, and which ones.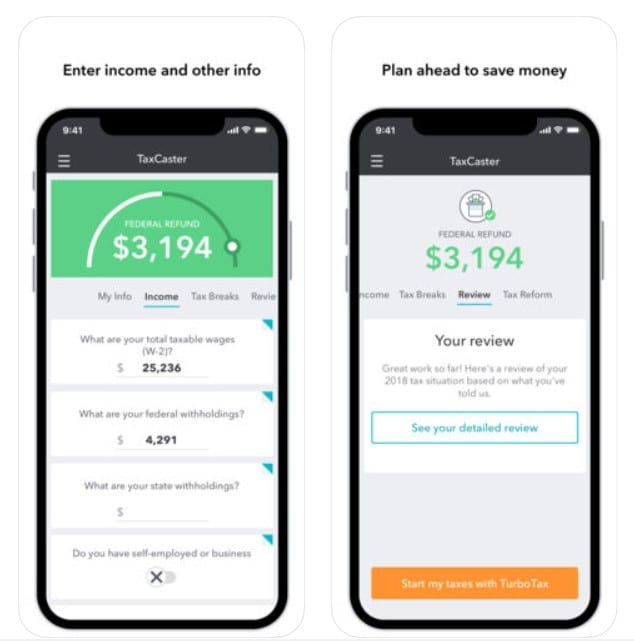 H&R Block Tax Prep and File
This is a very handy application for paying your taxes and filing them. The application will tell you how to draw up a document (declaration), tell about all the processes for calculating taxes. In the appendix, you will find rich files and PDF documents, thanks to which you will get a clear idea of how this program works.
The application will help you quickly and safely compile all necessary tax reports and use them for secure payments.


TaxAct Express
The application, which at times simplifies the procedure for filing a tax return to the relevant authorities. Fine – tuning allows the application to adapt to your needs to give clear recommendations depending on the situation. The application will provide you with complete information regarding all tax processes, declarations, and other documents.
You can safely upload documents to your mobile phone, you can track the status of your IRS and so on. TaxAct Express is a convenient and personalized application that allows you to manage your taxes.


TurboTax Tax Return App
A program for preparing tax federal and state declarations in the United States. Stores data to fill in electronic forms required to fill in individual tax returns or small business declarations.
This application works by taking a picture of your W-2 form and in which you must answer a series of simple questions. There is no need to have special knowledge in the field of tax payments, as the application will take care to fill out your declaration for you, to make sure that you pay taxes correctly.
In turn, it also gives us the opportunity to contact one of the TurboTax experts in case you have any doubts about the process that will help you solve them instantly:
Contact a tax advisor who guides you through the process if necessary.
A step-by-step guide, simply answering double-checked questions to make sure you haven't made any mistakes.
Take a photo of the W-2 tax form, check the information and fill it with the necessary data.
Secure PIN access.
Understand why you should pay or receive a refund in each case.
Search over 350 possible tax deductions to optimize your declaration.


1tap tax
Track your own expenses, income and tax liabilities (i.e. how much taxes you have to pay) in real-time without picking up anything with 1tap tax app. Take photos of your receipts and income while the app scans and retrieves any important data in seconds. Whether you are a freelancer, sole proprietor or entrepreneur, 1tap tax will help you cope with your taxes, accounting, and bookkeeping.
Start tracking your income and expenses now, so you no longer have to dig up your old receipts later or be unsure of what you'll have to pay.
Get HMRC tax information and deadlines sent to you within a year and never worry about falling behind. You will have access to real-time information about your tax assessment based on data directly from the HMRC.


Credit Karma
Credit Karma is a service that helps the user to know the possibility of receiving a loan from a bank or other financial institution after filling in the necessary data in the application form on the site. In just a few minutes, filling in all the required fields, you will receive information about your credit rating and an assessment of your credit karma.
Credit Karma helps not only to determine the credit status of the user but also gives advice on how to improve the current financial condition if the result obtained is not satisfactory enough.
This service uses a special financial model developed by our highly qualified specialists, which determines the possibility of obtaining a loan in any bank of Ukraine or in a financial company, depending on the client's credit history and reliable data indicated in the questionnaire.
The result obtained, calculated by the model, does not guarantee the issuance of a loan in the particular financial institution to which the user applies at will.