7 Best Tax Return Apps for Android & iOS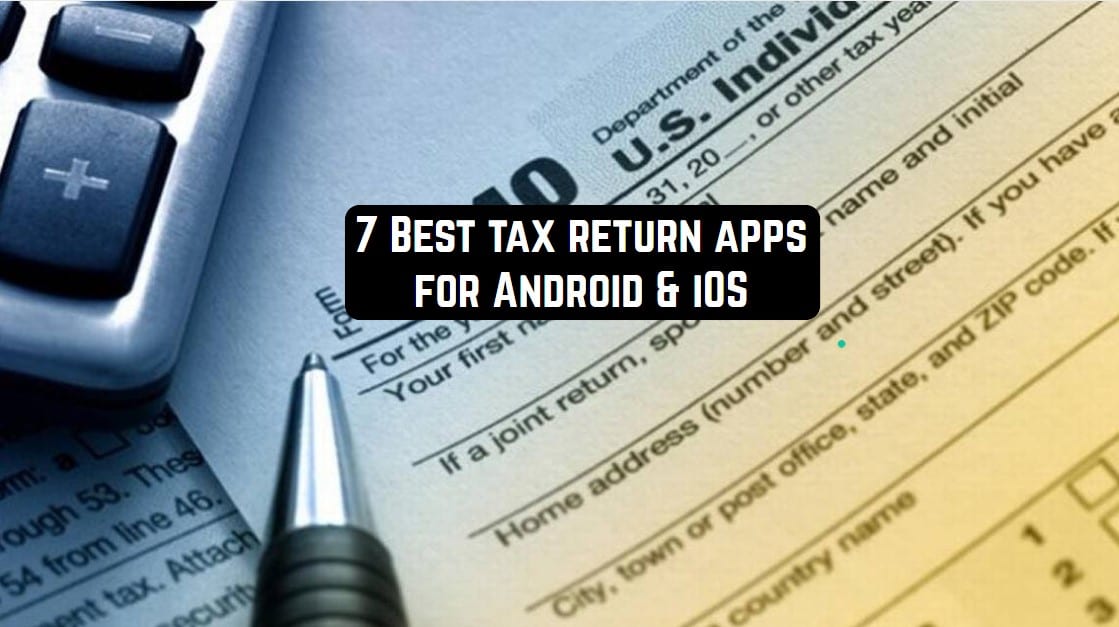 Tax time is never fun, but for legally obedient citizens this may seem particularly difficult. Business receipts, travel logs, unpaid invoices, refunds, and all other items that need to be tracked can be huge.
Fortunately, the digital age has provided tools to facilitate tax time. Even better, many of these tools can now travel with you on your phone. Here are 7 Best tax return apps to help you keep track of expenses, manage your books, and generate taxes.

Check also 11 Credit repair apps (Android & iOS)
---
TaxCaster: Tax Calculator
With it, you can calculate how much the user is entitled to a tax return. To make the necessary calculations, you need to specify the amount of your income, your age, the spouse's age, their income, and the fact of whether income tax is paid together or separately.
In general, information on your income and marital status, up to the number of children and other dependents is required. The TaxCaster application will do the calculations and tell you whether the user will receive a refund from tax payments or not, and on what conditions he will be able to receive them.
If desired, the owner of iGadget can make possible changes in his income level or the financial situation as a whole. The application will immediately calculate and tell you whether payments will be made in the new conditions, and which ones.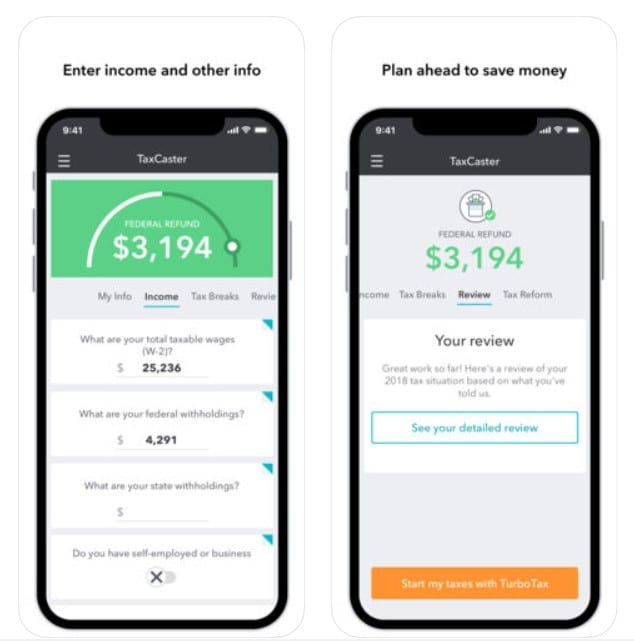 You may also like: 11 Best QuickBooks Apps for Android & iOS
H&R Block Tax Prep and File
This is a very handy application for paying your taxes and filing them. The application will tell you how to draw up a document (declaration), tell you about all the processes for calculating taxes.
In the appendix, you will find rich files and PDF documents, thanks to which you will get a clear idea of how this program works. The application will help you quickly and safely compile all necessary tax reports and use them for secure payments.
For those who want to have extended access with more functions, the app provides several types of subscriptions: Free Online, Deluxe Online, Premium Online, and Self-Employed Online tax products. It makes all the information easy for understanding to everyone because the initial fiscal laws can be confusing.
TaxAct Express
The application, which at times simplifies the procedure for filing a tax return to the relevant authorities. Fine-tuning allows the application to adapt to your needs to give clear recommendations depending on the situation. The application will provide you with complete information regarding all tax processes, declarations, and other documents.
You can safely upload documents to your mobile phone, you can track the status of your IRS and so on. TaxAct Express is a convenient and personalized application that allows you to manage your taxes.
TurboTax Tax Return App
A program for preparing tax federal and state declarations in the United States. Stores data to fill in electronic forms required to fill in individual tax returns or small business declarations.
This application works by taking a picture of your W-2 form and in which you must answer a series of simple questions. There is no need to have special knowledge in the field of tax payments, as the application will take care to fill out your declaration for you, to make sure that you pay taxes correctly.
In turn, it also gives us the opportunity to contact one of the TurboTax experts in case you have any doubts about the process that will help you solve them instantly:
Contact a tax advisor who guides you through the process if necessary.
A step-by-step guide, simply answering double-checked questions to make sure you haven't made any mistakes.
Take a photo of the W-2 tax form, check the information, and fill it with the necessary data.
Secure PIN access.
Understand why you should pay or receive a refund in each case.
Search over 350 possible tax deductions to optimize your declaration.
TaxSlayer
Handling the taxes isn't an easy task at all. Thank God there are more and more apps on the market allowing to calculate, organize, and pay all the taxes in the right way without extra efforts and the headache. TaxSlayer is one of those apps. The app is synchronizable with all the devices, so you can add tax remarks anytime from anywhere.
Before you file all the taxes, the experts in the app can make the final evaluation to make sure if you compiled everything right. And in general, whoever you need support or advice from the experts they are available 24/7. All the information that is being uploaded to TaxSlayer is strictly confidential and is never revealed to the 3rd parties.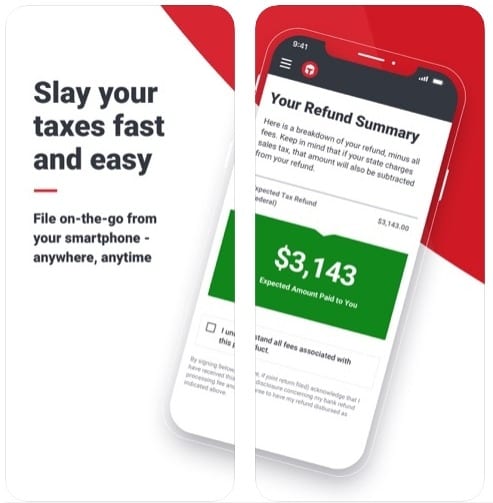 You may also like: 11 Best expense tracker apps for Android & iOS
1tap tax
Track your own expenses, income, and tax liabilities (i.e. how much taxes you have to pay) in real-time without picking up anything with 1tap tax app. Take photos of your receipts and income while the app scans and retrieves any important data in seconds.
Whether you are a freelancer, sole proprietor, or entrepreneur, 1tap tax will help you cope with your taxes, accounting, and bookkeeping.
Start tracking your income and expenses now, so you no longer have to dig up your old receipts later or be unsure of what you'll have to pay.
Get HMRC tax information and deadlines sent to you within a year and never worry about falling behind. You will have access to real-time information about your tax assessment based on data directly from the HMRC.
You may also like: 11 Best apps to balance checkbook for Android & iOS
IRS2Go
This is a simple and effective app to pay taxes with no extra elements. In order to find out if you are supposed to get any tax refunds, just enter your SSN and your status in the app and it will automatically find all the necessary information.
Another great feature of IRS2Go is that it provides free tax preparation assistance. There are lots of helpful tips on it, and all the latest news about the fiscal laws is posted immediately. All the data you put into the app will stay secured and protected.
What is more, you can pay the taxes right from the app. IRS2Go has its own Twitter and YouTube accounts, so if you want to stay updated about all the latest news you can subscribe there as well.