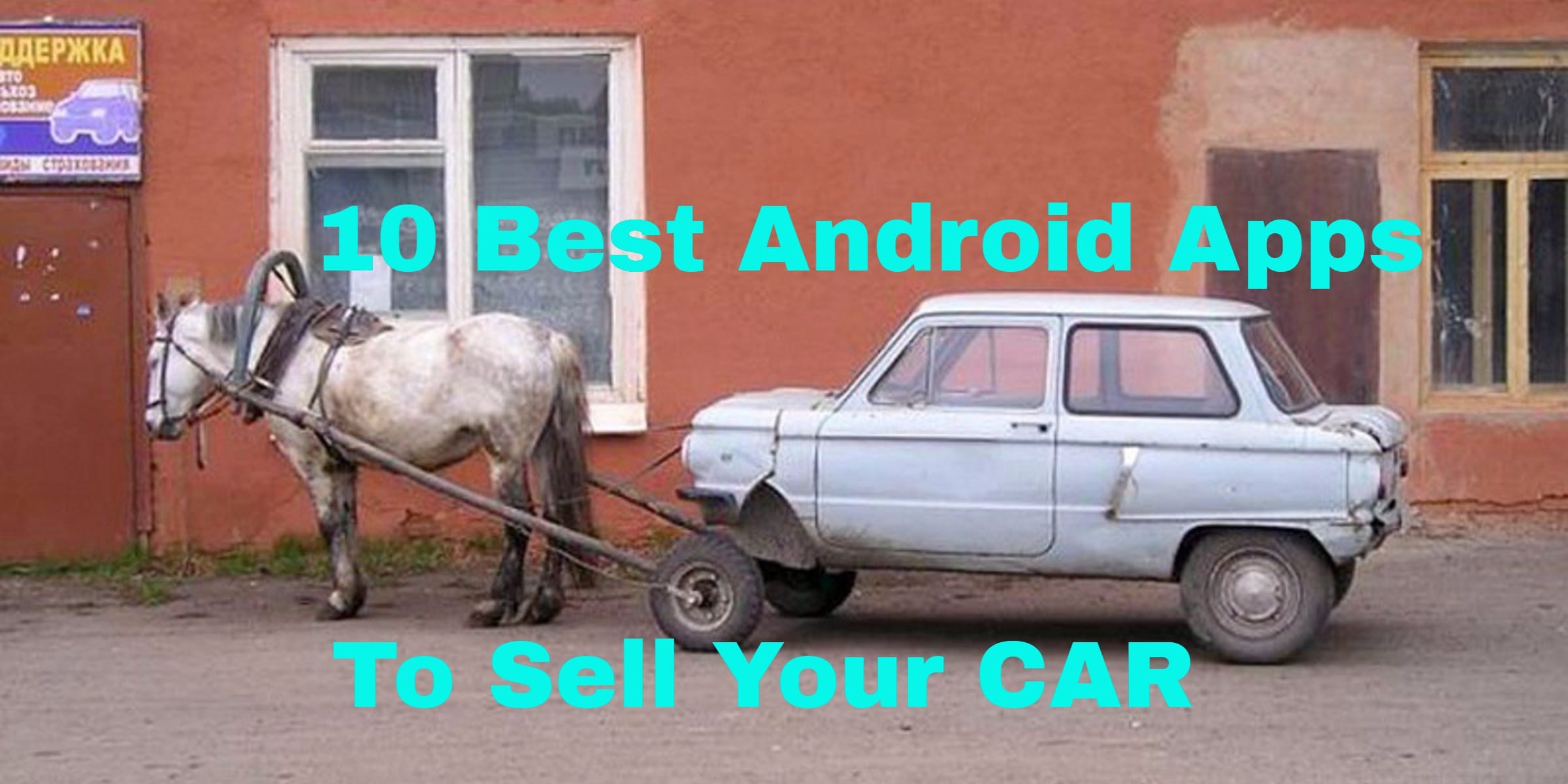 There comes that moment when it's time to sell your vehicle. Your car has taken you to destinations, like a loyal and maybe temperamental friend. But now all you want is to part with it for maximum value. Buyers, with different agendas, also want the most "bang for their buck" and choosing the right app can make a difference. Depending on where you are located, there are several ways and options to choose from. This applies to every buy, swap, sell transaction. The Goal is for buyer and seller get to an agreement and a smooth transaction. I have listed 10 Best Android Apps to Sell Your Car that offer similar principles to sell your vehicle, with different standards.
Ebay
A worldwide power house app that covers a huge buyer market in search of a filtered specified vehicle. The seller can track views, bids, and answer questions in real time.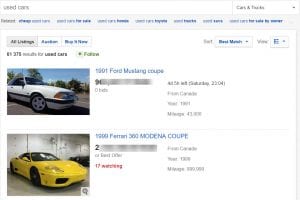 It also allows the seller to set duration, rate, delivery, and details that is flexible without strict policy regiment. 1 billion to 5 billion Installs many users are comfortable with its process as it's been around for a while.
back to menu ↑
Cpro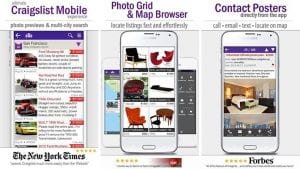 cPro = Craigslist – Just like the original Craigslist, but on steroids. The cPro allows the seller to submit multiple vehicles with a less than one minute post. Calls, text, and email between buyer and seller directly with ease. Now, cPro also allows "QR Codes linked to post" feature with rapid alerts, maps and direction for user friendly transaction. Just like most listing on Craigslist, there is no strict policy or guarantee as it is base on the individuals terms. With 10 – 50 million installs, many are aware of the Craiglist process.
back to menu ↑
Carswap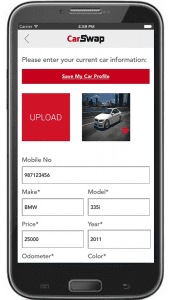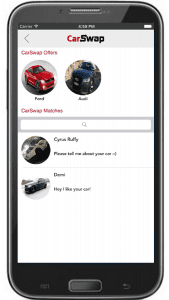 The flexibility with this app allows users to swap cars with ease. This could be for a temporary or permanent solution. There are other options such as rent or borrow a vehicle, thus create the ease for buyer or seller to settle into a vehicle before making a permanent decision. Its viable options alleviate some stress for unique situations.
back to menu ↑
Carfax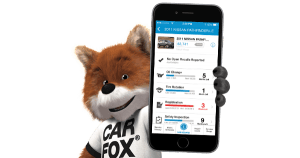 This app focuses on the Car Fax Vehicle history report to assist buyers in avoiding salvaged or refurbished vehicles that has been involved in collisions that may cause unforeseen problems later. They have over millions of vehicle stocks to peruse through and focuses on trucks, sedans, SUVs alligned with over 28000 dealers across the USA nation. Their user friendly application allows user to enter VIN number or license plate and can easily obtain or create the report needed to certify vehicle as Carfax worthy. With 500k – 1 million installs this app has been around and still moving.
back to menu ↑
AutoScout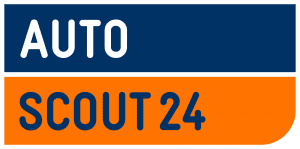 European base app covers over 2 million vehicles and motorbikes anytime and anywhere. This app covers all of Europe and considered the largest online market for buy and sell vehicles. Allows buyers to call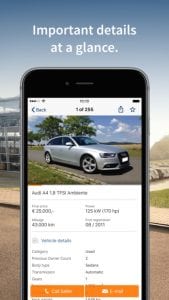 This app covers all of Europe and considered the largest online market for buy and sell vehicles. Allows buyers to call seller directly through the app. Buyers have the option to save searches and favorites that automatically syncs with sites. 10 – 50 million installs.
back to menu ↑
OLX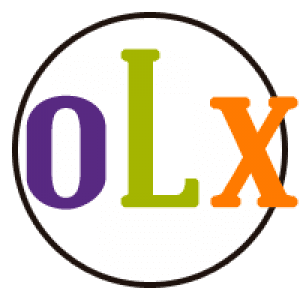 An all in one shopping app, well, in one app.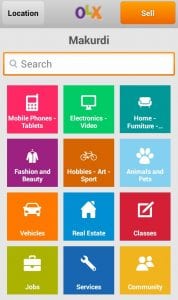 Orange button gets you to Vehicles
Covers dominantly India and South Asia, however, it prides itself that all users are registered with a profile and links to common friends with a chat first process. Similar to social apps with an eBay kick. This forum allows users to sell or buy everything, including cars. 30 seconds quick posts and no spam calls. There has been some negative reviews on the slow pace and hiccups on certain applications. There are many app versions to literally buy anything online.
back to menu ↑
Gumtree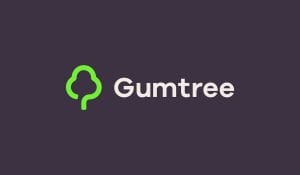 Affiliated with eBay, however, it executes a different approach to selling your vehicle. Covers a wide range in territory, Gumtree acts like a glorified classified ad offering upgrades to a vehicle or home furnishings. Like the old fashion classifieds seen in printed newspapers, it serves as a all-in-one online medium with direct in-app messaging that is linked to users phone. Individual sets his own terms and there is no strict policy in certified, warranty, guarantees towards the transaction. It has 5 – 10 million installs.
back to menu ↑
Trovit
This app allows buyers intricate filters for vehicles nearby and searched. It is known for ease and convenience for users. Sellers will have their vehicles listed on thousands of different websites, which provides wider coverage. 1 – 5million installs it is moving towards reliability.
back to menu ↑
PakWheels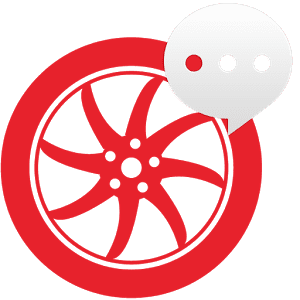 Pakistan number one portal for selling and purchasing vehicles, motorbikes, including autoparts. This site links with Facebook and allows users to manage accounts through the app. Listing is free and claims over 2 million users buying power. With 500k to 1 million installs.
back to menu ↑
UsedCarsForSale
This app is not updated often and slow in growth. It does offers a simple place for seller to sell specifically used vehicles at a "no haggle" and "certified" price. It also allows seller to provide service plans and warranties for their vehicles. 10 – 50k installs.
Whether you are a seller for a once a decade transaction or a professional online car dealer, there is an app that will meet your needs and speed. The result is your fat pocket and we hope these apps continue to update and strengthen in areas whcih we would like to see more competitive.