As we live in an age of sophisticated technology, we can afford several possibilities. These features can be attributed to the fact that we can read different works of literature, such as light novels without buying them. Having your phone with you and a handy app to read at any convenient time makes it easier.
So in the article down below, we prepared the best light novel apps for your entertainment. And for those who like to read love stories, we would also want to suggest checking our article about manga apps.
Google play books
The list is topped by an app from the developers of Google – Google Play books. The app is great for readers of any genre, and here you can find any book you want. The main advantage of the application is that here are collected not only e-books but also audiobooks, too.
You can search for books on the main screen by typing the title or author's name into the search box. Then, when you find a book of your choice, you can add it to your list of favorites and so on.
The app also has handy features like bookmarking, customizing the font and view of the reader, and so on. You can easily switch between different chapters of a novel by clicking on the list icon.
You can also fast-forward or rewind audiobooks and add bookmarks. We think this is a great app not only for reading a light novel, but also varieties of comics.
To read the work not only online but also offline, you only need to download your favorite work. They are downloaded in the app, and you can read them at any time, even if you don't have internet access.
Perhaps the only disadvantage of the app is that not all works can be downloaded, which means you have to buy them. But, otherwise, the application is a great option for reading light novels and various literary works.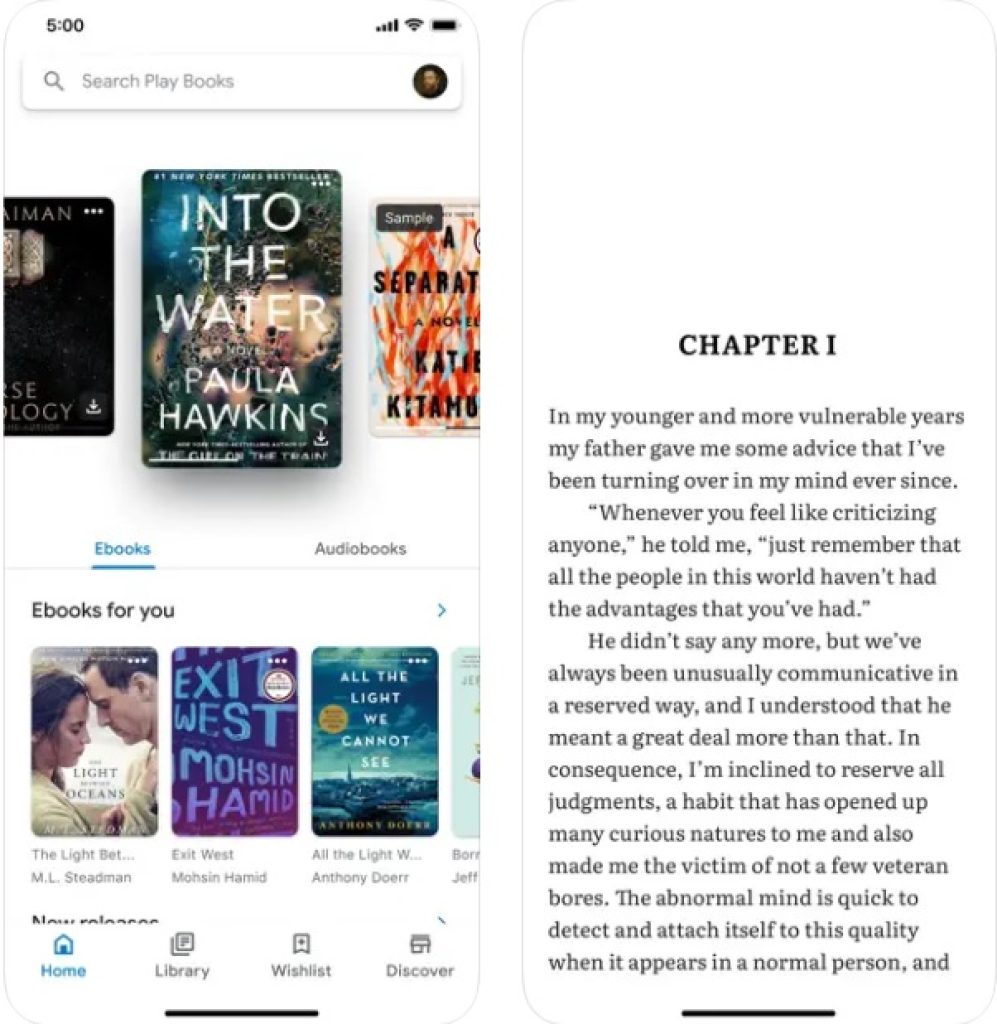 You may also like: 15 Free Apps To Read Comics Online for Android & iOS
BOOK WALKER – Manga & Novels
To read your favorite titles and not search for them on separate sites, you just need to download this application and then you can freely read any light novels and manga.
There are various manga genres available in the app, and several hundred light novels. Here you can find both new and old light novels, and you can download them to make them easy to read offline.
You can add works that you like, want to read, have read, and so on to your library. The app's interface is easy to use and it's not hard to read the manga. You can also find several hundreds of e-books here, and like other works, you can enjoy reading in the app. You can get all kinds of bonuses while using the app.
Light novels that you will read can be added to different collections. Also, while reading you can add bookmarks, mark your favorite pages and change the reader's appearance as you like. The application is quite popular among users and we decided without hesitation to add it to our list.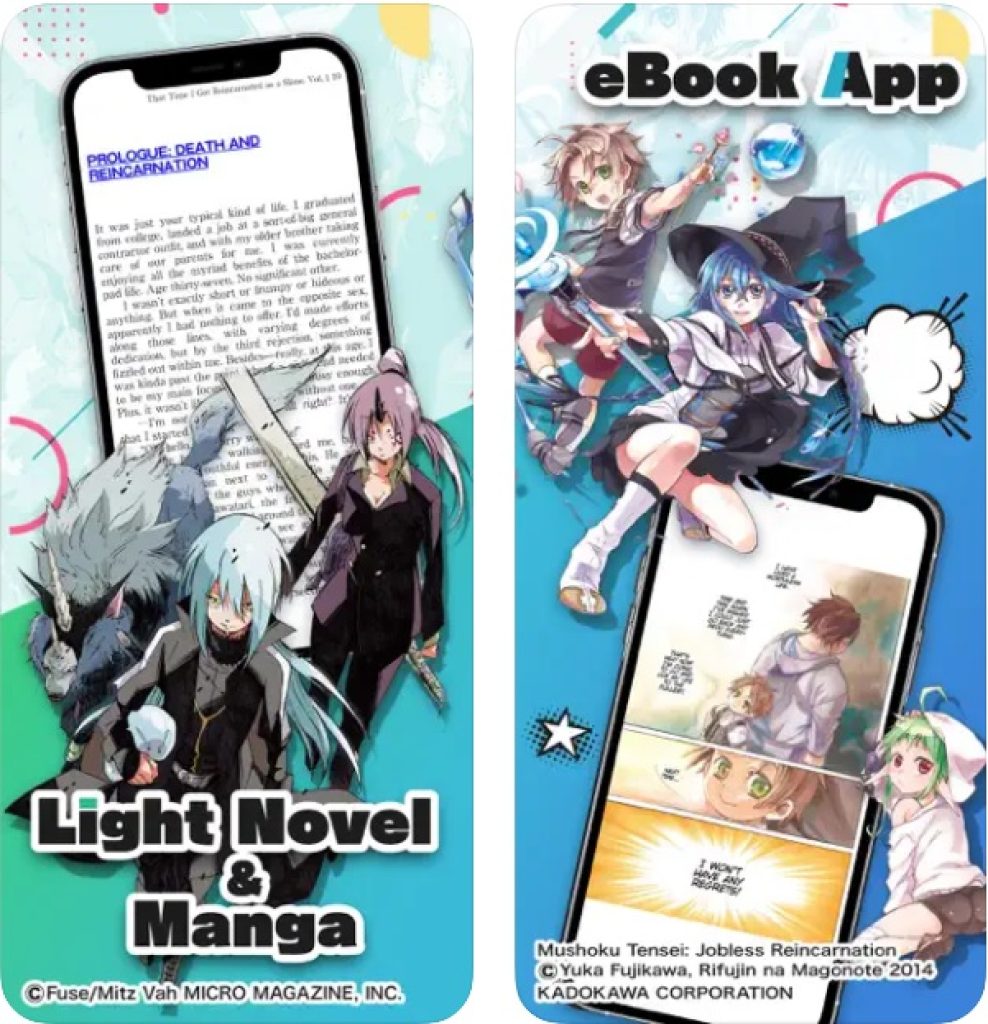 TapRead
Another great app with which you can dive into the world of manga, webtoon, comics, and novels. There are different genres of works, and with the help of these genres, you can find what you like. On the main screen of the app, you will see new releases or hot works to recommend to you.
Then you can browse what genres there are. You can find anything from regular high school romance to LGBT+-themed works. That is, there is no discrimination by works and genres, you can search works by name or by author.
Well, if you are a beginner and do not know where to start, you can choose from the recommendation of any work. The works you choose to read can be added to different collections in the library.
Also, the application is available for offline reading, which is very convenient. You no longer need the Internet to read your favorite works, just select novels and download them.
Downloaded works are saved in the app. Also, as with other apps, while reading, you can customize the app to your liking. The app has a lot of work, both free and paid, so it is still worth trying to read.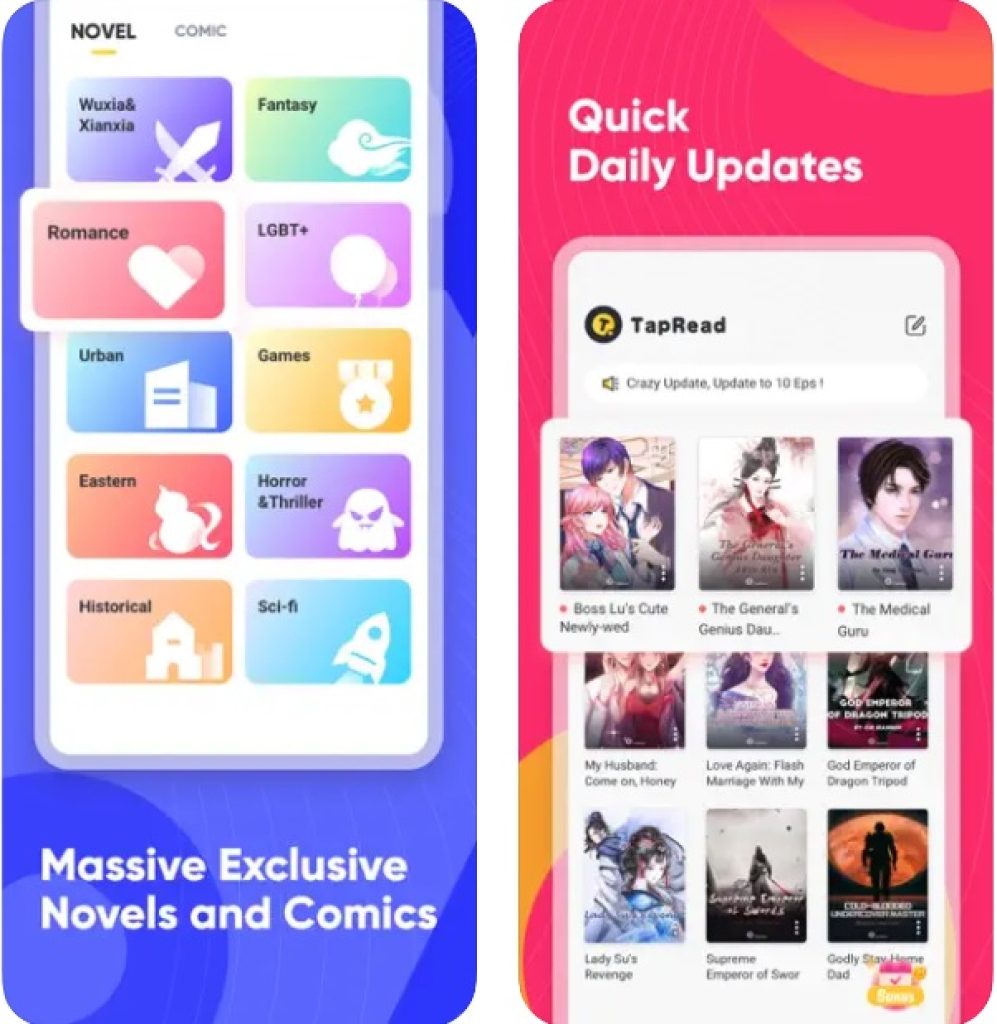 Scribd: Audiobooks & ebooks
Second, on the list is the best light novel reading app from the developers of Scribd Inc. This app is just a great find for any reader and those who are at least somewhat interested in books.
You only need to download this application and plunge into the world of literature. So let's not waste our time and let's start the review of the application and figure out what are the pros and cons of it.
There are about a million e-books, literary works, audiobooks, magazines, and so on in the app. On the main screen, you will see all the works in the application that you may like, or among which you can choose any of their novels or audiobooks.
Once you select a work you want to read you add it to the list of books you are already reading. If you browse through different books, you can add the ones you like to your reading list later.
As with other e-book reader apps, you can also personalize the screen to your liking. That is, you can change the look, font, color, and so on.
And you can also make all sorts of notes and bookmarks on your favorite pages so that you can go back at any time. To enjoy reading without connecting to the Internet you only need to download the title.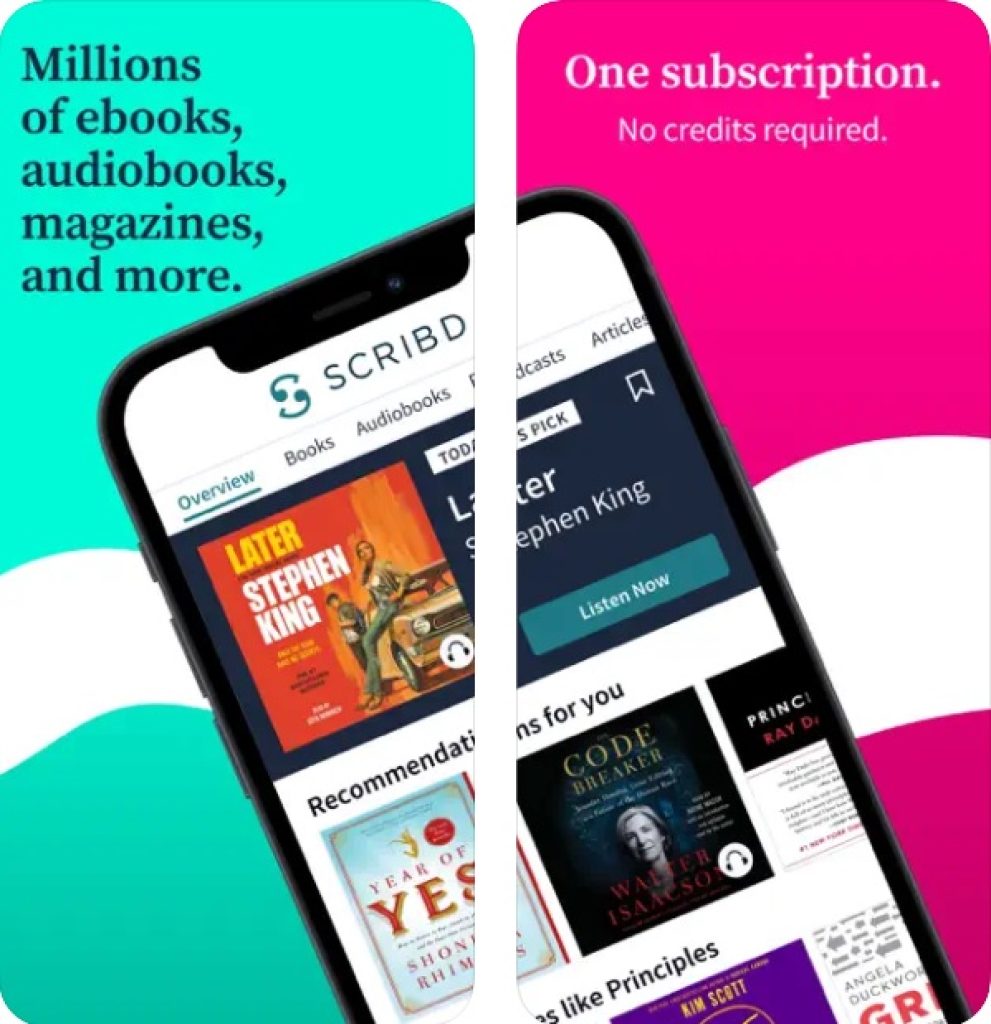 Novel Reader – Novel Man Full
This app is more suitable for those who like Chinese light novels because it contains all the works of Chinese authors than those of Japanese authors. Despite this, the app is top-notch because it has hundreds of different works, and each one is unique in its way and fascinates the reader from the first pages.
New releases and parts are released every week, so you don't have to wait for translations of easy novels from other sites.
The app is easy to read light novels, and you can also change the reader's setting while reading. That is, you can change the background of the text or the color or font in the text. Each work here is collected in different genres.
To choose a work, the first thing you have to choose is what genre you want to read novels. After selecting, you will see a new window with all the works.
In short, the application is convenient and easy to understand. No questions will arise during reading, because everything is easy to understand and does not require additional explanations. And in the end, if you like the work you can put a like on it as a favorite work to find it again at any time.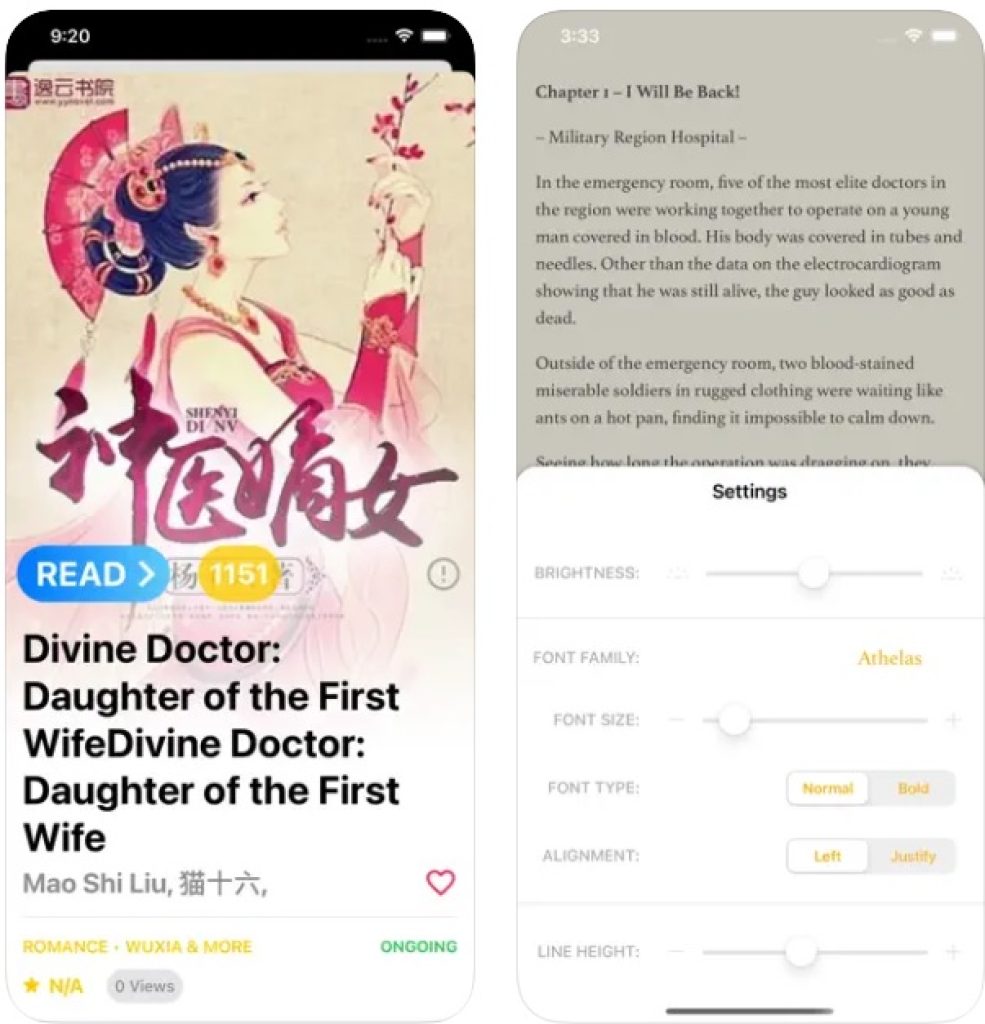 You may also like: 7 Best Apps to sell your books
Novel Cool
A similar app with some features and creative features that will make it easier for you to read light novels. We understand that reading light novels can bring a kind of soothing and relaxation, and in this app, you can not only read light novels but also listen to them.
It's a great feature, isn't it? Well, with this feature of the app, you can both read novels and listen to them. For example, you are standing in a full subway or bus, where you don't feel comfortable reading, in that case, you can just turn on the audio version of a light novel and listen.
The home page of the app will give you the latest releases and updated light novels. At the bottom of the boxes, you can select a genre, light novels that are finished, light novels that are still being written, and so on.
There are also various genres of light novels to suit all tastes. Users of the app can leave reviews and reactions under parts of novels or under the novel itself.
Personal sorting can be done by any user. There are several columns in the sorting, such as want to read, read, abandoned, finished, and things like that.
Adding work to each of the columns will help you remember whether or not you've read that work before. To read offline you can save your work to the cloud. It's also possible to customize the app.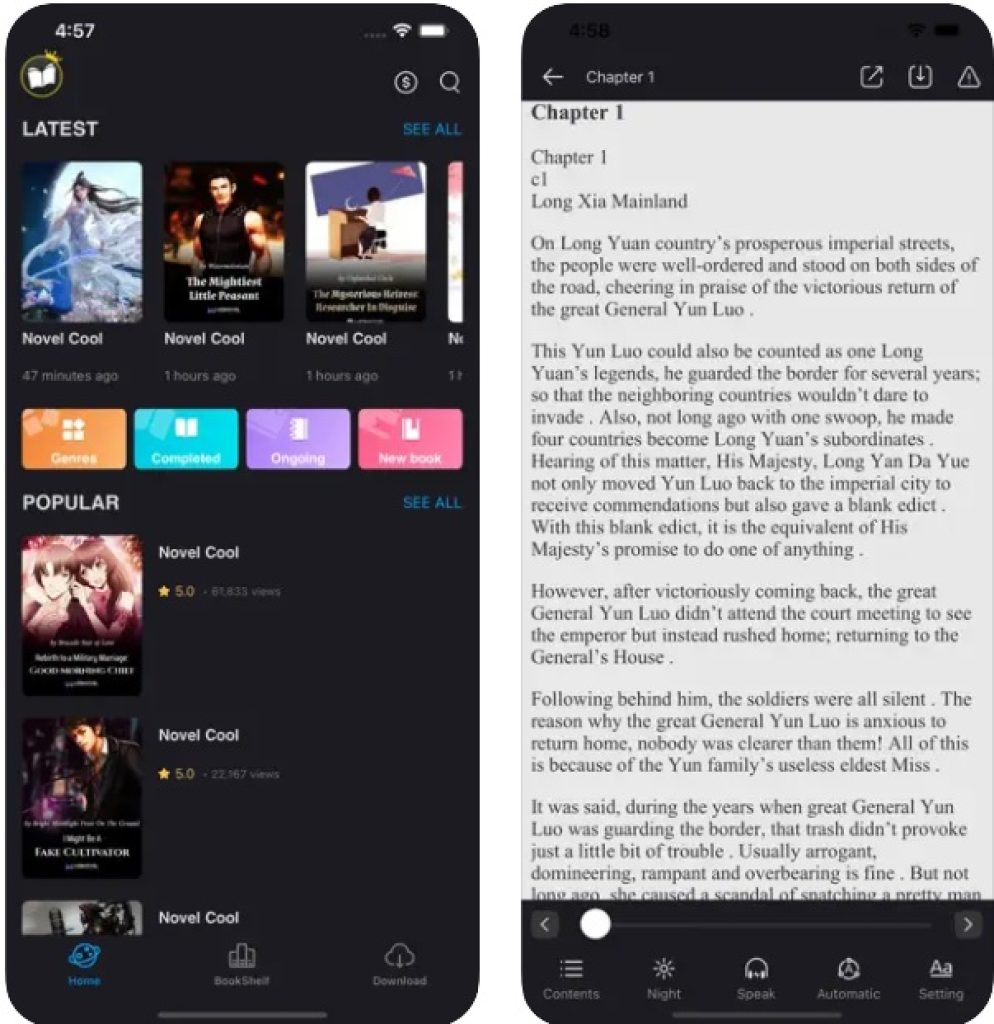 Novel Updates, The Best Reader for Light Novels
The app is pretty cool and has some great features, and you can certainly read light novels conveniently in it. The app was created by the same fans of light novels, so it is quite simple and quite self-explanatory.
The interface is just as common as in other apps for reading similar works. New parts of any works will be displayed in one place, you will receive a notification that the novels are updated and new pages are added.
What's most convenient about the apps is that there's an unlimited number of light novels of different genres and from different authors. In the application, you can choose to read during the day or at night, depending on this will change the background of the text.
You can read in the app by registering, which gives you several new features, such as liking your favorite works, adding them to your collections, and so on. In short, it's a great app for readers of light novels, so it's highly recommended to test the app at least once.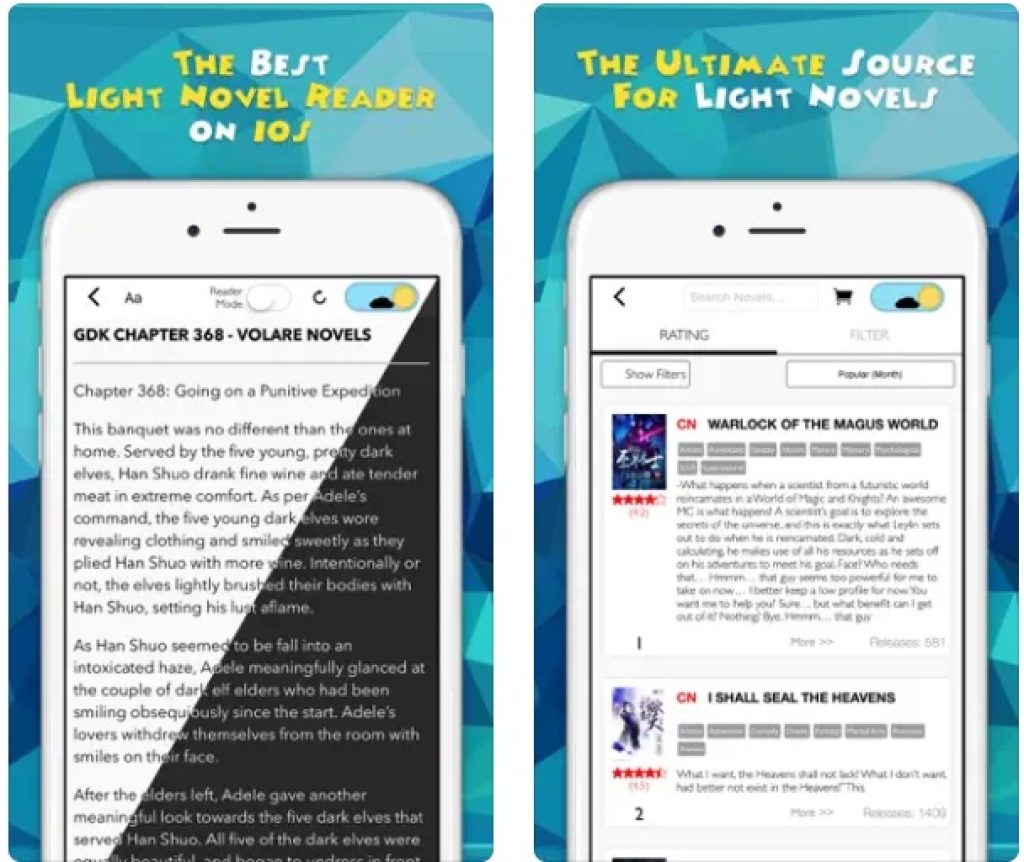 Light Novel
One of the most original app titles on our list. This application is an adaptive reader, which allows users some features and cool functions. It does not differ from other applications on the list, but we decided to make a small review.
We rated the app as one of the best because it contains not only Japanese light novels but also Korean and Chinese ones. They are all in one list and you don't have to look for them in different collections.
Also, another handy feature of the app is that it shows the table of contents of a light novel. That is, you can choose which chapter to start reading from, and it's also handy for moving between pages and chapters.
The works that you read will be saved in the history tab, from there you can remove them. You can also add works by different authors to your collections. To open new works you just need to go to the tab new or recommendations.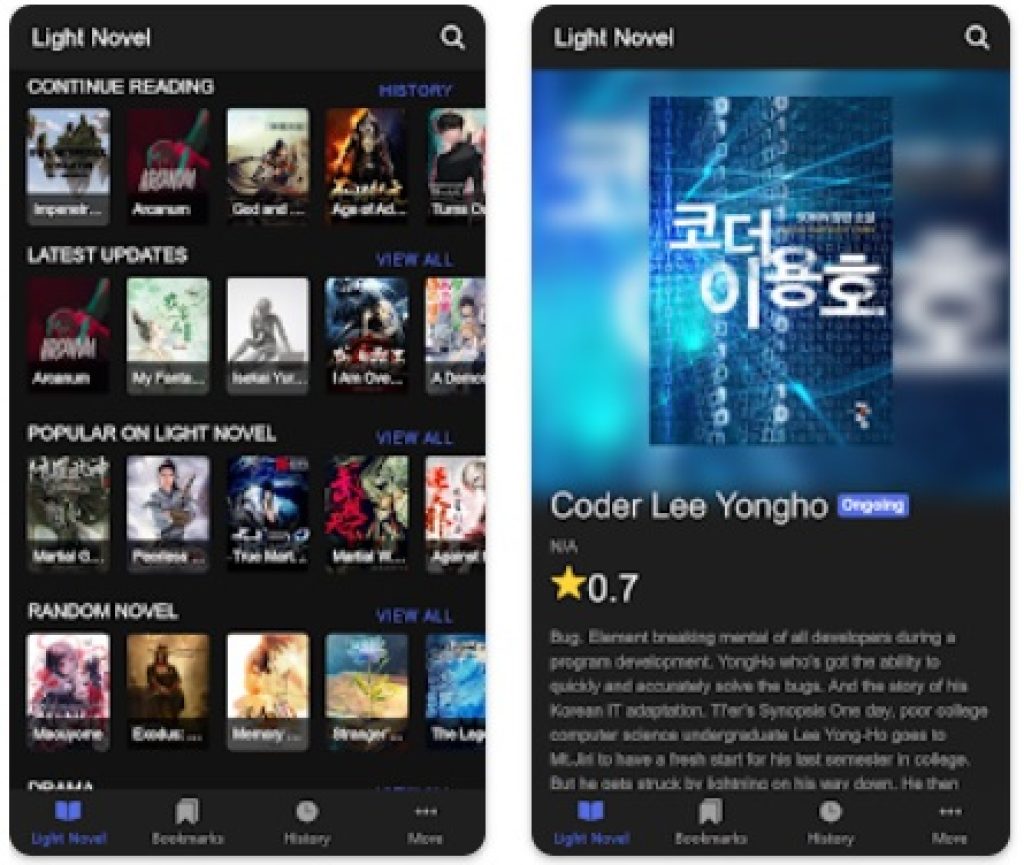 Novelfull – read novel offline
The name already speaks for itself that you can read light novels offline in it. Because of that, we decided to add it to our list. In the app, you can study the table of contents of work without leaving the reader mode. It won't distract you from reading in any way, the content will always be in the side menu, which you can hide.
Before you start reading a particular work, you can familiarize yourself with the details of the work and read the description, chapter listings, author, and the like. You can also listen to the audio version of a light novel in the app. Like other users, you can leave your feedback and comments under the works.
In the end, we want to say that the application is user-friendly for any user and if something does not like the look of the reader, you can adjust it. But in principle, an ordinary reader is no different from the others.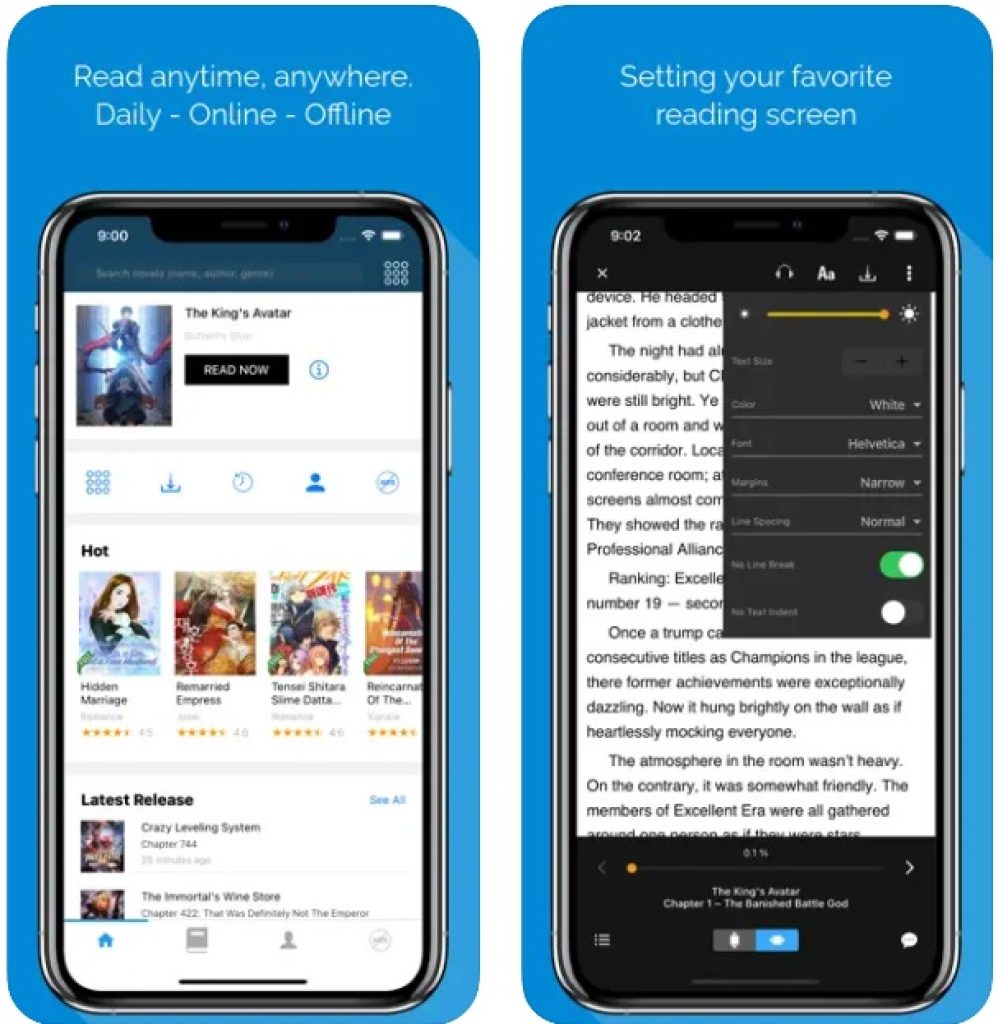 Moon+ reader
This app allows users to enjoy reading e-books, light novels, and the usual short stories. The reader is easy to use and you can also highlight your favorite line or quote and highlight it. You can also add bookmarks to mark your favorite pages.
So another cool feature of the app is that it automatically records your reading time. That means you no longer need to keep track of time, because the clock is always at hand, namely in the app at the very bottom of the page.
You can also find hyperlinks in some of the works, with which you can find more information about the person or the event, mentioned on the pages.
The application is a great find for those who like to read and get away from thoughts and fuss. All you need is to download the app and enjoy reading or listening to e-books or light novels. The possibilities of the application do not end there, so we leave the rest of the review to you.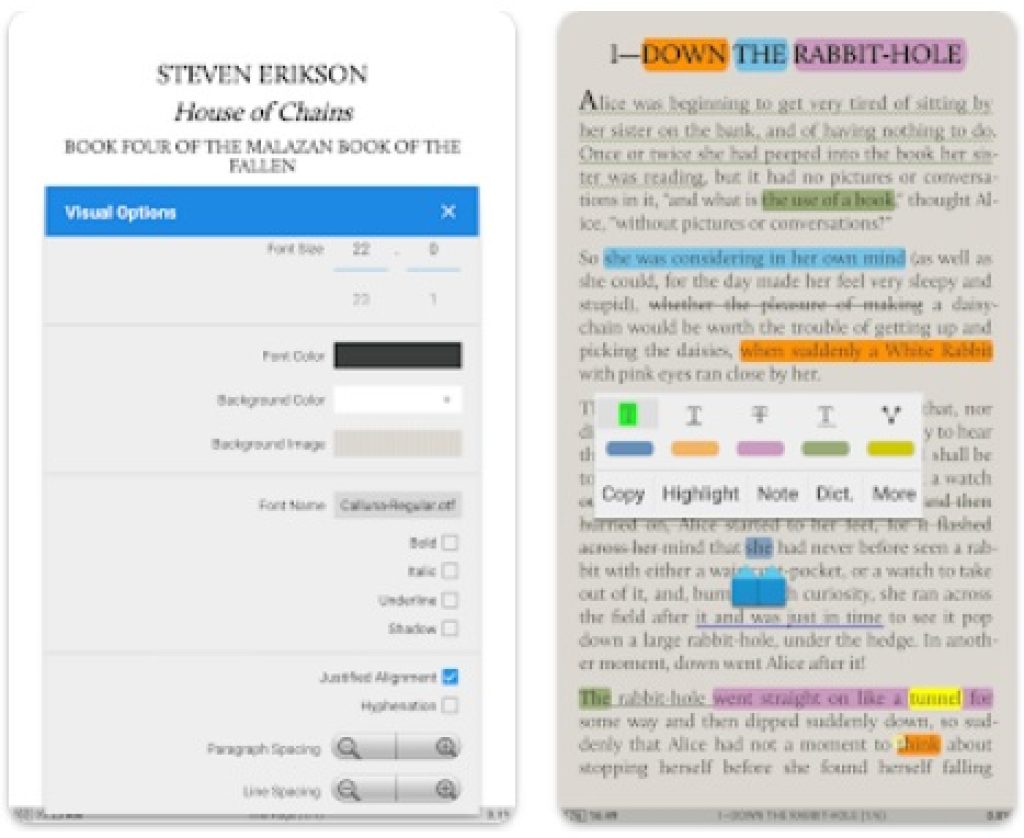 You may also like: 11 Best apps that read articles for you (Android & iOS)
Webnovel
A great app for easy reading of light novels and comics, as well as manga and the like. There are a lot of different works in the application that you may find interesting. All these works can be read online or downloaded to the cloud to read offline. On the main screen, you can add and create your reading lists.
We also want to mention that this application allows you to communicate with the author. That is, authors of works published in the application can leave messages to their readers. Here, readers can evaluate the work and leave their opinions.
The application pleases its users with daily gifts, so it is quite popular among users. To learn everything about the application, we recommend downloading and testing it, because our little review alone is not enough to learn about the intricacies of the application.