9 Best Stylus and S-Pen apps for Android
Creating notes, putting them in a notebook or making sketches is common for most people. Although we live in a digital world, paper and pen remain natural writing tools for us.
Creating Notes and sketches helps our brains come up with ideas and develop them. And handwriting helps us not only think more creatively but also more effectively.
For this purpose, you can use modern technologies. Namely Stylus and S-Pen for owners of smartphones based on Android. In this list, you can find the best applications in which you can use your Stylus and S-Pen.
Squid – Take Notes & Markup PDFs
The Squid – Take Notes & Markup PDFs application refers to notebooks that are manually recorded using the stylus.
Using this program you will get a simple tool. It contains the most important features for creating handwritten notes.
The program Squid – Take Notes & Markup PDFs has three operating modes and three screens, respectively. Recording screen, editing screen, and note manager screen.
Inline input mode, the application allows you to create very readable notes. The Editor's screen is a space with lines on top of which you can write lines. The program will scale these records and arrange them neatly on the rulers.
The app Squid – Take Notes & Markup PDFs allows you to create quite long records by using an interesting method of input. By writing a few words to the end of the screen and clicking on the special arrow, you can move this screen.
Next, you can write a line below. To insert the typed line on the ruler, you need to click on one of the buttons with a white circle. They automatically appear on the right and left of the screen at the beginning of any record.
You can set a time interval for a set of rows. The interval value is set by enabling the corresponding option. It is activated via the hardware "Menu" button. This makes it possible to automate the input of words without using the buttons with circles.
You may also like: Free 15 drawing apps for Android
Google Handwriting Input
The Google Handwriting Input application is a convenient way to create notes with your Stylus and S-Pen.
The text editor has a small toolbar. For example, there is a button to go back one line input. There is also a line feed button, a space bar, and a button to clear the entered text.
You can also select the line size and color for your handwriting on this toolbar.
The program Google Handwriting Input has a mode of editing the notes made. You can switch to the screen of this mode by pressing the pencil button on the toolbar.
On the edit screen, you can use the single-line selection function. To do this, click on the special button with the vertical cursor.
This makes it possible to copy, cut and paste the text as in conventional text editors. Buttons for copying, cutting, and pasting will appear after clicking on the area.
There is also a button to insert an image into the note. You can do this by selecting an image from the gallery or using the file manager.
If you press the hardware system's "menu" button in edit mode, an extra panel will appear. Here you will find the options to delete this note and select the color of the page.
Microsoft OneNote: Save Ideas and Organize Notes
The Microsoft OneNote: Save Ideas and Organize Notes app allows android smartphone users to create notes using Stylus and S-Pen.
Each page of the virtual notebook is marked out. This makes the e-mail more convenient. The application also automatically aligns your text when you enter it by hand.
You can edit your text input as you like. For example, you can choose a pen color or even saturation. The finished note is saved in the application library.
In the program Microsoft OneNote: Save Ideas and Organize Notes, you can choose to send this note via email. Here you can also move the note from one folder to another. You can manage folders on the Notes Manager screen.
You can switch to the Notes Manager from Edit mode by pressing the Back button on your smartphone. All your notes are displayed in thumbnail view in this manager.
Notes can be grouped into folders. The function of creating folders is called up from the system menu. Subfolders are not supported. Folders can be assigned names and appearances. Here in the manager in the lower right corner will be the button for creating a new note.
The application Microsoft OneNote: Save Ideas and Organize Notes has the possibility to install notes on the desktop in the form of widgets. This allows you to quickly pass to editing the most actual notes.
How to Draw – Easy Lessons
How to Draw – Easy Lessons is one of the most famous applications for drawing and image processing.
It is one of the most versatile programs. When used in combination with Stylus and S-Pen, you can not only draw but also process images.
The app is described as a full-featured graphic editor with the ability to sketch. You can also draw and create complex graphical compositions.
More than a hundred brushes and artistic accessories developed by artists are provided.
Watercolor and pastel drawings created in the application look almost real. You can adjust the thickness of strokes, mix colors, and more.
The application How to Draw – Easy Lessons also provides functions for processing photos and graphic design. It also offers a wide range of colors. You can mix and combine them to create unique shades. It makes it easy to manage layers and templates.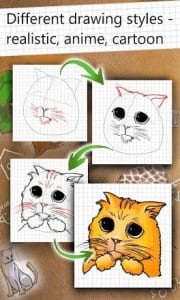 What distinguishes How to Draw – Easy Lessons from other applications is the very simple and user-friendly interface. Even technically unskilled users will be able to use all the features of the program.
PaperDraw: Paint Draw Sketchbook
The PaperDraw: Paint Draw Sketchbook app offers a complete set of drawing tools. They are suitable for beginners as well as professionals.
Among them:
fully customizable brushes
a palette of colors with their basic combinations
texture filling
complete work with layers
The application interface is intuitive. So you'll be able to focus on drawing, not finding any tools to do so.
With this simple application, you can add more details to your selfies. Colorize sketches of any complexity and create fantastic worlds from scratch. From the sketch to the detailed illustration.
Besides, here you can create a design of figures and icons, edit the text and print shop. Add contours and fillings, change, enlarge and rotate, and align objects to the grid. Duplicate or rearrange them, and so on.
The application PaperDraw: Paint Draw Sketchbook works with both vector and raster graphics. It has a simple and clear interface, which does not need a lot of time to study. With the help of this application, you will get to realize even the most incredible ideas.
ArtFlow Paint Draw Sketchbook
ArtFlow Paint Draw Sketchbook is a simple and intuitive application for sketches and notes. You can use it to create sketches and graphics, take notes and sketches by hand. Give your ideas quite meaningful forms.
It's a set of 3D notebooks that will help you focus your attention and get creative. The app has fast gesture-based navigation. It will make the use of virtual sheets of paper more realistic.
When you run the app ArtFlow Paint Draw Sketchbook, it always opens a blank canvas. On this canvas, you can draw right away.
All the tools you need, the color palette, and the shared functions are all within one touch.
The app supports the automatic correction. It can be used to make sure that the strokes and sketches are even. It supports the storyboard. It also simulates lined paper. With them, your ideas will be structured.
When you exit the application ArtFlow Paint Draw Sketchbook, your drawing is automatically copied. This way, you can quickly insert it into any other program for extra processing. It's also handy for sending your drawing through social networks, messengers, and emails.
SketchBook – draw and paint
SketchBook – draw and paint is a multifunctional notepad for all your devices.
To get started, you need to create an account. Next, you need to authorize through clients on all your devices to synchronize notes.
Clicking on the notepad opens the cover. You can proceed to create notes. Everything here is classic, nothing unnecessary. In front of you is a sheet of paper with the page number, pen, eraser, and scissors.
The pen has an adjustable thickness in three positions and a variety of colors. Why the pen? Because SketchBook – draw and paint has some kind of handwriting algorithm.
Thanks to it, the thickness of the line changes depending on the pressing force. This gives your sketches and recordings a more realistic look. The scissors allow you to select the desired area on the sheet and move it to another part.
This is very convenient for editing and layout. You can use the eraser and the forward or backward arrows to edit. You can also move pages.
In addition to handwritten notes and drawings, you can insert photos or images into notes. This makes the app SketchBook – draw and paint convenient for creating photo captions. Notes are more diverse.
MediBang Paint – Make Art!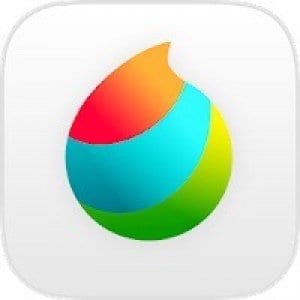 The MediBang Paint – Make Art! application is a good enough application for handwritten records.
The appearance of this application is brighter due to the colorful covers used. The home page also contains your notebooks and buttons to control them.
You can select the cover and paper type from the settings. You can also mark the notebook as read-only and set a password for it.
In the app MediBang Paint – Make Art, you can add photos to your handwritten notes. This is a very convenient feature. For example, you can record lectures and add photos of diagrams to them.
There's also a convenient way to zoom in, which is done with a standard gesture. It allows you to work in more detail with drawings or if you want to place small text on a page. Another option, if your notebook is too big, you can set bookmarks on important pages.
Inside the notebook, you can sort notes in any way. For example, by date, name, tags, and location. You can also create any number of notebooks, giving them thematic names.
Notebooks can also be group notebooks. For example, for colleagues at work or on a project. All notes are synchronized almost instantly, so all participants can see the process.
PENUP
PENUP differs markedly from the other two notebooks in that it is more suitable for drawing. Although handwritten notes are also easy to make.
The main screen looks nice. Keep the buttons to a small – delete, create a new album and send it to other applications or by mail.
The basic control is done with the usual gestures. Covers are more diverse and you can even set up your own image or photo.
By clicking on the desired notebook, it opens for quick viewing. Here you can also change the pages in places, clasping the right one.
In the beginning, you can choose the color of the cover and paper for your notebook. You can also zero out the entire book so you don't have to delete each page manually.
The notepad page is a normal sheet. At the bottom of this sheet, there is a toolbar with tools and color selection. The pen here changes its thickness depending on the speed with which you draw the line. Thus, the lines have some inertness. This makes the font more artistic.
The app PENUP will be a great place to store important information for the owners of Stylus and S-Pen.
You may also like: ZoomNotes app review