Our digital age has a lot of surprises, good or bad of course. One of the good things is our mobile phones and other devices that serve to simplify our life an bring more comfort to it. This way now we can have a pocket-size mobile version of the Holy Bible.
Moreover, instead of reading it on our phones we can listen to it. At any place and in any circumstances, being at home or commuting to work. Besides, we can enjoy studying the words of God having no internet access. Below there are 9 audio Bible apps that support offline audio streaming. For this, you will just download scriptures and verses on your phone. Also, most of these apps are free and available on Android and iOS platforms.
You may also like: 8 Best Bible Memory Apps (Android & iOS)
Bible App for Kids
Bible App for kids is the treasure for our little ones. It's free and doesn't require a constant internet connection. The app requests access to your device`s memory to save audio on it.
The app is colorful and entertaining. It dedicated to teaching kids everything about the Bible. The whole information is presented in audio stories, cartoons, and funny tasks to comprehend the Bible best.
Main content:
More than 40 animated stories suitable for kids and their understanding of the Bible.
Funny animated quizzes and exercises that look like pages of the book.
Stories are available in 25 different languages.
Each section of activity follows with rewards.
Stories are told in a way that is easy to understand for kids. There are no advertisements and the app can be found on both Google Market and App Store. Don't forget to free up space on your device or prepare the SD card.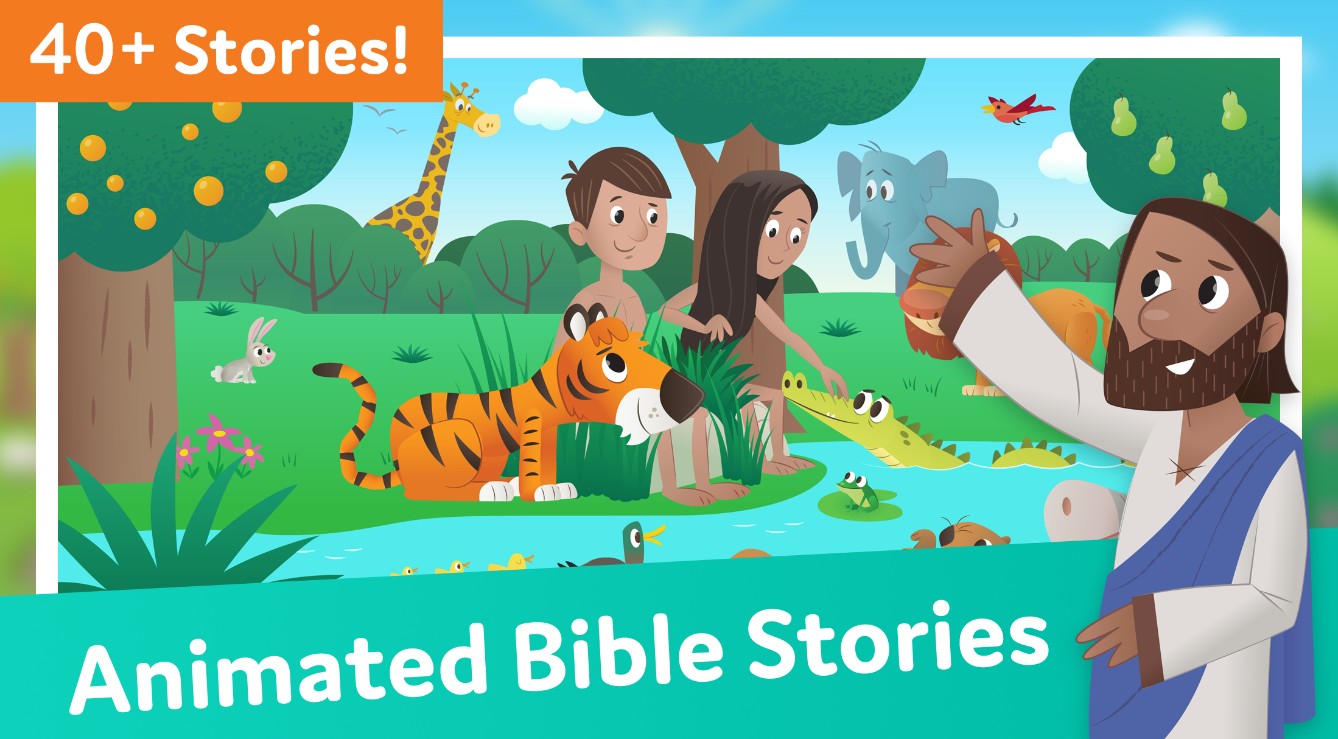 You may also like: 11 Best Bible Apps For Kids (Android & iOS)
The Study Bible
The Study Bible is one of the most popular applications that helps people in understanding the Holy book better. It has three different versions of the Bible: ESV( English Standard Version), NAS( New American Standart), KJV( King James Version). You can listen to them all, choosing different Scripture and its part. Verse numbers are also presented in the text but you can remove them.
In addition, the app offers John MacArthur special answers on different questions and comment on almost every passage of the Bible. Notes of The MacArthur Study Bible are available after purchasing only. However, it cost very few, at around $6. After all, you can download any of the parts and listen to them.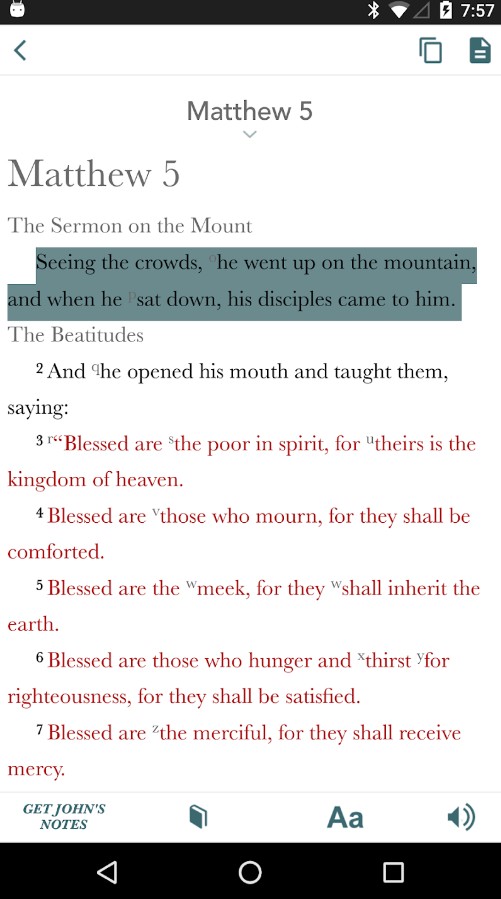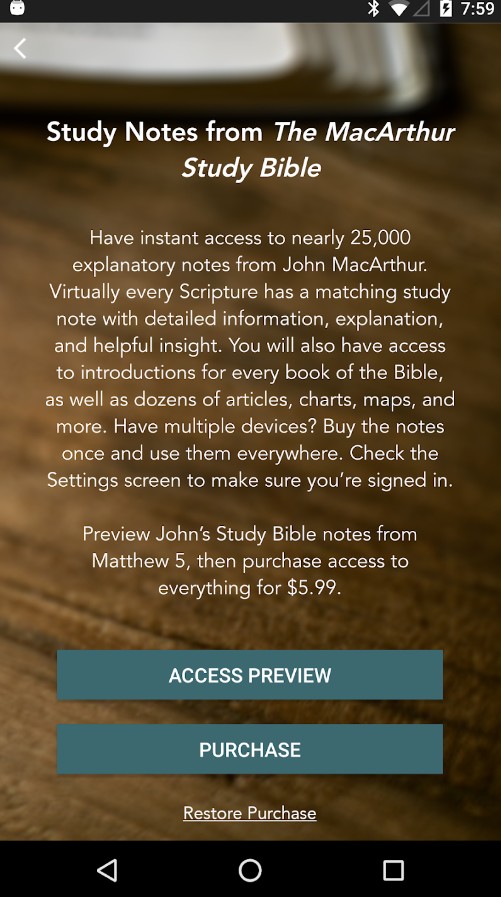 Bible
The Bible app is created by the same developer that made up the Bible App for Kids. In his turn, this app is extremely popular. Being downloaded more than 100 million times, having more than 2 million of mostly positive reviews on Android Market only. It still maintains the highest rate at around 4.8 on Android and 4.9 on the App Store. The app is a simple treasure for those who respect God`s word.
This popular app offers two ways of using. You can either read, watch or listen to the Bible online or download specific selection on your device and use it offline. You can share what you have read with friends. Moreover, there is a huge community with a lot of different topics to discuss. Here you can find like-minded people with the same faith.
The app offers:
Different versions of the Bible including the famous King James Version, English Standart Version, Revised Standart version and many others.
Different languages of the app and the Bible versions.
Online and offline app`s work.
The audio version of the Bible to listen to its sections instead of reading.
The app is available on Android and iOS platforms for free. Additionally, it also has an option to create images with The Bible quotes and share it with friends as the source of inspiration.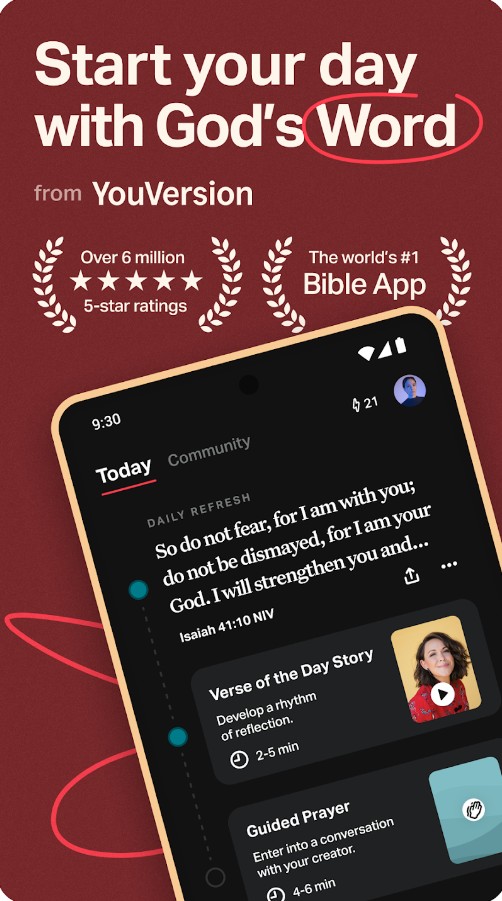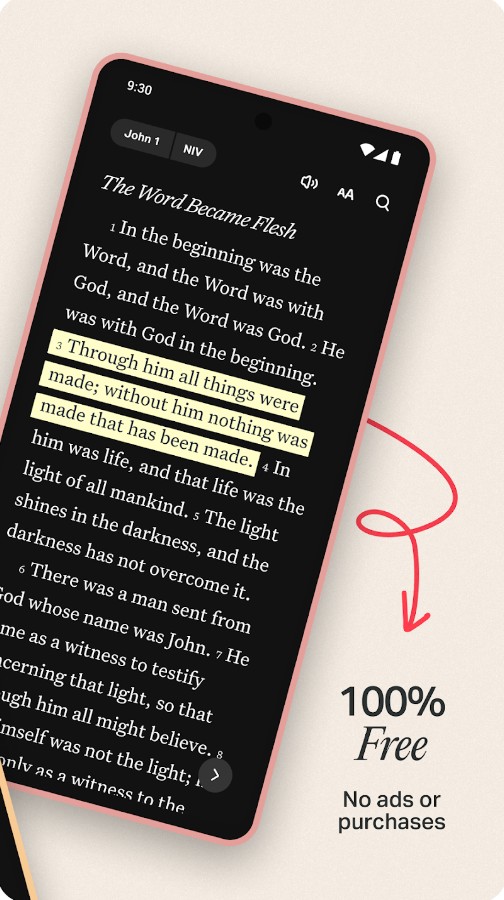 Audible
Audible is a source of thousands of audiobooks that luckily has a few versions of the Bible. Certainly, this app allows you to download audios on your device and listen to it at any comfortable for you time. However, while the app is free not all books are free and require either subscription or separate purchase.
The quality of sound is amazing in this app. That what probably made it that popular. You can keep your Bible beside you while the app offers you a chance to listen to the Bible parts at any place just use your headphones.
Main features:
The chance to listen to the Bible anywhere simply downloading audios. While you are committing, shopping, or resting at home.
The app pauses at the place you stopped and resume the audio from that place. That is the most convenient feature as not many Bible apps have it.
The payment isn't high. Around $3 for each book.
The app`s library consists of an infinite number of books of other genres.
And of course the app available for both platforms Android and iOS.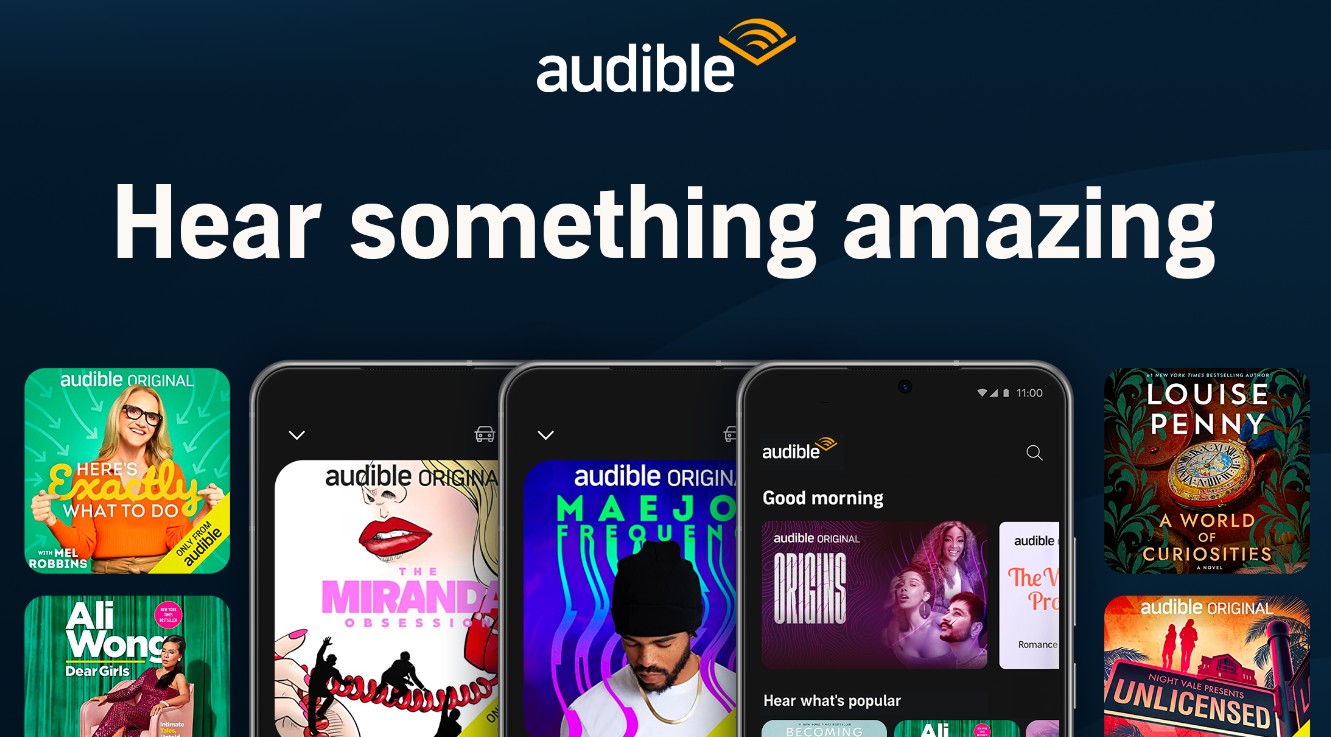 You may also like: 9 Free Bible Apps for iPad
Bible.is
Bible.is is yet another app that offers different scriptures of the Holy Book. It also called Dramatised Audio Bible as audios were recorded in different ways including dramatized ones with an emotional way of narration. Thus it sounds more like a book and its a pleasure to listen to it. Of course, it also required downloading audios on your device to listen to them.
The app supports different languages and also suggests a different version of the Bible including such languages as Russian, Thai, Farsi, Hebrew and many others. Due to the easy and comprehensive interface, the user can access settings fast and choose a suitable language and scripture. All verses can be shared through Facebook, Twitter or email.
As an addition, the app also has Jesus films of good quality that are available in different languages as well.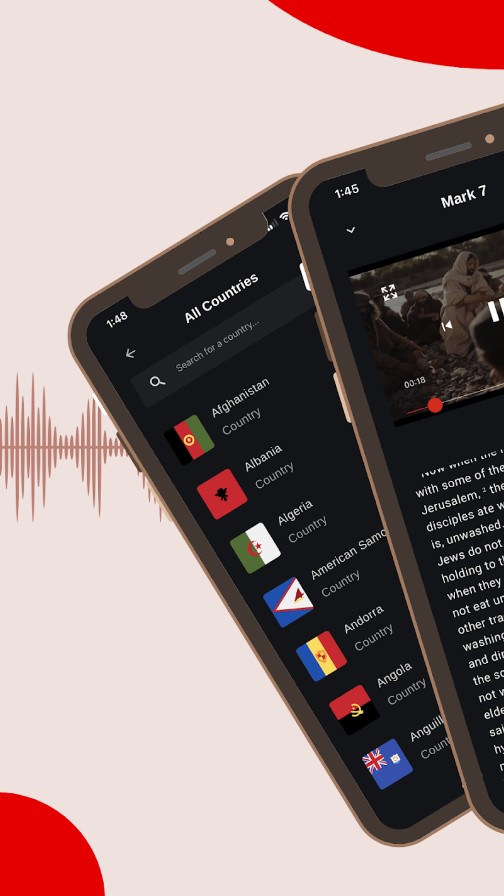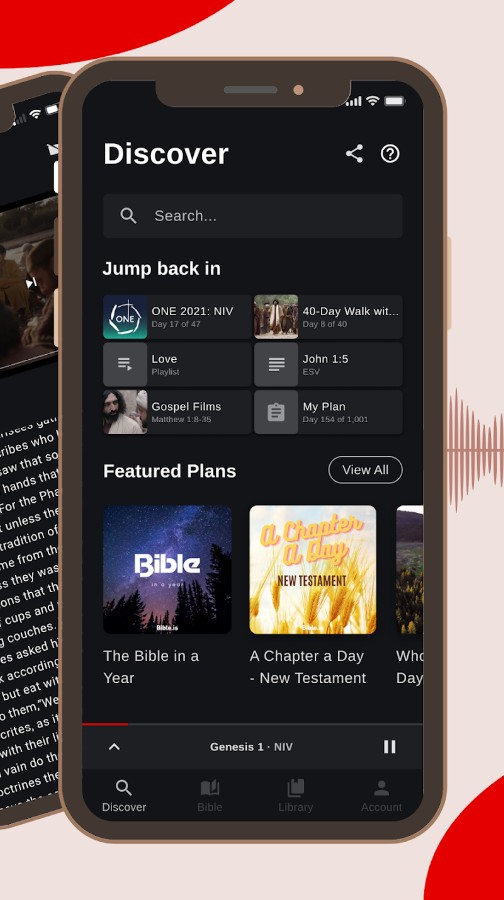 King James Bible
This app offers the King James Version of the Bible on your phone, providing a spiritual and enriching experience.
The app provides a user-friendly platform that allows you to conveniently read and engage with the sacred texts, making it an ideal companion for moments of reflection, study, and prayer.
It is possible to experience the joy of listening to the comforting words of the Bible with its audio feature. Let the soothing voices guide you through the scriptures, turning your daily commute, walks, or quiet moments into spiritually enriching experiences.
It offers a simple and intuitive interface, allowing you to navigate chapters, verses, and books effortlessly.
In general, if you're seeking guidance, comfort, or enlightenment, this app serves as a valuable tool to deepen your spiritual journey.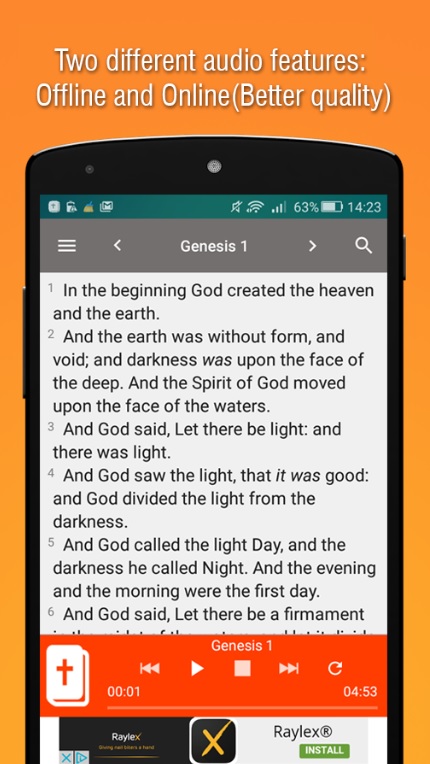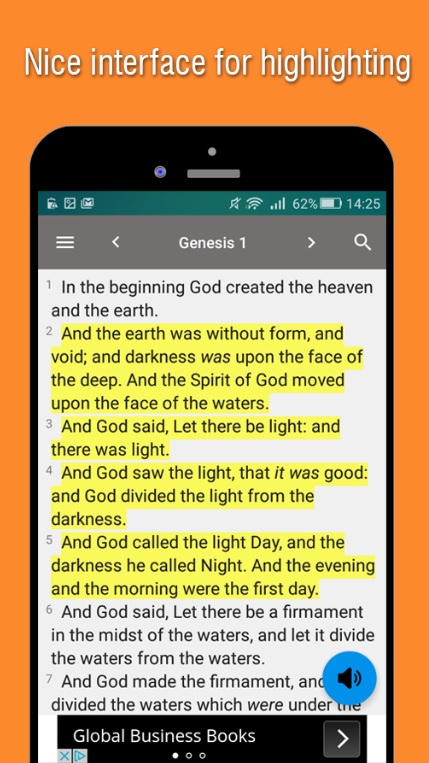 Audio Bible offline
Audio Bible offline is an app for regular study of the Old and New Testaments. The utility provides access to the Bible in various translations as well as scripture reading plans.
You get scripture reading plans based on situation, social group, mood, or purpose. These include schedules for new believers, women, men, children, newlyweds, spouses, and young adults.
It is worth noting that this utility includes a word search. It is possible to find video plans or photo poems. Search is available for tags with emotions, such as love, anger, hope, fear, depression, peace, patience, stress, and others.
The utility can read on its own or enable playback through the built-in audio player. It provides reminders for daily scripture readings. A verse of the day is offered that can be shared with friends. It is possible to highlight fragments with a virtual marker, create bookmarks and notes.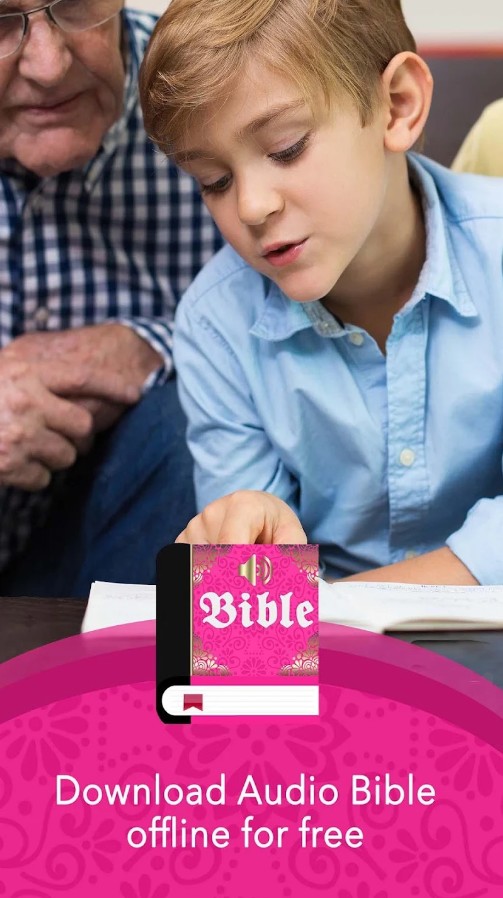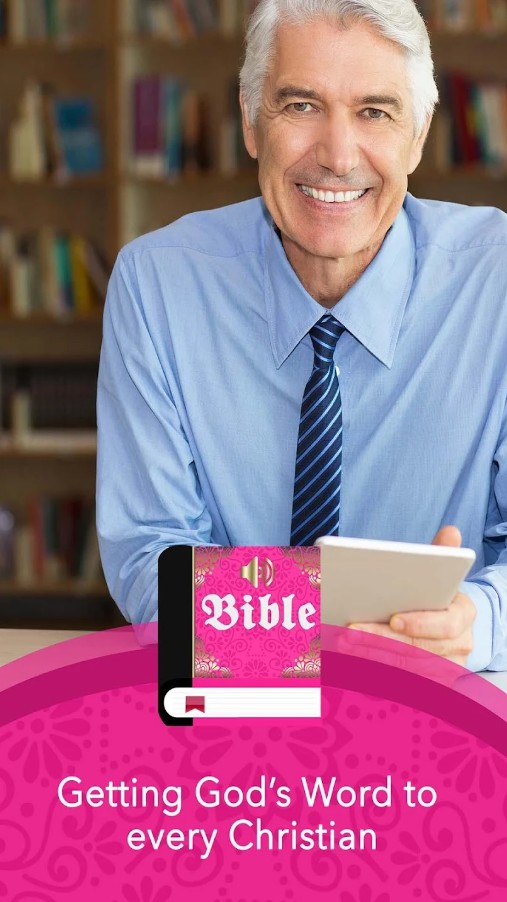 Offline Audio Bible KJV App
This app offers a wealth of benefits, allowing you to delve into the sacred scriptures and immerse yourself in the profound messages of faith, hope, and love. Listen to the Bible's teachings in high-quality audio format and engage with the scriptures throughout your daily routine, travel, or moments of reflection.
Beyond the audio feature, the app also offers a range of inspiring quotes that resonate with the teachings of Jesus and the divine wisdom contained within the Bible. These quotes serve as uplifting reminders of the spiritual values that guide our lives.
Looking for comfort, guidance, or a way to deepen your spiritual connection? The Offline Audio Bible KJV App offers a user-friendly interface that allows you to easily navigate and explore the scriptures. In addition to an audio-focused experience, the app also lets you read the Bible's verses.
In conclusion, this app can be a constant source of inspiration and a reminder of the profound teachings that illuminate the path of faith.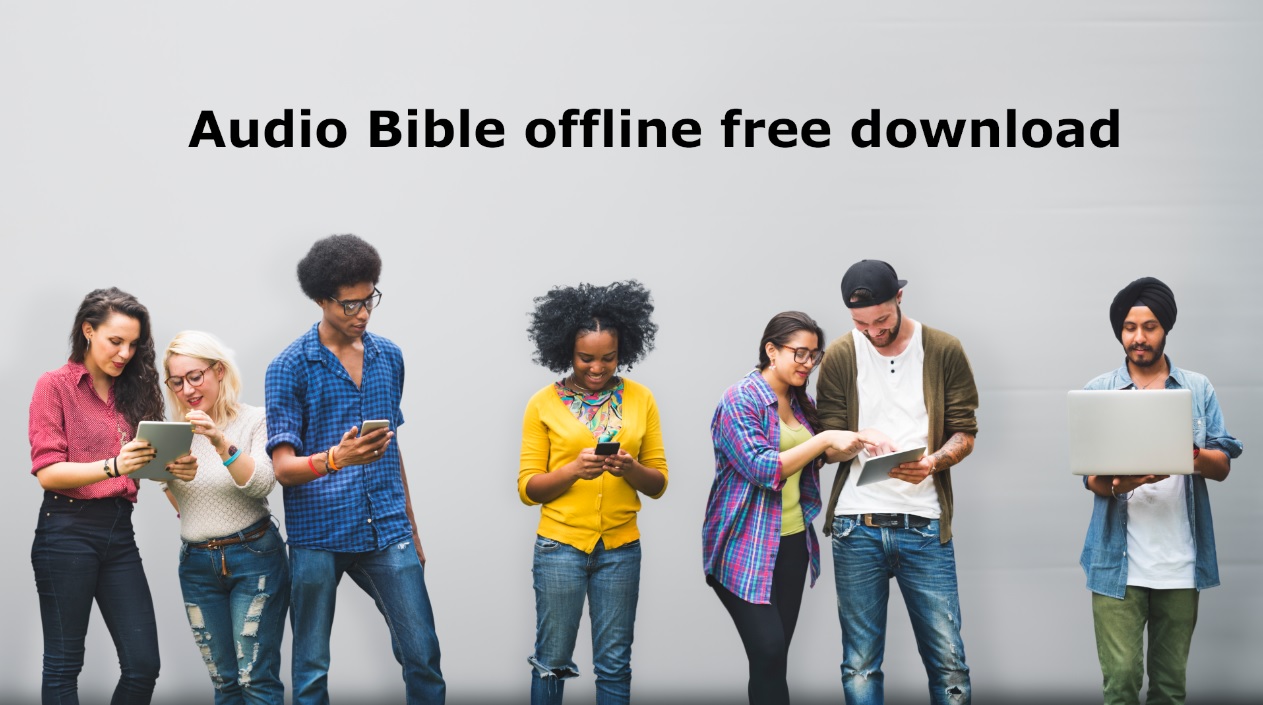 You may also like: 11 Best Christian TV Apps for Android & iOS
Niv Bible
NIV Bible is an offline service offering audio Bible verses that are can be played at any place despite the mobile signal. Also, it's free of any charges and has no distracting annoying apps. Definitely you can download verses to listen while the reading passage is open and the played text is highlighted.
There are thousands of different resources presenting words of God that can help everyone to learn the Bible and Christianity. Resources include the Audio Bible of different versions including the most famous we have mentioned already in the article above. If your mother tongue differs from English you can switch to it easily as the app supports multiple languages. One of the considerable pros of this app is the ability to make notes and highlights over the text that you are reading up right now.