Traveling by car has lots of pros, but all the fun goes down once something happens, and you get stuck on the side of the road. That's when roadside assistance service comes to play, and we're here to help you get it the easiest way!
We've found the 5 best tow truck apps like Uber that lets you request car help on demand. These apps help you find and request the nearest tow trucks available in the shortest time possible. Some of these also provide you with extra roadside assistance services and even help you diagnose car problems. Let's dive in!
OnStar Guardian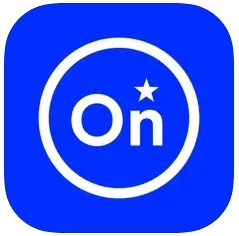 This is a safety app that will have your back covered on the road.
It's the ultimate roadside help app that lets you share location info with your fam, help in crashes, and more. The app comes with a built-in crash detector that will automatically send for help if you'll ever get in trouble on the road. It uses your phone's detectors to detect an accident, and you can customize the list of people t get notified immediately.
Along with that, the app lets you get help on the road as fast as possible. It can help you deal with a dead battery, get flat tire aid, and more. You may even request a fuel delivery if needed. The assistance services work for all vehicles and motorcycles, so you're all the way covered. The app also covers tow truck services, that will get to you in minimal time.
As for the other emergency services, the app comes with a 24/7 assistant you can contact for medical issue tips, weather problems, and all kinds of help in general. It practically works like 911: while you communicate with an assistant, the help responders will already be sent to your exact location.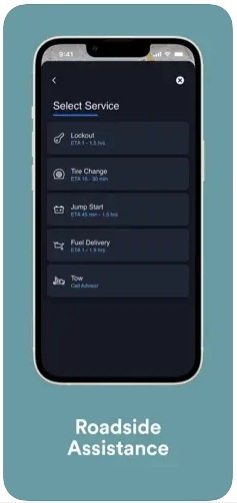 You may also like: 11 Best Offline Navigation Apps
AAA Mobile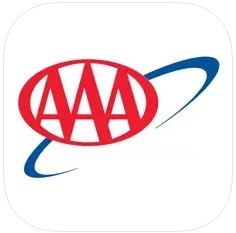 Here's a roadside assistance app that provides you with instant help for any on-the-road emergencies.
The app tracks your GPS data and immediately sends help to your exact location if needed. The tracking happens in the background, so it doesn't decrease your battery life that much. As for the assistance services, it lets you get instinct battery replacement, help with a flat tire, and more. Some tools may not be available in all areas, though, so keep that in mind.
The app also lets you request a tow truck that will be sent right away. Plus, you can use this app to find the nearest auto repair facilities to get your vehicle fixed. It also lets you find the cheapest gas prices nearby and build a route to them.
In fact, you can use this app for trip planning: it shows you the nearest restaurants hotels, stores, attractions, and all that. You can even rent a car right from the app. Each place comes with a rating and comments from real people, so you could avoid unpleasant experiences.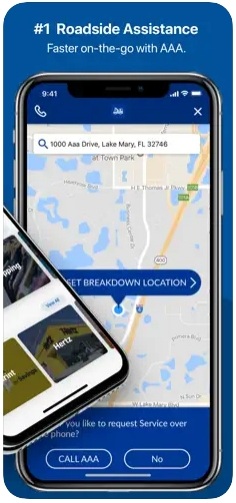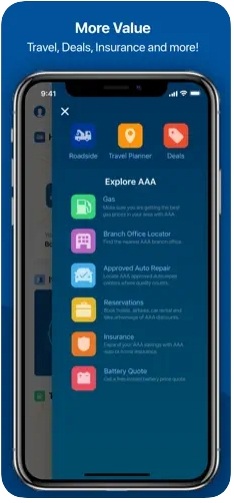 Roadside Assistance 24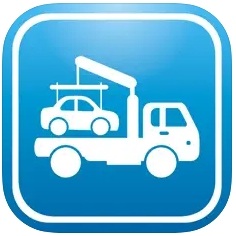 That's another app that lets you get instant help on the road.
The concept of this app is beyond simple. It tracks your GPS data and lets you contact tow trucks in case of trouble. Apart from the previous apps, this one is fully dedicated to towing, so there's not much else for you to do here. The good thing is, it tracks your location in the background, so your battery won't decrease faster than usual.
As for the mechanics, the app uses your locations to find the nearest tow trucks available and lets you contact them right away. Each service comes with ratings and reviews from real people, so you can avoid low-quality services.
The app provides you with contact info for car towing services and individual tow truck drivers, along with some basic info on their service. All you need to do is to make a call and discuss the details, and the help will be on the way to your exact location. You can also use this app to find local vehicle repair services.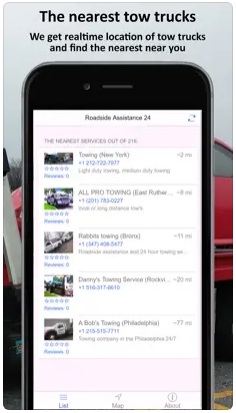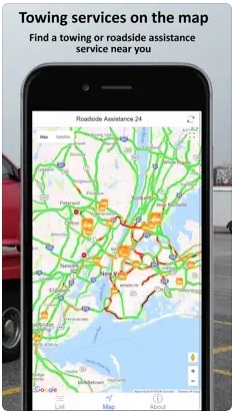 Check also: 9 Best Personal Safety Apps
HONK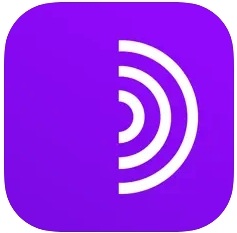 This app allows you to get vehicle help on demand.
The main goal of this one is to provide you with fast, high-quality roadside assistance wherever you are. So if you ever get into a car crash, get stuck on the side of the road, or whatever else, this app will be ready to help. It covers a wide range of services: towing, flat tire help, dead battery assistance, and more.
It even lets you request gas delivery and help if your keys get locked in the car. Sooth to say, it will be helpful with almost any since you may run into while on the road. The app keeps track of your location, so you could request the closest tow truck (or another service) available.
The app claims to have a pretty quick help arrival time. On average, the assistance will get to you in 15-20 minutes. It has a massive network of over 75K helpers nationwide, so you can get help wherever you are. The time may vary according to your location, though. And if you don't have cash on hand, don't worry: you can pay with your debit card right from the app.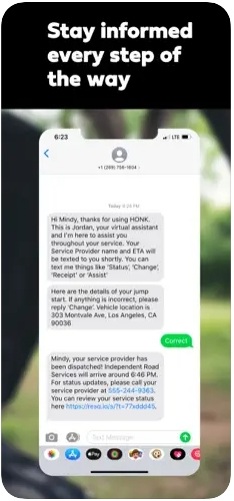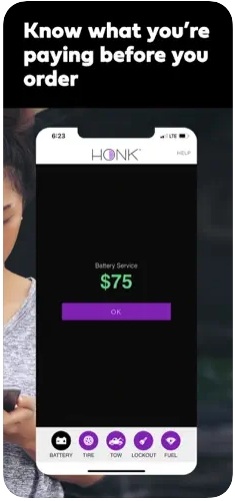 You may also check: 9 Best Driver Training Apps
Encompass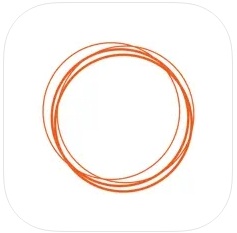 And lastly, we have an app that offers 24/7 emergency roadside help.
The app covers a wide range of features to cover all your needs. It offers towing services, and help with flat tire, dead batteries, car locks, and more. Herewith, all the services provided by the app go under your towing and labor coverage. The app comes with a simple UI that everyone could cope with, so no worries here. It works fast and gets you to call for help with a few taps.
As for the towing services, the app lets you find and contact the nearest tow trucks available. It uses your GPS data to send help to your exact location right away. You'll be notified once the help is on the way and get an estimated arrival time as well.
More to that, you can request fuel delivery, jump starts, and a bunch of other services if needed. In case you're not exactly sure what is wrong with your car, the app covers multiple prompts to help you figure it out and call for proper help.