7 Epic countdown timer apps for Android & iOS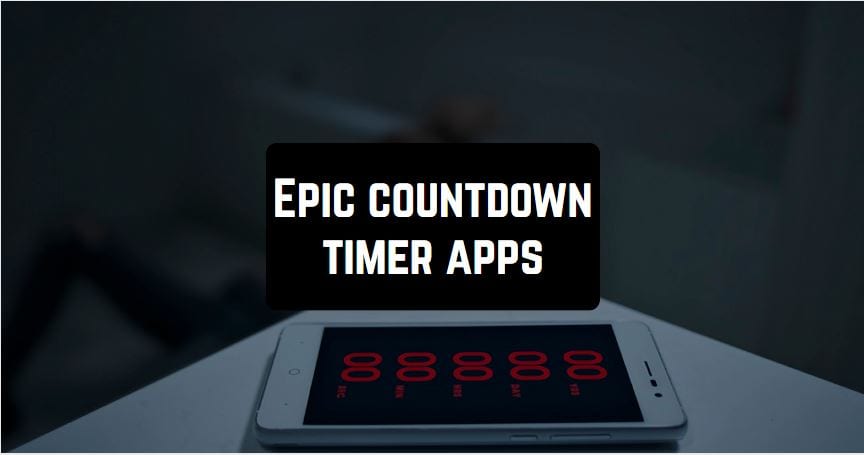 Are you waiting for something new in your life? Maybe there is going to be your birthday, an important exam or a date with your crash. Whatever it might be, you are counting down the days or even hours before the event.
However, the apps of this kind are very common. Thousands of apps will help you to plan your day. Still, today we will focus on something different.
What if we present you the list of the apps that will tell you when you die? Or the apps that can count down the days before something happens?
Here are 7 apps that can possibly 'predict' your future. Download them to have fun with your friends. Who knows, maybe some of the predictions will eventually turn out to be true?
Most of the apps are free with ads. They are available for iOS, as well as Android users.
Countdown
This is an extremely epic countdown app. Even though you can hardly use it for planning an event, Countdown will tell you what nobody can.
Are you brave enough to know the date of your death? If yes, download this app and find out. This is a great chance to know when something will happen.
So, as you might understand, this is not a planning app. A Countdown can tell you (actually it randomly picks the dates and the numbers it shows, but anyway) when a different type of things is going to occur.
The app is based on the movie "Countdown", where the characters know for sure when and where they are going to die.
We obviously would never recommend this app for children, as its content and the idea of Countdown itself might seem disturbing. But if you want something fun and a bit scary, feel free to use it.
Countdown is available for iOS, as well as Android users for free.
You may also like: 11 Best drink Water Reminder apps for Android & iOS
When will I die?
This is a great prank app that can help you predict the day of your death. The only thing you need to do is to download the app.
First of all, it will tell you the age when you die. Secondly, it can give you the exact time and the reason, which might be a car crash, murder, illness, or anything else.
This is a great app to have fun at a party. Try to guess who will be the first and the last to die.
'When will I die' is free of charge, but you will have to put up with ads. They help to keep the content free. Still, these ads are not too irritating, as they turn up quite rarely.
The app is available in App Store, as well as Google Play.
Retirement Countdown
This app is a little bit different from the others. It has nothing to do with your death, don't worry. It deals with a more pleasant thing – retirement.
It doesn't matter if the time is long. It might be a month, a year, or even more.
If you are about to finish your work and you are looking forward to it, Retirement Countdown is a must. Download it from App Store for free.
You can also use your pictures for the countdowns, this option costs 2.99$. Should you be irritated by the ads, you can remove them anytime – this option can be bought for 0.99$.
Download Retirement Countdown and count the days before your long-awaited rest from work.
Death Timer
This is a timer, a countdown app that will make you very excited and scared at the same time. Death Timer makes users think of the fact that our life will come to an end and all of us will die one day.
However, we can never know when it will happen and how we are going to cross over.
Death Timer is a nice game for big companies. What is more, it's a great option for such celebrations as Halloween. Turn off the lights and open the app – the spooky atmosphere is guaranteed.
This app is not guaranteed for kids. Use it if you are older than 12.
Death Timer is free with ads. Unfortunately, only Android users can enjoy all the functions of Death Timer.
Deadline – Watch your life, Make it Count
Have you ever thought of the duration of your life? Do you think that your attitude to life will change if you get constantly reminded of your death? Let's check!
Download the Deadline app and see if you are going to change your opinion about your life problems.
How does the app work? The predictions it makes are based on statistic data of human life expectancy. To get the most precise results, you need to give the app some information about yourself, such as your date of birth, sex, height, sleeping regiment, and physical activity.
By the way, it is possible to generate the date of death and create a card. After this, you can send it to your friends or share via social media, such as Facebook, Twitter, or Instagram.
The app is available in the App Store. It is free with ads.
Time Left – a Daily Reminder to live well
This is one of the most epic countdown apps. Are you concerned about family problems or exams? Then think about death, and very soon your magnified problems are not that big.
Time Left is a daily reminder that our life will not last forever, so what you need to do is to enjoy every single moment of time.
For sure, you need to keep in mind the fact that Time Left is an entertainment app only, but the idea behind this seems to be quite serious. Maybe thinking about death will make you less stressed about your problems.
Time Left is available for iOS users. It is free with ads.
4 in 1 School & Graduation Countdown
Everybody is looking forward to graduation from school or college. It's not a secret, we all want to be free from studies and finally enjoy life without deadlines, homework, and exams.
This app was created for this purpose. It is very flexible and easy-to-use. You can set the dates of your most important exams and start a countdown. If you need notifications, you are also free to change the settings, so that you don't forget about the upcoming exam.
The app is available in App Store for free. There is one in-app purchase, which is removing the ads. It costs 0.99$.
You can also check: 11 Must-have Emergency apps in 2020