Audiobooks are a great option for too busy people. Sometimes there is not enough time for self-development, much less just to read your favorite literature. In this case, you can always use the audio version of the work – when listening to it, you can play sports, cleaning or just go to work.
Unfortunately, it is not only books that you want to read. Articles, magazines, individual publications, and those books that are not in audio format can also be read aloud. For this, you will only need to use special applications and services.
At the moment, there are many applications that are ready to help you in translating the text into speech or vice-versa for example 11 Best speech-to-text apps for Android & iOS. We decided to find for you exactly those that will familiarize you with articles or publications in magazines and newspapers, and you will be able to upload your own text into them. We present to you the 11 best apps that read for you.
Pocket: Save. Read. Grow.
The Pocket app is designed to store useful content. It allows you to save articles, news, videos, and web pages from various utilities in a single space.
Pocket will allow you to organize content and use it offline, at any convenient time, on different devices. Creating an account will allow you to synchronize information between them.
You'll be able to fill your app space with only what you really care about. View it all without being distracted by extraneous things. The My List tab is for storing content found through any app. Its content is available offline.
The next section offers new content – fresh articles, news, and videos from popular resources. The search box allows you to search the web for content by title or link. A swipe to the left takes you to the Activity tab. There, you can track content from members of the Pocket community you're interested in.
The last tab handles your profile. Pocket's reading mode has a large number of settings. It allows you to change the font, backlighting, and format so that your eyes get tired minimally and there are no distractions. There is a text listening mode and a night mode with a dark theme.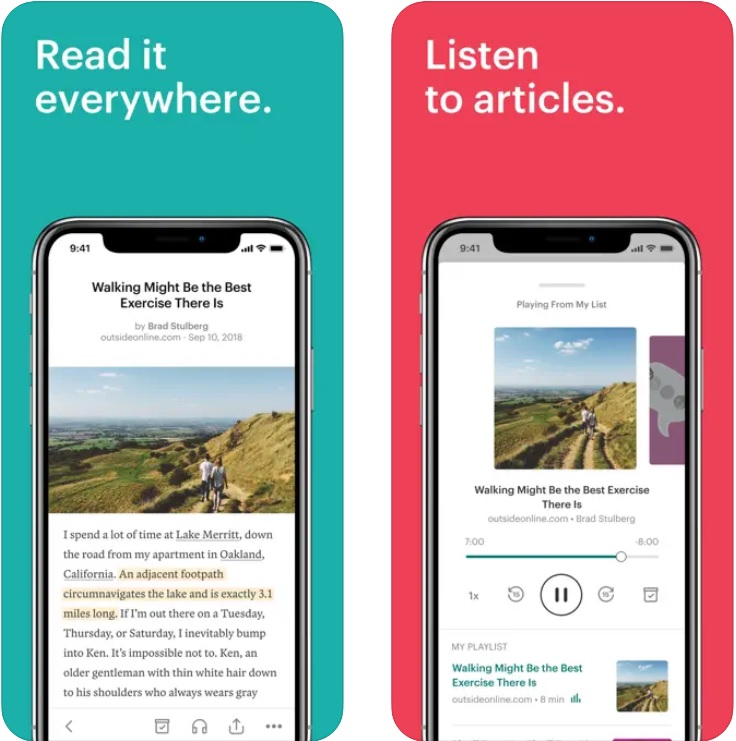 You may also like: 21 Best E-Book reader apps for Android & iOS
TTS Reader
TTS Reader is a great all-in-one application that allows the user to listen to any book or text that you upload to the application.
All formats of electronic articles and books are available for downloading into the application – so you don't have to look for special files. TTS Reader is a powerful application that you can use everywhere and at any time you want.
All book management becomes immediately clear in an intuitive interface. You control the playback process yourself. You can change the playback speed, height, and volume of articles and books in the settings.
Breaks, which depend on intonation and punctuation marks, can also be edited by the user in terms of length. Double-clicking on a page will be enough to start reading at a certain point. The end of playback can also be set up with a timer. It will pause the TTS Reader at a certain point.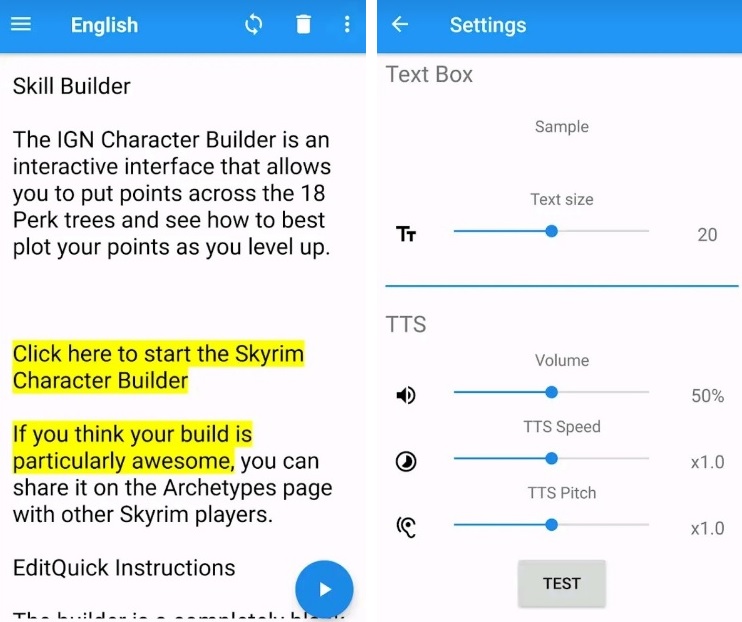 T2S: Text to Voice – Read Aloud
If you often read scientific articles and journals, you know that they are usually presented in PDF format. It is much rarer to find a textual interpretation.
For the most part, you will also need to start the reading process from a PDF file, in which case the T2S application is ideal. It works perfectly with these file formats, and can also work with a browser built into your smartphone.
The T2S app is designed for people who do not have much free time. If you don't have time to read the latest articles and news, or would like to convert text into speech and vice versa, then you will love T2S.
You can simply add the URL of the articles you are interested in and T2S will automatically start the reading process. Most smartphones also have the Speech to Text Conversion feature, which is useful for reply messages. The interface also provides basic buttons to control the playback process.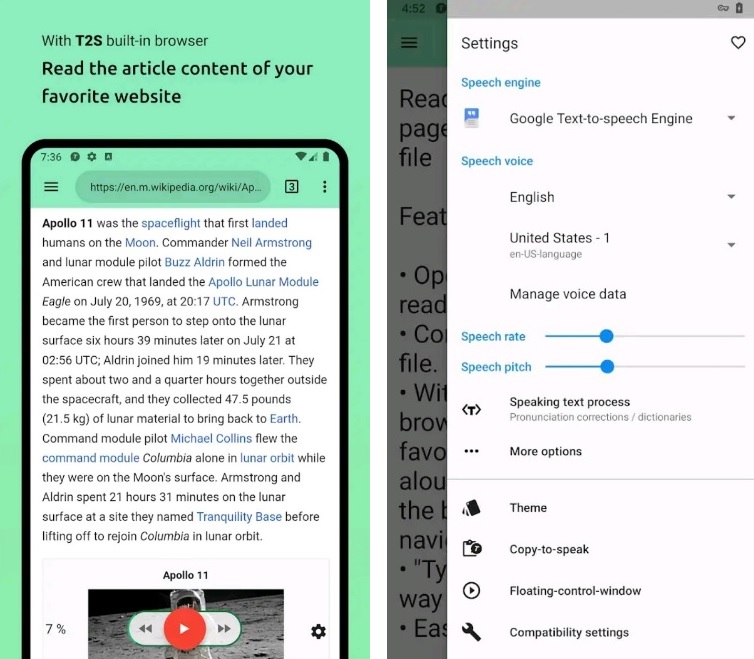 @Voice Aloud Reader
Voice Aloud Reader is one of the most popular and widely used applications that are great at translating the text into speech.
It plays back emails, articles, news, and complete web pages with text. You can also create a whole list of what will be in the reading queue: a playlist of books, articles, and emails.
It should be noted that for good and high-quality work you will need to install an additional speech synthesizer engine, which will be responsible for the processing.
Playback can be controlled both on your smartphone screen and on the buttons of the additional Bluetooth headset.
Another important fact is that Voice Aloud Reader automatically starts reading in English. If you're going to read text in a different language, you'll need to set that up beforehand. There are also other settings that you can use, such as pauses between paragraphs and sentences.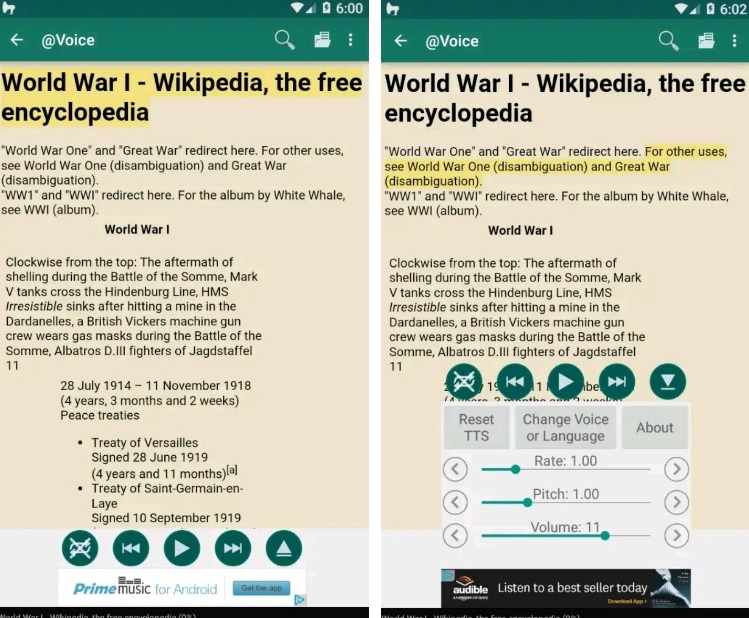 TTSReader Pro
TTSReader Pro is an application designed to read absolutely any text. So you can read websites, PDF files, text, and messages of your friends. Everything is played according to your settings – and you can start the application at any time.
To avoid wasting battery power, you can turn the screen off while listening to a long article or use your smartphone to communicate and do other things. Playback won't pause, though.
TTSReader Pro remembers exactly where you left off the previous time and starts playing from there. In addition, you can record messages in audio format for your friends – the text will be spoken in a completely different voice!
It should also be noted that when translating text, TTSReader Pro automatically reads sentences with the appropriate accent. You can record audio files up to 800 words, and the file will be immediately exported to the memory of your smartphone. Convert whole PDF files to MP3!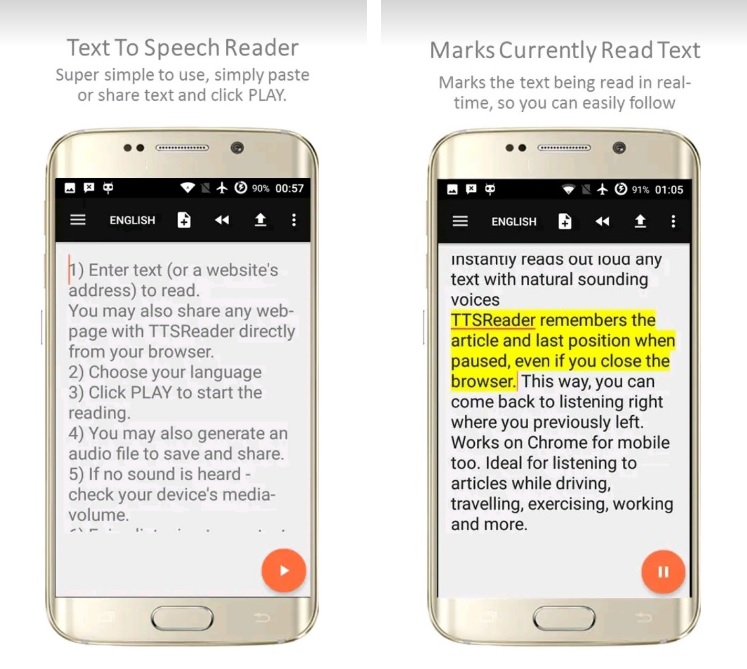 My Voice – Text To Speech
If you are learning a new language, you will not only need to listen to the text but also to visually follow the words spoken by the speaker.
My Voice is an application that you can use not only to listen to articles for fun but also to learn something new. The app highlights words on your screen as they are spoken and supports more than 30 different languages.
As we all know, each language has several regional dialects. My Voice supports several of them for each language, so you'll get used to listening. Some languages may also have both male and female pronunciation, so you make your own choices.
You can customize all the details of pronunciation and playback – pitch, speed, timbre, and more. You can also customize everything to make My Voice read with your voice. In the premium version, you can actually pronounce every word as you type to make sure your voice is memorized.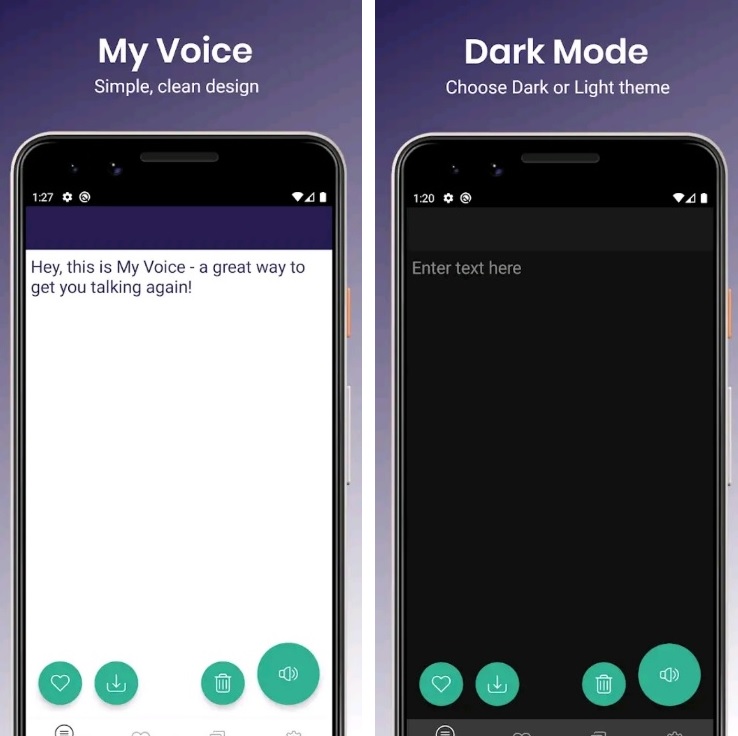 You may also like: 5 Best Android reader apps with dictionary
Talk FREE – Text to Voice – Read aloud
The Talk FREE application pronounces literally all the text that appears on your screen. You can even just type in a message to your friend or write notes, and the service will automatically playback that text.
The Talk FREE app is of course great at playing back the text of articles and news – several languages are supported. Text can be imported from any application.
Talk FREE can also import pages from your browser so that you can listen to the latest news site entries. If necessary, you can pause or restart playback from the same place you stopped earlier. This system is useful for people with poor eyesight or reading difficulties.
The free version of Talk FREE has a small number of ads that appear during playback. You can only remove it when you purchase a subscription – this will be necessary if you use the application regularly.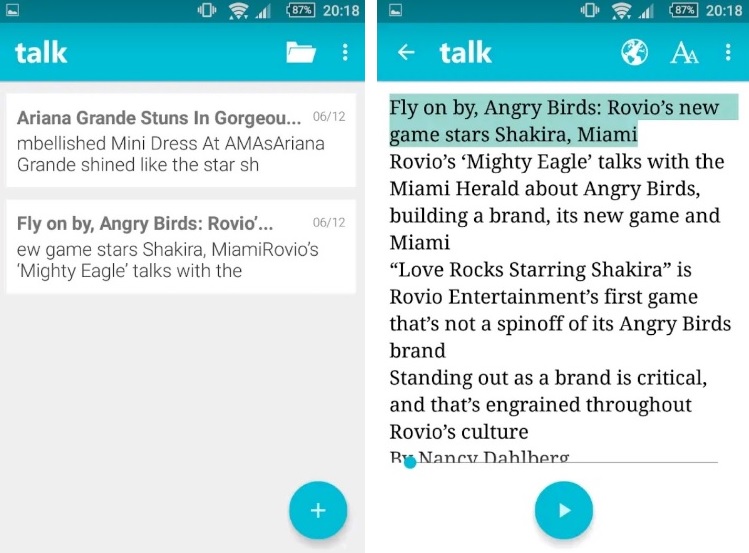 Speechify
The Speechify app is designed to convert text into speech. The utility is capable of voicing articles, books, emails, and messages. It supports many languages. Allows you to save the time it takes to receive information.
The utility works with various media. It allows the sounding of both digital text and paper books, as well as any articles and files in PDF format.
The app has a built-in scanner that engages the camera of the mobile device. It allows you to read PDF files, paper books, and documents. It is possible to read text from photos and from the clipboard. There is a function of import from browsers and web resources.
The program allows you to create a personal library of audio, which synchronizes between different devices. The app supports more than 50 languages. Different voices are offered, both male and female.
The artificial intelligence of the app allows you to achieve the most natural-sounding voice possible. Change the reading speed up to 900 words per minute.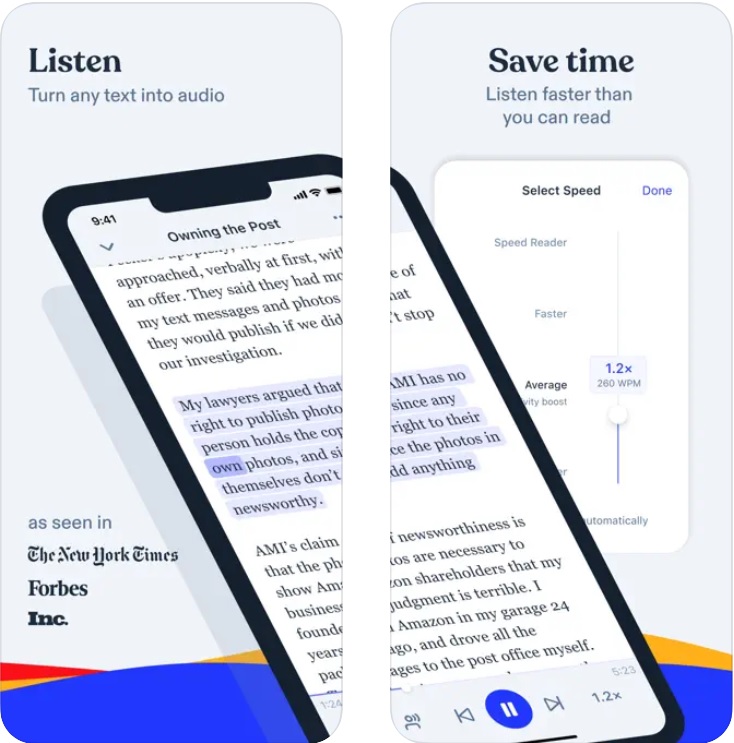 Voice Dream Reader
In education, it is incredibly important to be able to master a large amount of material in a short period of time. Voice Dream Reader will be a real salvation for those people who simply can't read all the material in time.
You can easily listen to articles, scientific publications, books, or methodical notes from your teachers. Once you purchase the application, you will be able to choose different languages and voices, as well as set many advanced settings. Voices are available free of charge in 27 languages.
In Voice Dream Reader you can read files in different formats, web articles, books, listen to ready-made audiobooks, and much more. In fact, this application will be your personal information assistant.
All playback is self-contained and you can turn the screen off or use other applications while listening. And if you read text on the screen in Voice Dream Reader in parallel, the app automatically scrolls the screen.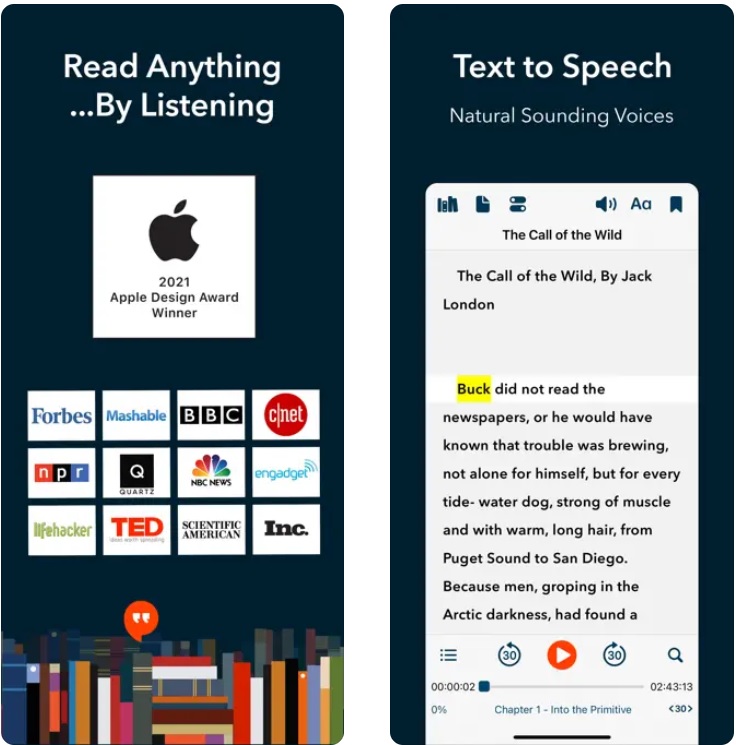 Voice Reader Speech Central
This app is one of the best text-to-speech services. The developers guarantee the security of use and confidentiality of your personal data.
This program can voice text from completely different sources. It can be news feeds or websites, including article headlines.
You can also import a link from a third-party service and enjoy listening to the text. E-books and other document formats are also available for dubbing. What's more, there are tools for annotating and exporting text.
All of the buttons that you access the tools have audio, which makes using the app much easier. You can customize the text voicing according to your preferences. For example, speed and reading mode settings are available.
The app is able to work with any language, which is its undeniable advantage. The service performs its quality work regardless of network failures, as well as continues reading when the screen is locked.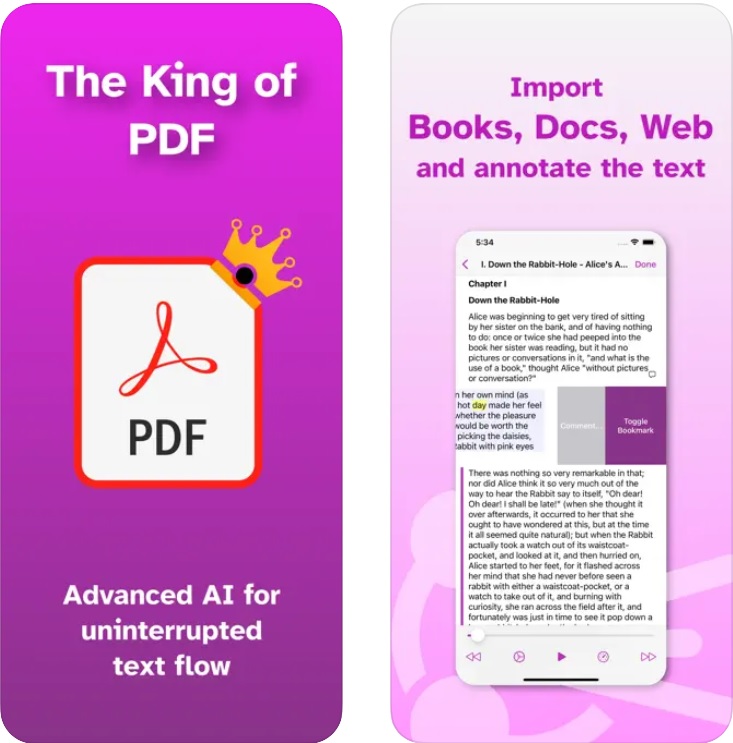 You may also like: 11 Best Handwriting To Text Apps for Android & iOS
SayIt Text, articles, or books to speech
The parrot will be your assistant and friend who will read for you. The SayIt application works fast enough and with plenty of resources, so you'll get a ready result to listen to in a short time.
With it, any PDF or EPUB file will become a full-featured audiobook – even if you have never seen it before. The best thing is that SayIt works in multiple languages and therefore you can use different languages for reading.
SayIt can be used from any other application – just select the text you are interested in and it will start playing immediately. You can also read from the clipboard or use a link to read it from the Internet.
You control the playback yourself, so first you will need to master the basic settings of speed and accents. You can even use the SayIt app in a dark theme – adjusting the screen mode to suit night reading or dark time.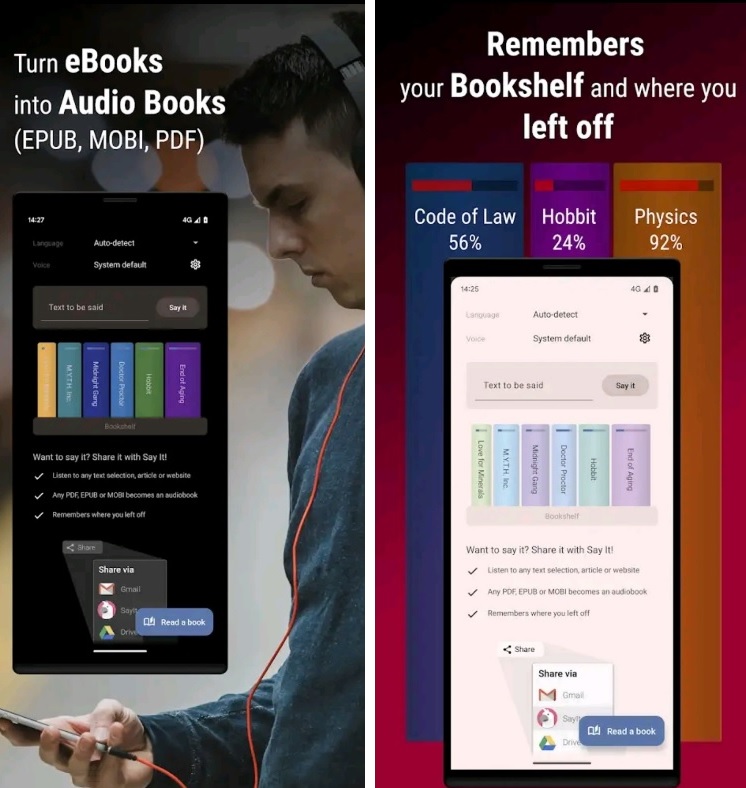 As much as we love real paper books, they do have a number of inconveniences and disadvantages. You should read carefully and without distraction, buy each copy, and for reading on the road you will have to carry a real book with you.
If you would like to read a book during other lessons, it just will not work! But the applications we found will be able to read your articles and books aloud – so you're free to do what you want.
Listening to content is more convenient and cheaper than reading real books. And the main advantage is that you define all the articles and books yourself, guided by interest.