Cartoons are an inalienable part of everybody's childhood. They remind us of happy events from the past. Besides, they are just very nice to look at. Today there are filters that let us see the world in a cartoonish mode. You can take a picture or shoot a video with you and your friends and turn it into a cartoon.
You may also like: Best 7 emoji apps for iPhone & Android
Imagine what you would look like as a cartoon character! If it is hard to imagine, just use one of the applications from the list below. The list includes applications both for Android and iOS (from 1 to 7) and either for Android or iOS (from 8 to 15).
Cartoon Yourself
With Cartoon Yourself, you can transform your favorite photo into a cartoon in a fraction of a second. This user-friendly app can help you cartoon yourself in three simple steps: 1. add your photo (either choose a one from the gallery or take a new one); 2. apply cartoon effect; 3. save your new photo or post it on the Internet.
There are 12 available styles of cartoons: sketch, drawing, black and white cartoon, etc. Once the cartoon is ready, you can add stickers or text to it. You can also crop the final image, giving it various shapes – circle, square, rectangle, a shape of a heart, etc.
No internet connection is required. The app works in offline mode.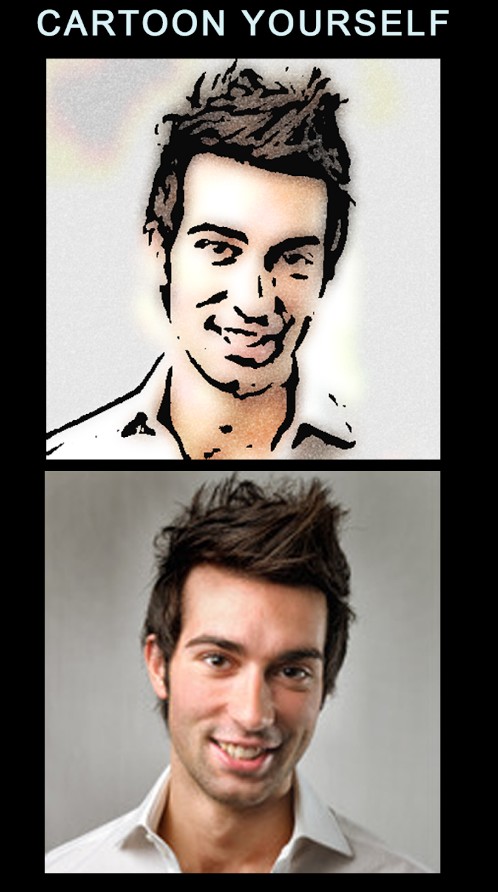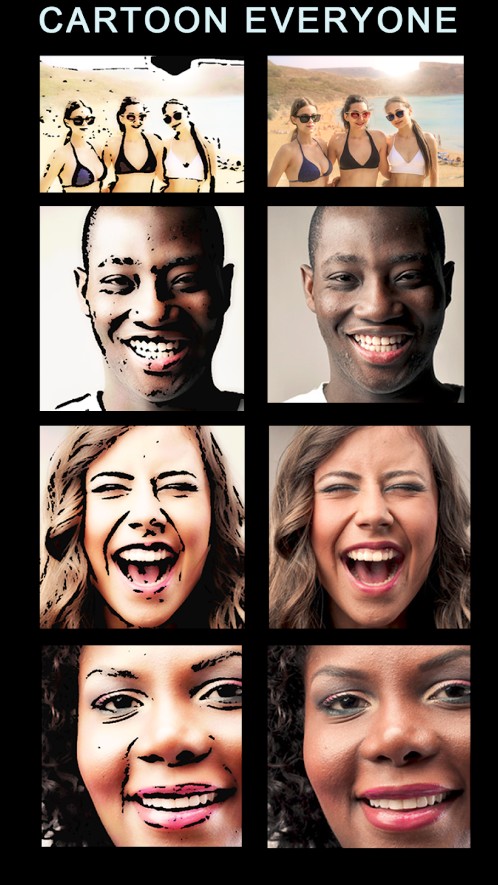 You may also like: 14 Best free photo sharing apps for iPhone & Android
Prisma Photo Editor
120 million people are already using Prisma – the app that has been awarded the app of the year title in 2016. This photo editor can turn your ordinary photo into a piece of art. Making a cartoon of yourself is one of the options too.
Over 300 filters are at your disposal. New filters and styles are added every day!
Join the community of creators: follow other Prisma users and get inspired by their publications. You can even chat with the authors of pictures you find particularly amusing.
Two different Prisma premium subscriptions are available, per month and per year.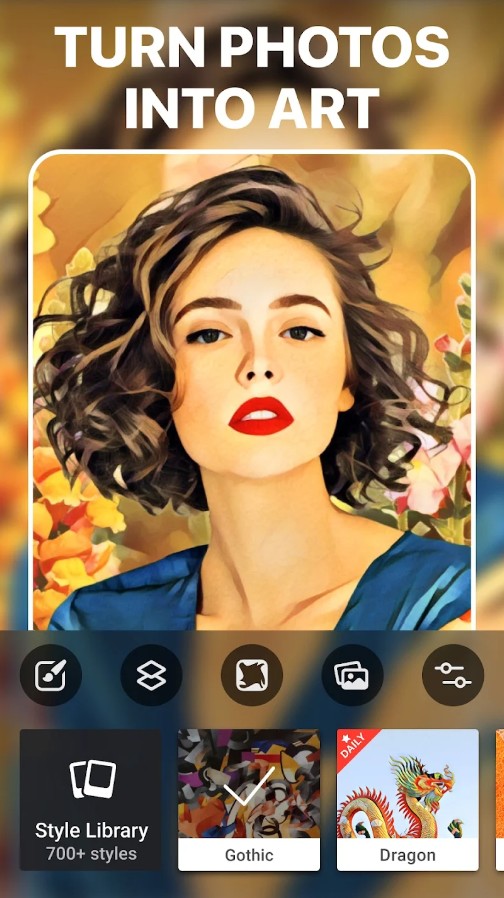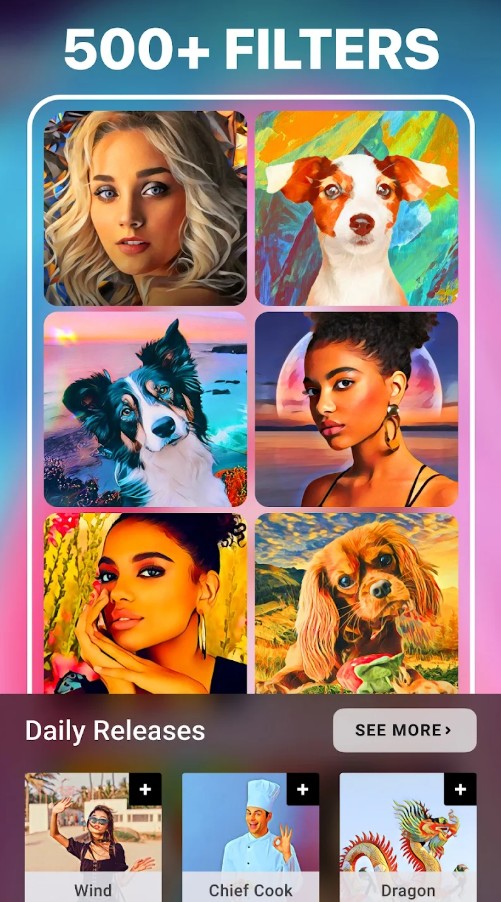 Cartoon Photo Filters-CoolArt
This cool app by CoolArt will allow you to turn a picture into a cartoon quick & easy. Just upload a picture and tap to apply the needed effect. There are about 30 filters available in this app.
Now, with 10 million downloads, it is one of the most popular applications on Google Play. The App Store also has it, so it doesn't matter whether you have an Android or an iOS – you can enjoy the app all the same. Download Cartoon Photo Filters now and give your picture that hipstery look you've always wanted!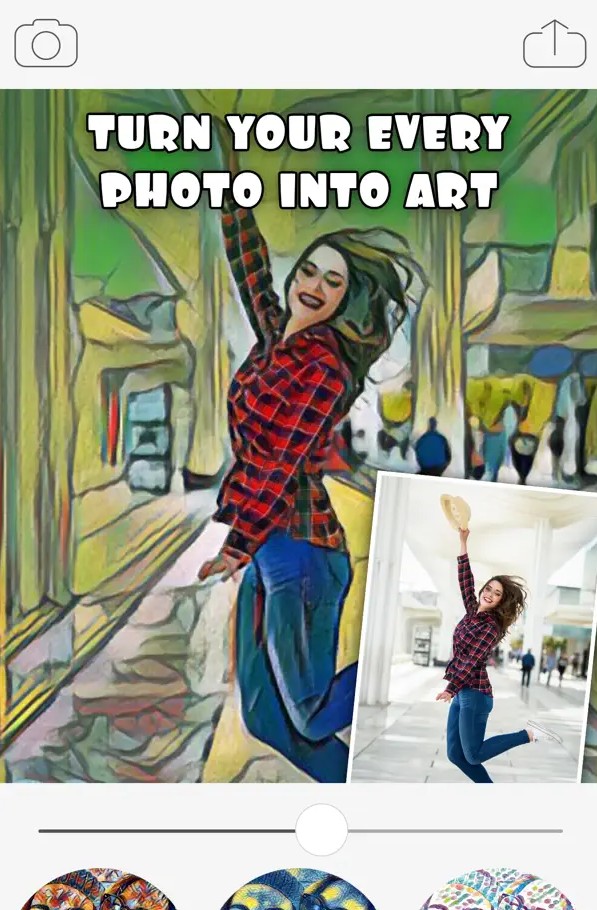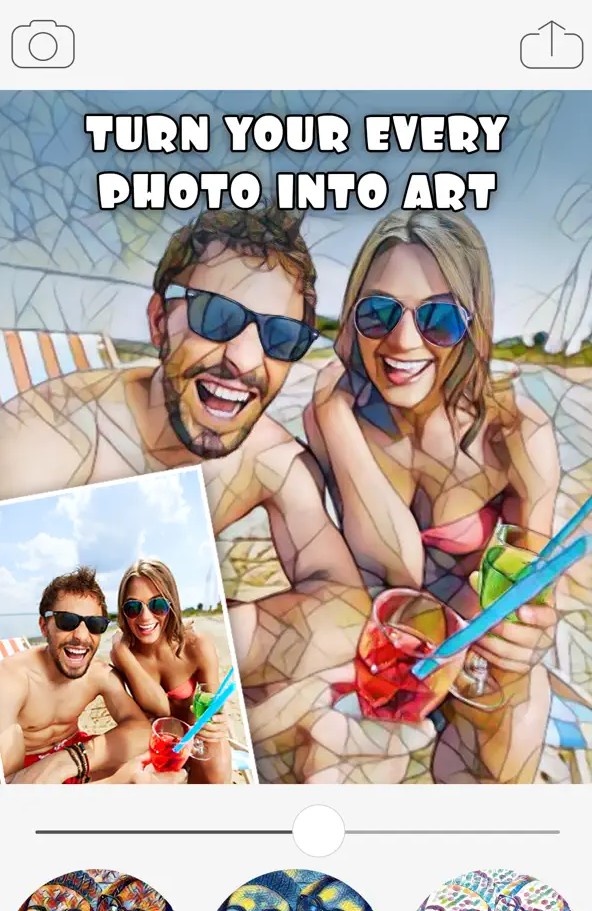 Painnt – Art & Cartoon Filters
Painnt – Art & Cartoon Filters is a digital photo editor. With Painnt, you can make your picture look like a masterpiece by a famous artist, a cartoon, or a comic book picture.
More than two thousand filters are at your disposal, from the classic filters to the modern ones. You can add your own filters and even share them with the Painnt community.
Painnt is a free app but there is a premium subscription that adds new features. You can buy a weekly, monthly, or annual subscription. With a premium account, you can access an extended library of filters, edit your photos in HD quality and, what's most important, download them without the app's watermark.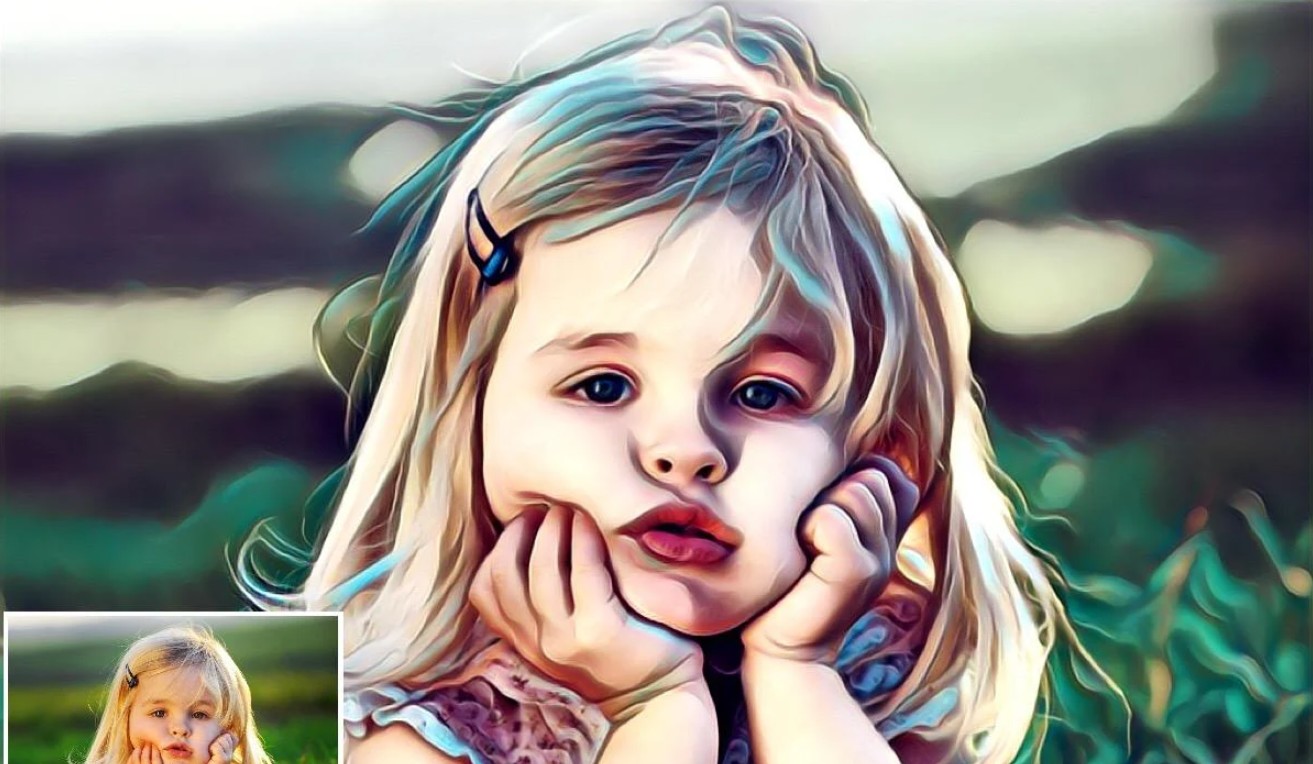 Sketch Me! Sketch&Cartoon
Sketch Me! Sketch&Cartoon is an easy-to-use app that can transform your photos into cartoons, drawings and sketch images. The app has about twenty most used effects that you can apply to your photos to cartoon or sketch them.
You can apply various style effects – cartoon, pastel, color sketch, etc. – to uploaded or newly taken photos, make necessary adjustments and save the final result to the gallery or share it with friends on the net.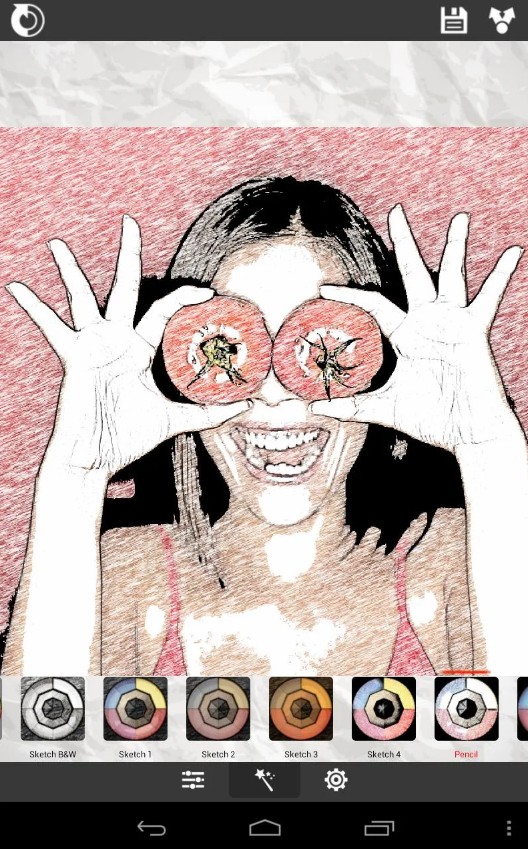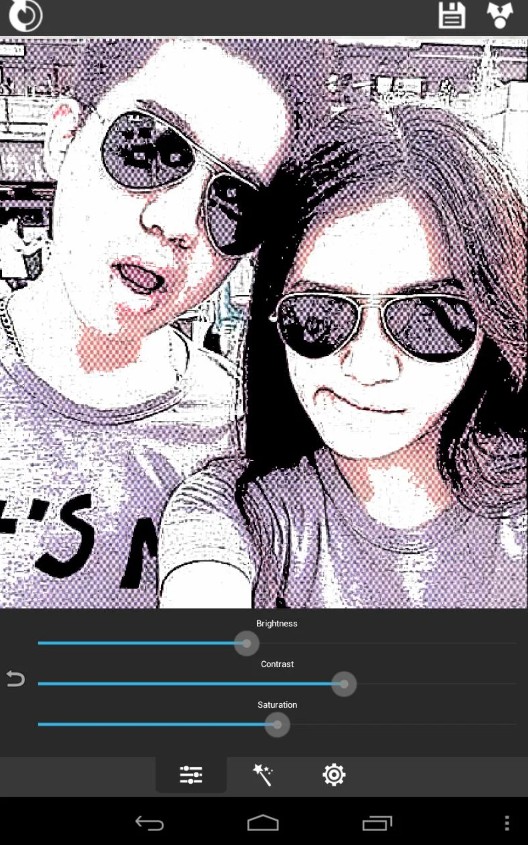 MomentCam Cartoons & Stickers
More than 300 million people use MomentCam Cartoons & Stickers to transform photos into comic cartoons and animated stickers.
Choose a picture you want to convert, cartoon it or make a caricature of it, add some stickers, for example, accessories, change people's hairstyles or facial expressions, add quotes in text bubbles, and more.
The database of MomentCam is updated daily and can be adjusted to your region, cultural background, and personal preferences. Apart from editing photos, MomentCam provides you with an opportunity to create emoticons and stickers.
Share the result with your family and friends to have them in stitches or with the whole MomentCam community to win prizes and awards.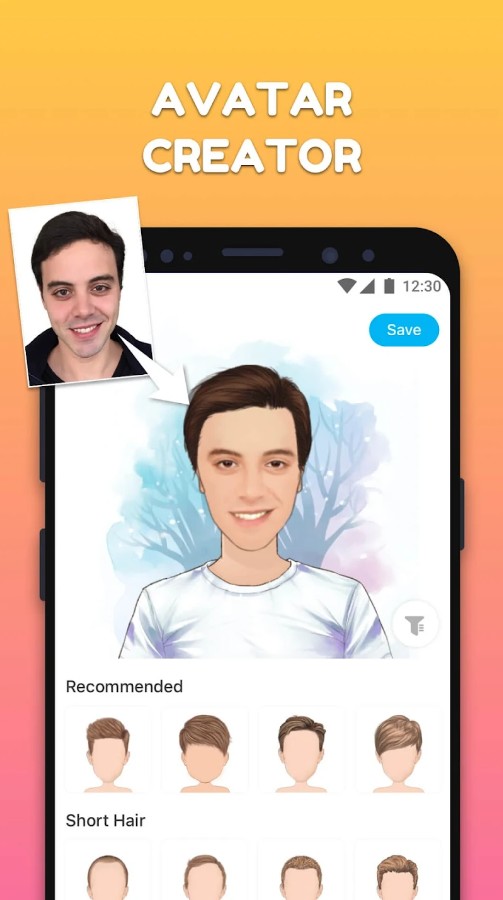 ToonMe – cartoons from photos
Presumably, each of us wondered what he would look like if a character from his favorite drawing approached him. Make your dream come true with the ToonMe app.
How it works:
Upload a print of your gallery to the app or get a new print
choose the style you like. This is how your photo will be processed.
The undoubted advantage of the operation is its simplicity. What used to take hours now takes minutes. You don't need to order a portrait painter and stay there indefinitely.
However, you can also create your own set of stickers if you spend hours on social media or are a favorite blogger. Please note that this app is charged around $30 with a 3-day trial.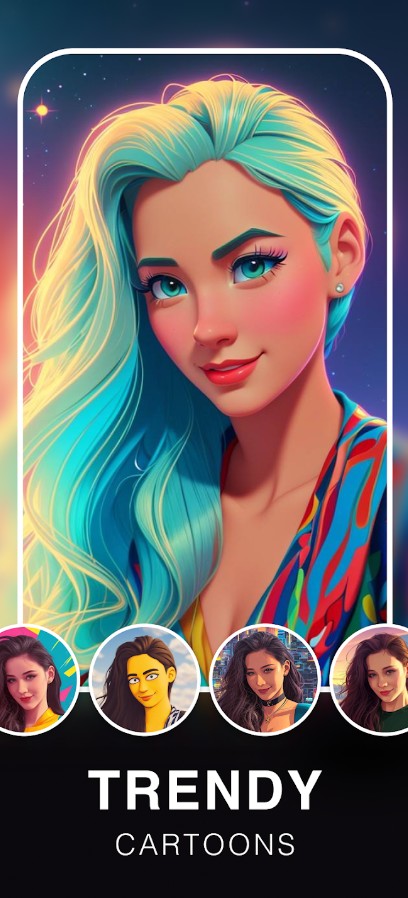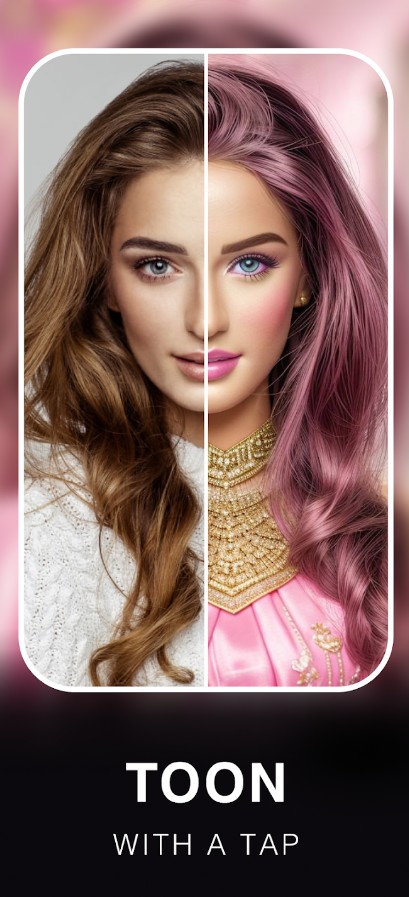 You may also like: 21 Best picture in picture apps for Android & iOS
PicsArt
Yeah, PicsArt is literally everywhere. But what can we do if this photo and video editing app are so multi-functional? It seems like it includes all the possibilities for picture editing, including the cartoon effects.
By the way, even though PicsArt is not a specific app for cartooning your pictures, it includes more than a dozen of cartoon effects which look really beautiful.
You just need to upload your picture to the app, then go to the section "effects" and choose the section "pastel". There you go! Just apply the cartoon effect that you like more. You can also regulate the intensity of each effect, so the pic looks less or more natural.
There are different painting styles, such as comics, modern, etc. Even if you don't want your pic to be cartoonized, slightly layering an effect by PicsArt can really give a picture a new makeover and make it more authentic.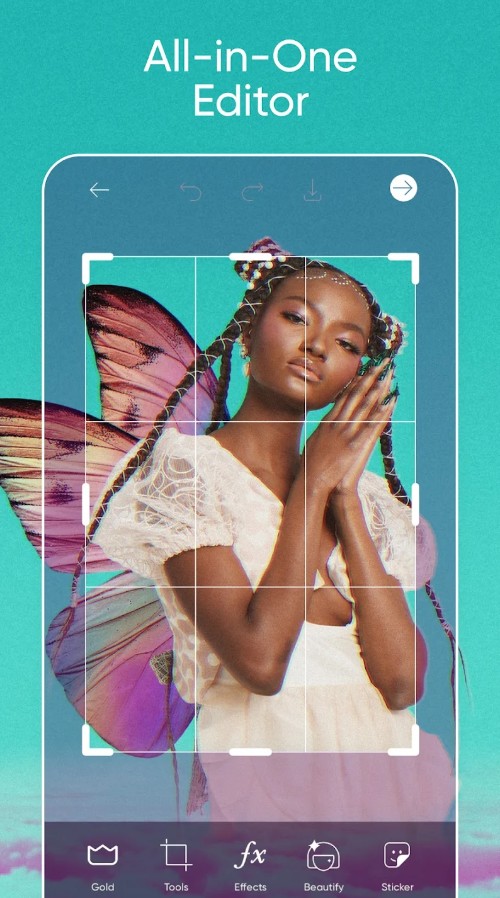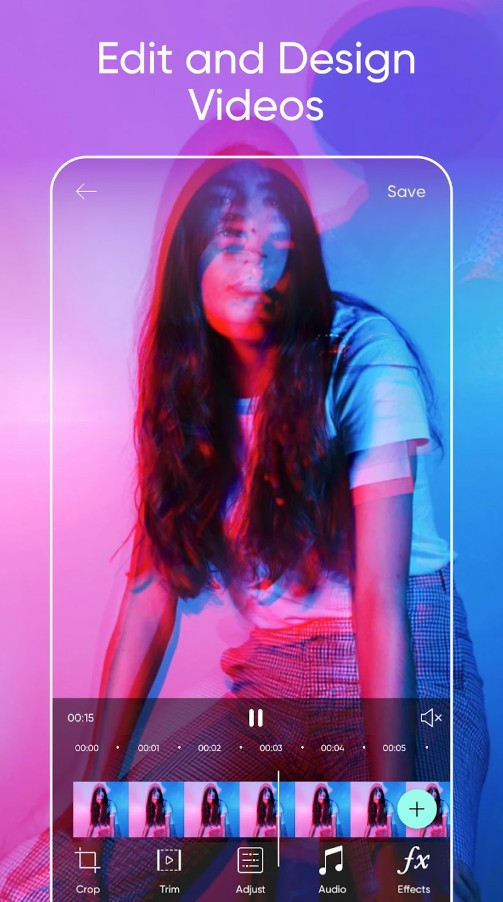 Cartoon Face animation creator
Do you want to make your friends laugh? Use Cartoon Face animation creator to modify your selfies! Convert your selfie to a cartoon or simply change your facial expression.
You can make yourself look extremely happy or in desperate grief, add a wink as if you flirt with someone or a wow facial expression. If you wish, you can even transform yourself into a troll or an alien.
Make a photo or a video, save it to the gallery, and share it with your friends via Instagram, Facebook, or other social networks.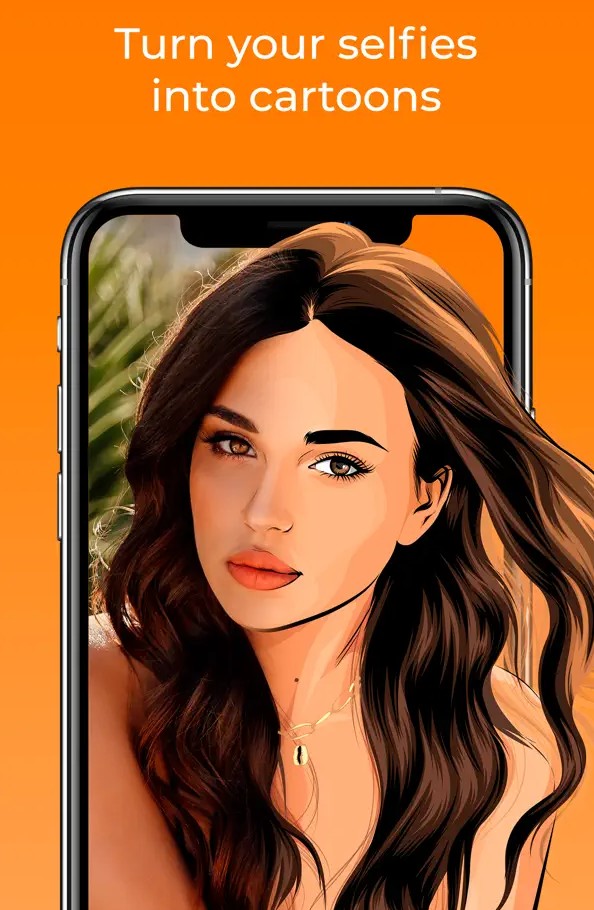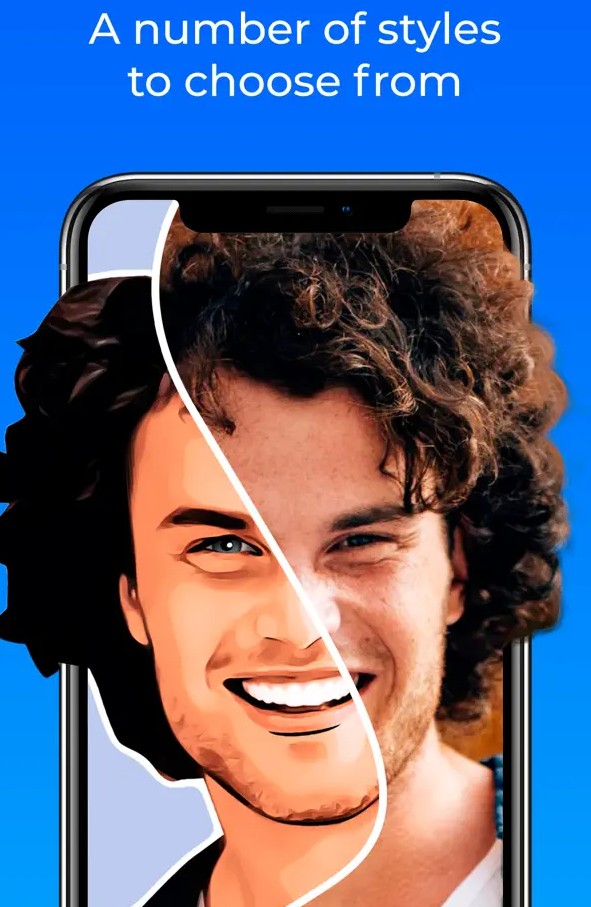 Clip2Comic & Caricature Maker
Clip2Comic & Caricature Maker is a free photo editing app with the help of which you can create a high-quality cartoonish photo and save it on your iPhone or iPad. Clip2Comic is also an app for editing videos. You can cartoon a video that you've shot in a fraction of a second! Over 8 various effects are available.
After downloading Clip2Comic & Caricature Maker, you will have the possibility to turn as many photos and videos into cartoons as you like, see the world around you in a cartoonish mode with a live preview function, and instantly apply the cartoon filter to your photos and videos.
Apart from the ordinary functions, Clip2Comic & Caricature Maker has some special tools. Firstly, you can use an Apple Pencil or work with your finger to edit a photo. This will definitely improve the quality of your picture. Secondly, you can use a deformation tool to make your caricatures and cartoons look fun and unique.
Clip2Comic & Caricature Maker developers collaborate with www.mypostcard.com. This means that you can order a postcard with your edited photo. You can share the result not only via social media but also by the snail mail! You can also order a poster and stick it to your bedroom door. All these features are available because the app produces high-resolution images.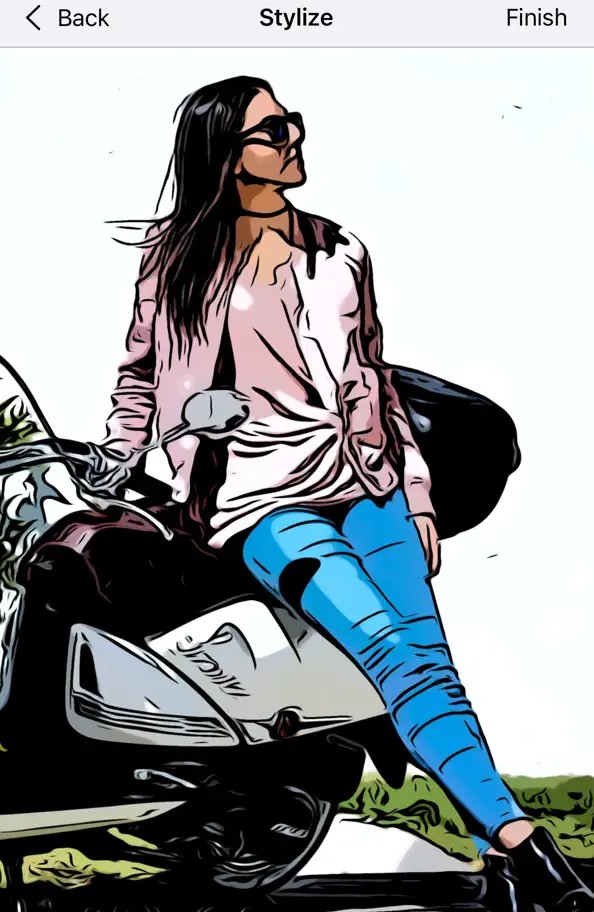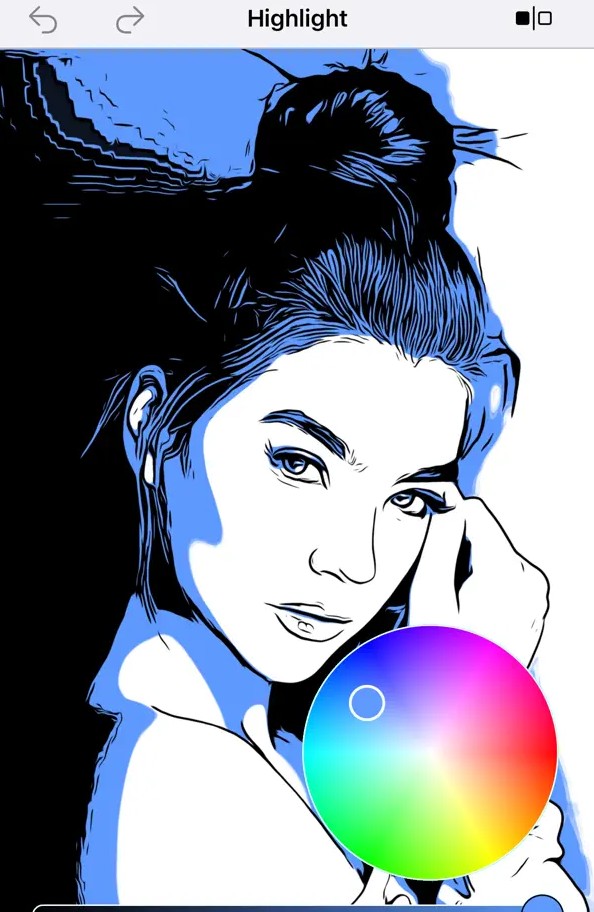 ArtistA Cartoon & Sketch Filter & Artistic Effects
ArtistA cartoon app for Android is excellent for those who want to explore their creative skills. The app has dozens of art styles. They are all very different, starting from a simple prism effect and ending with rainbow filters and filters inspired by masterpieces of art.
You can create your own masterpiece! Download the app, choose a picture you'd like to play with and try on various filters and effects. You'll certainly find your own style! Share the result with friends or just save it for yourself. Either way, make sure you enjoy the process.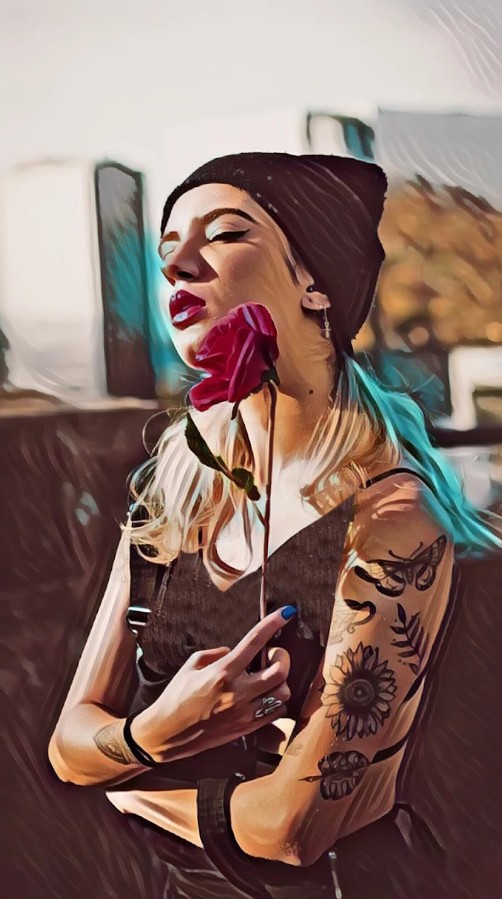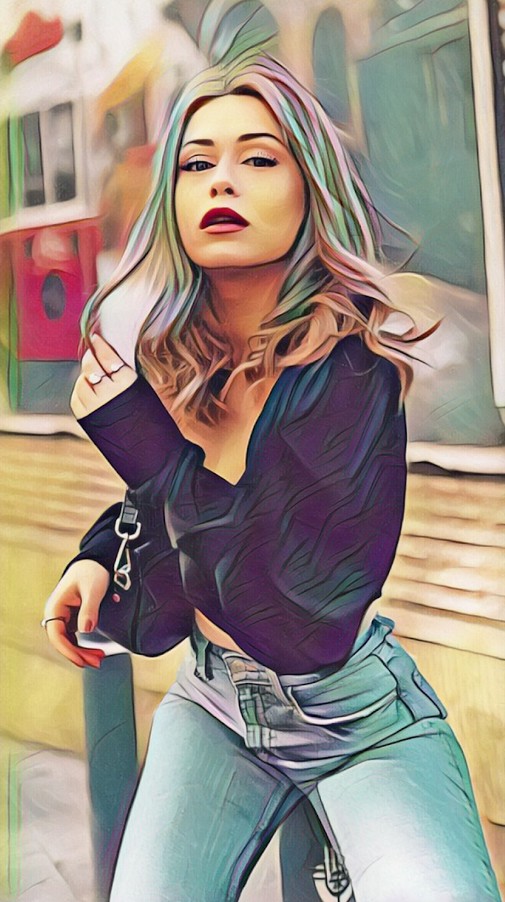 ToonApp: AI Cartoon Photo Editor, Cartoon Yourself
Are you constantly immersed in the atmosphere of cartoons? Or do you like anime more? What about comics? Do you want to become a part of the macrocosm around you? This free print editor will become your new stylish companion thanks to the colorful FREE features.
You will get different cartoons with big heads
ToonApp offers digital art
The print editor removes the background itself, currently you can choose the background yourself from the list or create it by yourself
Use computer graphics to illustrate, a heart jumping out of your box, or huge joyful eyes
You can also crop the lines themselves as if you were in a real comic
You can also try to edit your photo in the style of oil painting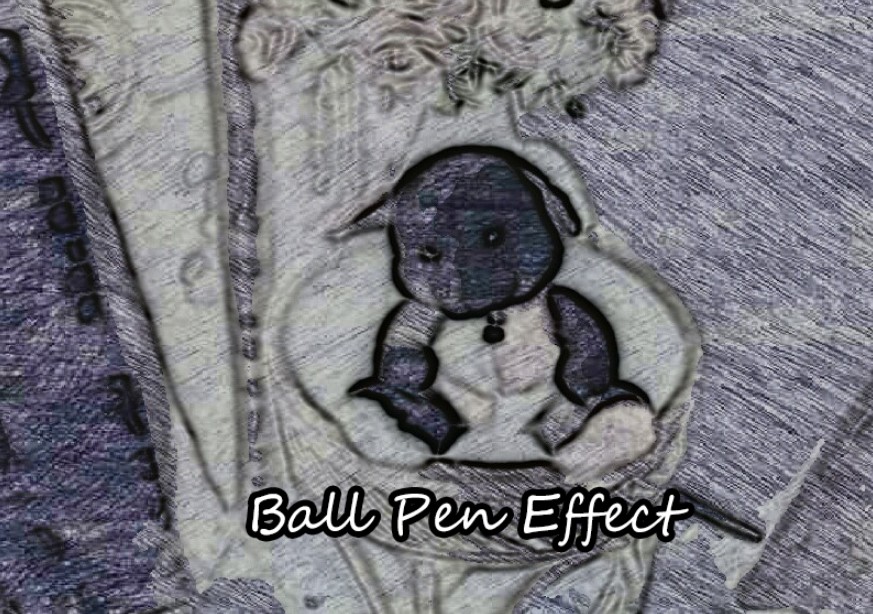 Pixlr
If you aren't new to the photo editing apps and you're more or less familiar with all the algorithms of editing photos then Pixir is a cool app for making the pictures in a cartoon style. You would ask, why do I have to know how to work with picture editors to make my photo cartoonized here?
Well, Pixir provides tons of effects, but if you choose just one of them, your picture is going to look quite cheesy. However, if you experiment with the opacity, intensity, and overlaying of various styles and stickers you can get a truly magical cartoon picture that will look like it's done by a professional designer.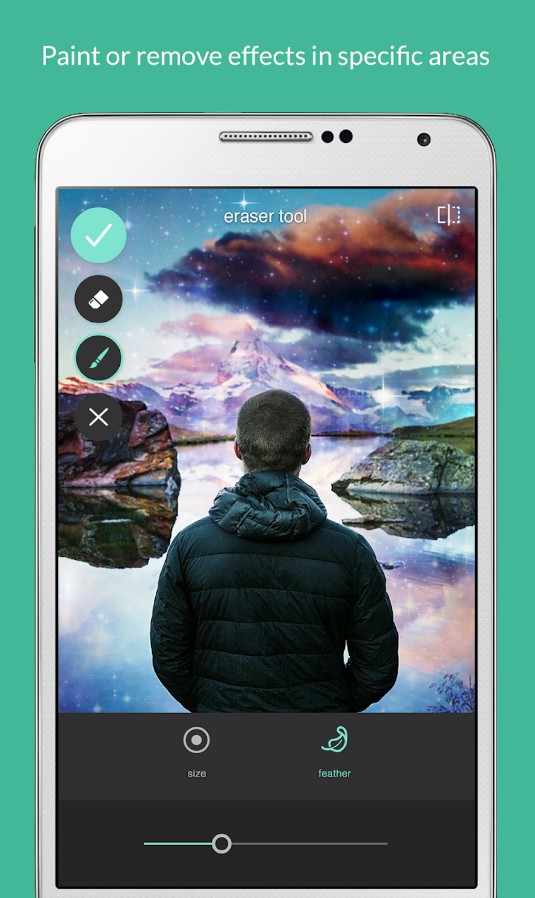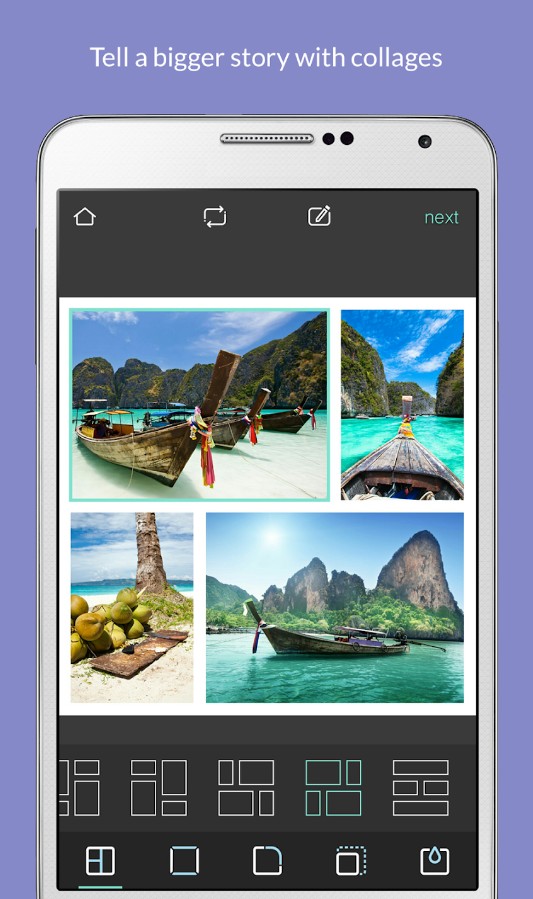 ToonHub
With the help of ToonHub, your photos can be magically transformed into captivating cartoons.
Aside from cartoonization, ToonHub offers an array of captivating effects that can take your photos to the next level. From stunning oil painting effects that give your images a rich and textured look to the vibrant watercolor style that adds a splash of color, the app provides a palette of creative possibilities.
It is designed to be accessible and easy to use, making it suitable for both seasoned artists and those new to photo editing. Its intuitive interface and diverse effects empower you to transform your ordinary photos into extraordinary pieces of art.
While ToonHub offers a wide range of features, there's no need to worry about hidden costs. The app provides a substantial amount of its features for free, ensuring that you can explore its creative potential without any financial constraints.
In general, I believe that this is one of the best apps on this list – it provides all you need to get high-quality cartoon photos of yourself and your friends.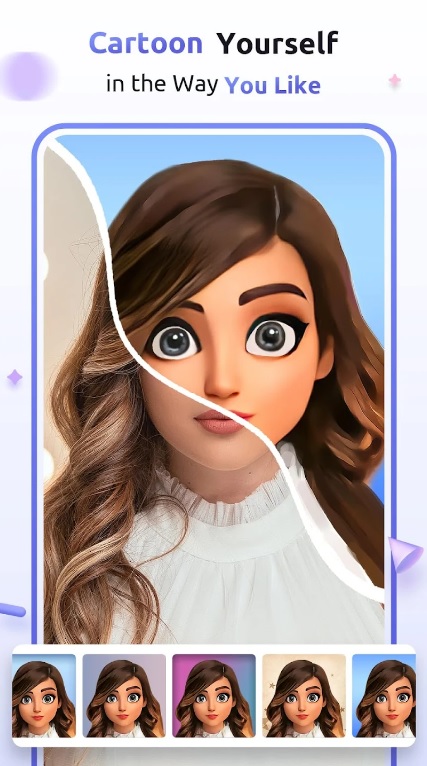 Cartoon Photo Editor: Cartoon Yourself, Selfie Art
Using this free operation, you can turn any fingerprint on your mobile phone into a hot one or become an idol of your favorite cartoon. You only need your phone's camera. You can be the main character of your favorite book or cartoon. An inspiring new look and a surprise for your followers on social networks are guaranteed, just download the app and choose a style.
The unimaginable possibilities of a Cartoon Photo Editor: Cartoon Yourself, Selfie Art:
All types of goods and pollutants for processing
Upload the finished material to your gallery
Share the results on social networks, surprise your subscribers
Fast autofocus of the front camera will make your work easy
About a hundred products for processing pencil outlines, canvas, oil, folk art goods.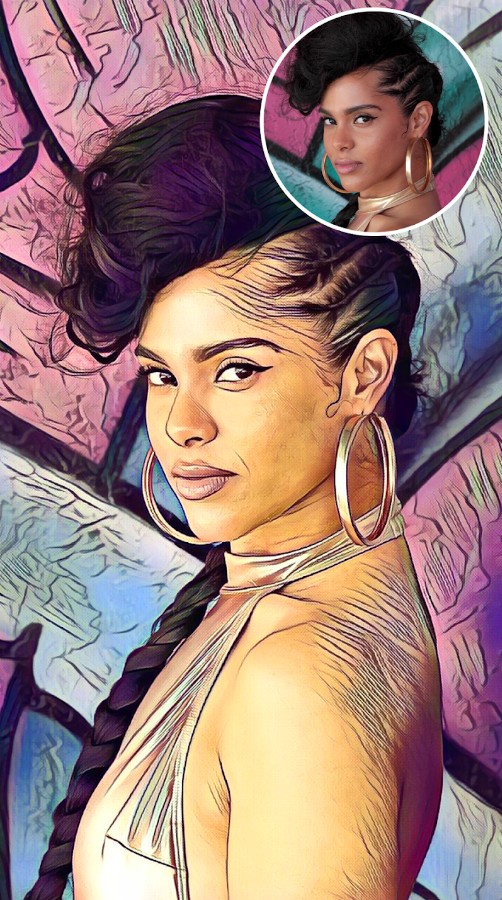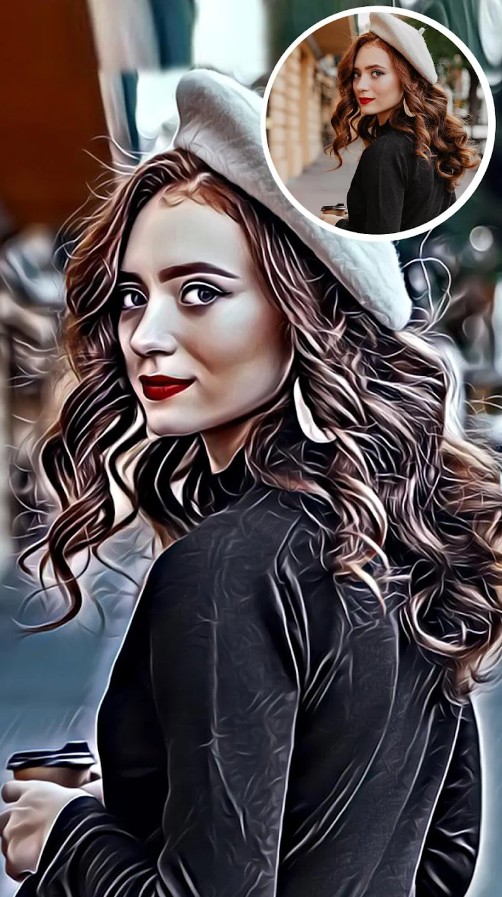 You may also like: 15 Best photo zoom apps for Android & iOS
Cartoon Yourself – Toon Face
In this app, there are tools to edit your photos, but not in the usual way. It helps to get amazing cartoon pictures.
Simply choose a photo from your gallery or take a fresh snapshot, and let the magic unfold. With a few taps, you can apply various cartoon effects that turn your image into a lively and playful cartoon representation.
The app offers a range of other effects to enhance your photos. From sketch styles that make your images resemble hand-drawn sketches to artistic filters that add a touch of flair, the app opens up a world of creative possibilities.
To conclude, this app will suit you if you want to surprise your friends with a cartoon avatar or simply want to explore a different visual style.