Phones have become an integral part of almost every person's life and can help in any situation. If you look through the list of apps available to the user, you can find a virtual assistant in the form of a special program for almost any task or need.
Thus, lovers of mountain climbing will also be able to find suitable apps in this variety. The purpose of this article is to tell you about the best rock climbing apps. Often those who like climbing like hiking as well – therefore you can also check our article about the best hiking apps.
27 Crags
Finding exciting climbing spots, planning your mountain climbs, chatting with other climbers – all this the user can find in one app called 27 Crags. This app combines a large number of various functions that will help climbers to spend time in the mountains with pleasure and ease.
With 27 Crags maps, users can find boulder areas near their location and explore them in real life. Moreover, in this app, users will be able to create their own detailed route with various points.
To create a route and follow it without the possibility of getting lost, users can use the GPS function inside the app. Also, in the app, you can plan trips to the mountains using to-do lists. The most advanced climbers can even share their knowledge of routes or specific points with other users.
According to user reviews, this app serves as a great guide for those who want to find climbing spots nearby. The interface of the app is also quite simple and easy to navigate.
However, some users have had trouble keeping track of the difficulty level of certain climbing spots. It often happens that some places marked with a lower level of difficulty turn out to be much tougher than expected.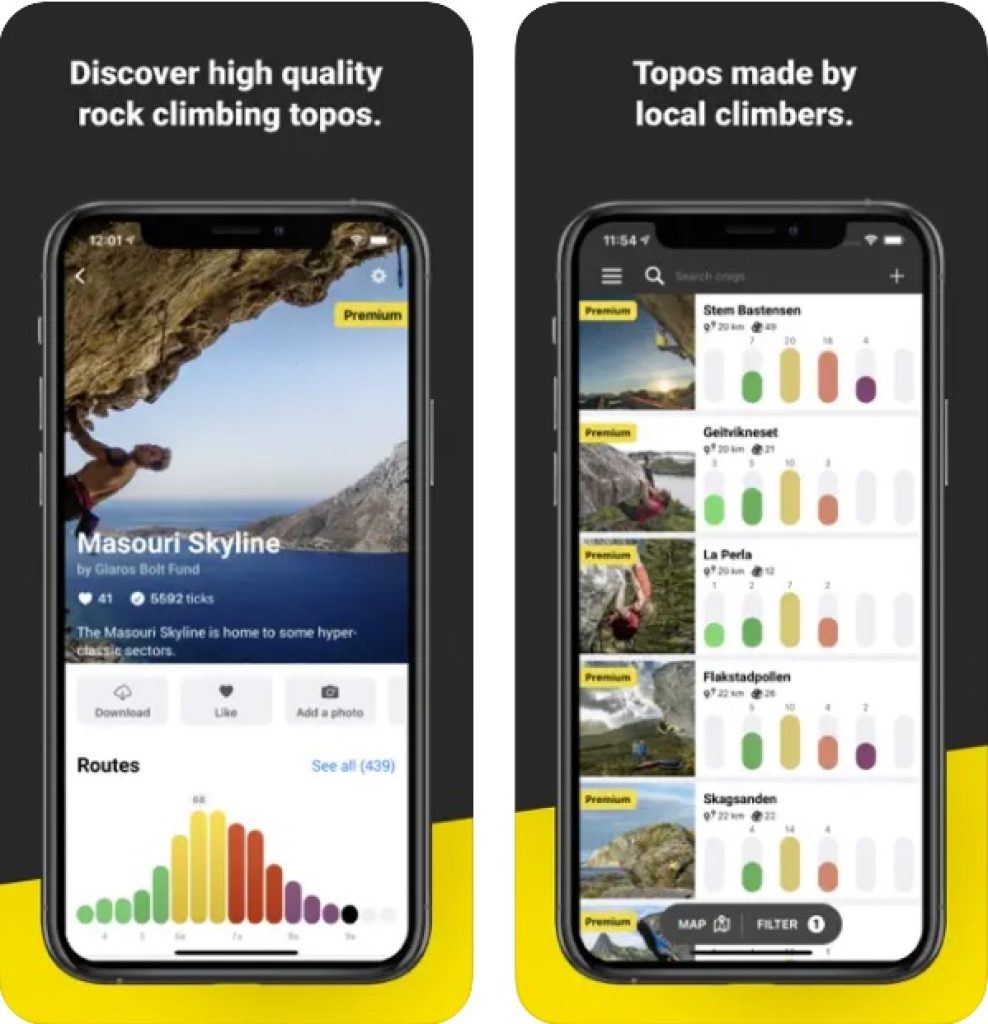 You may also like: 11 Best walkie-talkie apps for Android & iOS
Rakkup
The Rakkup app will be able to help its users explore a variety of routes anywhere in the world. This app will serve as a guide and map that will navigate the user through the entire trail to the climbing spot without missing a single detail or turn.
Another great benefit of this app is that once the users download the guidebooks, they no longer need an internet connection. This will help users not get lost while climbing in areas that are particularly remote from cities or villages.
The developers of the app also provide the most detailed guides with vivid pictures of all places. The Rakkup app makes it easy for users to choose their climbing site, because the search and filtering of sites by certain criteria are advanced and intuitive here. Moreover, users can search for climbing sites in two ways:
on the map
in the format of a list of places.
In addition, thanks to the GPS function and detailed maps, users don't need to make much effort to create a route and follow it.
The app will automatically constantly calculate the easiest route to the destination, taking into account the user's current location. All that is required from the user is to follow the arrow on the map.
According to user reviews, the app really has a lot of different routes and points for climbing uphill. However, there are some shortcomings in this app, such as freezing, which some users have experienced.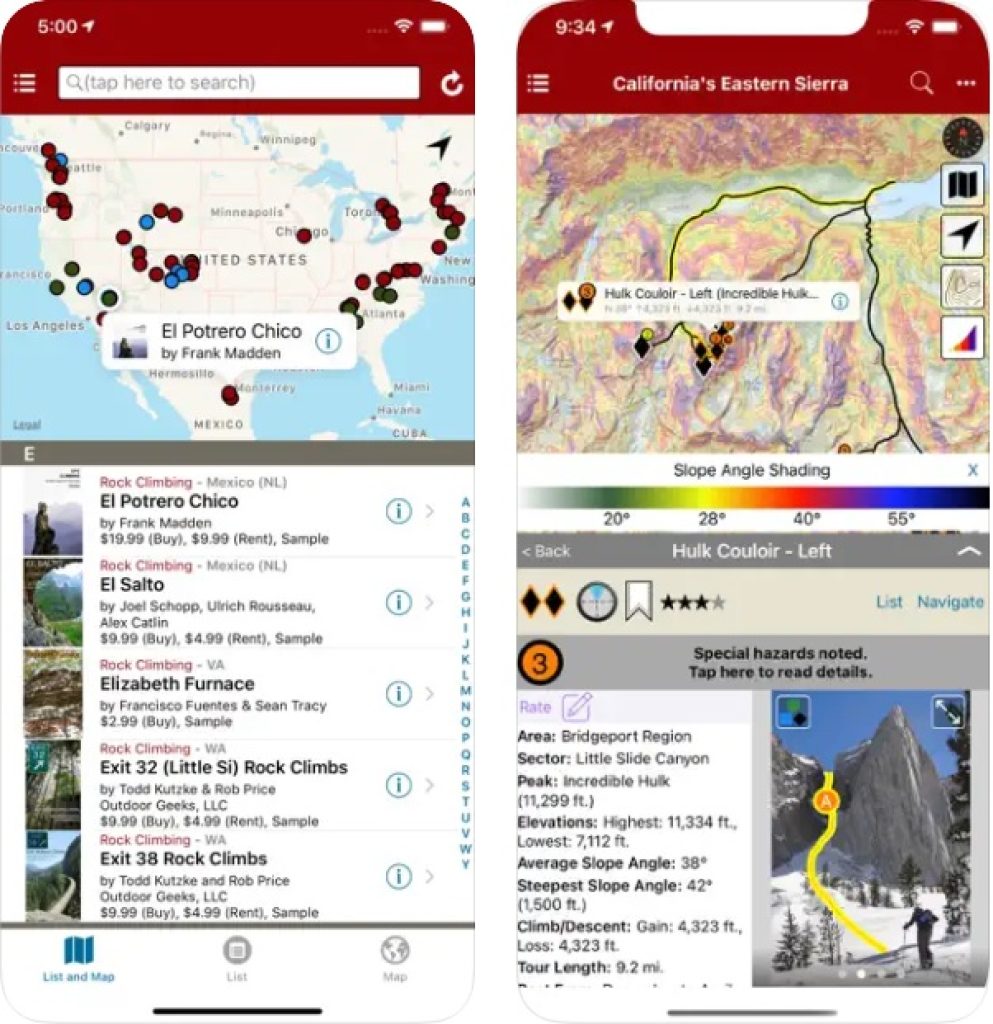 Climbing Away
ClimbingAway is an app that contains a huge database of information for climbing fans. This app has information about almost 6000 rock climbing areas around the world.
Users of this app can not only view basic information about the proposed places, but also evaluate the photos of these locations. It is also worth adding that the photos are regularly updated by a friendly climbing community, so almost no information will be out of date.
Here, users will be able not only to find out more information about the places where they will go in advance, but also to find specific places near them, and then prepare a trip plan.
What's more, users can easily add certain places to the favorites section so they don't lose them and have the ability to come back. Also, users can view the exact number of climbing locations by country.
Everyone involved in rock climbing knows that rock grading systems vary from country to country. Therefore, this app includes a handy converter, thanks to which users can accurately understand the rock rating and not get confused because of numbers.
According to user feedback, the photo viewing feature of places really helps to understand what to expect in advance. However, some users would like the interface to be more intuitive and user-friendly.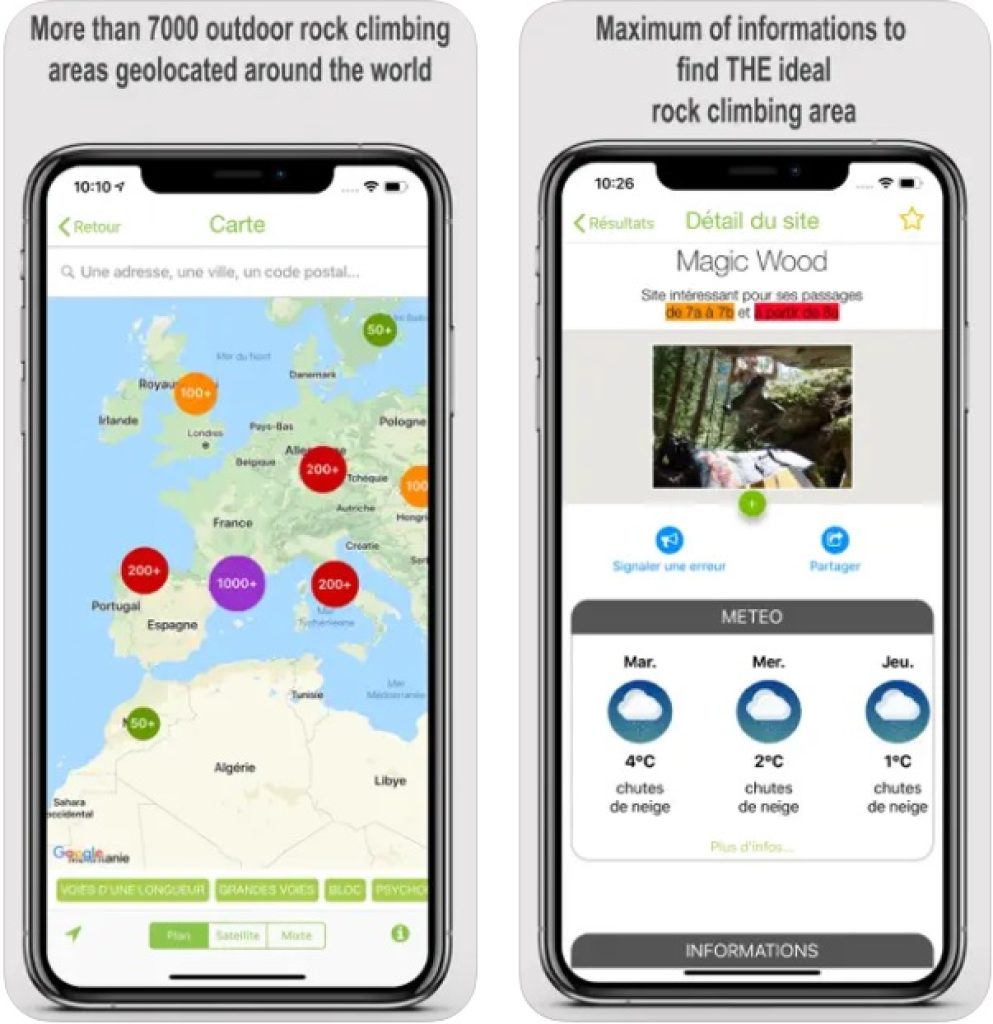 Vertical-life Climbing
Vertical-life Climbing is an app that appears to be a source of motivation, a source of information about climbing sites, and a handy workout planner.
First of all, it's worth mentioning that this app has guidebooks with a huge number of routes and climbing places. This app can offer its users detailed guidebooks with over 133,000 paths. Users can access information about these trails both online and offline.
Thanks to the continuous updates of the information in the Vertical-life Climbing app, users can always be sure about the reliability and accuracy of the guidebooks. Also, in this app, indoor climbing trainings are available to users.
Moreover, here, users can find a large community of rock climbers. Therefore, any user can find friends with similar interests, share their achievements, and motivate each other in this app.
In order to keep the excitement and involvement in constant training and rock climbing, users can participate in local and global challenges and rankings.
According to user reviews, the app really helps to track your progress in training more accurately. However, many users noted that there are still a lot of unfixed bugs in the app that make it difficult to easily and effortlessly navigate the app.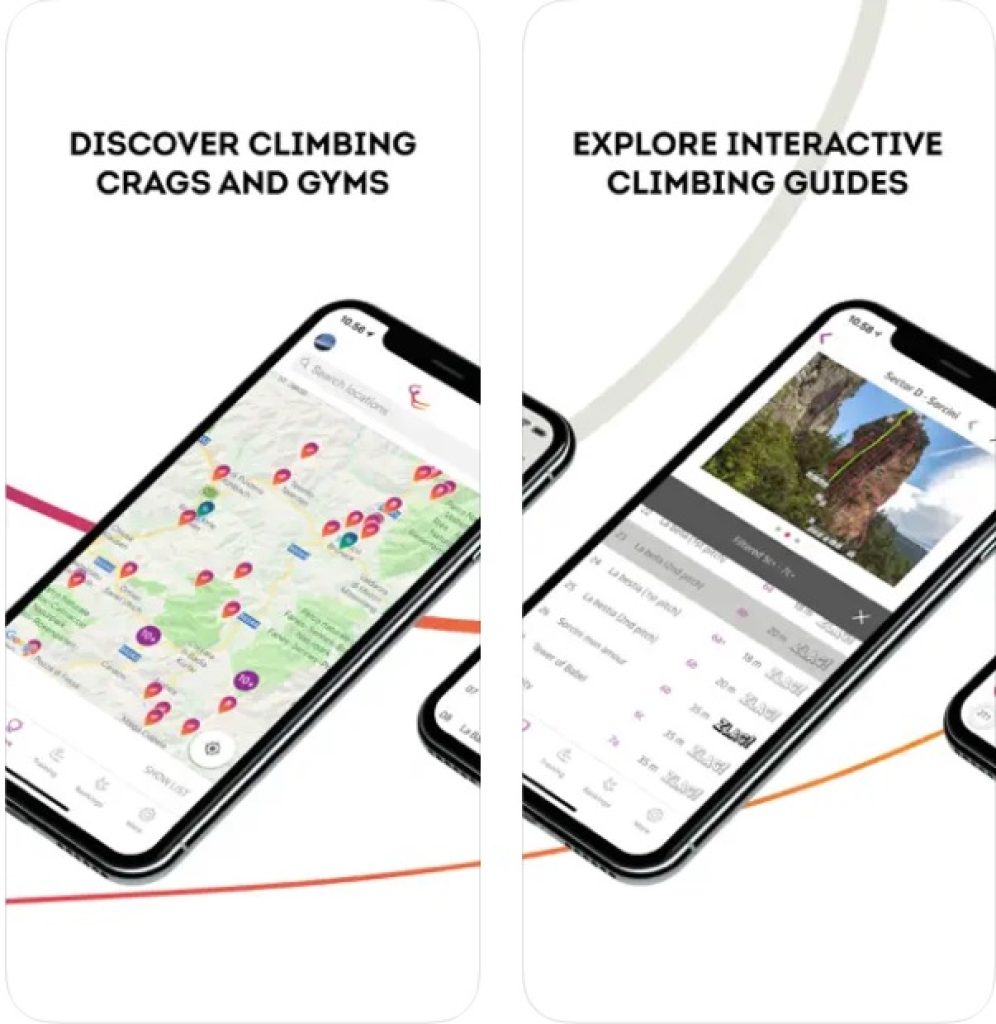 Gaia GPS
Gaia GPS is an app that will help any travel lover easily navigate in any environment. The main advantage and convenience of this app are that users can access the maps offline.
This is really important for those who enjoy rock climbing because often the places where such people go are far from cities and the connection doesn't reach there. With the detailed maps in this app, users can discover a wide variety of different routes.
Moreover, users can independently plan and walk along these routes using the Gaia navigator. What is extremely important, users can leave the breadcrumb trail on the map, so that later they can easily find their way back and follow the already passed and known path.
In addition, the app has metrics for each hike:
Altitude
Elevation
Distance tracker.
If users find some exciting or interesting places along the way, they can mark these places on the map using GPS coordinates. The Gaia GPS app helps users make sure their trip is safe before they go. For example, in this app, you can check the weather forecast or wildfire activity.
According to user reviews, this app helped them out many times and didn't let them get lost. However, some users encountered bugs on the map due to which the names of some hills and mountains that could be climbed simply disappeared.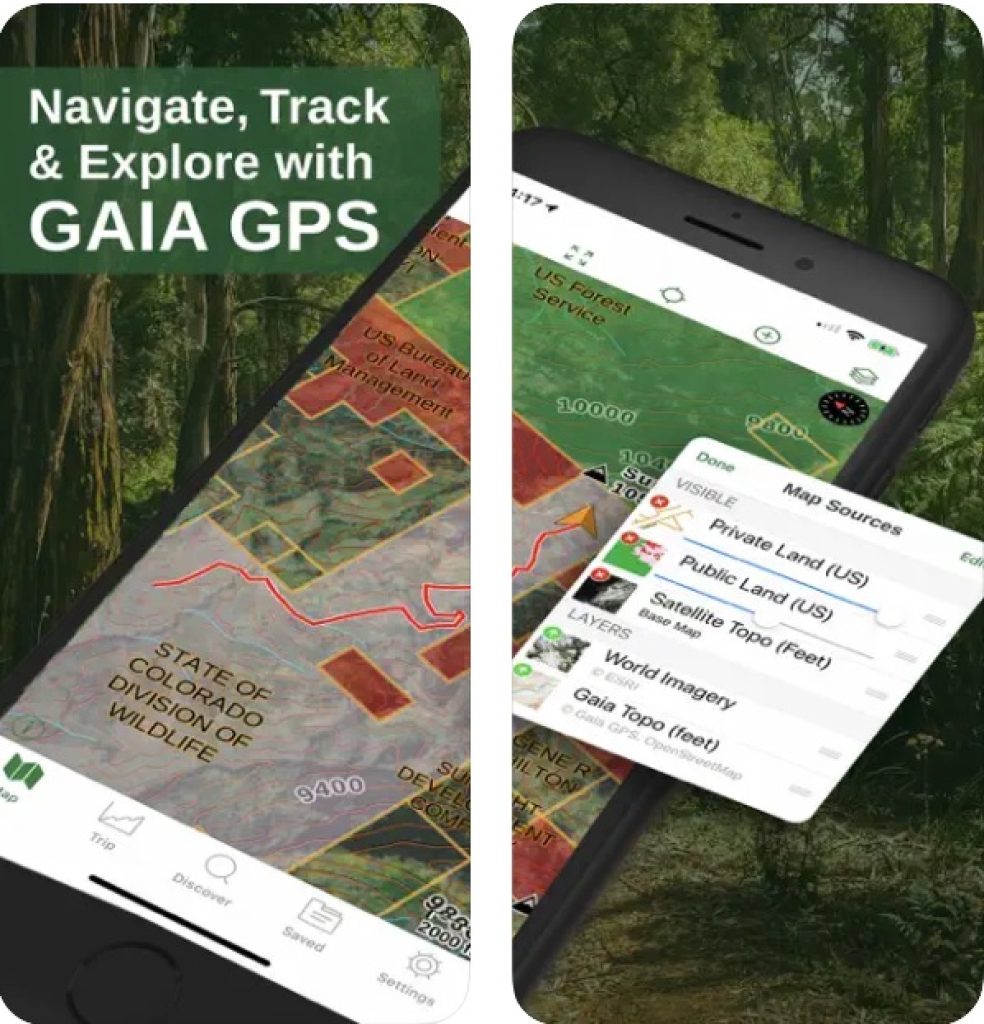 Beastmaker Training App
Every climbing enthusiast understands that this type of activity requires hard training and endurance. Beastmaker app will help its users improve these two factors and achieve the best results possible.
With this app, users will be able to gradually become stronger on a fingerboard. In order to achieve their goals, users can try pre-prepared workouts in the app. Usually, these workouts are quite general and aim to improve all grips on the board.
Moreover, the app has a special timer that will count the time that the user can spend hanging off the board. While creating their own unique workout, users will be able to edit the number of sets and times for hanging.
Thus, this app is suitable for users of all levels, because everyone will be able to choose the level of difficulty for their individual characteristics.
According to user reviews, the idea of this app is quite intriguing, but it isn't the most user-friendly app. For example, once a user creates their own unique workout, it can no longer be edited or updated. In case of such a need, the user will have to create a training program from scratch.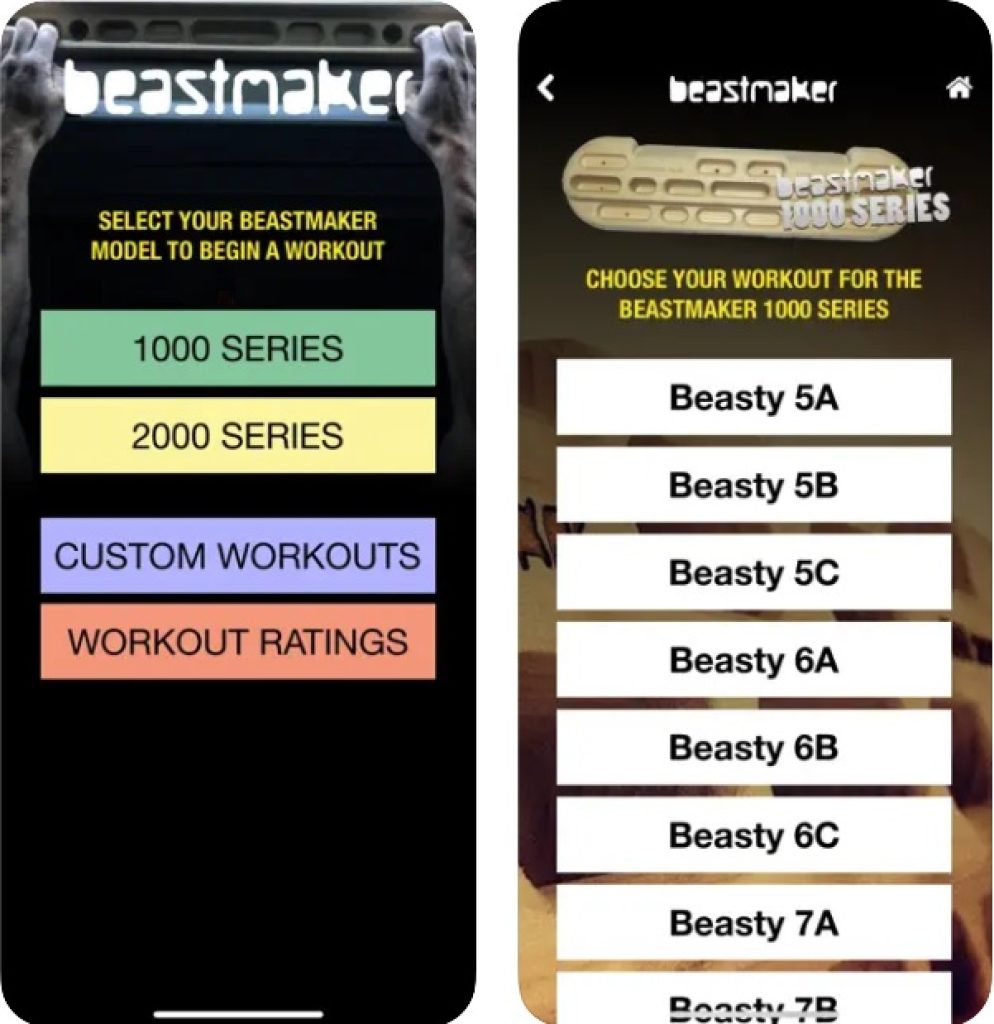 You may also like: 15 Best pedometer apps for Android & iOS
MyClimb
MyClimb is an app where climbing enthusiasts can not only create their own workouts, but also find training partners around the world. This app contains hundreds of short and long workout plans and daily exercises for those who want to prepare for rock climbing.
Also, users can choose the level of difficulty that suits them. Moreover, this app can be specifically used to track both indoor and outdoor climbing workouts in any convenient difficulty grading system.
There is also an interesting feature in the MyClimb app that allows users to send their rock climbing questions to a professional. Thus, users will be able to receive high-quality feedback and various tips on how to improve their skills.
In order to keep a high level of motivation, users can try the goal-setting feature of this app. This will help not only to see your progress but also to keep yourself accountable.
According to user reviews, the interface of MyClimb app is intuitive and easy to navigate. However, some users have mentioned that they would like to see progress charts in the app for better visualization.


Mountain Project
The Mountain Project is a great resource for getting up-to-date information on rock climbing locations and conditions for going on such a trip. With the help of the map in this app, users will be able to find climbing areas and easily navigate there.
Moreover, in this app, it is really convenient to sort routes according to different characteristics and find the most suitable one. For example, users can sort routes by:
Discipline
Difficulty
Star ranking and more.
It is worth mentioning that users will have plenty to search from because this app has more than 155,000 climbing routes that are available even offline. Also, users will be able to view the rating and the most important information about the places they are going to climb.
In order to know even more about routes and mountains, users can communicate with people around the world in chat or comments under the description of places. To help others, users can evaluate the routes they have traveled and create their own to-do lists.
According to user reviews, this app can really be a good assistant in compiling and passing routes for climbing. However, as one of the users says, the desktop version is much better, because in the mobile version most of the useful features were removed and the developers left only the bare minimum.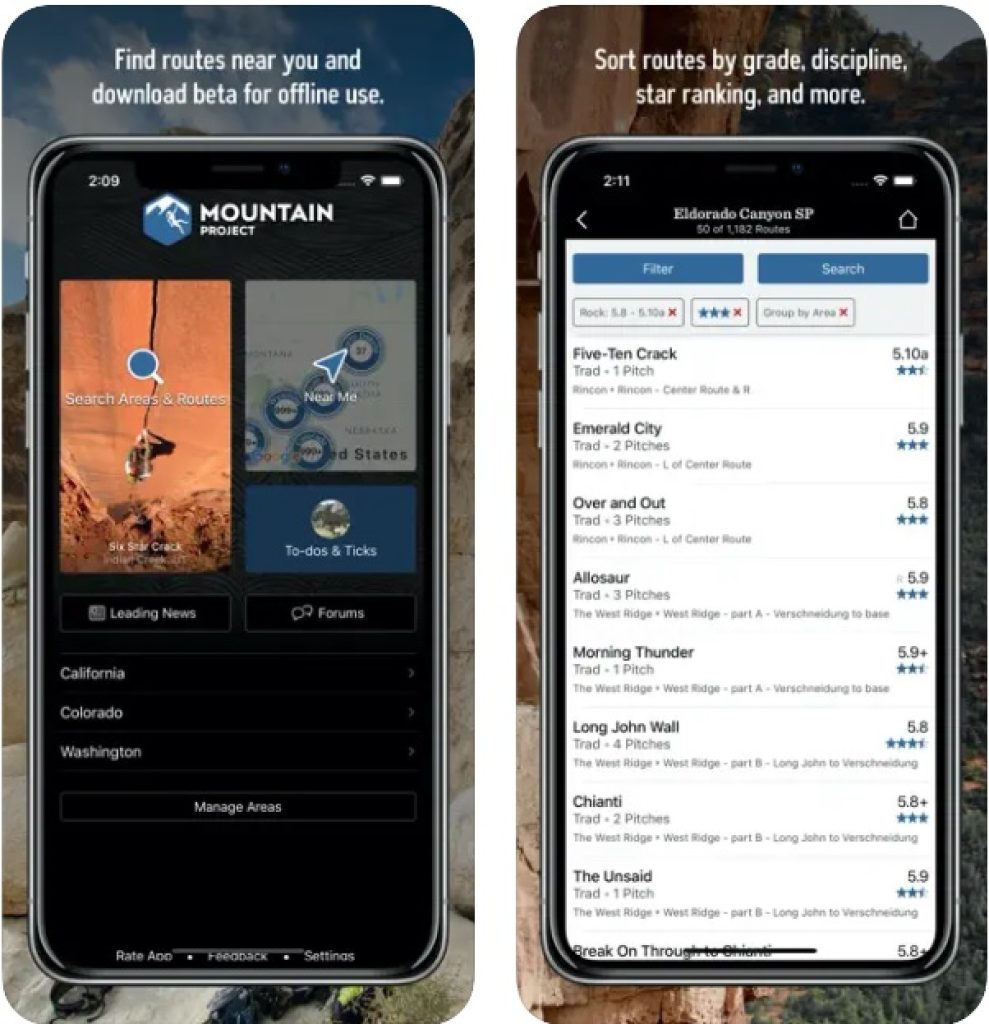 Grippy
Thanks to the Grippy app, users will be able to find and complete many different rock climbing workouts recommended by professionals.
In this app, users can view workouts by sections. One of the sections includes only the most popular workouts at the moment, which are updated regularly.
Moreover, users can immediately save their favorite workouts so that they don't have to be searched for again in the general list. Also, users can easily track their progress using convenient graphs and a calendar.
According to user feedback, the choice of available workouts is large, and the workouts themselves are really challenging and improve users' skills.
Some users noted that the Grippy app lacks a focus on individual user needs. For example, users can't remove short rests between sets during the workout even if they don't need them at all.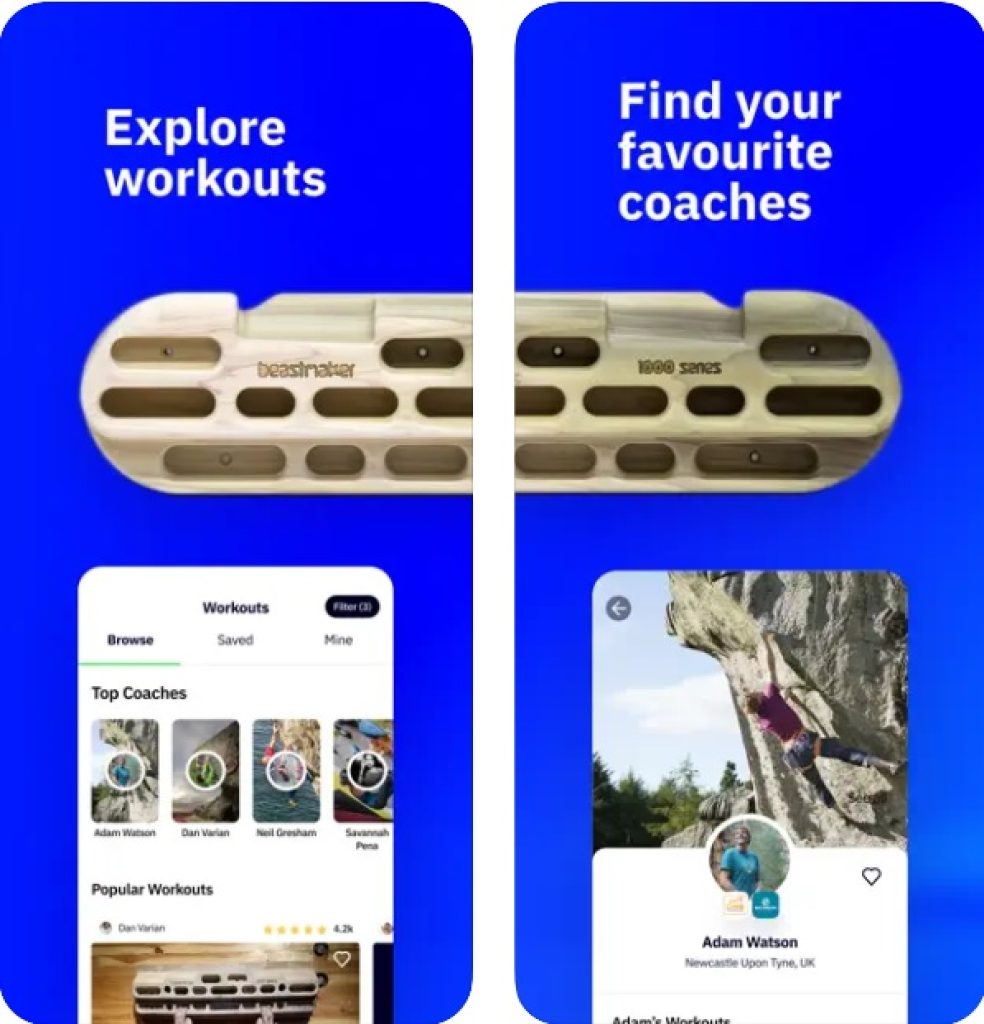 Crimpd
This app will be of great help to all those people who want to improve their skills in rock climbing. Professional climbers have created this app so that its users can improve their:
Endurance
Strength
Mobility.
In the Crimpd app, users can try interactive workouts. In these workouts, users will go through each exercise step by step. If users need to practice hang boarding, then the app has a built-in timer that will calculate how long the user can hang on the board.
Also, users can track their progress by the number of workouts performed in a calendar format. What's more, this app is great for reaching your fitness goals because it has a user-friendly planner. Users can access fifteen pre-made templates and customize their own workout plans.
According to user feedback, the app automatically suggests training sessions and divides them into certain categories depending on what the user wants to train. The only comment from users is the request to add the ability to change the number of sets and repetitions for each exercise.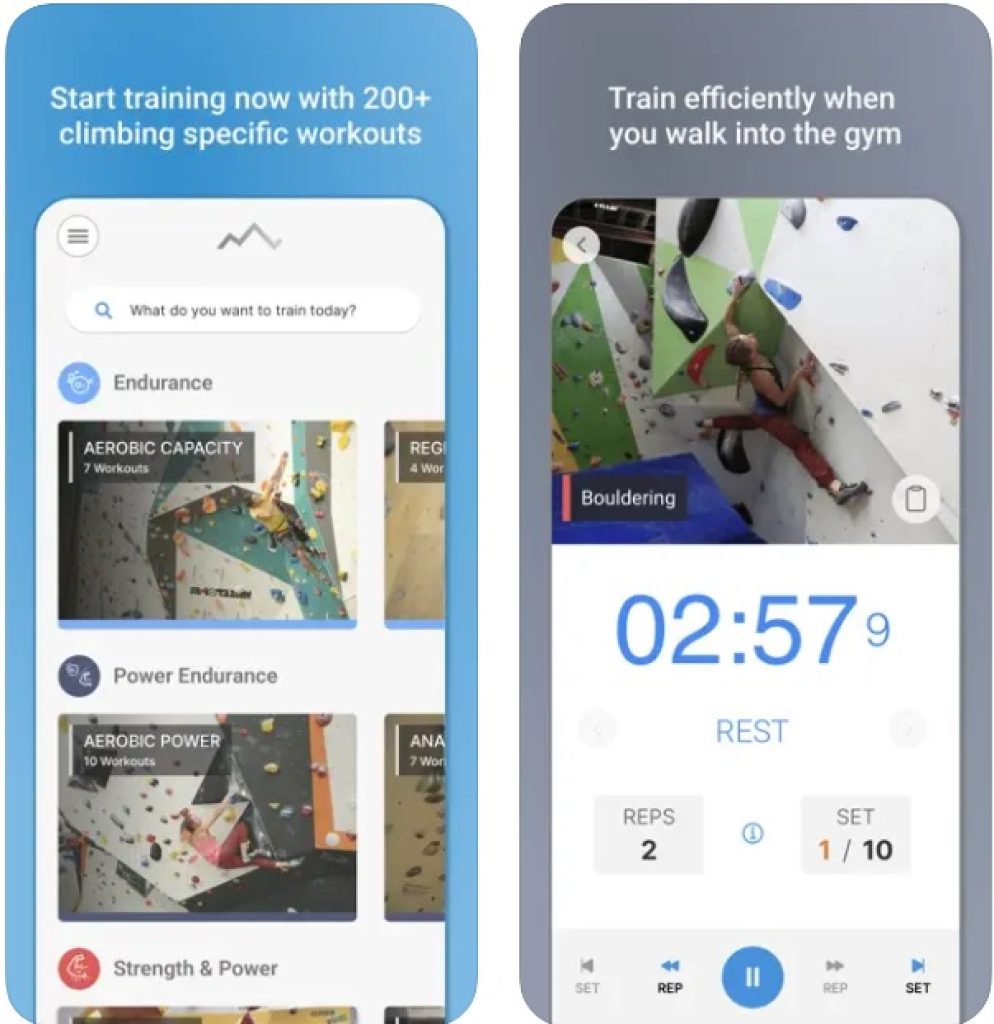 Boulder Trainer
With the Boulder Trainer app, all climbing fans can improve their climbing skills. The exercises that the developers of this app offer will mainly help increase the endurance and strength of users, which is so necessary for climbing.
Moreover, here users can create their own workouts, taking into account their unique needs and thus making the workout more effective. For the convenience of users, right during training, they will be able to hear voice instructions for performing exercises.
Also, users will be able to receive training reminders that will help them not to quit working out and achieve their goals.
According to user reviews, this app is a great assistant for those who want to do exercises the right way and improve their skills. However, some users had small comments about what features they would like to see in this app in the future.
For example, users would like to have the ability to write notes and know which muscle groups or skills exercises help to develop.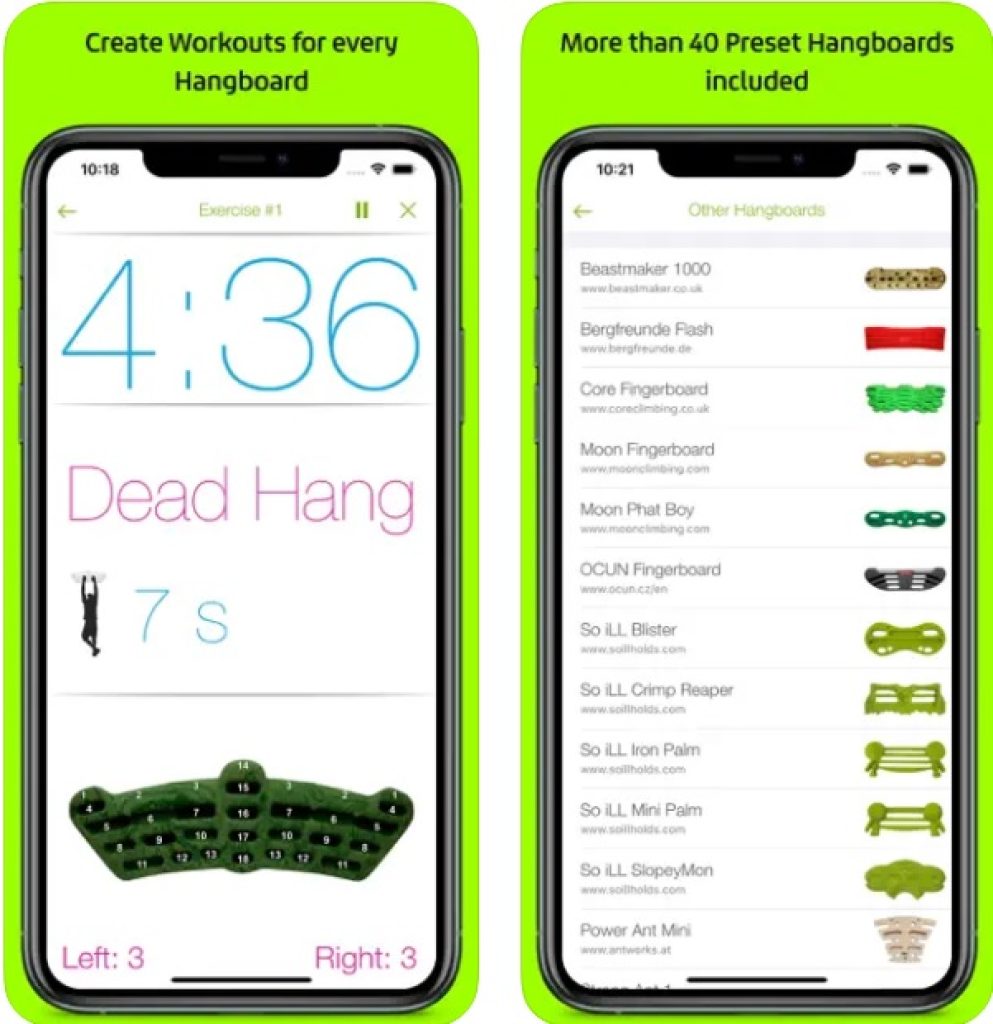 Boulder: Date a Climber
With this app, users around the world can find not only friends but also a partner with the same interests. Here, users, regardless of their level of climbing skills, can find their ideal partner.
When users view other people's profiles, they may see several different characteristics in the description. For example, the description shows the users:
level in climbing
profession
education
age
place of residence
height.
Moreover, users can even look at the attitude of a potential friend or partner towards alcohol and smoking. During the search for a specific person, users can themselves indicate the desired age of the companion and the distance to him or her.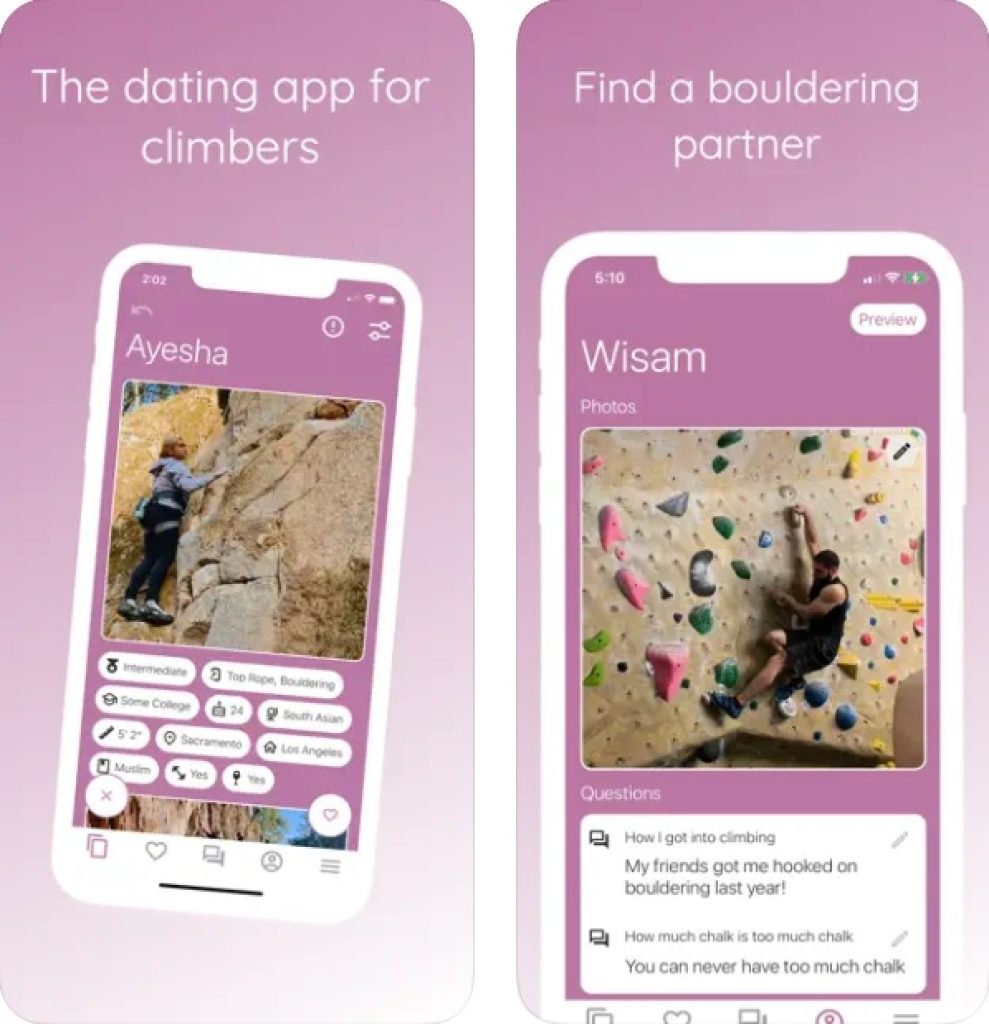 You may also like: 11 Best apps to find apartments for rent (Android & iOS)
PeakVisor
With this unusual app, users will be able to know the height of the mountains on the map in advance. Therefore, it will improve understanding of the difficulty level of the routes.
What's more, this app can recognize the mountain and its name using the phone's camera. This will greatly help users not to get lost and always clearly understand their location even without an online map.
However, there are maps in this app as well. Due to the fact that these aren't ordinary, but 3D maps, users will be able to explore all the trails and routes in advance and be prepared for a hike.
In addition, users can plan their mountain trips with this app because PeakVisor will be able to estimate not only the distance to be covered but also the time it might take. Users can also add points of interest to their route, such as:
mountain huts
cable cars
viewpoints
castles, and more.
One of the main advantages of this app is that it works offline because all the materials are pre-downloaded.