We've seen applications that produce accurate data for you without the use of special tools. The most common applications are rulers, corner size meters, voice level meters, and more.
Using smartphone sensors, you can turn your device into a universal measuring tool. It will always be at your fingertips and will not require any additional tools. Smartphones are really becoming more and more versatile, and as you master your photography, you'll discover even more features.
In construction, the measuring tape is always at your fingertips – it's one of the key tools you need to work with. But if you're just an amateur or just suddenly want to know the height of a tree near your home or your height, applications with special functionality will help you.
There are many applications that are ready to make all the necessary measurements for you. We've put together in one article the 9 best height measurement apps to help you if you need them (or just for fun).
Ruler by NixGame
When you have to measure a fairly small object that is right in front of you, the Ruler application is one of the best tools. It is used for tools such as calipers, length calculation, thread pitch determination, and of course the ruler itself.
It is a simple tool that you may need at any time and will always be at your fingertips with your smartphone.
With the Ruler app, you can measure objects in different measurement units – all of which are customizable by you. You can also use the built-in converter to calculate already known values.
The advantage of the electronic ruler is that you can obtain precise measurements without using any third party tools. You only need a few moments to calibrate the dimensions, and then you can get started.
Measurements are made in 4 modes – point, level, plane, and line. It is also worth noting that the Ruler is adapted to many languages for easy perception.
GHeight
How often do you wonder: what is my height? Unfortunately, it is not always possible to measure it at home by yourself. It's hard to find such a long ruler or measuring tape, and it's hard to measure everything accurately.
You only get the exact values in the doctor's office, but you can't visit him all the time for such a simple question. With the GHeight app, you can measure your own height in just a few clicks.
The advantage of the app is that it has cool giraffe. You have to admit, giraffes are what you need right now. With ARKit technology, you get precise values. Since the application is designed for entertainment, you can also compare your height with celebrities – for example, find out which of the stars has the same height.
The results are immediately shared on social networks and can be used to entertain friends. Compare your results with your friends and keep track of your growth with the easy-to-use GHeight interface.

You may also like: 11 Best Inclinometer Apps for Android & iOS
Measure by Google LLC
Google often releases useful applications for people. One such tool is Measure, which helps you in one simple thing – measuring parameters. You can measure literally everything that surrounds you, from your nearest chair to your own height and size.
The app has an incredibly simple interface that requires you to have access to your smartphone camera and you can monitor everything on the screen.
The most accurate measurements in Measure are obtained when you measure objects on a flat surface. It can be a carpet, chair, or something standing on the floor or on a table.
You can switch between units of measurement for convenience – if you record the values yourself elsewhere. You can copy the results to the clipboard or take a picture of them directly in Measure.
You can start by simply clicking on the screen – the same algorithm is used to complete measurements. Small errors will still give you an idea of the size of the object.
MeasureKit – AR Ruler Tape
Augmented reality technology has always amazed the imagination of people. With its use, you can create or see things that actually do not exist.
MeasureKit works with AR measurement tools, so you can get data quickly. This requires the use of a camera on your device – a smartphone or tablet. Next, you will be able to get all possible sizes of the object you are interested in.
There are a total of 9 different measuring tools in MeasureKit. These include magnetometer meters, ruler, camera to fixed point distance measurement, and much more.
In addition to measuring tools, you can also try out the Face Mesh feature that exports a 3D model of your face to your device. MeasureKit also quickly measures the height of a person in the camera's field of view.
The application algorithm is more advanced and allows precise and smooth measurements. On some advanced devices, you can use the LiDAR Scanner to measure indoor and outdoor distance.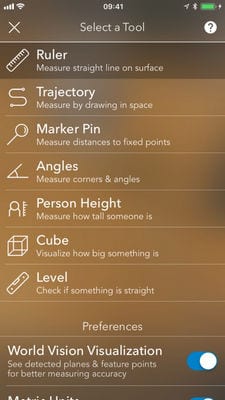 Moasure
If you don't like to use roulette, ruler, or laser measurement beams then you can get all this with the Moasure app. It combines several standard devices – a tape measure, ruler, protractor, and goniometer.
They measure distances, heights, dimensions, and even angles. All you need to do is move your smartphone from one point to another, and the app will start measuring everything around you.
Instead of using real measuring tapes, you will use modern technology. Moasure uses accelerometers and gyroscopes, whose sensors are located in your smartphone.
The result of modern technology will immediately give you the result of all your measurements. All data is stored in RAM so you can send it by email or SMS.
The accuracy is between 1% and 3% – depending on your smartphone model. You will not need to use measuring tapes, as you will always have tools at your fingertips.
Height Meter – AR Measure App
It's always interesting to measure your own height. People follow their own parameters everywhere – height, weight, and size of clothes. This is just interesting!
However, it's easy enough to find out the weight – just get up on the scale, it gets a little more complicated with height.
You will have to look for a long enough measuring tool, because a classic ruler will not be enough, as well as asking for help of someone else. But it gets easier with the Height Meter app, which will help you find out all the data you want.
Height Meter is a standard application that takes advantage of ARKit's smart features. All you have to do is touch the screen and the application will show you a ruler or other height meter.
To adjust it, you will need to swipe up or down the screen – depending on the person's position. There will always be a hint on the screen – in the form of a funny cartoon boy who holds the text for you.

Ruler App by Nikola Kosev
Ruler App is another classic application that provides you with a virtual ruler. Here you receive the functionality exactly what is declared and nothing extra.
This minimalism is also evident in the interface of the application – all you see on the screen is just a ruler and nothing more. You can use it to measure everything you need – any of the objects around you.
Ruler App supports multi-touch technology that lets you touch the screen in several places at once. All measurements are accurate and have a tiny amount of inaccuracy.
Everything you measure is stored in a special history, where you can view the data. To fix a measurement, simply click on the screen in Ruler App. Easy to use and easy to measure, nothing complicated. Some people just need a minimum of functionality.
3-in-1 Ruler
Measurements can be made as you like. In Annex 3-in-1 Ruler you can take measurements in 3 different ways depending on the object or situation. Initially, you can measure directly on the screen – an excellent way to take small and accurate measurements.
Augmented reality actions allow you to place a virtual measuring tape on the screen on a flat surface. You can also simply print the ruler on an application printer – but the accuracy becomes much lower.
In Augmented Reality mode, the measuring tape is built using ARKit technology, which requires exactly flat surfaces. The surface can be either horizontal or vertical, depending on what you are measuring.
When it comes to interface and design, the 3-in-1 Ruler is simple and bright enough. Its functionality gives you exactly what you need – accurate measurements without special tools.

You may also like: 10 Best thermometer apps 2020 (Android & iOS)
CamToPlan
Measurements can be made for different purposes. You may have needed to find out the height of the walls for the house plan, or maybe you just wanted to know your height.
With CamToPlan you can measure anything with a virtual ruler and tape measure – both horizontally and vertically. Most work is done with square or flat surfaces in your home. By the way, this method works much more efficiently than laser meters.
CamToPlan makes a drawing of what exactly you measure. This way you can create a plan for your room, taking into account all sizes and scales. Such functionality will perfectly suit real estate specialists, builders, as well as those people who plan repairs in the near future.
ARCore is the basis of CamToPlan calculation algorithms. It allows you to use sensors on your smartphone as a measurement tool. By the way, for accurate measurements, you won't even have to remove furniture from your room.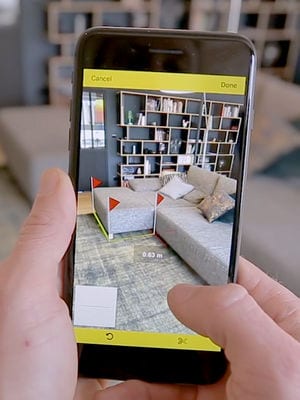 It's worth noting that no matter how precise the application is, there's still the possibility of error. Even when measuring height or dimensions with different measuring tapes, you can still make a mistake or get different results.
However, if you automate this process, you can easily measure any object of interest to you. Finding out the height of your home, the trees around you or comparing your height with your friends will be easier and faster.
Yet for more accurate work, such as construction or design, we recommend that you use precise measuring tools to avoid errors and to ensure high design accuracy.