If you often use Instagram, you might like to boost your development. Luckily, now there are many good apps to gain additional likes and reposts on Instagram.
By the way, if you are interested in making your profile beautiful, you should read 11 Best Aesthetic Photo Apps for Instagram.
In this article, you will find the best tools to gain likes on Instagram. There are great options for iOS, as well as Android users.
Bosslike: Do tasks, get likes
Do you want to get more likes but you are running out of money, this is a great chance for you! In Bosslike, you can buy like but not for real money.
To buy anything, you will have to use special coins you may gain doing tasks from others. These tasks can be quite different – to follow some pages, put likes on posts, and so on. After you gained enough coins, you can start buying likes and stuff.
Here are the best things about Bosslike:
This isn't

a boosting tool

. If you try to boost likes for money, you are doing a prohibited activity. But if you are doing tasks for digital coins, you are not breaking any rule and still, you get likes.

The app

works just like a social network

. You can choose the tasks you like and communicate with new people.

A small size

. You will need less than 100 MB to install and use Bosslike. This is an amazingly small size for such a big set of options.
Bosslike is a great app to boost your activity by buying likes without paying a single penny for it.
Both Android and iOS users can get the app for free.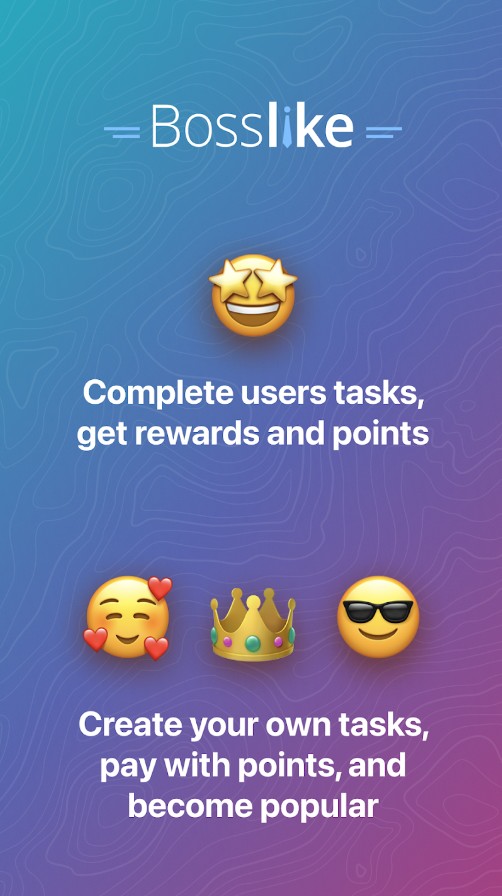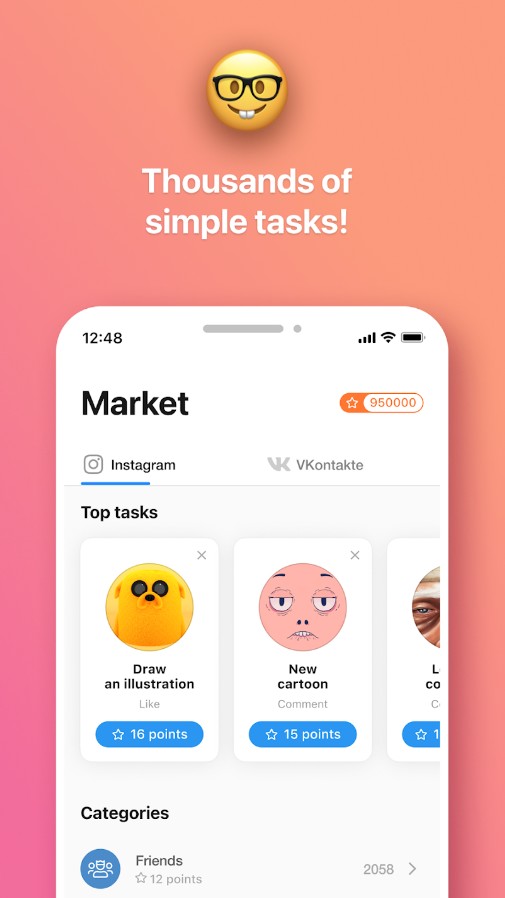 You may also like: 14 Free Instagram Video Makers
HikeTop for Followers & Likes
If you use Instagram for your business development, you know how hard it is to increase the number of likes and followers. Sometimes your metrics might disappoint you greatly.
This is why you should try to boost your activity. HikeTop will help you greatly with this. Let's see why this tool is worth trying:
You can

move up in the search line

. When people are finding somebody on Instagram, they get a list of the most popular accounts that match their search. Become one of the top accounts.

Create

a mind-blowing bio

for your account. As you might already know, it is vitally important to make your bio cool. This is one of the first things your future follower will see.

Gain

more likes on your posts

. In fact, this app is more about gaining likes on posts that boosting other metrics. HikeTop will tell you how to craft your feed on Instagram and what types of hashtags to use.
However, if you also plan to use the app to gain followers, you might get disappointed. Most followers, according to the comments from users, tend to unfollow them after a day or so.
The app is free with in-app purchases. If you want fast growth of likes, go for them, it costs 0.99$ per item.
HikeTop is available on Google Play.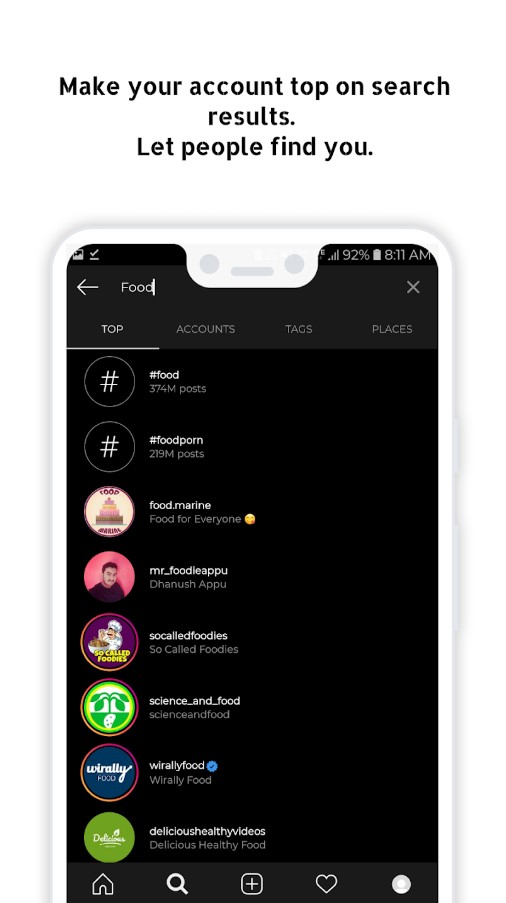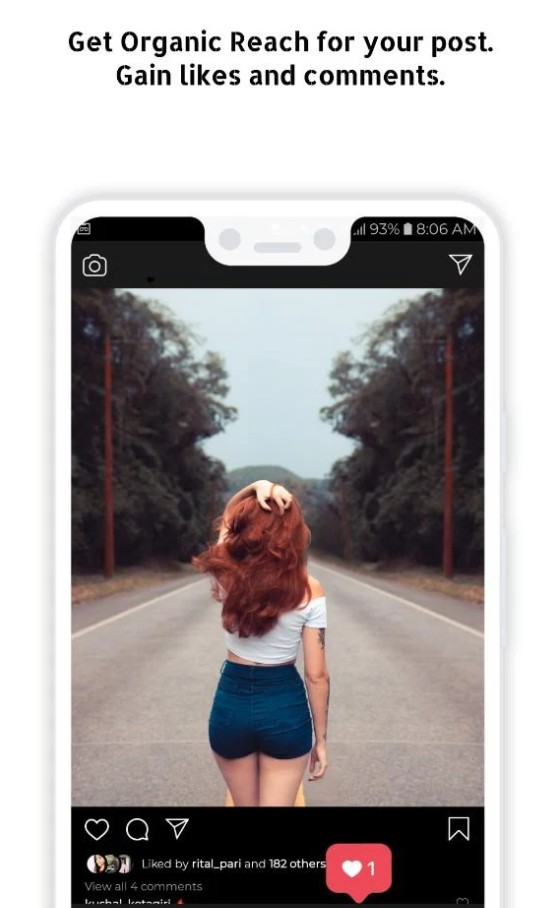 Followers for instagram likes+
Followers for Instagram Likes+ is an app designed to help users boost their Instagram engagement by providing a platform for gaining more likes and followers. This app is especially useful for individuals, influencers, and businesses looking to increase their Instagram visibility and engagement.
Users can earn coins by liking, following, and engaging with other users' posts and profiles. These coins can then be used to promote their own Instagram content. For example, users can use the earned coins to get more likes or followers on their posts and profile.
Key Benefits:
By gaining more likes and followers, your Instagram content becomes more visible to a larger audience
The app provides a hassle-free way to increase engagement on your Instagram account without resorting to complex strategies
The app's intuitive design makes it accessible to users of all levels of expertise, even those new to Instagram
Users can earn rewards by engaging with others, making it a win-win situation for everyone
It's important to note that while apps like Followers for Instagram Likes+ can help boost engagement, authentic and meaningful interactions on Instagram should be the ultimate goal. Building a genuine audience that appreciates your content is often more valuable in the long run.
In conclusion, I'm sure you will like this tool as it's very effective to buy likes.
This application is available on Google Play only.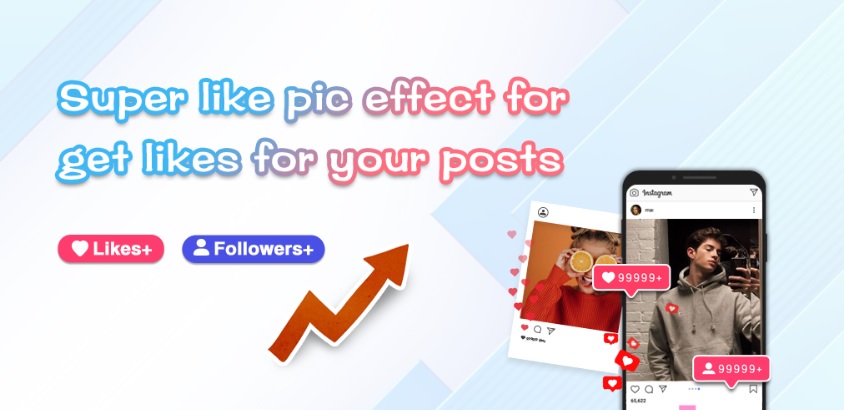 Real Followers & Likes for Instagram
Are you dreaming of becoming a superstar on Instagram? Now it is easy! With Real Followers & Likes, you can do it in a few minutes.
The application provides you with functions that are absolutely legal to use. Don't be afraid to get blocked as everything is done properly, without boosting.
Here are the best features of Real Followers & Likes:
Gain some new followers

. They will be unique and real as if people would have followed you.

Get more likes

. Once you have bought these likes, you will get them in a few minutes.

Receive comments

. As you may have already known, if you have a lot of comments under your post, your posts will be promoted by Instagram.
The problem is that there are too many ads that will distract you from enjoying the app's options.
The app is rated 4.8 out of 5 on Google Play meaning it's a trustworthy and effective tool.
Real Followers & Likes is free with in-app purchases, each purchase will cost you 0.99$. Another cool thing is that the app needs 12 MB to be installed on your device.
At the moment, the app is available for Android users only.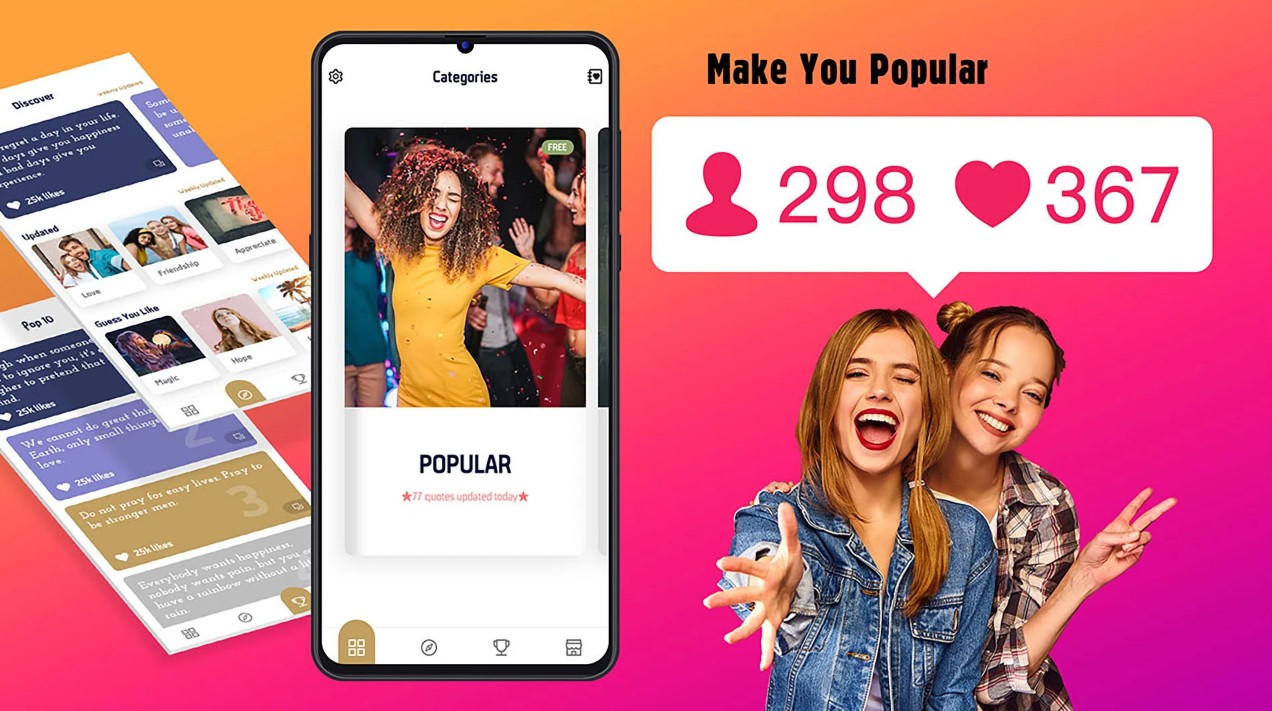 Likes For Instagram Followers
Likes For Instagram Followers is an Android app designed to help Instagram users increase their followers, likes, and views on their posts. It offers a platform for individuals, influencers, and businesses looking to boost their Instagram engagement.
To attract followers using this app, users engage with other Instagram users' content, such as liking their posts or following their profiles.
In return, they earn virtual coins, which can be used to get likes and followers on their own Instagram posts and profiles. It's a give-and-take system where users help each other increase their engagement.
Key Benefits:
By getting more likes and followers, users can increase the engagement on their Instagram posts, making their content more appealing to a wider audience
The app offers an uncomplicated and easy-to-use platform, suitable for users of all experience levels
Users can enhance their Instagram presence without spending money on ads or promotions
However, it's important to use such apps responsibly and in accordance with Instagram's policies. Building authentic and meaningful connections with your audience remains crucial for long-term success on Instagram.
All in all, this is a decent app that can be suitable for bloggers to upgrade their careers.
You can get the application on Google Play at no cost.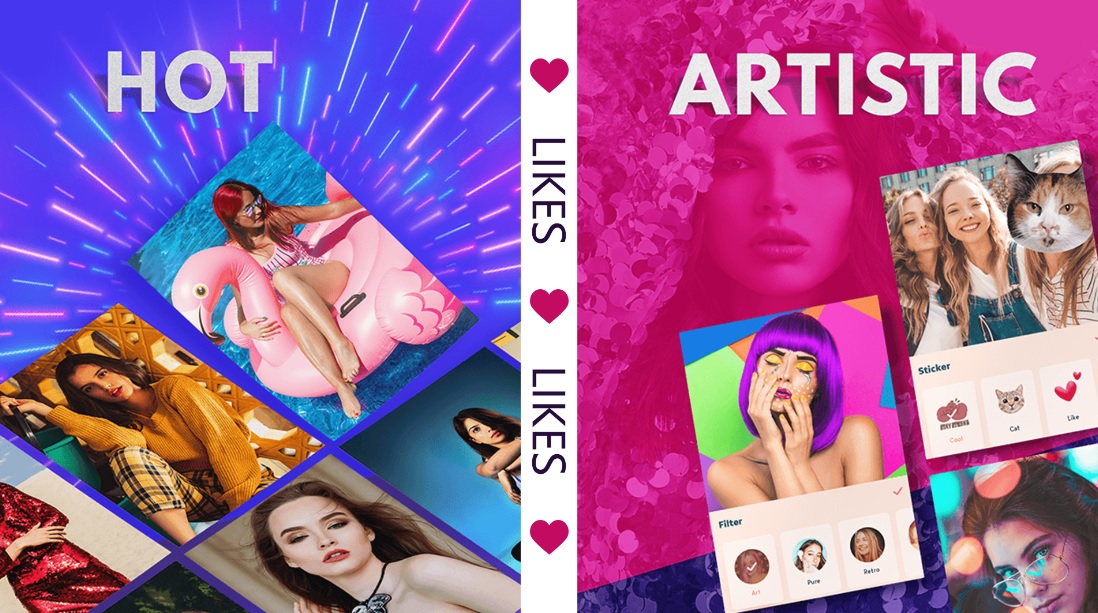 You may also like: 11 Free Fonts for Instagram Apps.
AI Get Followers & Boost Likes
AI Get Followers & Boost Likes is an iOS app designed to help users grow their Instagram followers and increase their post likes using various strategies and features.
Key features:
The app provides users with trending and relevant hashtags to increase the discoverability of their posts
By increasing likes and followers, users can boost their overall engagement on Instagram, making their content more visible to a broader audience
Users can share their upgrade with others, fostering a supportive and engaged community of Instagrammers
To attract more followers, the app employs artificial intelligence to suggest popular and trending hashtags. Users can then include these relevant hashtags in their posts to increase visibility and engagement. This hashtag strategy is a proven way to attract users interested in specific topics.
The app also allows users to share their upgrade with others, which means you can help fellow users grow their Instagram presence, and they can do the same for you. This community-based approach encourages mutual support and growth.
Finally, I would recommend this app for people who would like to get much more likes in a simple but effective way.
The AI Get Followers & Boost Likes app available for iPhone users only.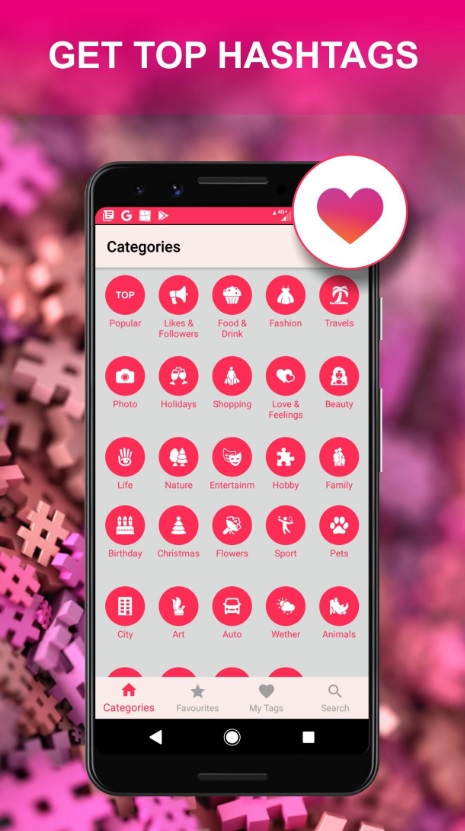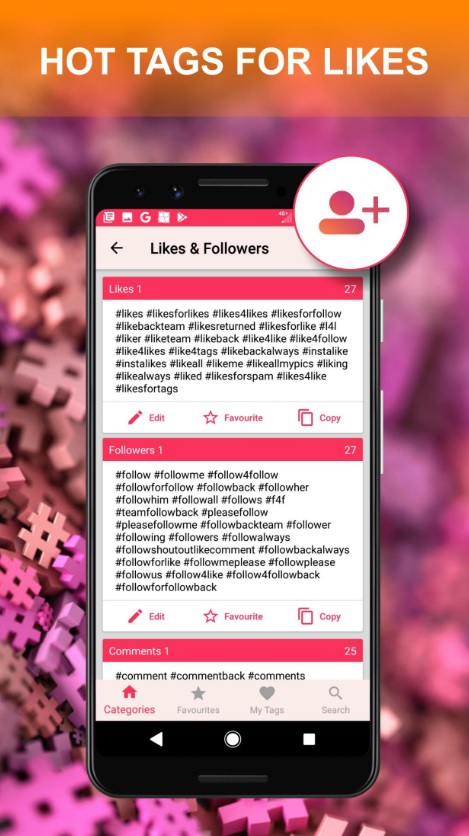 Like4Like — Get Likes
Here comes a special network where you can get as many likes as you need. The principle of work is quite simple – after you create an account, you can start putting likes on other people's posts. In exchange, you will also get likes.
The system is primitive – if you have put 10 likes, you will get 10 likes on your post. No money is needed to be paid.
Let's see what you will get right after the download:
Get and withdraw likes

at anytime you want. Likes will be delivered very fast, in a few minutes.

No extra fees

or necessary subscriptions. It means if you have downloaded Like4Like, you can get started at once.

Use Like4Like on almost any device

. There is an application for Android, a desktop soft, or even a Chrome extension. Unfortunately, there is no app for iOS but it might be created soon.
The application is free with some ads. Make sure you try it and get free likes and unique followers.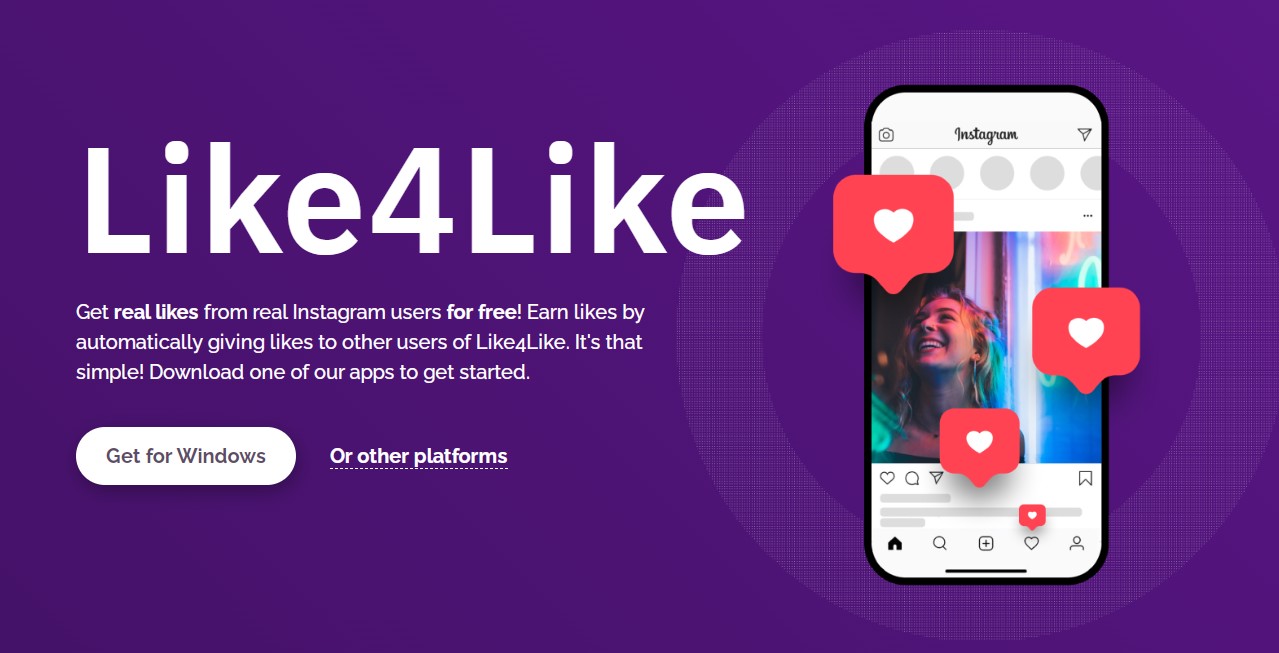 Likes.io
If you want to grow your audience on Instagram, you need to take a look at Likes.io. This is a good service if you have money but lack free time.
This service doesn't have an app but you can visit the official site and get all the features there.
Let's see why Likes.io is worth trying:
You can

gain as many followers as you can buy

. They will start following you almost instantly enabling you to see the dynamic of your account.

Buy likes and auto likes

. This is a truly safe and cool tool, as you will get likes from real accounts. In fact, it isn't boosting so you aren't breaking the rules of Instagram.

Get support

from the Likes.io team. Things can go wrong at times and these people will always be there to assist you. For instance, if there is a drop in your likes, the specialist will solve this problem.
There are no apps, this is why it doesn't matter if you have iOS or Android. Make sure you try this trusted and effective tool!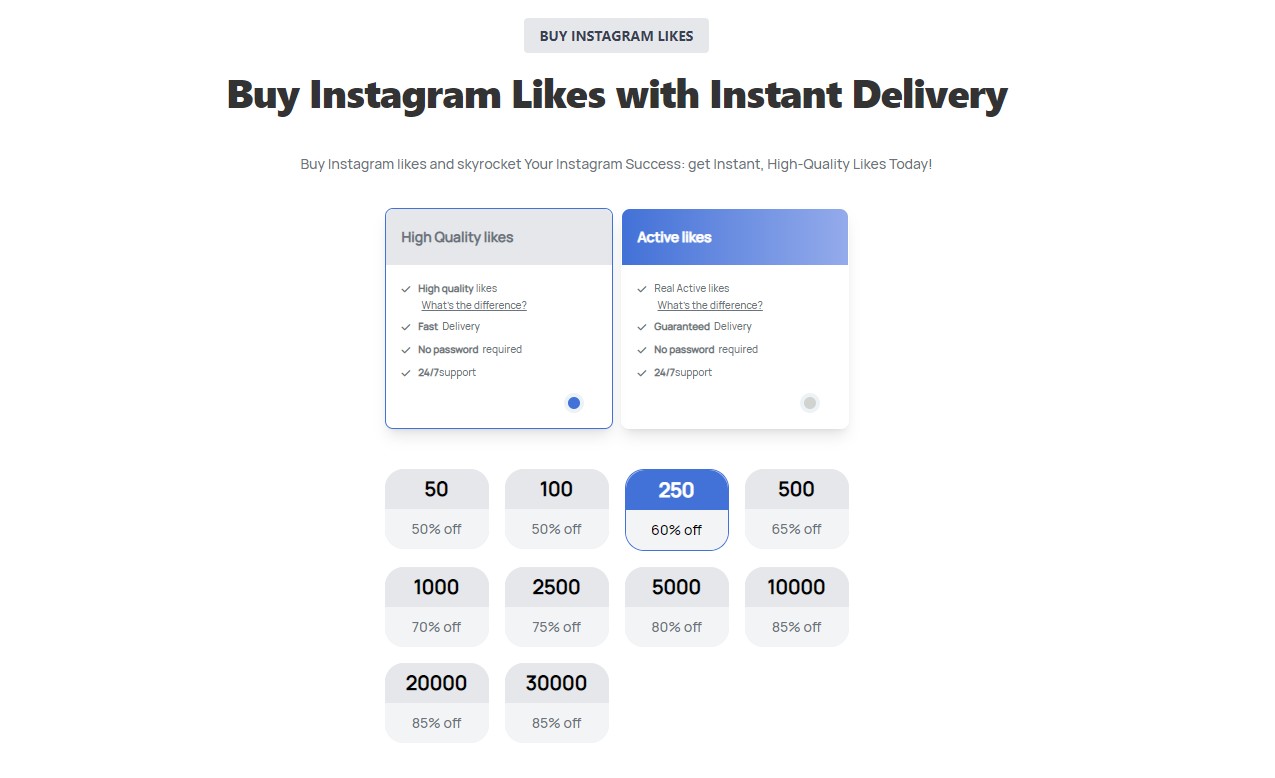 Media Mister
If you need to receive instant likes, Media Mister is what you need to try. This site is a great tool for all people who want to develop their social networks.
However, the site has some downsides. One of them is its UI. It contains a huge set of functions, and it might be a challenge to find what you need.
This big number of options, mixed with an old-fashioned design typical for the 2000s, can confuse you.
However, let's focus on the best functions provided by Media Mister:
The service can help you boost your promotion on various networks, including Instagram. It can also be Tik-Tok, Twitch, YouTube, Clubhouse, and many others.
Set your target and let people from Media Mister Help you. It is a perfect chance to get help from professionals. Once you have set your aims, you will be able to determine the number of likes you will need to buy.
Buy Instagram followers. You might know that it is quite dangerous to increase your number of followers as you can get blocked for boosting. With Media Mister, the followers will grow gradually.
At the moment, there are no apps available for downloading. Still, you can visit the official site and get all the features there. The only thing you need is to create an account.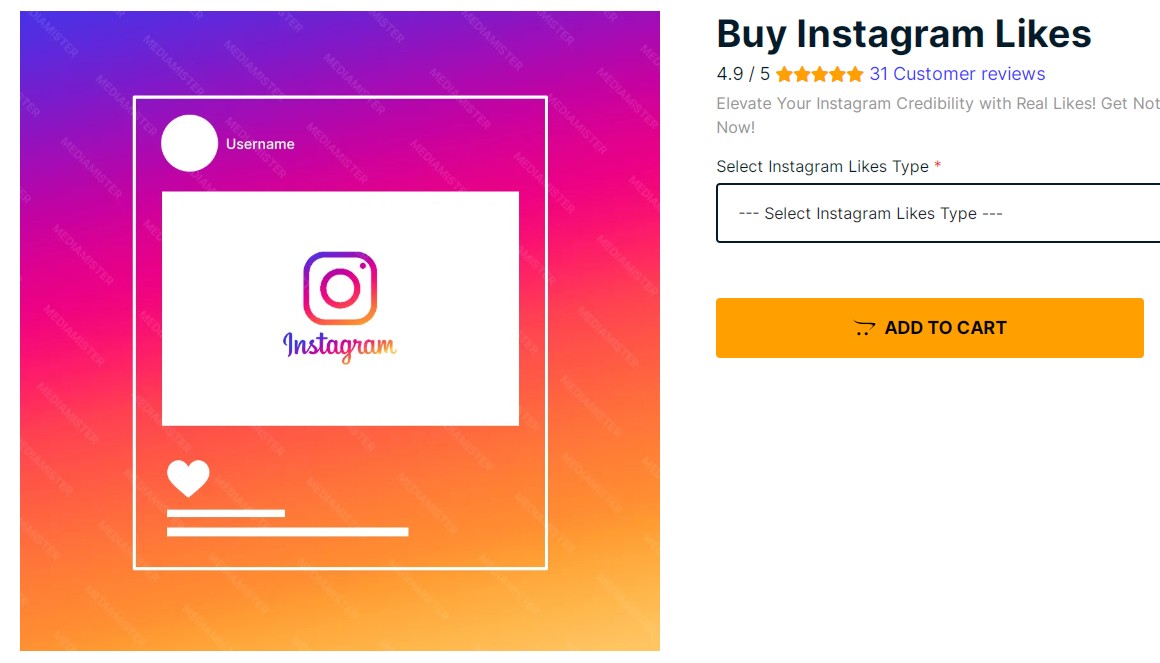 You can also check: 11 Best Apps To Make Instagram Reels
Social Viral
Do you want to get more followers and likes but you are afraid you'll break the rules and get blocked? Then you will appreciate Social Viral! This is a site where you can buy likes, followers, or views.
Please note there are no free options at all but the service offers pretty good and affordable prices. What can you get in Social Viral?
Buy likes

. All the likes are from real accounts run by people, not by bots without photos. These likes will appear almost instantly.

Get

new followers

. If you choose to buy followers on Social Viral, you will get unique ones.

Always

have support from the team

of Social Viral. They work all the time, even at night. This means you will get the answer almost instantly.
Another cool thing is that there are many options, and many subscription plans allowing people with any budget to buy likes on Instagram.
To start using Social Viral, you need to go to the official site and create an account.