Today many various applications allow you to emphasize your beauty, accentuate your makeup, and even alter your skin color and tone. And before you use these apps, you need to take a perfect portrait!

The existence of such apps makes it much simpler to experiment with your appearance. For the fans of glamour, the best apps to change skin color are below.
PicsArt
You probably already know for yourself how cool this app is and what super features it represents. Not only does this app give you the ability to edit your photos online, but you can also share those photos in the app's online community.

It's a great way to get creative and inspire millions of people with your creativity. The main benefit of the app is not only is it a photo editor, but you can also do great editing of your videos with various special effects.
The app has a user-friendly interface and many different features, such as making collages, using different stickers, and even creating your stickers, photo effects, and filters to improve photo quality, remove unnecessary objects, and others.

Since it is one of the best editing apps, we can safely add it to the list of the best.
As you have already figured out, the app allows you to edit the tone and color of your skin from the darkest shade to the lightest in a single click.

In this app, you can safely photoshop different images to try in your photos, and in case you are new to this area you have the chance to start gradually.
The only drawback of the app may be that the improved editing features and many filters and effects are only possible in the premium packages. Otherwise, the app is mighty, with no intrusive ads that pop up during editing.
Briefly: High-quality editing, including the change of the skin color.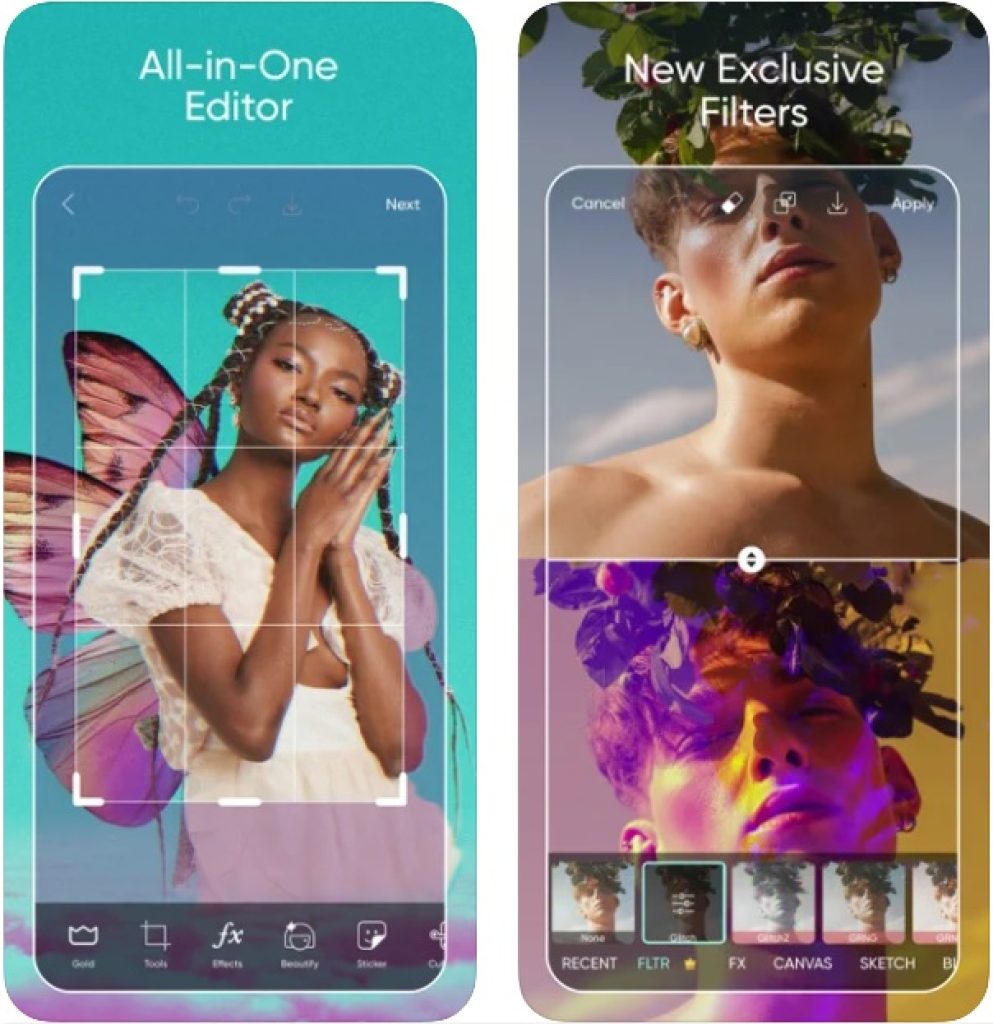 You may also like: 7 Free Facerig Alternatives for Android & iOS
YouCam Perfect
By using this app, you have the possibility to edit pictures with the aid of various effects and filters.

It is also one of the most useful applications for editing photos with different makeup and contouring, as well as for changing the tone and color of the skin this tool is the best.
The features and capabilities of the app are not confined to just a few effects, but there are all sorts of tricks as well. In it, you can turn visions from your fantasies into reality in a few clicks. Looking beautiful is one thing it's another thing to highlight your beauty even more.
It is worth noting that there is a premium version with which you can achieve professional visual content and just a joy for your eyes. We are sure that these are the most pros since beauty is pain. There is an option to speculate, so why not?
Briefly: can change the skin color, but mainly works with portraits.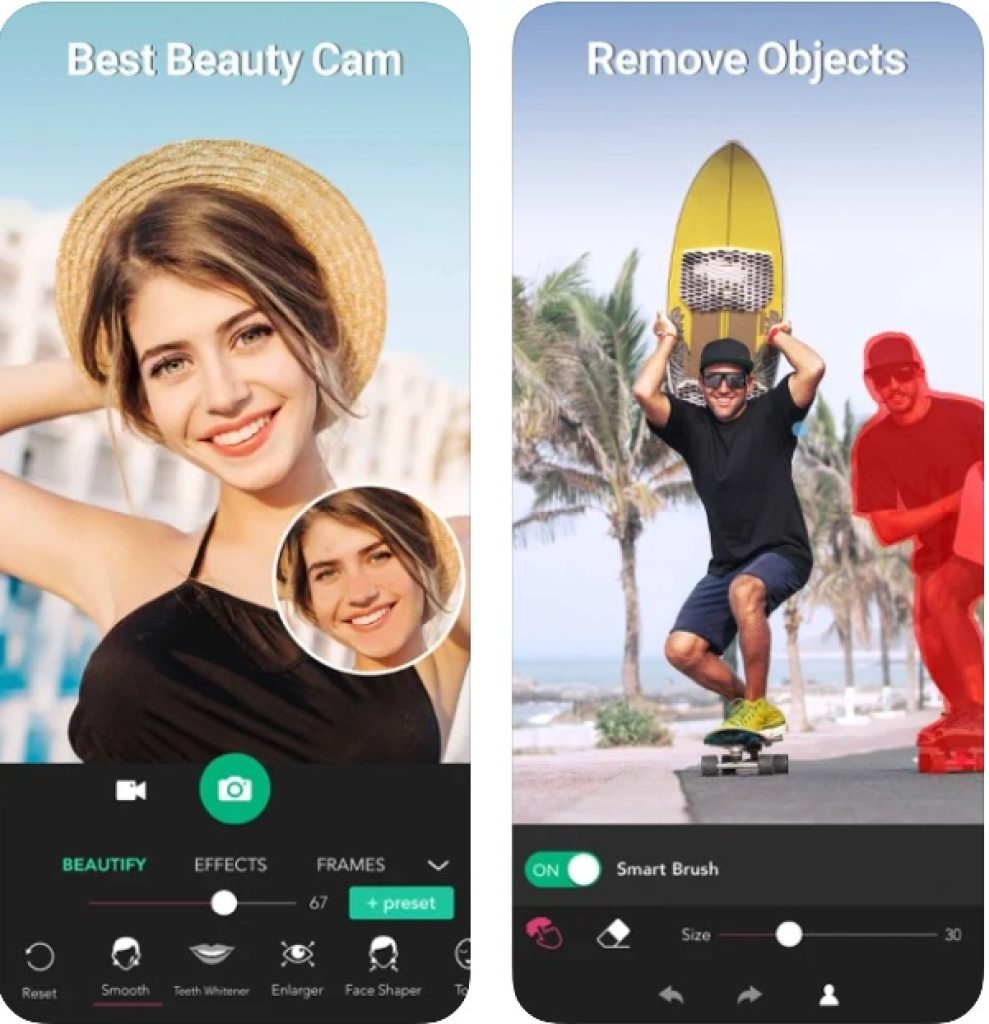 Facetune
Another great app to refine your photos is to remove minor imperfections and make the photo look its best. For selfies lovers, this is the perfect place to try your hand at any look and feel.

Do you wanna know how you would look with freckles? Or maybe you would like to know how you would look with a bit of tanned skin? All these and many other possibilities are presented in the app.
Facetune not only helps you edit a person's appearance, but also has the ability to make changes to clothing, and backgrounds, or use makeup and filters for your videos.

It's cool to have an app that can change your appearance beyond recognition, and it's even cooler when it can just add subtle but pleasing eye changes.
The functionality of the app is professional but presented in the most convenient and simplified form. That is, all functions available in the app are clear and painted.

Particular emphasis is placed on the face in the photo, that is, if the makeup in the photo is not the same – you can change it, if the smile is not bright, you can also make it spectacular in a few steps. All you have to do is upload a photo for processing and then experiment at your own discretion.
Of the best features of the app that is worth special attention is toning, face shape, function whitening, and removing unnecessary elements as well as many professional special effects. The app noticeably simplifies our everyday questions about the appearance of the image in the photo.
Briefly: can do anything, but it's not free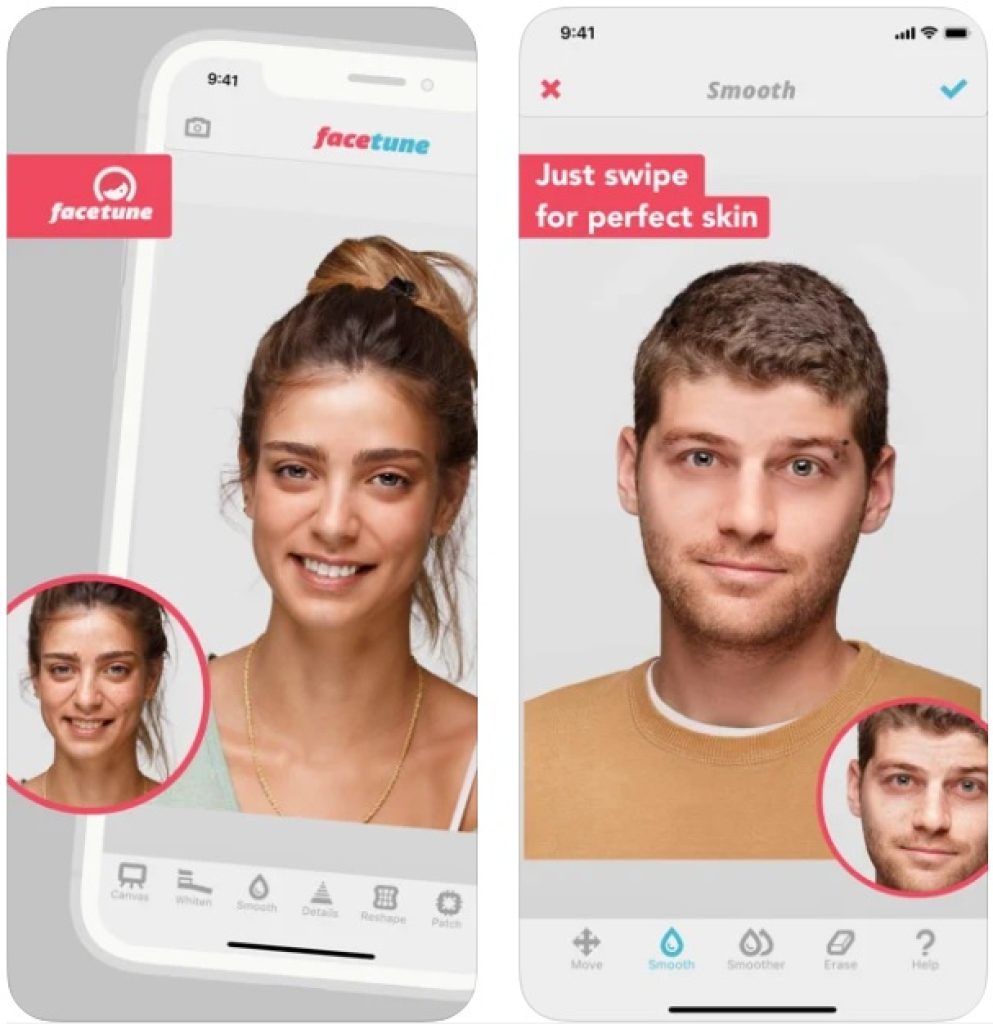 VSCO
When it comes to photo editors for changing skin color, it's a sin not to mention this app. Many people may already be familiar with the features and photo editing capabilities of this application, but we decided to mention the basic VSCO processing capabilities that some are not yet familiar with.
The effects of this application turn an ordinary photo into a professional image and transform it for the better. At first glance, it may seem that the application is too complicated and not convenient to edit in it because of the interface, but you can get used to it if you know how to properly use the full functionality.
If you want to have high-quality and beautiful content for social media, you need to be familiar with the capabilities of the app. After you upload a photo, the "Studio" menu opens, where you will start working on your photos.

VSCO filters are both free and paid, and it's important to try them all to choose the right one for you. You can adjust them as you use them and also change the contrast and saturation of your photo.
VSCO temperature is a menu where functions such as tint, flesh color, and vignette are available. This function is used when the photo turns out too warm and cold shades. Flesh tint is a tool that can be used to change skin tones and add tones to portraits.
Briefly: don't expect a dramatic change. The main effect is achieved by the filters.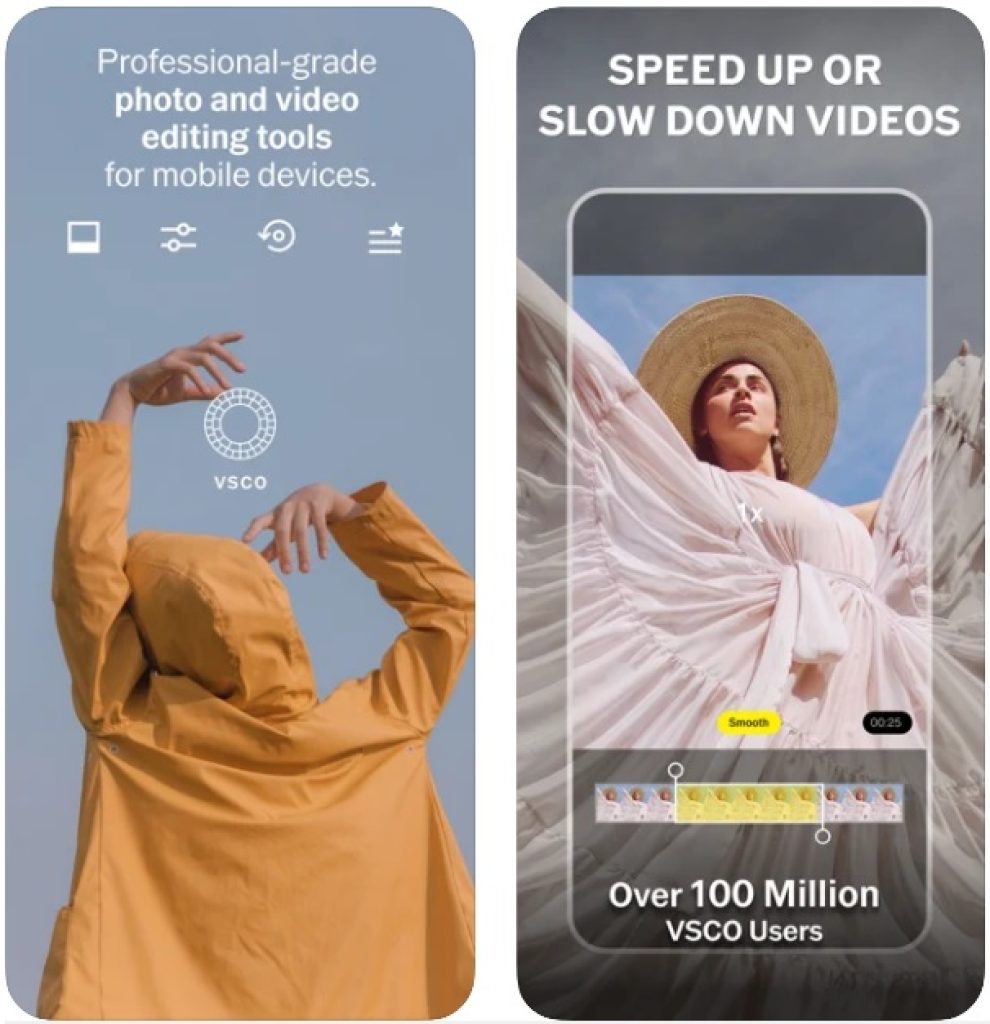 Snapseed
It's a pretty lightweight app for practicing photography.

The app has different functionality and a user-friendly interface that you can easily navigate: in the menu "styles" you can find a variety of filters to improve the quality of the photo, and "Tools" has a variety of tricks for correction, such as saturation, contrast, light balance, and shadows.
To edit your selfies, there is a handy functionality, with several styles of lighting and face toning. This feature helps you change your face tint and smooth out your skin and others.
During photo processing, you will be able to compare the original photo with the edited one, as well as effortlessly undo any changes you have made. Another useful tool is the brush, which you can use to remove or accentuate a particular object.
Briefly: allows you to change skin tone quite well.


Candy Camera
For those who like and enjoy colorful photos, this app is a real godsend. It is true that the photo editor is quite old, but nevertheless, it has unexpectedly useful functions for free photo processing.

For a photo to turn out sufficiently clear and saturated you only need to change the brightness and contrast. The program is handy and simple to operate, which makes editing noticeably easier. With a selection of filters, you can whiten photos, apply makeup effects, as well as skin tinting, and others.

If you want to look in photos like Asian beauties with snow-white skin, or conversely see yourself with tanned skin, then download the app and try out its abilities.
If the above apps could edit a photo in any style, this is more likely to make it bright and cutesy, with different sweet stickers and warm filter tones.
Briefly: change of the skin tone is only available by the "tan" effect.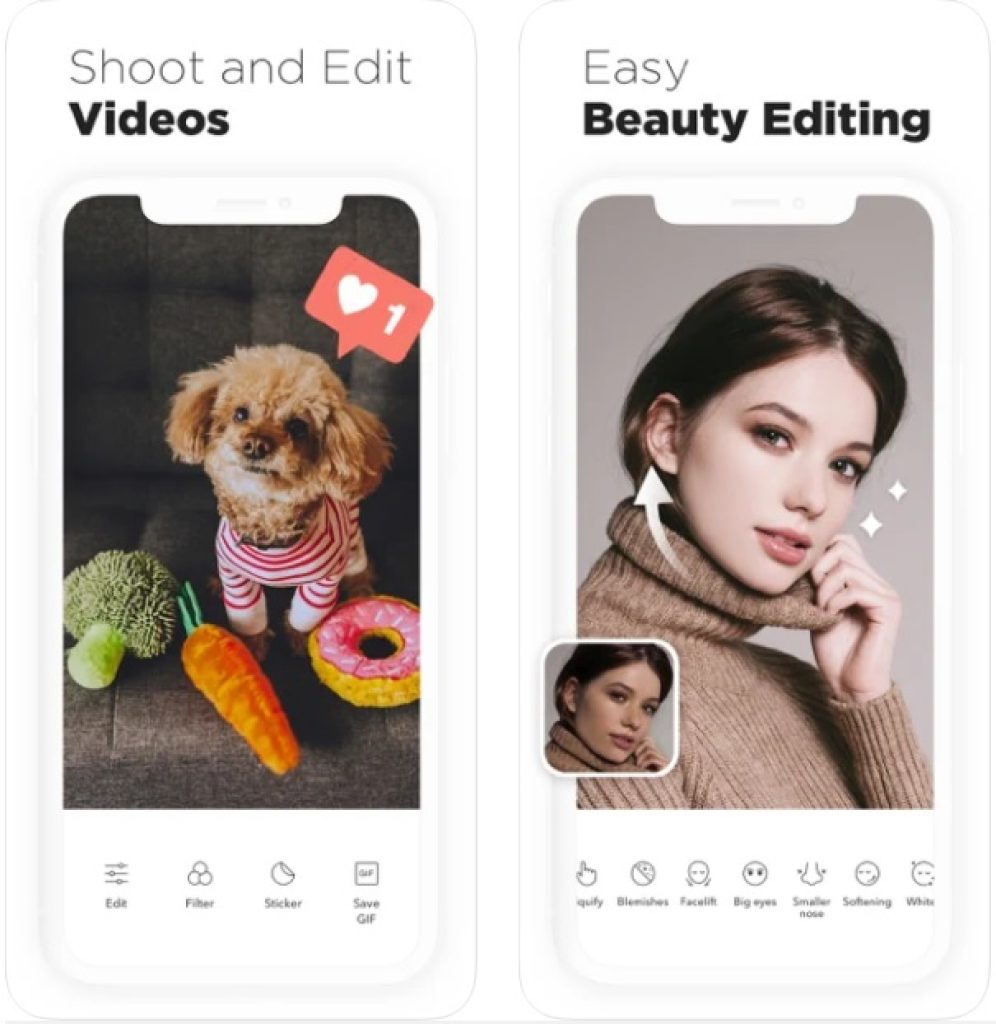 You may also like: 9 Best Photo Morphing Apps for Android & iOS
Photoleap Editor
This editor also has the functions of fast-professional photo processing. One of the advantages of the application is that you can add transparent layers that can be edited individually.

There is a "Nuances" section where you can work separately with lighting, and color corrections such as contrast and brightness.
The application is definitely at the top of the best, as from the creators of the application Facetune. The app is as good as it gets, and it's completely free. With the app, you can take a powerful photo, even if you think it is hopeless.
The app is recommended for those who like to create unreal photos with different effects. For your selfies, this app is the best because there is a different palette of features like flaw removal, toning, correction, and others.
If you're serious about photo editing and Photoshop, this app should be on your list. Aside from the fact that the subscription is expensive, you can enjoy the free features of the app.
Briefly: tone correction works more or less decent only in portrait mode.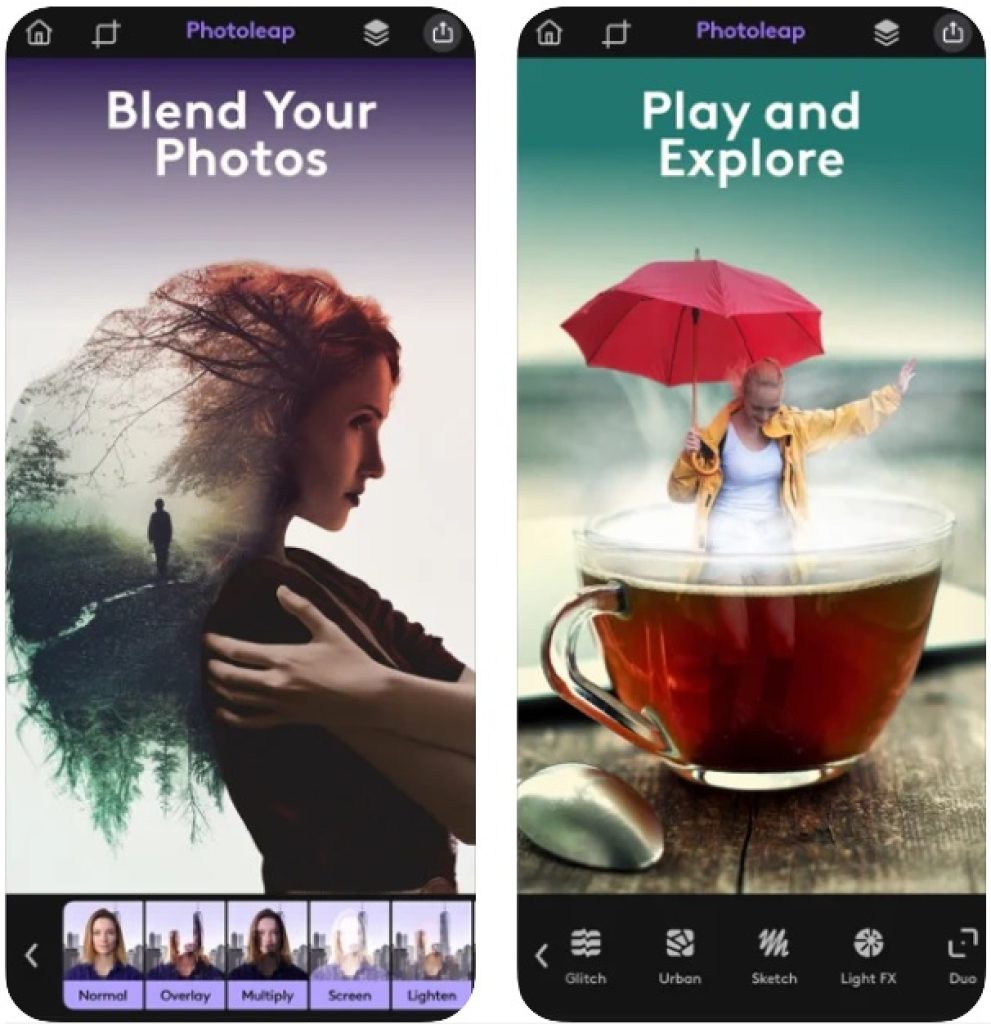 Ulike
Not an app, just a godsend for the selfie's lover. In the app available not only effects and filters, here you can find masks as on Instagram, makeup, and stickers, there are even templates for the photo, if you are not photogenic.
The app allows you to take pictures, and edit finished photos from the gallery. If you want to make a video, there is also an option.

The app offers free services, and you can easily test all the features. The "Looks" section will open you up to a dozen ready-made images with makeup and caption templates, too. There's also a "Beauty" section. where you can choose the makeup, you want.
You can also apply shadows, change the color of hair and skin, apply different filters, and so on. A simple and easy photo editing tool, completely free of charge.
Briefly: the selection of skin tones is very limited.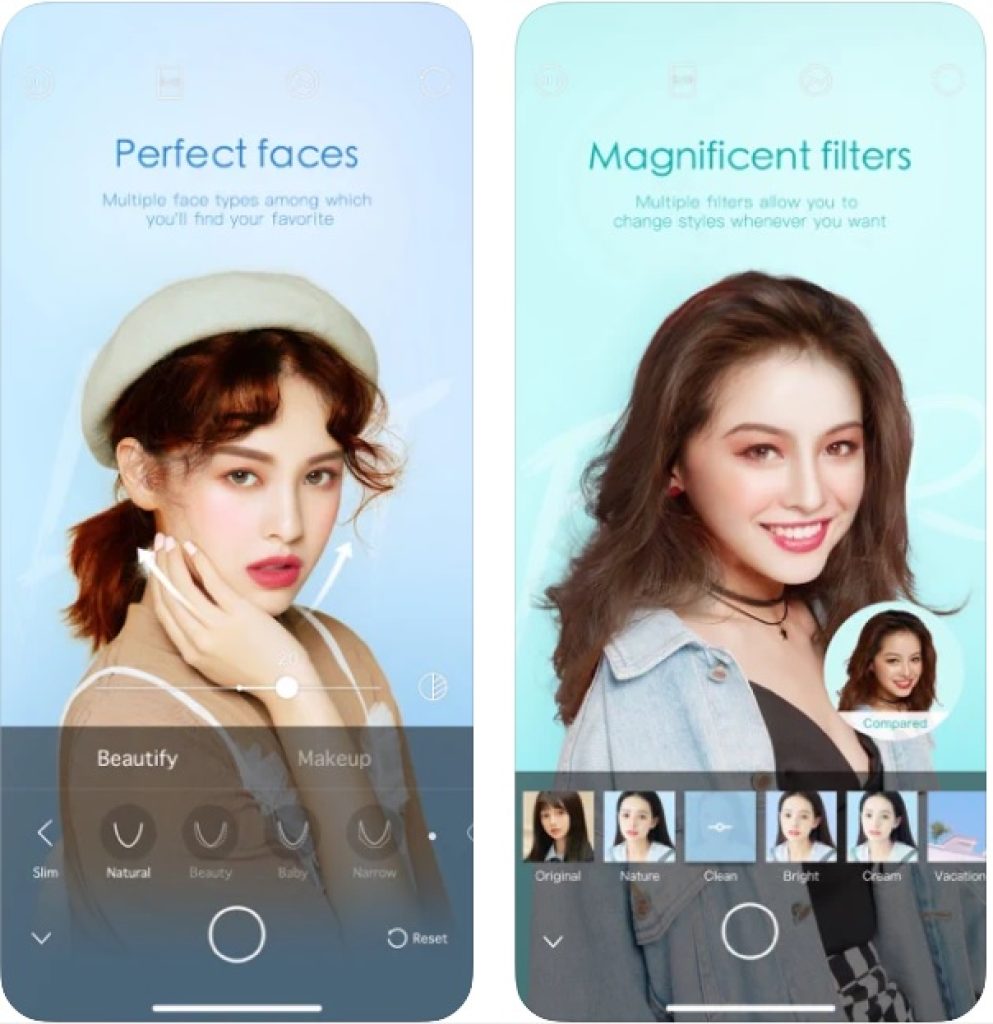 Adobe Photoshop Fix
The application includes all the functions of Photoshop and works to edit a photo using special effects and processing kits.

The app has automated tweaks to modify the photo and you can find the "Correction" function in the menu, where there are many tools for processing.
Many people often think that working with Photoshop is much more complicated than with conventional photo editors. And when it comes to Adobe applications, they get scared and think that the interface is too complicated and the work is tedious.
I must admit that the interface is not entirely easy, but to create the best treatments, you need to know how to use Photoshop.
Briefly: requires the knowledge of photoshop to change the skin tone.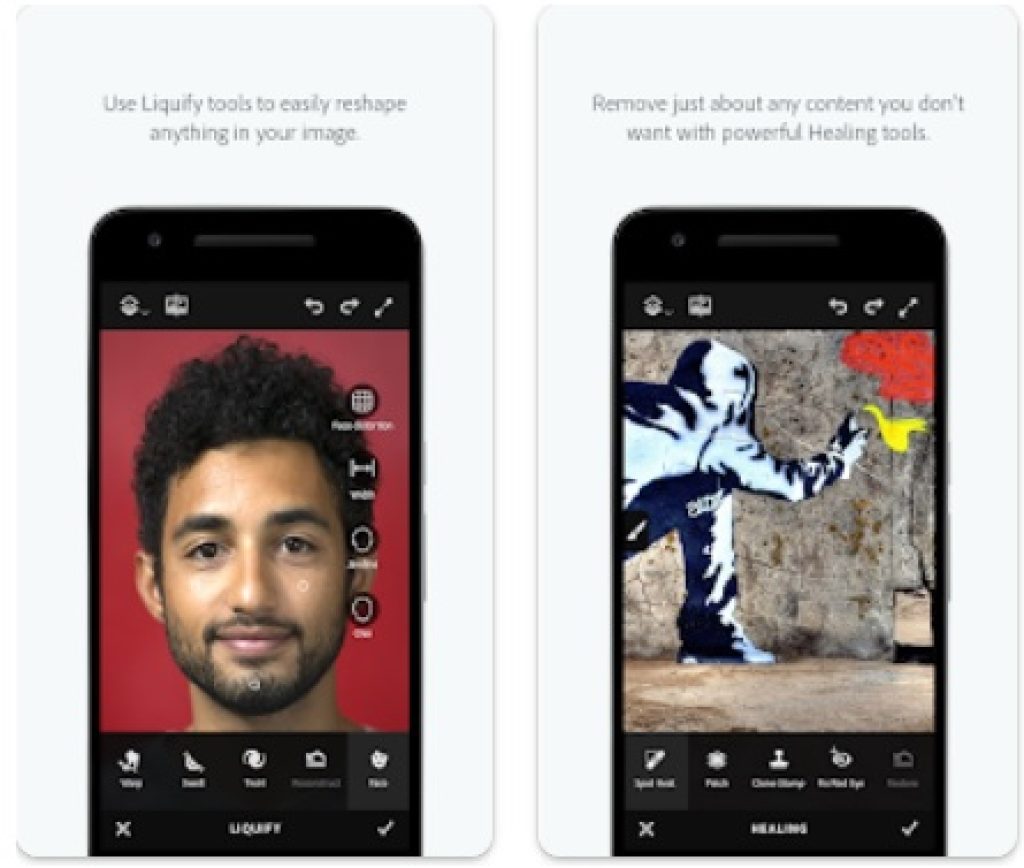 Visage: airbrush photo & face
To remove unnecessary pimples, make the skin color a little darker or lighter, remove unwanted objects and many other features are provided in this app.

There are different effects such as stylization effects, light treatments, background replacement, or color effects.
One advantage, while removing unnecessary things from the face, such as pimples and so on, moles on the face remain intact thanks to the functionality of the app.

If a red-eye effect is detected in a photo, the app automatically corrects it in one click.
At any time, you can compare your before and after photos, and at the right moment, you can cancel this or that action. If you like the result, you can save it to the gallery.
Briefly: the effect achieved by the change of the skin tone looks fake.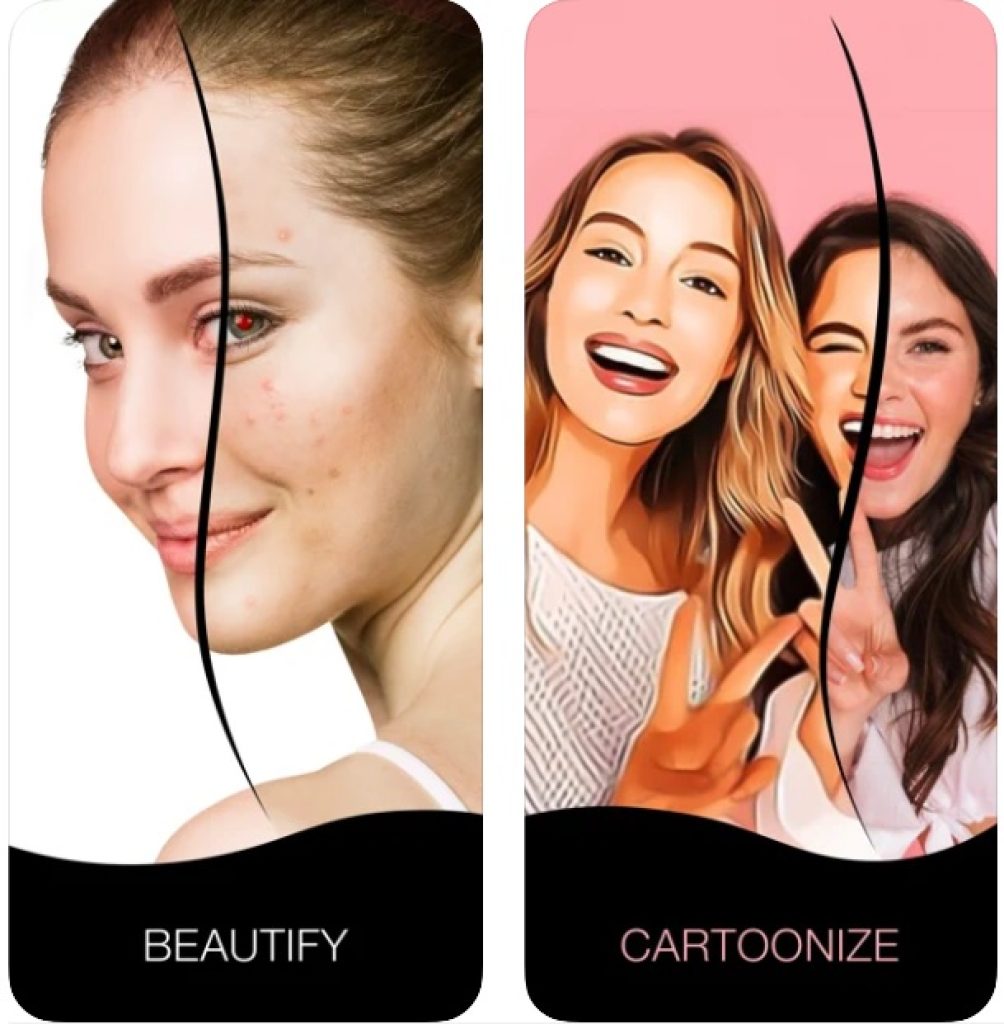 You may also like: 11 Best Makeup Learning Apps for Android & iOS
YouCam Makeup
The app gives you the ability to make changes to your appearance, change the shape of your eyebrows, the contour of your eyes, remove flaws from your face, and the thickness of your lips.

Also, with the help of the app, you can choose different makeup, you can remove the bags under your eyes, and in general, have the opportunity to change your appearance the way you want.
It is worth noting the chip app, which allows you to try any hair or hair color, and sees the result by looking at 360 degrees. There are also specific holiday makeovers, such as Christmas, Halloween, etc.
If you want to try a new look or a new hairstyle, you can test with YouCam Makeup.
Briefly: even though the selection of tones isn't that wide, this is one of the most underrated editing apps.