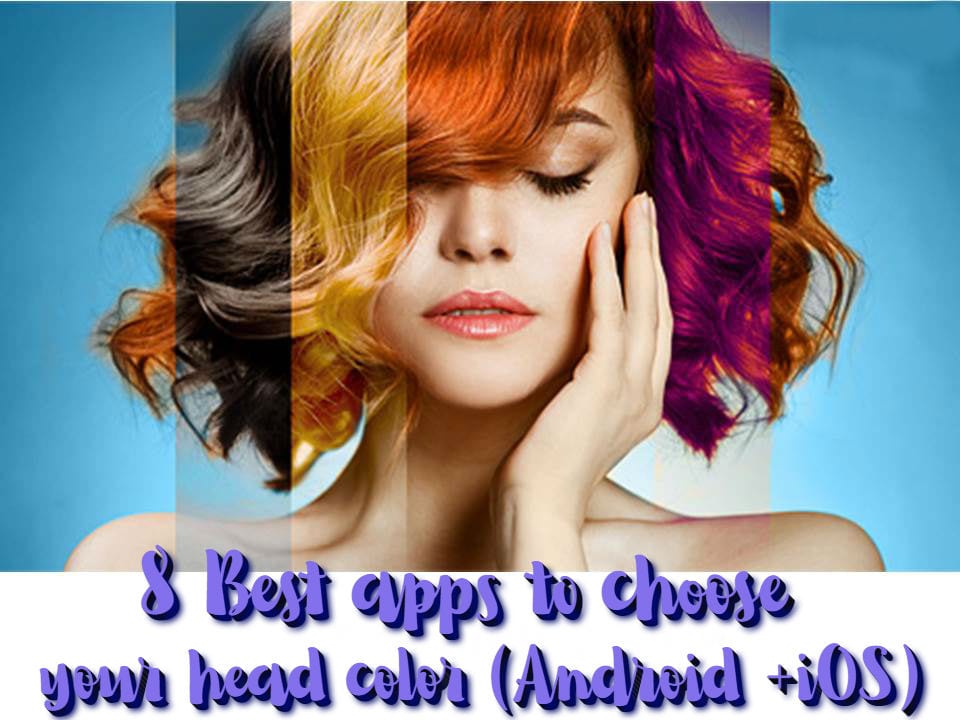 Programs for the smartphone can replace the stylist and show whether you are suitable for long hair or vice versa, short haircut.
The desire for change often leads a woman to a hairdresser. However, the attempt to explain their wishes to the master hairdresser may not always be successful, so the result of such an experiment may be unexpected and not always pleasant.
Do you want to know exactly which hair style will suit you? See yourself with luxurious curls or in radically black? Check if you will get an eggplant shade or a high hairstyle? For answers to these questions, there is a whole category of applications that allow you to imagine yourself in a new way even before going to the beauty salon.
All of them work in roughly the same way: you upload your photo, and then you select a different color range and determine with the appropriate shade.
Try it, it's interesting at least!
Hair Color Studio
This application is especially appreciated by the girls, but for the guys, the app will also be very interesting. The Hair Color can change the color of your hair in a photo in a matter of seconds. You can choose from over 20 shades, as well as radiance and various effects. If you have planned a march to the hairdresser in order to radically change the image, but you do not have to guess with color, the mobile program is created especially for you! Look at the result first in the photo and only then embody the idea in life. For some, the application will become a real helper and adviser, and someone with its help will just have fun, changing the color of the hair to himself and his friends. Install the tool, as a matter of fact, to download the Hair Color you can completely free!
The application has a huge number of shades of hair, they all look very realistic and natural as if you really just visited a fashion stylist. In addition, you can complement the hairstyle with radiance and apply a blend of colors, these effects are not out of fashion for more than one season. The mobile program is a powerful photo editor, there are a lot of accessories: glasses, earrings, hats and much more. In total, you will find about 100 decorative elements! This small application takes up very little free space on the memory card, you can download the Hair Color to your device without registration on the website.
To advantages of the application, it is necessary to add simplicity and ease of use. Just upload a picture that you would like to change from the Gallery or make a new one. It is well, if the picture clearly shows the hair, and even better is to select the image with the close-up of the face. Next, you need to decide on the shape of your hair and apply the hair color you like. Complement the hair with highlights and shadows, all actions are very easy to perform, so any user will cope. Already at this stage, you can save the image, and if you think that something is missing, try on various accessories and jewelry. Your photos can be found in a special folder called ModiFace, they can be shared with friends or sent to their pages in the social networks. Spend time cheerfully, experiment with hairdos and hair color, surprise your friends with new unusual images! The Hair Color application is a positive emotion, a sea of inspiration and new ideas, check it out for yourself!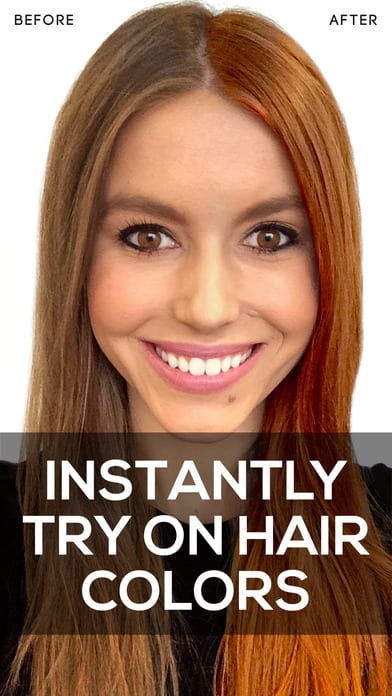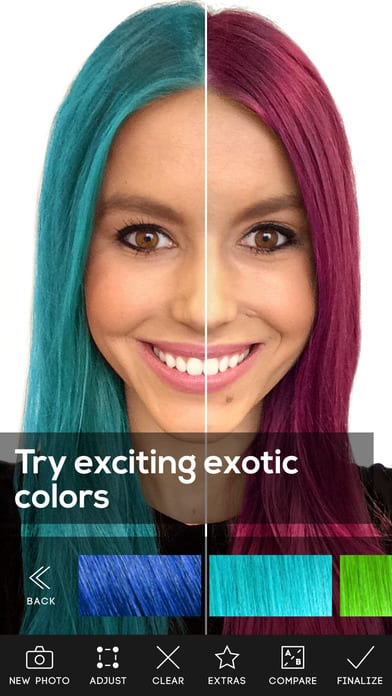 Get it on Android
Get it on iOS
back to menu ↑
Hair Color Changer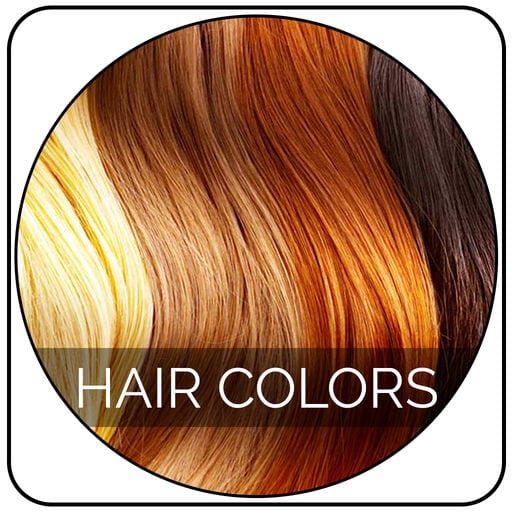 In this application, you can change not only the color of your hair but also experiment with makeup. More than 100 free colors and shades are available. You can upload photos from the gallery or take pictures at once. And also, a variety of filters for photo processing is available.
Be unique with the application Hair Color Changer.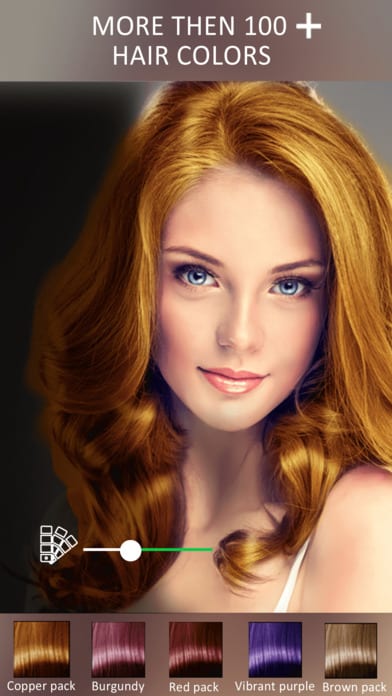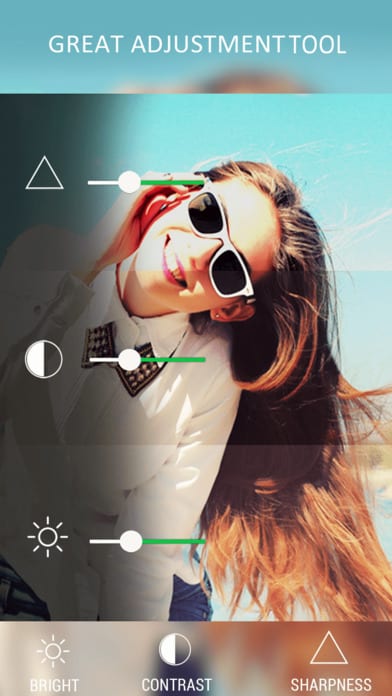 Get it on iOS
back to menu ↑
Hair Color Booth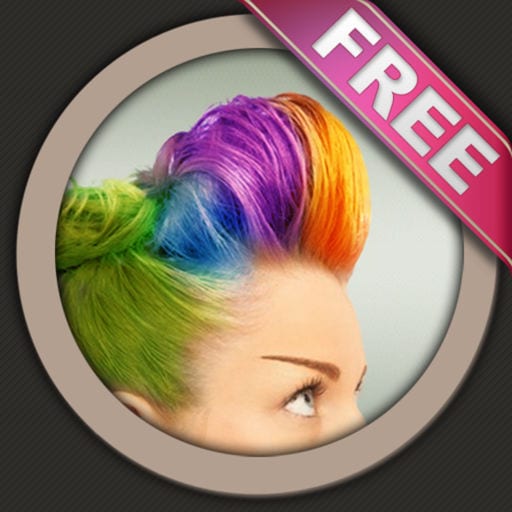 Hair Color Booth – is the new photo editor for the most daring experiments!
CREATE
With the help of this program, you can decide on desperate experiments. For example, paint the hair in the style of punk in pink or blue. Although, in addition to extreme colors, you can also easily become a blonde from a brunette and vice versa.
Try different hair and colors. Surprise your friends and create your unforgettable image. Many hairstyles: from ultra-short to long and wavy. Bright pink, dark purple, ultra-red or any other color – everything is in your hands!
SHARE
Share your creations through different networks – become a fashion idol!
Features:
Super realistic hair coloring.
Scalable control for absolute accuracy.
Huge range of hair colors.
Color control strength, including anti-aliasing and transparency!
Create your own unique style with the Hair Color Booth!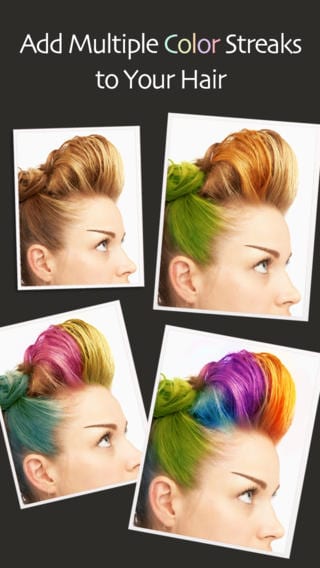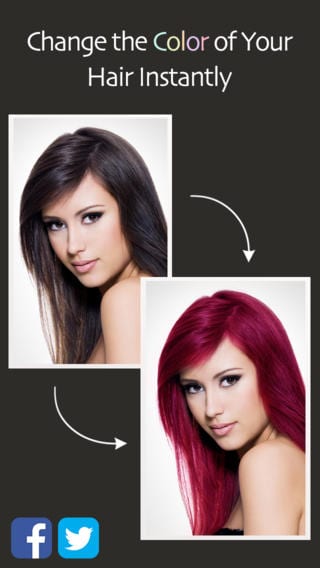 Get it on iOS
back to menu ↑
Beautify Plus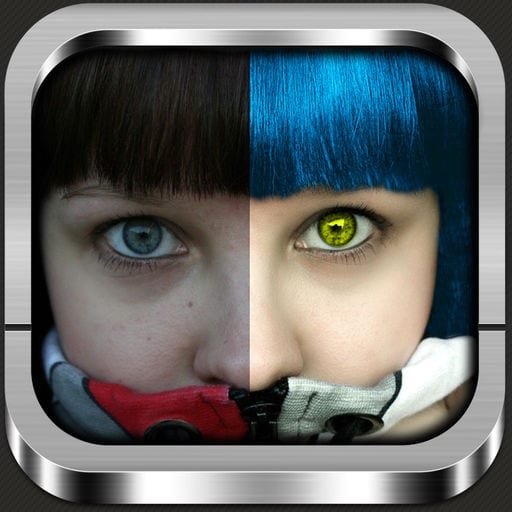 This program works by analogy with the previous ones with the only difference that in this application it is possible not only to change the color of the hair and eyes but also to remove skin defects in the form of pimples and irregularities.
Color the hair in the color that you have long dreamed of, change the color of your eyes, make your skin smooth and clean as on the cover of the magazine. All this you can do with the help of the application Beautify Plus.
Show your friends your new image by uploading a photo to Facebook or Twitter. Or use MMS or Email.
Features:
66 kinds of contact lenses.
Change the shape and size of the eyes.
Cleaning the face from defects.
Huge selection of color palette of hair and much more.
Be irresistible, experiment and change!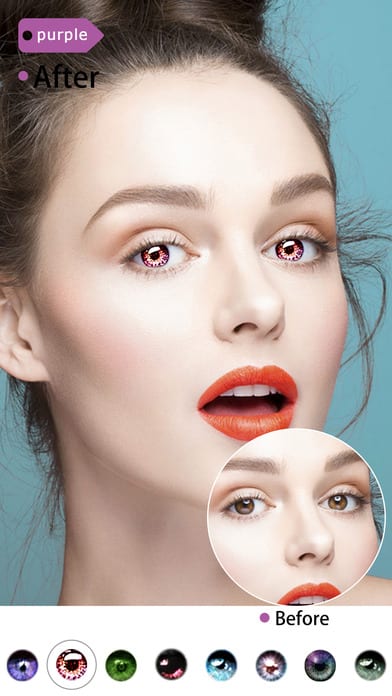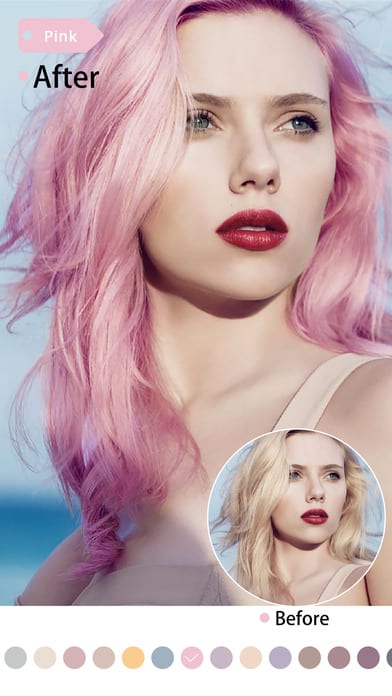 Get it on iOS
back to menu ↑
Hairstyle Magic Mirror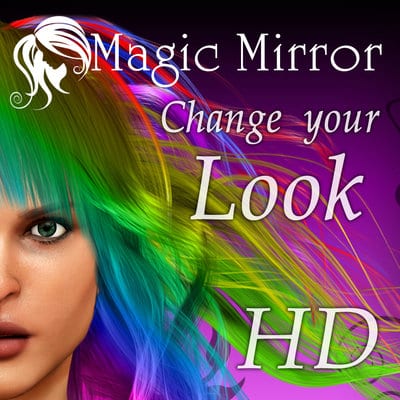 The "Magic Mirror" application is a versatile and easy-to-navigate tool for choosing a hairstyle and hair color. Choose a virtual profile photo or upload another photo and browse the hairstyle catalog, "flipping" them on the screen of your mobile device. There is a large selection of color palette of hair. The uniqueness of this application lies in the fact that its developers did not spare their attention to men, adding to the collection men's hairstyles of various styles and colors.
Also, the Magic Mirror Hair Styler can be used just for fun with friends.
In the app there is:
Simple interface.
A lot of different hairstyles for men and women.
A lot of color options and the ability to create your own shade.
20 memory locations to save the best results.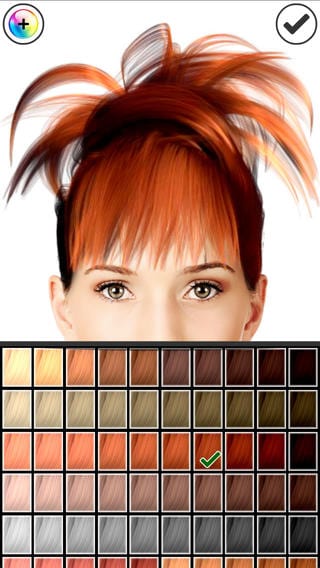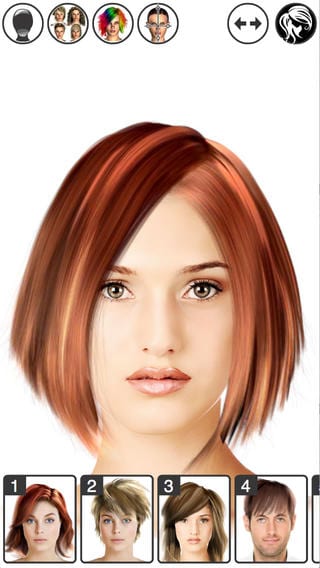 Get it on Android
Get it on iOS
back to menu ↑
Insta Hair Style Salon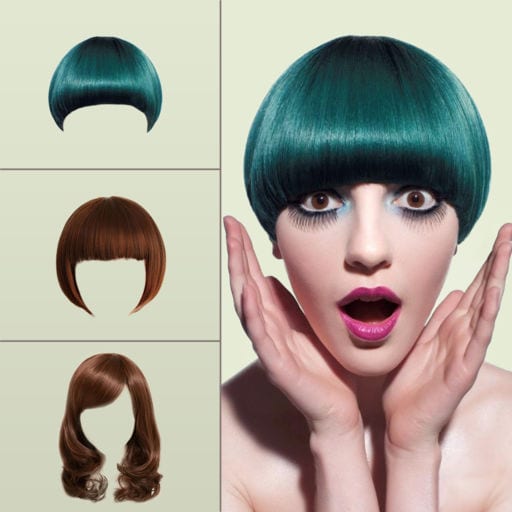 If you want to know which haircut goes to your face shape, pick an unusual bright hair color, or just stay in search of new stylish solutions, this program is created specially for you. With this application, you can digitally repaint your hair in the color that you have always dreamed about, and also pick up a new fashionable haircut. Just make a selfie or download your photo from the phone, and try on more than 150 different hairstyles.
Working with the application is extremely simple. For example, to change the color of hair, you just need to click on the hue you liked, just select a haircut with a single click. There is a huge range of realistic and creative hairstyles of all colors of the rainbow. In addition, you can get a lot of different information about the hair and get tips on the selection, for example, which hairstyle fits an oval, round or triangular face shape. The results can be saved in an image format, they can be easily forwarded to relatives, friends or your hairdresser.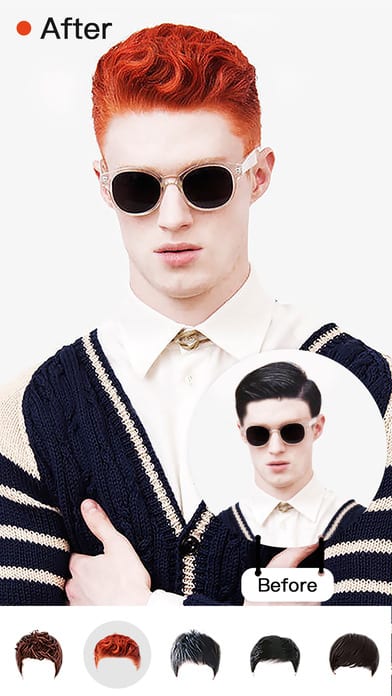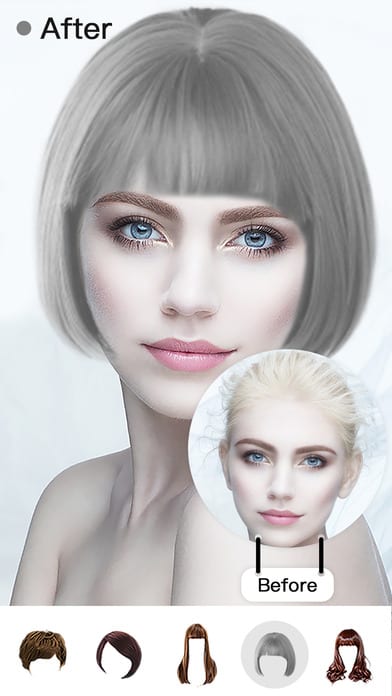 Get it on iOS
back to menu ↑
Ultimate Hairstyle Try On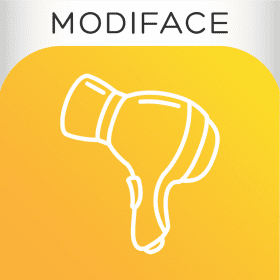 Do you dream of a hair style, like a famous star? Easily! With the Ultimate Hairstyle Try-On app, you can virtually try on many hairstyles of famous world celebrities. All you need is to download your photo from the gallery or make a selfie, and in a moment enjoy the hairdo of your idol in your own photo.
The application opens a wide field for experiments. You can choose different options and try on smooth, curly, short and long hair, change hair colors in a range of more than 20 shades to choose from. In addition, you can supplement the image with accessories, which number more than 100, for example, earrings or a hat.
Also, the option for comparing the Before and After images is available, as well as switching between two different modes. The application allows replenishing the base of hairstyles and colors via the Internet, which makes it possible to download and try on the newest and most current star images.
You can increase any hairstyle by clicking on it; repeated pressing, respectively, will return its original size. And of course, there are all possible options for transferring photos to the social networks and e-mail.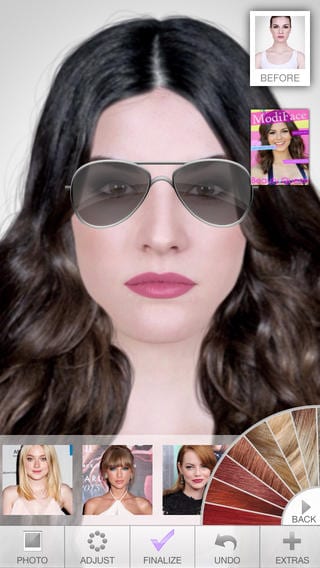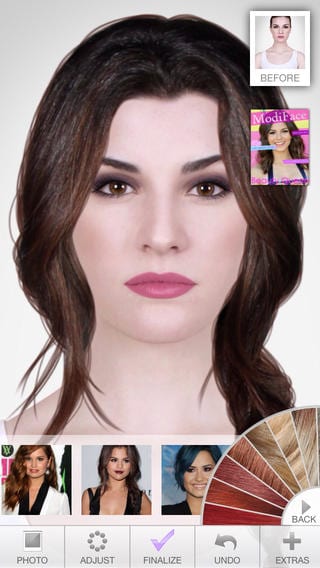 Get it on Android
Get it on iOS
back to menu ↑
InStyle Hairstyle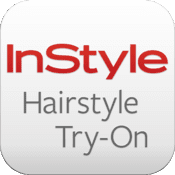 The program allows you to transform and see yourself in a new way. To obtain the result, you will need a full face portrait and a few free minutes.
The Stylist App allows you to try on a new image on your own image or photos of celebrities.
Unlike the rest of its fellow, this app, when you convert a snapshot, only the face remains clear, so when choosing a photo, you can use the picture you like, regardless of its background.
Unfortunately, the application has one, but very significant drawback, which concerns the lack of choice of face shape. But you are sure to be surprised by the huge variety of hairstyles and shades of hair that are made in a realistic chart.
The result –you can publish a new "I" on Facebook in one click, save on your phone or send to your girlfriend via an e-mail, let her be surprised by your Hollywood image.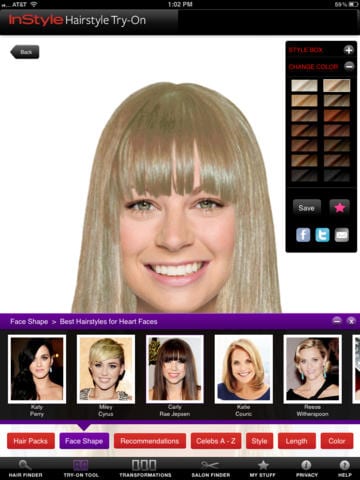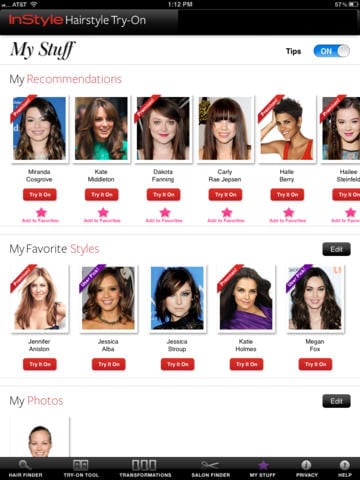 Get it on iOS
Programs on the experiment with hair color, of course, do not replace the stylist's advice, but it will definitely ease the pains of choosing a new haircut and help you determine if a certain hair color suits to you. To decide which application is the best and convenient, you need to try them all. Share your thoughts about the above applications, or suggest your options for the best hair color selection applications in the comments.