Mathematics is not as boring as it may seem to you at school. Your brain can work not only at work or at home, but even when you're just playing on your smartphone. Mathematics is a great way to develop your cognitive abilities, keeping your mind always in tune.
You may also like: 9 Best alarm clock apps with math challenges
We want to change the way you think about intelligent games a little bit and show that some can easily interest you.
You won't even notice that the games will get you involved and boost your mind. So, we've picked up the best 16 math games for adults for you!
NumberDrop: Hard Math Puzzles
The game "NumberDrop: Hard Math Puzzles" is a perfect chance to develop mental math skills. This game trains your brain super effectively and it's a nice choice for daily practice, especially for adults who don'tgo to school anymore.
First of all, when you open the app, you face an introduction and the main aims of the game. Numbers at the bottom row of light blue squares must match the dark blue squares; the other rows must be empty. Swipe to get more information.
Push the button "PLAY" to start. The design of the game is simple enough not to draw your attention away from the main purpose – calculting the numbers. There are two basic colors: light-blue and dark-blue, and this factor enhances the concentration.
There are four buttons at the top of the screen. The first one suggests "Return to Game", "Help" (Instructions), "Sound: ON/OFF" and "Exit". The second one is to return to a previous step. The third one is to begin again. The fourth one is to get a hint.
You can complete Weekly Puzzles or Random Puzzles. Move from one level to another and get a lot of points. All in all, it is quite a simple game, but again, its goal is not to amaze its users with the greatest 3D effects but to combine the game and math training process.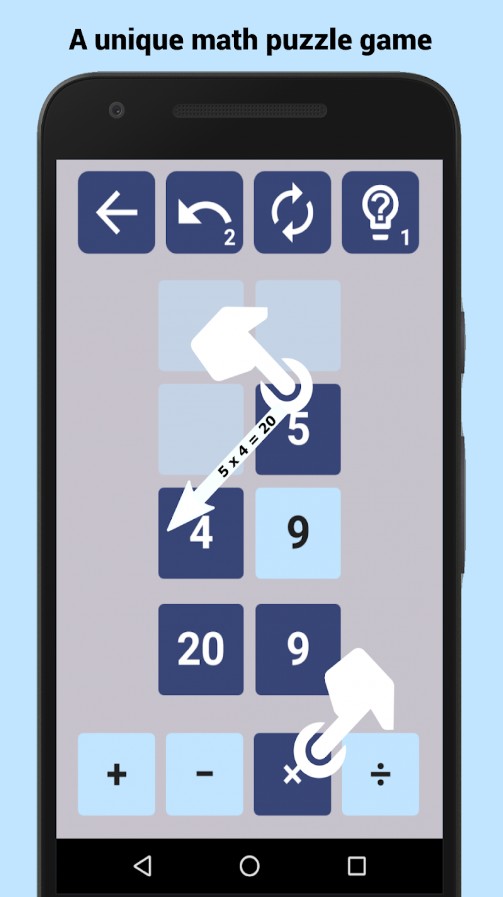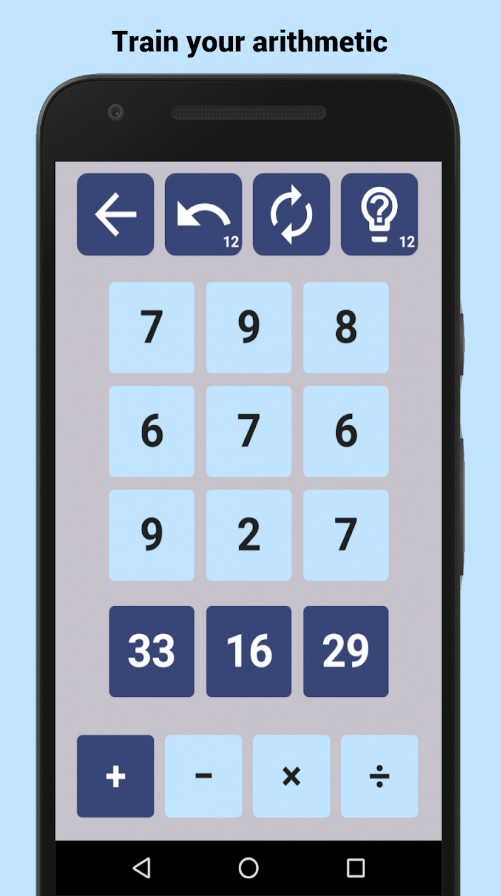 You may also like: 11 Best Homework Planner Apps for Android & iOS
2048
2048 is a game that a few years ago caused huge excitement among users. It's a pretty beautiful game with a minimalistic interface that has simple rules and does not require much effort to master.
However, it is not so simple – even though the playing field originally has only 4 squares, it can become much larger during the game.
As we have already mentioned, the playing field can grow to the size of 4 by 4 squares, that is, 16 cells. On the field, there are numbers 4 and 2, which you convert yourself to larger numbers.
The maximum number of 2048 is not as easy as you might think! You can only connect cells horizontally or vertically, the diagonal movement is prohibited.
Once you reach the number 512, everything will become much more complicated and you will think a few moves forward, what you should do. Of course, in this game, you won't learn how to calculate logarithms, but you'll have to learn all the powers of number 2!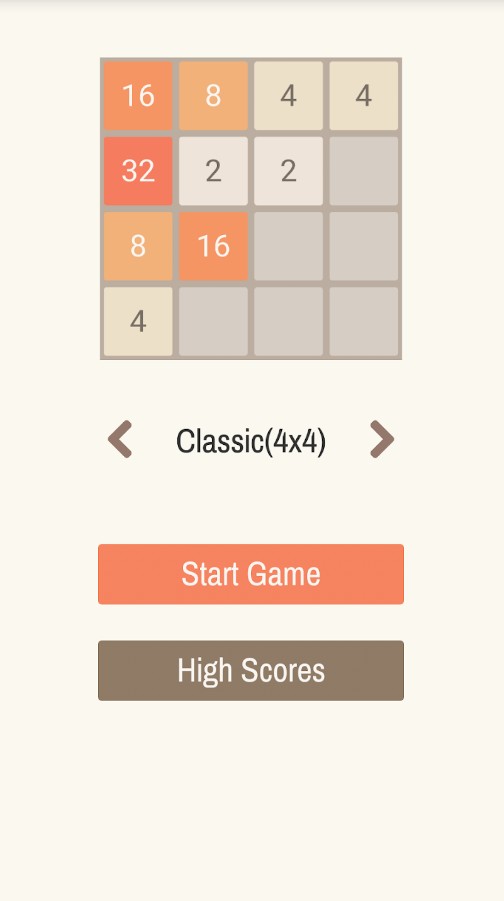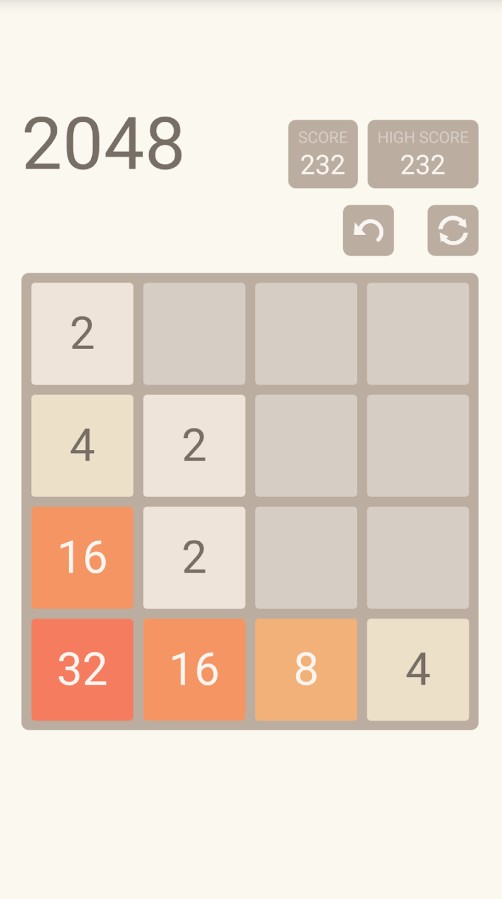 Threes!
Another game that is based on the love of numbers and a minimalistic approach to everything. Even though it's nothing special, you won't even think that the game needs something else.
Every touch delights every user – the ease with which you move numbers, can't help but please. Keeping your finger on and you still see all the results of your moves.
The essence of the game is about the same as in 2048 – you need to combine the numbers in such a way that it would be possible to combine the same numbers in the future.
On the playing field, you will have not only numbers multiple of 2 but also 1, 3 and others. You can imagine yourself as a matchmaker for numbers – the more it is, the harder it is to "make friends" with other numbers.
Each of your movements is accompanied by an interjection or a breath, which is perfectly suited to the main musical theme.
The most important thing is that the game never ends: you will not know if you have a low result or a high one, and also you cannot win. And you won't feel like you've lost: Threes! does not compare your results with other scores.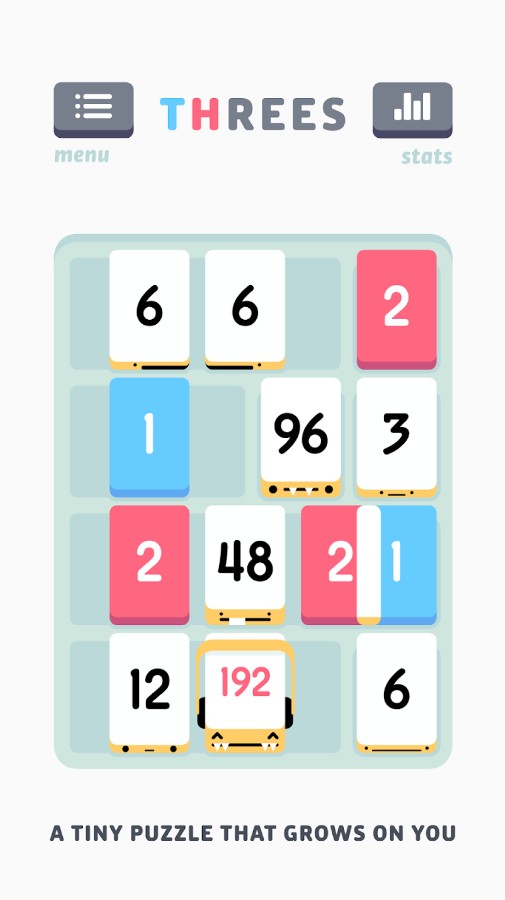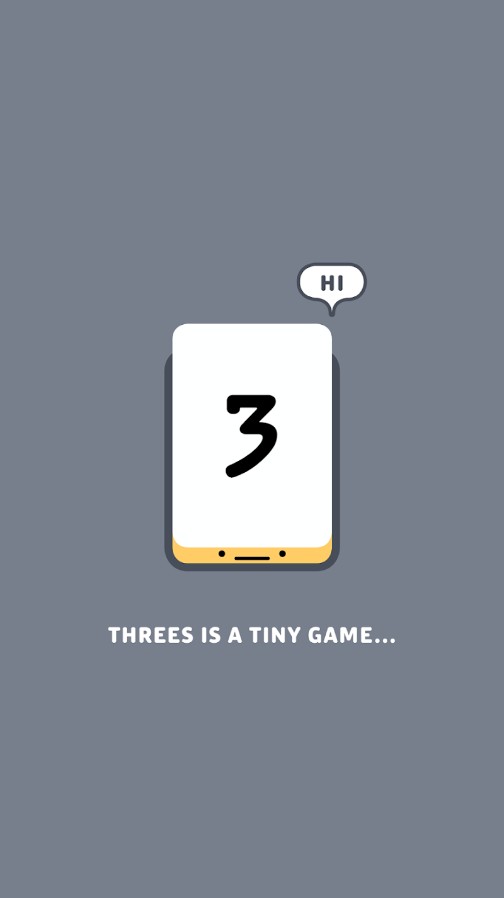 Heatos
Heatos will help you stretch your brain without bothering you. The game will not bring vanity in your evening and will allow you to relax after a hard-working day.
Heatos is suitable for those people who are looking for a pleasant pastime and stand out from the crowd. Especially those people who do not like cold and generally low temperatures will appreciate the game.
Your main task is to remove the negative temperatures from the playing field, adding up the neighboring cells among themselves. Keep in mind that you will not be able to combine two low temperatures, otherwise, you will get an even lower result.
You can also simply move the temperature around the playing field, but then it will lose its warmth. Try to fight the cold with the least number of moves!
During the standard mode, the field will eventually receive heat bombs, drips or other boosters. They will both help and hinder you, but make a little variety in the whole gameplay.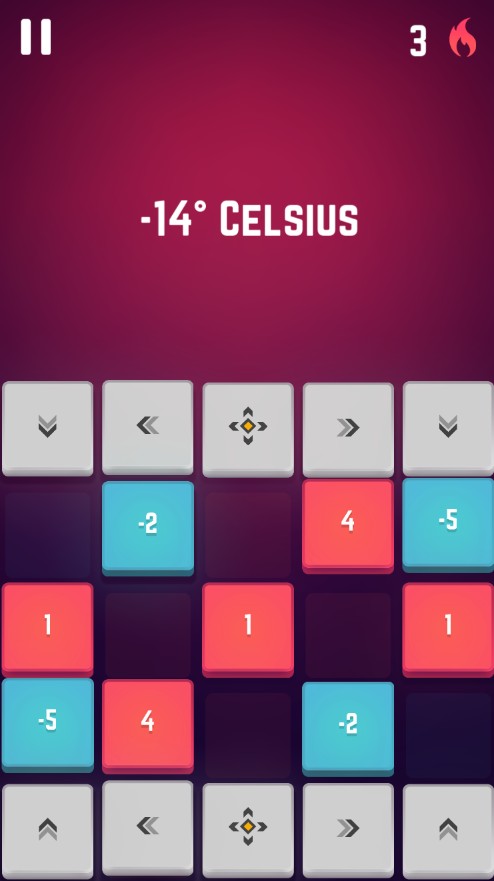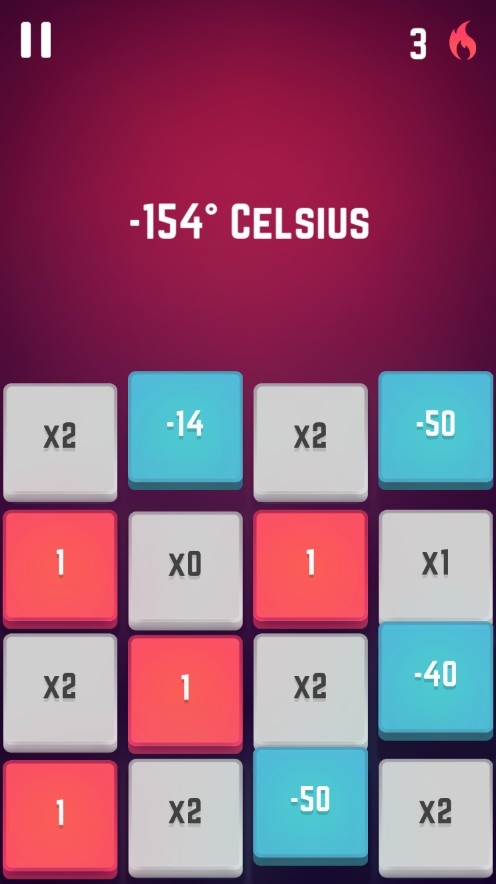 Hard Math Game
Does that sound like a name for a game to you? Hard Math Game is a collection of 120 levels that have been manually created by other people.
It's an incredibly complex puzzle game that users will have to solve. There are no simple addition, multiplication or quick counting tasks in the game – you have to brainstorm and find the answer. Are you smart enough in math to go through all the levels?
Tasks are grouped into separate categories by topic.
Each level you pass gives you bonuses and the opportunity to remember something you have forgotten or to discover something new – for example, there are levels based on the Fibonacci sequence.
The stars you get for your success will open up the names of mathematicians like Fourier, Pythagoras and many others. All you need in the Hard Math Game is your logic and your ability to think.
Go through the levels as fast as you can, so your results will be much higher and more rewarding. However, it won't bring you any new stars when you pass the level again! Make your neurons work a little harder than usual.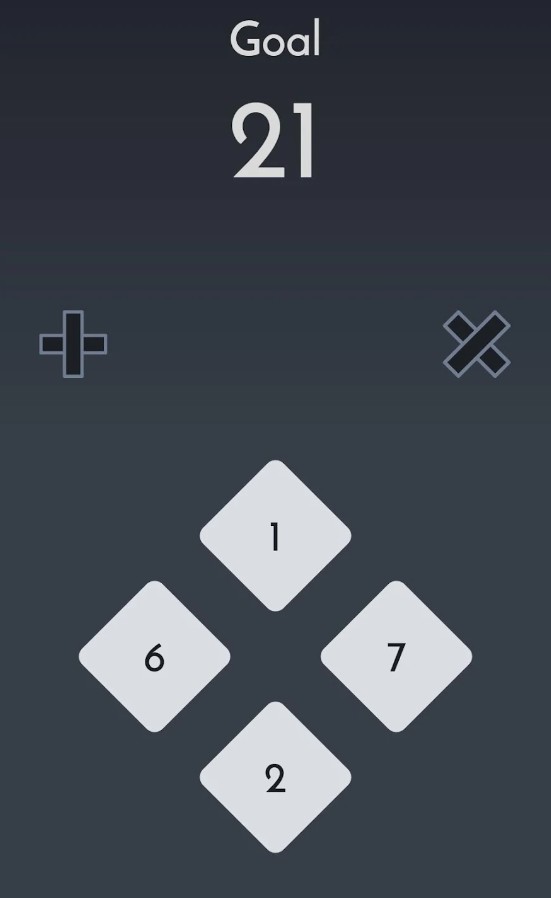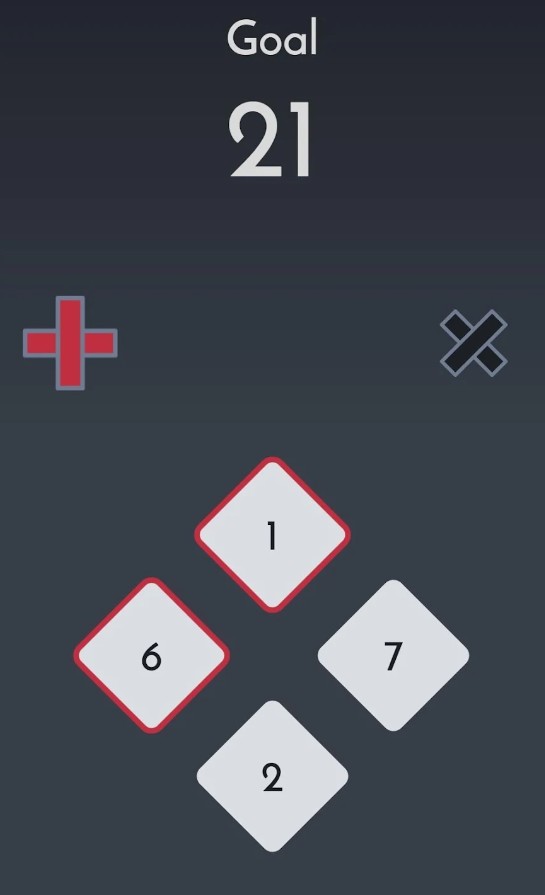 Math Games for Adults
If you want to exercise in calculations and you are interested in multiplication and division, then this application is what you need.
Math Games for Adults works with people who have different levels of knowledge in mathematics and allows you to improve this level. In all the time that you will be using the application, your computing skills will be greatly improved.
On the start page, you are offered to choose the game mode. It can be a solution of equations, mathematical memory tasks, as well as a simultaneous solution to many simple tasks.
So, for example, in the mode of checking your mathematical memory application will constantly update the page, offering to add or remove numbers from the previous result. The essence is that your brain should learn to remember the previous calculations and to fix it in your memory.
In general, you can have fun in Math Games for Adults while improving your cognitive skills. The app is a basic collection of mathematics exercises that can be used by people of all ages. If you are sure you remember enough information from school math lessons – it is worth checking it out!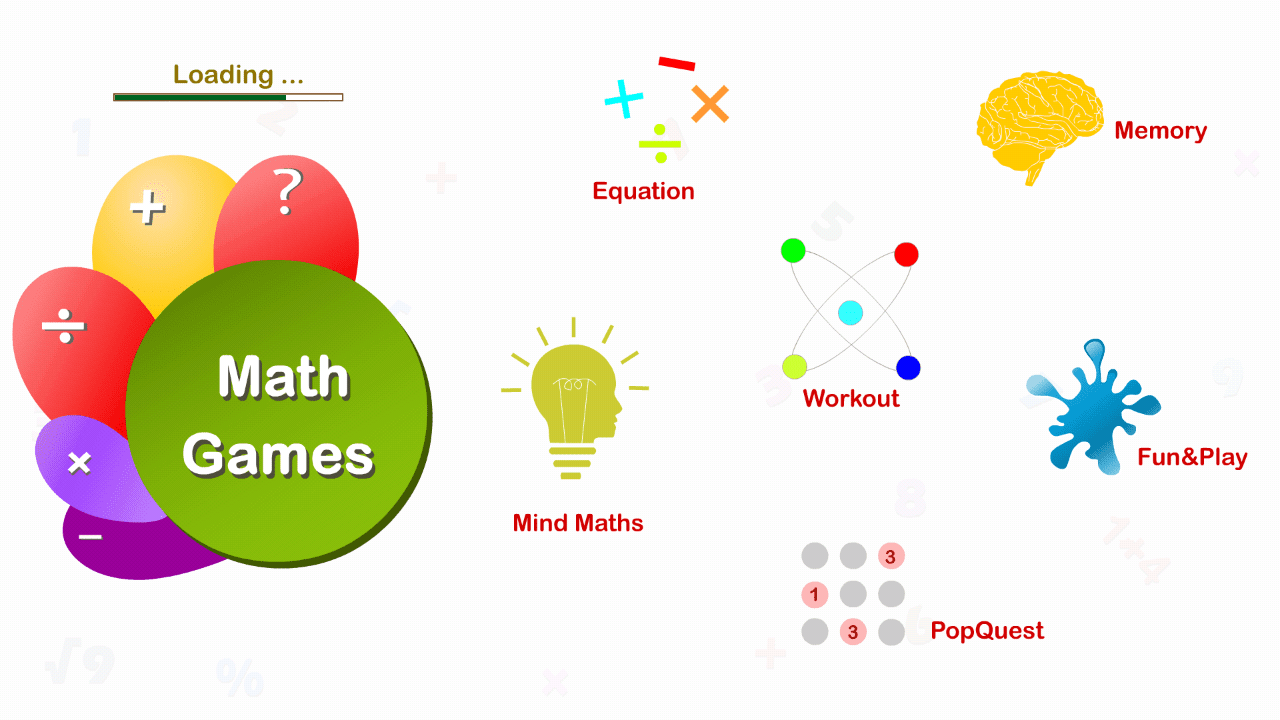 Meganum
At the moment, the gaming industry is clearly not very replete with games that could combine the pleasant with the useful, namely, give entertainment and development in one bottle. Meganum is just this type of app. Thanks to this app, you can get both of these aspects very simply.
At the moment, the developer offers the user the following number of functions:
four different game modes for users with different levels of ability (normal, advanced, temporary, infinite)
eight different themes opening up throughout the game
variability in number range selection and four different board sizes
six categories of mathematical game actions (addition and subtraction, multiplication and division, combining and doubling of two similar elements)
universal prompts, understandable even to the most fastidious user, saving and loading the level again, as well as canceling the move if it is desired by user
In addition, when registering, the program provides you with the opportunity to get an exclusive crimson-raspberry theme absolutely free of charge. Download this app and start unloading your brain wisely right now.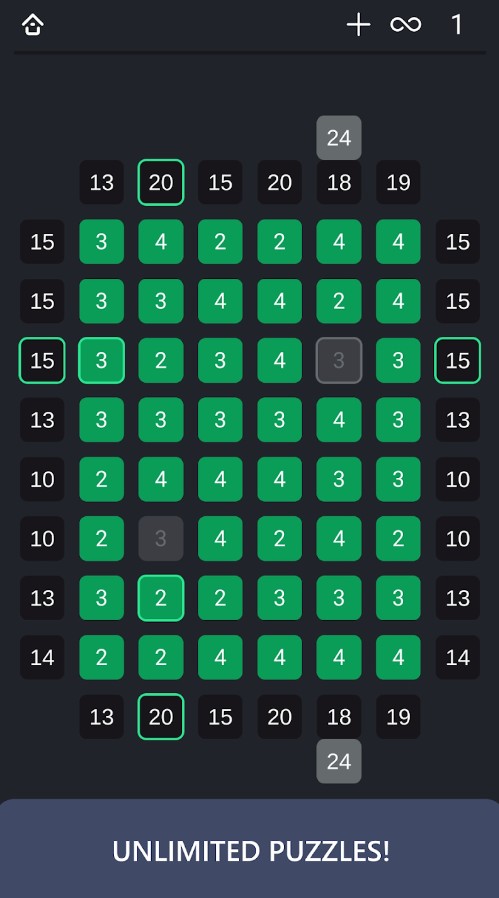 Orixo
If you are not interested in pure mathematics and computation but want to develop logic a bit, then you may be interested in the Orixo application.
This is an interesting puzzle game, which presents logical tasks, but with a mathematical bias. In total after downloading you receive more than 150 levels, each of them will force you to think carefully.
In the beginning, Orixo can seem easy and even boring. But like in any similar game, everything will become more complicated as you go through. Your task here is to paint empty cells by the numbers that stand next to each other.
Orixo visually may remind you of the Japanese crossword puzzles, but you will notice the differences in the game.
The application is perfectly adjusted to the balance of complexity and the transition from easy levels to the most difficult will be smooth, and each task will be doable for you.
We can also note the good and convenient control – this is especially important for players.
The main advice for beginners is to choose the correct sequence of filling the cells. We suggest you start with the biggest numbers and only then pay attention to small parts of the puzzle.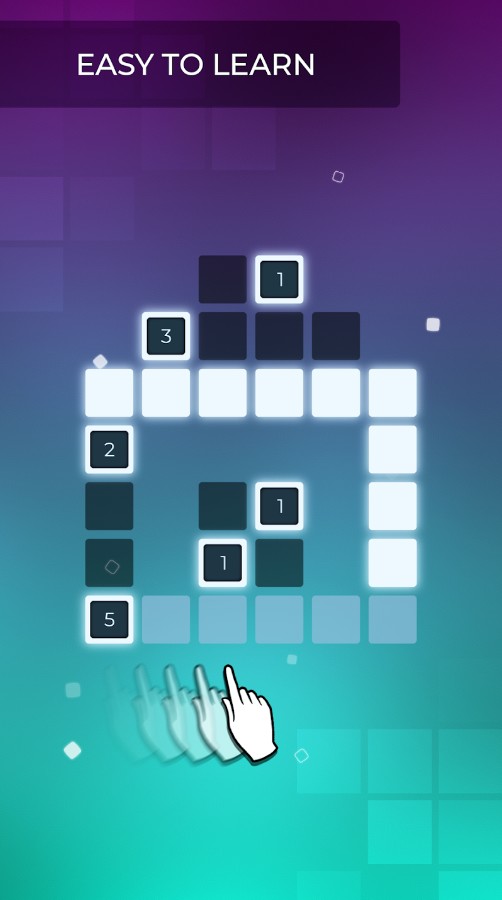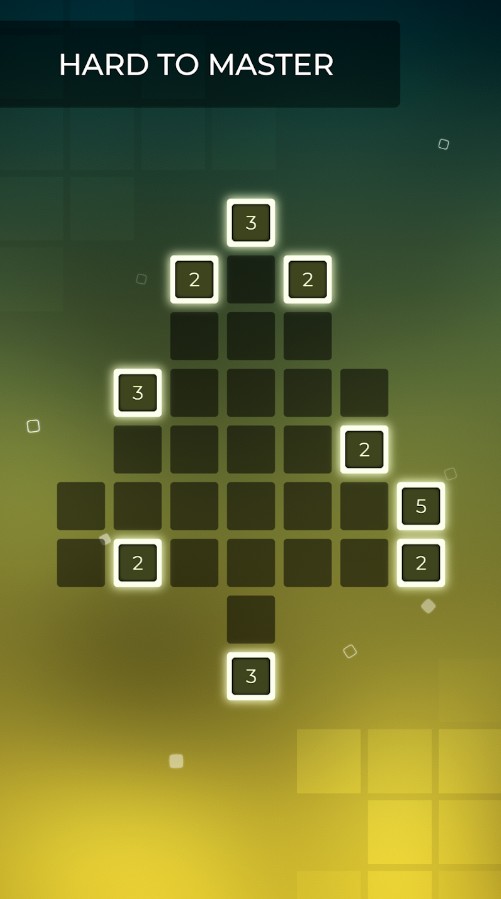 You may also like: 9 Best Apps to Help You with Homework (Android & iOS)
Math Games
Your math skills can be much better in a few steps or classes. The first step is that you simply install the Math Games app on your smartphone.
The app is focused on math and computing skills, so you're sure to make the right choice. Do you want to know how much better or worse you can count compared to other people? Then welcome!
Math Games can be adjusted according to your requirements. So, for example, you can easily practice only those areas that interest you or where you experience more difficulties.
To compare your progress or even the starting level of knowledge, you can play with your friends in two-player mode or even choose a random opponent from anywhere in the world.
Just a few minutes of training a day will bring you good results, and after a while, you will notice an improvement in your knowledge.
It is worth noting that Math Games is designed for people who speak absolutely different languages. You can define a convenient and clear language for you in the settings, and it gives you a great opportunity to compete with people from other countries and other nationalities.
Finally, I can be sure that all the games that this app offers you will be interesting for adults, not only for children.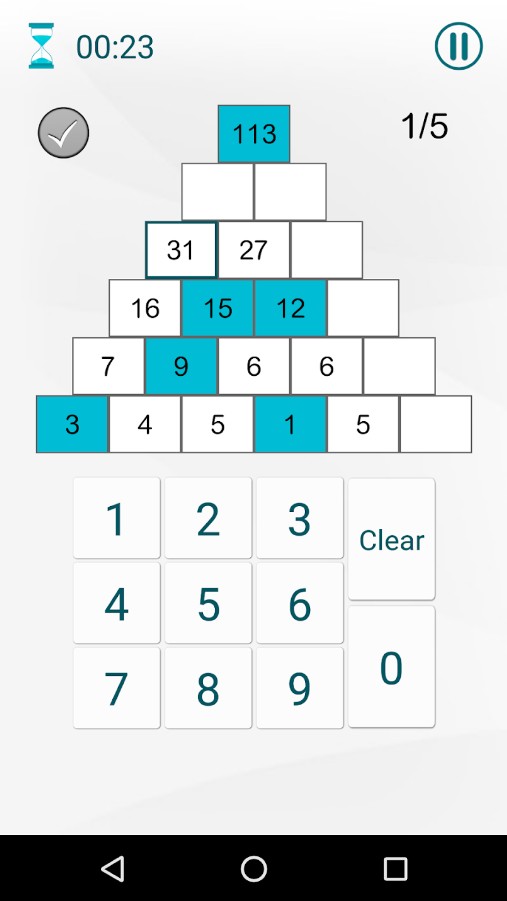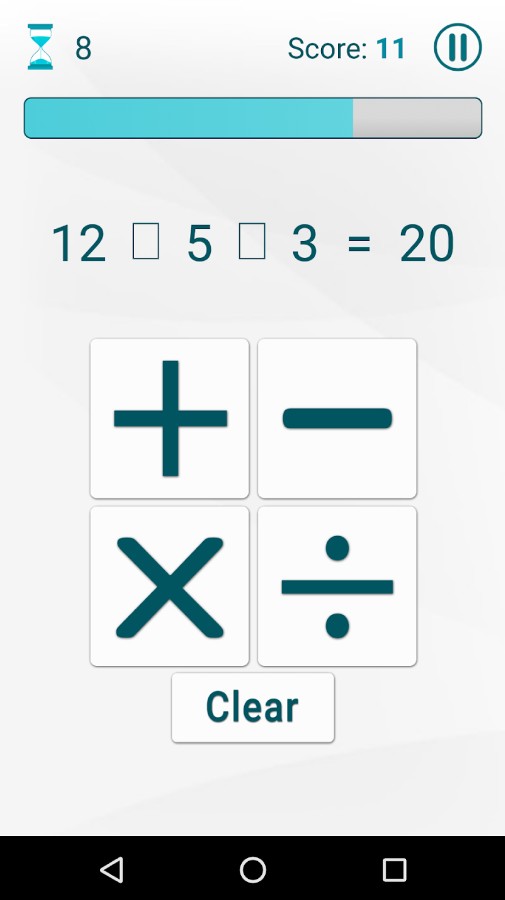 Toon Math
Have you ever played Subway Surf? If you're really into this game, then you'll like Toon Math as well. Of course, it isn't taken seriously by adults and maybe even now you smile at the title.
Toon Math helps you to improve your memory and stretch your brain a little bit without much effort, and also allows you to have a good time playing on your phone.
In the story, you are in a world where your friends have been kidnapped. Your main goal is to save them by solving tasks. If you show that you are smart enough in the world of Toon Math, then your friends will not turn into monsters.
At this point, all the adults definitely thought that this application is not suitable for them, but it is true! Everybody loves games that can be played over a long period of time.
In Toon Math, you do it with pleasure, while doing the math and counting. It is suitable for people of all ages and perfectly combines the game and knowledge.
You will move from level to level, solving simple mathematical tasks. During the game you have to run, overcoming monsters and collecting coins. The further you run, the harder the game becomes and sometimes you really have to think to solve these problems.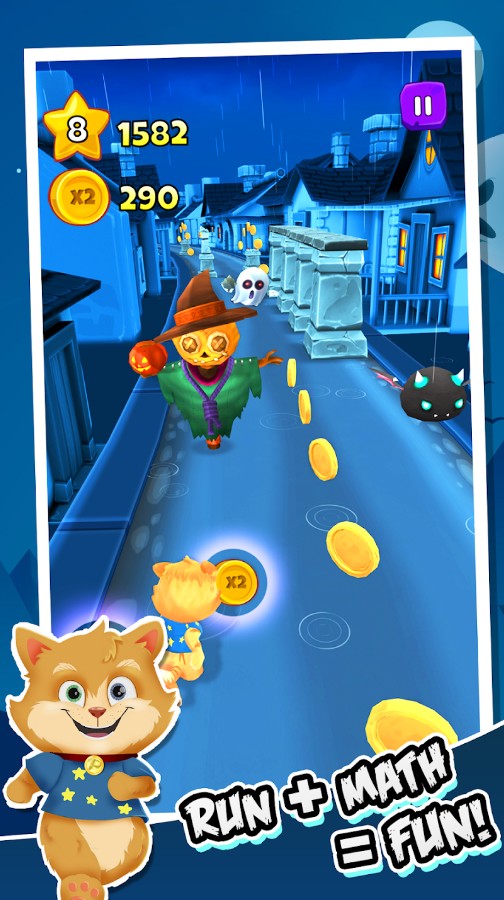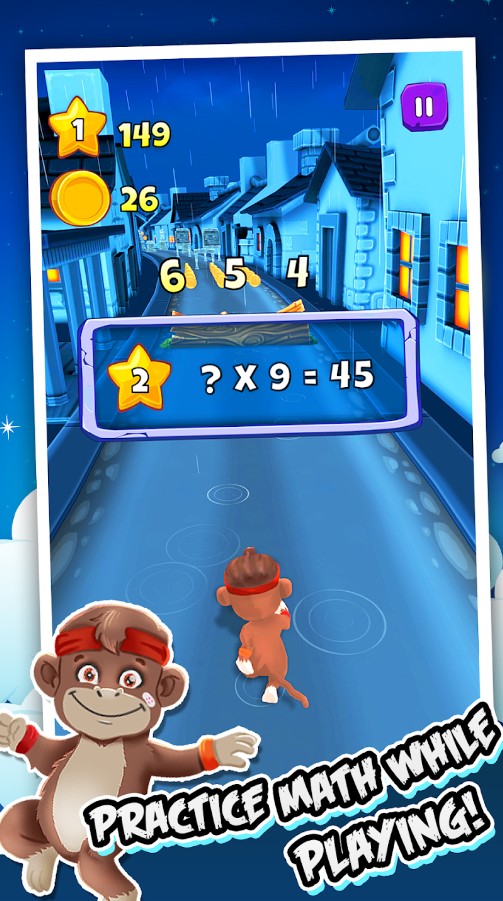 Math | Riddles and Puzzles
The easiest way to increase your intelligence is to develop yourself. The developers of Math game have thought up a great variant for users.
With the help of the application, you get a great opportunity to spend your free time and learn something new. Mathematical games include logical puzzles that aim to improve your abilities.
Math uses the same approach as in IQ testing. If you've been through similar tests before, you may even think you've done similar tasks. In fact, these are special intelligent games that hide behind geometric shapes and figures.
The most important thing is that when solving these tasks people involve both hemispheres of the brain, which allows you to significantly expand your thinking limits.
Puzzles become more complex and will take up more of your free time, but at the same time, you will want to devote more time to Math.
This game is completely free but has some ads. For example, in order to get a hint, you will need to watch a small commercial. You get access to the levels without attachments or fees.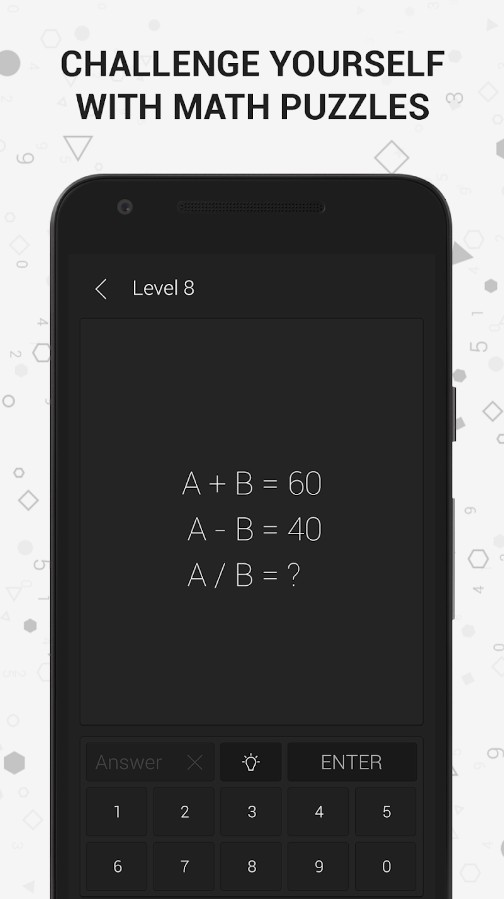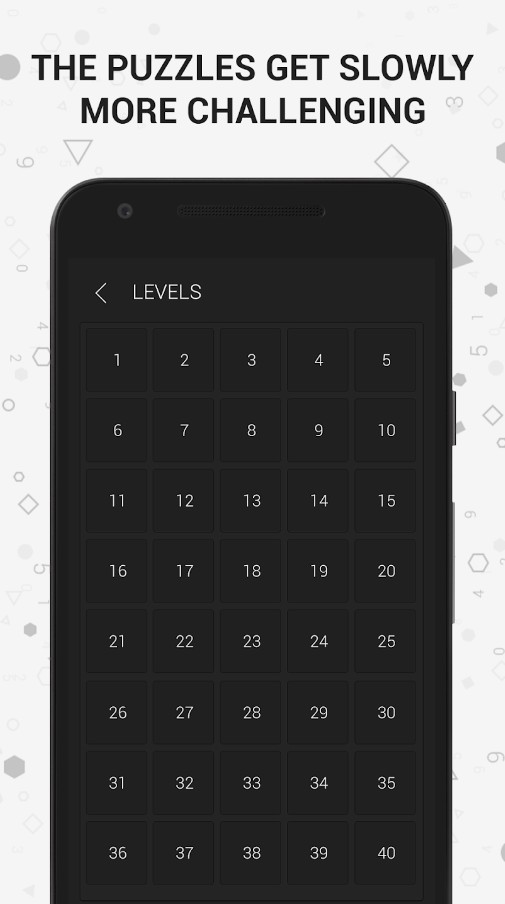 Fraction Challenge
Fraction Challenge is an educational app that offers an exciting and interactive way to learn and master fractions.
Users are tasked with a variety of mini-games, each focusing on different aspects of fractions. These mini-games cover concepts like adding, subtracting, multiplying, and dividing fractions.
Through hands-on practice and gameplay, users can develop a deep understanding of fractions and improve their mathematical skills.
Also, the game tailors the difficulty level of the mini-games to the user's performance, ensuring that learners are consistently challenged and that their understanding of fractions continues to grow.
All in all, I would recommend this platform with a huge range of math games that can be suitable for adults.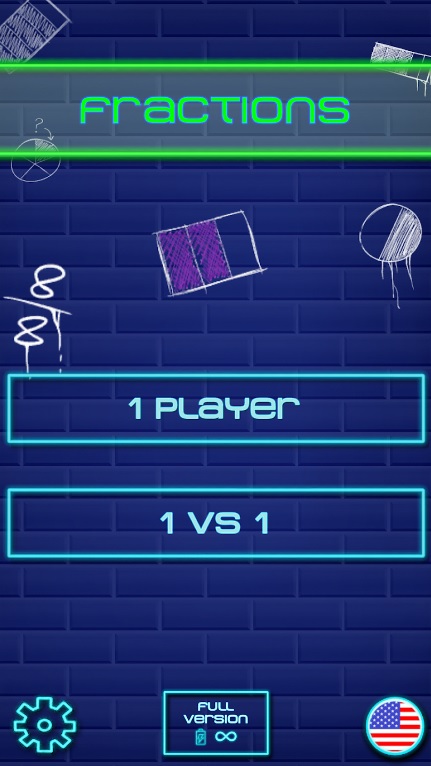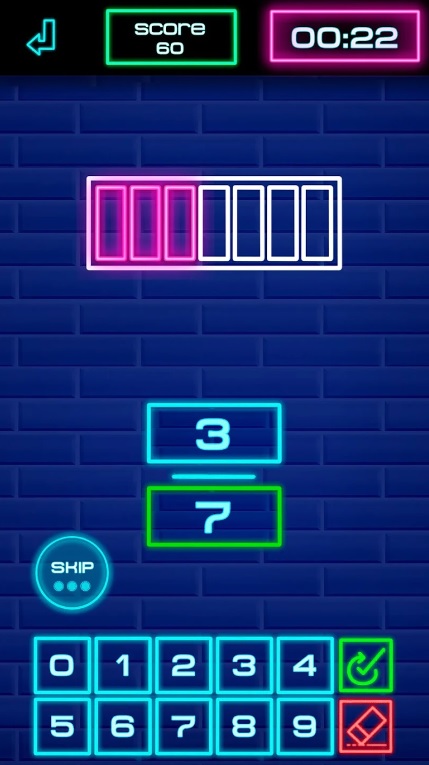 Elevate
Elevate game offers a unique approach to brain training. Designed to enhance your cognitive skills, this app provides an array of engaging and interactive mini-games that are both enjoyable and educational.
With the help of Elevate, you'll discover a wide variety of mini-games that target essential cognitive areas. These games include exercises for improving your reading comprehension, math skills, writing abilities, and more.
Each mini-game is thoughtfully designed to challenge your brain and help you strengthen specific mental faculties.
Moreover, the app adapts to your performance and learning preferences, creating a customized training regimen that evolves as you progress. This ensures that you receive targeted exercises that cater to your individual needs and areas for improvement.
In conclusion, Elevate provides a dynamic and effective platform for cognitive growth.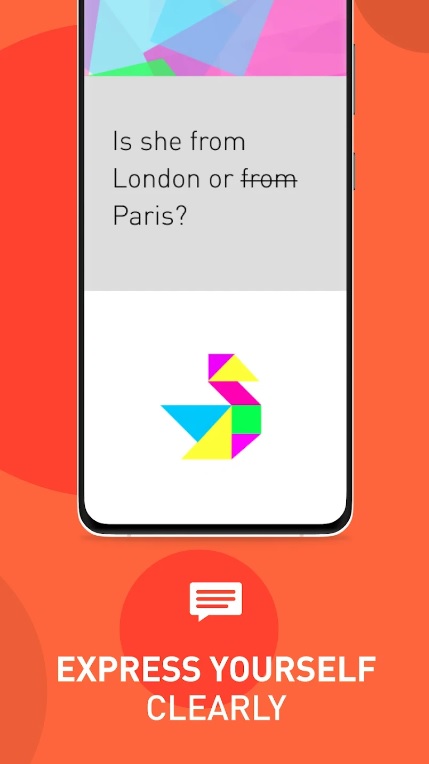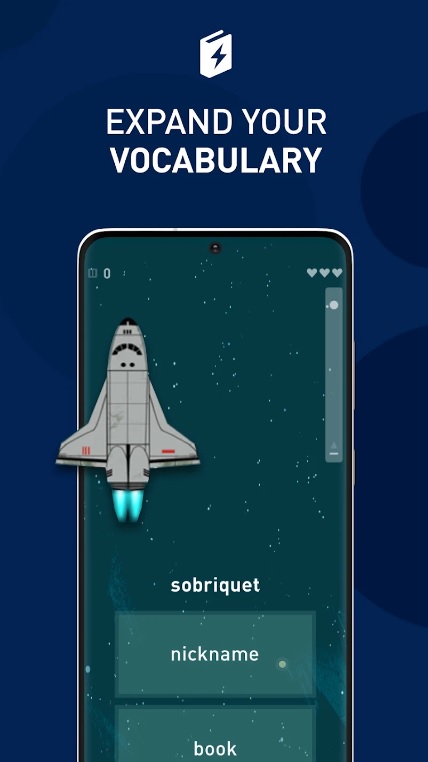 Math Games
Math Games makes learning math both enjoyable and engaging. While primarily designed for students, it offers benefits for learners of all ages, including adults looking to brush up on their math skills.
The app provides a wide range of mini-games designed to cover various mathematical concepts, from basic arithmetic to more advanced topics. These games are not only educational but also entertaining, making math learning a fun experience. Whether you're working on addition, division, or more complex math challenges, you'll find a mini-game to suit your needs.
One of the standout features of Math Games is its adaptability. The app adjusts the difficulty level of the games based on your performance, ensuring that you are constantly challenged and that your math skills continue to improve.
The user-friendly interface makes navigation a breeze, and the app's intuitive design means you can start playing and learning math right away. Whether you're a student looking to supplement your math education or an adult eager to enhance your math skills, Math Games offers a convenient and enjoyable way to achieve your goals.
In conclusion, Math Games is a versatile and engaging app that makes learning math accessible to all ages. Download the app today and embark on a math-learning adventure.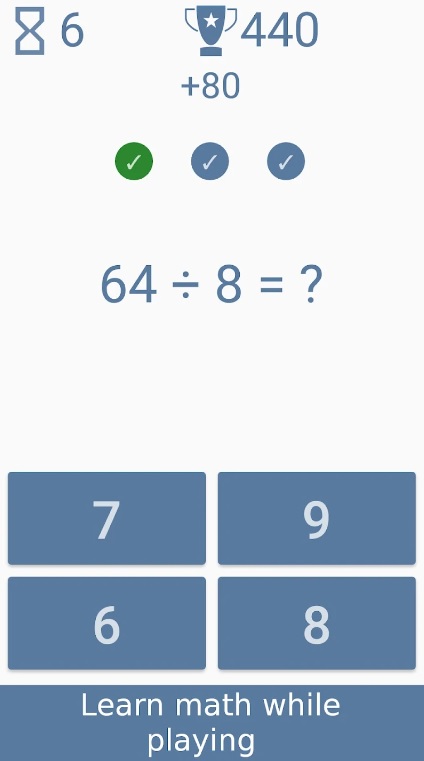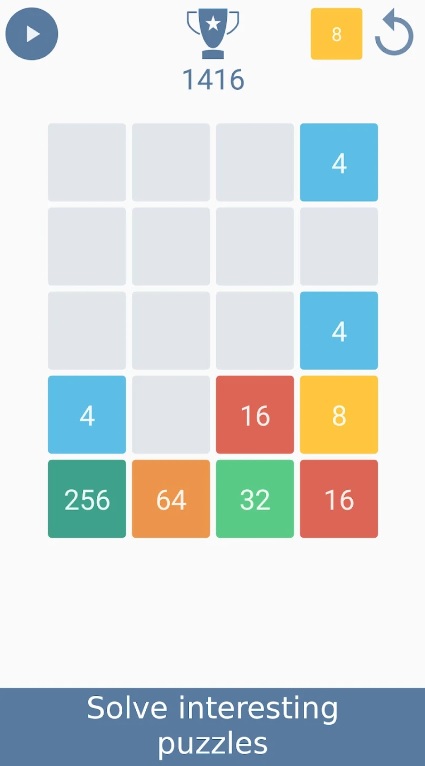 Mathematiqa – Brain Game, Puzzles, Math Game
Interesting fact: mathematics helps people to relax, improve their emotional state, and relieve anxiety, depression and bad mood. Of course, you may be affected by calculations in the opposite way, but what prevents you from trying this way of relaxation?
Mathematiqa is perfect for students, young people, or high school students who just need to be able to quickly calculate and count numbers in their minds. The app is also perfect for adults, so they can keep their brains in shape
Here, at each level, you are offered not only to calculate some rows of expressions but also to choose the right result, compare different combinations and much more.
In this way, you'll be able to keep several parts of the mathematical information in your head at once, which has a great effect on your cognitive abilities.
At any moment of your own progress, you can change your level of complexity – an Expert, a Legend or a Beginner. Of course, it's better to try the beginner's level first, however, in case everything seems too easy to you and you will feel like a real math guru.
The better your level of knowledge, the more difficult the tasks become and take much more time to think about.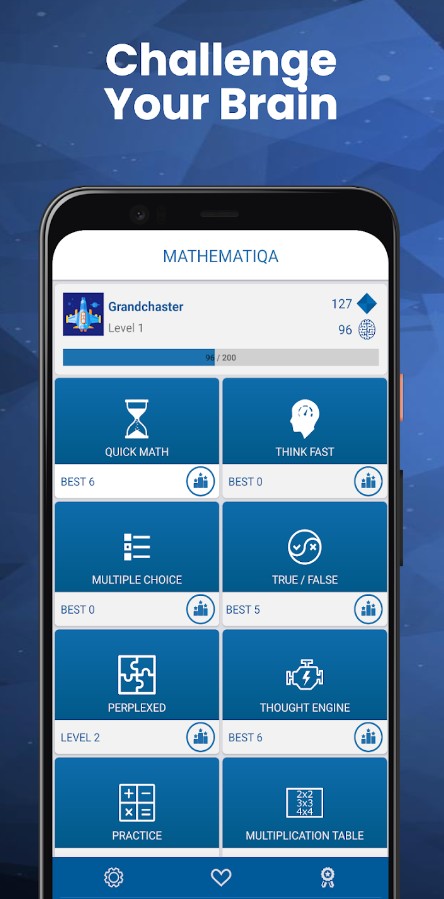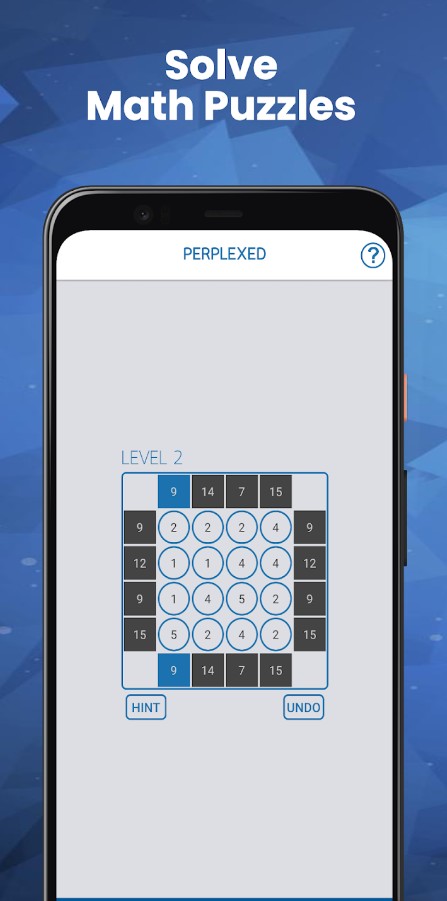 You may also like: 15 Best Home Decorating Games for Adults (Android & iOS)
The Radiant Math Game
The Radiant Math Game- here you will be in the role of a cute character in the form of a ball, which will sweep through space to stay alive.
The difficulty lies in the fact that in addition to physical obstacles, you will have to solve mathematical tasks to advance further.
There are several modes in this game that differ in difficulty. For example, in the first mode, the speed of your movement will gradually increase, and you will need to collect positive numbers that will be highlighted in green and avoid negative numbers that are highlighted in red.
At the second and further levels, your speed will increase much more, and in addition to avoiding red numbers (negative), you will also need to solve some examples for further progress.
Also, on your way, there will be obstacles in the form of asteroids, rocks, as well as many other physical objects that you will need to avoid.
Also, beware of alien opponents who will suddenly appear on your playing field and will try to kill you by shooting from alien weapons. You will also have to dodge bullets and lasers!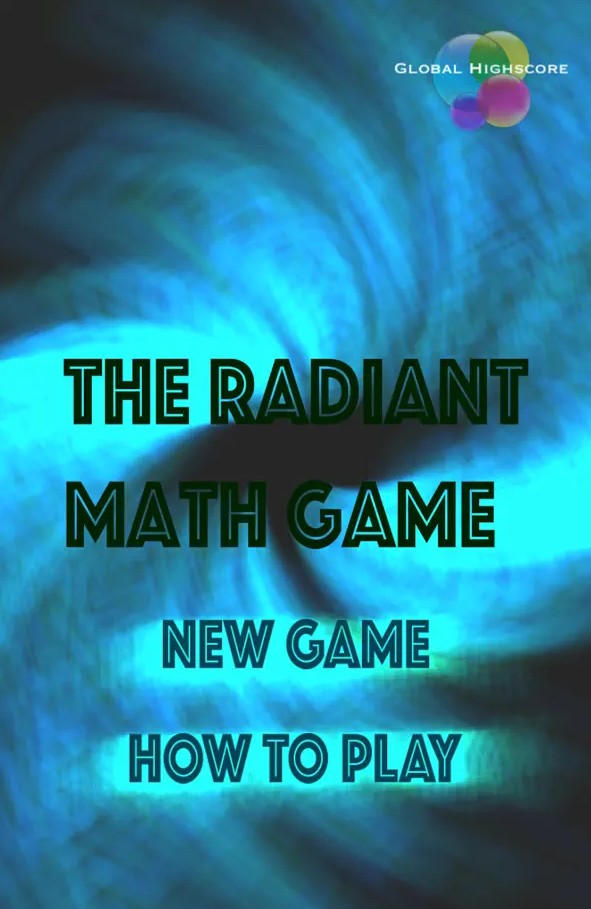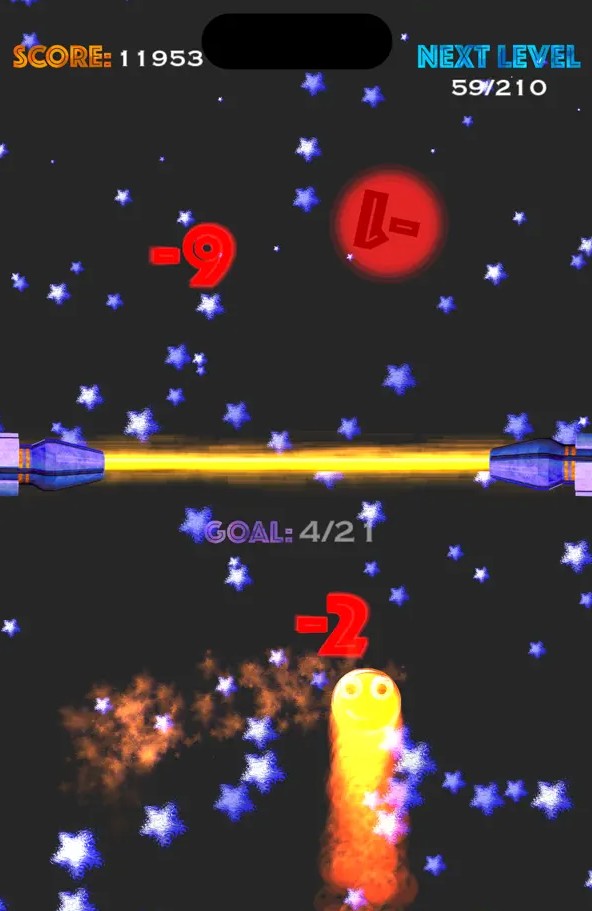 You can develop your memory and intelligence at any age. No matter how old you are or how strong you are in math, it's never too late to start, and interesting puzzles will help you do it.
For adults, it can be interesting to play both simple and relaxing games and complex intellectual tasks. If you've wanted to improve your skills for a long time, and also to improve your knowledge of mathematics and arithmetic – it's time to start!