If you are a happy user of an iPhone, you might still have some difficulties, especially when working with people who adore Android. These difficulties mainly refer to the differences in formats. This is why you can not do without a good video converter.
And we can help you with this! Here is a list of the best applications that can convert iPhone videos to MP4.
If you are interested in making your videos more impressive, you might like 7 Best Apps to Add Fire Effects to Videos (Android & iOS).
You can find an app for Android, as well as iOS users. Most of them are free of charge.
InShot – Video Editor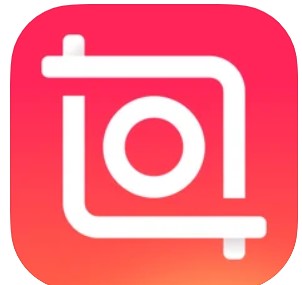 You probably know InShot as a video editor, but it easily can be used as a converter of iPhone videos into Mp4 format – and even more. What is more, it is available for both platforms so you can be sure that those vids fit both for Android and iPhone.
If you're not familiar with InShot yet, you should try it. Here is how you use this app:
You open the app and click on the "new project" or continue with the previous one.
You click on the small plus on the timeline at the bottom of the screen and then choose the video from your phone's gallery that you want to convert.
You edit this video in multiple ways – you trim it, you divide it, you add special effects, like glitch, retro, TV effect and even more, you apply filters, that will help to color-correct the video, you can even substitute the soundtrack by choosing the new melody either from your phone's memory or cloud storages.
You can also add text to the videos and that's why content creators love it so much.
Then, when you're done with the editing, you click on the "save project" at the right corner at the top of the screen. InShot will suggest you the format, where you select Mp3 and you will also need to choose the resolution of the video. All kinds are available, starting from 360p to 4K.
You save the video to your iPhone's gallery.
We recommend using InShot it n it's premium subscription since thus there will be no watermarks while saving the videos and all quality types will be available. However, one incredible feature of InShot is that it doesn't limit the filter or effect usage even if you are using the free version of the app.
However, the premium subscription here costs literally nothing and it's really cheap for such a multifunctional video editor. A great and reliable choice to quickly convert your iPhone's videos into Mp4 format!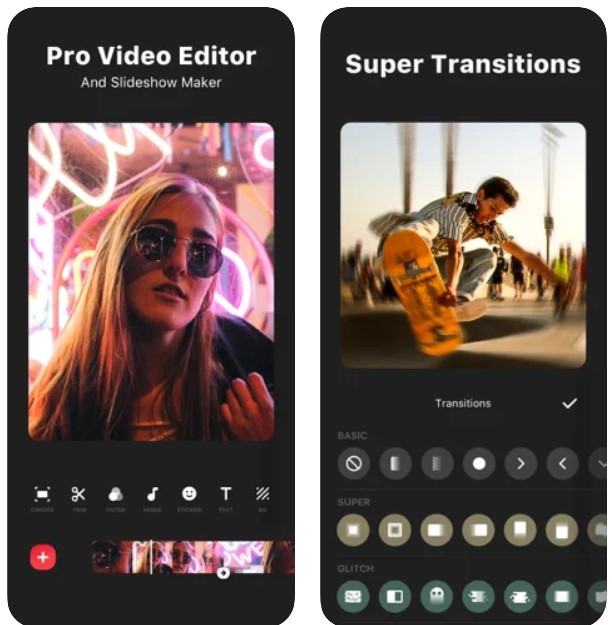 You may also like: 9 Best Side By Side Video Apps (Split Screen) for Android & iOS
The Video Converter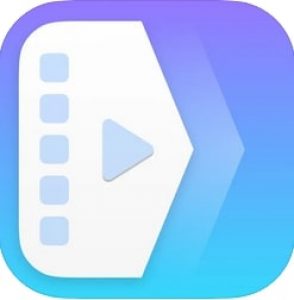 It's time to forget about problems with different video types. With the video converter, you will solve problems at the click of a button. 
What is more, the app can work with audio files as well. But it's not its primary function. 
How to use the app? It's pretty easy thanks to its intuitive interface. 
Download the app and give it all the permissions

 it will ask for. Don't worry, it will be safe. 

Open the app and 

make a video or choose it

 from the gallery. Drag it to the center of the screen and wait for the process of converting to start. 

The process of converting will 

take less than 15 seconds

, even if the video is long.

 

When it is over, you can save the file to the app (it will be in the folder) or in your phone's gallery. 
Now let's look at the most impressive features of this converter: 
There is 

a huge number of input formats

 you can convert, including iPhone videos, MP4, AVI, GIF, MOV, and many others. 

The app is 

compatible with many Cloud services

, such as Dropbox. This will help you save your phone memory. 

There is a new technology that 

can work without the server

. It means that the app will work pretty fast. What is more, it will also work without a connection to the Internet. 

The app is more or less compact. Its size is about 43 MB. 

The service is rated 4.3 out of 5 on App Store, which is a relatively high rating for a video converter.
All the basic functions will be available for free. However, there are premium plans. Let's take a closer look at them. 
There are two types of premium subscriptions. The first one is a monthly plan, it will be renewed automatically. 
If you feel you need to use the converter all the time, it will be better to go for a lifetime subscription plan. 
Unfortunately, only Android users can enjoy a wide range of functions provided by the converter.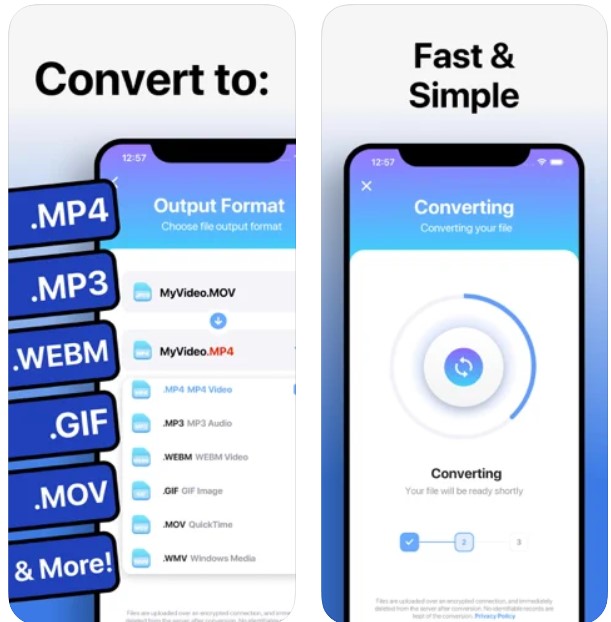 You can also check: 9 Free Vector Converter Apps for Android & iOS
iConv – Video & PDF Converter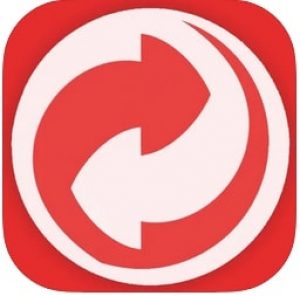 This is one of the best converter applications for iOS devices. It is famous for its simple and intuitive interface. What is more, it's free of charge with some in-app purchases. 
This app will be the best solution for those people who often work with audio and video files of different formats. It's much better to convert the files yourself than to ask your co-workers to send and resend the video multiple types. 
Now let's look at the key features of the iConv application: 
There are 

many input and output types

 you can convert. They include TXT, DOC, PDF, RTF if we talk about text files. If you need to convert a video, you can work with an iPhone video or MP4. 

Enjoy 

a built-in document viewer

. It will help you control the process of conversion. After the file is converted, you can view the video to find out if everything is all right. 

The process will take 

less than ten seconds

, even if your video file is huge. When you are done with converting videos, you can save them to your gallery or export them to the Cloud services if you want to save your phone's memory. 

The app 

supports many languages

, including Spanish, French, German, Chinese, Japanese, Italian, and Korean. 
In the free version, you can hardly enjoy converting multiple videos at a time. If you need to convert big amounts of various files, you might need to go premium. 
This subscription will give you lifetime access to all the features for the period of time you have chosen. What's more, it will remove ads from the app, helping you concentrate on the most important things. If you need to get a pass to all the features without any further payments, get an access that will remain forever.

Should you face any difficulties, feel free to contact the developer or technical support. They are usually very fast to respond. 
iConv has a pretty hard rating, which you can see from a huge number of positive comments. 
However, the app can boast of a small size. You will need at least 56 MB to enjoy all the features of iConv. 
Another suspicious thing about the app is that its developer gives no information about its privacy policy. This is why we can't guarantee that your data is 100% safe and secure. 
As you might see from the title of the app, it will work on Apple devices only. You can get it now on App Store for free. 

Media Converter iOS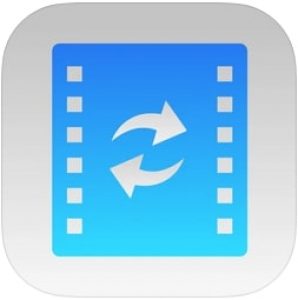 Here is a good application for iOS users. This is a typical video and audio converter. Its main feature is a wide range of functions that are available for free.
However, here comes a pretty serious disadvantage – a huge number of ads popping out of nowhere on a full screen. You can't skip them, so you will have to wait for the ad to finish, it usually takes about 15 seconds.
Let's take a closer look at the best functions of this converter:
The app 

works with all the video and audio formats

. If we talk about videos, you can work with MOV, MP4, MKV, WOB, FLV, AVI, and many others. 

You can 

extract audio from video and vice versa

. This will help you do it without any manual operation. The only thing you need to do is to open the file manager and drag the files to the app. 

Enjoy a 

built-in universal video player

. It will help you control the quality of the video you compressed or converted. 

The developer collects data about you but this 

data won't be linked to your device

. So you can fully trust the app in terms of safety. 

With Media Converter, you can easily 

open zip archives

 and other compressed files. It will be much faster than doing it via your phone's file manager. 
The size of the app might upset you a little bit. Media Converter requires at least 67 MB of memory.
If you need to get all the functions the app has, go premium. It will cost you 1.99$. This feature will also remove ads. 
However, if you don't need any premium functions but you are sick and tired of the ads, turning out of the blue, you can remove them without going premium. 
Download the app from App Store and enjoy converting files easily and fast.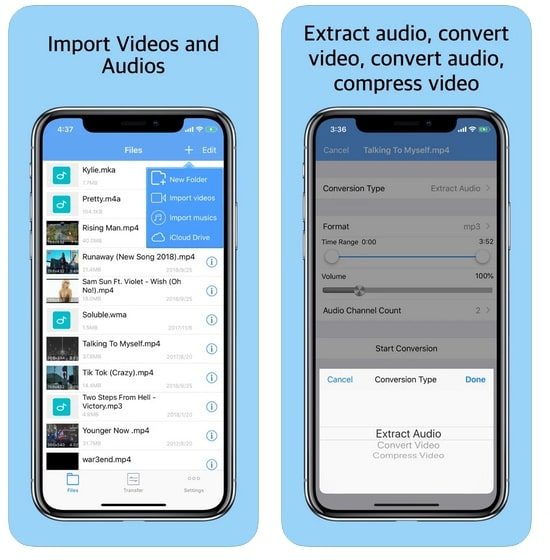 Convert Videos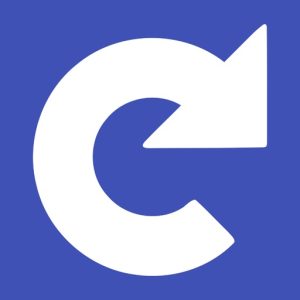 If you are looking for a super simple and fully free app, Convert Videos is what you need. It works with all the video types that exist today. 
It means that input and output formats can be anything. 
What is more, there are no ads at all. You can enjoy all the functions once you get the application. 
How to use the app? There are only three steps:
Download the app from the App Store on any of your Apple devices.

Give it permission to use your files and gallery. You can avoid other permissions but these are the crucial ones. 

Use the 'open with' button to choose the files to work with. 
However, there is a number of pretty serious disadvantages though: 
The app requires at least 75 MB to function well. It's a lot in comparison to the other apps listed here. 

Convert Videos supports the English language only. 
If you often work with videos, you should check 11 Best Video Border Apps Android & iOS.
You can get the app for free on App Store.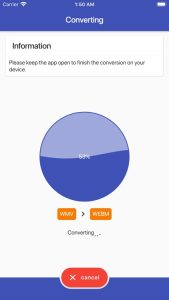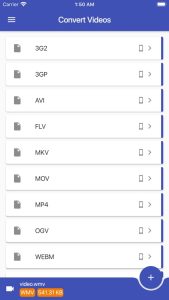 MConverter: Free File Converter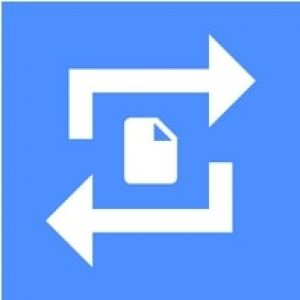 Now let's look at the converter apps for Android. MConverter is famous for its simple interface and impressive set of functions. 
However, if it is your first experience with converters, the interface might seem a bit clumsy and complicated. That's why we would recommend such an app for skilled users. 
What you will like about the converter is its wide range of functions available right after the download: 
Convert almost all types of files

, including iPhone videos. The process of converting will take a few seconds. After the process, you can easily export the result to your gallery or to any Cloud service, such as Dropbox. 

The app is 

optimized for any device

, including the ones running on ChromeOS and Linux. 

If you use the free version, you will have to 

put up with the ads

. However, they are not too frequent to appear. What is more, there are no full-screen ads. 

The converter works not only with videos but also with text files and pictures. 

New file formats are being added

 all the time, such as AVIF and JPEG XL. 

You can also 

compress PDF files

, reducing their size. This is a great opportunity to save your phone's memory. 

The app also 

works with all the Office files

, and it doesn't matter if they were created in one of the Microsoft programs or in LibreOffice. 

Don't worry if your files are big. The converter can work with sizes 

up to 500 MB

. If your file is much larger, you will probably have to divide the video into a few parts and convert them separately. 

The converter can also 

help you work with various archives

 by converting the files into the zip format. 

The app is 

amazingly small

, it is less than 1 MB. It's hard to realize how such an impressive application can have such a small size. 

MConverter is 

very reliable

. It was installed more than five hundred times. The developer claims that your data won't leak from your device to the Internet. 
The developers try to enhance their products all the time. They often update the converter. If you face any bugs (which is highly unlikely), don't hesitate to contact the support. 
If you need to enjoy all the features, you can go for premium purchases. It will cost about a dollar per item. When you buy at least one item, all the ads will be automatically removed. 
Unfortunately, the application is available for Android users only. Get it now and forget about problems with files.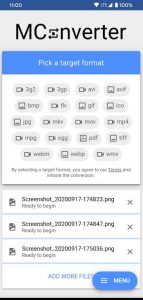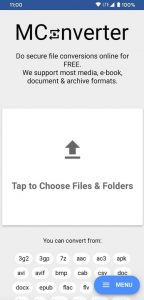 You may also like: 11 Best Youtube to MP3 Converter Apps in 2022 (Android & iOS)
Video Converter VidSoftLab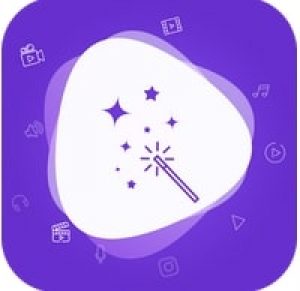 Are you looking for something truly universal and simple to use at the same time? Stop looking, because you have already found it. 
This video and audio converter will help you work with a great number of files. Such an app will come in quite handy especially if you work on a PC running on Windows or a smartphone running on Android. 
Here are the best features of the video converter:
The app's primary function is to 

convert files of various types

, especially videos, such as AVI, MP4, MOV, MKV, FLV, and many others. There is a great number of formats you can work with, both video and audio. You can also create audio out of a video if you need to. The process will be the same as if you wanted to convert the file.  

The converting of videos will take 

less than 10 seconds

. Don't worry if your videos are big, there is no limitation imposed on the size of your files. 

Convert more than one file

 at a time. In this case, the speed of converting will remain equally fast. To convert multiple files, open the app and your gallery. Then drag your videos or photos one by one. The converting will start at once. 

Another important function of the app is to

 reduce the size of files

. If you want to save the memory of your phone, you will need to replace bigger files with some smaller ones. You can greatly reduce your videos' size by compressing them. And this function is available at no cost!

Edit videos

. You can rotate them, trim, and cut. When you operate the videos, their quality won't get worse. It will remain the same if you work with the settings properly. Or you can go for lower quality to get a smaller size of a file. 

The app is 

easily customizable

. You can go to the settings and make your workspace 100% comfortable. We highly recommend that you try a dark mode, it looks super elegant. 

The interface of the application is 

intuitive and simple

. You can start using it right after the download. There are no instructions provided in the app but we can guarantee you won't need them. 
Should you need any additional details, you can try in-app purchases, each of the items will cost you 3.99$ per item. 
This video converter is being used by millions of people all around the world. People appreciate a simple interface and a high speed of converting. What is more, developers value your privacy so they won't keep your data and give it to other people or companies.