Scanning is a new technological generation feature that allows you to get the digital format of the desired document or even book by simply pointing the camera of your mobile device at the desired document or book.

We have collected the nine free book scanner apps.
More useful scanning apps you will find in the article about the ticket scanners.
vFlat Scan
This app is a mobile scanner of any desired image: file, document, or even book. Here you can get the necessary information text in digital format by simply scanning it through the camera of your mobile device.
This app is extremely multifunctional, as it has a technological system that allows you to scan any files. Also, below are some functions of vFlat Scan:
The search function will allow you to find the necessary saved (or unsaved) documents or books by keywords
Automatic cropping or recognition function will help the pages and borders of the book to be scanned
In this app, you have the opportunity to transform scanned books and documents into PDF format and then share them with users in other apps or save them to your mobile device, as well as much more.
Moreover, vFlat Scan also makes it possible to use the book perception function: this means that the scanner will automatically detect the defects of the book page, as well as its curvature and slope level, and will still be able to scan the desired text.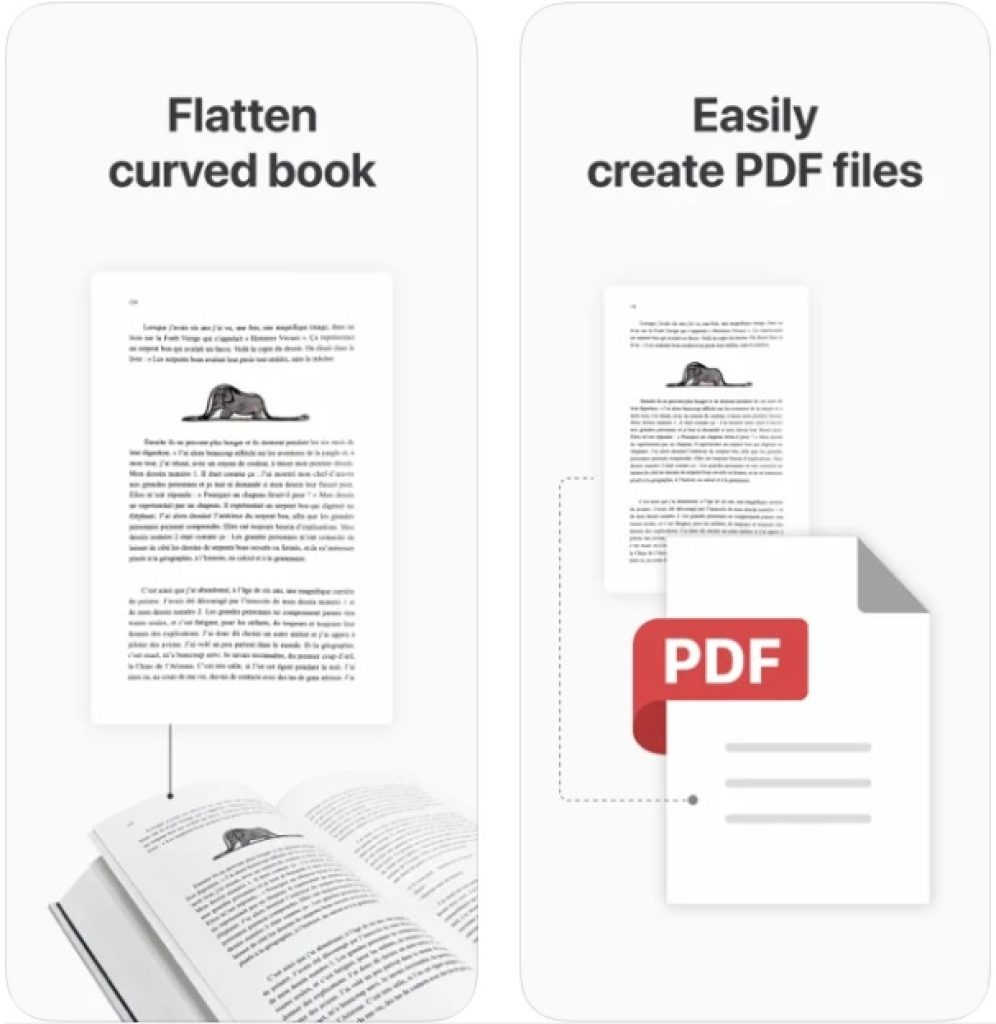 You may also like: 11 Best Text to Speech Apps for Android & iOS
PocketBook Reader
This app is designed to read any content in digital format, from documents to books. Here you can find many functions that form a mobile pocket scanner of electronic content. In the same app, you can listen to scanned audiobooks.
PocketBook Reader supports all known formats of electronic content for reading. Also, some more functions can be found below:
The function of syncing all scanned documents, books, and files with your other devices
ISBN scanner to search for the right books by barcode
Multiple reading modes: day and several nights
The function of listening to scanned electronic content in audiobook format, as well as much more.
PocketBook is also good because it has interface settings- this means that you can fully customize the electronic version of the book for yourself: crop or expand the margins, adjust the font size, choose a dark or light theme, and button icons, and so on.

Moreover, PocketBook saves all the content you scanned in the app library, where you can find any book or document at any time thanks to simple navigation.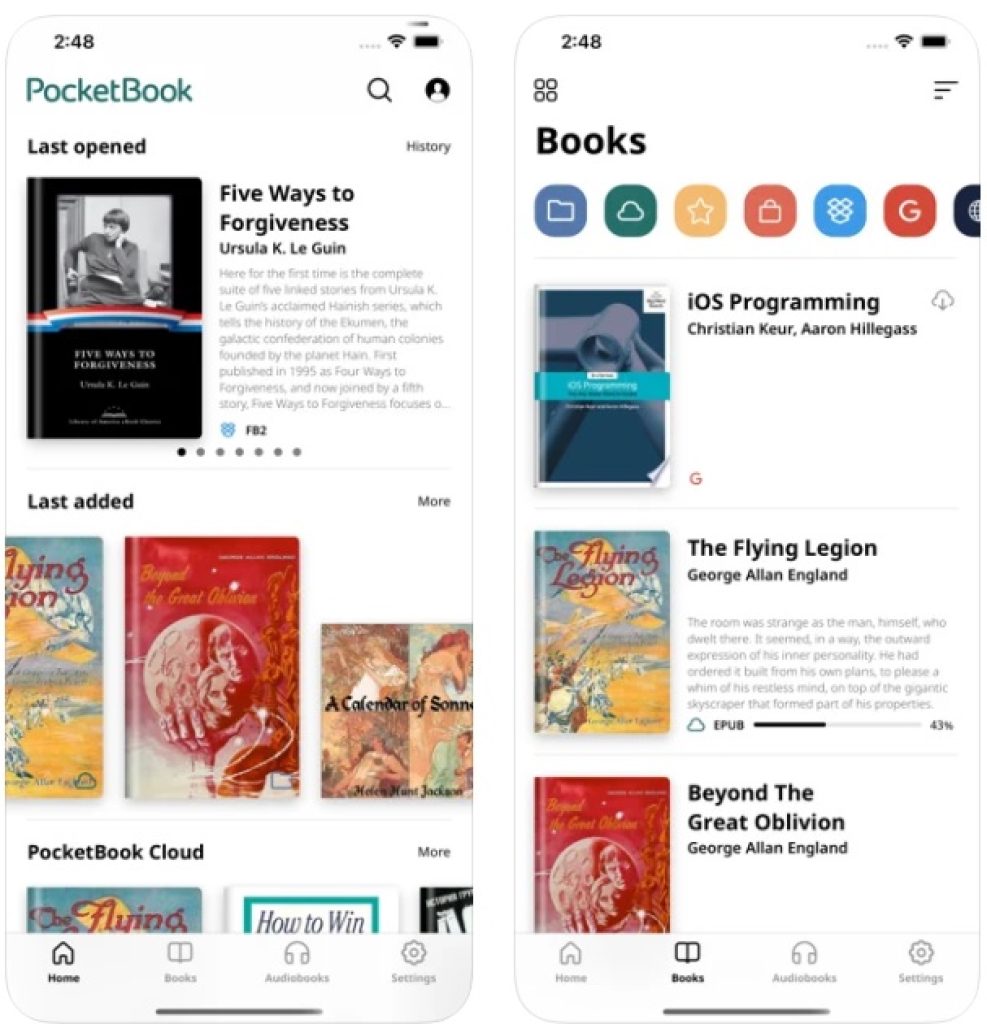 FineReader
This is a mobile scanner with artificial intelligence technology. This app is multifunctional and it will go for both individual and professional use. FineReader will allow you to forget about mechanical scanners and use only this mobile app.
FineReader allows you to scan any digital content and supports more than a dozen of the most necessary formats, such as PDF, JPEG, and so on. Also, this app can work on all types of digital content:
Books (scanning, formatting, and reading)
Absolutely any type of documents (contracts, receipts, receipts, identity documents, etc.)
Photos (scanning any images through the camera of your mobile device)
Moreover, FineReader has a function for recognizing scanned text: the app's tools will extract the desired text through the phone's camera and provide it to you in 193 languages.

Also, FineReader contains a library of all scanned content, dividing them into separate folders: books, documents, images, etc. Distribution is also possible by formats (A4, handwritten notes, etc.).
Also, this app has built-in editing tools – this means that after scanning the desired document, book, or image, you can edit it and save it in a converted form.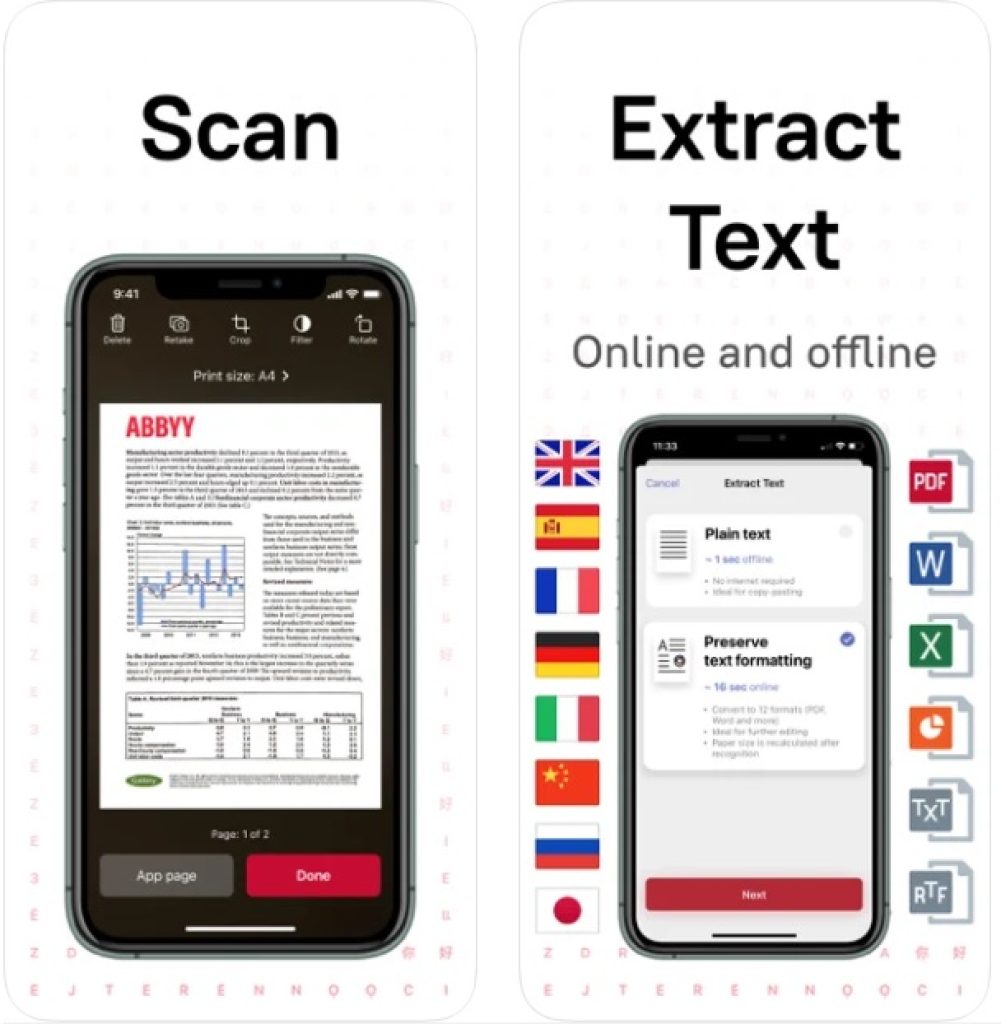 Read and Learn
This is not an ordinary app of this format. it was created mainly for reading books in different languages and studying them. Read and Learn supports books of the most famous formats and archives (zip, gz, bz2, etc.).
Learning with this app is extremely simple: point the camera of your mobile device at the desired text of the book, scan it and get it in digital format.

Also, in Read and Learn, you can enable the "memorize words" function: click on an incomprehensible word and the app will immediately give you its translation and save it. Next, you can make a card with this word and remember it better.
Moreover, Read and Learn has its own library with free books and textbooks for learning foreign languages. You can also create your own personal library from the books you scanned.

This app has support for more than fifty offline world dictionaries. In Read and Learn, you can also edit translated texts and add your notes to them.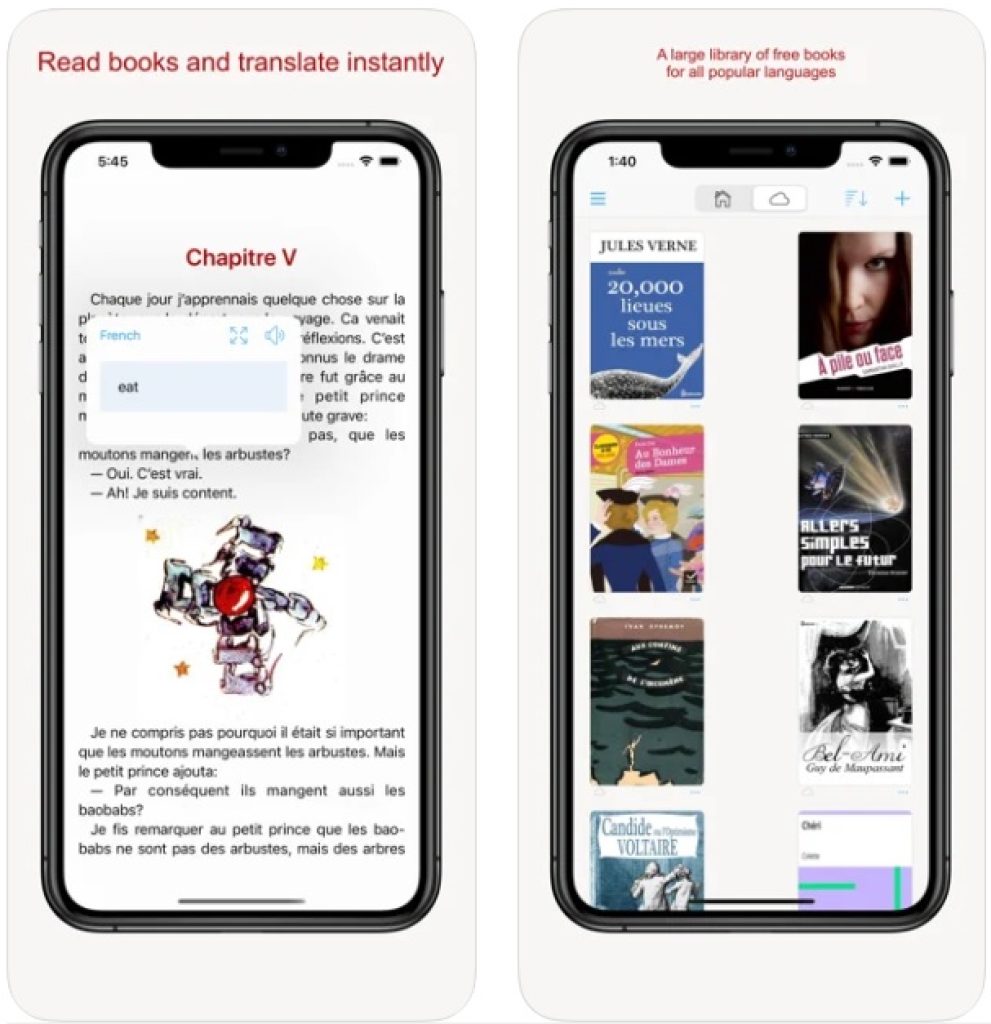 You may also like: 15 Free PDF Editor Apps for Android & iOS
Book Scanner
This app is a mobile multifunctional scanner that can be applied to any document format: books, receipts, invoices, and so on. Here you can also use additional settings for editing scanned digital content.
One of the advantages of Book Reader is the fact that it can recognize the necessary texts in more than forty languages. Also, here you can use the manual correction function of the book frame (along with strange bends), using eight local and global control points.
Book Reader also has a built-in function for checking scanned books and documents: this means that you can check spelling and punctuation in the same app.
You can also not only scan any texts by pointing the camera of your mobile device at them but also download existing files, documents or images and scan them. You will also be able to share the converted files with users of other apps.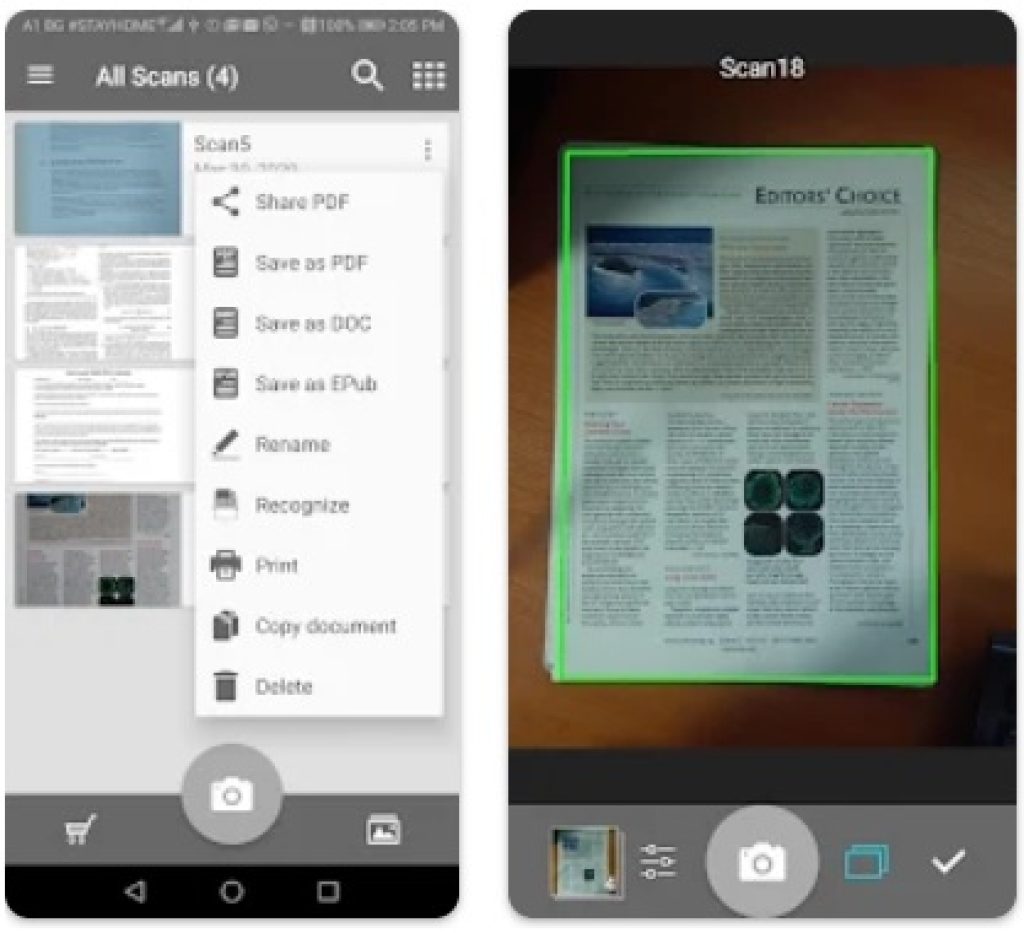 Adobe Scan: PDF Scanner & OCR
This is an app for scanning electronic content in any format from well-known developers. With it, you can turn your device into a professional mobile scanner with the ability to edit scanned documents.
Working with this app does not require any special professional skills, everything is extremely simple here.

To use Adobe Scan, you need to point your device's camera at the desired book, document, or even image. Next, the app will automatically scan the desired text and give it to you in digital format.
In Adobe Scan, you can also edit the scanned text of a book or document: there are all the necessary electronic tools to trim the margins, correct errors, change the font and line spacing, and so on.
Share scanned documents and books in a digital format with users of Adobe Scan and other apps and messengers. Moreover, you can also send scanned digital content in any known format: PDF, JPEG, and so on.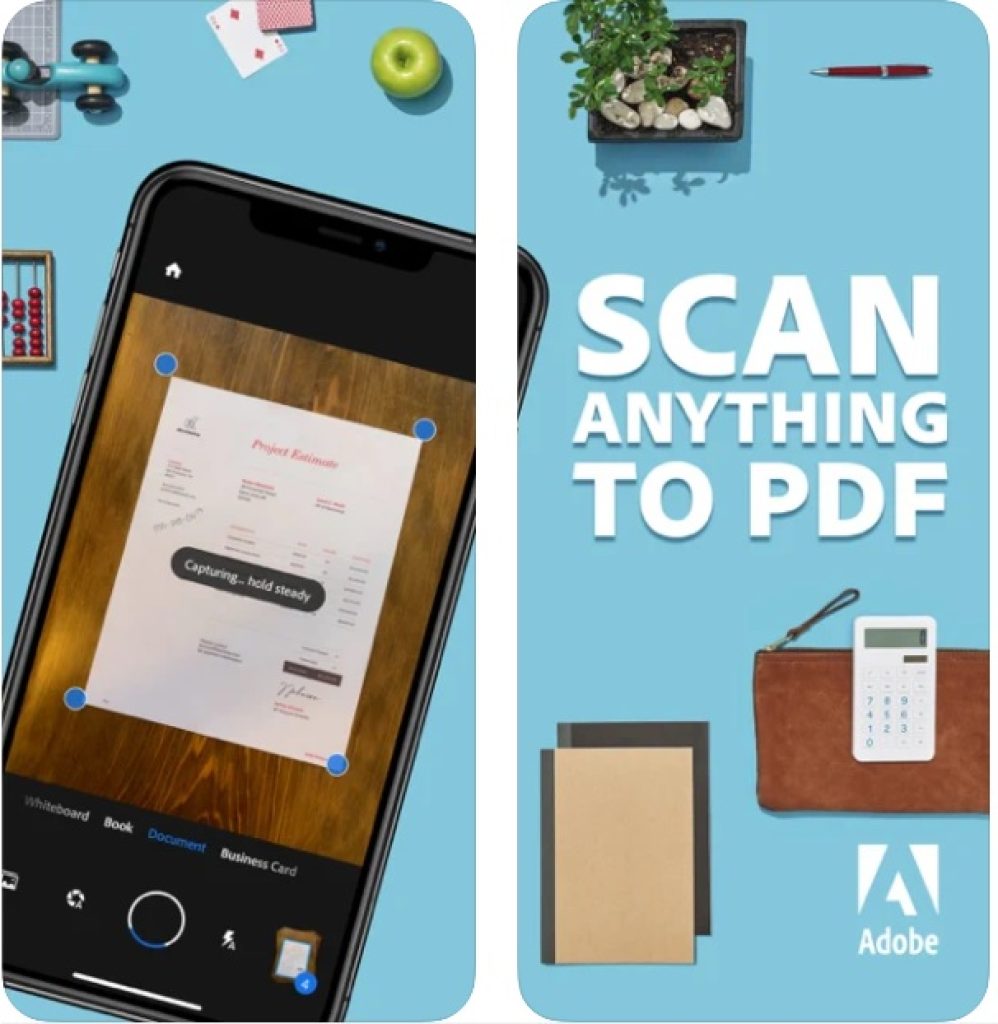 Clean Scanner: Free PDF Scans
This is an extremely multifunctional app with a lot of features. It is included in the ratings of the best applications for scanning books and documents in some countries.

Clear Scanner has high-quality scanned fonts and images, which will allow you to no longer search for mechanical scanners and use this mobile app.
Clear Scanner allows you to scan any type of digital or paper content: starting with documents (receipts, receipts, etc.) and ending with full-fledged books. The size and number of pages do not matter, because there are no such restrictions in this app.
Edit the scanned text with the help of a huge number of Clean Scanner tools: crop the margins, expand the text format, and change its color, fonts, and design. Also, here you can share the converted documents with users of any other apps.
Moreover, Clean Scanner contains auto-save functions, that is, there is separate storage in the app with all the books or documents you have ever scanned.

Also, use the simplest navigation and find any text in the repository by the name or the first words of the text in the search bar.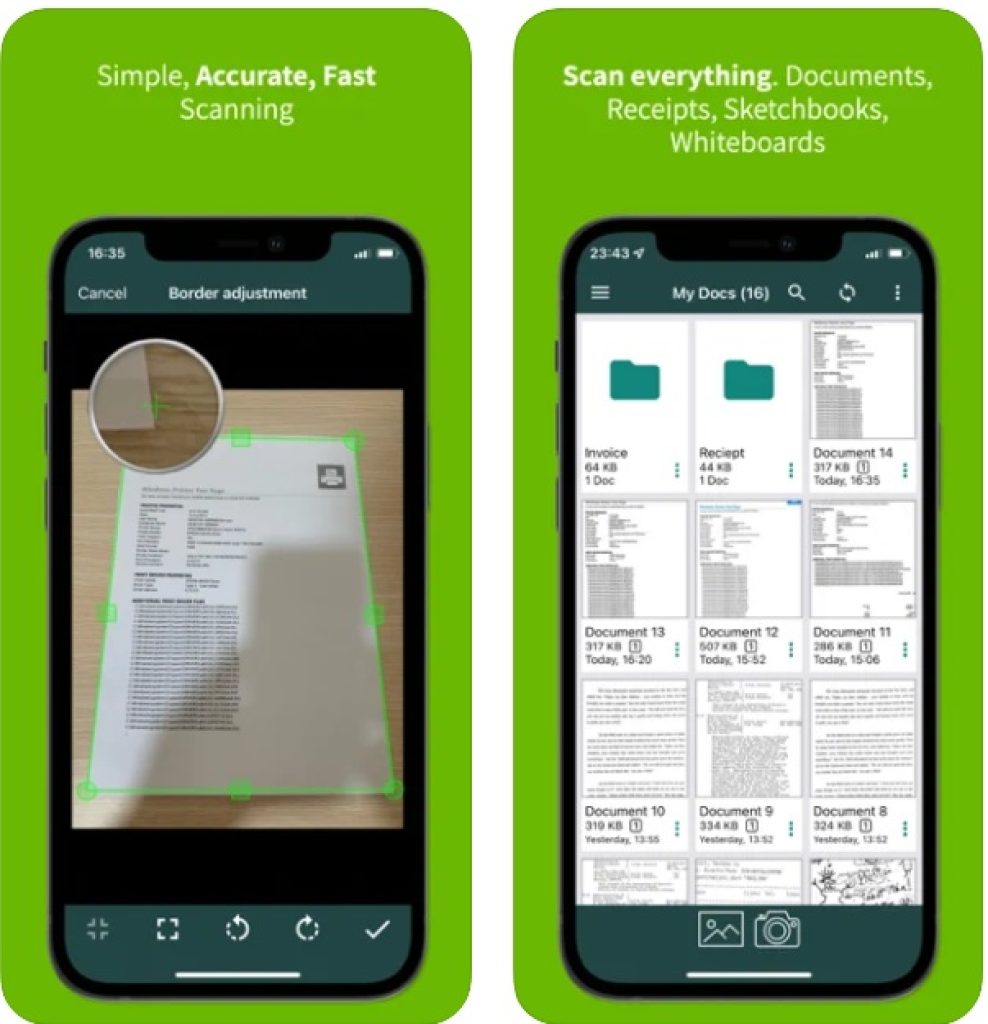 CamScanner- PDF Scanner App
This is a universal scanner app for your mobile device. Here you can quickly digitize the text you need, save it, and then share it with users of other apps. Also, through CamScanner, you can connect to the nearest printer and print scanned documents and even books.
Main functions of CamScanner are:
Text extraction, that is, recognition of alphabetic and numeric characters on paper and their automatic scanning
Ability to connect to any nearby mechanical printers and print converted digital content
A huge number of electronic tools for all kinds of editing of scanned books and documents
Saving scanned texts in separate app storage and quick navigation through it, as well as much more
Moreover, this app has a function to protect the most important scanned texts: you can put an additional password code to enter a separate folder with documents or books.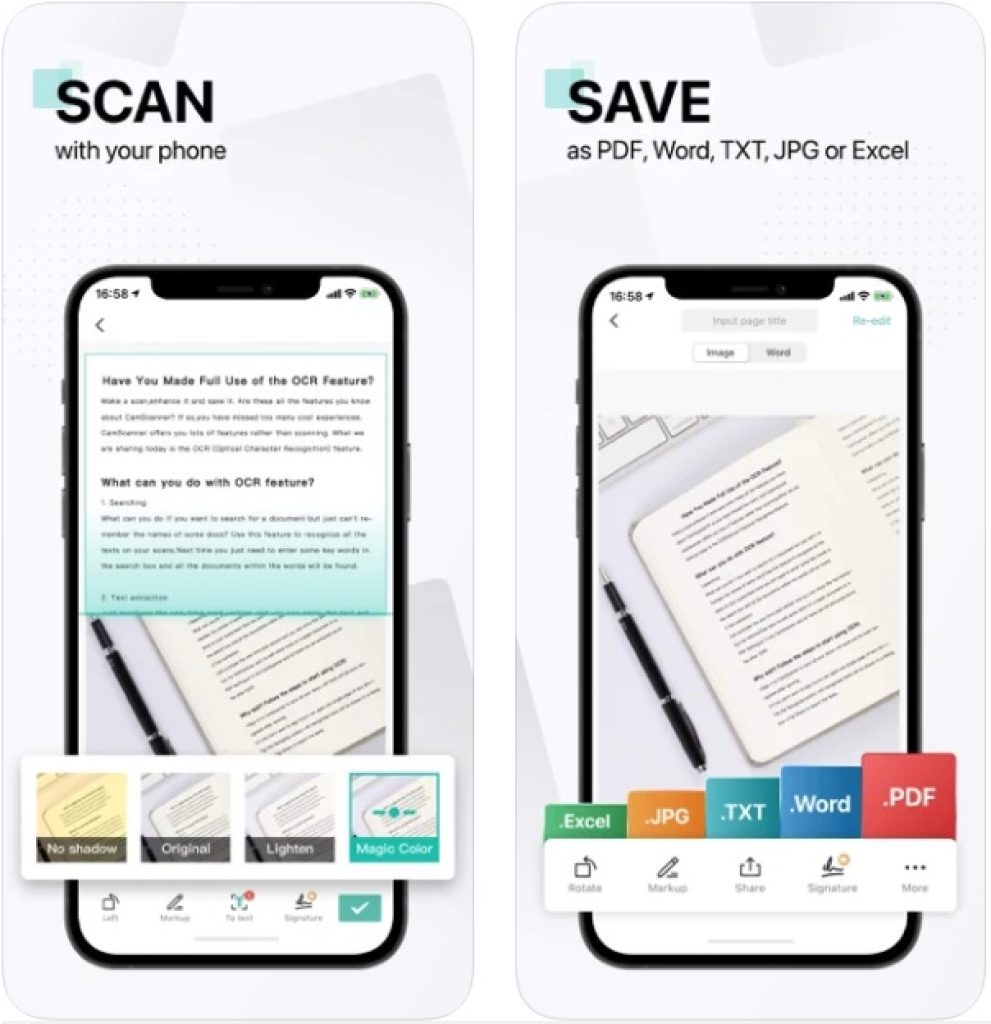 You may also like: 6 Free Audio Reader Apps for Android & iOS
Genius Scan
This is a versatile and multifunctional app that will become your mobile scanner. Through it, you can scan any text in format and volume literally on the go and export them to other apps.
In Genius Scan, the scanning process is automatic, so you don't actually need to do anything. All you need is to point the camera of your smartphone at the desired text in paper format, and then the app will do everything for you.
The most important advantage of Genius Scan is the fact that in this app there are no restrictions and limits on the number of scanned pages, as well as on their editing.

Work with multi-page contracts, scan large books, and much more in Genius Scan.