15 Best framatic apps for Android & iOS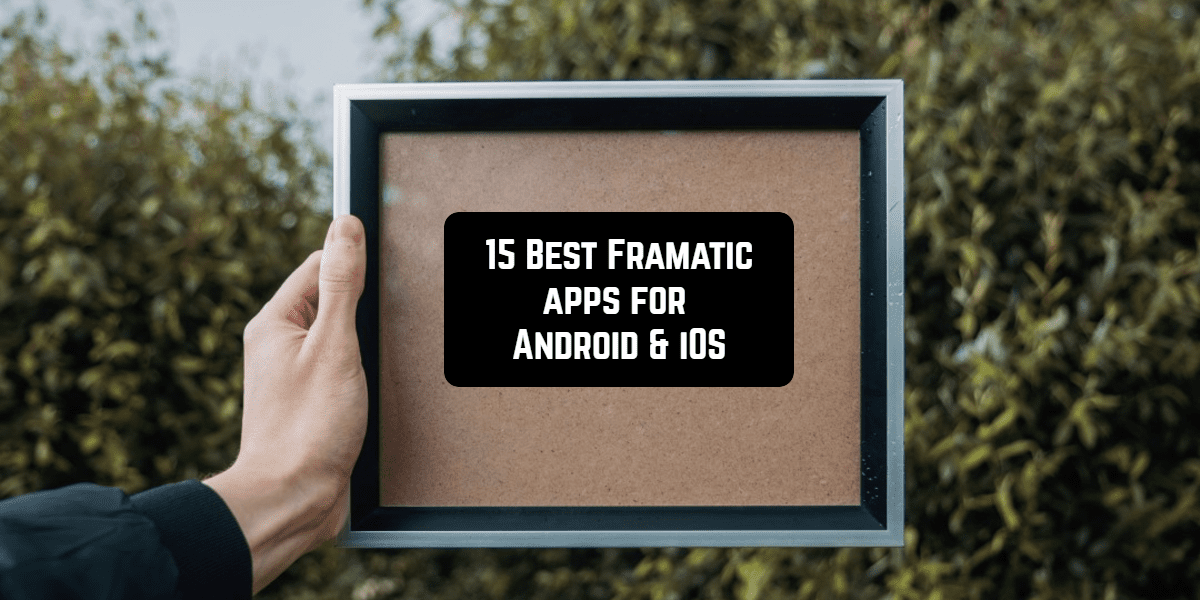 Framatic is an app for Instagram designed to make beautiful collages. You are probably familiar with most of its features – if not, you can read about them down below. In a nutshell, though, this is an app for putting photos together, editing them, framing, and all that stuff.
Also read: Free Likes on Instagram Apps 2017
The app is a real leader in this category. There is one problem though – it is not available on Google Play. If you are an Android owner, don't worry! There are lots of other great apps that can do the job Framatic is doing quite perfectly. And even if you can have Framatic on your phone, the apps below are still worth checking out. With no further ado, let's begin!
PicsArt Photo & Video Editor
Even though this app has been receiving lots of critics lately, it is not about the app itself is bad, it is because some people overdo all the photoshop functions that it brings – thus the pictures look natural. Bu this time we are not talking about the photoshop features of PicsArt, we are observing its dramatic functions which are flawless.
PicsArt brings lots of possibilities for the photos editing and making beautiful collages. When you want to care a new collage you can either choose an existing template or choose the free form – it is up to you. There are dozens of templates to choose from. If the pic doesn't fit into a frame you can always edit it and cut it.
What is more, you can add colorful descriptions and sayings under each photo which will make overall college more authentic. Or, you can go the other way – first, edit all the pictures that you want to put together – add details, correct imperfections, layer filters, but – and then compile a collage in a unique style.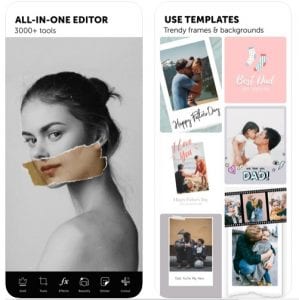 You may also like: 11 Best Apps For Combining Photos (Android & iOS)
Pic Collage
Pic Collage is an amazing collage app which gives you so much freedom to be creative! You can choose one of the app's grid layouts or templates. You can create a freestyle collage, where you place photos yourself. Either way, your collage will look fantastic, thanks to embedded filters, forms, frames, stickers, etc. – the possibilities are limitless!
You can even write on your collage. Fancy fonts are provided to make this process more exciting. You can also draw. All in all, you can do whatever you want in order to get a unique picture.
The awesomeness of this app just cannot be measured. No, don't you even try. There are no advertisements – nothing that could distract you from being creative. And the app is absolutely free!
There are just some additional filters, stickers, etc. that have a price, but even without them, the app is pretty cool to use. Download Pic Collage now and start making amazing collages! Your Instagram account can't wait to get such beauty!
Layout from Instagram
Of course, the biggest social media on sharing photos made a proper collage app. In fact, if you are using Instagram long enough, which I'm sure you are, this app was offered to you as an opportunity to easily combine photos into a collage.
Layout is pretty simple – there are no funky frames or filters, not too many layouts – just the basic stuff. The maximum number of photos that can be made into a collage is 9.
What is great about the app though is that everything is very intuitive. You can mirror, flip, replace, zoom in and zoom out photos without searching for the right button to do it.
What is more, there are no ads or premium offers that can be quite annoying. Filters can be applied on Instagram both for all the photos at a time and for every single one separately. If you're looking for something simple that can quickly turn your photos into a nice collage to share with friends, you have found one!
MOLDIV
MOLDIVE is more than just a collage app. It has it all – everything to deal with photos. First of all, it is a very powerful photo editor with over a hundred filters. Then it is a pro camera and selfie improving tool (or how do they call it?). Anyway, this little app will provide you with absolutely everything you might possibly need to get good pictures.
Our topic is, though, about collages & framing. And these features are also present in Moldiv. You can make a regular collage, of course, but with the tools this app has, it is possible to make a true masterpiece! You can use text, stickers, change background – practically anything.
If a collage is not enough for you, you can make a whole magazine! Or an album. Or a poster. More than that, you can save all those wonderful things in the highest resolution. It is convenient in case you want to print your pictures or just view them from your PC.
All in all, this good-looking minimalistic app will certainly meet the needs of those who frequently use social media or those who just like photography. There are some features that require payment, though. Apart from that, the app is great!
Photo Grid
Photo Grid is also a very complex app. There are lots of features for creating & editing photos, but let's just dwell on what is of interest to us.
And that is collage making. This one is kind of unique because it allows users to make collages out of videos! It is even possible to use videos and photos together, which is awesome. There are 300 templates, an enormous amount of backgrounds and so much more.
The only problem with this app is that it is full of advertising, at least on Android, and it kind of ruins the overall impression.
However, if you think you can suffer some distractions in order to get an awesome looking collage made out of videos with cool filters and stickers and stuff, then I'm pretty sure you should download this app! A great one to make birthday cards for friends and family.
PicFrame
Okay, let's be honest from the beginning. This app is not free (which frees you from ads and all that stuff), but it is worth considering. Especially since it is less than a dollar. PicFrame has over 70 frames and lots of different shapes to beautify your pics.
You can apply filters and shadows to your photos. You can choose the frame's color, add text, and much more. The only thing that makes me unsure about this app is that it can use only 9 photos simultaneously, while some other apps that are free take this number up to 16.
The good thing though is that it also uses videos that you can edit and to which you can add your favorite music. One more advantage of the app is simplicity, which makes it very easy to use. So if you have an extra dollar, you can try this one!
Live Collage
Live college is a collage or, as we named them in the headline, dramatic app for iOS, so if you have an Android device, you can skip this part.
Good, only iOS owners are with me now 🙂 The number of downloads of this app is crazy! And there are reasons for that. The app has over 5 thousand layouts, 500 borders, and lots of cool templates to use on special occasions, such as birthdays, X-mas, love, etc.
You can choose themes, add texts with fancy fonts, add stickers, and use the most popular filters. Freestyle mode is also available here, so you can be as creative as you like! Videos can be edited and used as well. Get this amazing app now and explore all the possibilities it can offer! This one is completely free.
Canva
Initially, Canva was only a PC program but it has become so popular lately that developers made an app as well. Actually, Canva is a multi-functional image0maker, where you can not only make collages and edit pictures but compile completely new images out of them and put them into different forms.
For example, Canca can help you to create your CV or the main image for your website, or the cover for your photo album. This app brings really nice options for photo layout and combinations. Moreover, all the images will be saved in high-quality and several formats.
Overall, there are more than 60000 templates that were created by the professional designers – a guarantee that your collage is not going to look like a piece of garbage. Moreover, you can easily add quotes or multiple texts to photos. Change the font (there are around 700 options), size, color, spacing, and position.
The best thing about can't is that is it completely free. You can make truly beautiful images here in a beautiful frame, make family posters, collages with pics of you and your friends – and they will be looking like there were made by a real pro.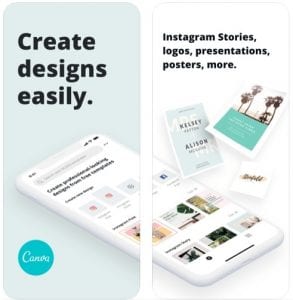 PicFrame Grid
ATTENTION! This app is free for a limited time, so if you are reading this article close to the date of its publication, you can try to catch the offer. PicFrame Grid is a typical collage framatic whatever app, only it is incredibly beautiful!
The app has lots of gorgeous frames and unusual layouts. You can apply one of 17 photo effects to your photos and use text with some cool font to make your collage truly unique. The app is only for iOS, so if you have an iPhone, you are really lucky to be able to get this app – especially since it is free now!
Adobe Spark Post
Actually, Adobe Spark is known as the presentation software, However, it has not only presentation-making capabilities, but it is a great image editor and collage maker as well. Plus, unlike many Adobe products, this one is completely free.
You can choose from thousands of templates or create your own. The main feature of Adobe Spark might be irrelevant here, however, it is also a great video collage maker, with cool video editing options. So you can, for example, create a collage with pics and vids at the same time!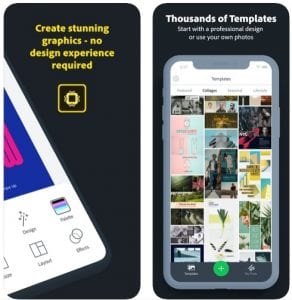 You may also like: 11 Best Instagram layout apps for Android & iOS
Instant PicFrame
Android users, this is finally your time. Instant PicFrame is an app by Android Pixels for making instant cool and beautiful collages. When you open this app, you see a great deal of advertising and a button 'start' in the middle.
When you tap this button, you see an enormous number of templates to use, choose one of them, and go further. If you've chosen something you don't like, there is an ability to change it, which is great.
Like many other apps, this one offers stickers for different occasions or just for fun. Everything is absolutely free. You can apply filters, add some text, like in any other app. Only be aware that this app has one huge problem, which is ads that pop up all the time. It kind of ruins the whole experience.
Nevertheless, this is quite a useful collage app. You won't probably manage to frame your photo(s) instantly, but at least you can get a good picture. So just one more option!
BeFunky
BeFunky is an excellent basic app for editing photos. It has got everything an average user would ask for – a bunch of editing tools, filters, tools that make you more beautiful (still don't know how they are called). But there is more than that. As you have probably guessed, this app is on our list because it can make collages. And I'd say it makes them pretty good.
There are lots of templates, to start with, and they are grouped into categories – one photo, two photos, six photos, etc. You can change their width and roundness if there is such a word.
Then you add photos, change the background of a frame (template), add all the necessary details and here you are, with a nice new collage for Instagram, Facebook, or just for yourself.
As for the details, they are text and stickers, as usual. And there are lots of cool stickers! The nice thing is that all of them are free. I think this app is worth downloading just because of stickers. For example, there are such categories as speech bubbles, zodiac, food. All in all, if you want to have a cool modern collage app that does its job, BeFunky is certainly worth a try!
Fotor
Actually editing apps with collage features turn out to be much cooler than just collage apps, which is why we decided to finish our article with a couple of best apps like that.
Fotor has lots of features a professional photographer would use to make their photos perfect. So can do anyone, because of the tips this app gives while you're using a new tool. Editing features are really impressive – there are so many good filters!
Collage features also impress. All the stickers, frames, backgrounds or whatever are introduced in a modern minimalistic style. Everything is extremely eyes-pleasing and at the same time, no, this app doesn't miss out on the features a usual collage-making app would have. Templates are numerous. You can even make a magazine.
And there are no ads. There are just packages of stuff that require payment, but you don't have to buy them if you don't want to. I cannot help but mention a gorgeous design this app has – everything is super intuitive. So you are lucky that you've read this article almost till the end, this app is a real finding!
Pixlr
And one more dessert is Pixlr. Pixlr is a powerful photo editor that has lots of useful tools. In the end, you can get a picture you've never thought you could make, but you'll definitely like it!
The app also has a feature of collage making. Here it is as simple as possible. You can play with layouts, spacing, and background. Stickers are absent, but you can write a text. From all the apps we've explored today, this one is one of my favorites! I would be a shame if you didn't try it!
You may also like: 11 Best Christmas frame apps for Android & iOS
piZap
piZap is a very curious photo editing app that also allows you to create beautiful collages. And if some apps on our list were photo editors at first, then this one is specifically a dramatic app that will allow you to create mesmerizing images.
You can create stories and posts for Facebook and Instagram, edit photos, design collages, and make custom graphic designs. In addition, piZap is extremely easy to use, that's why it will be perfectly suitable for beginners.
What is more important, unlike many other free photo editing apps, this one has no ads. With more than 100 fonts and around 5000 stickers, you will surely be able to add personality to the photos and make them match perfectly on the overall picture.
There are around 1500 collage layouts – something to choose form. An interesting feature of this app is that it has the specific collage layouts for the memes – this thing is popular now so now you and your friends can have fun creating memes about each other in seconds.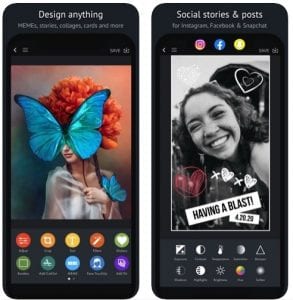 I hope this article helped you find what you were looking for. Be smart in choosing apps and make amazing framed pictures & collages!